Here are 30 Weeknight Dinner Menu Theme Ideas to make meal planning easier! Use this list to help narrow down what to have for dinner using theme nights and browsing over 100 different dinner recipes.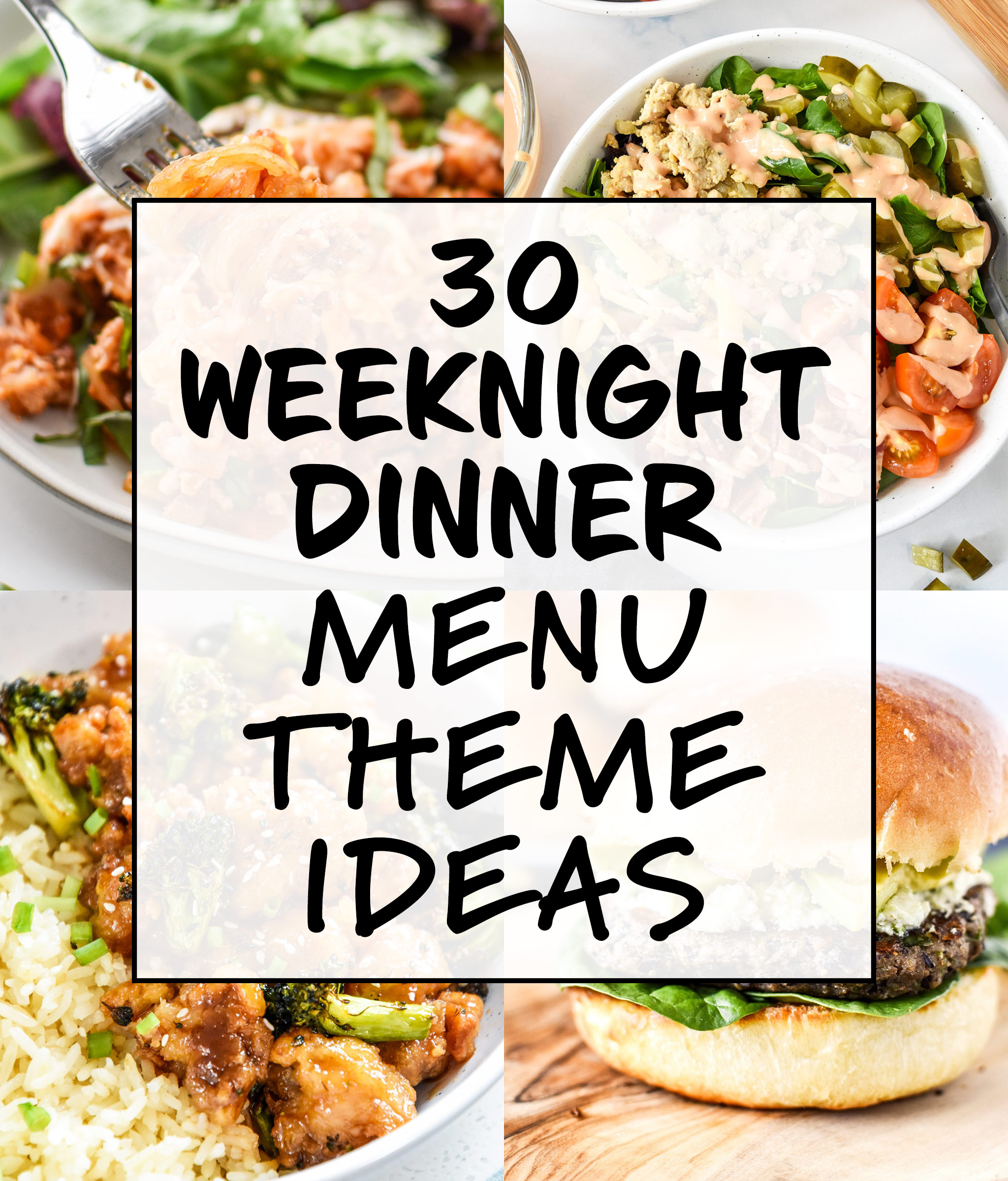 What is a Dinner Menu Theme?
A dinner menu theme is a specific subject or topic of food and recipes that helps provide a more narrow list of meal ideas. For example, for Burger Night, all meal ideas would be related to burger recipes.
What's on this list?
This is a list of 30 Weeknight Dinner Menu Theme Ideas. Each theme on the list has 3-4 recipe ideas included, so you've got a place to start if you're trying to decide what's for dinner.
How do I use this list?
The most important thing this list can do is provide you with dinner ideas so you're less stuck when trying to decide what to eat every evening.
There are a few different ways to use this list of Weeknight Dinner Menu Theme Ideas. Here are my ideas:
If you're simply trying to decide what to make for dinner, this list provides tons of options. It's easy to scroll through and find a topic or area of food that might interest you, because recipes are organized by theme.
If you're meal planning for the week and need a place to start, this list of dinner menu theme ideas can be referenced in order to add variety and think of new meal ideas when planning ahead.
Some people meal plan for an entire month at a time. In that case, this list of 30 Weeknight Dinner Menu Theme Ideas can help add variety to the month of meals and can help ensure you never repeat a dinner meal.
If you need some inspiration for general cooking, this can also be a helpful list of themes and recipes ideas to get you started.
30 Weeknight Dinner Theme Menu Ideas & Recipes
Have Weeknight Dinner Theme Ideas helped you when it comes to trying to decide what's for dinner? What's your favorite theme night? I want to know how you use Dinner Theme Nights to help you meal plan. Share below!

Disclaimer:
 Project Meal Plan is a participant in the Amazon Services LLC Associates Program, an affiliate advertising program designed to provide a means for us to earn fees by linking to Amazon.com and affiliated sites. For more information, please see our
Full Disclosure & Privacy Policy
.