It's almost winter, and I absolutely need to get some more slow cooker recipes on the blog! Especially one as important as my old go-to. My set it and forget it. My original crock pot classic. And probably the first thing I ever meal prepped. My slow cooker saw many pots of chili before I was bold enough to try new things in there. While my culinary experiences have expanded, I'll never forget my slow cooker's first love. I'm calling it Easy Slow Cooker 4-Bean Turkey Chili.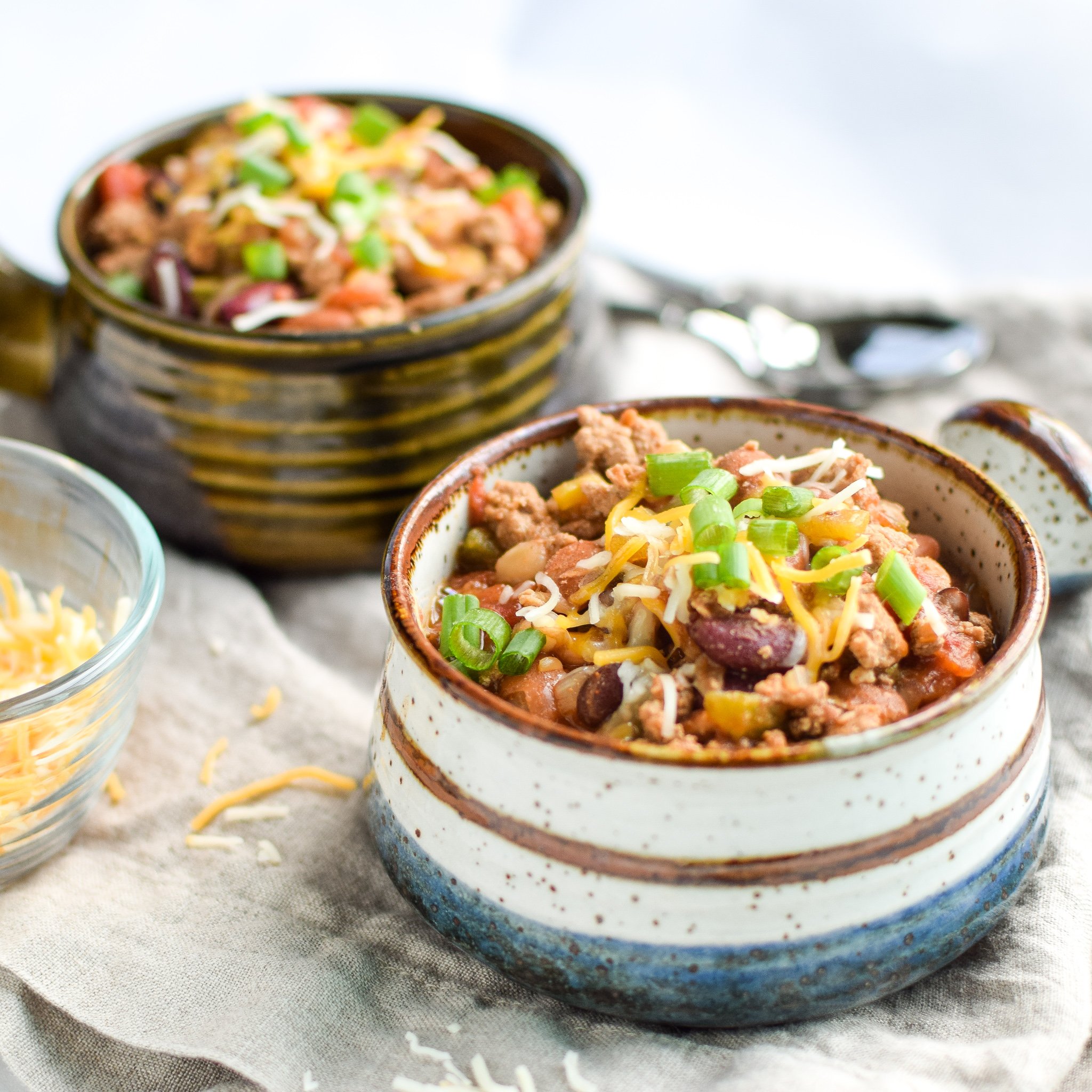 Spotted at Trader Joe's very recently: More of the South African Smoke Seasoning Grinders. I've talked about it before, but if you've never had this stuff, you absolutely must try it on everything, pronto. I truly don't think I could count the number of different things I've put it in on both hands (maybe… if I include toes). But it's ultimate destiny was my slow cooker, with the rest of the chili ingredients.
If you don't have any of the seasoning or can't find it at your local TJ's, don't fret. What I can tell you is it's a seasonal product. I've had it disappear right when I needed some (okay, I JUST saw it two days ago!), only to be surprised by it's reappearance 5 months later. Seriously. Just keep checking – I'm crossing my fingers it will appear for you.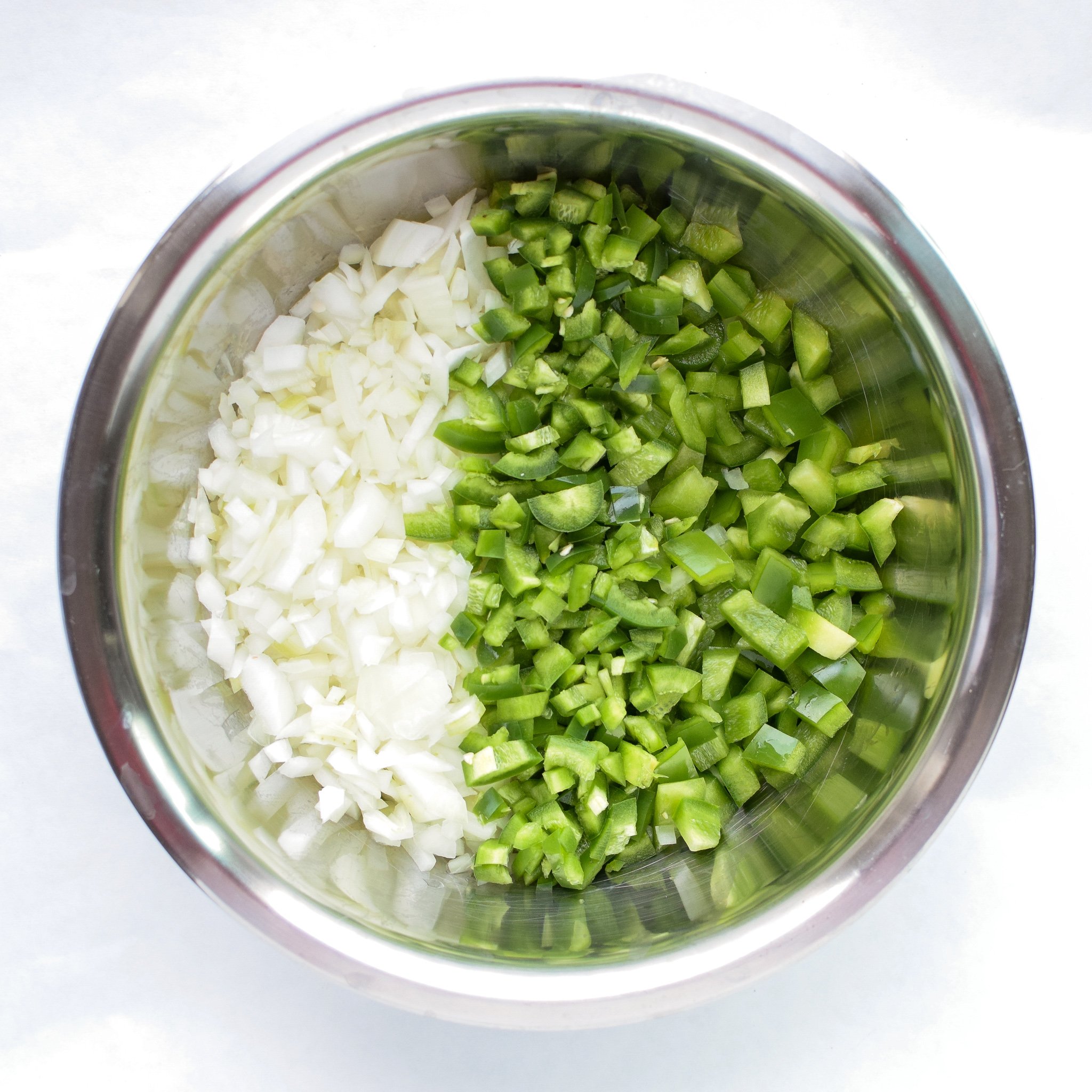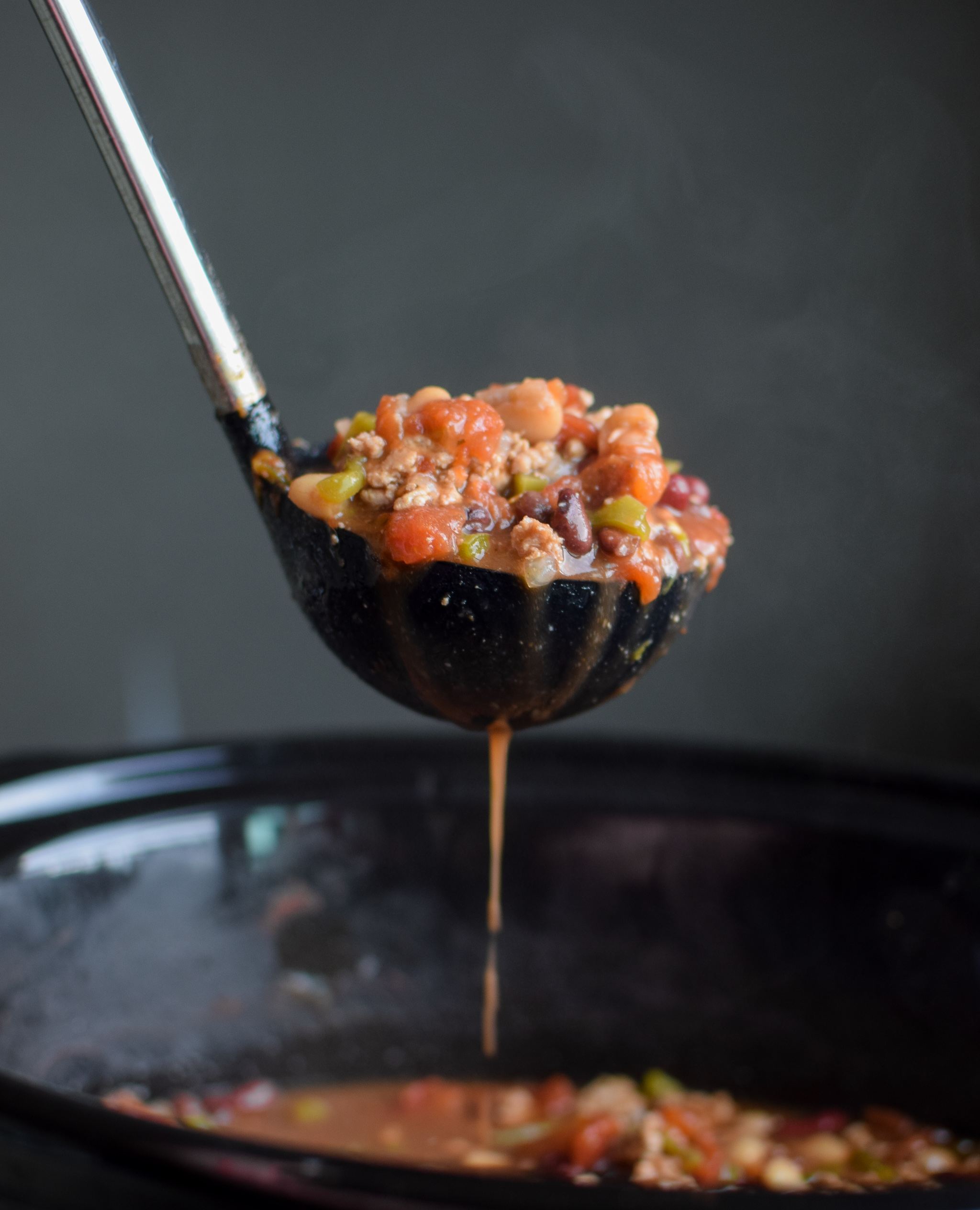 Let's talk meal prep: I wasn't joking when I said this was my first "meal prep" recipe. I would make this chili on Sunday and let it brew for 8 hours on low. I'd eat some for dinner, then package the rest up for lunches. I was even so lazy that there were days when this chili would consist of 2/3 meals of the day. I'm so glad the days of my tiny kitchen are behind me.
If you're making this recipe for you and only you, be sure to eat some for dinner on Sunday night! I would not technically recommend eating the chili on day 5, however I have done it and been just fine. For a safe alternative, freeze a couple servings of the chili and thaw one out for day 5 lunch.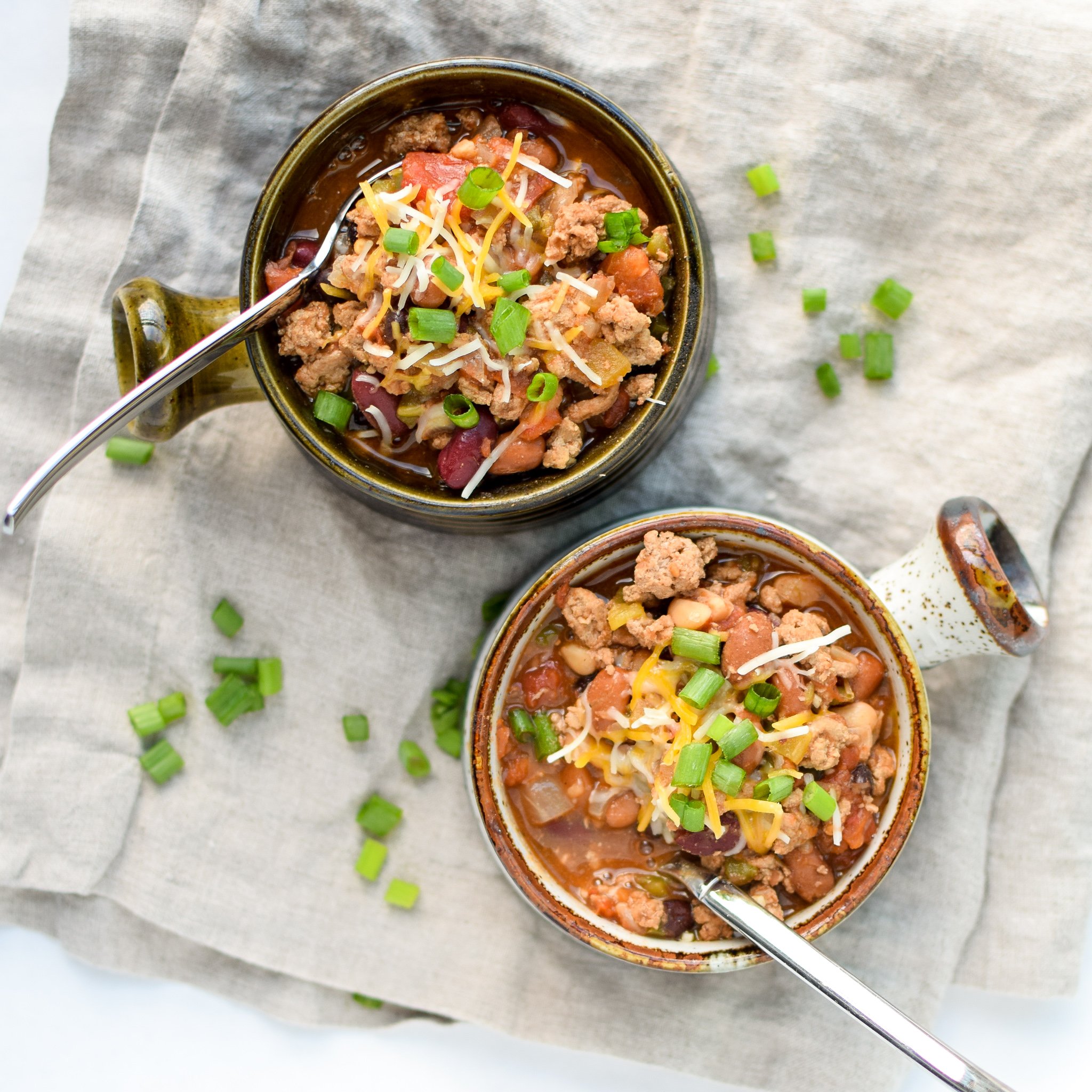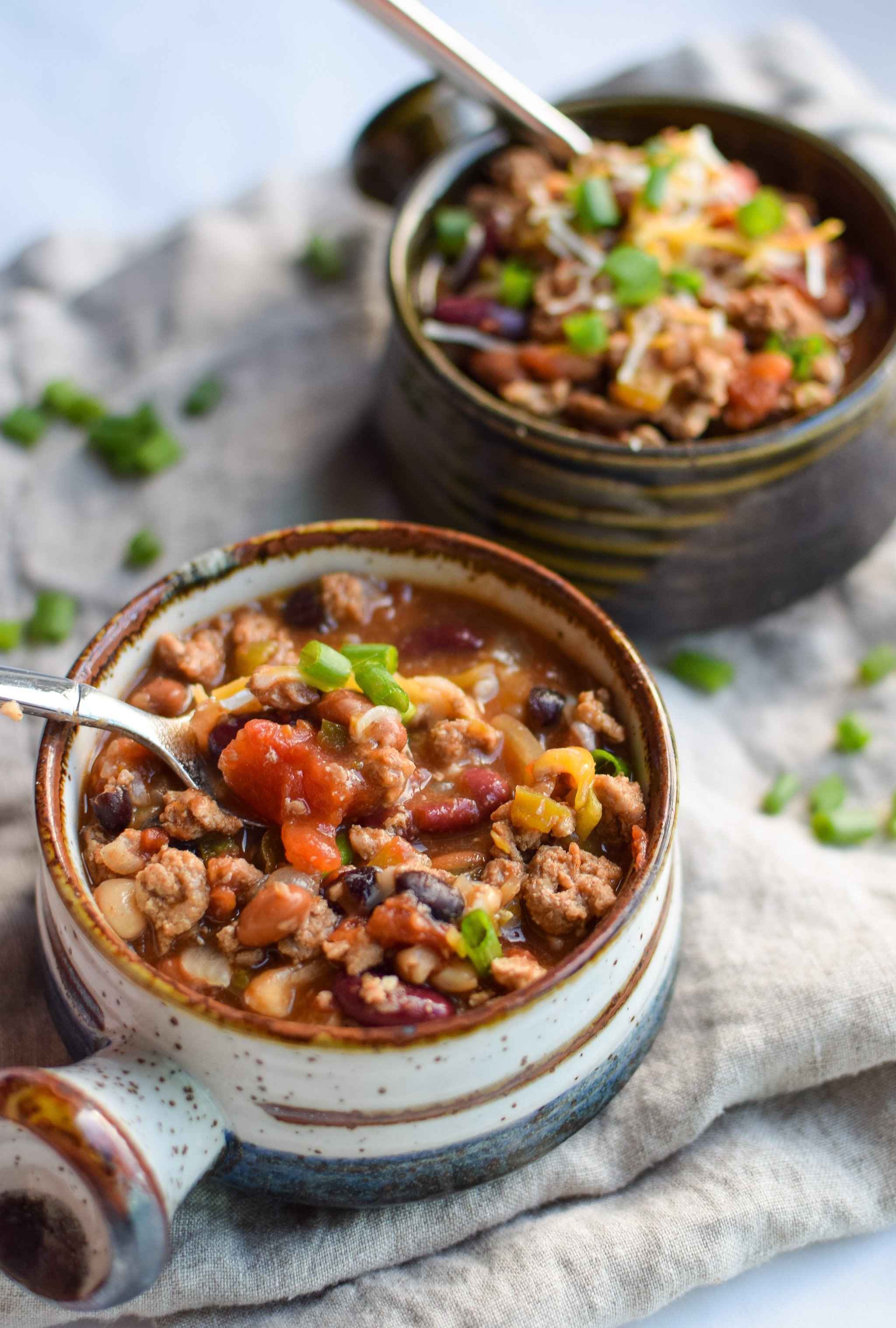 Alternatively, my dinner suggestion for later in the week is to incorporate it into some kind of taco salad – lettuce, cheese, tortilla chips, the works. Or – find a friend to share dinner on Sunday night.
Overall, this chili is a super filling and ultimately low-calorie (for how much you're eating!) meal that you can dress up any way you want. I'd also suggest trying out different spice combinations, including Hidden Valley Ranch Seasoning, taco seasoning, or kicking the garlic up a notch, just to name a few. Enjoy!
Recipe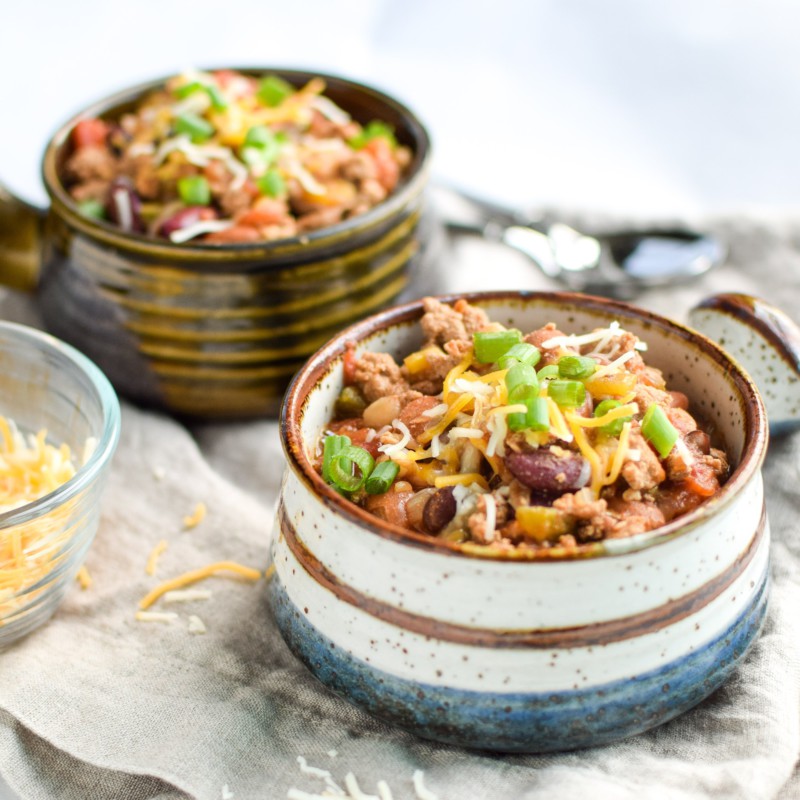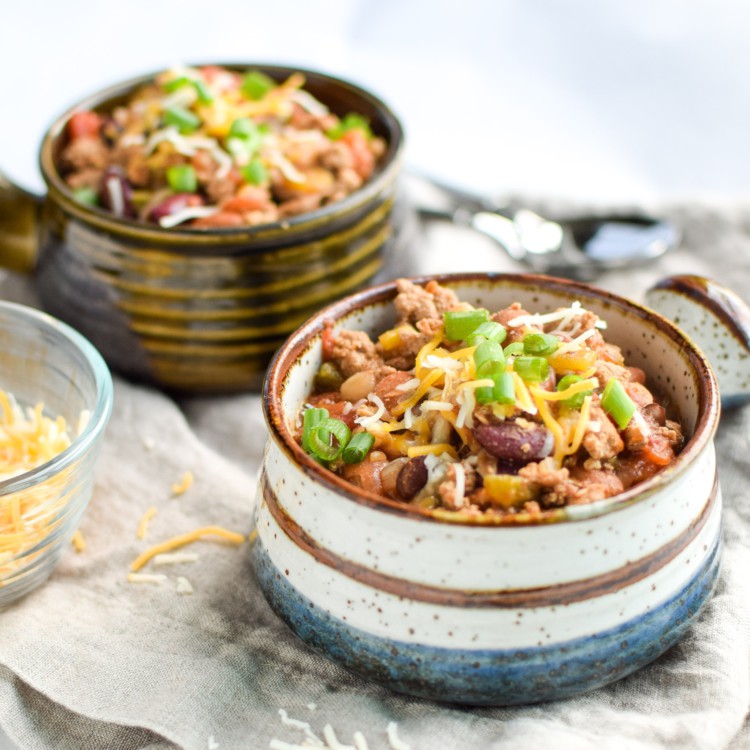 Easy Slow Cooker 4-Bean Turkey Chili
Prep:
10 minutes
Cook:
6 hours
Total:
6 hours 10 minutes
A slow cooker classic!! Try this hearty bean and turkey chili with a smokey kick!
Ingredients
2 tablespoons

olive oil

1

pound ground turkey, 93% lean

1

green pepper, diced and cored

1

yellow onion, diced

2

jalapeños, diced and cored

1 tablespoon

ground cumin

1 tablespoon

chili powder

1.5 tablespoons

Trader Joe's Smoke Seasoning (or smoked paprika)

1 tablespoon

minced garlic

1

4.5-ounce can diced green chilis

1

15-ounce can Great White Northern Beans, drained

1

15-ounce can pinto beans, drained

1

15-ounce can kidney beans, drained

1

15-ounce can black beans, drained

1

15-ounce can diced tomatoes, drained
salt/pepper
Optional:
habanero pepper, diced (for additional spice)
shredded cheese, for garnish
green onions, for garnish
Instructions
Heat olive oil in a deep skillet over medium heat. Add the turkey when the oil is hot. Use a wooden spoon the break the turkey into small pieces and let it cook for about 2 minutes. Season with salt and pepper.
Move the turkey to the edges of the pan and add all fresh vegetables (onion, pepper, jalepeño). Stir until well mixed with the ground turkey. Cook for another 7-8 minutes, stirring occasionally, until all the meat is cooked through and onions are beginning to turn translucent. Drain additional liquid from the pan.
Add cumin, chili powder, smoke seasoning and minced garlic. Stir to combine. Add entire mixture to the crock pot.
To the crock pot, add green chilis, all beans, and tomatoes. Stir to combine.
Set the slow cooker on LOW for 6-8 hours, or HIGH for 3 hours.
The chili is best when consumed the next day. Store in airtight containers (I like Pyrex) and enjoy within 4 days. Freeze a portion if you prefer, instead of letting it sit for more than 4 days.
Nutrition Information
Serving Size:

about 2.5 cups

Calories:

417

Sugar:

7g

Fat:

7.7g

Carbohydrates:

57g

Protein:

33.1g
Recipe Card powered by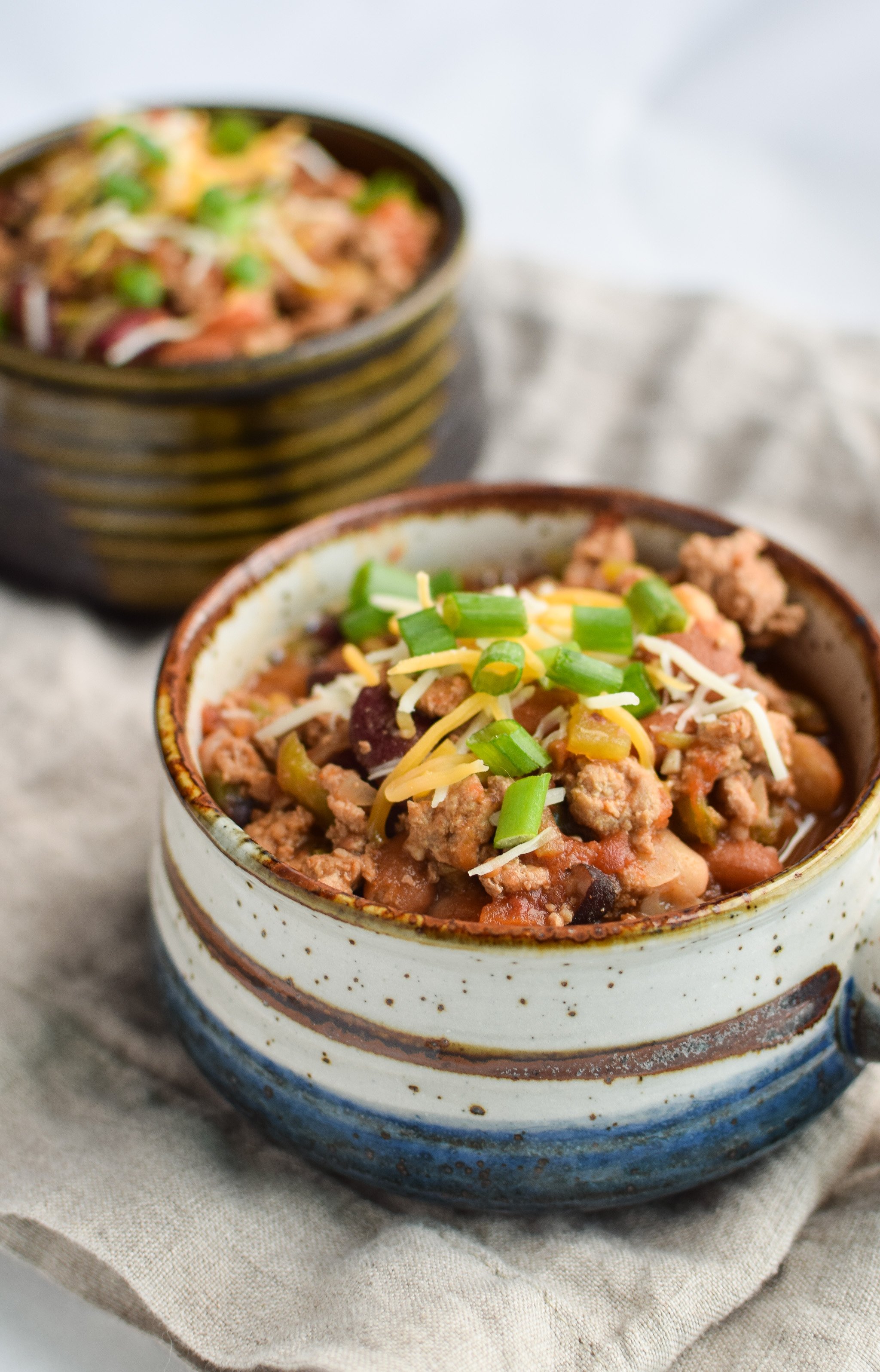 Thank you so much for checking out the Easy Slow Cooker 4-Bean Turkey Chili! Tag @projectmealplan on social media if you make this yummy recipe, or any other chili creation! And don't forget to follow me on Pinterest for meal inspiration every single day!