I'm very excited about this new casserole/bake/Dutch oven hybrid dish I've been working on. I'm personally a huge buffalo chicken fan. I just had to try making a version with my favorite ingredients (including my 2016 grain/seed revelation). Please enjoy the Buffalo Chicken Quinoa Bake (jump to recipe).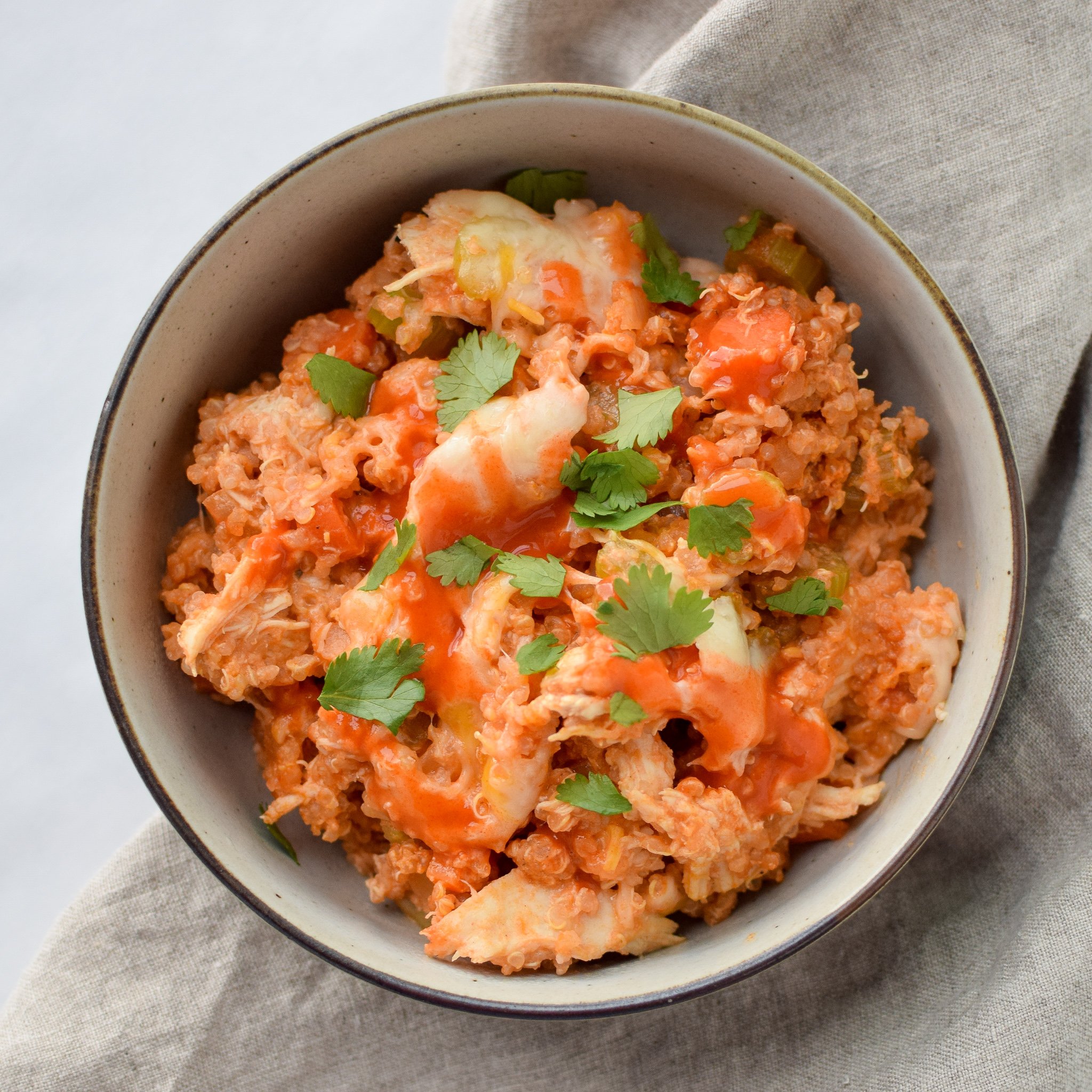 This is a pretty simple recipe which just takes a little bit of time to put together. I think my New Year's cooking resolution will be to work on more recipes you can cook completely in one dish. Not only will this save you time, but it will save ME time. With the exception of the quinoa (which is made in the rice cooker), the remaining components are all cooked in the Dutch oven for this recipe.
For the quinoa, grease the inside of the rice cooker with coconut oil, throw (gently) in a can of broth and a cup of dry quinoa, and there you go. Quinoa in 40-50 minutes. I don't even stir before I start it up. It's so much easier than paying attention to another boiling pot on the stove. In this recipe, I get the quinoa started first, so it's ready when all the ingredients get mixed together and topped with cheese, see below.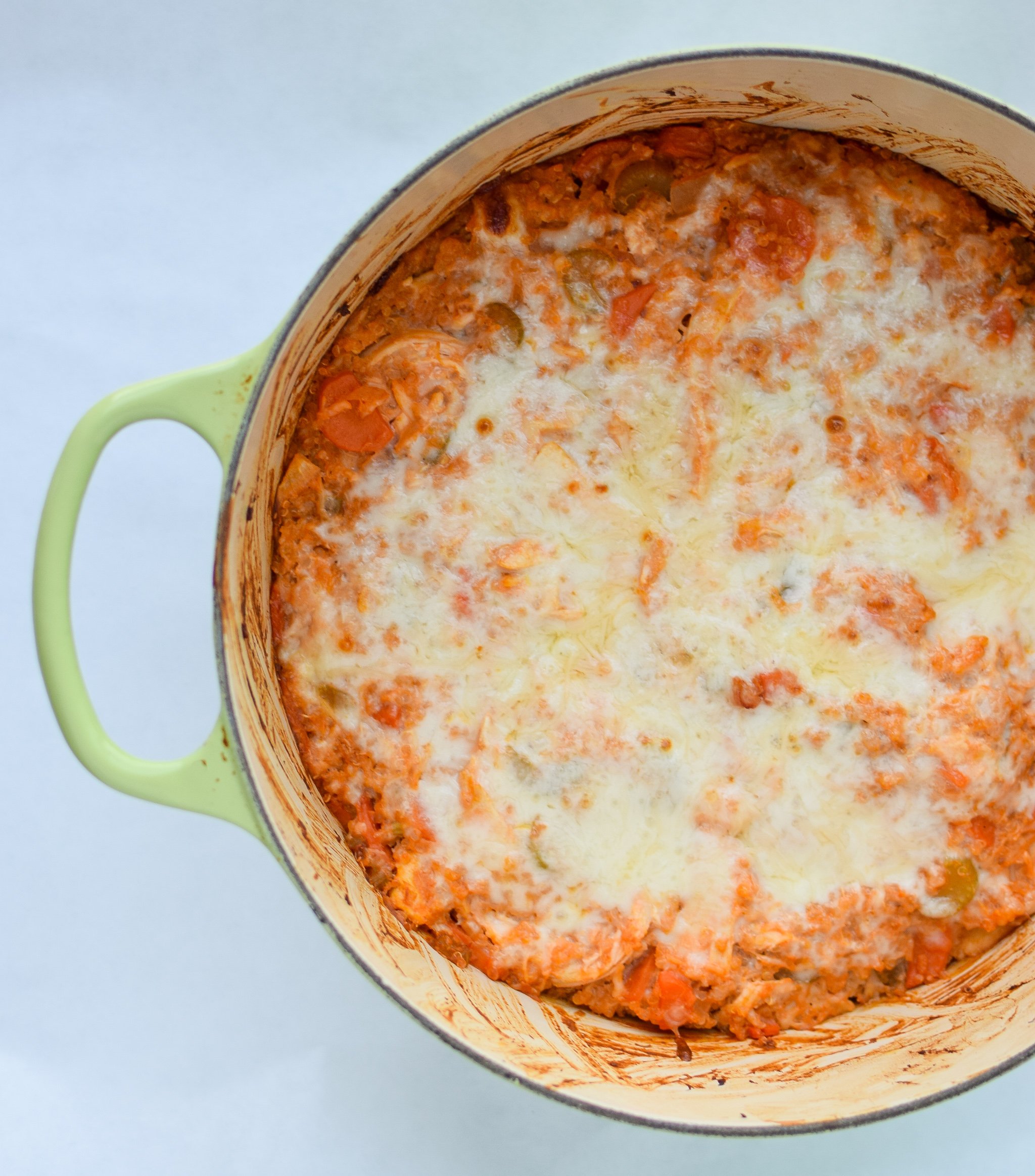 After the quinoa gets going, start some chicken breasts in a preheated oven. While that's cooking (25ish minutes depending on the thickness of the chicken breasts), prep veggies! This dish comes together quicker than it seems like it might. You're sort of preparing the next steps while the current step is finishing up.
Overall, I'm pretty thrilled for this recipe to be a part of Project Meal Plan, because I love it that much. I'm always excited for buffalo chicken anything, and this one hits the spot. It's also perfect for reheating and eating for lunches.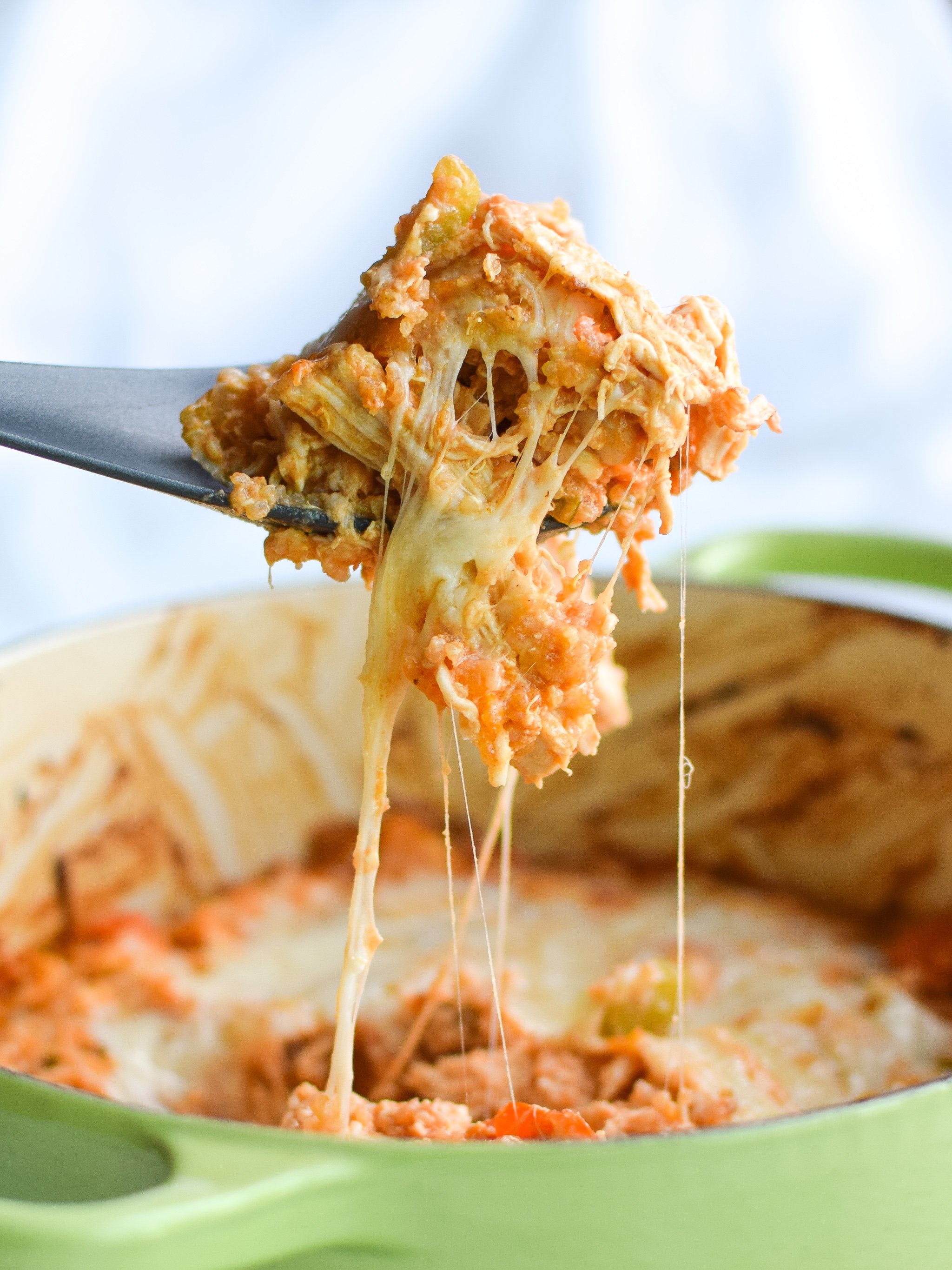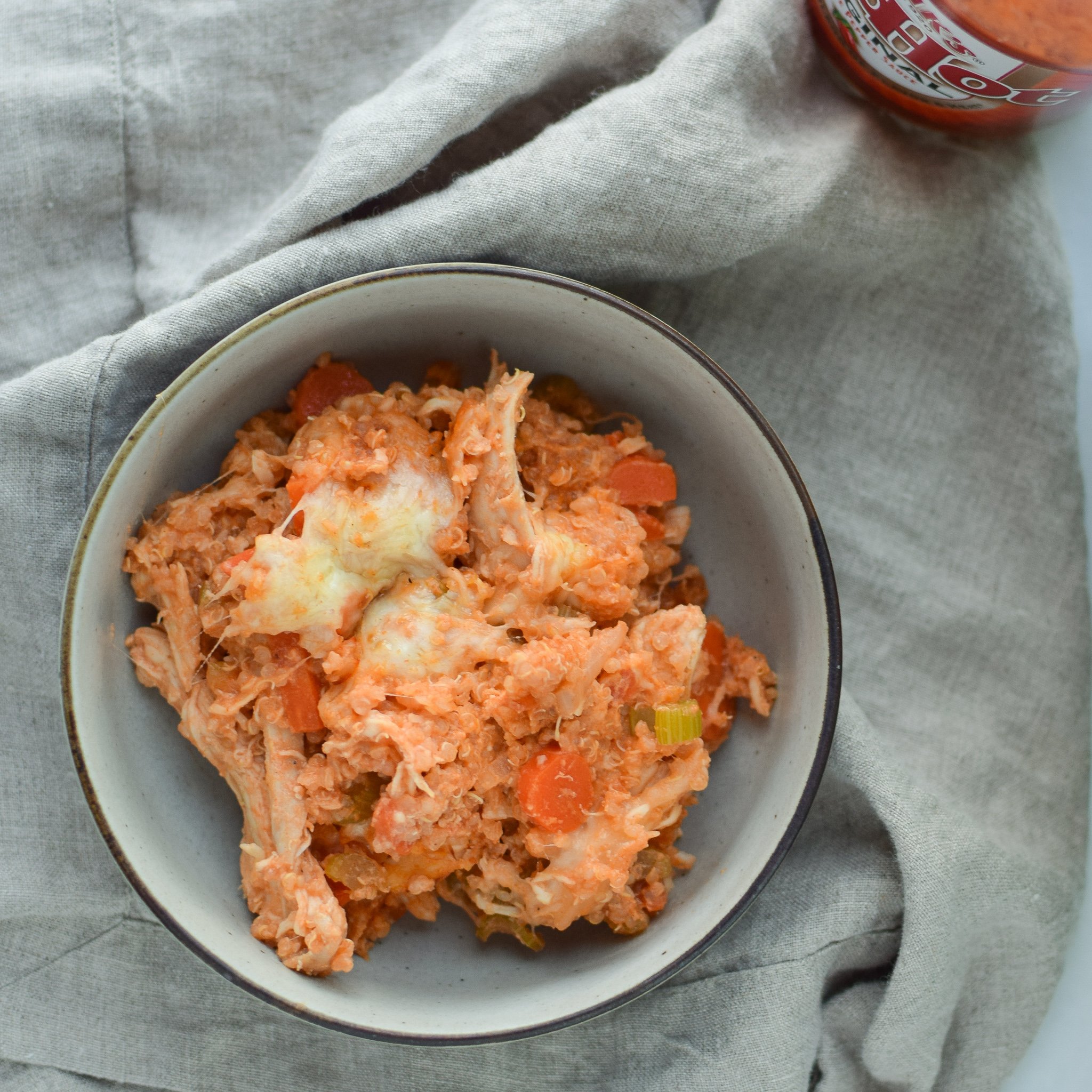 Print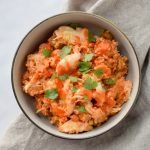 Buffalo Chicken Quinoa Bake
Author:

Prep Time:

15 minutes

Cook Time:

50 minutes

Total Time:

1 hour 5 minutes

Yield:

6 servings
---
Description
All the best flavors of buffalo chicken, baked to perfection with veggies and quinoa!
---
Ingredients
1 cup dry white quinoa
1 15-ounce can chicken broth
coconut oil, for greasing the pan (can sub butter)
3 large boneless skinless chicken breasts (or about 3 pounds)
1/2 yellow onion, diced
4 stalks celery, thinly sliced
2 large carrots, peeled and diced
3 tablespoons tomato paste
1 teaspoon garlic powder
1/2 cup whole fat greek yogurt
2 eggs, whisked
3/4 cup Frank Red Hot sauce
1/2 cup shredded parmesan cheese
1 cup shredded mozzarella cheese (separated)
blue cheese crumbles optional (not my thing but some like it)
salt/pepper
---
Instructions
Preheat the oven to 400 degrees.
Use coconut oil to grease the inside of the rice cooker dish. Add quinoa and chicken broth to the rice cooker and set to cook on the brown rice setting. (You can also cook the quinoa by the package directions if you do not have a rice cooker.)
Place chicken breasts in Dutch oven (preferably) or large oven safe skillet. Coat with 1 tablespoon olive oil, and 1/2 teaspoon each salt and pepper, flipping to coat both sides.
Place in preheated oven for 25-30 minutes, or until cooked through to 165 degrees. Leave the oven on the for the final baking step.
Remove chicken from the Dutch oven and set aside. When it's cool enough to do so, shred the chicken.
Heat the leftover chicken juices over medium-high heat. Add onion, celery and carrot, and 1/2 teaspoon each salt and pepper. Stir frequently for about 8 minutes, or until the onions are translucent.
Add tomato paste and garlic powder. Stir for about 2 minutes, and then remove from heat.
In a large medium bowl, stir Greek yogurt, eggs, hot sauce, parmesan cheese and 1/2 cup mozzarella cheese until well combined.
To the Dutch oven with the vegetables, add chicken, quinoa, and hot sauce mixture. Stir until completely combined. Top with remaining 1/2 cup mozzarella cheese.
Bake with lid on for 20 minutes. Bake with lid off for an additional 5 minutes.
---
---
Nutrition
Serving Size:

1/6 of casserole

Calories:

473

Sugar:

4.5g

Fat:

14.1g

Carbohydrates:

25g

Fiber:

3.7g

Protein:

58g
Thank you so much for checking out the Buffalo Chicken Quinoa Bake! Tag @projectmealplan on social media if you make this awesome buffalo bake! I'd love to check it out. And be sure to follow me on Pinterest for meal inspiration every single day!
– Danielle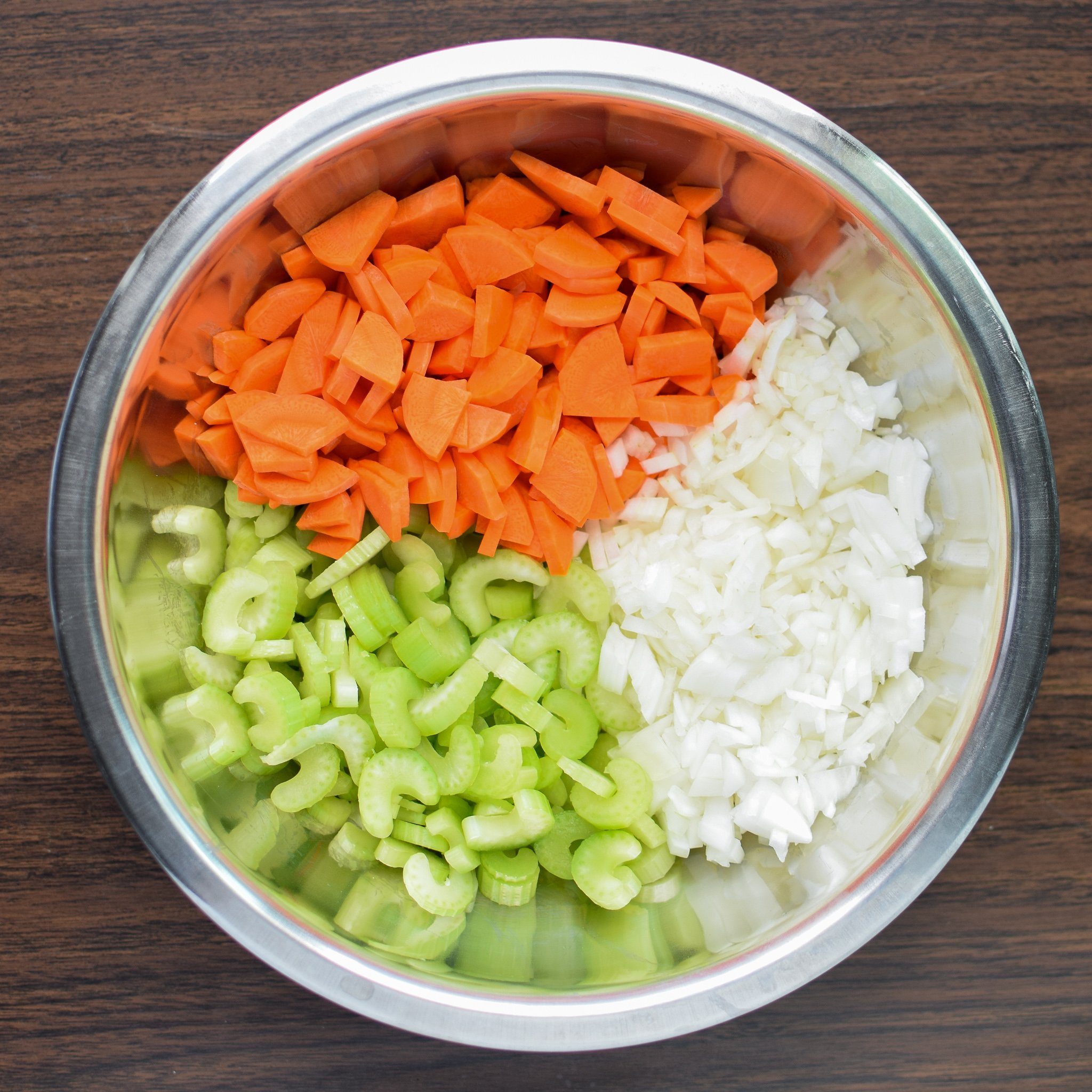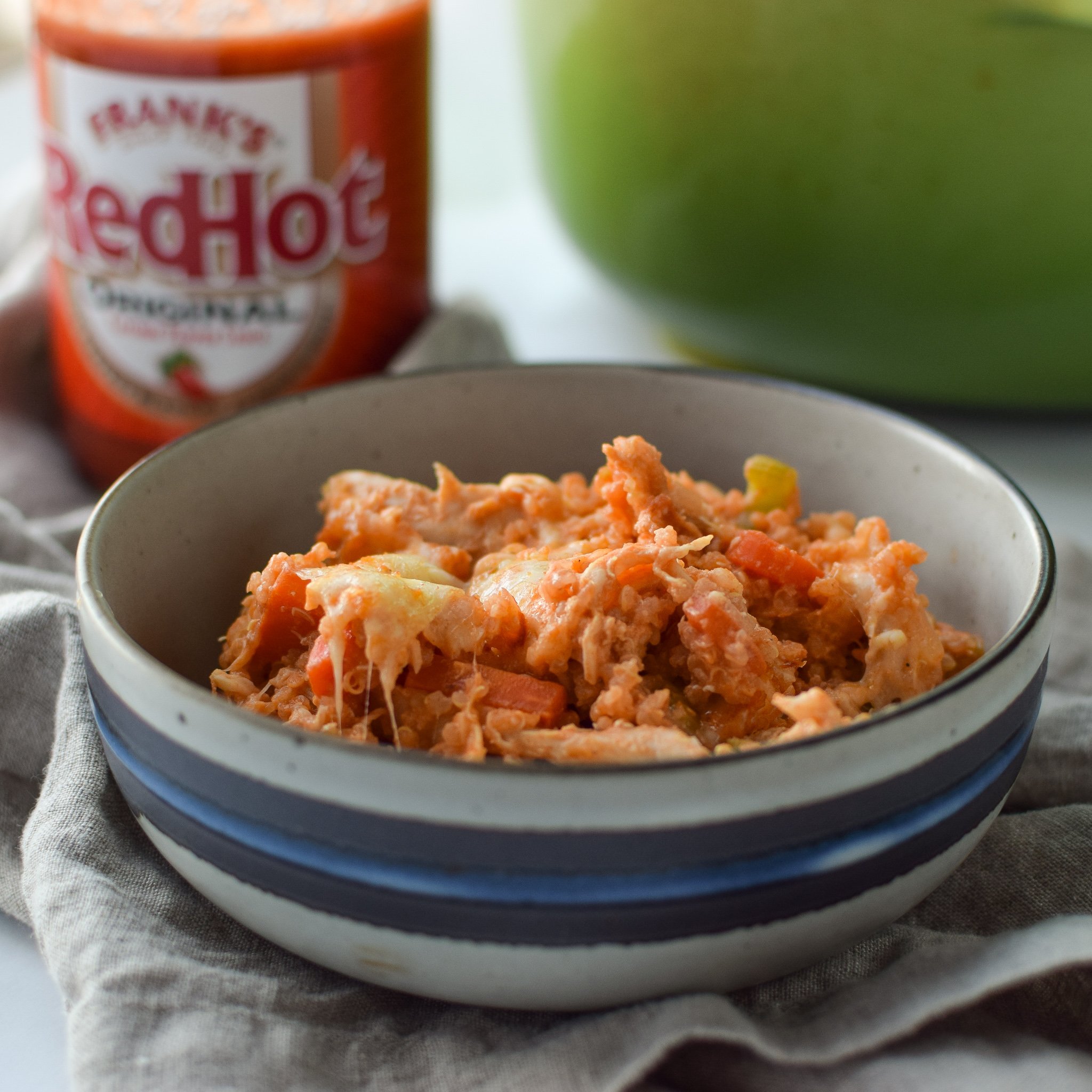 Disclaimer: Some of the links on this page are for affiliated products on Amazon. If you are planning to make any purchases, please start your Amazon shopping here on Project Meal Plan! We'll get a small commission at no extra cost to you. I truly appreciate your support! For more information, please see our Full Disclosure & Privacy Policy.
Support and Share Project Meal Plan -
Disclaimer:
 Project Meal Plan is a participant in the Amazon Services LLC Associates Program, an affiliate advertising program designed to provide a means for us to earn fees by linking to Amazon.com and affiliated sites. For more information, please see our
Full Disclosure & Privacy Policy
.