The other day, I ate this casserole for lunch AND dinner. Then I realized I had probably eaten like half a head of broccoli that day (plus spinach and cauliflower whattt). Has that happened ever? I don't think so, but I love it. It's the Veggie Loaded Rotisserie Chicken Casserole.
Jump to Recipe · Jump to Video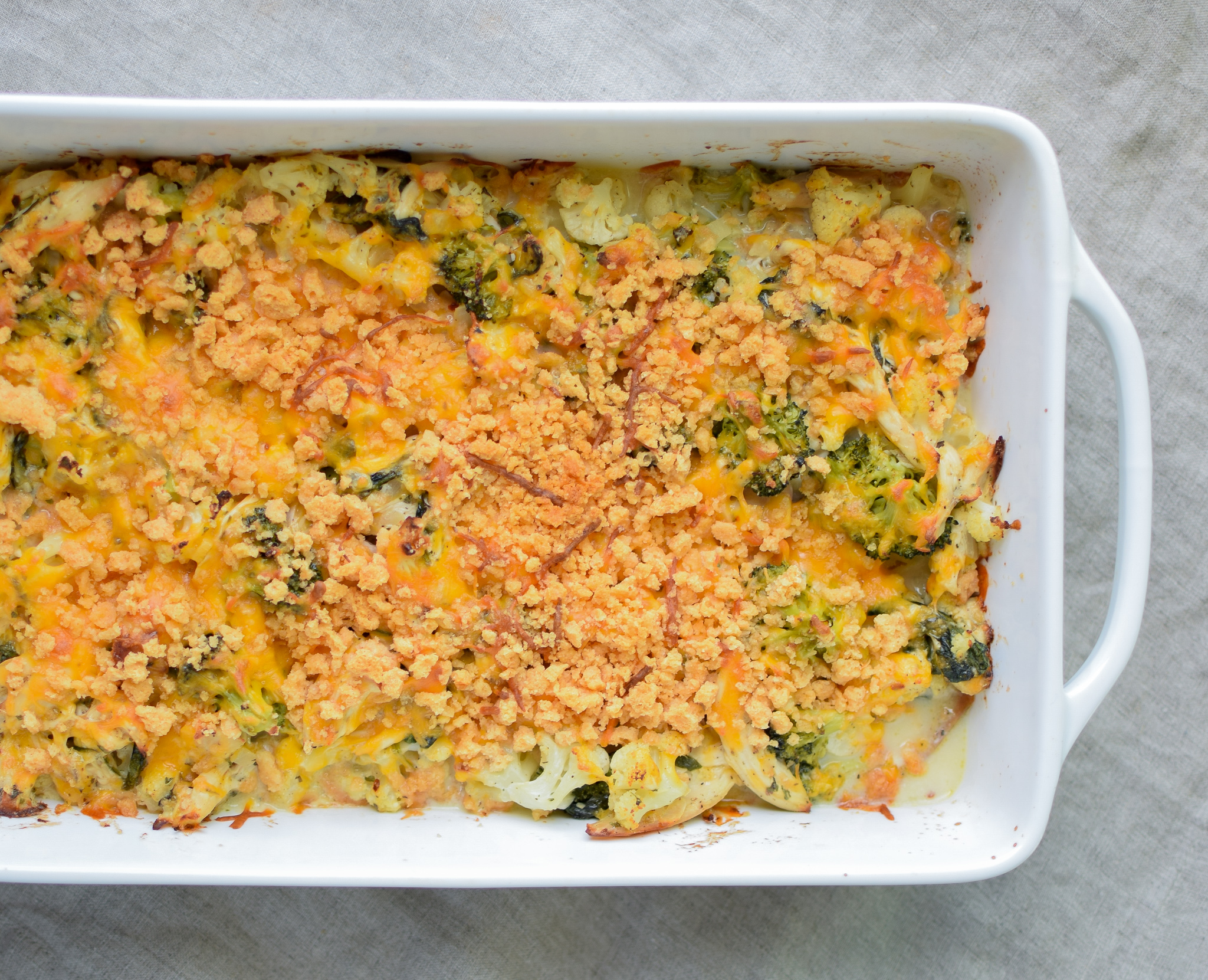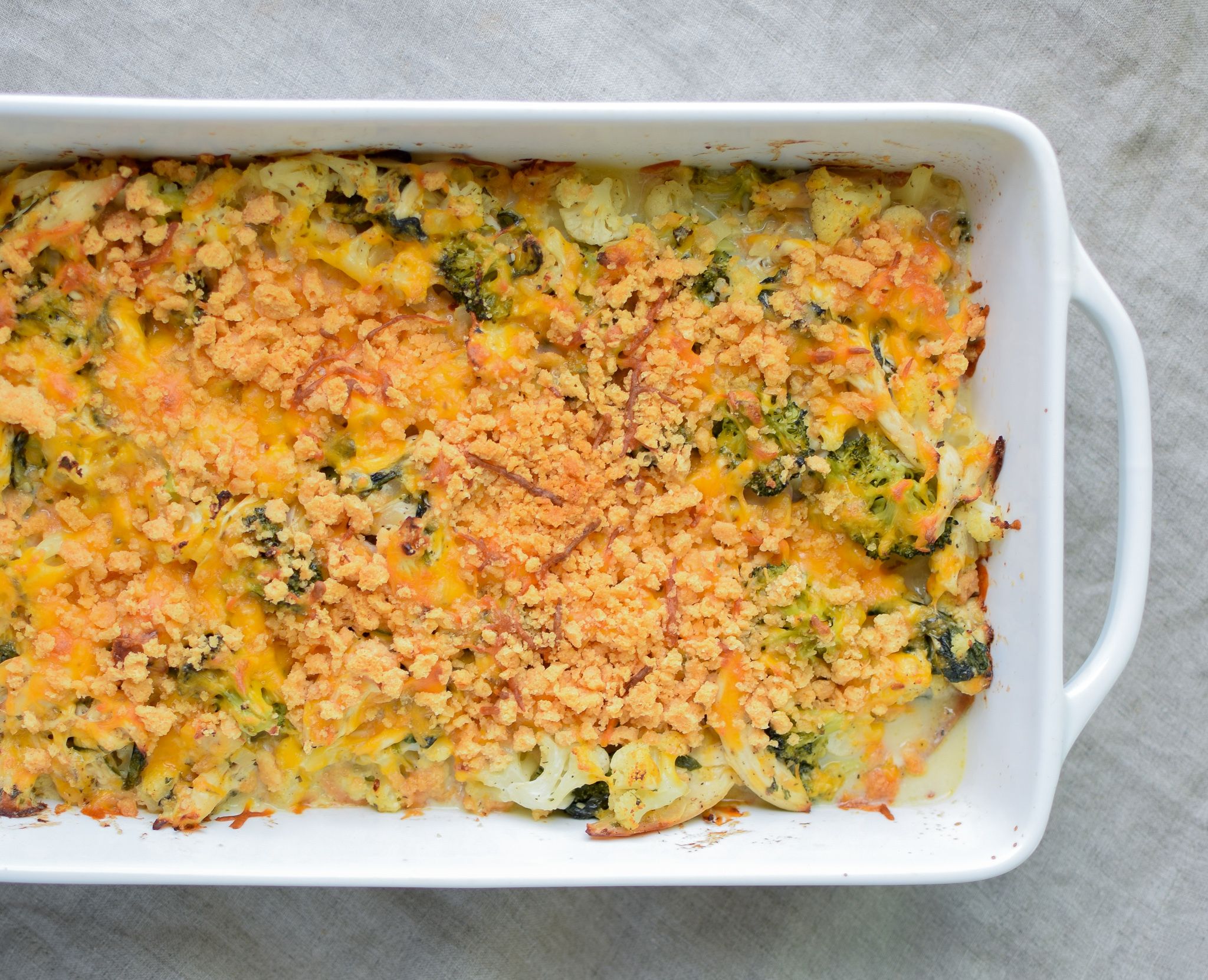 One of my first casserole related discoveries: using greek yogurt instead of cream. Greek yogurt – so versatile, so yummy, so creamy – and not heavy cream. And if I'm understanding things right, it's better for you. I normally use Fage Total All Natural Greek Yogurt, or the Trader Joe's brand if I'm already there. I've graduated to the level of always having some in my fridge. We use it that often.
This greek yogurt substitution has been around the internet for a while now. And, based on my own experience, I approve. It's an easy way to avoid heavy cream when you just don't need it. But, I wanted to know a little more, so I did some research (sounds like something I would do).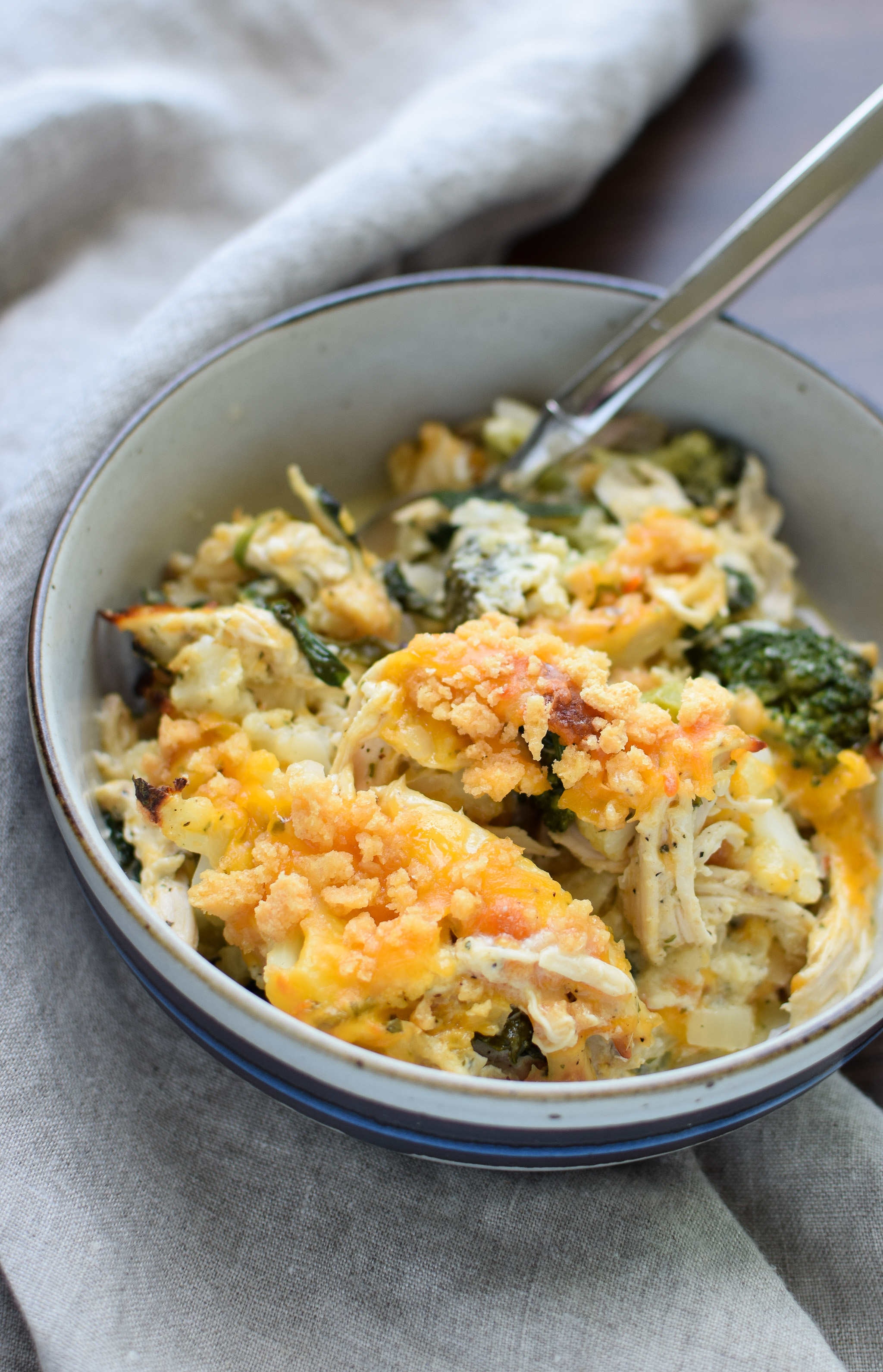 I found this article on Leaf.tv by Amelia Allonsy called When Can You Substitute Greek Yogurt for Heavy Cream? with some helpful info:
Heavy cream lends richness, creaminess and flavor to sweet and savory dishes, but it has 44 grams of fat and 28 grams of saturated fat in a cup. With only 22 grams of fat and 28 grams of saturated fat per cup, a Greek yogurt substitution for cream cuts the fat in half. While the two are generally substituted at a 1-to-1 ratio, the thickness of Greek yogurt and the difference in fat content create subtle difference in the finished dishes."
The article goes on to discuss greek yogurts changes to other kinds of dishes, including baked goods, soups, and dressings. Ms. Allonsy even describes how to carefully temper greek yogurt for creamy soups. I'm definitely saving this one for later!
This recipe isn't too complicated. It only requires cooking the vegetables before combining all ingredients and then baking to perfection. The topping is totally your choice. I used the Whisps Parmesan Cheese Crisps I've been talking lately about instead of breadcrumbs.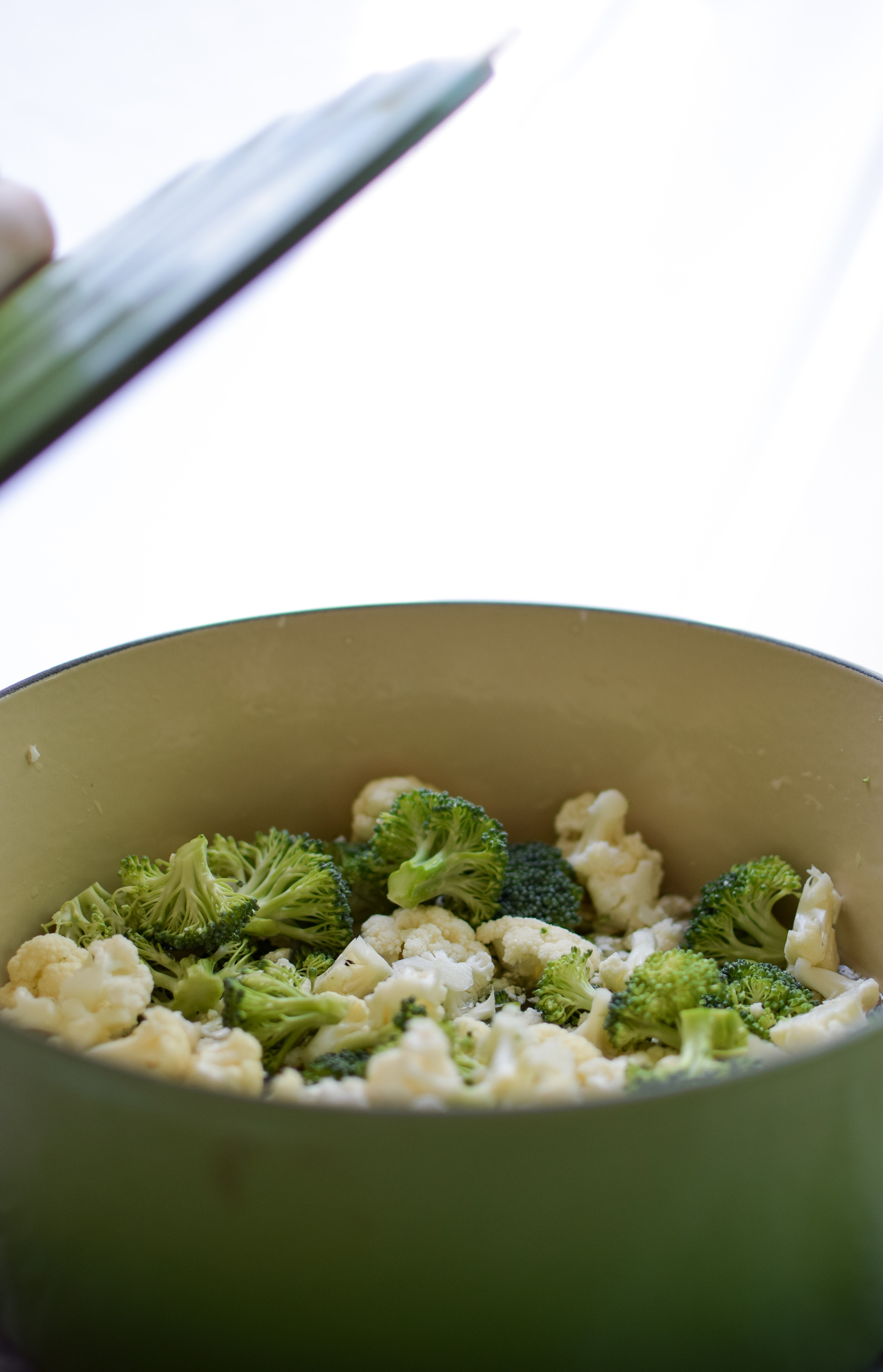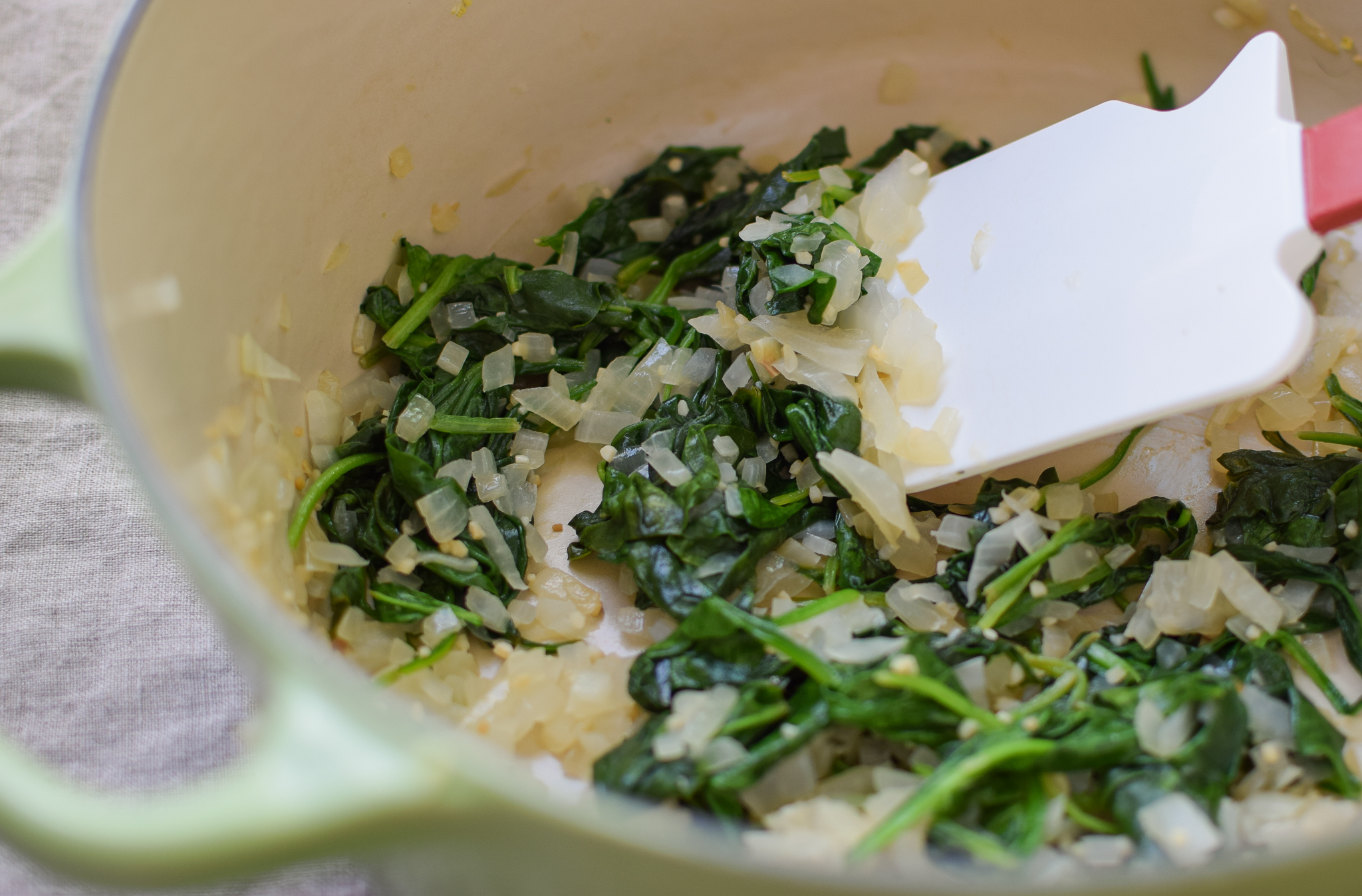 I never really mind when casserole recipes take some time to bake after I have cooked components. There's always time for dishes before serving! Definitely my favorite part… Totally kidding, of course.
And since it's mostly veggies, each casserole makes about 6 servings. If you're meal prepping, this is PERFECT. It reheats wonderfully. We can't get enough! BONUS: It doesn't smell all cauliflower-y when you reheat (at least for me). Enjoy!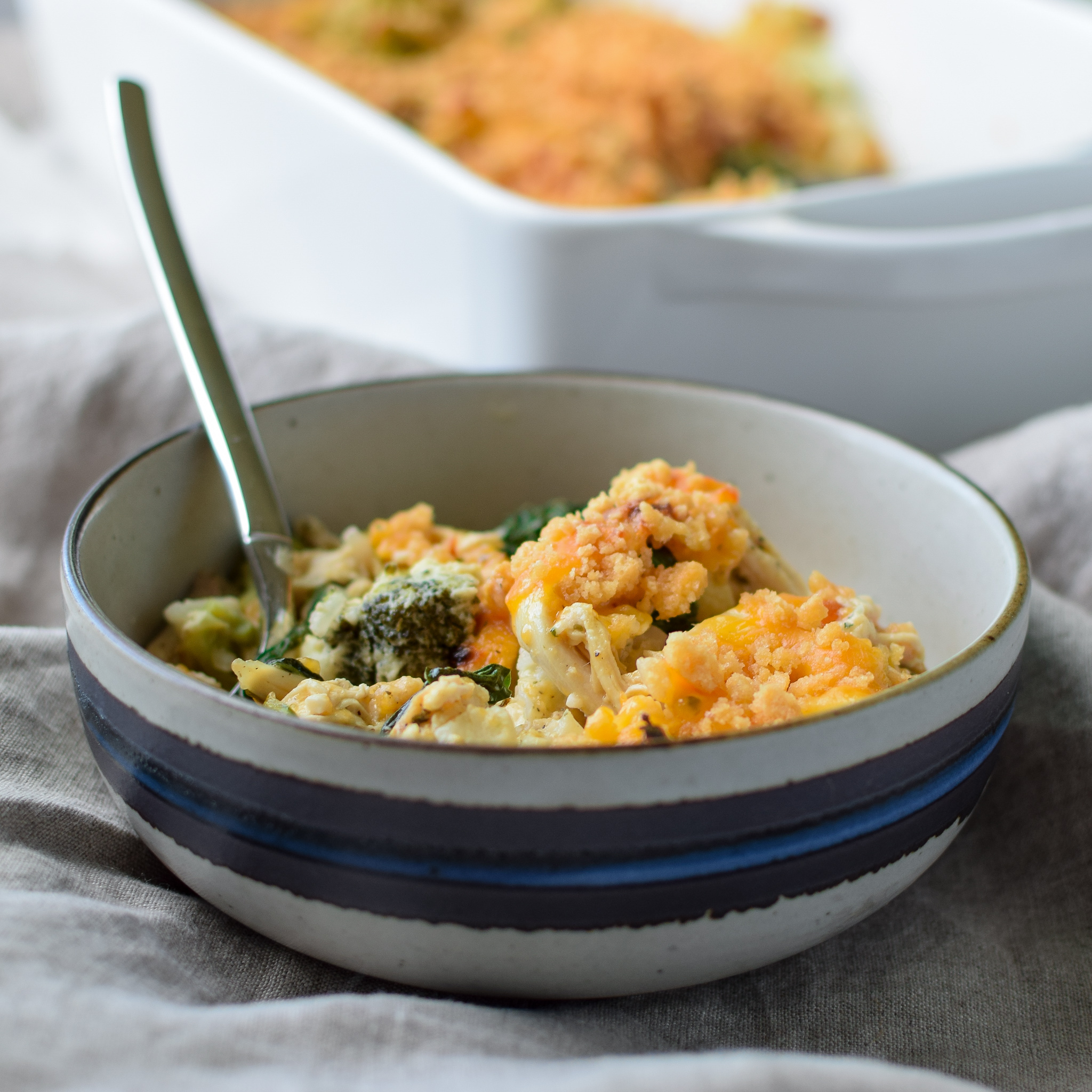 How to Make Veggie Loaded Rotisserie Chicken Casserole (2 min):

More dinner recipes from Project Meal Plan:
Print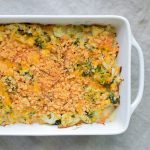 Veggie Loaded Rotisserie Chicken Casserole
Author:

Prep Time:

15 minutes

Cook Time:

55 minutes

Total Time:

1 hour 10 minutes

Yield:

6 servings
---
Description
Delicious juicy chicken baked with broccoli, cauliflower, spinach, greek yogurt and more! Healthy and easy, from ProjectMealPlan.com
---
Ingredients
1 head of broccoli, stems removed, cut into bite-sized pieces or florets
1 head of cauliflower, stems removed, cut into bite-sized pieces or florets
1 tablespoon olive oil
1/2 white onion, diced
2 heaping cups of baby spinach leaves
1 tablespoon garlic, minced
2 eggs, whisked
1 cup greek yogurt, whole fat
1/4 cup milk, 2%
1 1/2 cups sharp cheddar cheese, shredded and separated
3 cups rotisserie chicken (all the meat pulled from one chicken)
1 pinch of red chili pepper flakes (to taste)
1/2 teaspoon dried basil
1 teaspoon dried parsley
1 teaspoon ground black pepper
1 teaspoon salt
2/3 cup baked parmesan crisps, crushed (I like Whisps, or make your own – see notes)
---
Instructions
Begin by steaming your broccoli and cauliflower together in a deep pan (I used a Dutch Oven). Place all florets in about 1 inch of water and a pinch of salt. Cover and set to medium heat. Steam until all florets are just tender, which took 16-18 minutes for me. When the broccoli and cauliflower are nearly done, pre-heat the oven to 375. Remove broccoli and cauliflower from heat and strain to remove all liquid from the pan. Set the veggies aside to cool.
Return the same pan to medium heat and add 1 tablespoon of olive oil. When the oil is hot, add onion and cook for 2 minutes. Add spinach and garlic. Continue cooking, stirring frequently, until spinach is wilted and onions are beginning to turn translucent. Remove from heat and let cool.
In a large mixing bowl, add eggs, greek yogurt, and milk. Stir until completely mixed. Add rotisserie chicken, 1 cup cheese (save the other 1/2 cup), red chili pepper flakes, basil, parsley, black pepper, and salt. Stir until almost completely mixed.
Finally, add all cooked vegetables and stir until everything is completely mixed. Add to 9×13 greased baking dish.
Spread remaining cheese on top. Sprinkle parmesan crisps on top of cheese. Place in the oven for 35 minutes. Casserole is done when the top is golden brown. I like to broil for 3 extra minutes to give the top a little extra crisp.
---
Notes
Parmesan crisps: Readers have suggested making your own parmesan crisps at home: On a baking tray lined with parchment paper, make little piles of shredded parmesan. Bake at 400 degrees F for 5-7 minutes, or until crispy. Crunch them up and sprinkle them on your casserole!
Inspired by Chicken Cauliflower Casserole by 12 Tomatoes. Nutrition information estimated with My Fitness Pal. Update: Video added on 5/26/17.
---
Nutrition
Serving Size:

1/6 of casserole

Calories:

335

Fat:

18g

Carbohydrates:

11.8g

Protein:

32.5g
To make this recipe, I used:
Thank you so much for checking out my Veggie Loaded Rotisserie Chicken Casserole! Tag @projectmealplan on social media if you make this yummy recipe! Follow me on Pinterest for meal inspiration every single day. Thanks in advance!

Support and Share Project Meal Plan -
Disclaimer:
 Project Meal Plan is a participant in the Amazon Services LLC Associates Program, an affiliate advertising program designed to provide a means for us to earn fees by linking to Amazon.com and affiliated sites. For more information, please see our
Full Disclosure & Privacy Policy
.