Loaded with Swiss chard, broccoli, red bell pepper, and of course eggs & bacon, this Veggie Packed Breakfast Fried Rice makes a great savory brunch dish, or meal prep it for any meal of the day to enjoy delicious leftovers!
Jump to Recipe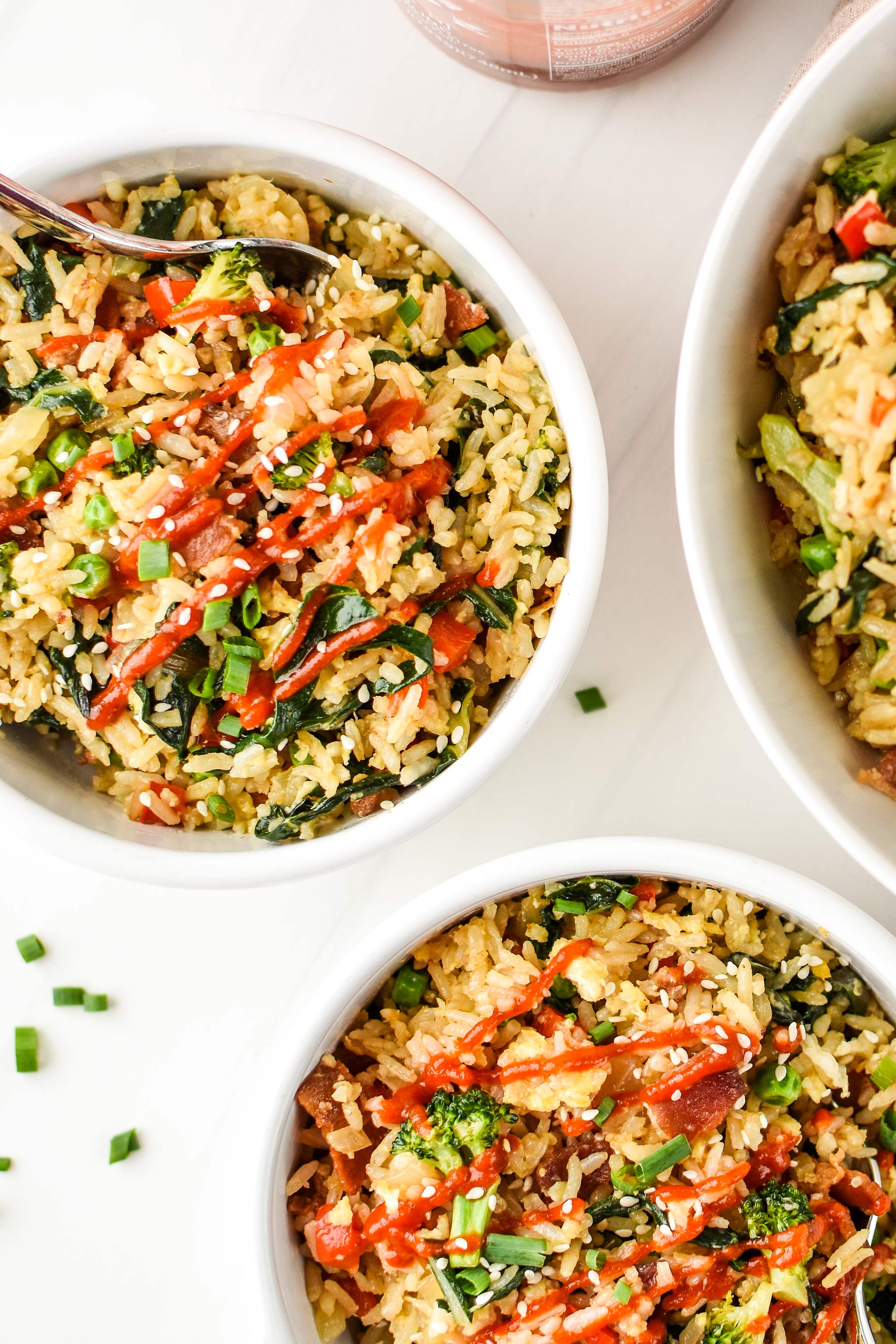 Let me cut to the chase: We had the best breakfast fried rice on our recent trip to Hawaii. Fried rice is something we make at home sometimes, so obviously I had to put my own Hawaiian-inspired spin and make it for our meal prep!
Here's something people on the internet want to know:
Is it okay to eat rice for breakfast?
Other variations of this question include, "Is fried rice healthy to eat for breakfast?" or "Can you eat rice for breakfast?"
I'm gonna go ahead and say that if you are scared to eat rice for breakfast, don't go to Hawaii! Seriously though, whether or not rice is okay to eat for breakfast depends on your own goals. To me, it's not all that different from eating a bagel or toast, as long as the portions are kept under control.
I also don't feel bad because I packed this fried rice recipe with veggies. Swiss chard, broccoli, red bell pepper, things I would never put on my bagel or toast. So that's a bonus, right? I also use my ButcherBox bacon – ethically raised bacon with no sugar or added preservatives. So, for me, yes it is okay to eat rice for breakfast!
How do you make fried rice?
First of all let me say, I am not a fried rice expert. I do not claim that this is authentic fried rice (although I do use a wok!). I just go by what the food masters say. Actually, it was my husband who taught me how to make fried rice, but I'm pretty sure he just does whatever J. Kenji López-Alt tells him to do.
For real though, to make awesome fried rice, I will first tell you to read this article: Follow These Rules for the Best Fried Rice. Everything in this recipe will make a lot more sense!
Step 1: Make some rice and let it cool. You can also use chilled leftover rice from the fridge.
Step 2: Prep all of your add-ins ahead of time.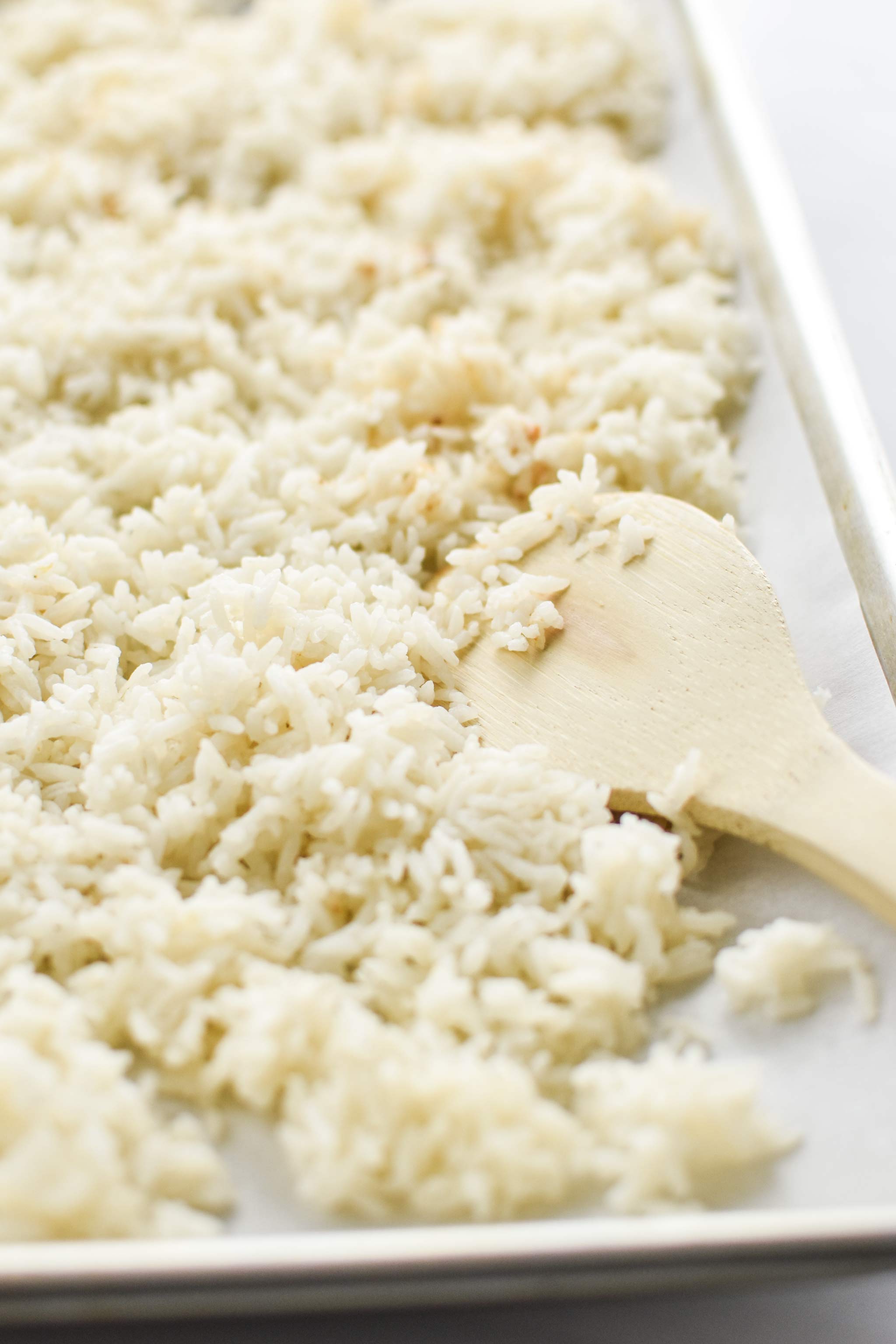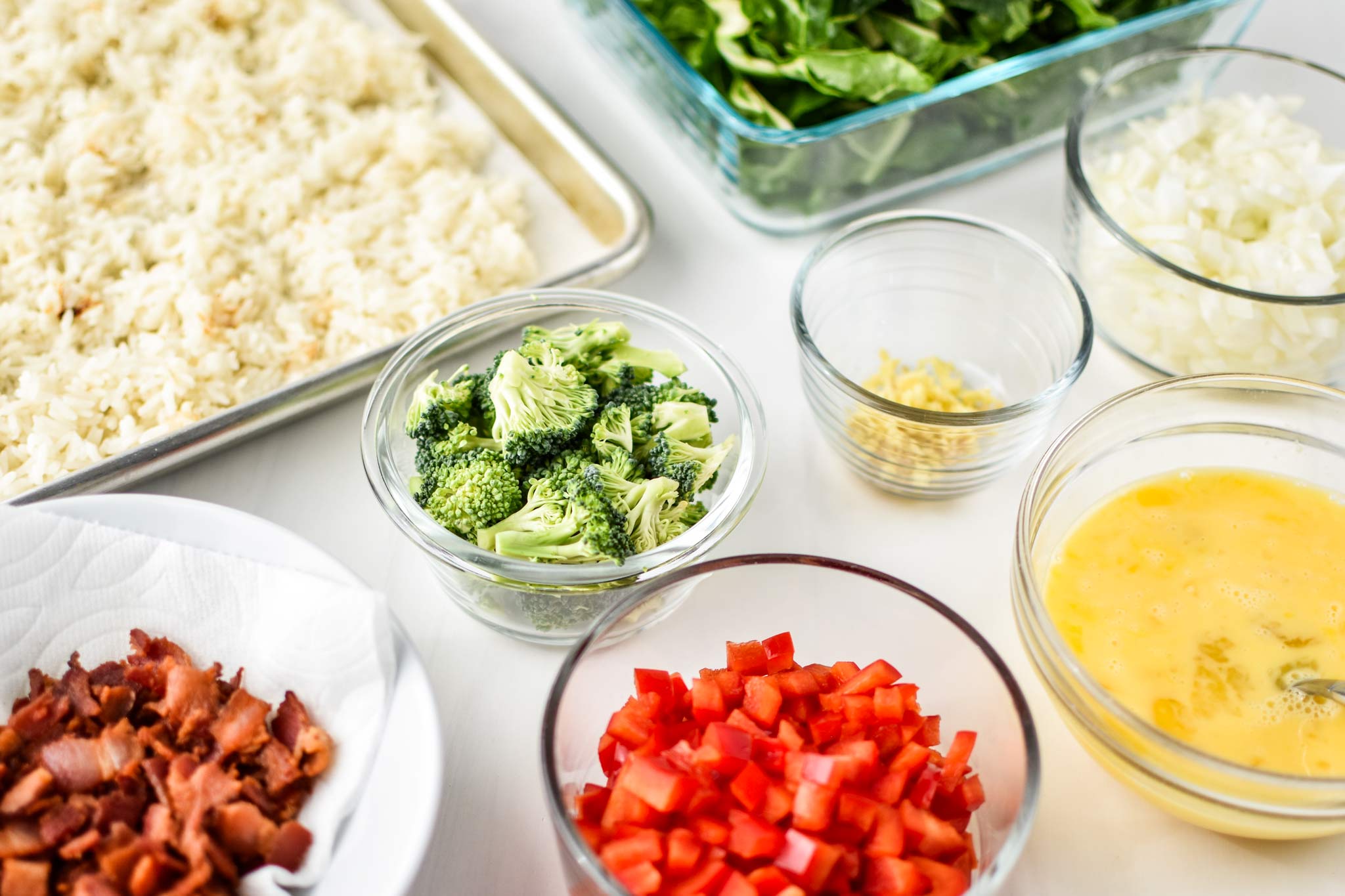 Step 3: Cook your add-ins (except the eggs). Start with the bacon. Then reserve some of the bacon fat for cooking the vegetables. Cook onions & peppers first, then add broccoli. After a couple minutes, add chard, ginger, and garlic. Set aside when done.
Step 4: Fry your rice. Do this in a Wok, preferably, but a large deep skillet will also work. Use an oil with a high smoke point, like avocado oil. Fry your rice in batches, frying about a cup at a time.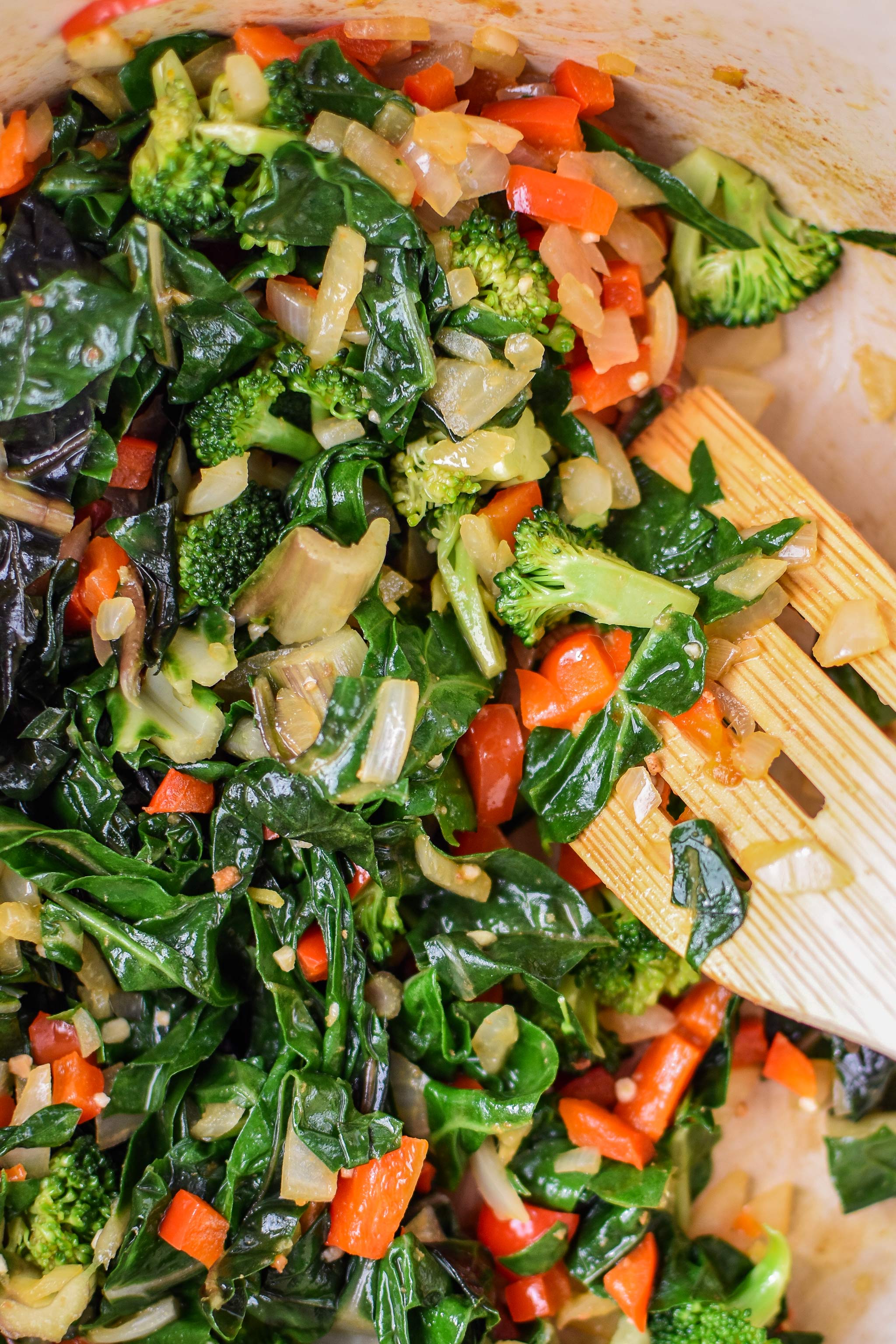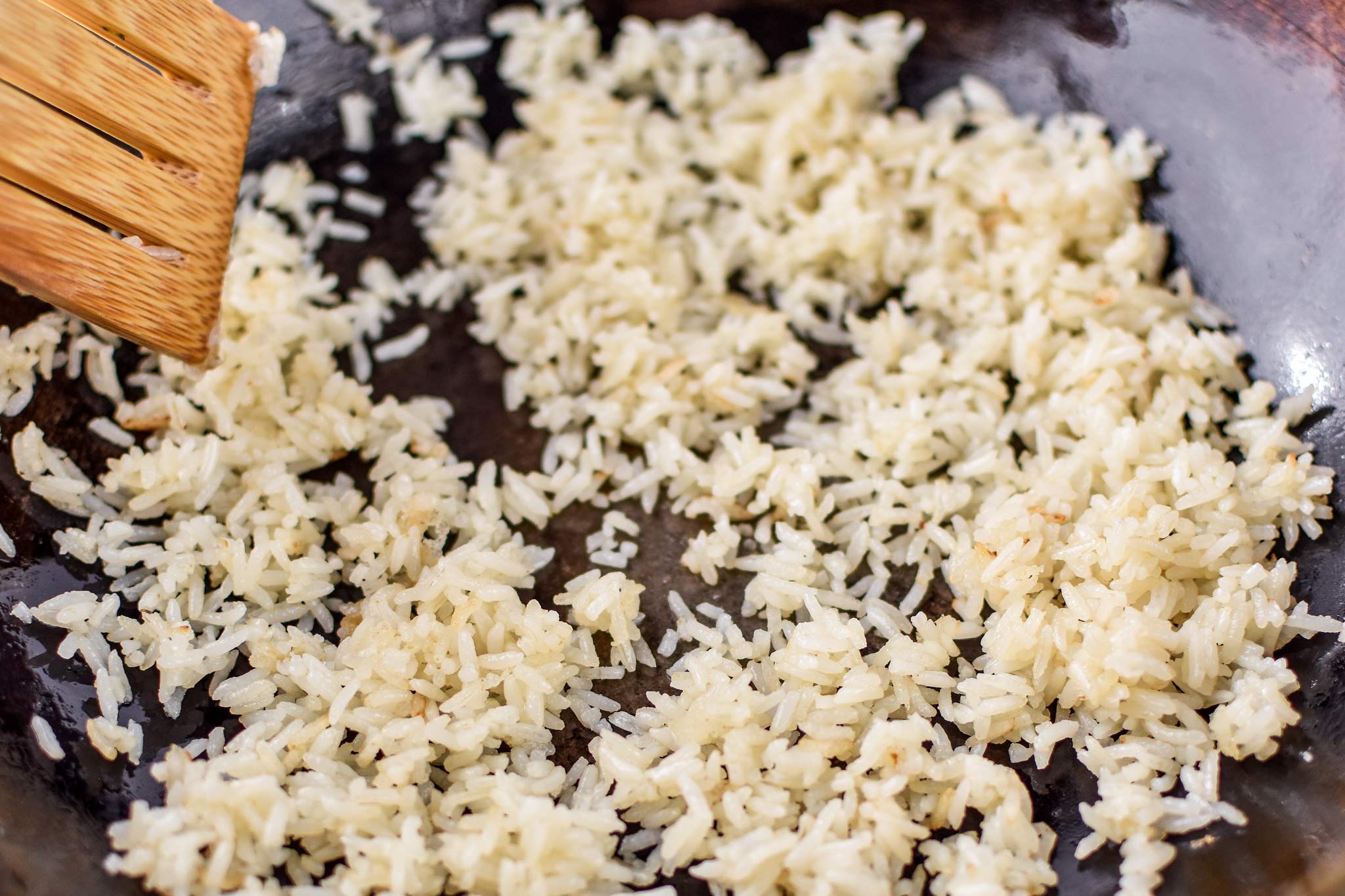 Step 5: Combine fried rice with cooked add-ins and sauce.
Step 6: Make a well and scramble the eggs.
Step 7: Mix in the peas.
Step 8: Enjoy!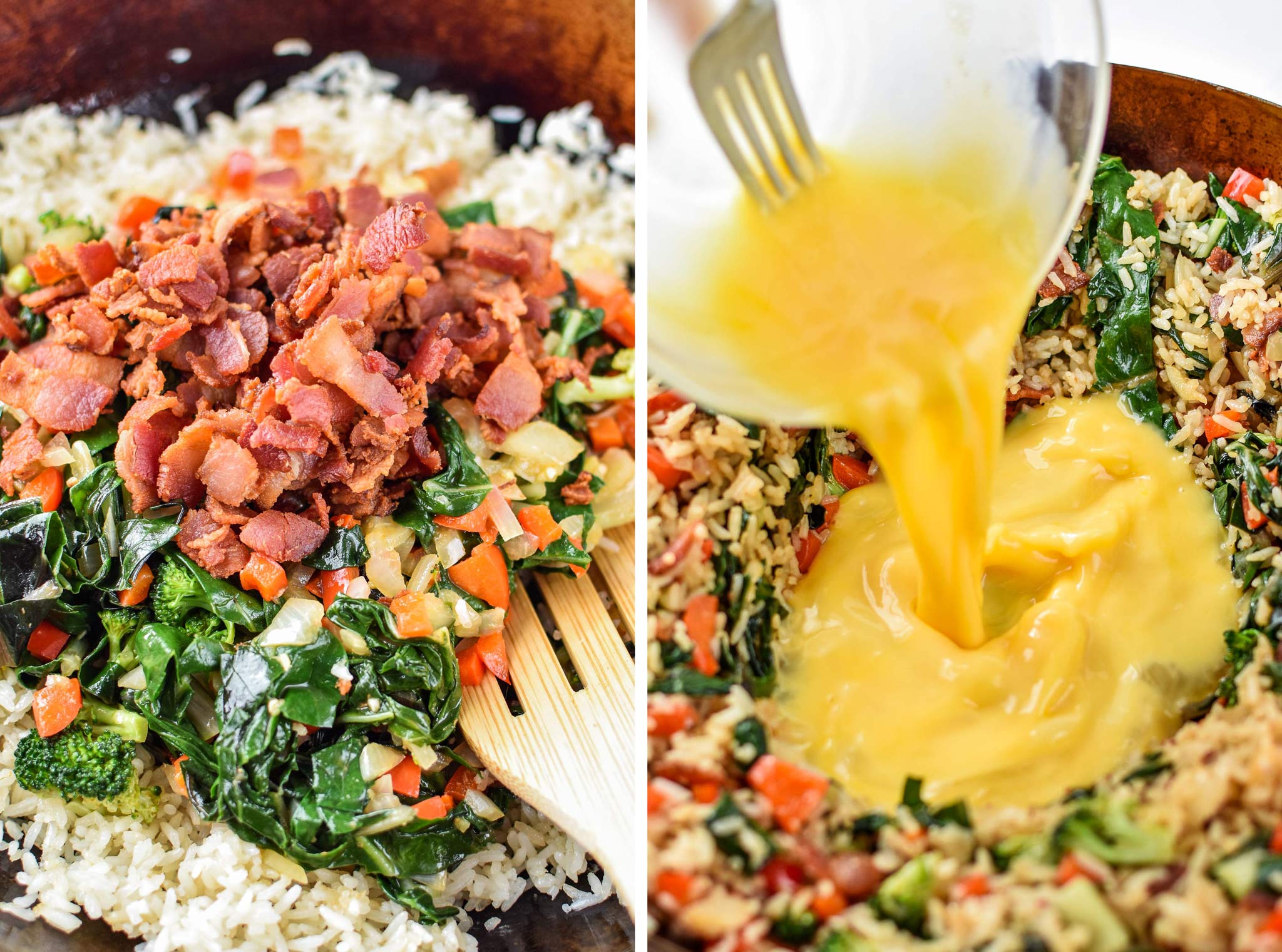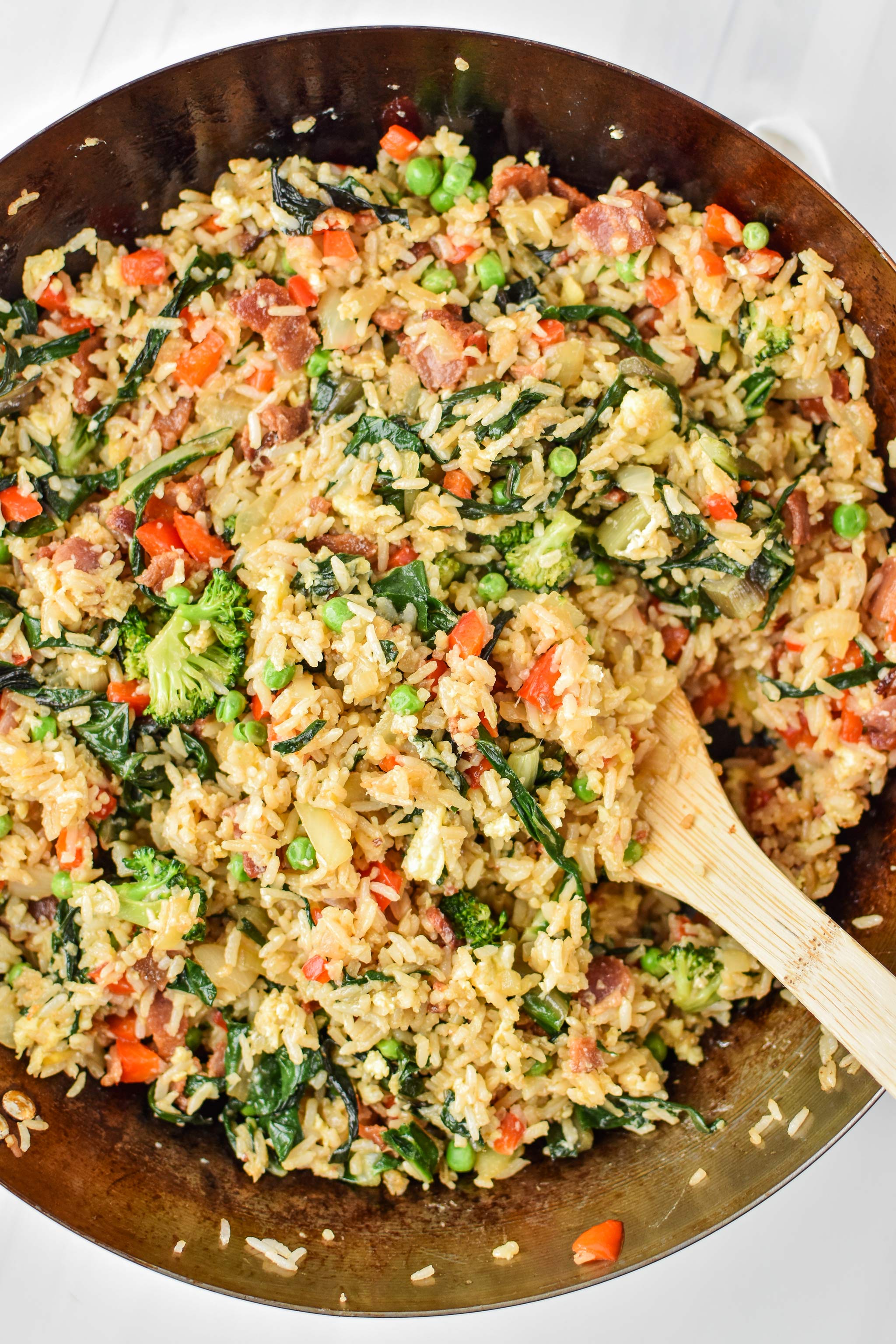 What can I substitute for ______?
I know you guys love substitutions!! Here are some ideas to make some variations on this Veggie Packed Breakfast Fried Rice!
Substitute the bacon for: Breakfast seasoned sausage, more veggies, or just leave it out.
Substitute the red bell pepper for: Carrots to keep some color, any color bell pepper you have on hand, or use sweet mini peppers.
Substitute the Swiss chard for: Use whatever greens you have on hand. You can also use spinach, bok choy, cabbage, or other greens.
Substitute the broccoli for: Cauliflower, zucchini, more peppers, or mushrooms.
Do I have to eat this Breakfast Fried Rice for Breakfast?
Absolutely not!! In fact, I eat this Breakfast Fried Rice for lunch 80% of the time. It makes great leftovers, which is why I would always recommend this dish for meal prep purposes. It's the kind of meal that I make one day, and then eat as leftovers for at least two or three more meals after that!
If storing leftovers in the fridge, use airtight containers and enjoy within four days. I would guess this meal would freeze well in an airtight freezer safe container, but I have not yet determined this for sure!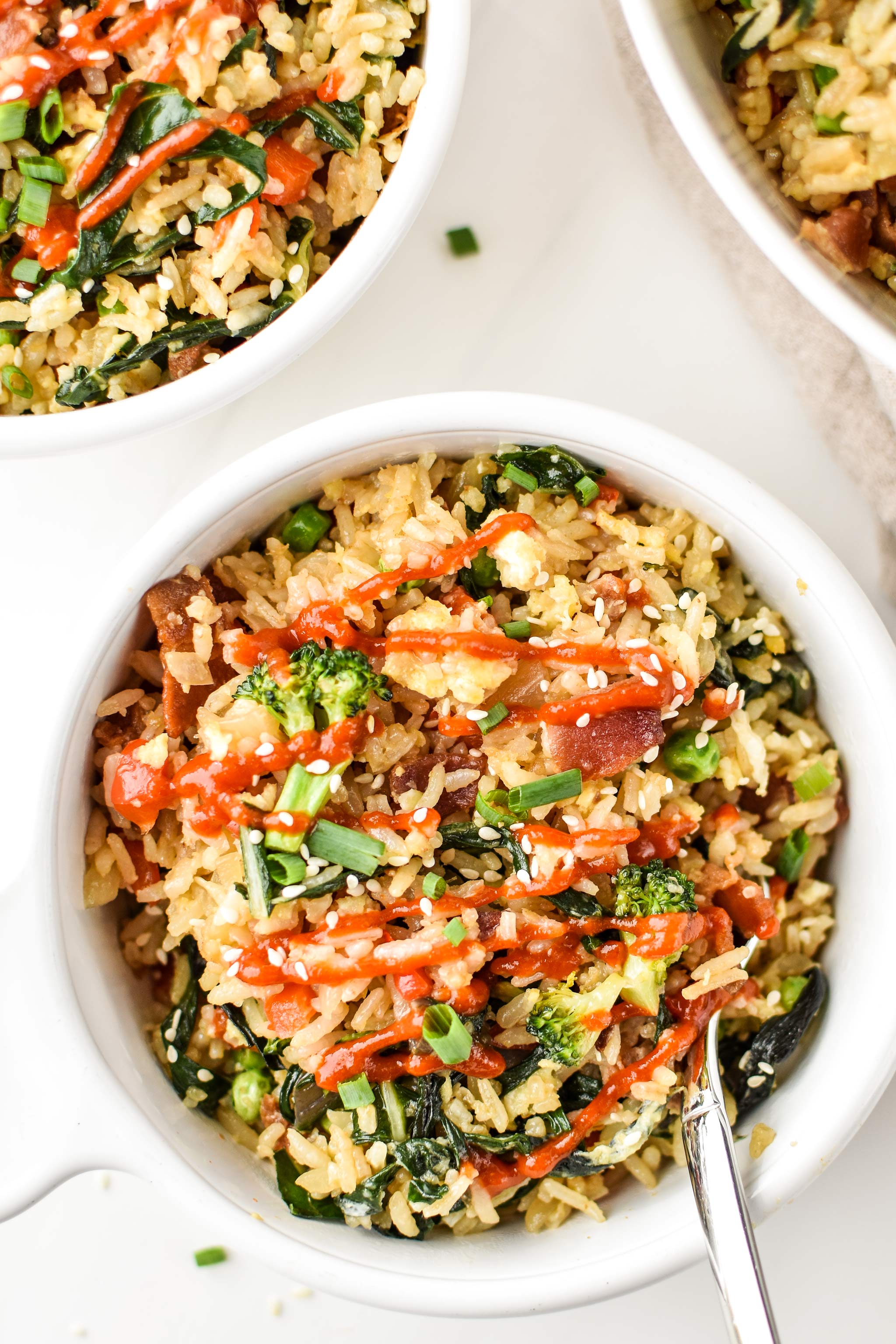 Other recipes you should try from Project Meal Plan:
Recipe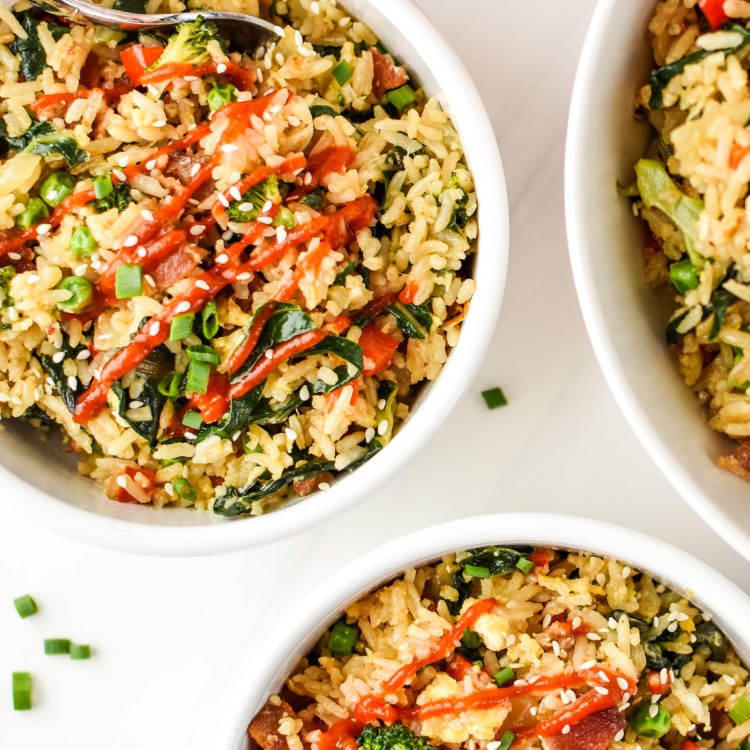 Veggie Packed Breakfast Fried Rice
Prep:
15 minutes
Cook:
55 minutes
Total:
1 hour 10 minutes
Loaded with Swiss chard, broccoli, red bell pepper, and of course eggs & bacon, this Veggie Packed Breakfast Fried Rice makes a great savory brunch dish, or meal prep it for any meal of the day to enjoy delicious leftovers!
Ingredients
1

+

1/2 cups

uncooked white rice, rinsed
rice cooking water (*amount varies depending on rice cooking method)

8

strips bacon, raw (I use ButcherBox – affiliate link)

1

small onion, finely diced

1

small red bell pepper, finely diced

1 cup

small broccoli florets

1

bunch swiss chard leaves, coarsely chopped

1 teaspoon

fresh grated ginger

2

cloves fresh chopped garlic (about

1 tablespoon

)

4

–

5

tablespoons avocado oil or other high heat oil

4

eggs, whisked

3 tablespoons

soy sauce or coconut aminos

1/2 cup

frozen peas

1/2 teaspoon

salt, if not using soy sauce
Instructions
Cook and cool rice: Cook the rice in your preferred method; on the stovetop according to box directions, or using a rice cooker or Instant Pot. Fluff and cool the cooked rice by laying it out on a sheet pan uncovered to let the steam rise. You can also use chilled leftover rice. I cook the rice while I'm prepping the remaining ingredients.
Cook the bacon: Cut raw bacon strips into chunks (a little larger than bits) using a sharp knife. Heat a Dutch oven or deep skillet over medium heat. When hot, add raw bacon chunks and cook until browned to your liking, stirring occasionally. Transfer cooked bacon into a small bowl lined with a paper towel and set aside. Reserve about 1 tablespoon of the bacon grease in the pan to cook vegetables.
Cook the veggies: Heat the reserved bacon grease in the same pan over medium heat. Add onions and peppers, cooking for about 3 minutes and stirring occasionally. Next, add broccoli florets and cook for an additional 2 minutes. Finally, add the chard leaves, ginger and garlic to the pan and cook for about 1 minute, stirring frequently. Remove the vegetables from heat and set aside.
Fry the rice in batches: Heat a wok or large deep skillet over medium high heat and add 1 1/2 tablespoons of avocado oil. Once hot (very hot), add about 1/3 of the batch of cooked rice to the wok. Toss and stir with a wooden spoon, until the rice is pale brown and toasted, about 3 minutes. Transfer the fried rice to a medium bowl, and repeat the process with the remaining two batches of rice and oil. Leave the final batch of rice in the wok, turn down the heat to low, and add the previously fried rice back to the wok.
Put it all together: Add the cooked vegetables and cooked bacon to the wok with the fried rice and stir until mixed. Add soy sauce and stir until combined. Make a well in the center of the wok, add 1/2 tablespoon of oil, and add the eggs. Wait for about 90 seconds for the eggs to begin to scramble, then use a spatula to break up the eggs into small bits and incorporate them into the rice. Finally, mix in frozen peas. Continue to stir over low heat for another 2 minutes until all the peas are heated through.
Store: This meal makes great leftovers! Store in an airtight sealed container in the fridge for up to 4 days.
Notes
Rice note: I use an Aroma 8-cup rice cooker (affiliate link!) to make my rice. You can use the stovetop and follow the directions on the rice box, or use an Instant Pot to make rice. Refrigerated leftover rice will also work. You will need about 4 + 1/2 cups of cooked rice.
Nutrition information estimated with My Fitness Pal.
Nutrition Information
Serving Size:

1.5 cups

Calories:

486

Sugar:

2g

Fat:

28g

Carbohydrates:

48g

Protein:

14g
Recipe Card powered by
If you enjoyed this fried rice, then you should definitely go to Hawaii, where they make the best fried rice I've ever had! And I only had breakfast fried rice while I was there! Comment below or be sure to tag me @ProjectMealPlan or use #projectmealplan on social media to share your breakfast fried rice with me!