Spicy Baked Turkey Spinach Meatballs are easy to prep ahead for a quick weeknight meal! Packed with spinach and lean ground turkey meat, they go brest with any kind of pasta and red sauce!
Jump to Recipe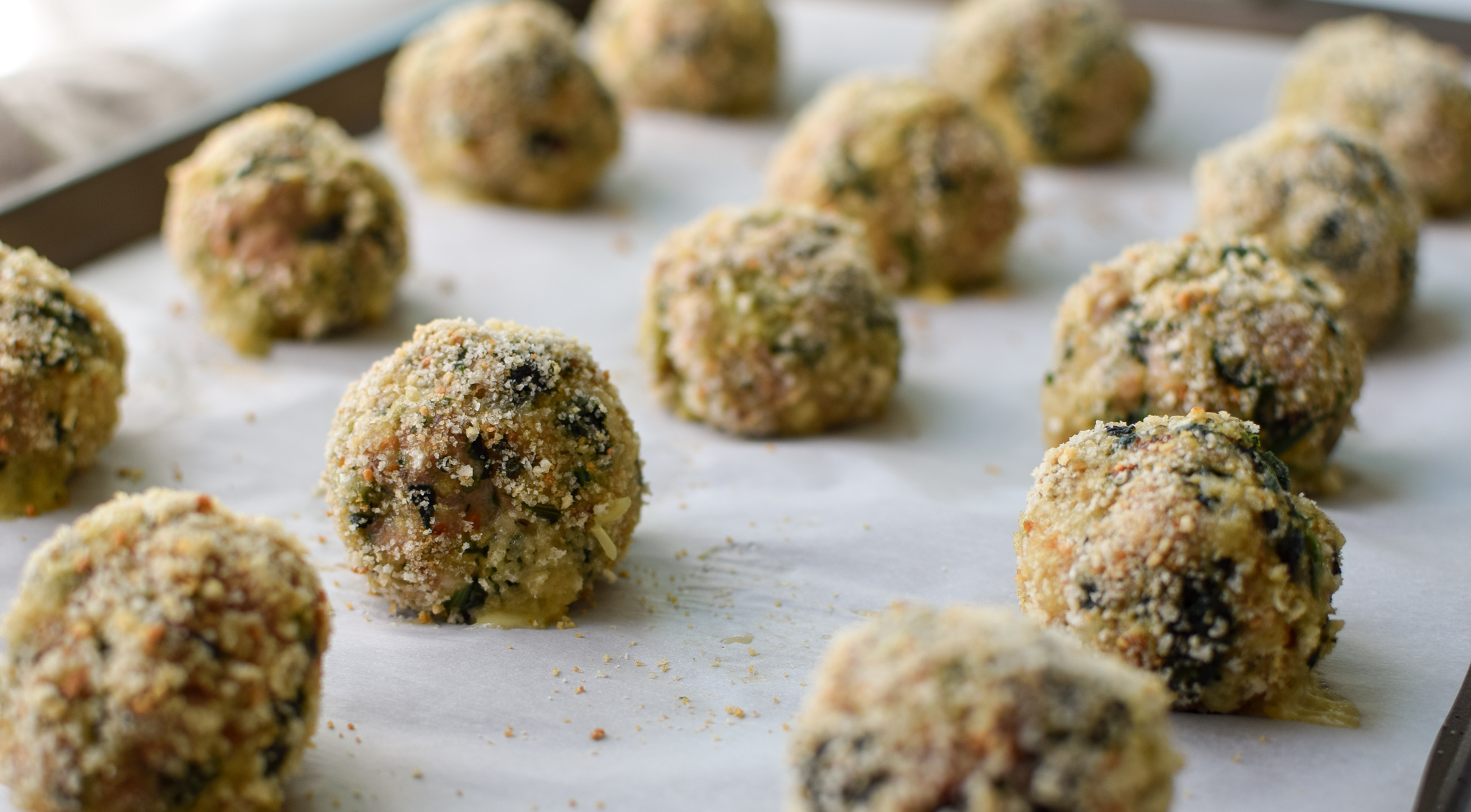 I did a few things differently with these meatballs. We recently watched one of Alton Brown's Good Eats episodes on Netflix, the Great Balls of Meat episode. For some reason, all I could remember was Alton strongly suggesting that refrigeration is the key to meatballs.
So I went back and found the episode. Turns out (as Alton says), even as little as an hour in the fridge before cooking can help the breadcrumbs and meat absorb the moisture and flavors of the other ingredients. So this time, I followed the suggestion and waited a solid hour while my meatball meat marinated in itself. I also followed his recipe instructions for preparing the meatballs by weighing out each one individually.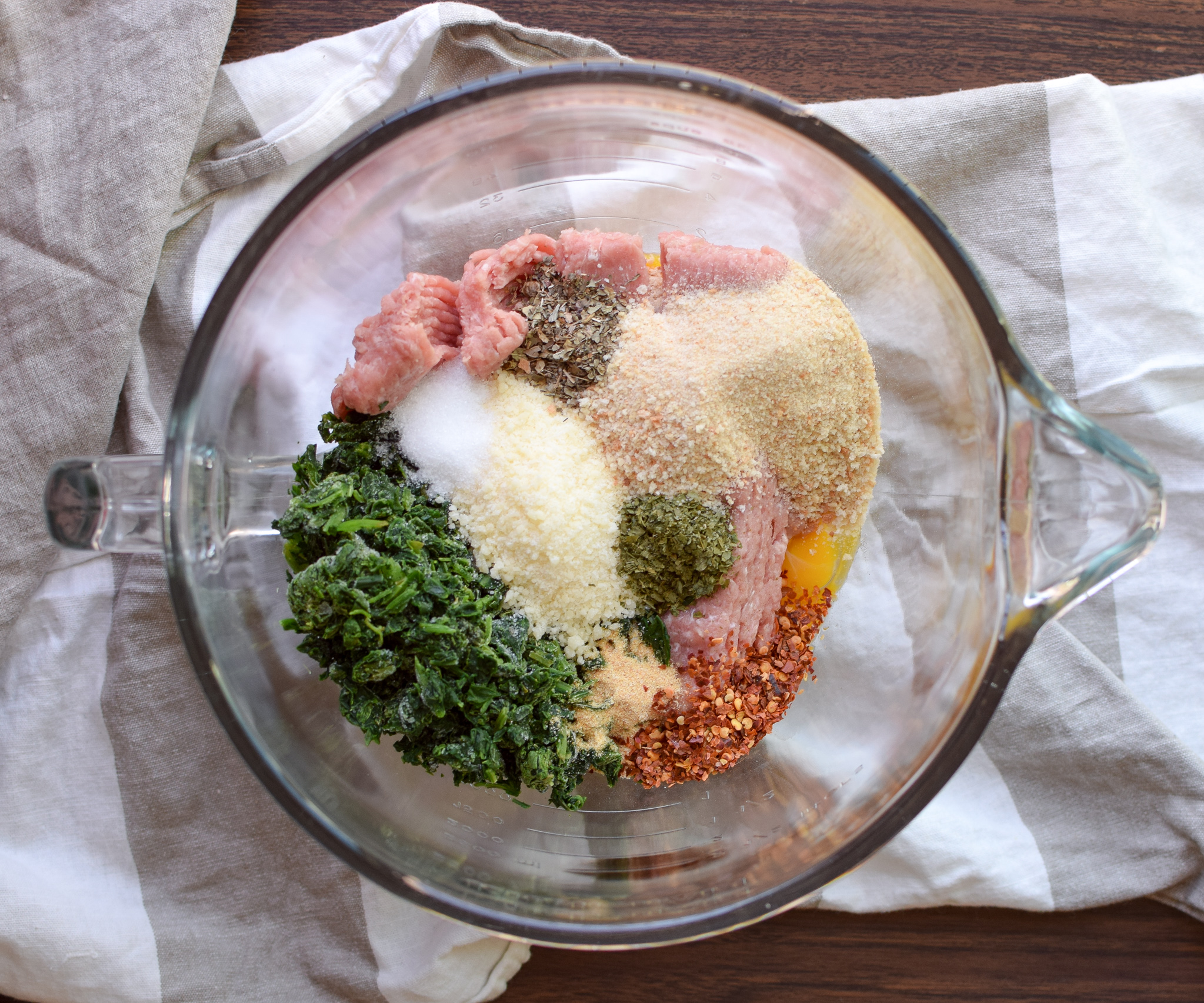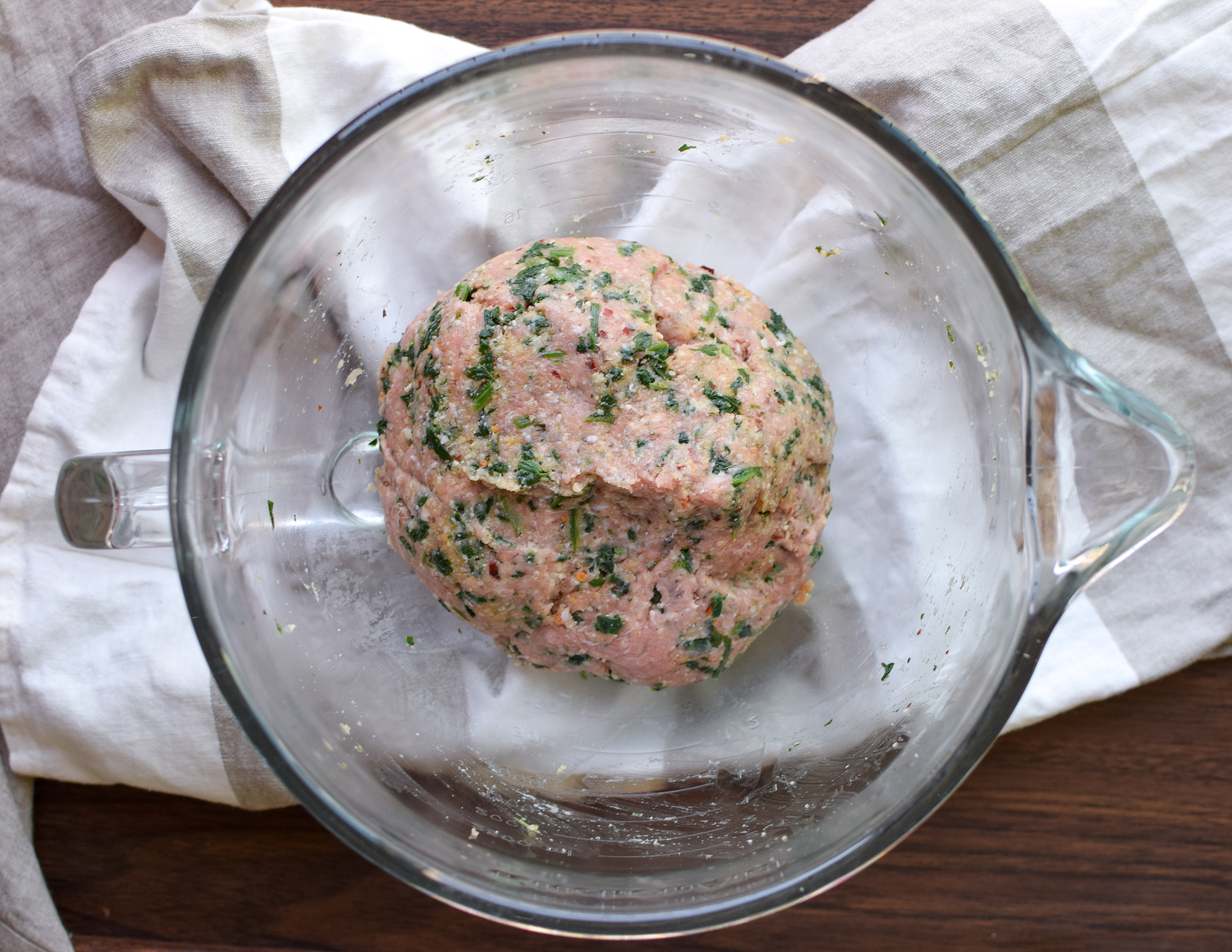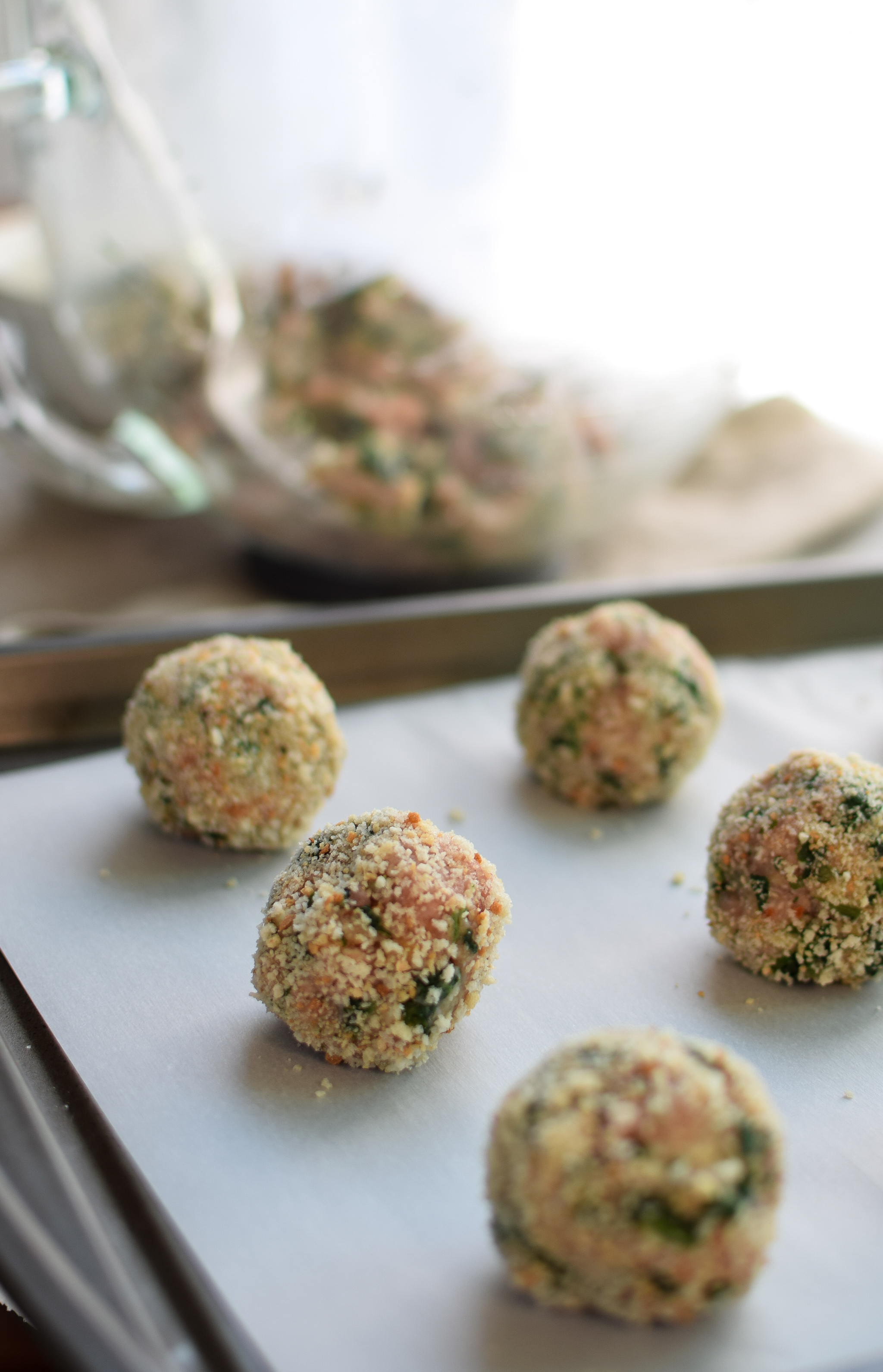 Alton Brown's meatball recipe looks incredibly delicious but of course, I had to alter mine to use turkey meat instead. Feel free to follow his recipe (it's probably better). Even with a few minor changes, these meatballs rock. And, less meats to find and purchase than the original recipe.
When preparing, I weighed each meatball out to around 1.5 ounces, using a kitchen scale covered with plastic wrap. It gave me about 15 pretty big meatballs total, with 5 servings of 3 meatballs each. Alton suggests rolling the meatballs in bread crumbs as a finishing touch, which you can probably omit to lower the carbohydrates.
This recipe would be SO easy to double. Alton notes that he often makes these and freezes them for later. You can too!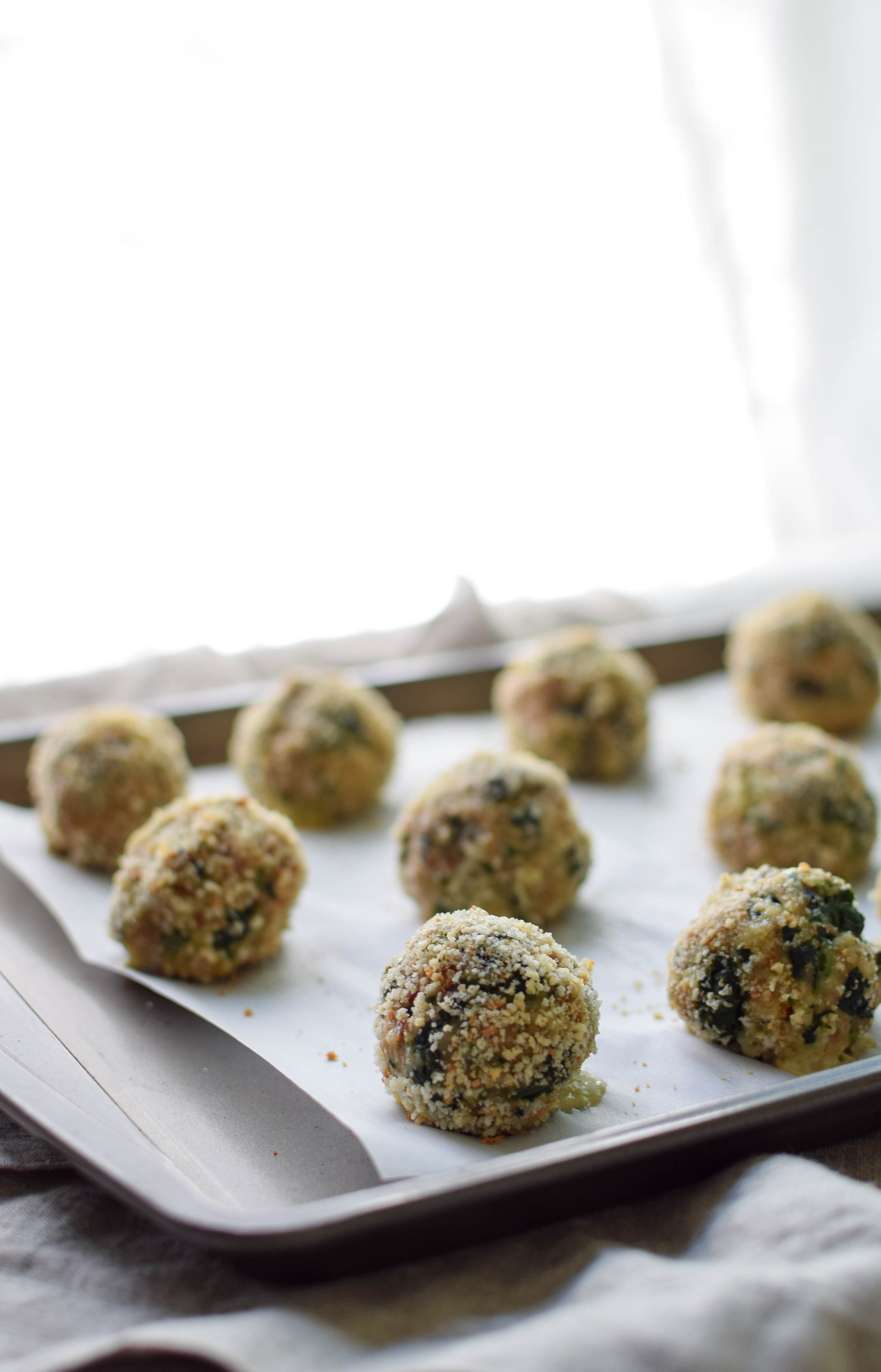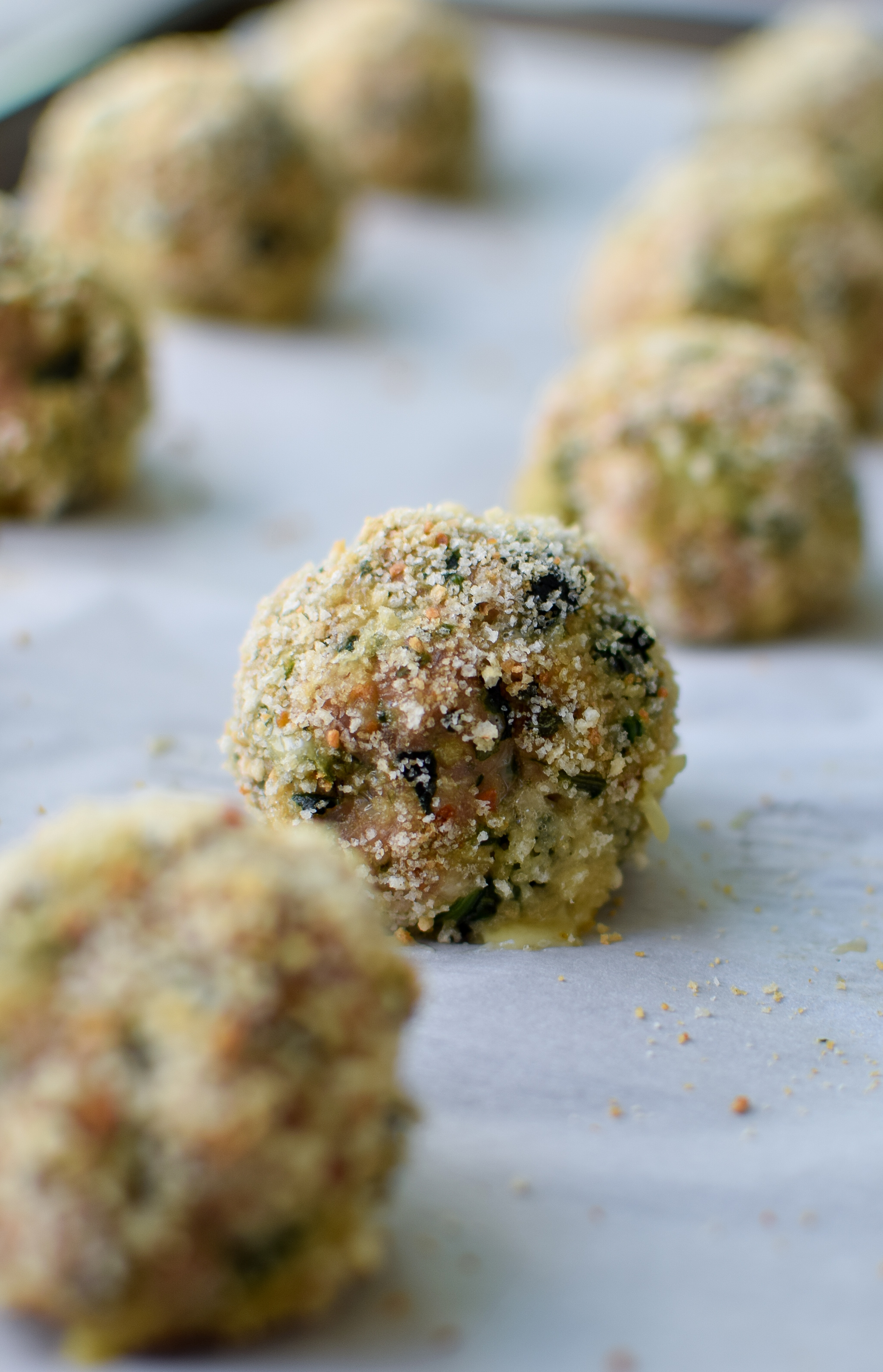 Recipe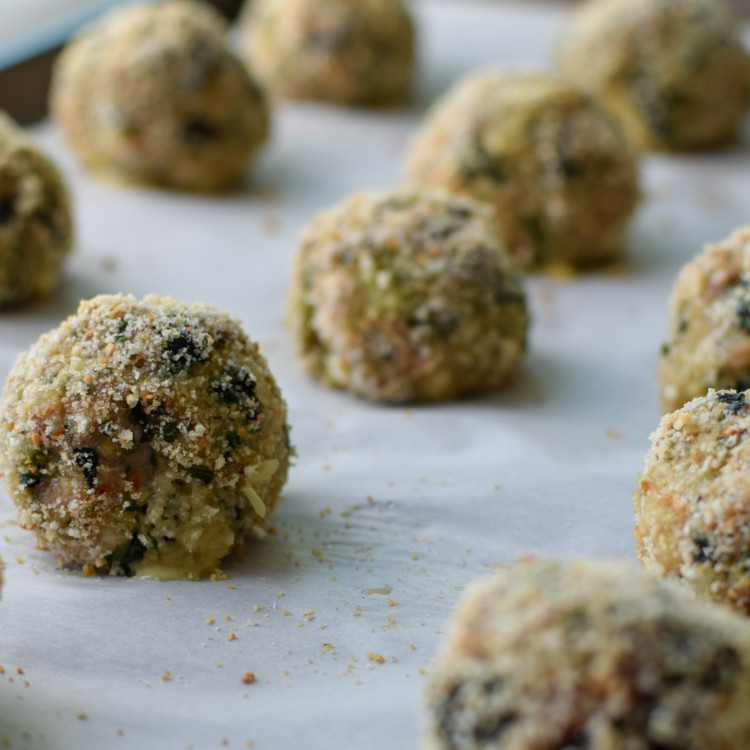 Spicy Baked Turkey Spinach Meatballs
Yield:
15

-

18

meatballs

1

x
Prep:
1 hour 20 minutes
Cook:
20 minutes
Total:
1 hour 40 minutes
Ground turkey + spinach + all the right spices and a little heat make the best meatballs ever!
Ingredients
1

pound (16-ounces) ground turkey meat (93% lean)

5 ounces

cooked, chopped spinach (can be frozen, remove as much liquid as possible)

1/3 cup

grated parmesan cheese

1

egg

1/2 cup

bread crumbs (

1/4 cup

for rolling meatballs)

1 1/2 teaspoon

dried basil

1 teaspoon

dried parsley

1 teaspoon

garlic powder

1 teaspoon

salt

1 teaspoon

red pepper flakes
Instructions
Combine turkey meat, spinach, parmesan cheese, egg, 1/4 cup bread crumbs (reserve the other 1/4 cup), basil, parsley, garlic powder, salt, and red pepper flakes in a large bowl. Mix together, being careful not to over-mix (using your hands to mix is recommend by many chefs).
Once combined, refrigerating the mixture for at least an hour is recommended to enhance flavor and keep the meatballs together (can be refrigerated for up to 24 hours).
Preheat the oven to 400 degrees. Prepare a cooking sheet with cooking spray or foil.
Using a kitchen scale

(affiliate link!)

covered with plastic wrap (for easy clean-up), measure out 1.5 ounce portions of the meatball mixture, forming each portion into a ball in your hand. Roll the ball in remaining bread crumbs until mostly covered, and place on the prepared baking tray. Continue procedure until all the meat is used.
Bake for 20 minutes, or until the outsides are just barely golden brown and the internal temperature is at least 165 degrees.
Serve with additional parmesan cheese and red sauce over quinoa, rice, or noodles.
Nutrition Information
Serving Size:

3 meatballs

Calories:

182

Fat:

8.3g

Carbohydrates:

6.1g

Protein:

22.1g
Recipe Card powered by
Thank you so much for checking out Spicy Baked Turkey Spinach Meatballs! Tag @projectmealplan on social media if you make this yummy recipe! I'd love to see what others pair with their meatballs. Follow me on Pinterest for meal inspiration every single day!
P.S.: What's your favorite episode of Good Eats? It's my favorite reality TV show, ahaha.
– Danielle