1 Comment
Posted: 12/11/2019
Updated: 09/22/2021
This Cheesy Chicken Bacon Ranch Casserole is delicious pasta bake loaded with hearty chicken, bacon bits, shredded kale, and a creamy protein-packed Greek yogurt base! Big enough to feed the family or prep ahead for your week's lunches!
Jump to Recipe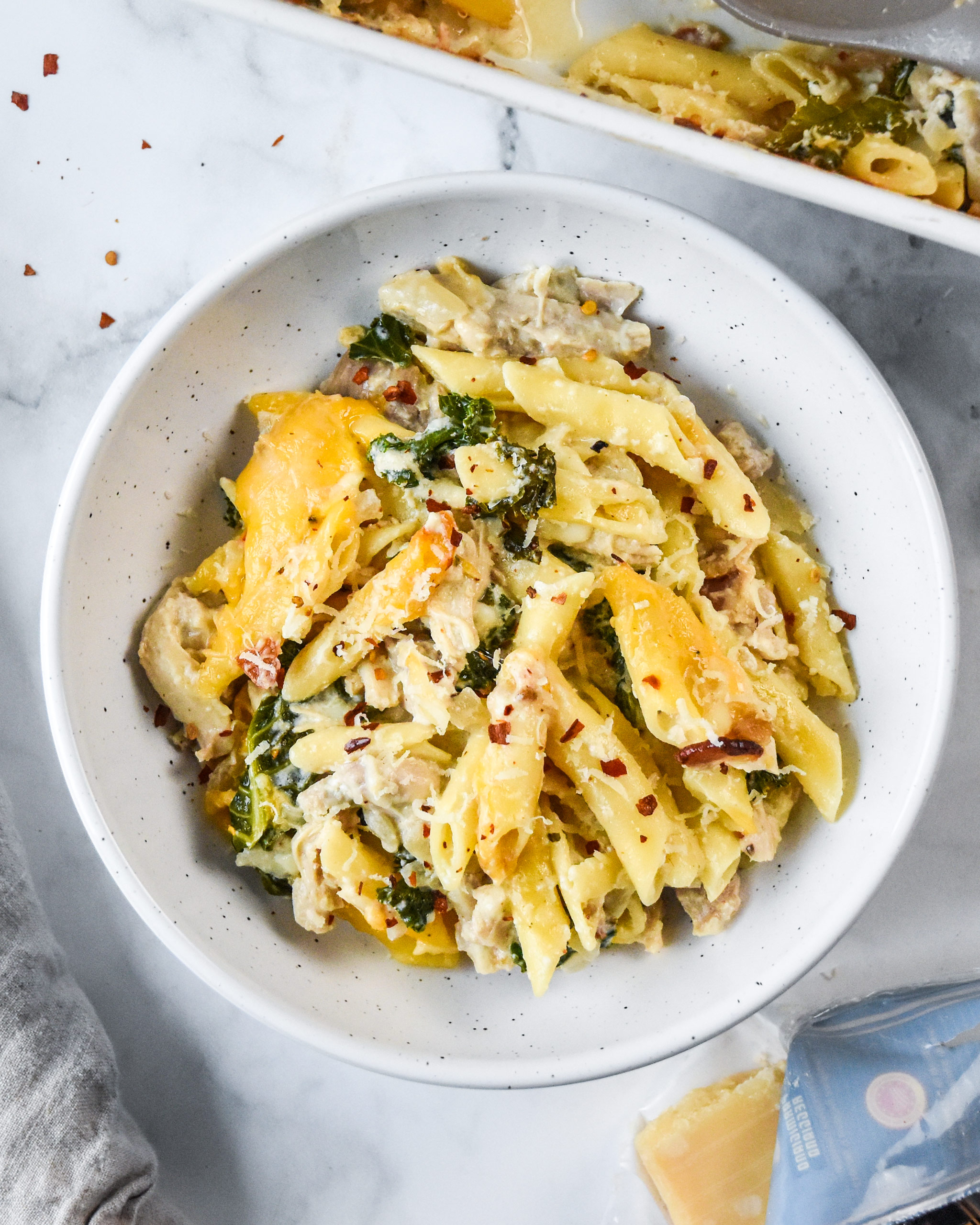 It was so hard not to title this masterpiece a 'kale-sserole'. While that is obviously the best name for a casserole containing an entire bunch of kale, I've been learning a lot more about Search Engine Optimization (SEO) lately.
People are NOT typing 'kale-sserole' into Google (unless you're me, and Google is sure I meant 'kale casserole'). So, I have grudgingly titled this one Cheesy Chicken Bacon Ranch Kale Casserole.
This recipe was originally published on November 30th, 2016! It's now December 2019, and I've rewritten the post and recipe for clarity as well as taken new, more helpful photos.
What's in this Cheesy Chicken Bacon Ranch Kale Casserole?
This casserole is one of those dishes that does have quite a few ingredients, I just can't like. But it serves about 8 people, or in our case, 2 people and then leftovers for two or three more days after that. Plus, there are shortcuts. I'll help. It will be okay.
Let's chat ingredients:
rotisserie chicken (or any leftover chicken) – Best part about this recipe is that you can use a whole rotisserie chicken to save steps on cooking your own chicken. I've also made this recipe with about 1.75 pounds of chicken thighs cooked in the Instant Pot and shredded up. Whatever form your chicken, as long as it's cooked and shredded up, it should work.
bacon bits – Make your own or use store-bought! I generally make my own – here's how you can make homemade bacon bits at home!
onion – I start the recipe by softening some onions for best smells and flavor!
kale – you can purchase an entire bunch of kale, or bag of pre-cut kale from the grocery store. I still recommend pulling the stalks out of the pre-cut kale.
Greek yogurt – This casserole uses Greek yogurt as a base for the creaminess. When combined with cheesy goodness and Ranch seasoning, you can't taste the Greek yogurt at all!
multiple cheeses – I enjoy mozzarella and cheddar with the flavors of chicken bacon ranch, but if you want to go with another combo, feel free to give it a try. Nothing wrong with a little cheese experimenting if you ask me
milk – Helps add extra moisture to the casserole. I've used regular old cow's milk (2%), and I've also more recently tried it with unsweetened plain almond milk.
Hidden Valley Ranch Seasoning Mix – You can buy packets or grab it in bulk from Costco! Ranch flavored everything via this
red chili pepper flakes – For a little spice!
parmesan cheese OR other topping – Make your casserole topping crispy by adding anything from crispy fried onions to homemade baked parmesan crisps, or just stick with plain cheese, whatever you have on hand!
Do I have to use Greek yogurt in this recipe?
Yes, you need to use the Greek yogurt if you are going to make this recipe. The Greek yogurt is the base for all that creamy goodness. When combined with multiple cheeses, magical Ranch powder, and bacon, you simply can't tell it's Greek yogurt. I promise.
My other Greek yogurt based casserole is the Veggie Loaded Rotisserie Chicken Casserole, and the reviews say it all.
I have not tested this recipe with anything other than Greek yogurt. Try at your own risk, and let me know how it goes in the comments below!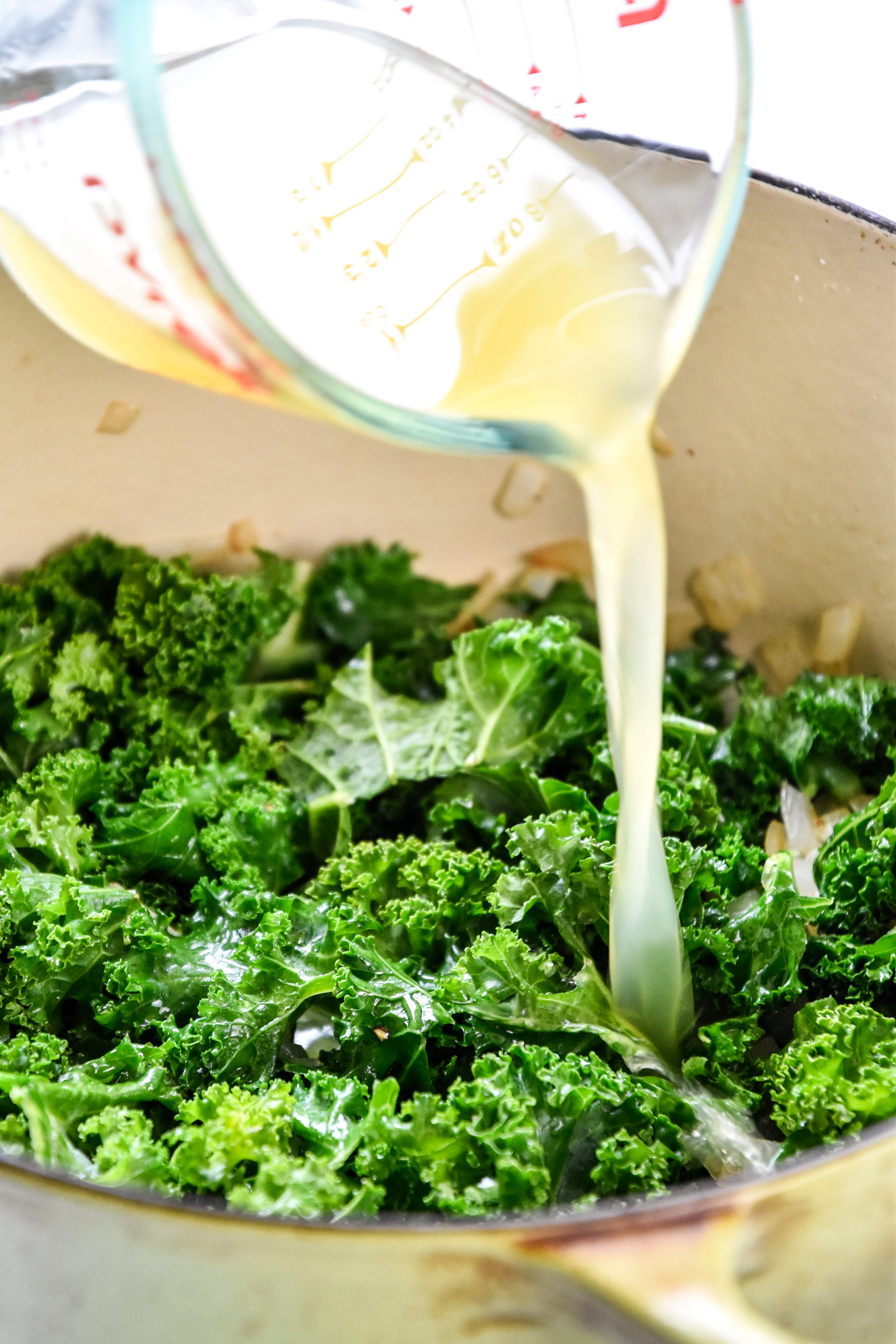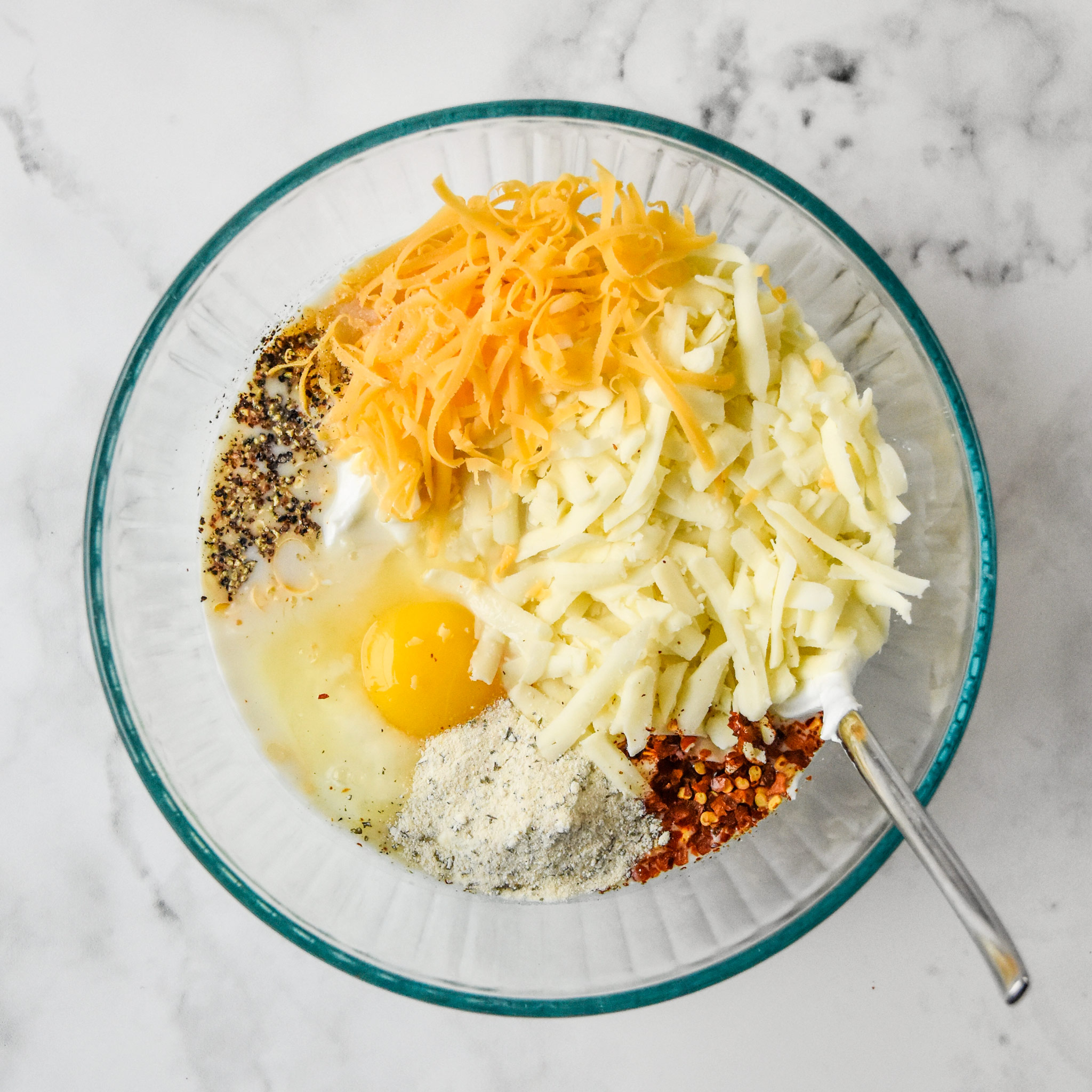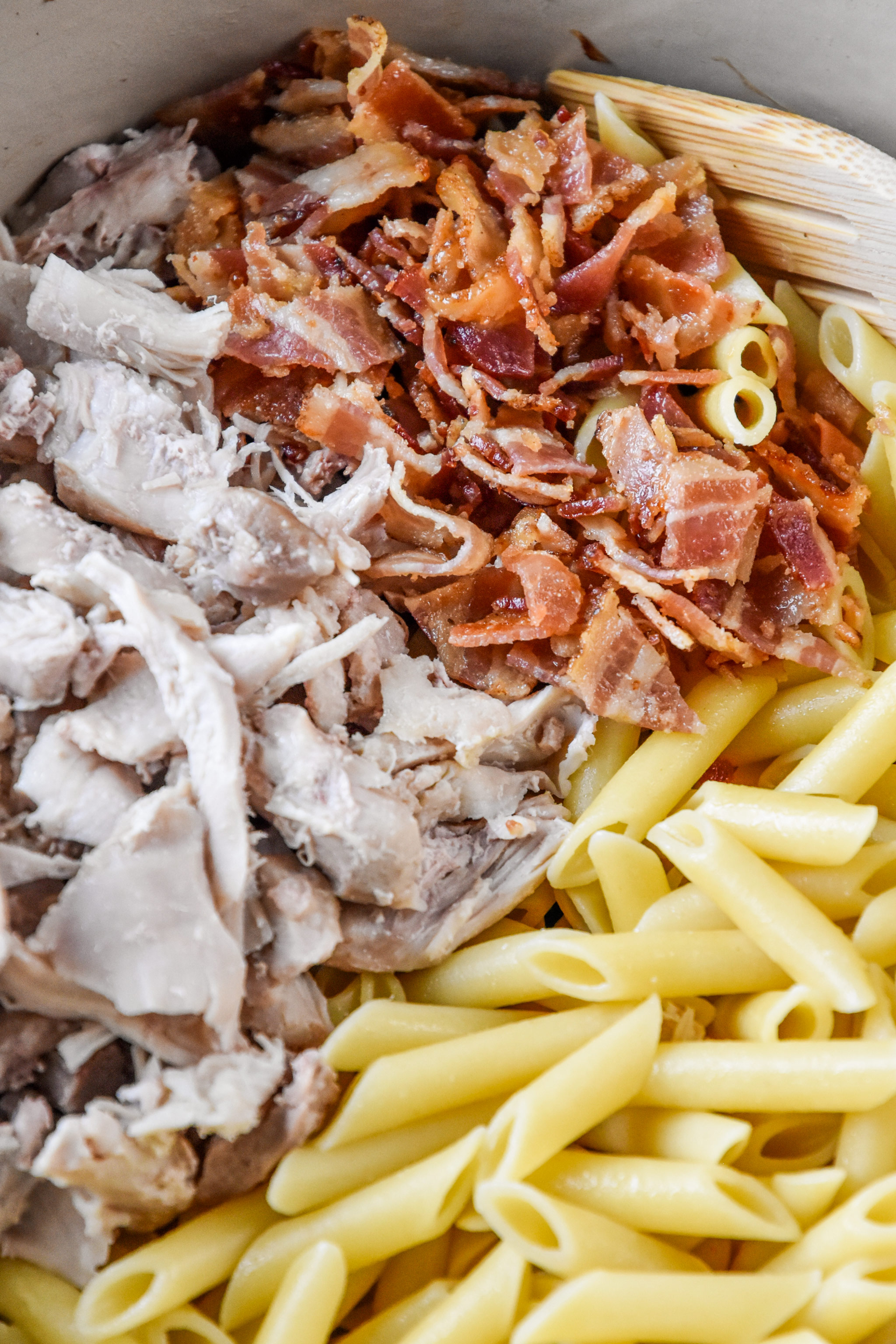 How do you make the Cheesy Chicken Bacon Ranch Kale Casserole?
Please see the recipe card for more specific and detailed instructions – this is just to give you a general outline of how the recipe works.
Step 1: Prep all your meats and chop those veggies. If you're making homemade bacon bits, get those ready. Shred up all of your chicken.
Step 2: Boil the noodles and set them aside.
Step 3: Saute the veggies in a super huge pan or Dutch Oven, and then add the chicken stock to cook with the kale. (Steps 2 and 3 can happen at the same time).
Step 4: Make your custard – this is what I'm calling the Greek yogurt, milk, cheese and spice mixture.
Step 5: Mix EVERYTHING together in the original Dutch Oven. Easy!
Step 6: Add to a casserole dish. Top with cheeses and bake until melty and delicious.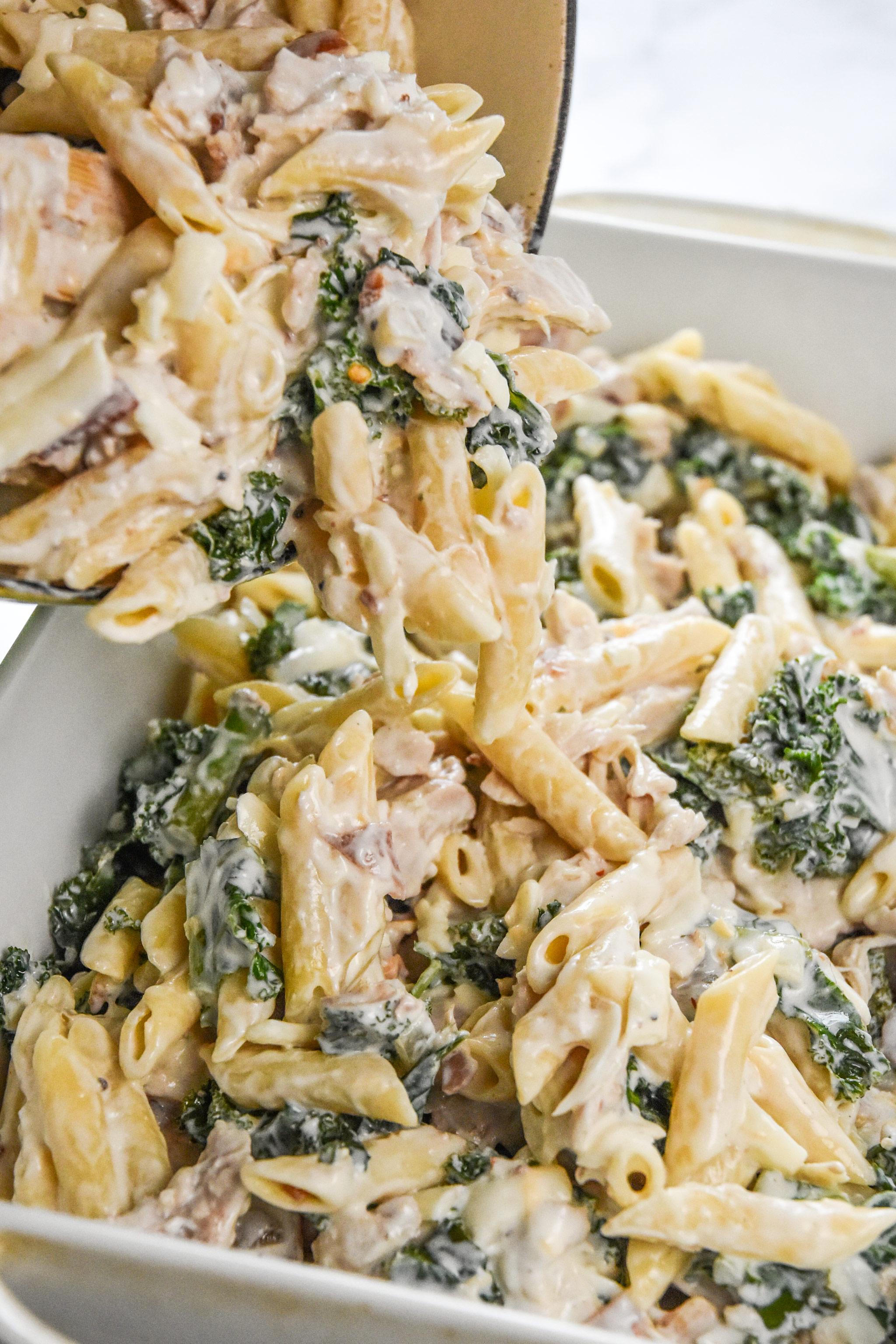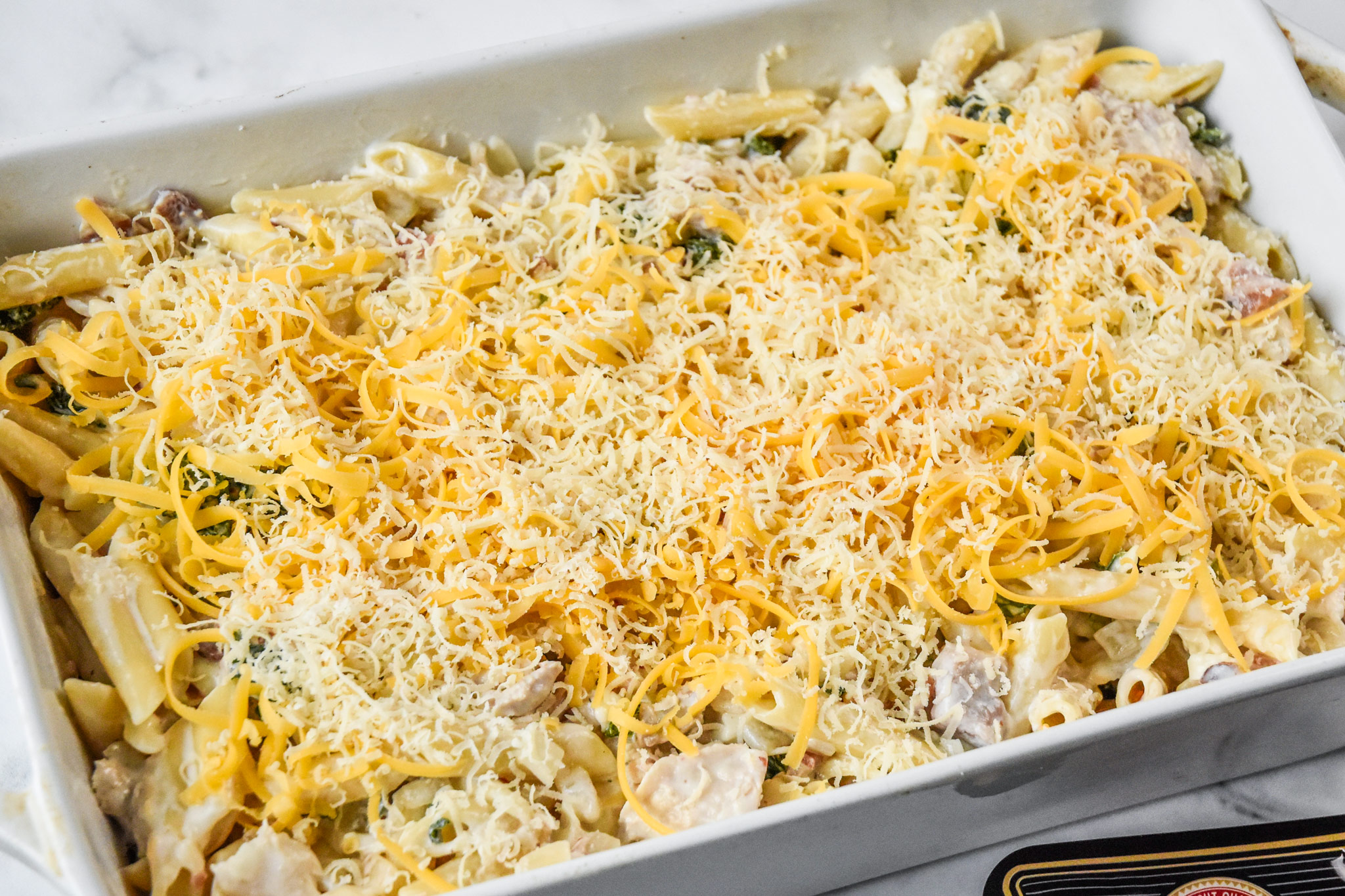 What other veggies can I use in this casserole?
Here are some additions and substitutions I think would work in this Cheesy Chicken Bacon Ranch Kale Casserole:
You definitely can use spinach instead of kale if you just hate kale. I don't even like kale but I don't mind it's presence in this recipe!
Mix up the greens and use more than just one!
Add mushrooms, carrots, bell peppers, or any other easy to saute veggie.
Garlic would also be a good idea. *cheers to garlic*
What kinds of pasta will work in this recipe?
I have used two different kinds of pasta in this recipe, both with success:
regular white penne pasta – simple and easy to use
brown rice penne pasta – just as delicious but less easy to use, they tend to stick together if they chill for too long while you prep the rest of this recipe.
Based on the flavors and the other ingredients in this casserole, I think most types of pasta will work for this recipe.
Just be sure to add some oil after draining to help the noodles keep from sticking together.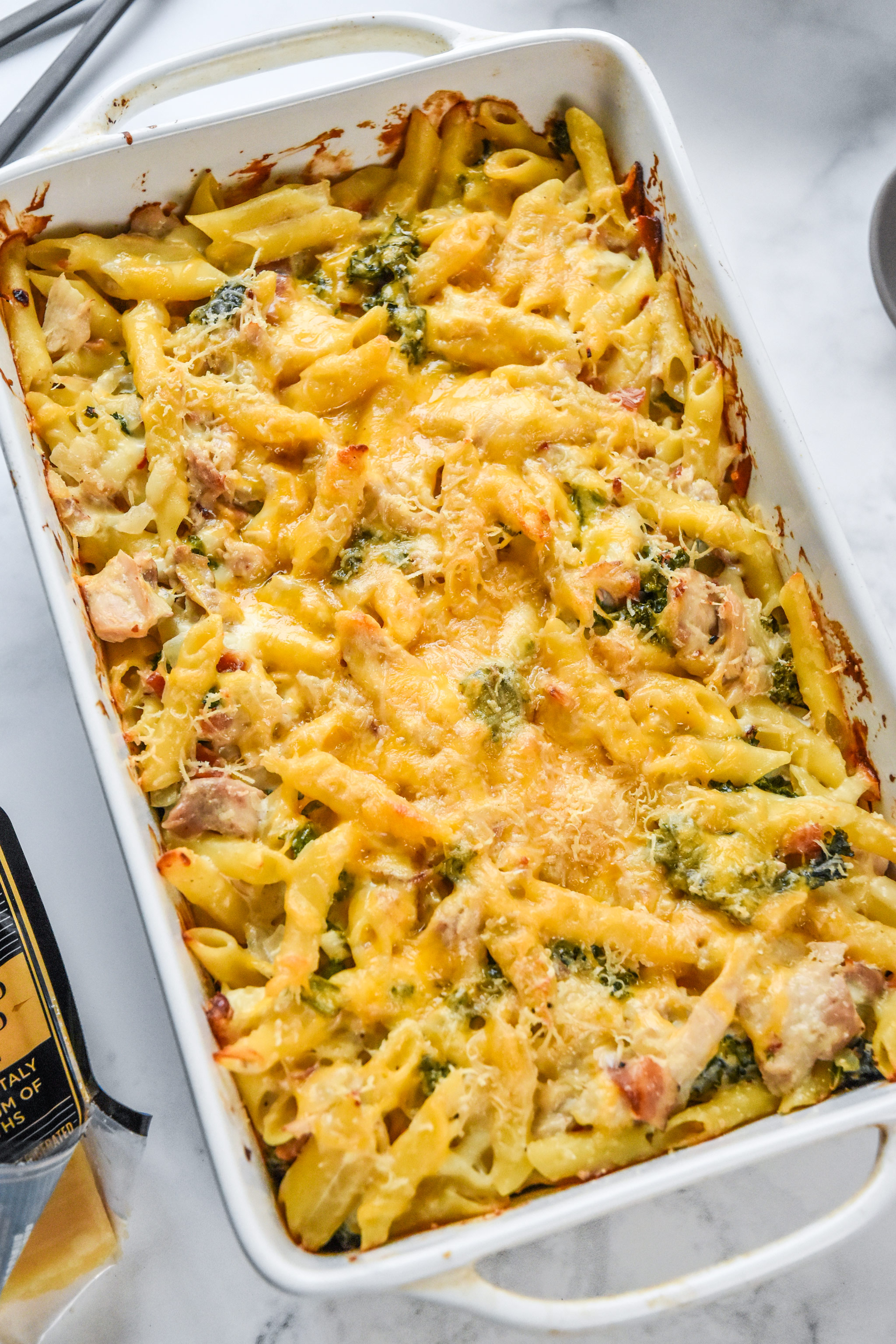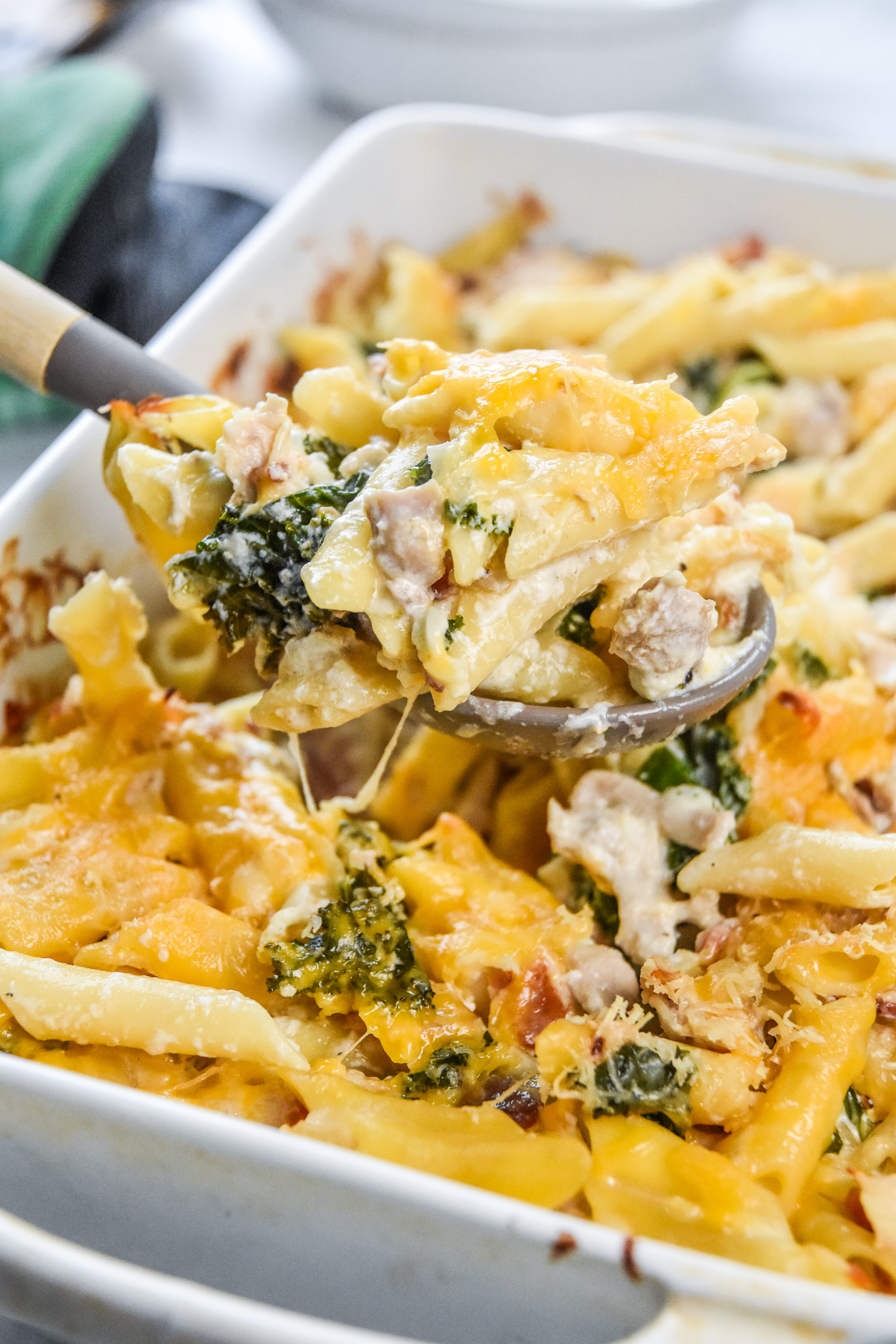 How long will the leftovers last in the fridge?
The leftovers of this Cheesy Chicken Bacon Ranch Kale Casserole will last for up to 4 days in the fridge.
Is this casserole freezer friendly?
Since this casserole is yogurt/milk based, I'm not sure how well it would hold up in the freezer. I have not tested this, but if you give it a try, please let me know how it goes.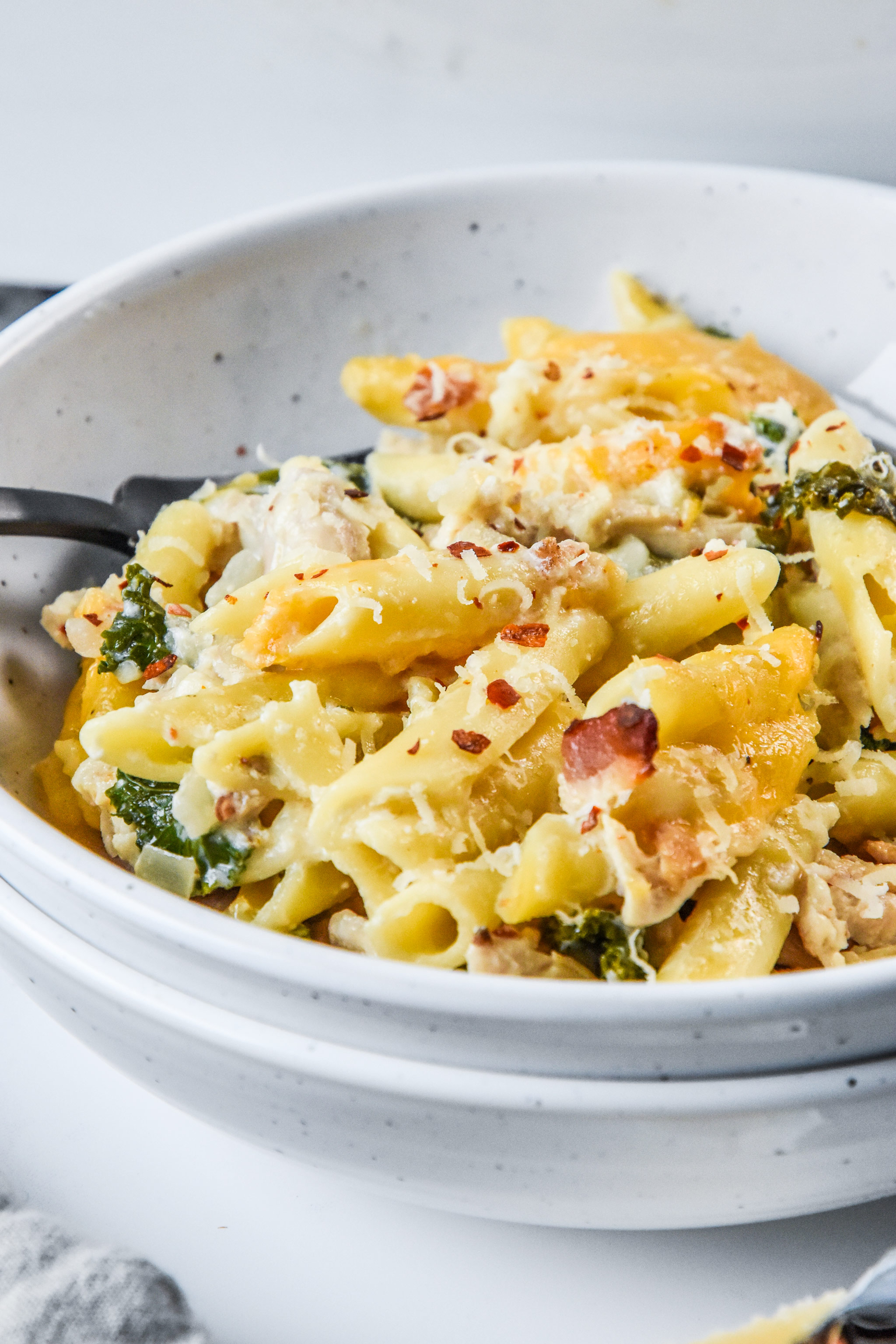 More dinner ideas from Project Meal Plan:
Recipe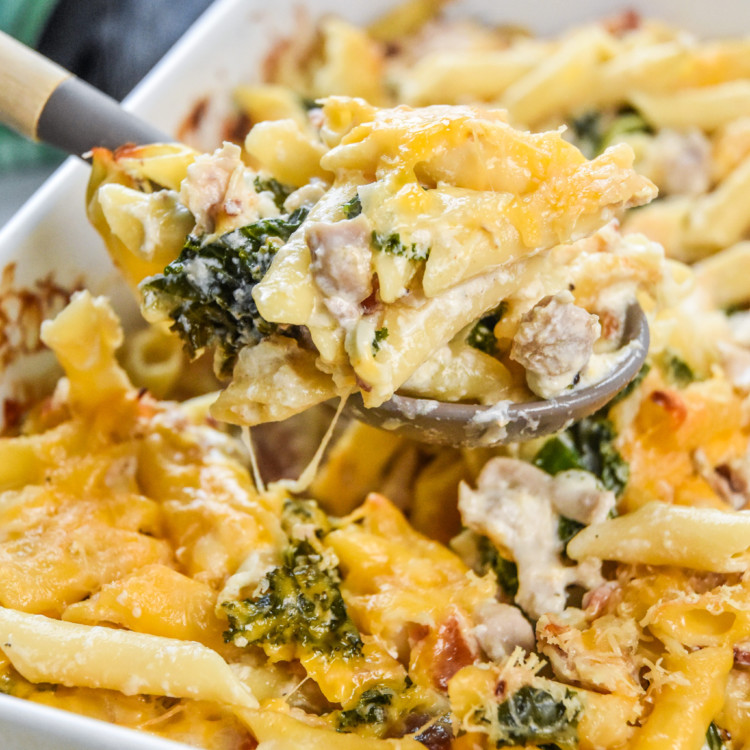 Cheesy Chicken Bacon Ranch Kale Casserole
Prep:
40 minutes
Cook:
25 minutes
Total:
1 hour 5 minutes
This Cheesy Chicken Bacon Ranch Casserole is delicious pasta bake loaded with hearty chicken, bacon bits, shredded kale, and a creamy protein-packed Greek yogurt base!
Ingredients
3 cups

penne style pasta, dry

2 tablespoons

olive oil

1/2

yellow onion, chopped

1

bunch of kale, stems and stalks removed, shredded (about

6 cups

packed)

3/4 cup

chicken broth

1/2 teaspoon

each salt/pepper

2 cups

greek yogurt (I use 2%)

1

large egg

1 1/2 cups

shredded mozzarella cheese

1/2 cup

shredded cheddar cheese (divided)

1/2 cup

milk (I use 2%)

2 teaspoons

Hidden Valley Ranch seasoning mix

1 teaspoon

red chili pepper flakes

1/4 teaspoon

each salt/pepper

3

–

4

cups of cooked shredded chicken (rotisserie chicken or any leftover chicken works)

1 cup

bacon bits (homemade or store-bought)

1/2 cup

shredded parmesan cheese, parmesan crisps, OR other topping
Instructions
Cook the pasta: Preheat the oven to 375F. In a medium pot of salted boiling water, cook pasta according to package instructions. Drain well and set aside when done. To avoid sticking while the remaining ingredients are cooked, toss with 1 tablespoon of olive oil.
Saute the veggies: In a large skillet or Dutch Oven (capable of containing the entire bunch of shredded kale), heat 2 tablespoons of olive oil over medium heat. Add onions and cook for about 4 minutes, until they start to turn translucent, stirring occasionally. Add the kale and 1/2 teaspoon each of salt and pepper. Stir until kale begins to wilt, about 2 minutes. Add chicken broth, and continue to cook until all the kale is wilted and most of the chicken broth is absorbed by the kale, about 5 minutes. Remove from heat and set aside.
Make the custard: In a medium mixing bowl, combine greek yogurt, egg, mozzarella cheese, 1/4 cup cheddar cheese, milk, red chili pepper flakes, Ranch seasoning, salt and pepper. Mix until well combined.
Put it together: To the kale sauté pan, add chicken, bacon bits, cooked pasta, and the yogurt custard mixture. Stir until well mixed. Add to a 9×13 greased casserole dish, then top with remaining 1/4 cup cheddar cheese and parmesan cheese evenly on the top of the casserole
Bake: Bake in the preheated oven for about 25 minutes or until the top is melty and golden brown. I like to broil for an extra 3 minutes for a crispy top! Store leftovers in an airtight container in the refrigerator for up to 4 days.
Nutrition Information
Serving Size:

1/8 of casserole

Calories:

407

Fat:

18g

Carbohydrates:

23g

Protein:

34g
Recipe Card powered by
Thank you so much for checking out the Cheesy Chicken Bacon Ranch Kale Casserole! Tag @projectmealplan on social media if you make this yummy recipe, or any other kale creation! Throw me a comment if you have any super amazing ways to disguise your kale.