Pizza + spaghetti squash = Meat Lover's Spaghetti Squash Pizza Casserole! Delicious pizza flavors morphed into a pizza flavored casserole with a spaghetti squash base, smothered in traditional meat lover's toppings!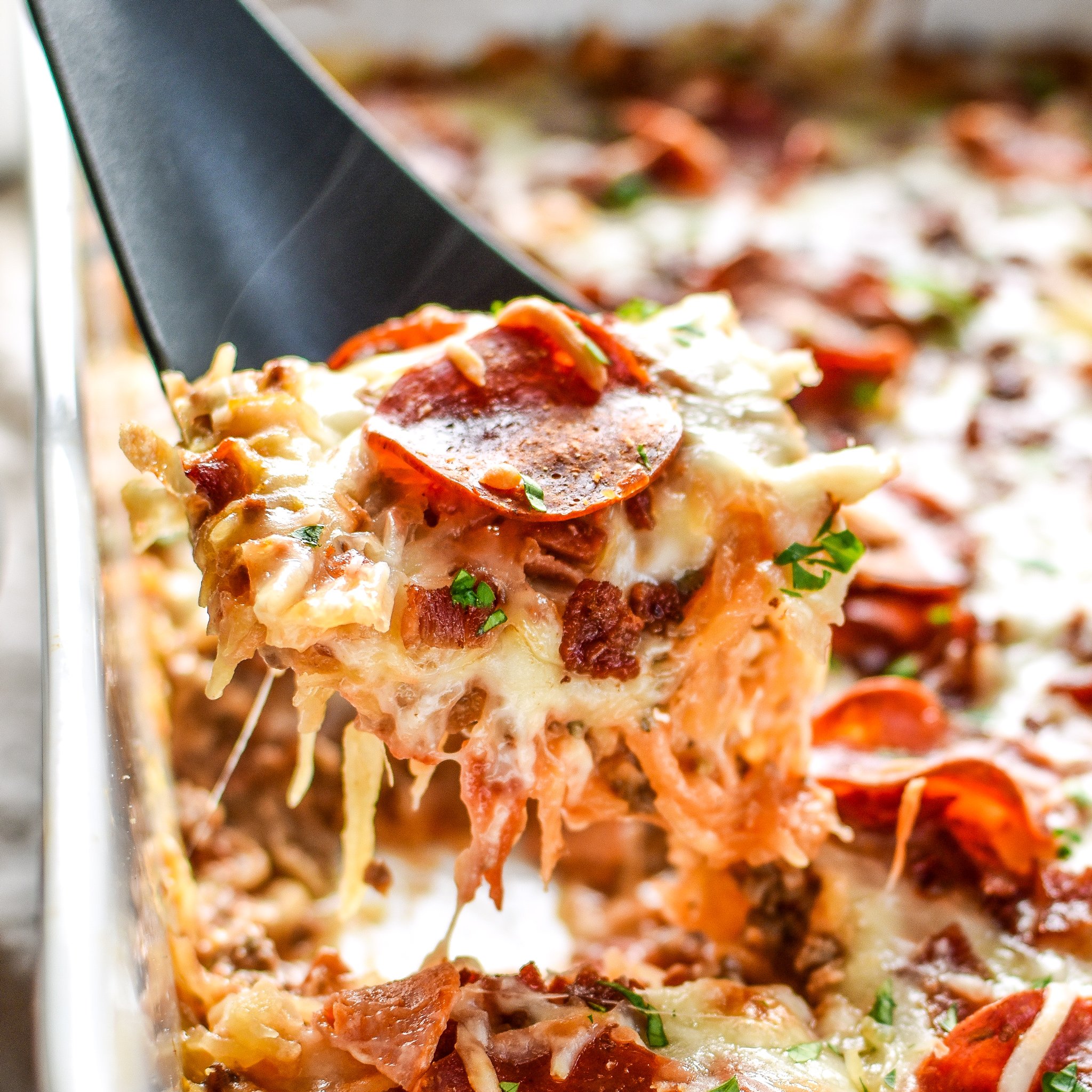 I'm starting to think it's my duty to produce a fantastical spaghetti squash creation at least once per year. And if I do say so myself, it might be better than last year's.
Sometimes you have everything you need to make pizza – except the crust. And then you see a spaghetti squash. That's exactly what happened to me, so I decided to make some magic happen.
Recipe Overview
Total Time: 1 hour 20 minutes
Difficulty: Moderate
Method: Baked
Prep: Make-Ahead Friendly
Watch how to make this Meat Lover's Spaghetti Squash Pizza Casserole (1 min 49 sec):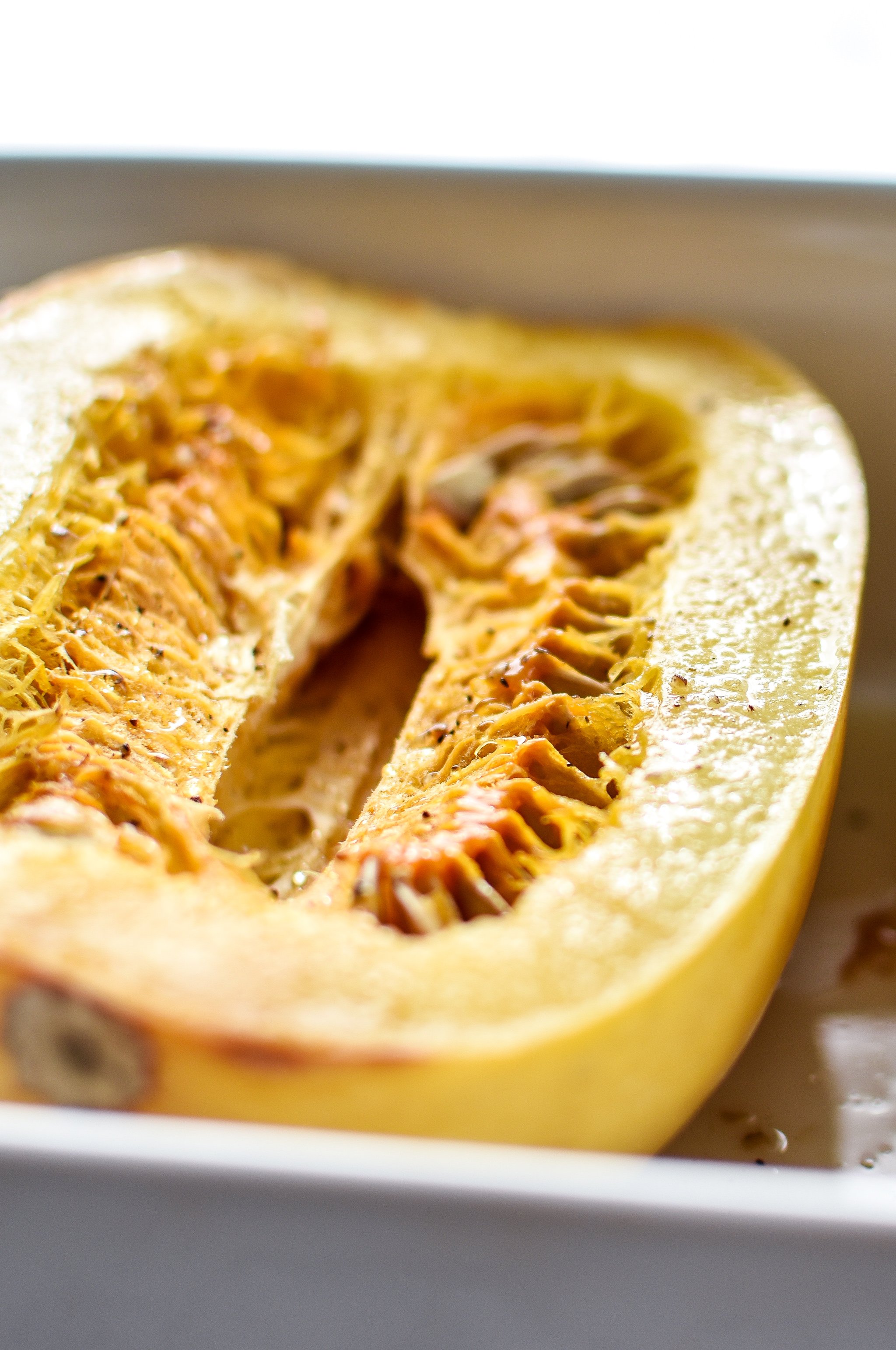 Let me tell you, magic DID happen. You can make it happen to. It continues when you eat this casserole later in the week, after the pizza flavors combine and marinate with the spaghetti squash. It's almost too good.
Sometimes, people tell me meal prepping isn't for them because they don't like to eat the same food all week. And I get it. I do!
I think I'm just a little more lazy. Meaning I would usually prefer to eat food I already made for myself, rather then cook something new.
BUT THIS? I guarantee you'll still be looking forward to it on the last day. IT'S PIZZA. But with a big, almost invisible, vegetable instead of crust.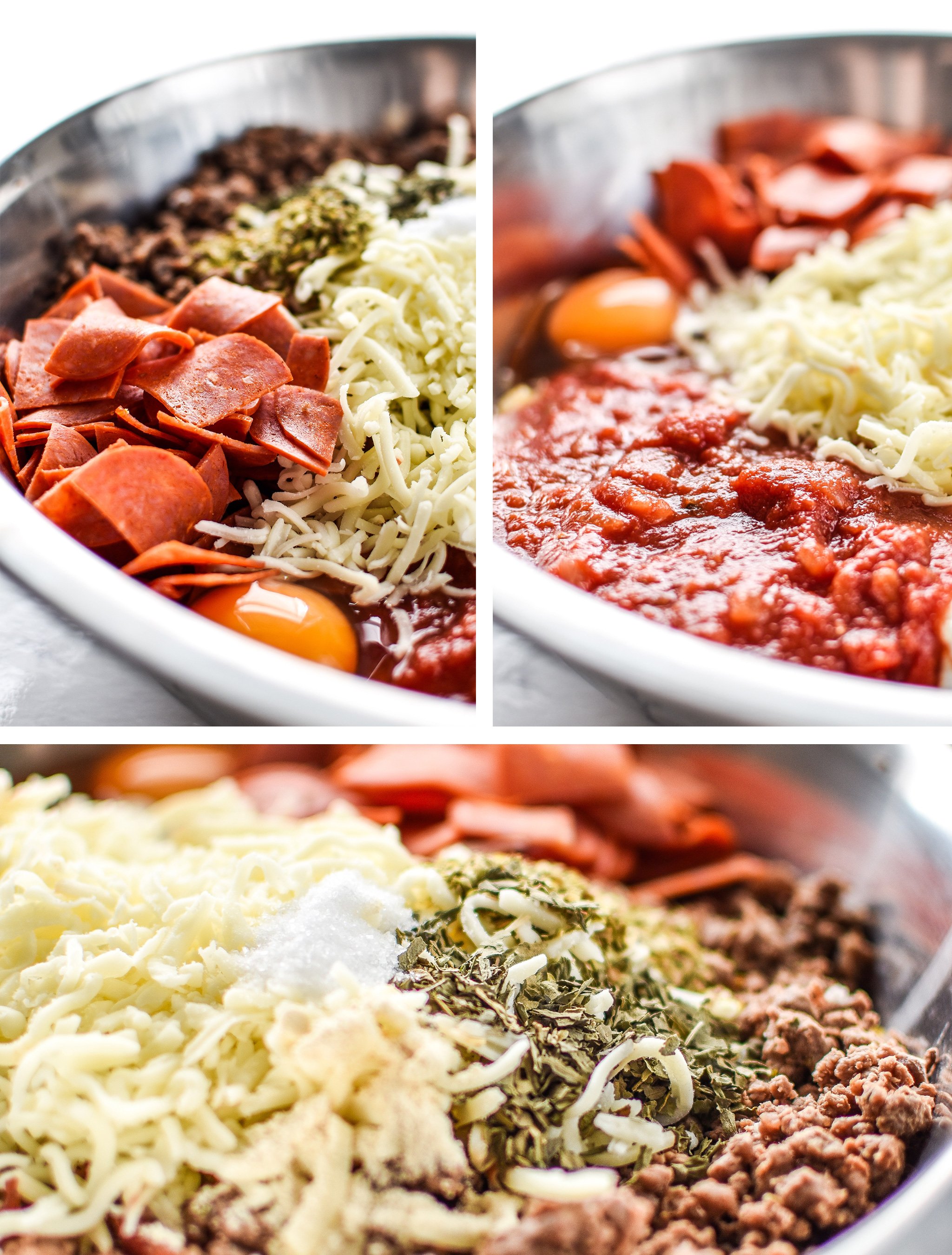 Meats in the Meat Lover's Spaghetti Squash Pizza Casserole:
Bacon: I actually used turkey bacon to make my very own bacon bits, but any bacon will work. Here's a detailed post on how to make homemade bacon bits.
Ground meat: I am 100% confident this recipe would work with any ground meat, including chicken, turkey, beef, or pork. But I suppose now's the time to admit I made this recipe multiple times with ground elk meat. Yeah! Elk. Red meat is not something I normally eat, but in this case, my uncle killed it with a bow and arrow. So I made an exception.
Pepperoni: I use turkey pepperoni. It has way less fat than regular pepperoni, and it's not so greasy.
All this being said, if you're a true meat lover, use whatever meats you prefer. It will taste great no matter what!
Here's another little secret. I used homemade pizza sauce to make this recipe even better. But the pizza sauce was already made and waiting in little cubes in the freezer.
I just took a few frozen cubes out, thawed them, and then the homemade sauce was ready to go. Check out my post on How to Make and Freeze Homemade Pizza Sauce!
Well, that's all for this masterpiece. See you later! I'm about to go eat some of this casserole.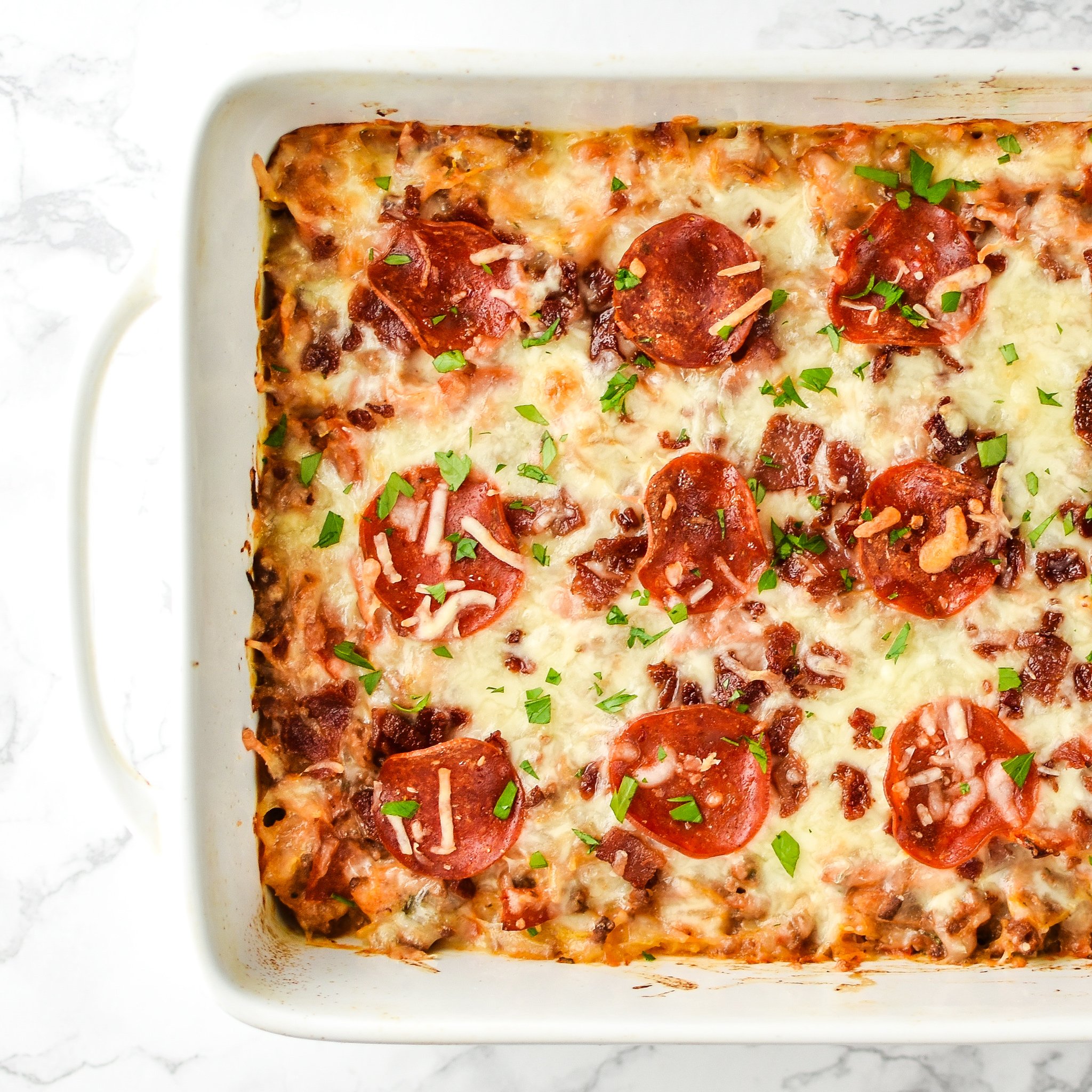 How to store prepared pizza casseole:
Store prepared Meat Lover's Spaghetti Squash Pizza Casserole in an airtight container in the fridge for up to 4 days.
Is this casserole freezer-friendly?
I would not recommend freezing this casserole, as sometimes squash noodles can have a weird consistency when thawed out.
How to reheat Meat Lover's Spaghetti Squash Pizza Casserole:
To reheat from the fridge, microwave portions for 2 minutes, checking and stirring after 90 seconds.
Alternatively, place leftovers in an oven safe container, uncovered, and into a cold oven. Turn the oven on to 350F and set a timer for 25 minutes. Check temperature and add more time if needed until the center is hot.
Recipe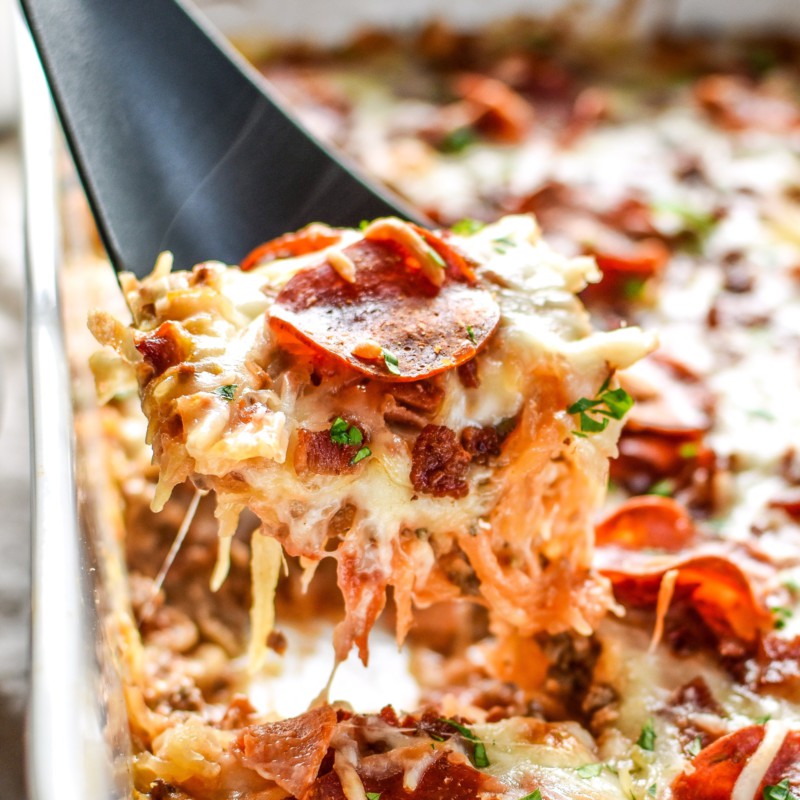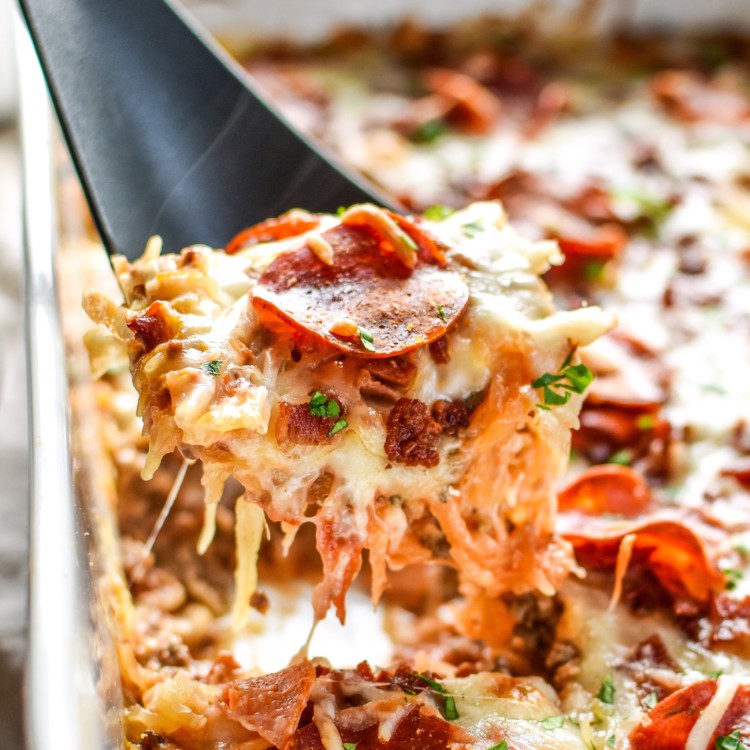 Meat Lover's Spaghetti Squash Pizza Casserole
Prep:
10 minutes
Cook:
1 hour 10 minutes
Total:
1 hour 20 minutes
Pizza + spaghetti squash = Meat Lover's Spaghetti Squash Pizza Casserole! Delicious pizza flavors morphed into a pizza flavored casserole with a spaghetti squash base, smothered in traditional meat lover's toppings!
Ingredients
1

medium to large spaghetti squash

8

pieces of uncooked bacon, diced into small pieces (I use turkey bacon) *see note

16 ounces

lean ground meat (chicken, turkey, lean beef, elk or pork would all work)

1/2 cup

pepperonis, cut into quarters (I use turkey pepperoni)

1 cup

pizza sauce (

8

frozen pizza sauce cubes)

1/2 cup

plain greek yogurt (

0

or 2%)

1 1/2 cups

shredded mozzarella cheese, separated

1

egg, whisked

1 teaspoon

dried basil

2 teaspoons

dried oregano, separated

3 tablespoons

avocado or olive oil, separated
salt/pepper
non-stick cooking spray
optional: 1/2 tsp pizza dough flavor
additional toppings: 15 whole pepperoni, fresh chopped parsley
Instructions
Preheat oven to 375 degrees F. Cut squash in half lengthwise. You can remove the seeds before or after baking, but I find it's easier to do after. Spray cut edges of squash with non-stick cooking spray, and sprinkle with salt and pepper. Lay cut side down in a 9×13 casserole dish and bake for 35-45 minutes. For easier cutting, use a fork to poke a few holes in a whole squash and microwave for about 4 minutes, then cut in half lengthwise and bake. Reduce baking time to 30-40 minutes. Remove from oven when the skin is easy to puncture with a fork.
While the squash is baking, begin cooking the bacon. Heat 2 tablespoons oil in a deep non-stick skillet over medium heat. Cook bacon until crisp and browned, stirring occasionally. This took about 10 minutes for me, but it will vary based on the kind of bacon. Remove from the pan and set aside.
Next, add remaining 1 tablespoon oil to the same pan. When hot, add ground meat and use a wooden spoon or spatula to break up into small pieces as it cooks. Add 1 teaspoon oregano and 1 teaspoon salt. Continue to cook until completely browned and cooked through. Remove from heat and let cool.
Meanwhile, when the squash is done baking, let it cool until it's easy to handle. Next, run a fork through the flesh – long spaghetti-like strings should appear and easily separate from the squash. Scrape all the stringy flesh from the shells and add to a large mixing bowl (should be at least 3-4 cups of squash, roughly). Discard shells, but save the casserole dish.
Reserve about 2 tablespoons of bacon bits. To the large bowl with the squash, add remaining meats, pizza sauce, greek yogurt, 1 cup mozzarella cheese, egg, basil, remaining 1 teaspoon oregano, 1/2 teaspoon salt and 1/2 teaspoon fresh ground pepper. Mix thoroughly and then flatten the mixture into the casserole dish.
Top with remaining 1/2 cup cheese, whole pepperonis, and reserved bacon bits. Bake uncovered at 375 F for 22-25 minutes. For a crispy top, broil for the last 3 minutes.
Serve immediately or portion out as lunch leftovers. This casserole tastes even better the next day! Consume within 4 days.
Equipment
Nutrition Information
Serving Size:

1/6 of casserole

Calories:

390

Fat:

19g

Carbohydrates:

13g

Protein:

42g
Recipe Card powered by