1 Comment
Posted: 06/14/2018
Updated: 09/23/2021
This 3-Ingredient Pesto Goat Cheese Dip is the easiest make-ahead appetizer (or snack) ever! Pairs perfectly with veggie sticks, crackers, on burgers, pizza, and comes together in less than 5 minutes!
Jump to Recipe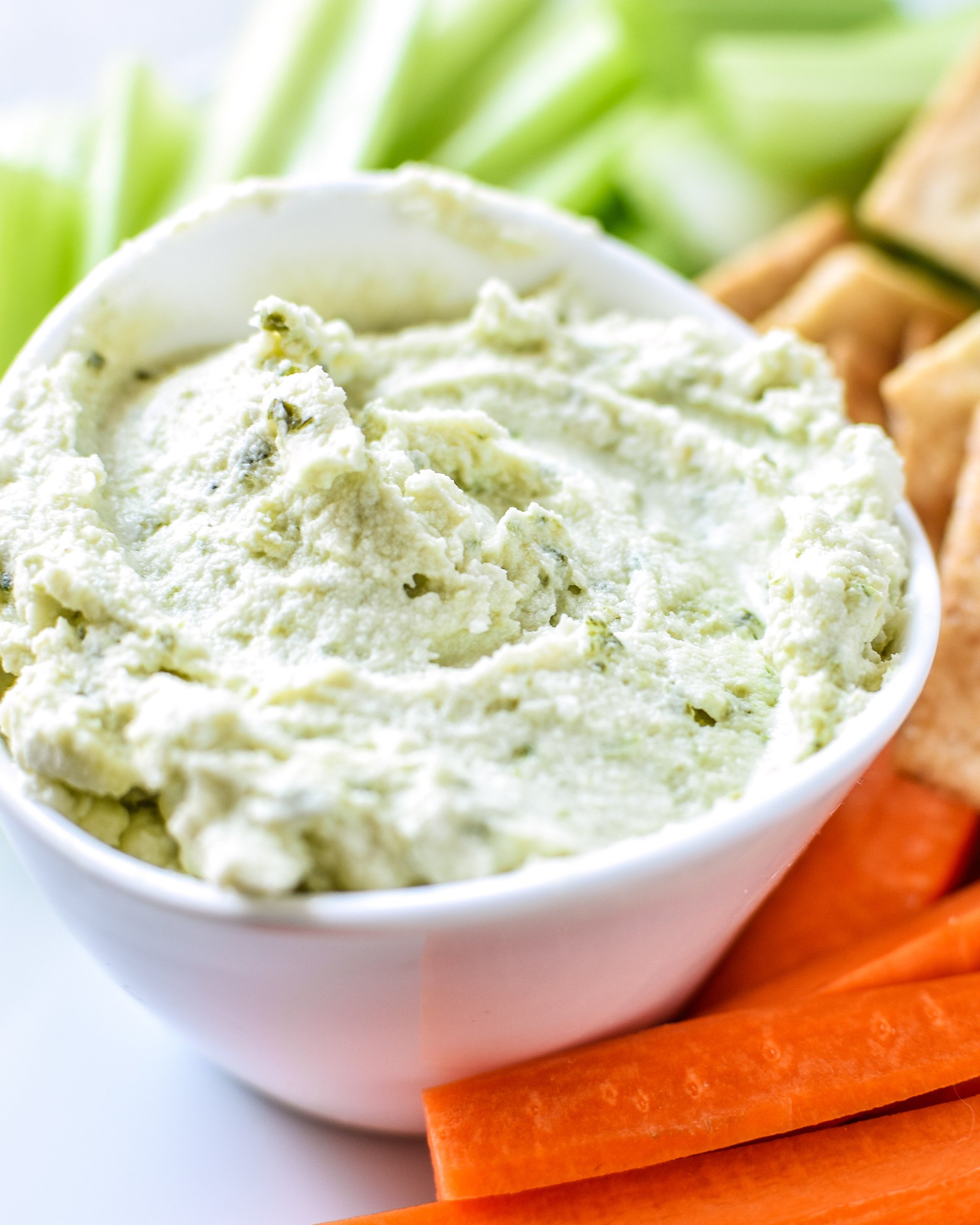 I'm really lacking in snacks here on Project Meal Plan, so I thought I'd put one of my new favorites out here for you. It's called Pesto Goat Cheese Dip (or Spread… whichever word you like better) and it's made from three simple ingredients.
On a little weekend vacation at Suncadia Resort here in Washington, I ordered the black bean burger. Not my normal go-to, but not a total surprise either. I don't eat most red meat, so the black bean burger makes sense, but usually there's something more enticing on the menu. I can make black bean burgers at home, ya know?
But this black bean burger. This one was different. It came with an amazing but simple pesto goat cheese smothered over the black bean burger – the entire reason I ordered it. I'm a sucker for anything pesto (Incredibly Easy Pesto Pasta Salad, Pesto Chicken Bake with Peas, Turkey Pesto Tortilla Pinwheels…), and I was now in pesto heaven. And pesto heaven had to be recreated at home.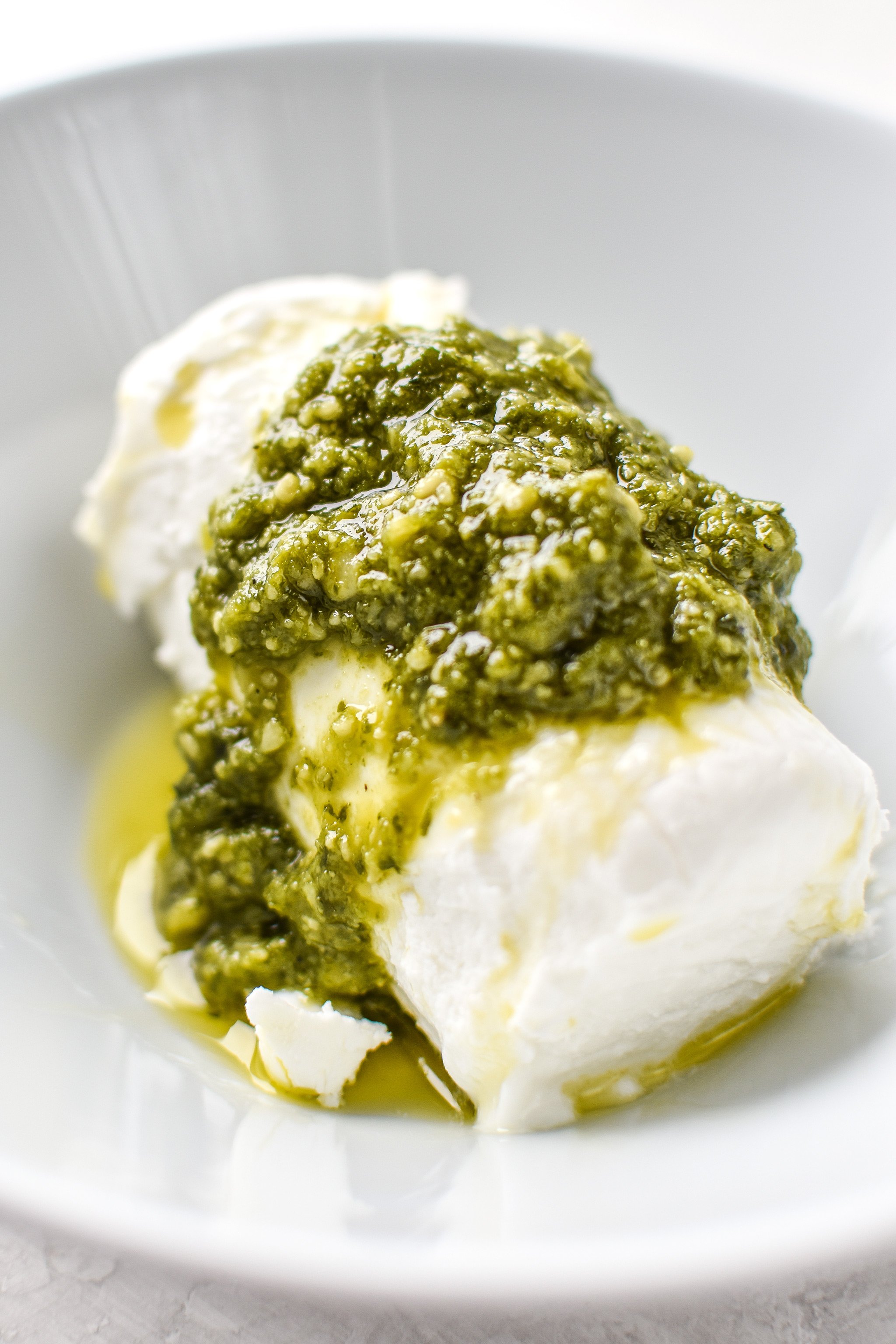 Ingredients in the Pesto Goat Cheese Dip:
Pesto (and goat cheese) heaven requires only THREE simple ingredients!! Let's discuss:
PESTO: Obvious ingredient #1. You can use any traditionally prepared basil pesto. I buy mine from Costco or I use Rana from the grocery store if I don't need a Costco amount. If you're really into making your own pesto, feel free to do that and then use it here. I found that it wasn't very economical for me due to the prices of some ingredients here in Seattle (Which is Cheaper?).
GOAT CHEESE: Obvious ingredient #2. This recipe is written for using one 4 ounce log of goat cheese, but can easily be doubled or tripled to serve a crowd. One serving of goat cheese is 1 ounce, so a single batch of this recipe is perfect for 4-5 people. Pick your favorite plain goat cheese and go to town. The goat cheese will probably be a bit crumbly, but we'll add the other two ingredients and mix well to make it smooth and creamy.
OLIVE OIL: Perhaps the least obvious ingredient (the only one not in the title) is olive oil. Normally I use avocado oil for cooking, but since there's no cooking involved here, I went straight for the extra virgin olive oil for a better taste. Use your favorite high quality olive oil here. Don't skip it – it helps make the goat cheese dip creamy and delicious!
Always important to me when I create a new recipe: The make-ahead grade!! I would honestly give this recipe a full A+ in the make-ahead-ableness category. You can fully prepare it in advance and then just grab it out of the fridge when you're ready. It has never stayed in my house longer than 3 days, but I'm sure it would last 4 or 5, depending on the freshness of your goat cheese.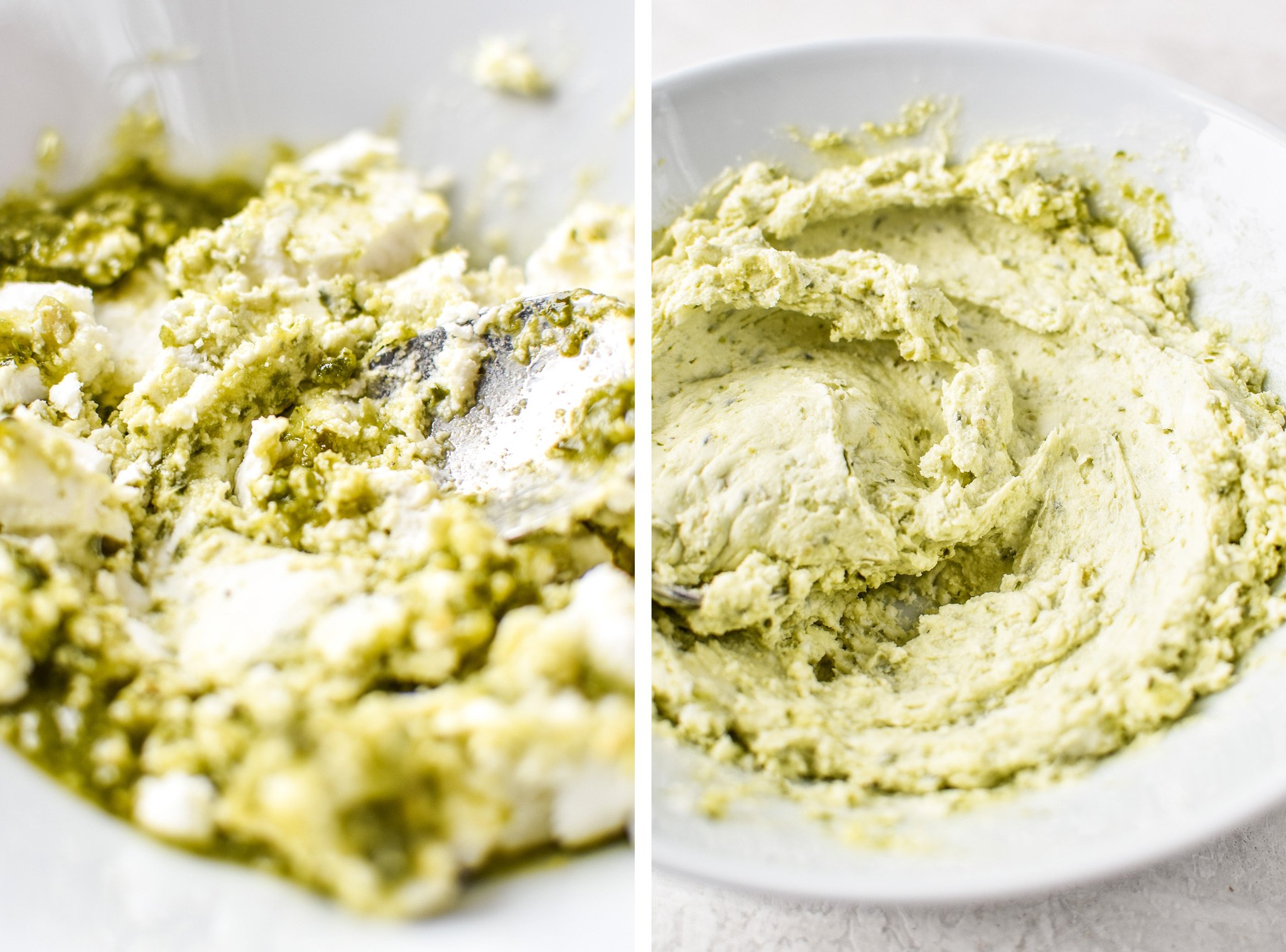 My favorite ways to use this pesto goat cheese dip:
FOR DIPPING: Crackers, carrots, celery, bell peppers… literally anything you would dip into hummus can be dipped into this pesto goat cheese dip.
ON BURGERS: I have personally eaten this dip multiple black bean burgers in the past few months and it is 100% drool-worthy. It does not have to be a veggie burger – layer this on a regular burger for a pesto party burger! Goes great with avocado.
ON PIZZA: Use this as the sauce layer or spoon it on top of your pizza. Either way, cheese + pesto, so it will work.
STUFFED IN THINGS: Okay, haven't tried this one yet but I'll be doing it very soon. Pesto goat cheese stuffed chicken breast! OMG.
FOR IMPRESSING: I made this dip and took it over to my mom's house with some crackers. She loved it and said she could "eat it with a spoon". It's a very classy and impressive dip.
Meal prep it!
Okay, so you can share this dip, or (my favorite) you can keep it all to yourself. During your meal prep Sunday, split a batch of dip into 4 portions and cut up some carrot sticks (or other veggies/crackers/dippable snacks). Use small Pyrex bowls, mason jars, or these super cute Whiskware Stackable Snack Containers (affiliate link!).
Meal prep does not have to be extravagant or fancy! Prepping your snacks totally counts as meal prep. If it keeps you from hitting up your local coffee shop for a pastry or snacking on the office doughnuts, I'd say it's a win.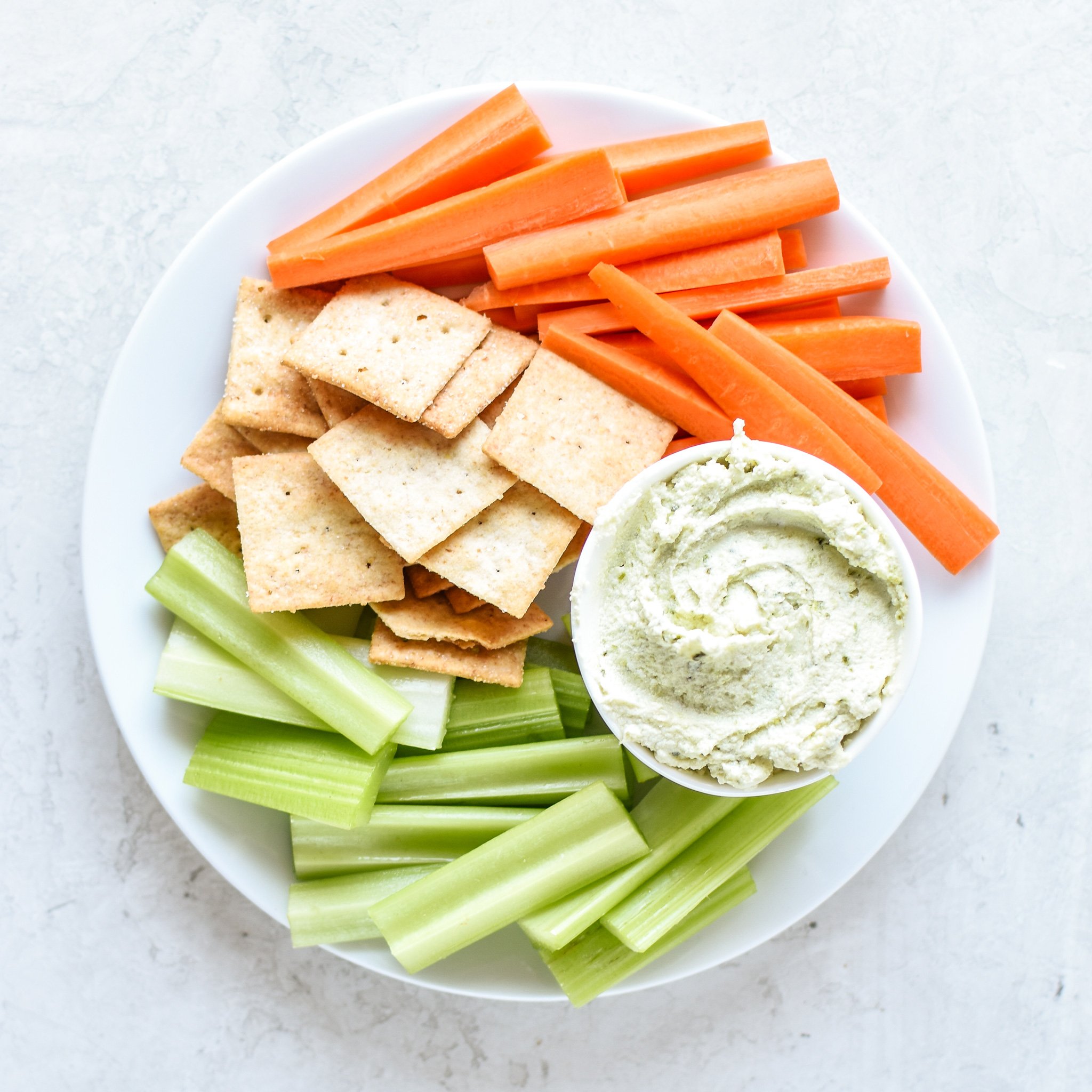 More meal prep recipes from Project Meal Plan:
Recipe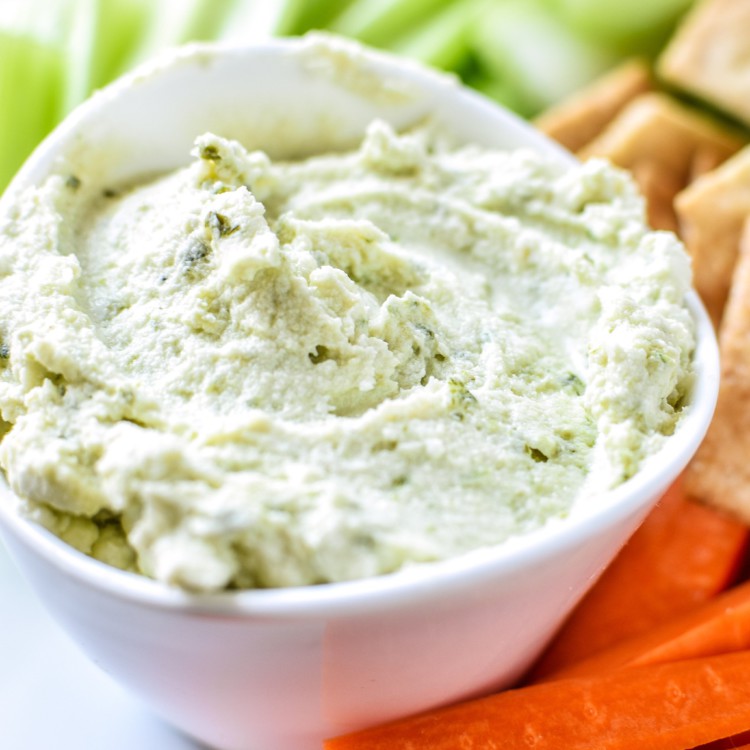 3-Ingredient Pesto Goat Cheese Dip
Prep:
5 minutes
Total:
5 minutes
This 3-Ingredient Pesto Goat Cheese Dip is the easiest make-ahead appetizer (or snack) ever! Pairs perfectly with veggie sticks, crackers, on burgers, pizza, and comes together in less than 5 minutes!
Ingredients
4 ounce

log plain goat cheese

1 tablespoon

prepared traditional basil pesto

2 teaspoons

extra virgin olive oil
Instructions
Add all ingredients to a small bowl and mix to combine. Serve immediately or store in the fridge in an air tight container for up to 4 days. Serve with crackers, veggies or on burgers and sandwiches.
Equipment
Notes
This recipe is easy to double if you're making it as an appetizer for more than 4 or 5 people. Nutrition information estimated with My Fitness Pal.
Nutrition Information
Serving Size:

about 1 ounce

Calories:

115

Sugar:

0g

Fat:

10g

Carbohydrates:

1g

Protein:

6g
Recipe Card powered by
Thanks for checking out my 3-Ingredient Pesto Goat Cheese Dip! Please tag me or use #projectmealplan on social media to share! I'd love to see your creation, or hear any feedback you have 🙂