Whole30 Buffalo Deviled Eggs are my red-hot twist on classic deviled eggs, barely tweaked to follow the Whole30! Serve these delicious, low-carb, easy to make eggs as an appetizer, or simply eat them as snack!
Jump to Recipe
Try to feed me these 10 years ago, and I would have laughed in your face. Good thing taste buds change as we age and now I'm a full believer in deviled eggs. These Whole30 Buffalo Deviled Eggs make an excellent snack. And if you're trying to avoid the word snack (like any true Whole30-er should), then add an egg's worth of deviled eggs to light meals such as my BLTA Lettuce Wraps Meal Prep or my Chicken & Hummus Plate Meal Prep (minus the hummus for Whole30) lunches.
How do you make your hard-boiled eggs?
Confession: I've never liked making hard boiled eggs on the stovetop because I couldn't get them right. And I didn't really like hard-boiled eggs until recently. Even after that, I always thought they were annoying to peel. UNTIL, I tried them in the Instant Pot!
So consistent, simple to make, and quite seriously the easiest eggs to peel ever. Of course, if you scroll through a Facebook thread in one of the Instant Pot groups, there will be 18 different people saying their way is the best way to make hard-boiled eggs. There are so many options, but I think the most standard way to start is the 5-5-5 method. 5 minutes high pressure, 5 minutes natural pressure release, and 5 minutes in cold water.
I follow this method for hard-boiled eggs that are going to be deviled. If we're planning to eat them plain, I go down to 2 minutes high pressure for softer yolks.
If you're making your eggs on the stovetop, here are standard directions to follow from The Food Network for stovetop hard-boiled eggs.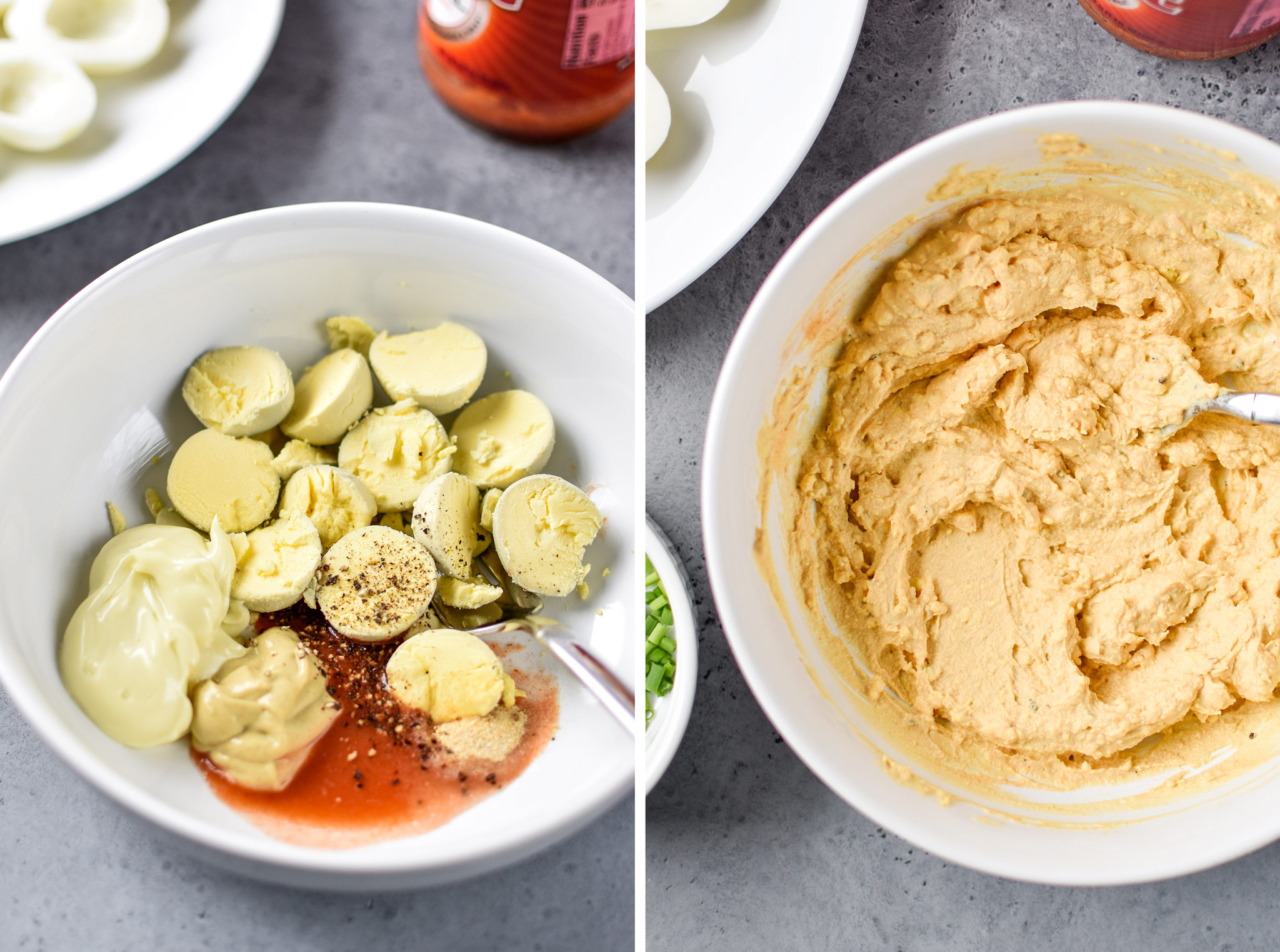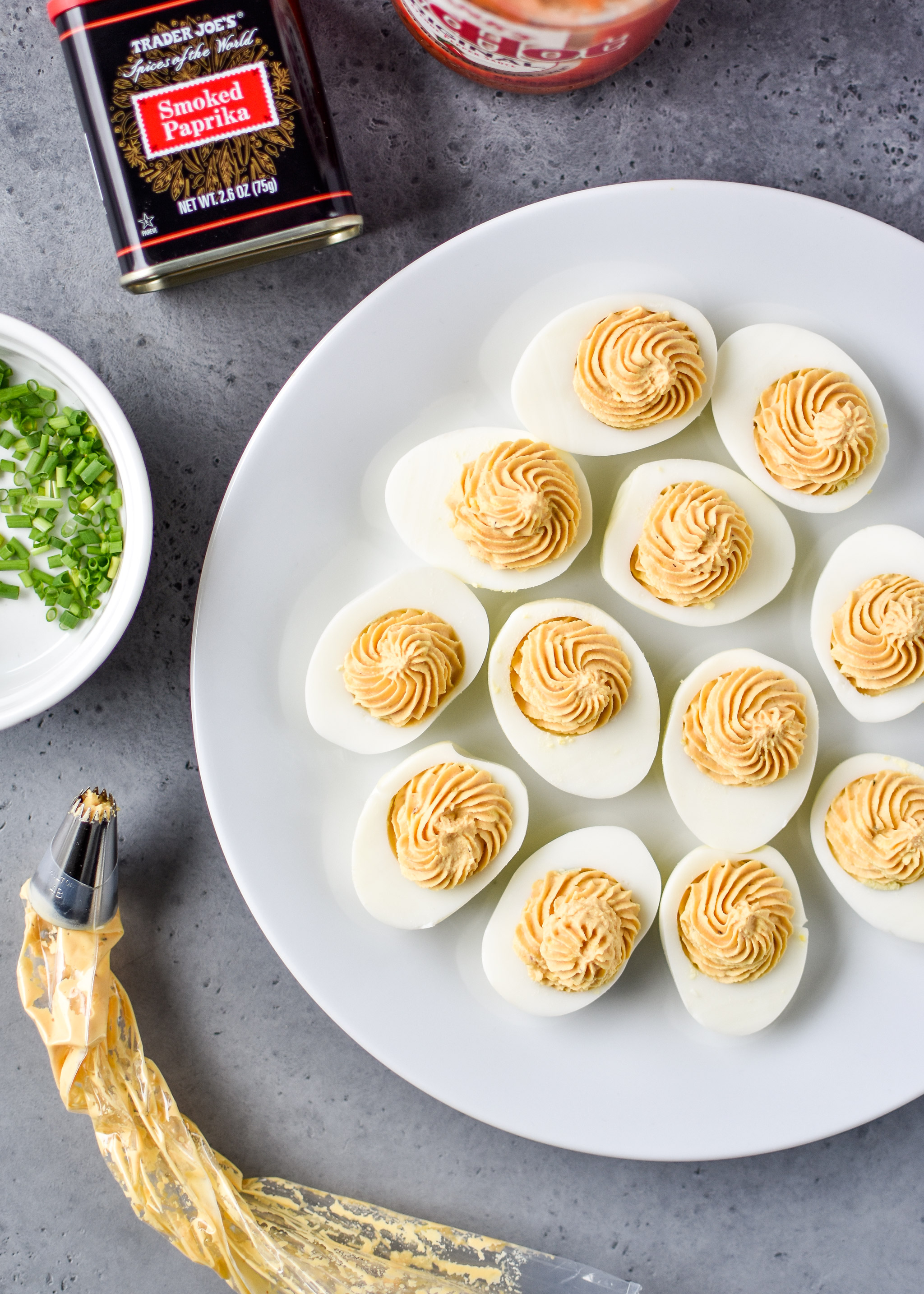 What's in these Whole30 Buffalo Deviled Eggs?
Here are the ingredients we've got – pretty standard if you're used to deviled eggs:
hard-boiled eggs (surprise!)
homemade mayonnaise (use any mayo if you aren't following Whole30)
dijon mustard
garlic powder
Frank's Original Red Hot Sauce (not the wing sauce!)
salt & pepper to season
I also used a piping bag to make my buffalo deviled eggs look super fancy, but feel free to spoon your egg yolk mixture into the egg white, or use a Ziploc bag with the corner clipped off.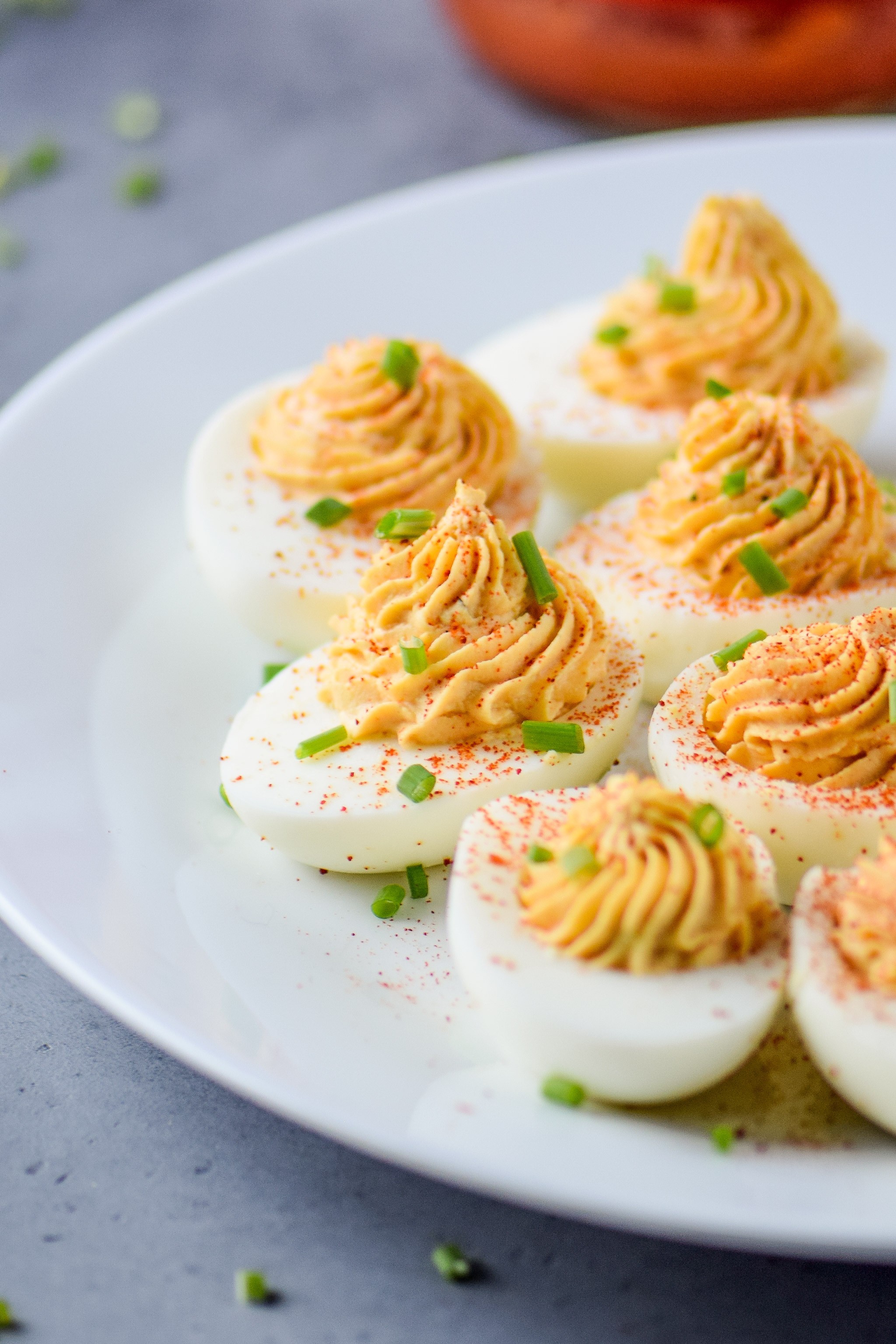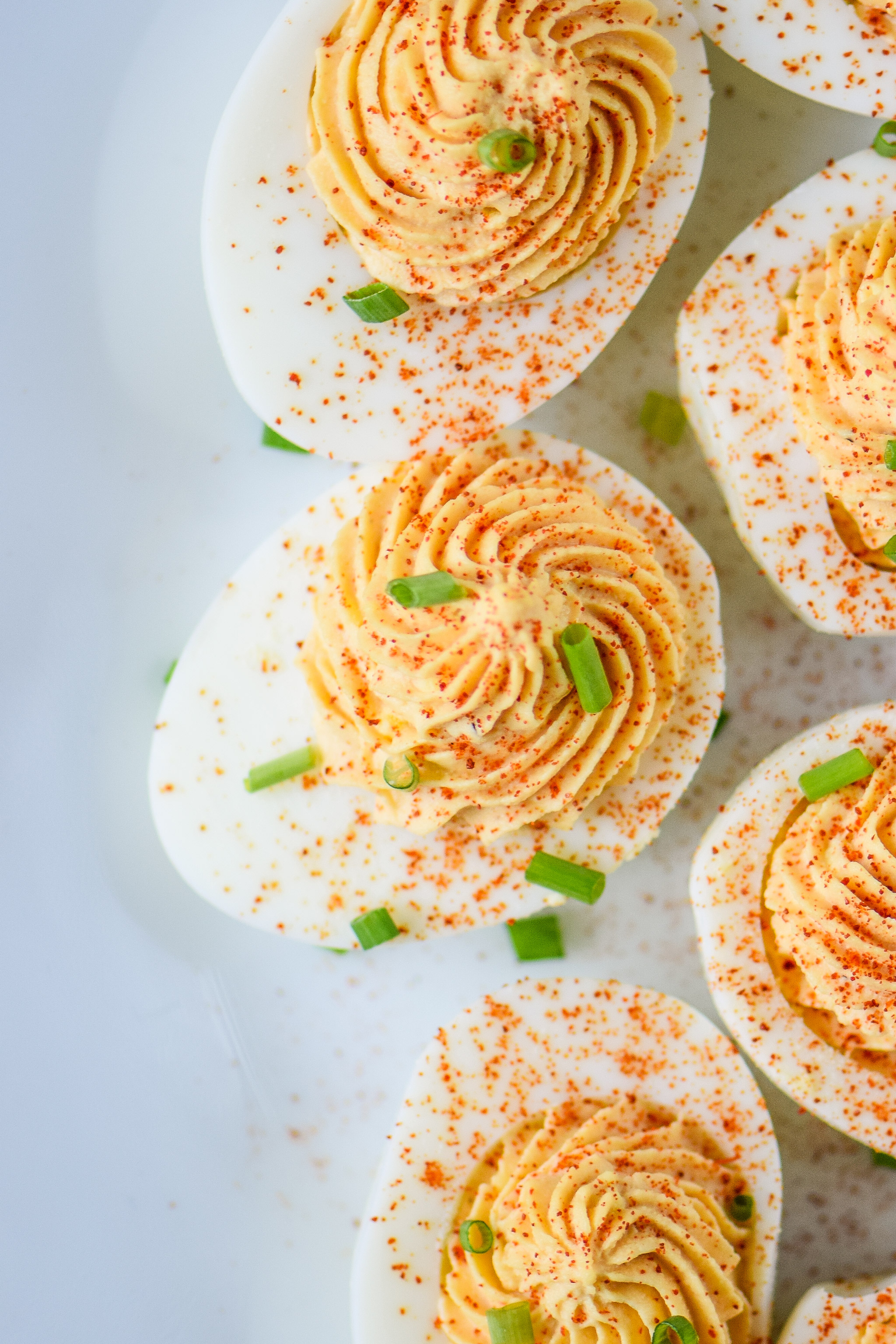 How do you make Whole30 mayonnaise?
Mayonnaise is vital for deviled eggs. And homemade ranch dressing. So I decided I had to learn how to make it at home instead of shelling out lots of $$ to get the special no sugar added kind from the store.
Whole30 mayo – aka plain mayo with zero sugar – is easy to make if you have any kind of blender, but particularly easy if you have an immersion blender. It takes a raw egg, light olive oil or avocado oil, mustard powder, and lemon juice. The problem with most mayonnaise from the store is the added sugar, not the mayo part! Here's the homemade mayo recipe I followed from Whole30.
To start, since I'm not trying to get salmonella, I pasteurized the egg by placing it in a pot of water with my sous vide attached. I set it to 135F and let the egg sit in the water for 75 minutes to kill all the bacteria, both inside the outside the eggshell. HINT: You can also buy them at some stores like Whole Foods but be prepared to pay $$.
I added all the ingredients to a mason jar except the lemon juice, and then used my immersion blender (stick blender) to emulsify the oil and egg. The lemon juice was mixed in after. It takes only a few seconds for homemade mayo! Plus, you can also use a Vitamix or food processor based on the directions.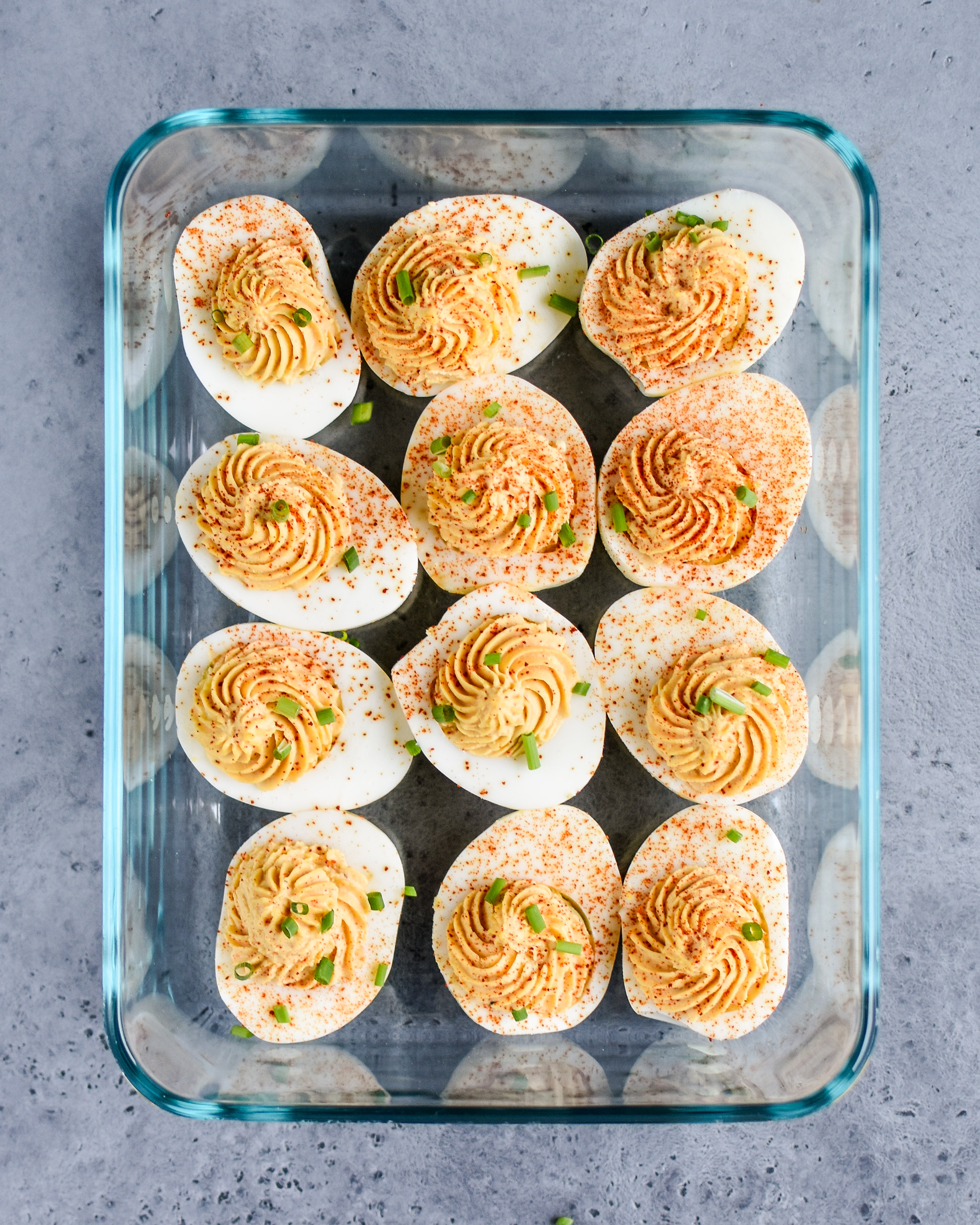 More snack ideas from Project Meal Plan:
Print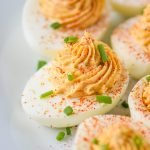 Whole30 Buffalo Deviled Eggs
Author:

Prep Time:

15 minutes

Total Time:

15 minutes

Yield:

12 deviled egg halves

Category:

Appetizer

Cuisine:

American
---
Description
Whole30 Buffalo Deviled Eggs are my red-hot twist on classic deviled eggs, barely tweaked to follow the Whole30! Serve these delicious, low-carb, easy to make eggs as an appetizer, or simply eat them as snack!
---
Ingredients
6 hard-boiled eggs, peeled
3 tablespoons compliant mayonnaise (*see note)
1 tablespoons Frank's Original Red Hot Sauce
2 teaspoons dijon mustard
1/4 teaspoon garlic powder
1/4 teaspoon salt/pepper
optional: smoked paprika & sliced green onions for topping
---
Instructions
Cut the hard-boiled eggs in half lengthwise. Gently remove the yolks and add to a medium sized bowl.
To the bowl with the egg yolks, add mayonnaise, Frank's hot sauce, mustard, garlic powder, and salt/pepper. Mash and mix well until smooth.
Use a piping bag, Ziploc bag, or simply spoon the yolk mixture into the egg whites. Top with a sprinkle of smoked paprika or green onions.
Store in an airtight container and enjoy within 4 days.
---
Notes
Hard-Boiled Eggs: I make my HBEs in the Instant Pot. Here are stovetop instructions (follow directions for Hard).
Whole30 Compliant Mayo: Here's the mayonnaise recipe from the Whole30 website so you can make yours at home. It's super easy! There are also multiple compliant brands you can get from the store including Primal Kitchens and Tessemae's. Check the ingredients and make sure there's no sugar added.
Recipe can easily be halved for less or doubled for more people. Nutrition information estimated with MyFitnessPal.
---
Nutrition
Serving Size:

2 deviled egg halves (1 egg)

Calories:

123

Sugar:

0g

Fat:

11g

Carbohydrates:

1g

Protein:

6g
Keywords: snack, eggs, deviled eggs, buffalo, franks hot sauce, appetizer
Recipe Card powered by
To make this recipe, I used:
I hope you enjoy these Whole30 Buffalo Deviled Eggs! Tag me or use the hashtag #projectmealplan to show me your spin on these deviled eggs!

Support and Share Project Meal Plan -
Disclaimer:
 Project Meal Plan is a participant in the Amazon Services LLC Associates Program, an affiliate advertising program designed to provide a means for us to earn fees by linking to Amazon.com and affiliated sites. For more information, please see our
Full Disclosure & Privacy Policy
.