1 Comment
Posted: 11/30/2017
Updated: 09/24/2021
It's a dinner miracle: one-pot, no chopping veggies, and done in about 35 minutes. This One-Pot Pesto Chicken and Rice is the perfect idea if you're short on dinner prep time.
Jump to Recipe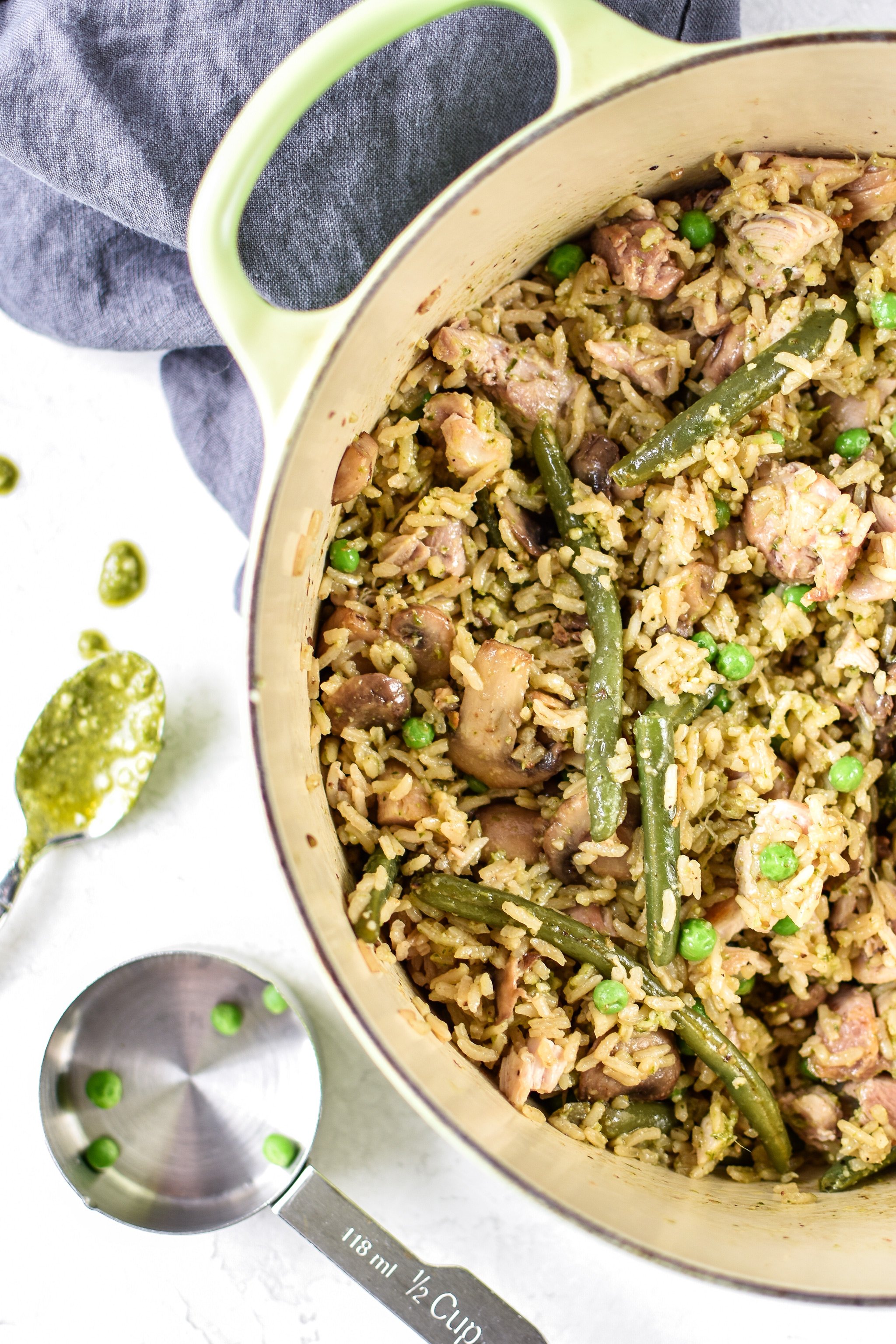 I've been working on my first one-pot recipe for a while now. This is mainly because I do SO many dishes – both from recipe testing and meal prepping our own meals (I cook ALMOST every meal from scratch), that I wanted to work on cutting that down a little.
Back in my early meal prep days, one of my go-to lunch recipes was chicken, rice and pesto bowls. It was sort of boring, I'll admit, but I'm pretty into pesto, so it worked.
Since starting Project Meal Plan, that classic pesto chicken and rice hasn't really been happening much (due to the fact that I've learned to cook lots of other less boring things at this point). But I missed it, so I decided to recreate the idea with a few changes. The result: One-Pot Pesto Chicken and Rice (with some veggies, too!).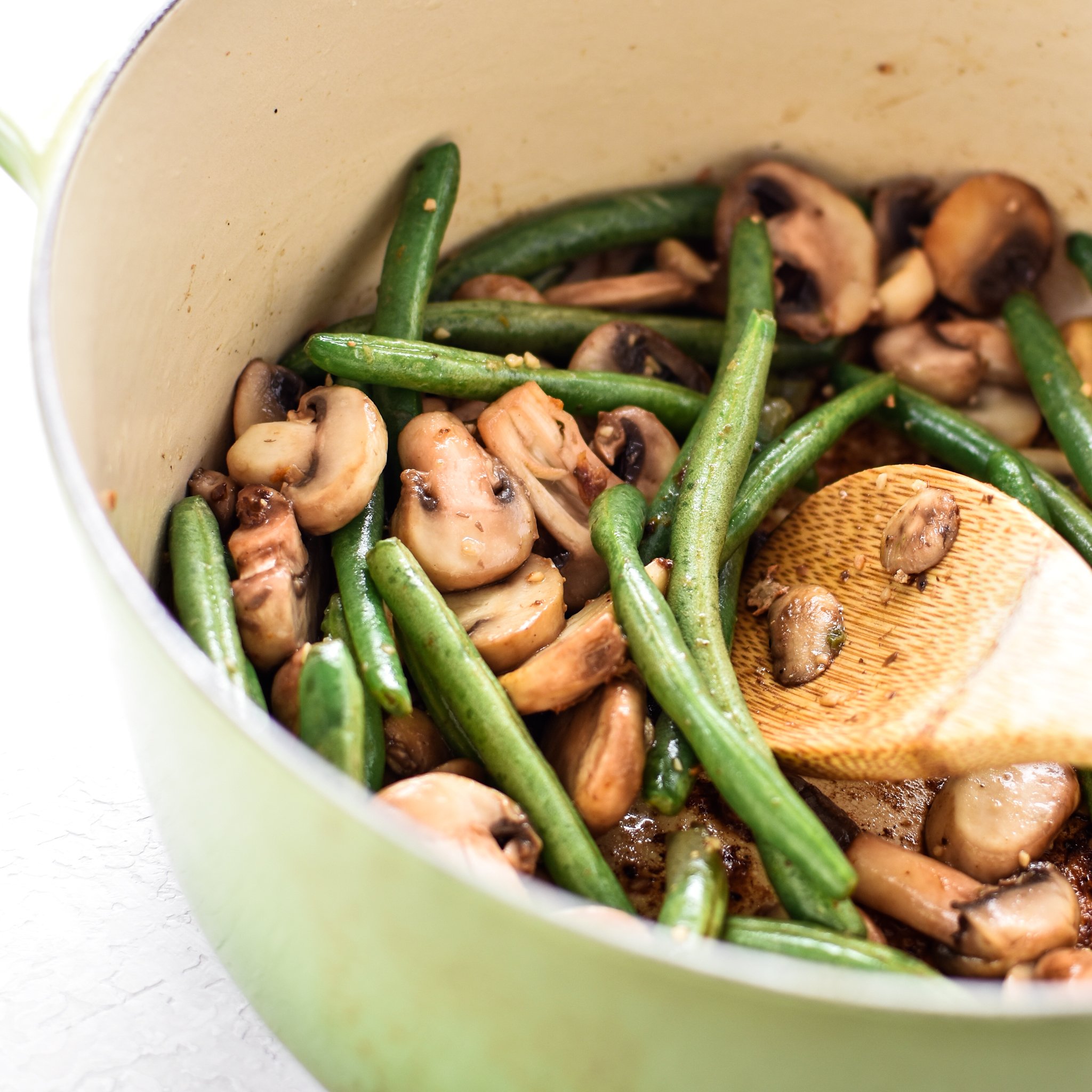 If you prefer brown rice…
The recipe will no longer be considered 'one-pot'. I couldn't figure out a way to get it all in one pot without having some portions sit out for too long. Sorry my brown rice lovers!
DO NOT swap brown rice for white rice in this recipe. Brown rice takes significantly longer to cook and will not be done after 20 minutes. The beans and chicken would be very overcooked by the time the rice was done.
Instead, begin the recipe by following the box instructions for your favorite brown rice. You can also use a rice cooker, which is my prefered method of cooking brown rice.
When the brown rice is about halfway done cooking, begin cooking the chicken. Follow the same instructions for both the chicken (cook completely instead of just browning), and then the veggies, but skip the broth, rice and cooking for 20 minutes steps (this is all taken care of with the brown rice separately cooking).
When the brown rice is done, add it to the large pan with the chicken and veggies. Add your peas and pesto too. Stir and done!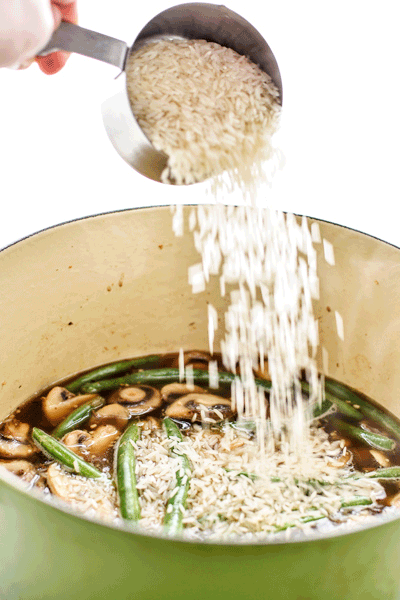 Which pesto is besto?
I always always always get my pesto at Costco. Why, you ask? Because it's the most delicious, cost-efficient pesto out there, according to my own research.
Last year, I wrote an article comparing the prices between different methods of acquiring pesto (homemade vs. grocery store vs. bulk). Long article short, buying pesto in bulk from Costco was the clear winner by price, not to mention the great taste straight from the container.
It's a no-brainer pesto decision for me.
More recipes with pesto from Project Meal Plan:
Recipe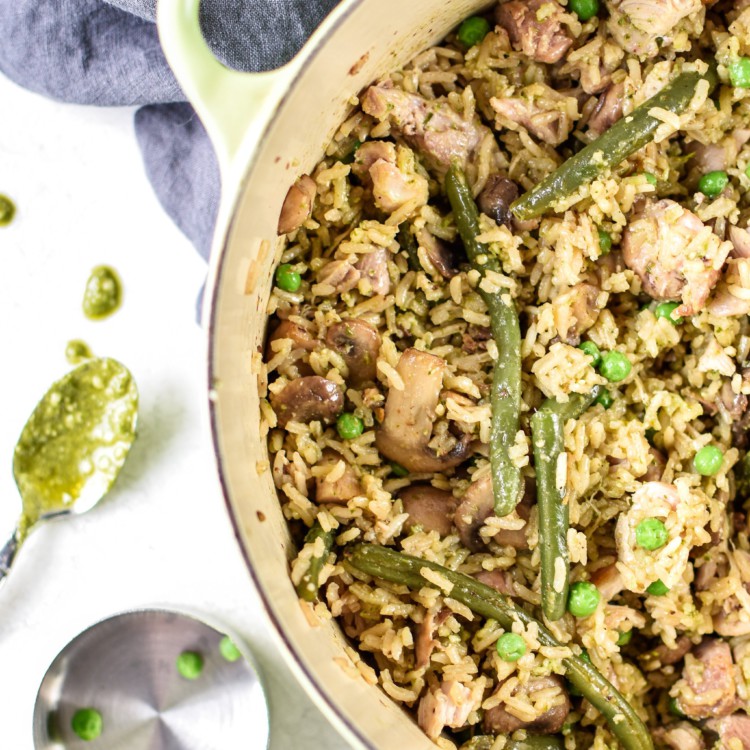 One-Pot Pesto Chicken and Rice
Prep:
5 minutes
Cook:
30 minutes
Total:
35 minutes
One-pot, no chopping veggies, and done in about 35 minutes. This One-Pot Pesto Chicken and Rice is the perfect idea if you're short on dinner prep time.
Ingredients
2 tablespoons

avocado or olive oil (separated)

1

pound boneless skinless chicken thighs, patted dry

2 teaspoons

minced garlic

8 ounces

fresh green beans, stems removed

8 ounces

fresh sliced white mushrooms

1

(14.5 ounce) can low sodium chicken broth

1 cup

white jasmine or basmati or jasmine rice

1/2 cup

frozen peas

1/4 cup

+

2 tablespoons

traditional prepared pesto
salt/pepper
Instructions
Heat 1 tablespoon oil in a deep non-stick skillet or Dutch oven over medium high heat. Add chicken thighs to the hot pan and season with salt and pepper. Cook for 4-5 minutes or until browning on the bottom. Flip thighs and continue cooking for another 3-4 minutes or until just browned. Remove from heat and set aside (the chicken thighs may not yet be fully cooked at this point).
Reduce heat to medium and add 1 tablespoon additional oil to the same pan. Add minced garlic and cook for about 30 seconds, then add green beans and mushrooms. Cook for 3-4 minutes, stirring occasionally.
Add broth to the pan. Let it come to a low boil and then reduce heat to low. Add rice and stir until all rice is fully saturated in liquid. Return chicken to the pan, cover, and let cook over low heat for 20 minutes.
After 20 minutes, the rice should be fully cooked and very little liquid should remain in the pan. Remove the chicken, cut it up into bite sized pieces, and return it to the pan, along with the peas and pesto. Stir until well mixed and serve immediately. Store for up to 4 days in airtight containers.
Notes
This recipe tastes best when served immediately. Unfortunately, the pesto does not keep its delicious flavor after reheating.
Inspired by One Pan Thai Coconut Yellow Curry Chicken + Rice from Ambitious Kitchen. This recipe inspired me to try cooking rice with all the other ingredients in the same pan. Nutrition information estimated with My Fitness Pal.
Nutrition Information
Serving Size:

about 2 cups

Calories:

514

Fat:

29g

Carbohydrates:

29g

Protein:

36g
Recipe Card powered by
Thanks for checking out One-Pot Pesto Chicken and Rice! Be sure to use #projectmealplan on social media if you make this recipe!