Once again, it's time to recap Project Meal Plan's best hits, 2020 version! Here's where I share trends, lists and fun tidbits from the year, as well as a countdown of Project Meal Plan's Top 10 Most Popular Recipes of 2020!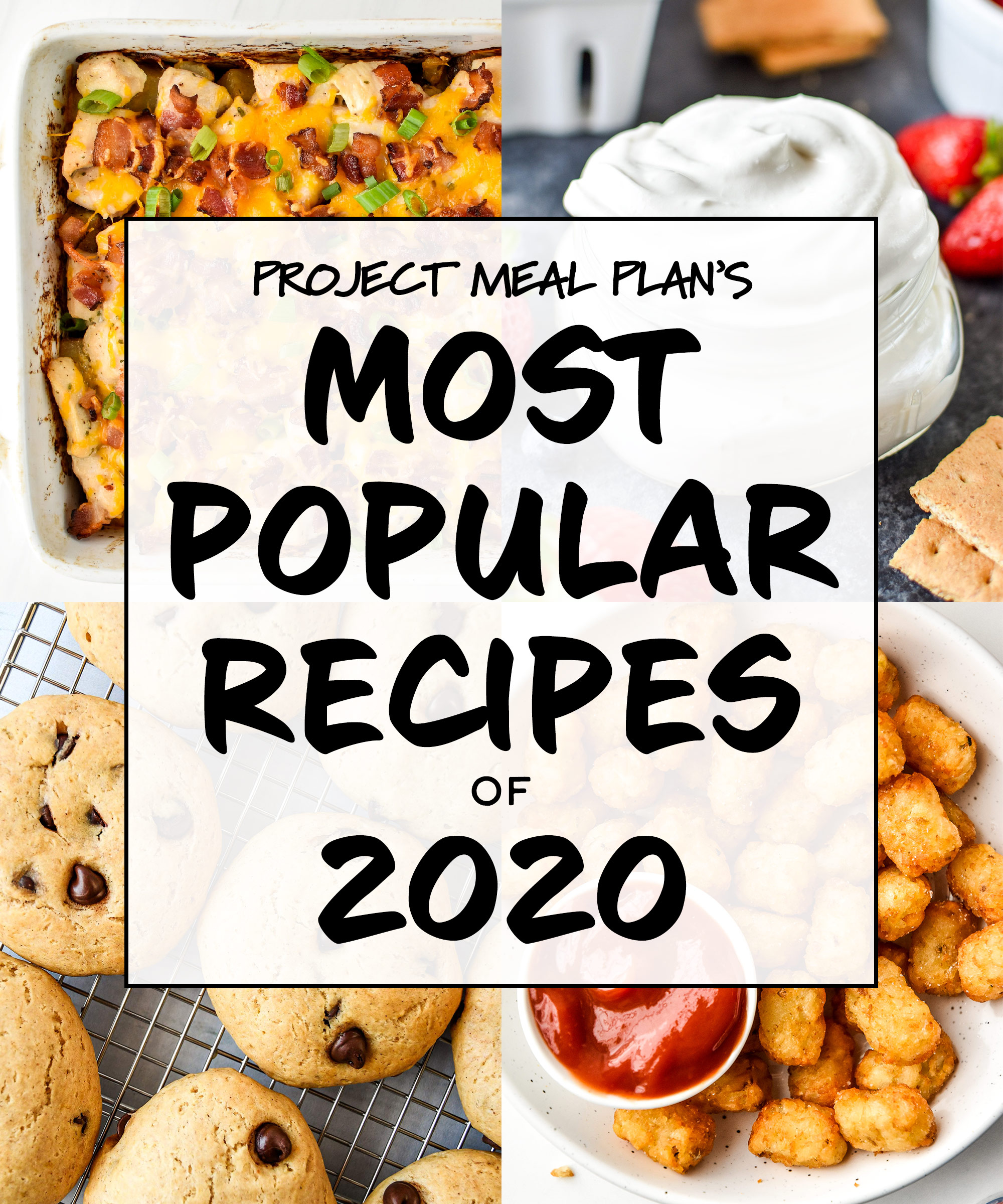 If you've never tried a PMP recipe, this list is the best place to start!
These year end round-ups are one of my favorite ways to share the data behind the scenes.
The list reveals trends, tells you what's been popular, and honestly, it can show you some things about the year if you look between the lines a little bit.
I love the numbers and this is when I get to share any of them that I want, so strap in and prepare yourself for some facts and data! But first, real quick, I just want to share a little message to YOU:
Thank YOU for making my job a reality.
Thank YOU for visiting my website,
making my recipes, and following on social media.
YOU are why this is possible for me.
I appreciate every single person who spends even a second here, especially this year!
❤️
I put together this list by looking at the top most viewed recipes on Project Meal Plan, not including recipe round-ups or non-recipe article posts (those will be listed separately below!).
If you're looking for the best of Project Meal Plan according to YOU, the readers, try one of these Most Popular Recipes of 2020, loved by many!
Most Popular Recipes of 2020
Most Popular Non-Recipe Posts of 2020
#1: 10 Trader Joe's Foods That Are Perfect for Your Air Fryer
– 9.68% of 2020 Pageviews!
#2: 16 Make Ahead Cold Lunch Ideas to Prep for Work
#3: The First 25 Recipes I Made With My Instant Pot
#4: The Importance of Meal Planning: 3 Reasons to Meal Plan Weekly
#5: The First 15 Recipes I Made With My Air Fryer
2020 In Review
Project Meal Plan 2019 vs. 2020 Stats
Pageviews: Increased ~16% from ~2,271,000 (2019) to ~2,643,000 (2020)
Users: Increased ~23% from ~1,460,000 (2019) to ~1,792,000 (2020)
Sessions: Increased ~23% from ~1,854,000 (2019) to ~2,284,000 (2020)

Can't lie to you, Internet friends reading this. These numbers are a little disappointing compared to the near 300% growth I experienced from 2018 to 2019.
However, I gave myself about 20 seconds to be disappointed, and now I'm moving on because after 2020, I'm thankful for any growth at all.
Project Meal Plan 2020 Top 5 Lists
Top 5 Traffic Referral Sources (+ percentage of all traffic):
#1: Google – 47.43%
#2: Pinterest – 36.53%
#3: Direct/None – 9.61%
#4: Facebook – 0.90%
#5: Bing – 0.70%
Referral sources means where the traffic is coming from – specifically where the user clicked from to get to my website. The top two spots have switched from last year, which is alright with me.
This year, I've been focusing more on writing to answer questions I see commonly asked on Google, so I'm happy to see Google traffic increasing over Pinterest traffic.
Top 5 Instant Pot Recipes of 2020
#1: Instant Pot Cinnamon Apple Steel Cut Oats
#2: Instant Pot Honey Garlic Chicken Meal Prep
#3: How to Cook Quinoa in the Instant Pot
#4: Instant Pot Jalapeno Popper Chicken Soup
#5: Instant Pot Mexican Quinoa
Since none of these wonderful recipes made it into the top 10 this year, I thought I'd share the short list – all of these are consistent favorites on Pinterest and have been around since at least 2019.
If you just got an Instant Pot, give one of these a try! Instant Pots have been a little overshadowed by air fryers this year, but I still use mine ALL the time and I encourage you to do the same.
Top 5 Meal Prep Lunch Recipes of 2020
#1: Easy Turkey Pinwheels Meal Prep
#2: Spicy Ground Turkey & Cabbage Stir Fry Meal Prep
#3: Chicken Quinoa Fried Rice Meal Prep Bowls
#4: Chicken Hummus Plate Lunch Meal Prep
#5: Whole30 Ginger Ground Beef Bowls
None of these made the top 10 list either (what??) but they are great places to start if you need some meal prep lunch ideas. There's something for everyone on the list!
Top 5 Breakfast Recipes of 2020
#1: Make-Ahead Fruit & Greek Yogurt Parfait Ideas
#2: Instant Pot Cinnamon Apple Steel Cut Oats
#3: Whole30 Sausage Breakfast Gravy
#4: PB Powder Blueberry Cinnamon Smoothie
#5: Banana Protein Pancakes
If you don't count Whipped Greek Yogurt or Pancake Mix Cookies, these are the top breakfasts on Project Meal Plan. All of these are delicious, but the IP Cinnamon Apple Steel Cut Oats have been particularly popular on Pinterest. All of these are great choices for your next meal plan!
Notes & Comments on the Year
Project Meal Plan has a total of 212 recipes at the end of 2020. There are a total of 305 published posts including round-ups like this one, meal planning challenges, plus helpful meal planning and meal prep articles.
There are no 'classic' meal prep recipes in the top 10 this year, which is surprising to me because I like to consider myself a meal prep focused blog.
The average time spent on a page has increased by 19.25% from 3 minutes 50 seconds (2019) to 4 minutes 34 seconds (2020). I think this is due to having more videos on my website!
Oh, air fryers. Where do I begin? Thanks for keeping my traffic up in 2020. Out of 212 recipes on Project Meal Plan, 16 of them are air fryer recipes (plus 3 air fryer round-ups). These air fryer posts made up just over 44% of my traffic in 2020 (while being only 7.5% of my content!).
Some of the most popular recipes seem to involve taking one ingredient, possibly adding oil/spices, and then air frying it. These are simple, but people still need to know the cook time and details.
Due to the sudden popularity of the Chocolate Chip Pancake Mix Cookies, I published several more pancake mix recipes including cheesy biscuits, zucchini muffins, and a baked pancakes dish. We'll see if those decisions pay off next year!
Print Recipe pages made up about 1.47% of pageviews for the year, which is about 38,800 pageviews. The #1 most printed recipe was Veggie Loaded Rotisserie Chicken Casserole, which made up 16.90% of Print Recipe pageviews.
Overall, this year I saw a very minimal increase in my traffic – after the January meal prep rush, it was mostly flat until the end of December.
My highest traffic days of the year all occurred during the first two weeks of January, with the exception of Sunday, December 27th, 2020. Everyone got air fryers for Christmas!
My blogging BFF Steph at MealPlanAddict.com sent over 7,900 users to my website in 2020 – that's 0.41%, which is actually huge!! This just shows the power of a great friendship! Thank you Steph!!
Here are the most popular recipe lists from previous years – you'll definitely recognize a couple consistent favorites!
Thanks again for being here – this is only possible because of you!! I hope you enjoyed finding out the favorites and trends as much as I do!
Did you try any of these recipes this year? I would love to know your thoughts below!! Happy cooking, and here's to 2021 🙂