1 Comment
Posted: 12/31/2018
Updated: 09/23/2021
I've had my Instant Pot for a year, and I feel SO much more comfortable with pressure cooking! I'm sharing everything I've made from the beginning to now, the easy, the difficult, and the delicious! Here are The First 25 Recipes I Made With My Instant Pot!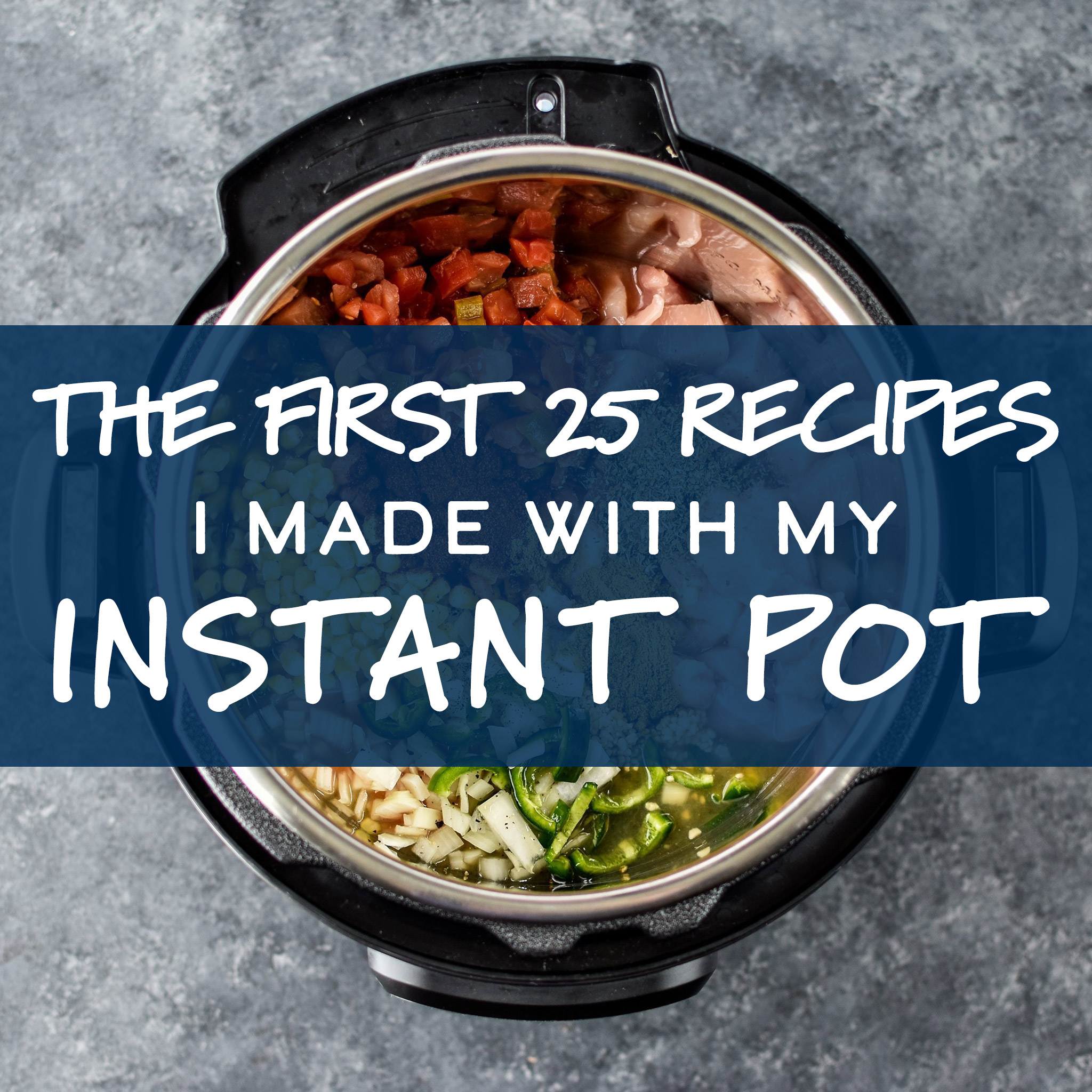 It's the one year anniversary of receiving my Instant Pot as a gift for Christmas last year (thanks Mom!!), and I was recently reflecting on all the food I've made in there. After cooking in the pot multiple times per week for a year now, I feel SO much more comfortable with pressure cooking!
Sometimes, I don't even follow a recipe. I'm basically an Instant Pot professional. (jokes, jokes)
What Instant Pot model do you have?
Of course there are lots of models, but I own the Instant Pot Duo Plus 6 qt (affiliate link!) 9-in-1 size. It's a slightly older model, but I love it. Please be aware that the accessories and recipes recommended here have only been tested with this model and they may not fit into smaller Instant Pot varieties.
What are you favorite Instant Pot accessories?
Everyone has their favorite accessories, based on what they've tried out in their own kitchen. Here are the items I use the most often, and what I use them for:
Instant Pot Tempered Glass Lid (affiliate link!): I love this for making yogurt, or really anything you need covered while not actually pressure cooking. No need to fight that IP lid battle if you don't have to. Works perfect to cover dips or apps on 'Keep Warm' function.
Stainless Steel 'Higher' Trivet Rack (affiliate link!): The trivet that comes with the IP has its uses, but when you want to cook something in the bottom and the top of the Instant Pot, in another dish (a pot in the pot), I like this higher trivet. Here's my favorite pot-in-pot recipe.
7 inch Silicone loaf pan (affiliate link!): This is what I use for pot-in-pot cooking as the second pot in the top of the Instant Pot. I do have metal bowls that fit into the pot, but they are not the right shape and leave literally zero inches between the bowl and side of the pot for me to pick up the bowl after cooking. That is, without fashioning an aluminum sling with handles, and I just don't have time for that. So I use this food safe silicone loaf pan (which can totally be used for baking, too).
OXO 12-inch Silicone Tongs (affiliate link!): I'm a sucker for a good OXO product, and these tongs are no exception. I've found this length is great for reaching into the Instant Pot while sauteing. It's a bit deep, so you need longer tongs to keep your actual hands and wrists out of the pot.
The First 25 Recipes I Made With My Instant Pot
#1 BBQ Chicken & Quartered Potatoes
Like most people with a brand new Instant Pot, I did not know where to start. I think I searched for beginner Instant Pot recipes on Google and this one seemed easy.
To be honest, I was not very impressed at the beginning – the potatoes were super mushy (probably my fault for cutting them too small) and the chicken was just okay.
I decided maybe it just wasn't my favorite recipe, and tried another dinner later in the week.
#2 Cheesy Meaty Shells
Okay, totally delicious and got me much more into the IP way of thinking. This kind of meal would have taken multiple pans to make, but with the Instant Pot, it just took the one.
Browning the meat in the pot with the Sauté mode is one of my favorite features! My husband and I agreed this was tasty, but we wanted to find a bit more healthy-ish applications for the pot! Here's the recipe we tried.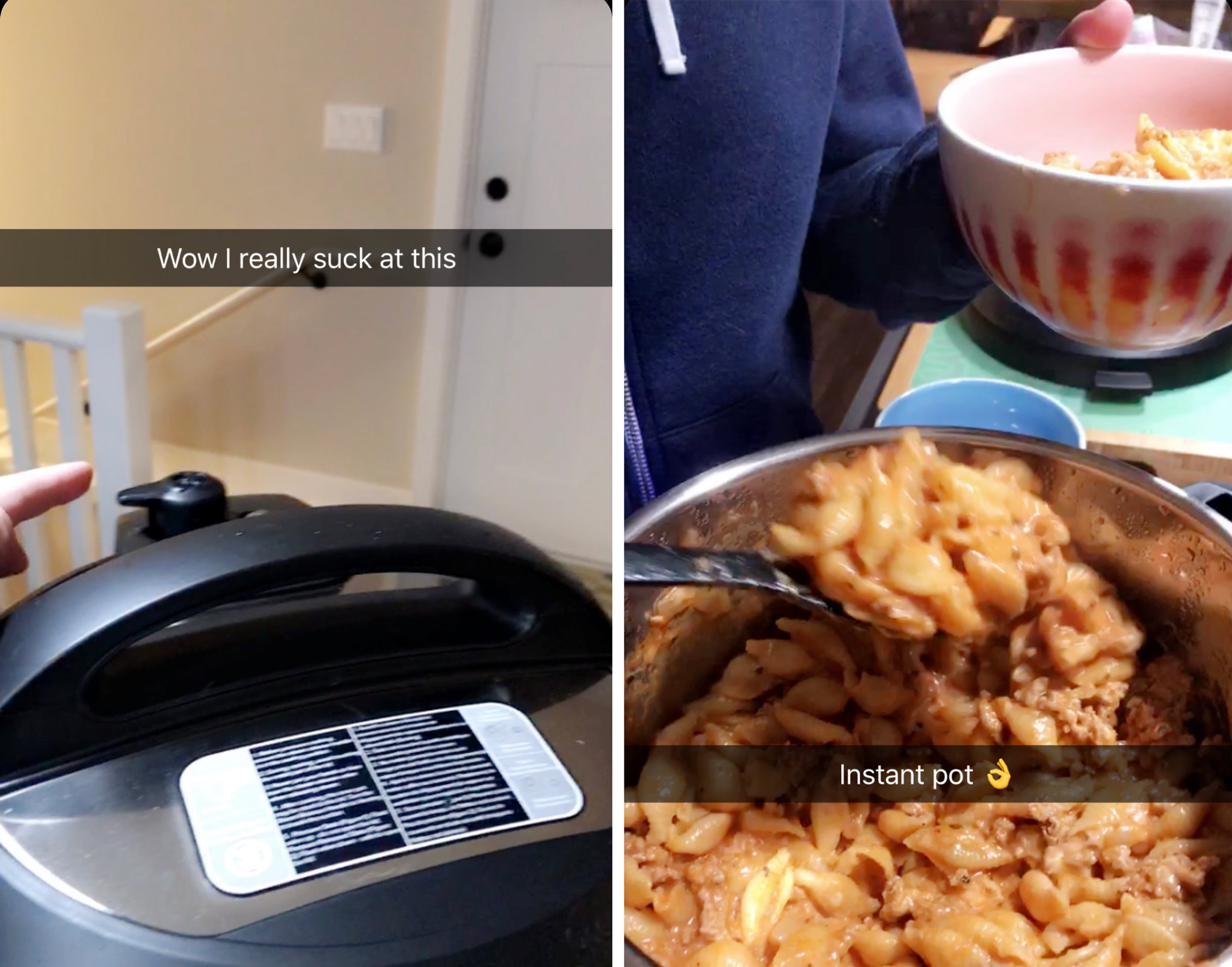 #3 Plain Quinoa
I had always been a fan of cooking quinoa in my rice cooker, so I decided to tackle Instant Pot quinoa. I reviewed the manual, tried out the ratios, and tested with & without coconut oil.
I'll admit it, these various tests cooking only cup of quinoa at a time helped me get a lot more comfortable with the whole pressure cooking idea! Here's how to cook quinoa in the Instant Pot!
#4 Buffalo Chicken Meatballs & Quinoa
After quinoa, I really went crazy and decided to try adding meatballs to the mix! With a quick browning of the meatballs using the Sauté function, you can then cook the quinoa and the meatballs the rest of the way at the same time.
Working on this recipe helped me truly see the benefits of cooking two things at once in the Instant Pot. Here's the recipe for Buffalo Chicken Meatballs & Quinoa.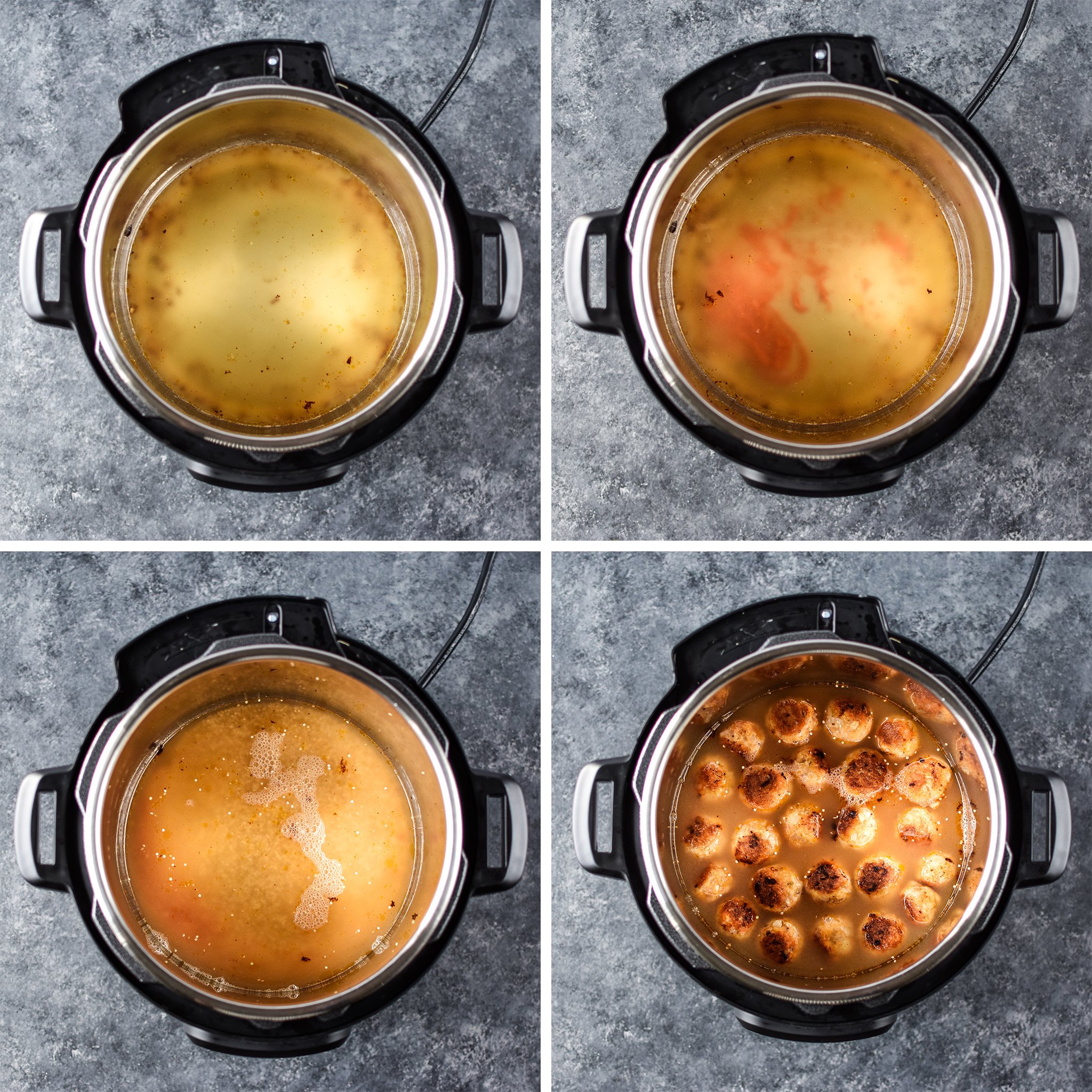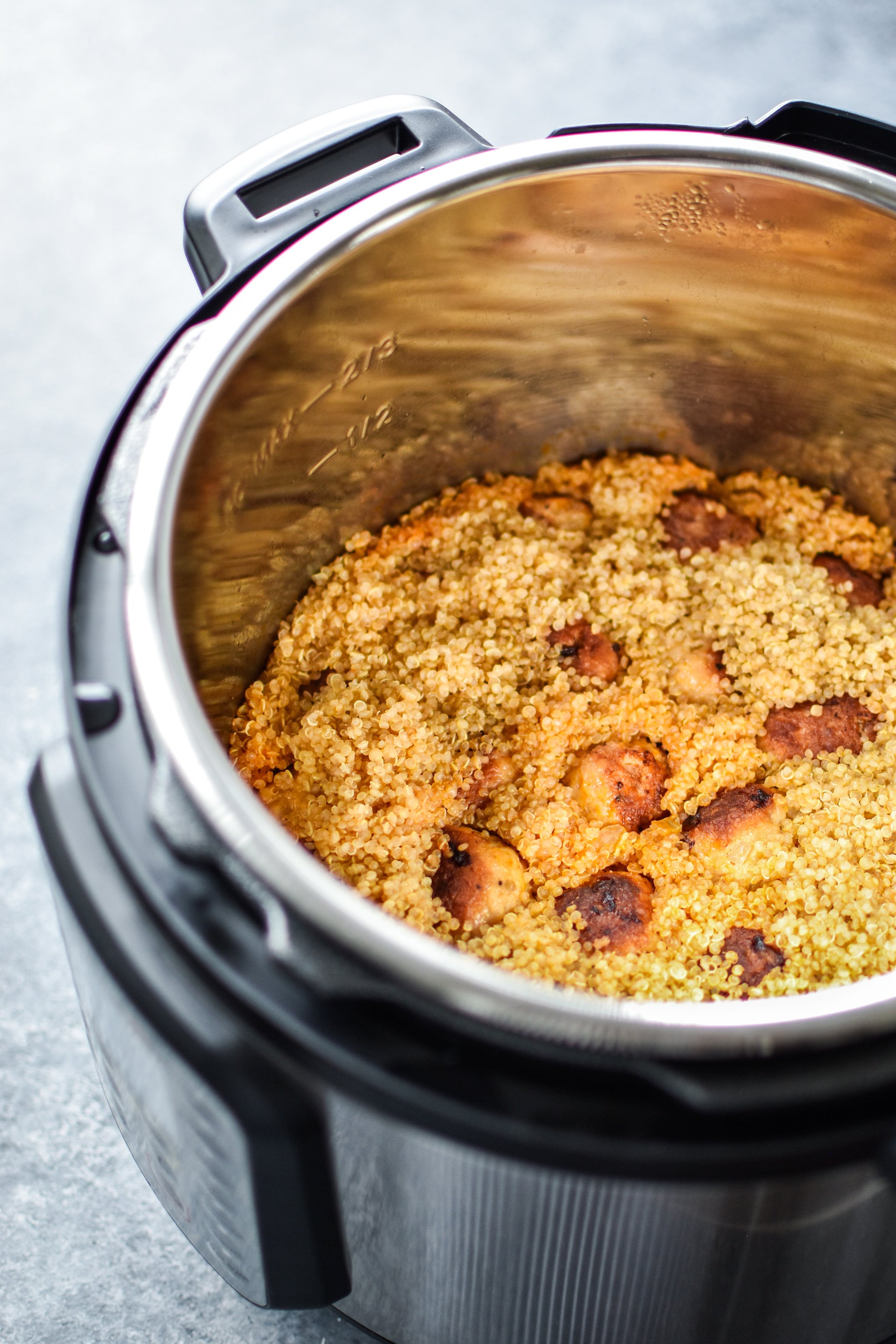 #5 Homemade Chicken Broth
Every month, we get a whole chicken in our Butcherbox (affiliate link) order. I almost always roast the chicken following Ina Garten's recipe (in the oven) or my Whole30 version, and we enjoy with mashed potatoes and other veggies that the chicken was cooked with.
I never tried making homemade broth because I simply didn't want to spend that much time hovering over the stove.
But with the Instant Pot, you can set it to pressure cook the broth for two hours and then fully leave your house. Easier and more energy efficient than cooking broth on the stove!
Here's a method for Instant Pot Chicken broth from Budget Bytes that's similar to what I do (I don't really follow a recipe for this because it's so easy!).
#6 Rice (Brown & White)
There's a rice button, and to this day I've never used it. Sorry!! I'm sure your method works great too, but I ALWAYS go to Green Healthy Cooking's Instant Pot Rice Guide to make rice.
I've made three different varieties of rice using her method, a few several times, and they've all worked, every time.
#7 Steel Cut Oats
The best kind of Instant Pot discovery is when you find foods that actually cook faster than they do with their normal cooking method.
This time, it was steel cut oats. I rarely cooked them because they take 20-30 minutes of active simmering time on the stove. But in the Instant Pot? Dump it in, pressure cook for 4 minutes, and then a 10 minute natural release.
Including 10 or so minutes to come to pressure, that's roughly 24 minutes of time where I can be away from the kitchen doing other things. Woohoo!
I've got delicious recipes for both Chocolate Banana Steel Cut Oats and Cinnamon Apple Steel Cut Oats.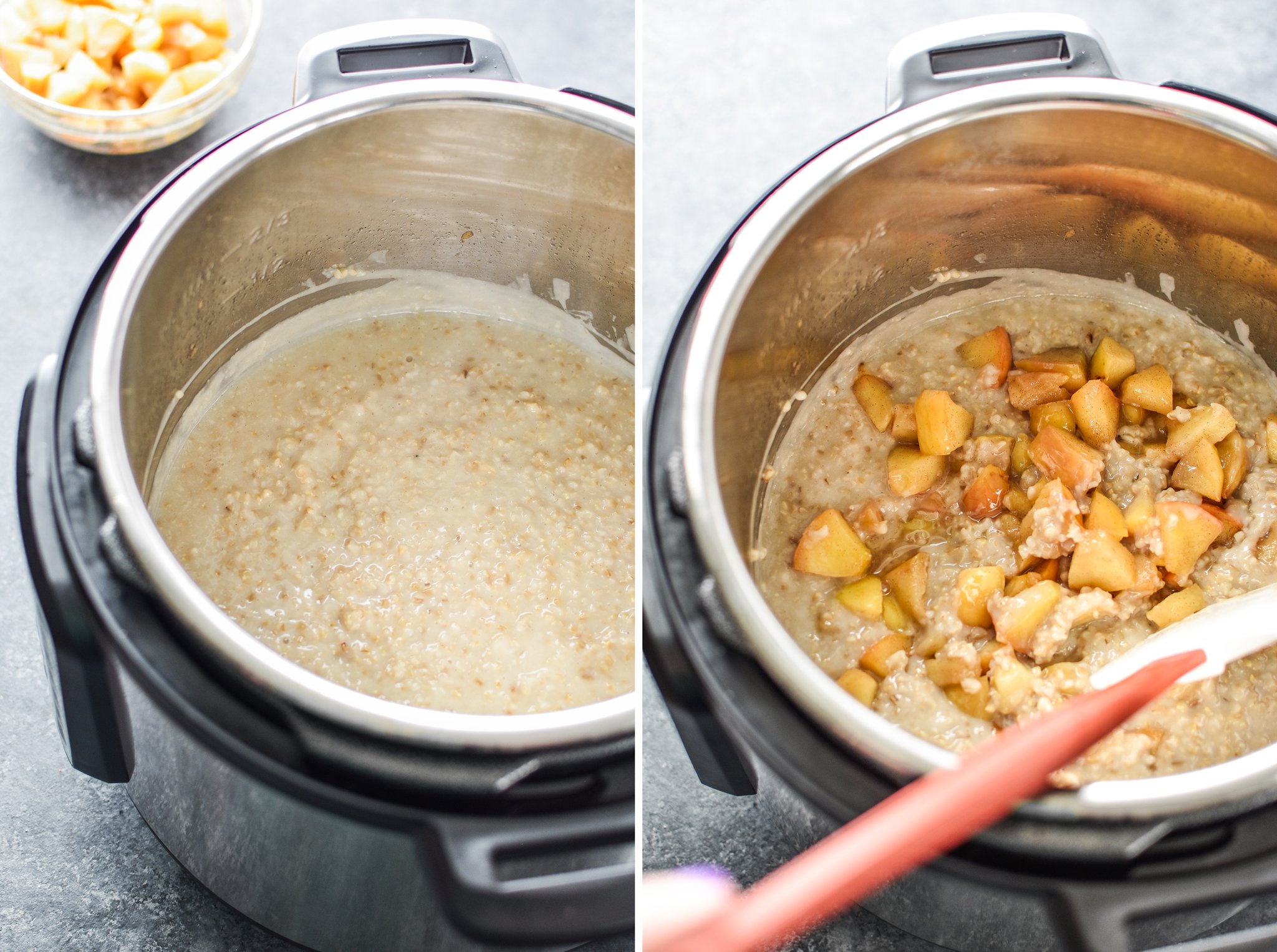 #8 Steamed Broccoli
Did you know you can pressure cook for ZERO minutes in your Instant Pot? I learned this when I googled how to make broccoli in my Instant Pot.
I've since moved on to air frying my broccoli, but I'll head back to this method when I need some steamed broccoli right quick. Here's the recipe for the first broccoli I made in my Instant Pot.
#9 Chocolate Lava Cake
This lava cake is a SIN. We've made these a total of two times since I've had my Instant Pot and while they are absolute heaven, they're basically 100% butter and sugar. Keep this one in your back pocket for special occasions.
I haven't cooked many desserts in my Instant Pot, and I don't think anything could top this (maybe cheesecake? But I've never made it!). Here's the recipe I used for the lava cakes.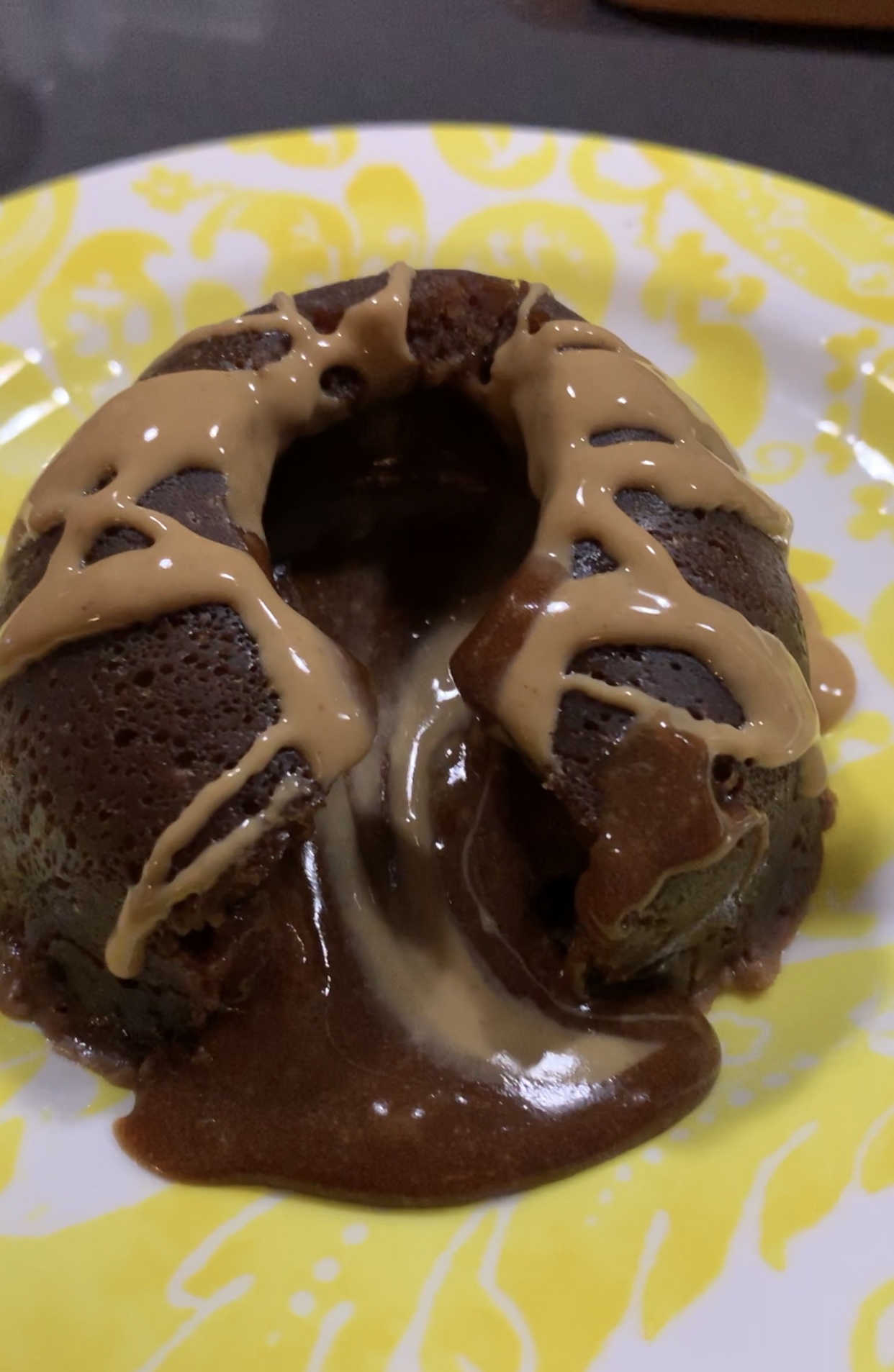 #10 Homemade Greek Yogurt
After a few rounds of homemade yogurt making, I can safely say I do not need to reference the directions any longer and know how to do this from heart.
It's way more delicious than store-bought yogurt, uses less packaging waste, and is actually cheaper than buying premade yogurt from the store.
I've always followed This Old Gal's yogurt method instructions.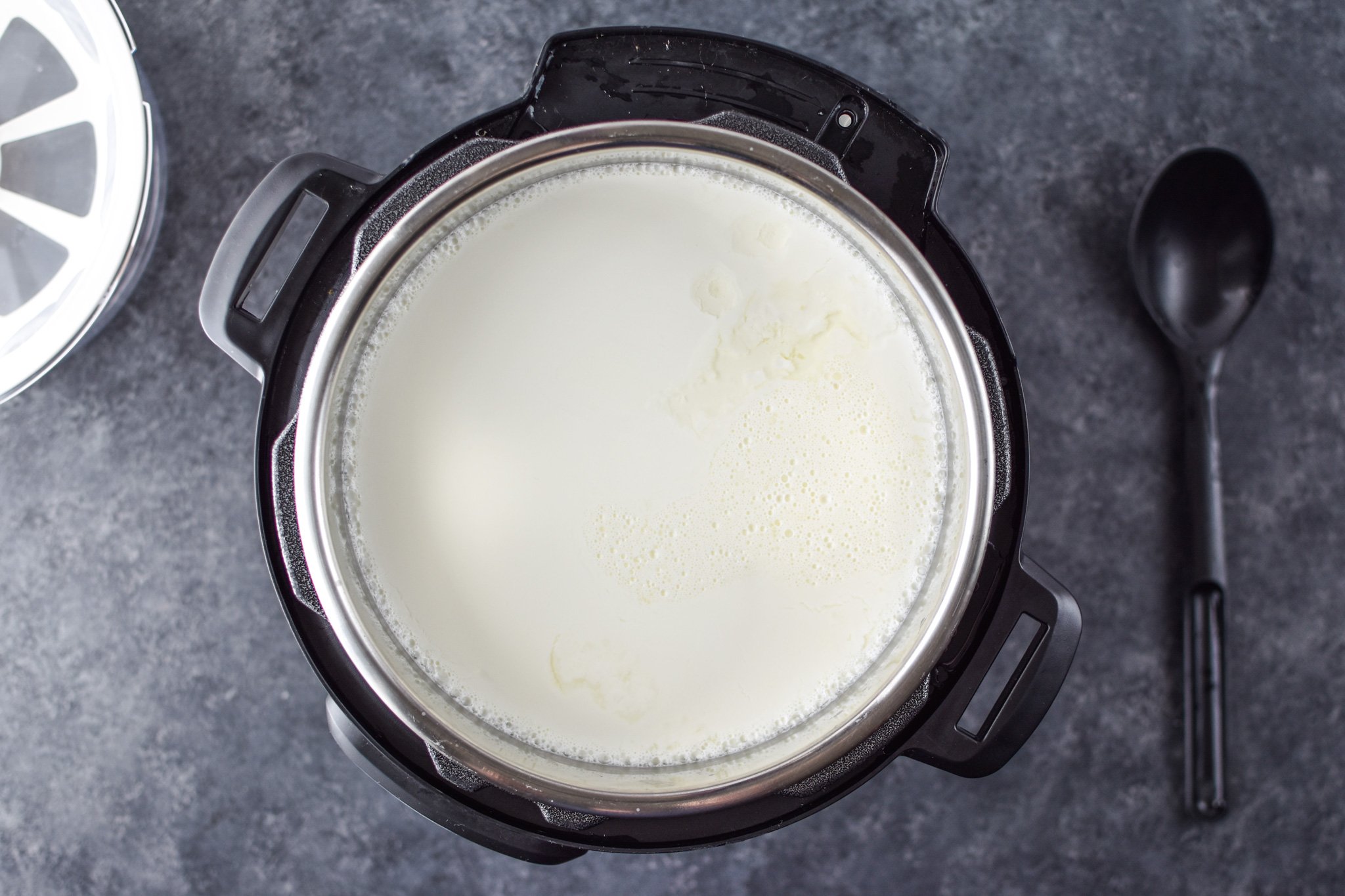 #11 Whey Bread (proofing the dough)
Once I made yogurt, I learned more about the whey that is strained off when Greek yogurt is made (basically a yogurt byproduct). Did you know you can use one of the yogurt settings on the Instant Pot to proof bread dough? Totally crazy sounding, but it works!
Using the yogurt 'Less' function, you can create a warm environment for the dough, perfect for rising. Love the No Knead Bread recipe from This Old Gal!
#12 Wild Rice Soup
After experimenting with some dinners, yogurt, and dessert, I decided to venture into soups. This Instant Pot Wild Rice Soup from Pinch of Yum caught my eye because wild rice usually takes so long to cook that I never consider it.
But boyyyy this soup rocked our world. A fabulous use of your Instant Pot, right here!
#13 Jalapeno Popper Chicken Soup
After getting comfy with the wild rice soup, I tried more soups.
I've always enjoyed taco or tortilla soup, so I went that route and ended up with Chicken Jalapeno Popper Soup. Delicious, full of juicy chicken breast, and with a bit of a kick from the jalapenos. Here's the recipe!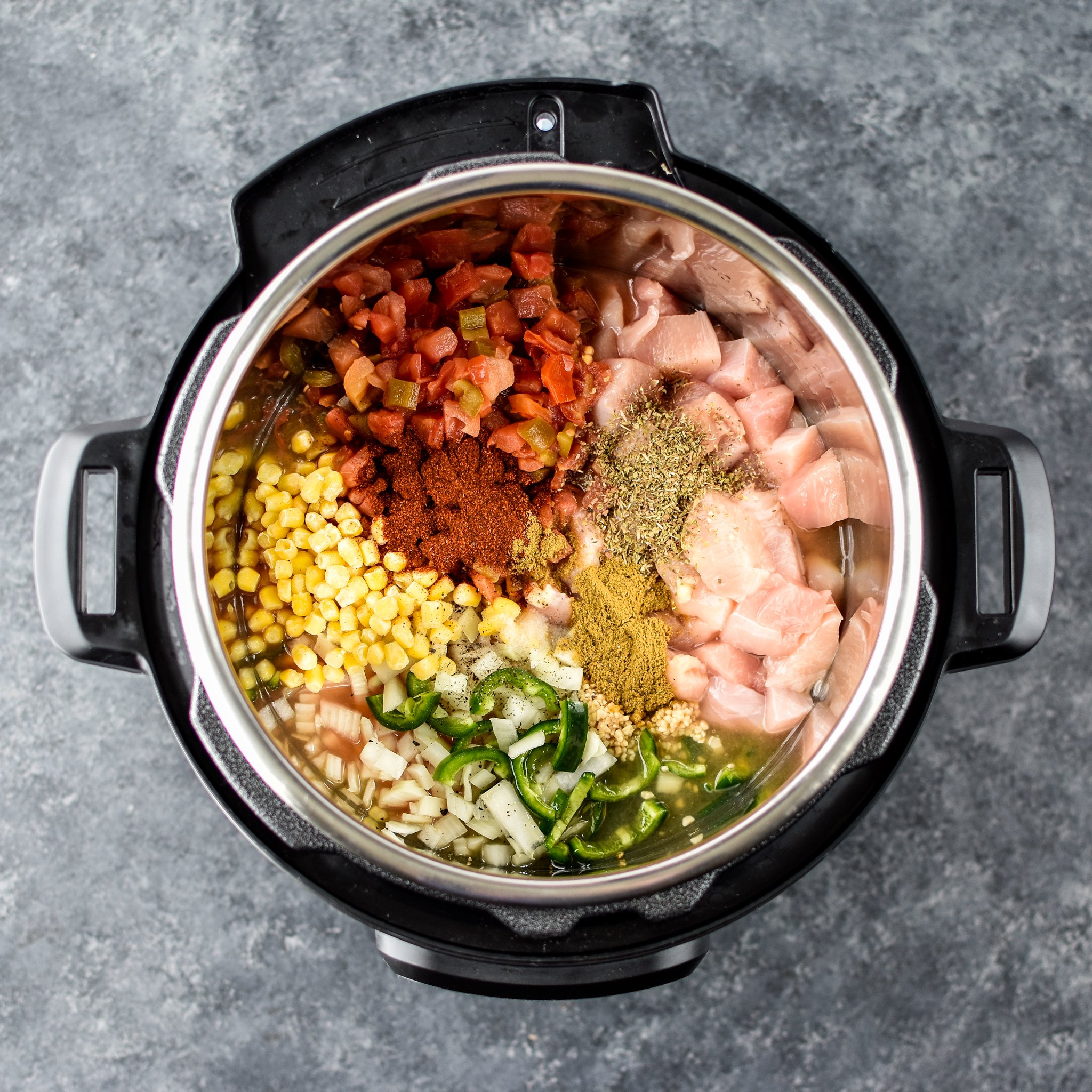 #14 Black Beans
I'd heard the claims, so after practicing a few soups, I tried making my own black beans.
I bought a bag of dry beans and tried out a recipe for Instant Pot Black Beans. I quickly learned that we don't eat black beans that fast, and I should have made less. They were certainly tasty fresh from the IP, but took quite a while compared to just using a can of black beans.
Since we don't eat black beans that often, I haven't tried this method again since, but it certainly works!
#15 Salsa Chicken
Not sure why I didn't try this one sooner! Salsa chicken is so easy and currently one of our go-tos for dinner.
I just throw in a pound or so of chicken, add a little salt and garlic powder, throw in a cup of salsa, and there you go. Here's a salsa chicken recipe from SkinnyTaste that's very similar.
I also developed a version of salsa chicken for the oven, if you're not exclusively using your Instant Pot 🙂
#16 Mashed Potatoes
My husband was always tasked with making mashed potatoes because it just wasn't something I cooked. But then I made the mistake of translating his "recipe" to the Instant Pot, and now it's my job.
My favorite thing about making potatoes in my Instant Pot is the fact that I do not have to hover over a hot stove until my potatoes may or may not be done. They come out perfect from the Instant Pot every time.
Here's my recipe for Instant Pot Mashed Potatoes.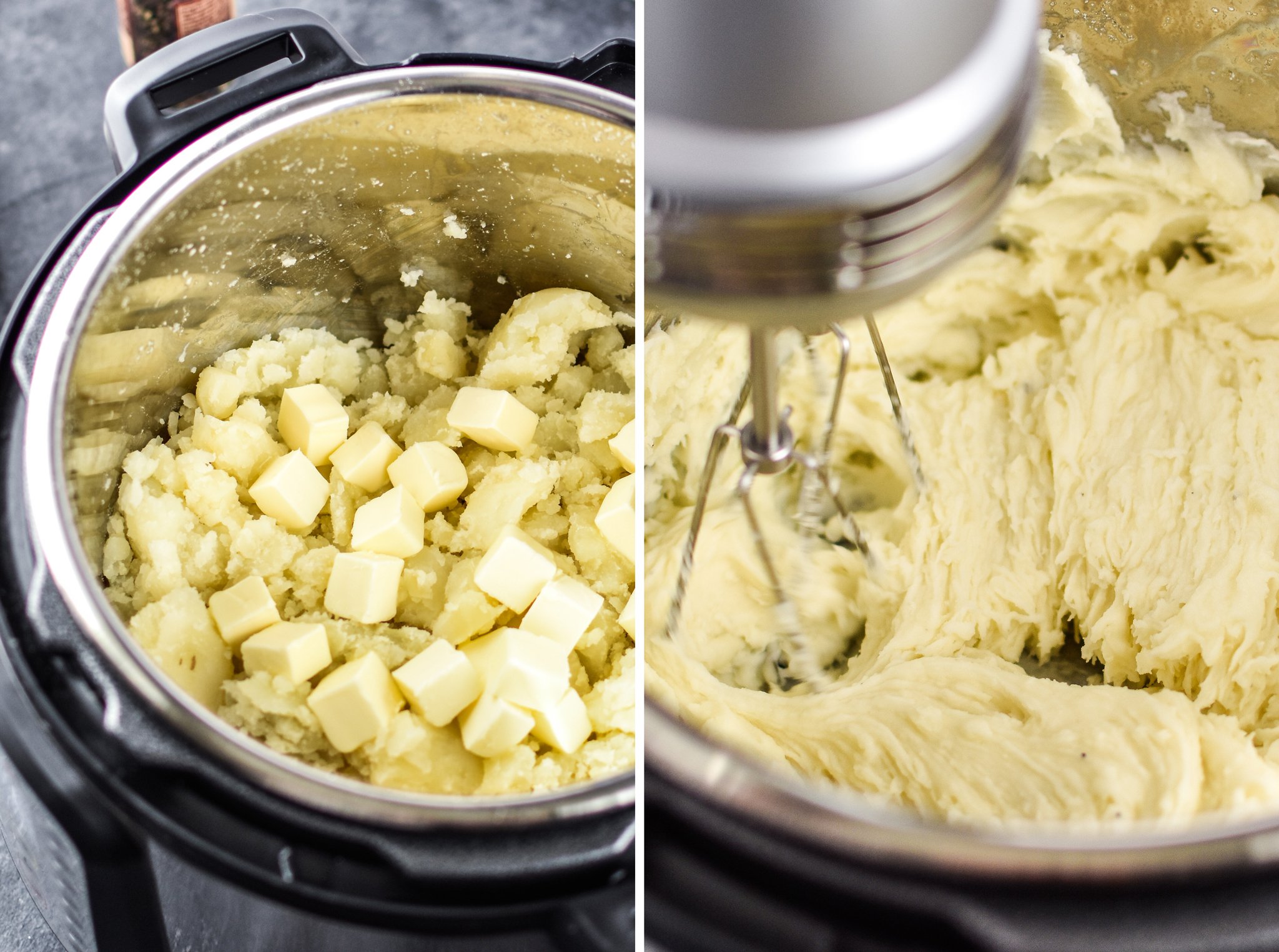 #17 Spaghetti Squash
Something I always tell people about the Instant Pot: The Instant Pot is best for things like squash that take a lot of time to roast (40-50 minutes) but only take around 20 minutes (including time to come to pressure) to make in the Instant Pot. It's quicker, uses less energy, and is super easy to do.
Here's simple the method I follow for spaghetti squash in my Instant Pot.
#18 Beef & Broccoli
My friend Steph over at MealPlanAddict.com is an absolute master when it comes to making dinner in your Instant Pot. I was fortunate enough to try multiple recipes of hers while learning how to really use my Instant Pot.
My husband loved this one! Get the recipe for the Beef & Broccoli from Meal Plan Addict!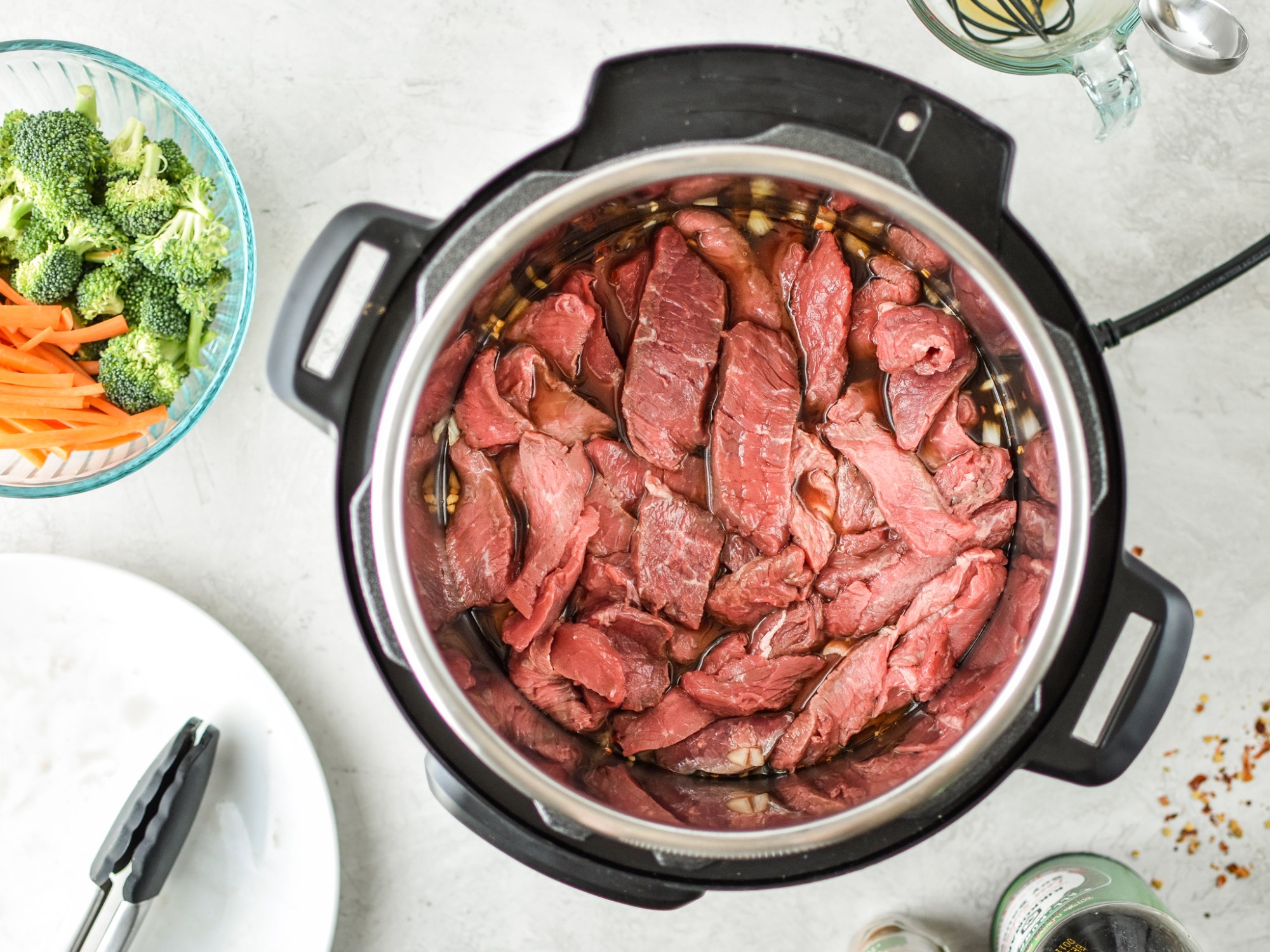 #19 Egg Roll in a Bowl
This is another dinner that has remained in our rotation, and I'll continue to make it while we do our Whole30 in January.
It's full of veggies, easy to make, and is a great recipe to make in your Instant Pot. My husband is obsessed with this one too! Get the recipe for Egg Roll in a Bowl.
#20 BBQ Chicken Meal Prep
I love the combo of pineapple, peppers and chicken, and I thought adding BBQ sauce was the perfect combo.
A delicious meal with fresh ginger, shallots, and sweet mini peppers, but I didn't know how to use my Instant Pot for pot-in-pot cooking yet. So, the rice is not cooked inside the Instant Pot at the same time, but would have to be made separately on the stove or in a rice cooker.
Still great for meal prep! Get the recipe!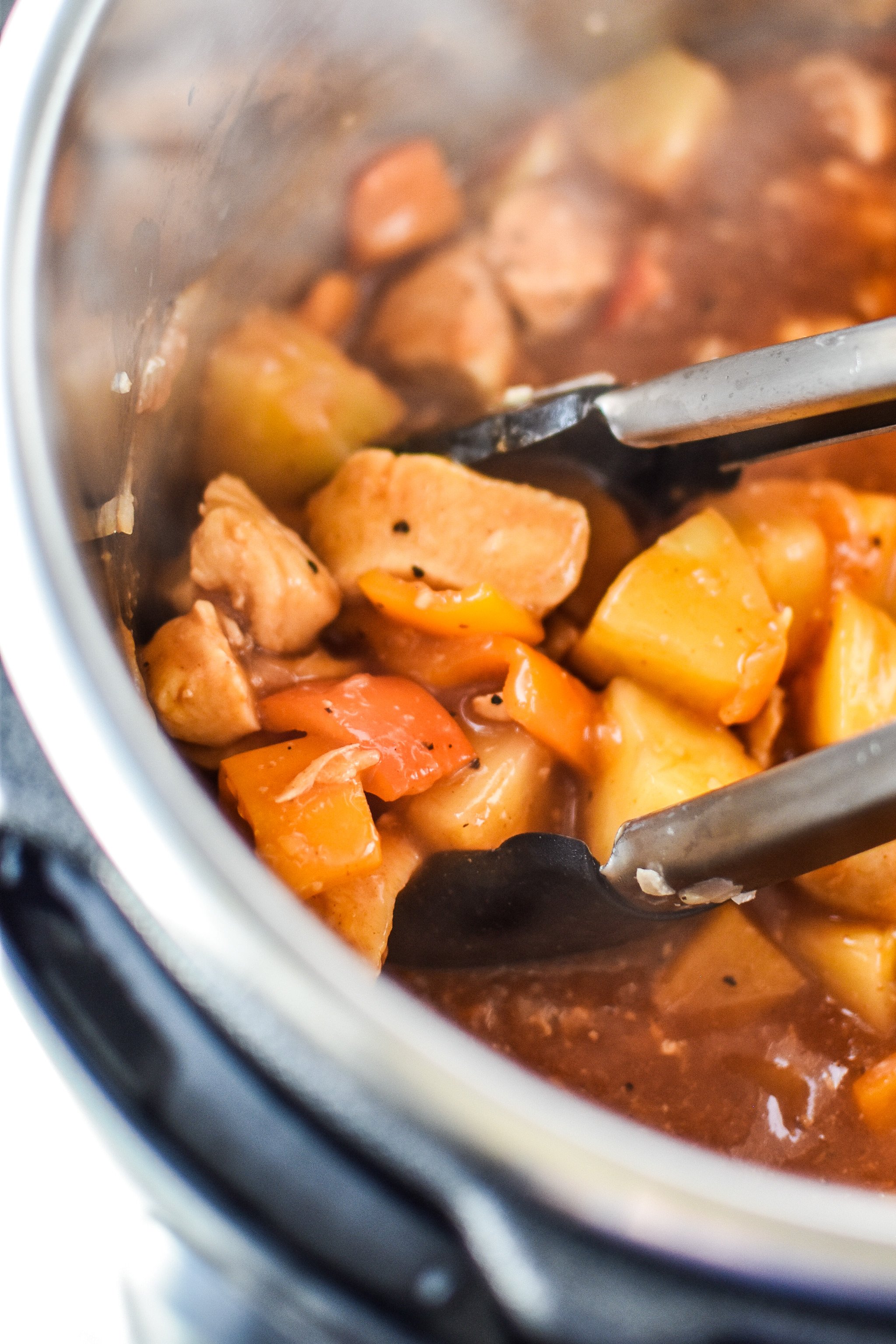 #21 Instant Pot Gumbo
This was something I had been wanting to try for a while, and I'm sad I waited until #21 to do it! We loved it! Plus, it made fantastic leftovers. I omitted the okra, but otherwise served as the recipe instructed.
I highly recommend giving this one a try after you're comfortable with the Sauté function. Here's the recipe for Instant Pot Gumbo from Favorite Family Recipes.
#22 Tandoori Chicken
This is a go-to Instant Pot recipe from Pinch of Yum that I absolutely LOVE, and so does everyone else I've made it for. It's incredibly flavorful, dairy-free, and no chopping is required.
You can easily make rice in the top at the same time using the pot-in-pot method. Love this recipe for Instant Pot Coconut Tandoori Chicken from Pinch of Yum!
#23 Honey Garlic Chicken & Rice
This is the recipe where I finally mastered pot-in-pot cooking with my Instant Pot.
I used chicken thighs, just like the Tandoori Chicken recipe above, but completely changed the flavor profile and added rice in the top of the pot using a tall trivet and silicone loaf pan.
It worked SO well, and it's one of my favorite Instant Pot recipes to date! Here's the recipe!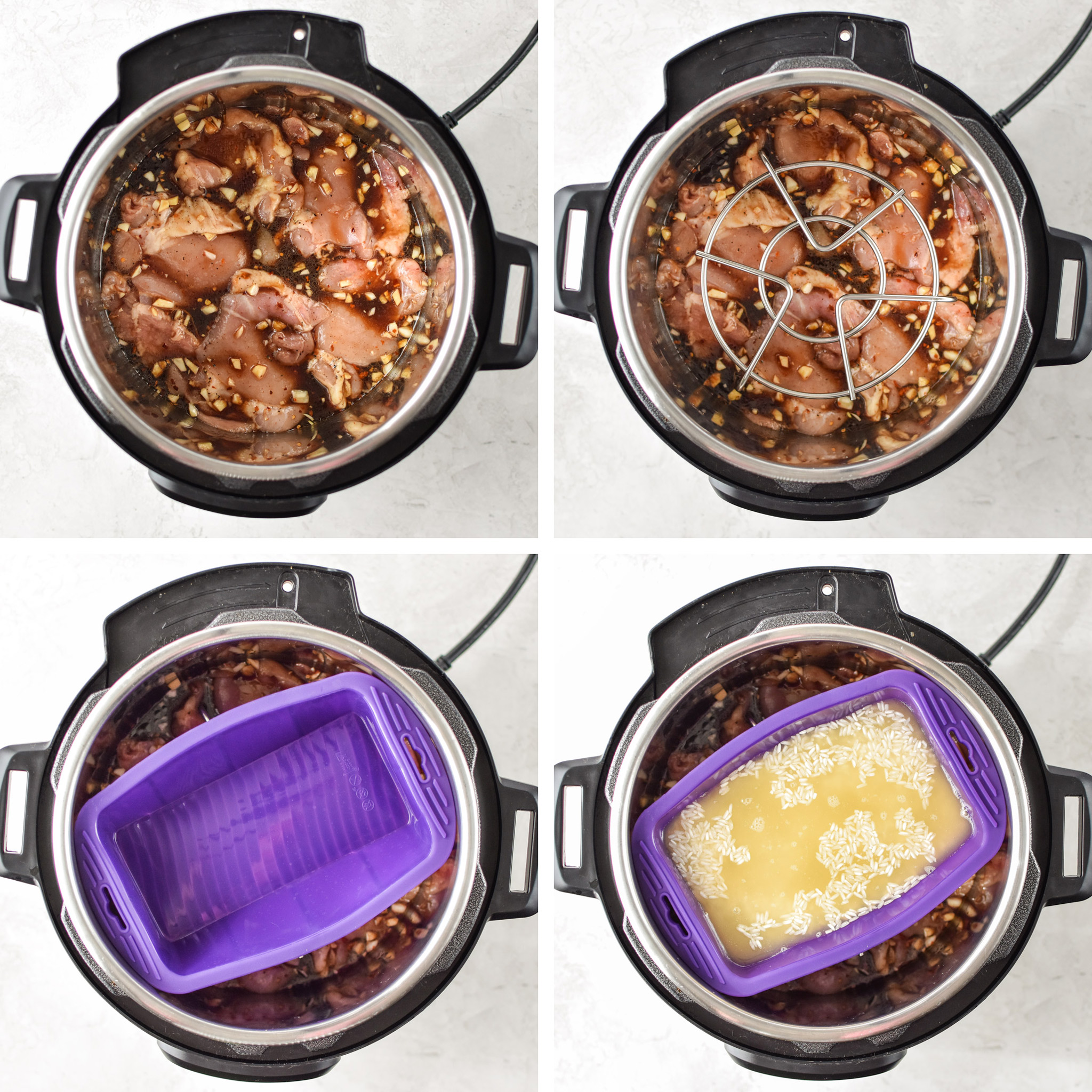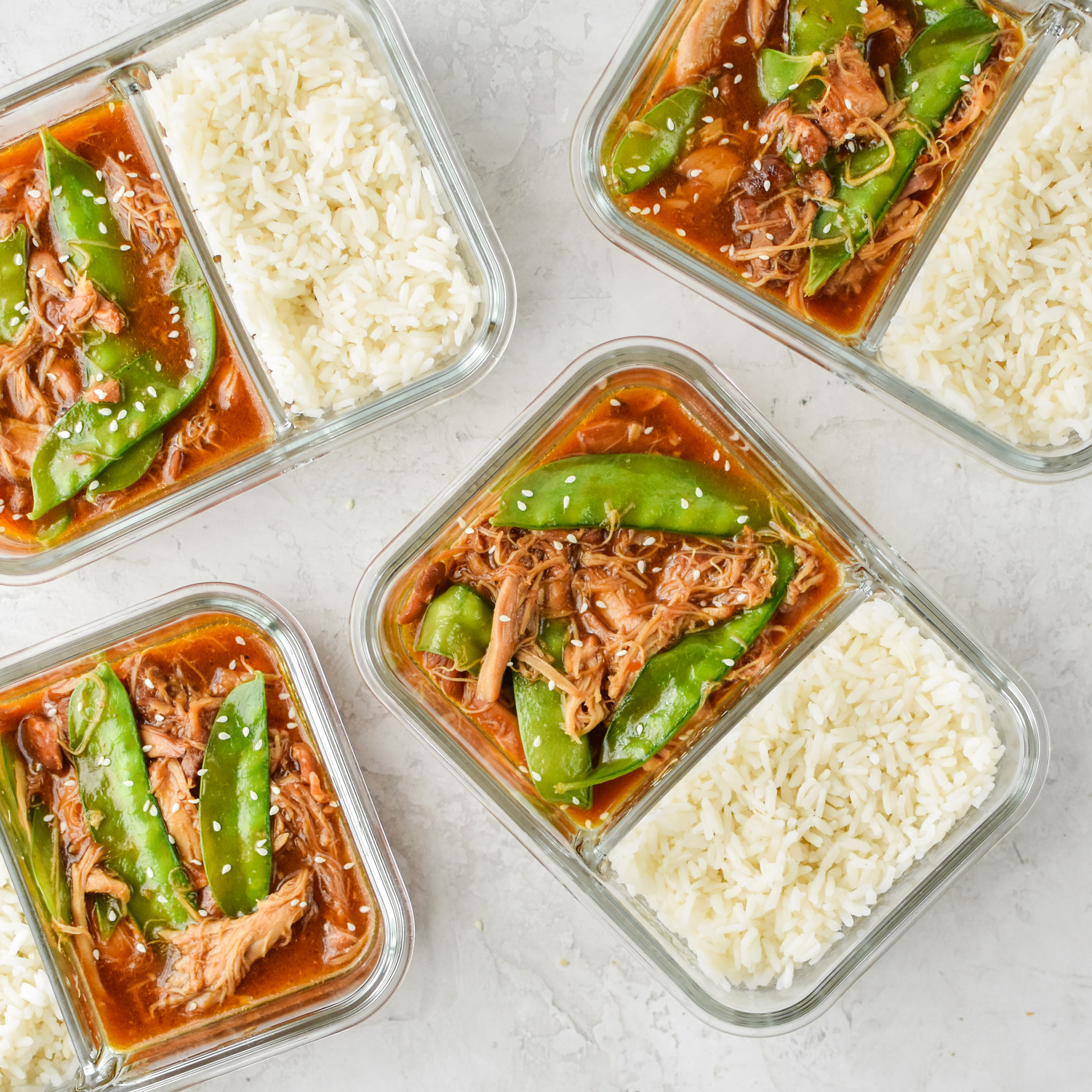 #24 Lasagna
I recently tried making lasagna in my Instant Pot for the first time, and it totally worked! I finished my lasagna off in the oven to get a nice crispy top, but really it could be done completely in the Instant Pot if you want.
This is when I truly started using my IP accessories to their full potential. To make the lasagna, I used this stainless steel steamer insert and sling accessory.
Get the recipe for Sneaky Veggie Instant Pot Lasagna from Meal Plan Addict!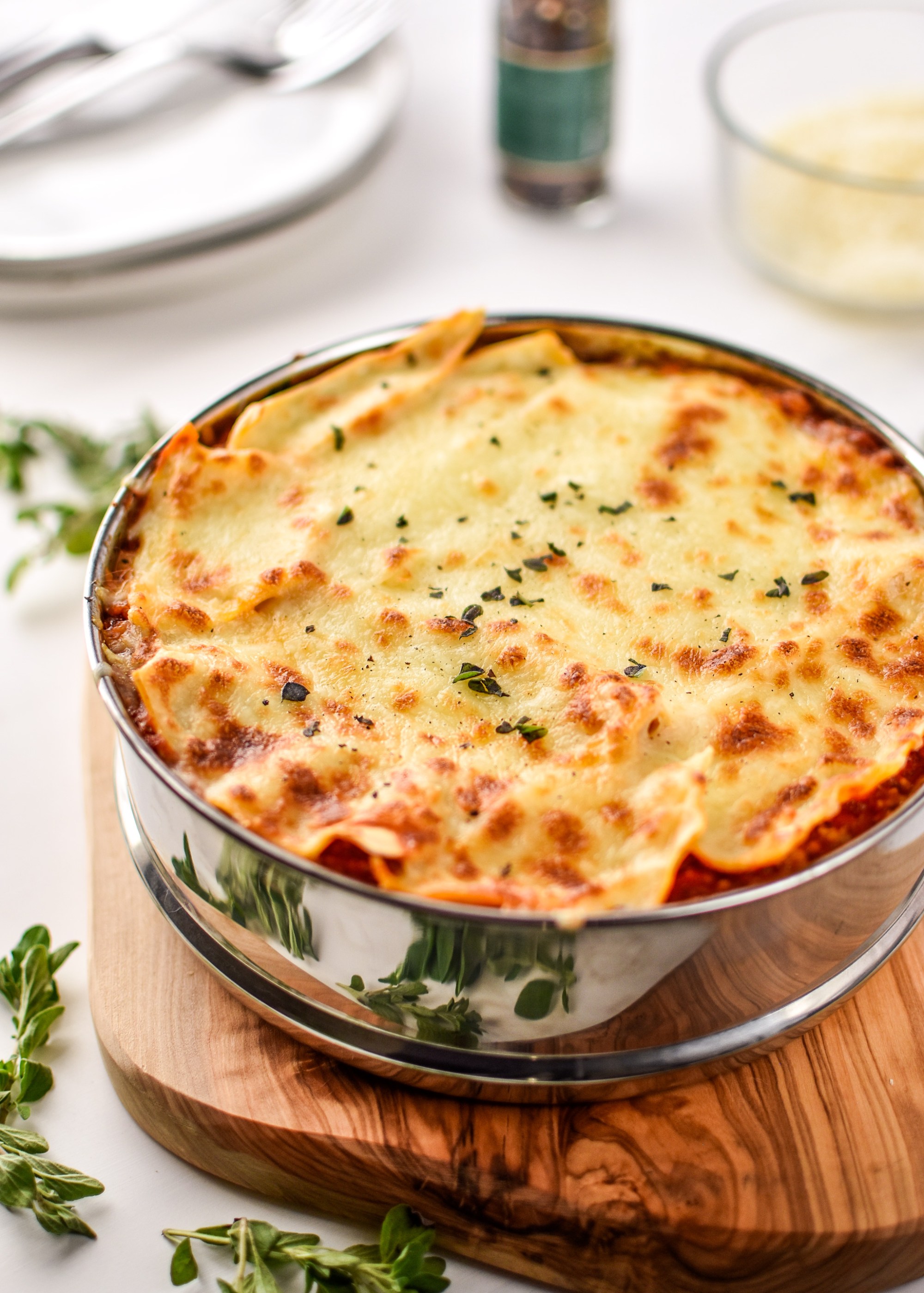 #25 Hard-Boiled Eggs
Slightly ashamed this is so far down the list, but here it is nonetheless. These are the best hard boiled eggs I've ever made (which is incredibly few eggs, not going to lie).
I've made more hard-boiled eggs in the past month than perhaps in my entire life, and that's entirely thanks to the Instant Pot. They're so easy to peel and the hands-off, stove-free-ness of the Instant Pot just makes them the best.
For hard-boiled eggs, I do 5 minutes on high pressure + 5 minutes natural pressure release, and then run the eggs under cold water until cool.
For soft-boiled eggs (my husband's favorite), I do 2 minutes on high pressure + 5 minutes natural pressure release, and then run the eggs under cold water until cool.
(BTW you can use just the trivet that came with the Instant Pot, I just didn't know what I was doing the first time I made eggs!)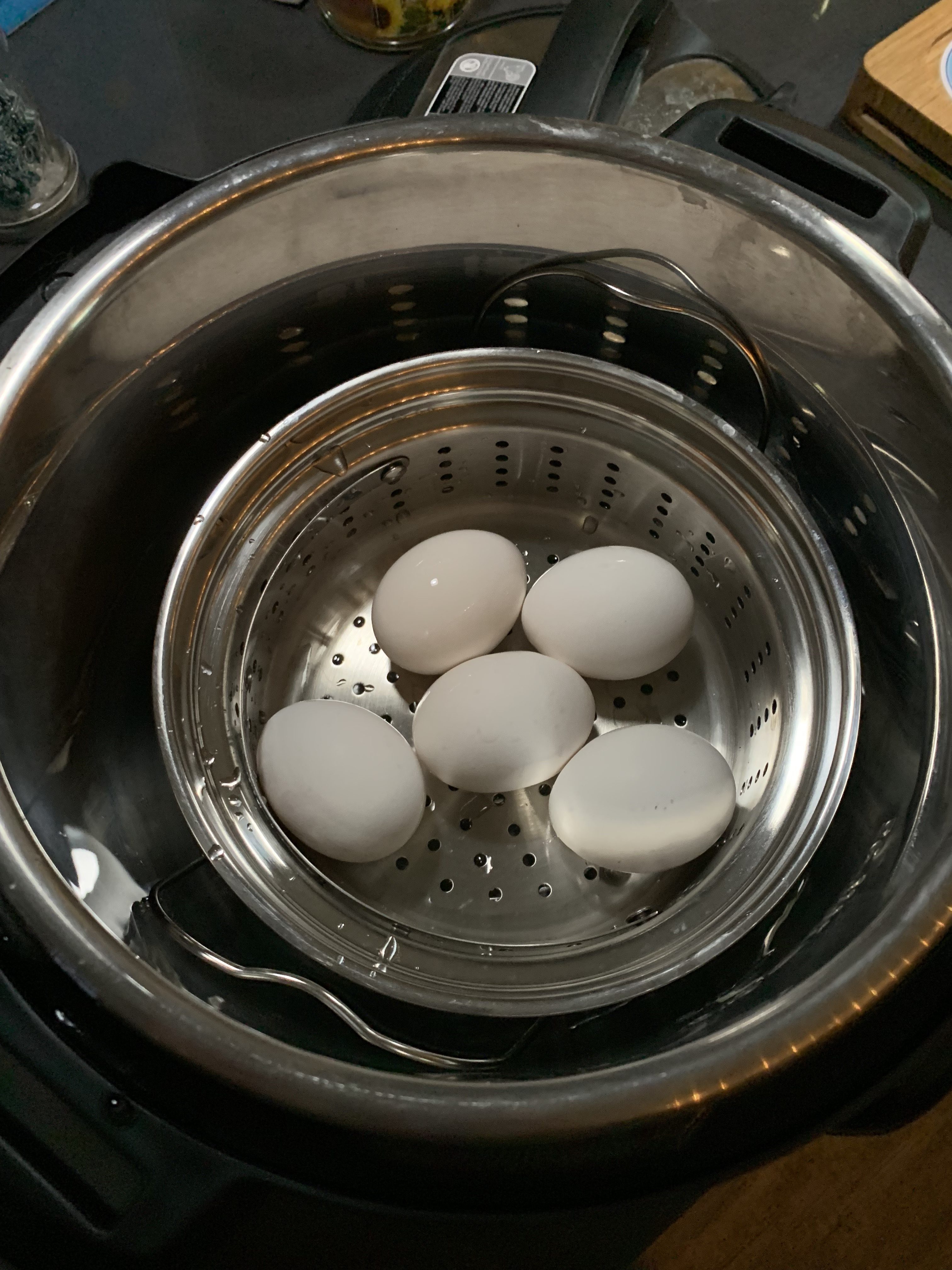 Thanks for reading about The First 25 Recipes I Made With My Instant Pot! Can't wait to try 25 more things in my Instant Pot. Hope this helps give you some guidance on what to do first with your new appliance! Here are a few things I want to try in my Instant Pot in 2019:
NEW! Got an air fryer?! Check out The First 15 Recipes I Made With My Air Fryer!