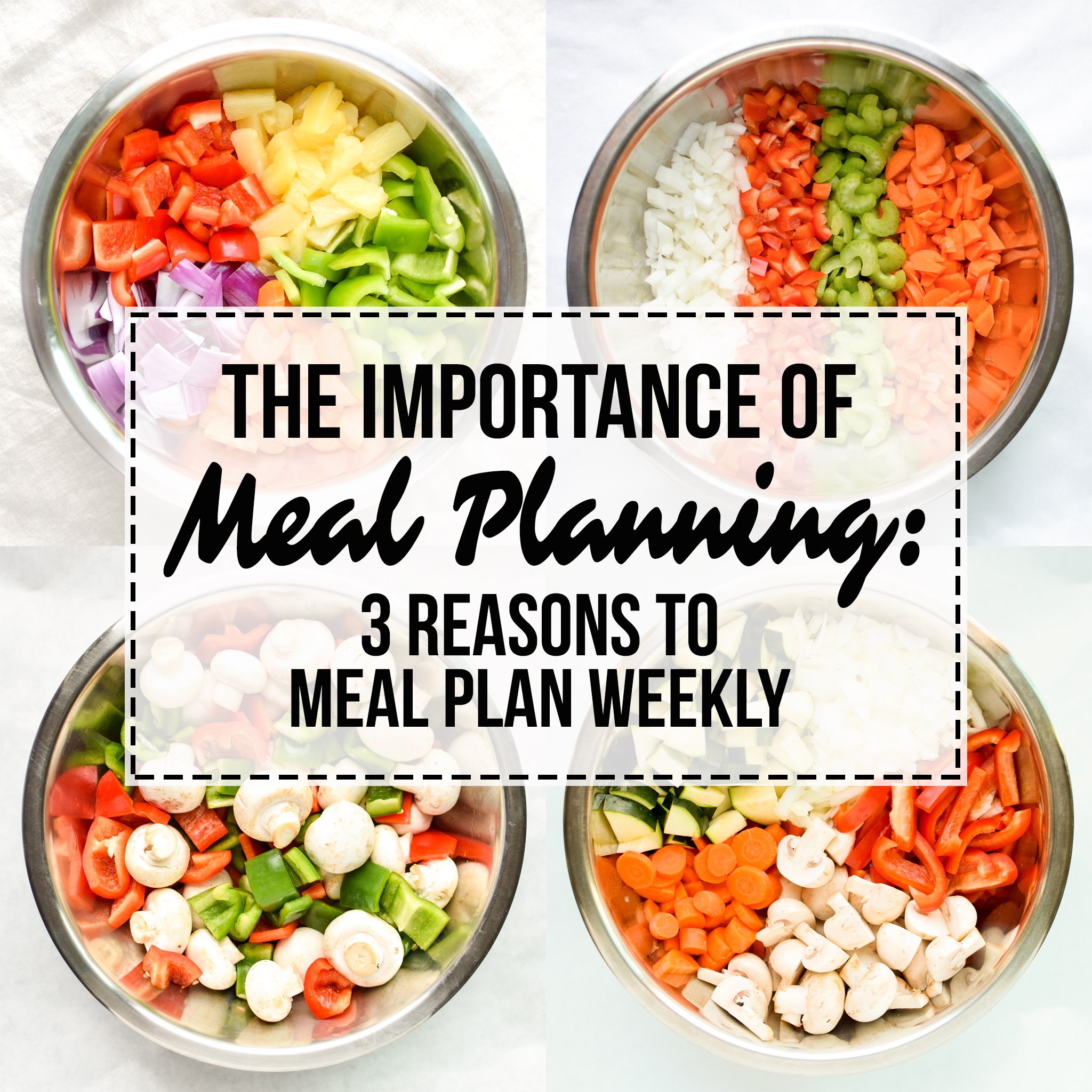 Meal planning is the simple act of taking some time to plan any number of your meals for the week. Plan for yourself or plan for your family. Plan to eat healthy, and plan a night out. Plan every snack and meal, or simply plan your lunches so you don't spend money on restaurant food during the week. It doesn't really matter what you plan, as long as you thought about it. The goal is not to start from zero for every single meal. There are a lot of reasons why I think meal planning and meal prepping rock, but I think they all fit into three main categories. Here's the Importance of Meal Planning: 3 Reasons to Meal Plan Weekly (according to me).
The Importance of Meal Planning: 3 Reasons
1. Time
This reason is the most appealing to me. I love saving time. Some people need to save more time than others. Everyone is different, and everyone's needs are different. Identify where you need a time-saver, and plan your meals to save yourself the time you need. Pick your busy days, and make those meals the most simple or prepared ahead to help you later.
Breakfast: I'm not a morning person, at all. Breakfast used to always be the first thing to go if I woke up late or just took too long getting ready. So I learned that I needed to prep a breakfast ahead of time that was as simple as popping it in the microwave or toaster oven. If I planned ahead of time, there was some quick breakfast ready for me.
Lunch: My lunch break always seemed to last a lot longer if I didn't have to run out and get some food during the first half. Weird, huh? Lunch prep is best prep!
Dinner: If you planned ahead, you already know what's for dinner, and you probably already have the ingredients for it. I'm on a mission to turn the classic "what's for dinner?" question into "how can we prep for dinner?" and "will there be leftovers?"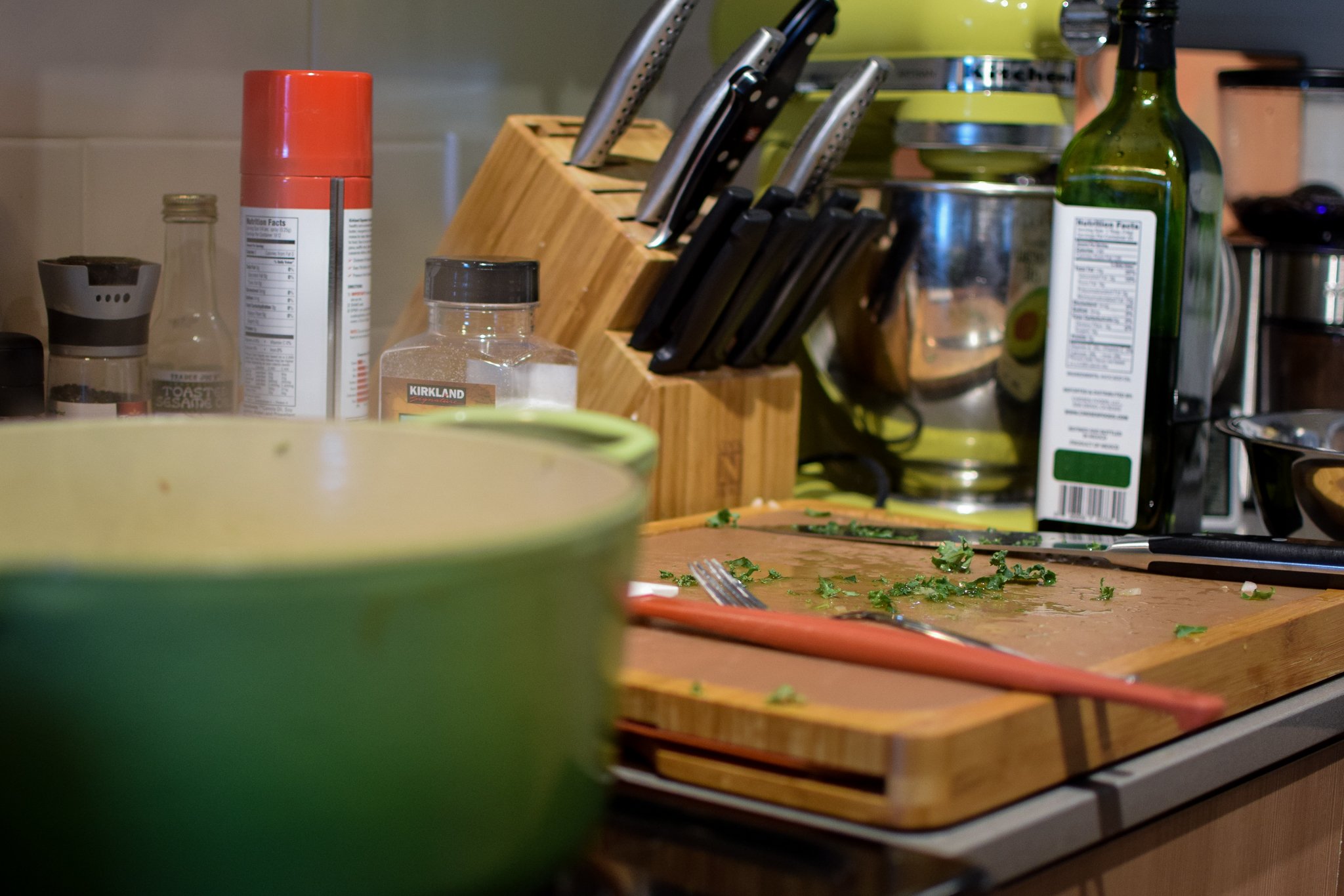 A lot of Project Meal Plan is focused on meal prepping and things that can be done ahead to save resources later. That's because if you meal plan, you can always meal prep, which saves you even more time. Here are some other ways meal planning can save you time:
Reduce grocery store trips.

If your weekly menu is planned ahead of time, you can do your best to buy everything for the week in one trip (unless you somehow still forget things like me).

Reduces wandering at the grocery store.

I'm a wanderer. Even now when I have a list, sometimes I just want to search for sales or find yummy new items. But too much of that wastes time.

Know what needs to be prepped (and prep it).

You know the menu, so you know what needs to be prepped. For example, we put diced onion in almost everything. So instead of dicing a little bit for every other meal, we dice the whole thing at one time. You might not think about it, but that saves the time of washing and drying your knife and cutting board for the next 3 or 4 times you need diced onion. And, if I have time now, I'll dice the other veggies for later too. Save time when you can by doing things you might not consider huge time savers. But they work.

Planned leftovers.

What can I say? I love leftovers. I'll stop trying to make "planned-overs" happen if you guys just admit leftovers save time. Isn't it obvious?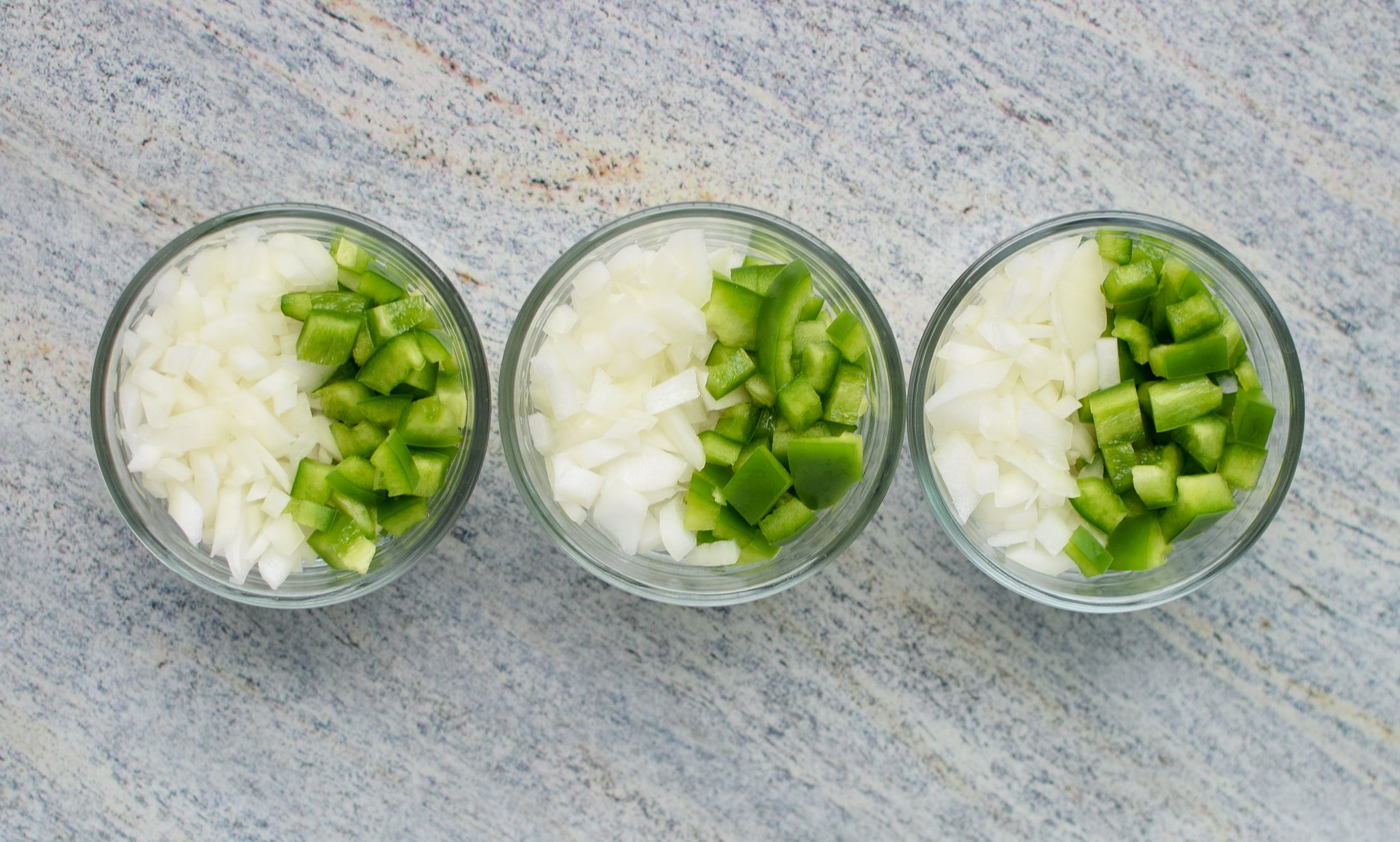 2. Health
I'm obviously no health expert. But, here are my general ideas about why meal planning is healthier for you than not meal planning. Remember, what I said about time also applies here – Everyone is different, and everyone's needs are different. But when you plan ahead, you can make smart choices related to your personal health and fitness needs. That's why the Project Meal Plan meal plans exist simply to provide examples of how a single person meal plans based on their own preferences and needs. It can be done!
Here are some other nuggets of insight on the importance of meal planning related to health:
Eating the right amount.

 I've sort of always done this thing where if it's on my plate, I am going to eat it. And sometimes if you're feeling excessively hungry, way too happy to be eating, or just using a different sized spoon, you can get totally varying/random portion sizes on the plate. Planning and pre-portioning your food can ensure your hard work makes it to all 4 portions, instead of only 2.75 (oops!).

Staying accountable to past you.

If you already made the food and pre-portioned it into perfect bowls with future you in mind, you're really kicking past you in the butt if you don't eat it. Planning and prepping your meals provides a little more incentive to eat the healthy things you've already planned out and cooked.

More control over your choices.

 If you know you have a dinner event or work lunch out, you can simply plan around it. Eat lighter in the rest of the day so you can indulge later. Or don't indulge, just plan. Either way, planning out your choices ahead of time means you are more likely to stick with the healthy choices you already made.
For more information, I really love this article from Staci at Nerd Fitness, Why You Should Be Planning Your Meals.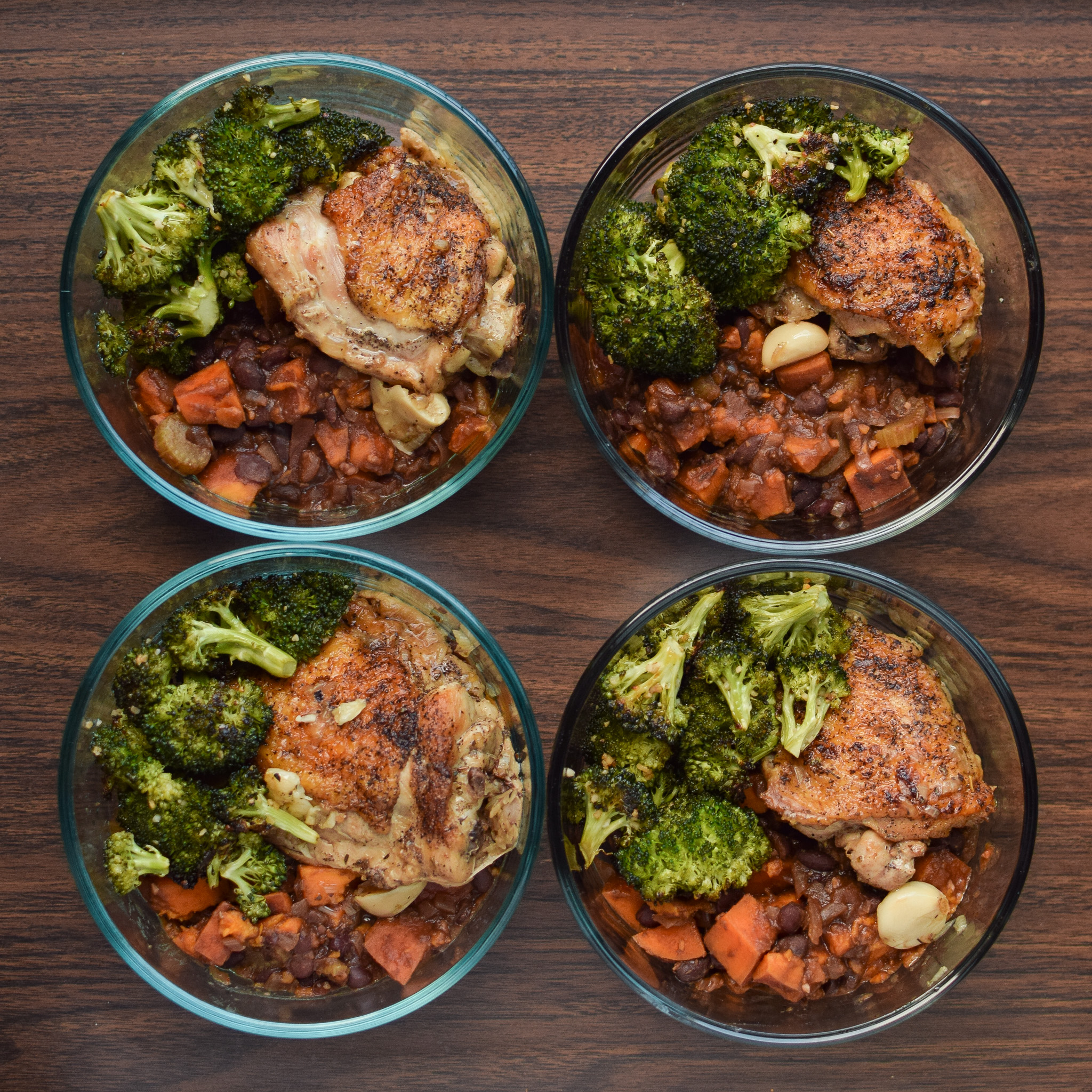 3. Money
When you plan and cook your own meals, you are most likely saving money when compared to purchasing the same type of meal in a restaurant. I haven't scientifically tested that theory, but I'm going to go ahead and make that bold assumption based on my years of eating experience (both cooking my own food and eating out).
Tess Rose Lampert at Cheapism.com does a bit of research in her article Is Cooking at Home Really Cheaper Than Eating Out? She compares prices on a classic chicken dinner with veggies and determined that cooking the classic dinner at home could cost up to 60% less than eating it at a restaurant. Lampert even factors in things like cost of time spent preparing the meal and buying more ingredients than required for the recipe. Lampert found, "A simple chicken dinner for one costs between $6 and $8 at home, takeout costs more than $13, and dining out costs more than $15." Multiply that one meal's savings by how many meals you eat over a month or a year, and see some $$$ savings.
Lastly, planning your meals can help reduce food waste. While it might be nearly impossible to go 100% waste free, some simple planning techniques can help dramatically reduce your food waste. For example, if one of my casseroles requires some baby spinach, I'll also try to plan lunches or smoothies for the week that require baby spinach. Simply eating leftovers or planning a day to eat leftovers is a good practice to reduce food waste (and therefore save you money!).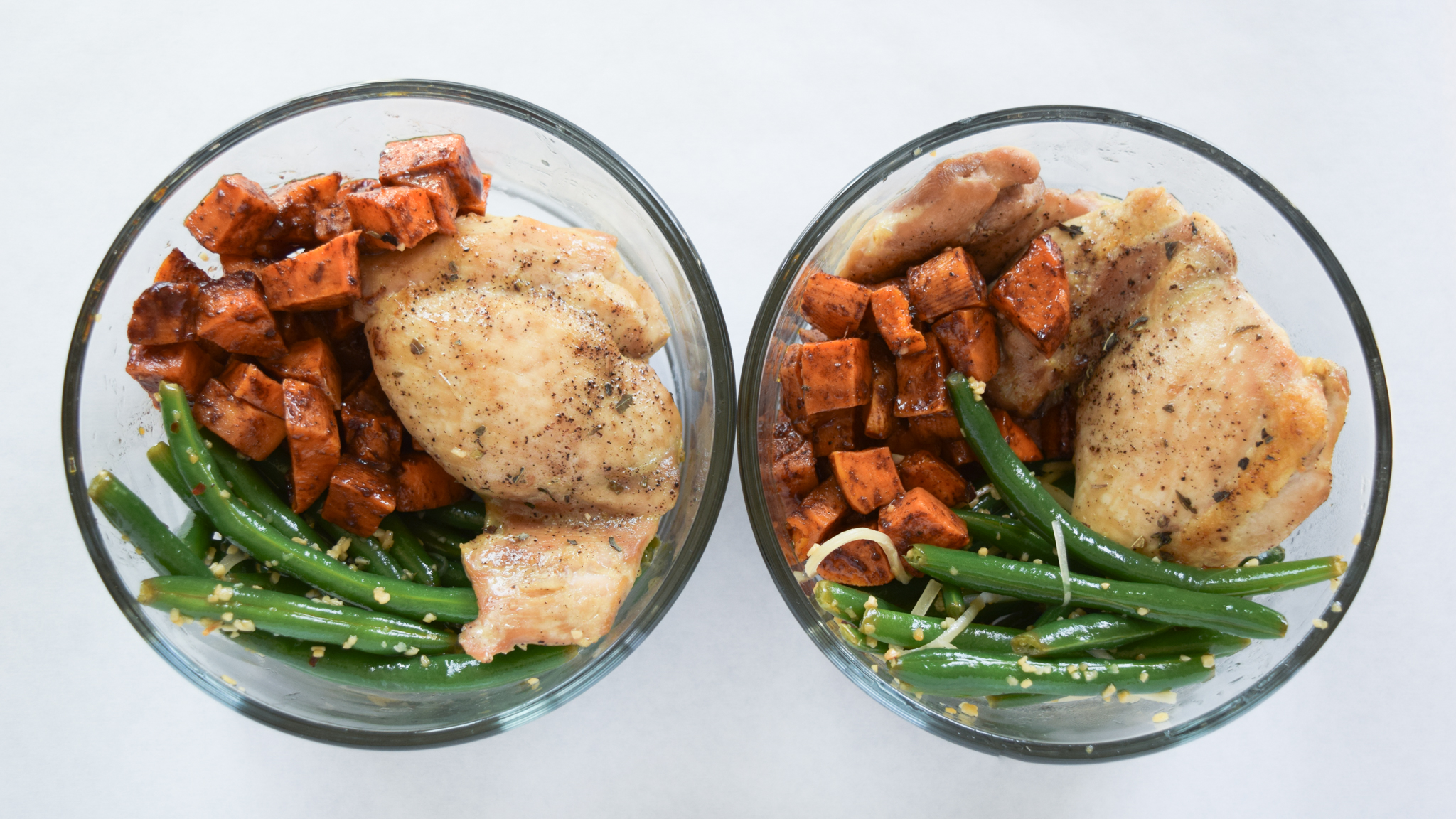 Things to remember about meal planning:
Don't let the term meal plan scare you. You can plan literally anything. You can even plan NOT to cook. What's important is that you thought about it. You know what you have going on. 
Make YOUR meal plan as flexible as you want. It's for you. I've seen negativity towards meals plans because – life can change, things come up… All that happens is you deviate from your meal plan a little and learn from what happened. I'd so much rather be more prepared than I need to be, instead of not prepared at all because "something might change". 
If you don't like eating the same thing every day, planning is even more important for you in order to save time, money, and make healthy choices. You can cook a large batch of chicken or other meat and eat it in various ways throughout the week. Instead of giving up because you're a little too picky, work a little harder to find ideas that fit your needs. There are a ton of articles on how to use one ingredient for various recipes. In fact, I plan to work on a couple of those myself! 
The perfect meal plan for you is in your head – you just need some resources. The whole point is to not start from zero every night.
Now that you know the importance of meal planning, are you looking to get started? Check out How to Meal Prep for Beginners!!


Disclaimer: Some of the links on this page are for affiliated products on Amazon. If you are planning to make any purchases, please start your Amazon shopping here on Project Meal Plan! We'll get a small commission at no extra cost to you. I truly appreciate your support! For more information, please see our Full Disclosure & Privacy Policy.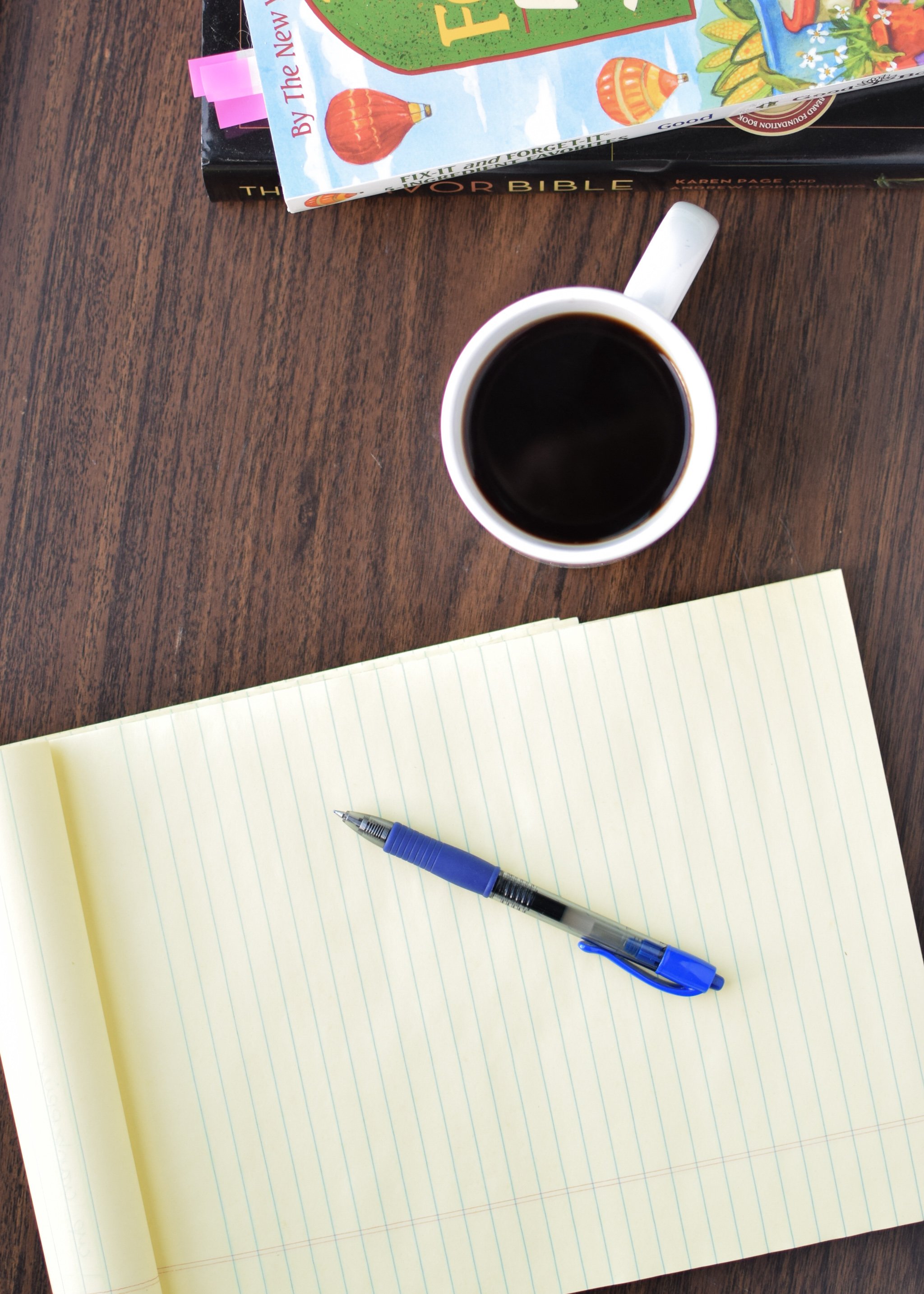 Disclaimer:
 Project Meal Plan is a participant in the Amazon Services LLC Associates Program, an affiliate advertising program designed to provide a means for us to earn fees by linking to Amazon.com and affiliated sites. For more information, please see our
Full Disclosure & Privacy Policy
.