This Instant Pot Sweet Ginger BBQ Chicken Meal Prep is perfect if you're craving sweet BBQ but don't want to heat up the grill! Sweetness from pineapple with a kick of fresh ginger, this is a tasty but simple make-ahead lunch or dinner – includes step by step photos!
Jump to Recipe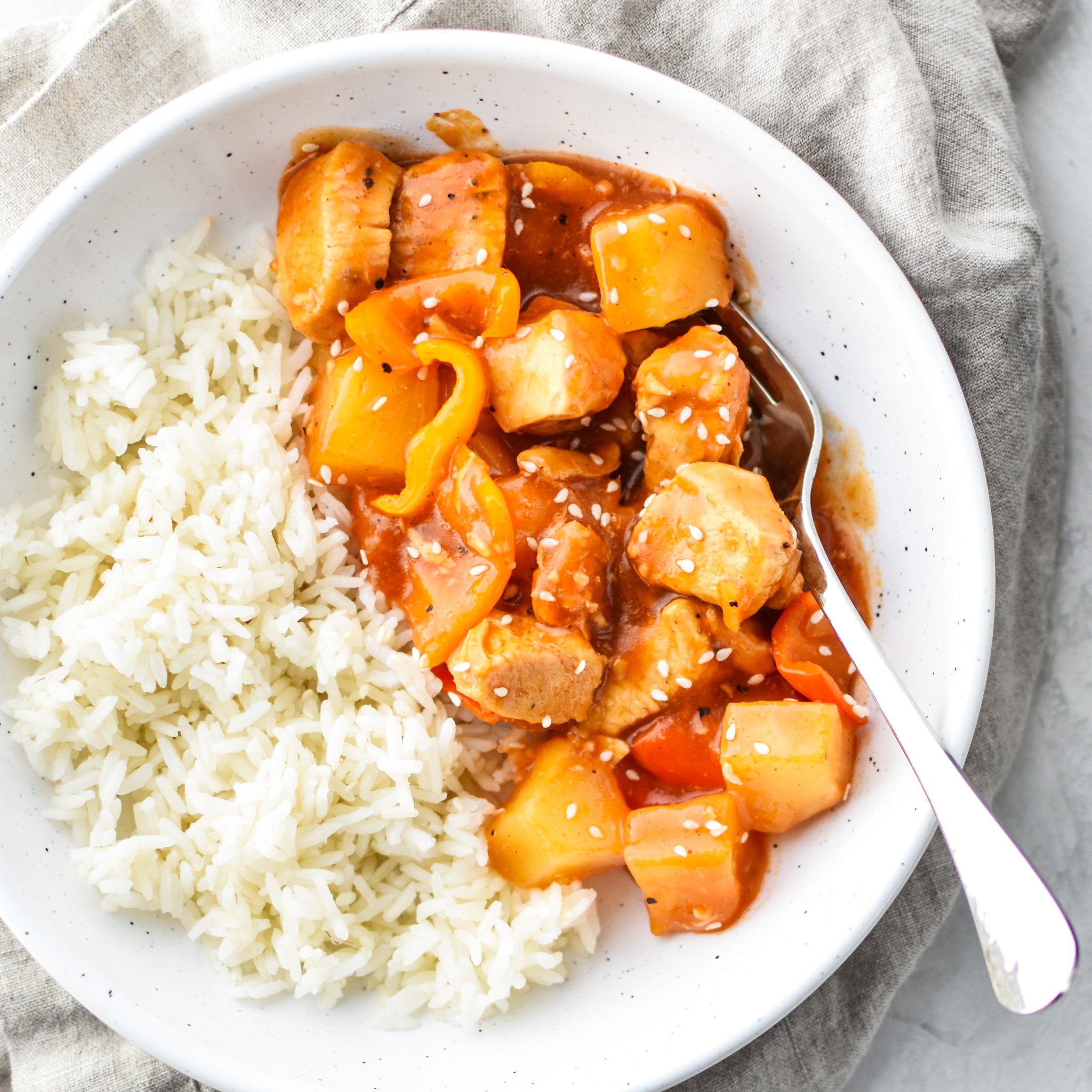 Dinner ideas that are easy, flexible and make great leftovers? I'm IN. Always.
This is a simple recipe and is great to start with if you're just getting familiar with your Instant Pot. It's an easy example of how to use the sauté function prior to pressure cooking (and again after!).
For this recipe, I usually get the rice going first, so it can cook while I prepare the rest of the ingredients. I haven't yet mastered the pot-in-pot cooking method, but I think it's because the trivet that comes with the Instant Pot is a bit too short to do any real pot-in-pot cooking.
The good news: I just ordered a taller trivet and I'm going to work on cooking everything in the pot at the same time! I have a plan for how to do it with this recipe, and I'll give it a go as soon as I get that new trivet! For now, cooking the rice in the IP while I'm getting the ingredients ready is still pretty simple. I love that I can just set the rice to pressure cook and then ignore it for 20 minutes.
BEFORE PRESSURE COOKING
Once that rice is done and all my ingredients are ready to go, I get started with the recipe. Sautéing the ginger and shallots first will release ALL THE SMELLS and help the flavors seep into the chicken. After that, I add the chicken and stir it continuously so nothing sticks. This takes just a couple minutes, as we are not trying to cook the chicken all the way through, just enough to brown the outsides of each piece so it doesn't become one giant clump of chicken when it's pressure cooked. Add the pineapple juice and half of the BBQ sauce, and then pressure cook for 3-4 minutes.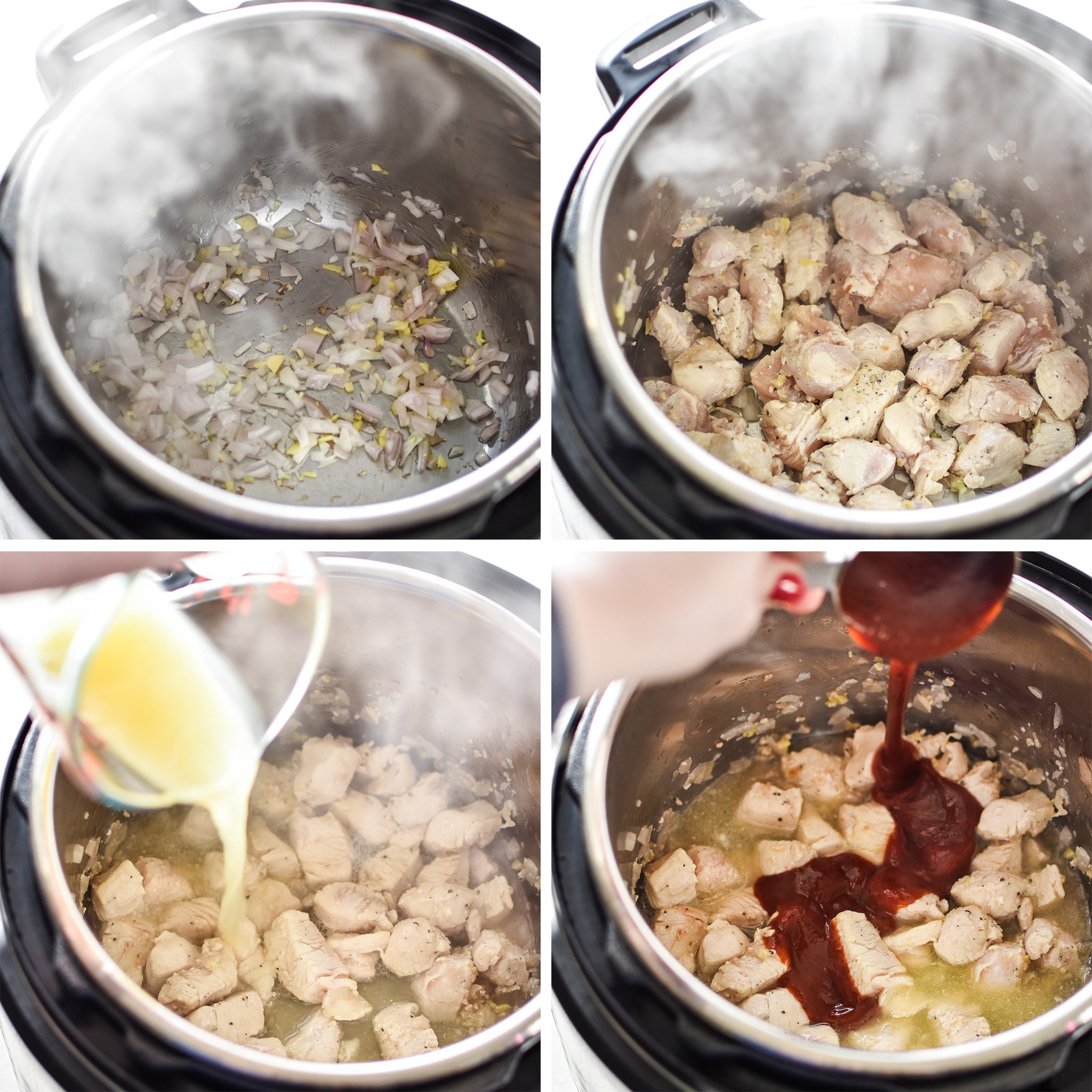 AFTER PRESSURE COOKING
Quick release is the way to go here, since we'll be cooking the concoction a bit more using the sauté function after the pressure is released. After the valve has dropped and the lid is off, immediately add your peppers, pineapple, and the rest of the BBQ sauce. Stir it and let the mixture come to a small boil (if it isn't still bubbling from pressure cooking).
Complete optional step: Make the ginger BBQ pineapple sauce a bit thicker by adding a slurry of 2 tablespoons cornstarch + 2 tablespoons water mixed together. Continue cooking on the sauté function for a couple minutes longer, and then you're done.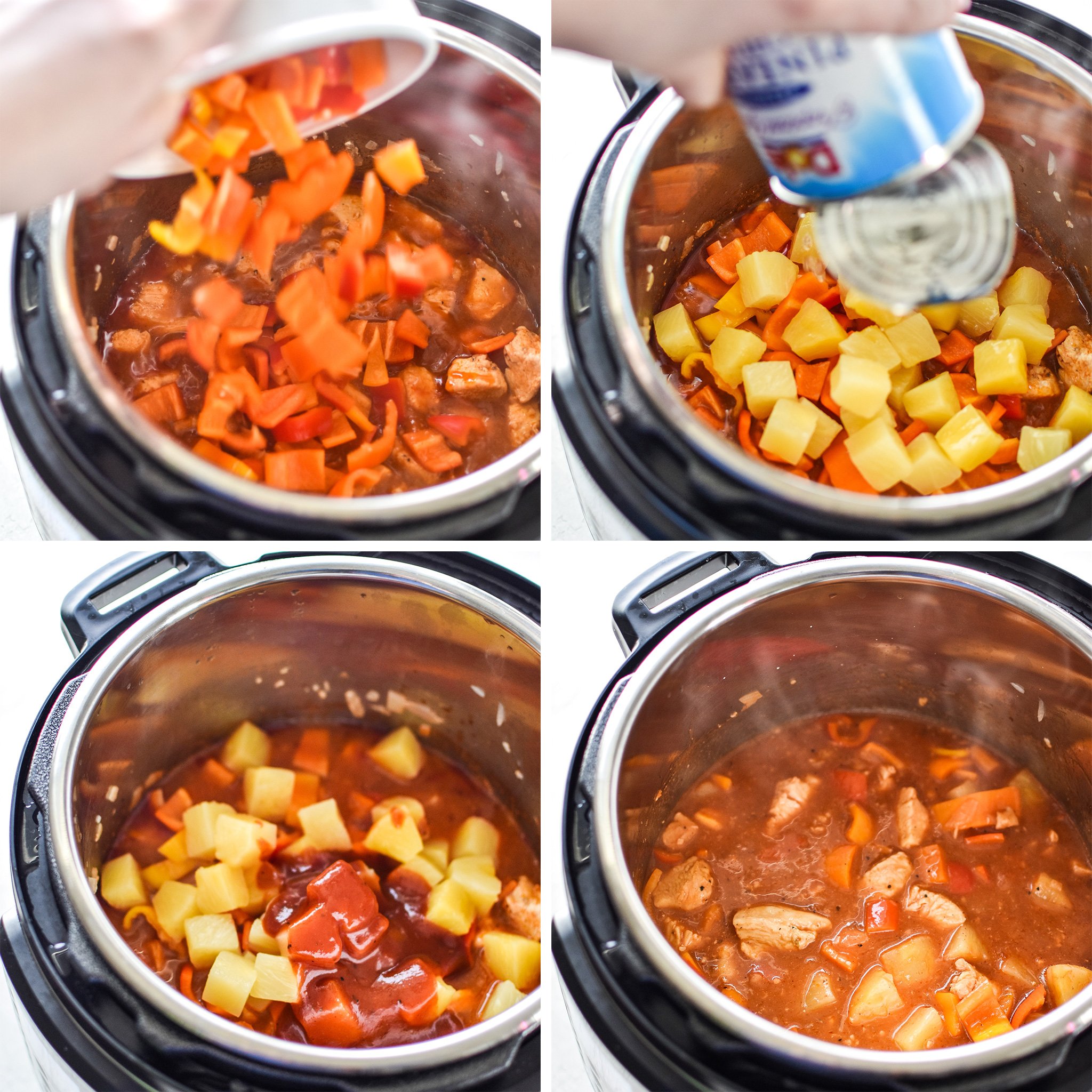 Here's my favorite kind of __________ :
BBQ SAUCE: I absolutely love Stubb's brand of barbecue sauces. Not only are they super delicious, they also don't use any high fructose corn syrup in their recipe. In general, Stubb's brand has less sugar than most other barbecue sauce brands. Plus you can get it at almost any store (I've seen it at my local Safeway, Target, and QFC).
PEPPERS: I most recently made this recipe with 12 mini sweet peppers (in the photos), and I like it that way the best. They add a bit of sweetness PLUS give some crunch because they aren't pressure cooked with the chicken. I've also made this recipe using green bell peppers. While it looks a little happier with some green color, I found the green bells didn't give as much flavor as the sweet mini peppers.
GINGER: Fresh! The squeeze tubes of fresh ginger "paste" are handy, but I try to stay away from those because it's just more plastic being used (confession: I have purchased the "Thai" seasoning variety which is incredibly time saving because it has ginger, garlic, lemongrass, cilantro, and more herbs – however when I just need a single flavor such as ginger, I buy the REAL THING).
MEAL PREP CONTAINERS: These 2 and 3 compartment glass meal prep containers made by Prep Naturals are SOLID if you want to divide up your food into compartments. We also use these 4-cup Pyrex glass round containers (they are pictured).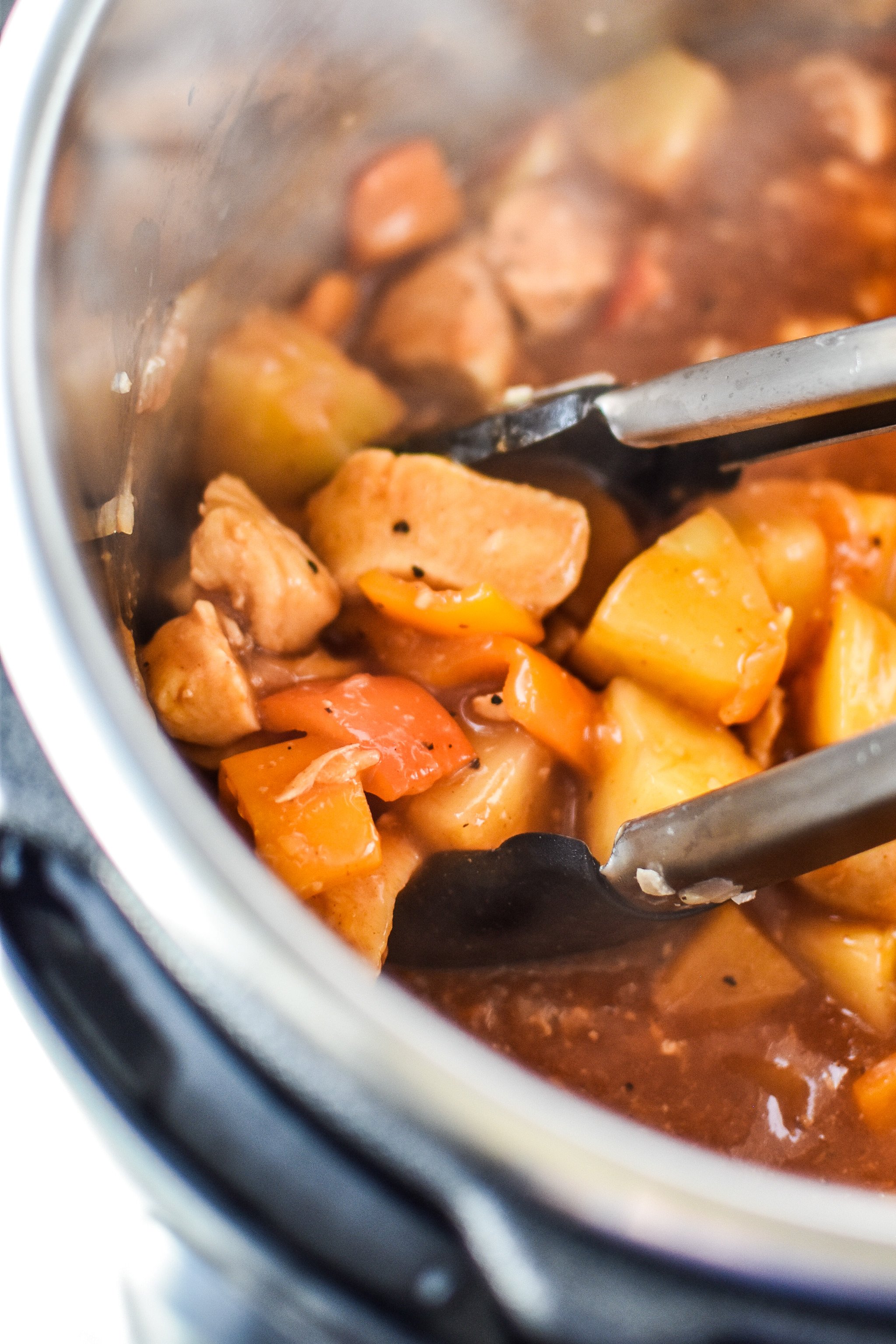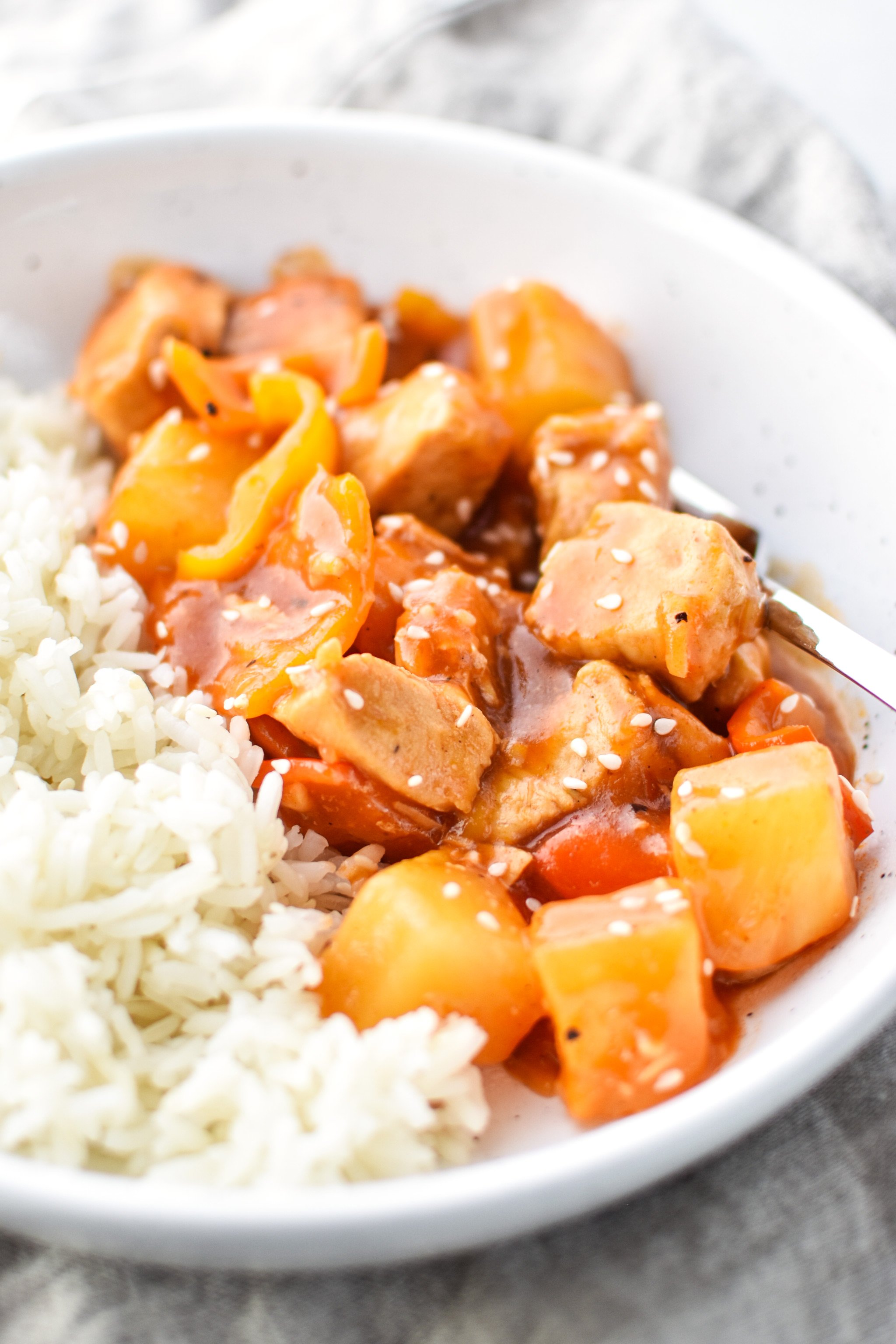 How to meal prep the Sweet Ginger BBQ Chicken:
This recipe makes approximately 4 servings. It's important to note that if you use 1 pound of chicken breasts (16 ounces), then each serving will have 4 ounces of chicken. If you want slightly more chicken per serving, use 1.25 pounds (5 ounces per serving) or 1.5 pounds (6 ounces per serving) of chicken total.
Pick your grain or side dish. You could switch the rice to roasted sweet potatoes, brown rice, or quinoa. I like to cook the rice in the Instant Pot while I'm chopping and prepping the rest of the ingredients. When it's finished, I portion the rice into meal prep containers, give the IP insert a quick wash, and get started on the recipe.
For perfectly even portions, the best thing to do is to use a kitchen scale. Determine the total weight of your main dish (bbq chicken, pineapple and peppers in this instance), and then divide by the number of servings. You can also do this with the rice after cooking for even portions.
Use glass containers with airtight seals. Eat within 4 days of cooking (1 serving per day!).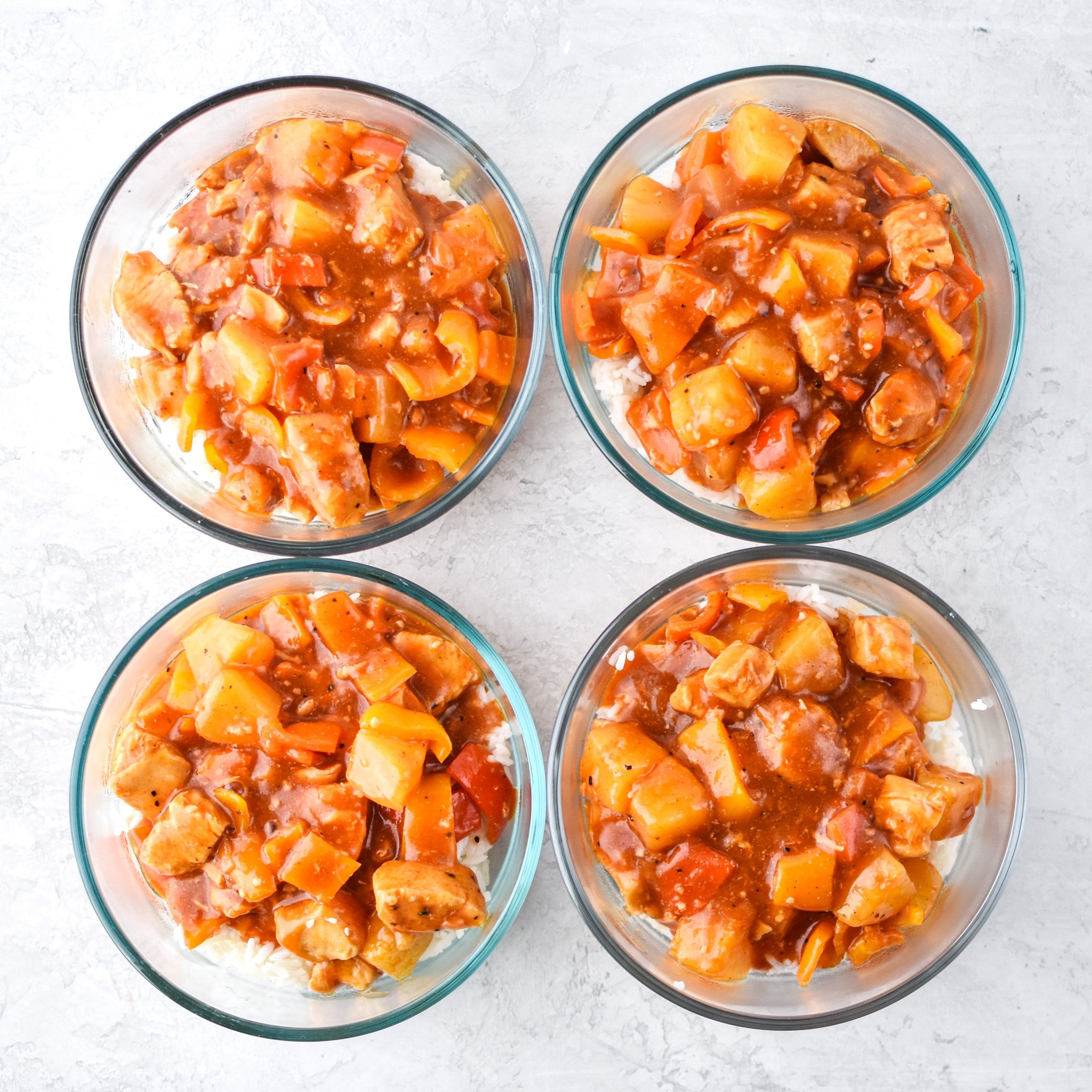 More dinner recipes from Project Meal Plan:
Recipe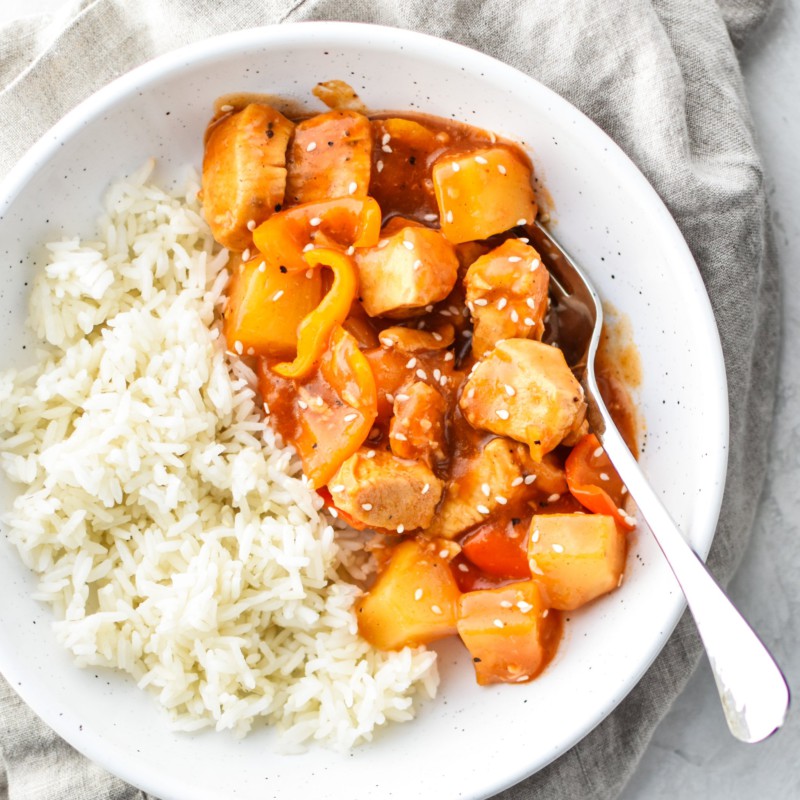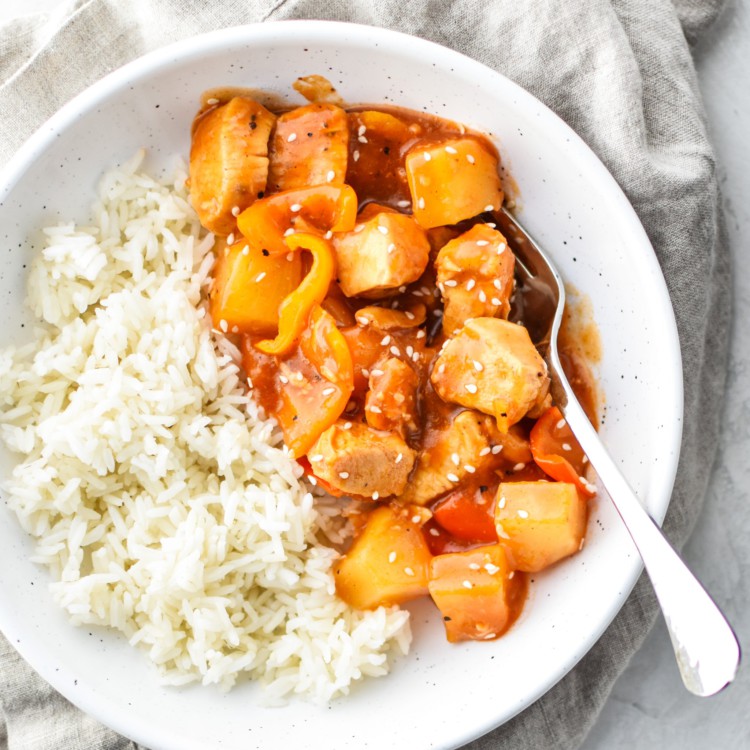 Instant Pot Sweet Ginger BBQ Chicken Meal Prep
Prep:
5 minutes
Cook:
25 minutes
Total:
30 minutes
This Instant Pot Sweet Ginger BBQ Chicken Meal Prep is perfect if you're craving sweet BBQ but don't want to heat up the grill! Sweetness from pineapple with a kick of fresh ginger, this is a tasty but simple make-ahead lunch or dinner!
Ingredients
1 tablespoon

avocado or olive oil

2

shallots, finely diced

2 teaspoons

of fresh ginger, about a 1 inch chunk, minced

1 tablespoon

minced garlic
about

1

pound boneless skinless chicken breast, cut into

1

-inch bite sized pieces
salt/pepper

1

(20 ounce) can of pineapple chunks, strained with juice reserved for recipe

1 cup

BBQ sauce, separated (I use Stubb's)

12

sweet mini peppers (or

2

bell pepper), cored and seeds removed, sliced

2 tablespoons

cornstarch + 2 tablespoons water, for thickening (optional)
Instructions
Select the Sauté function on your Instant Pot (affiliate link!). When the display says Hot, add oil to the insert. Add shallots and ginger and cook for about 2 minutes, stirring continuously. Add the garlic and cook for an additional minute, stirring continuously.
Next, add the chicken pieces to the IP insert. Cook for about 3 minutes, stirring frequently so the chicken does not stick to the insert. Turn the Instant Pot off. Add all the reserved pineapple juice from the can (approximately 1 cup – add water if short), and 1/2 cup BBQ sauce. Stir until well mixed.
Place the lid on the Instant Pot and make sure the steam release valve is sealed. Set to Manual or Pressure Cook for 3-4 minutes (3 minutes for 1 pound of chicken or less, 4 minutes for more).
Perform a quick release of the pressure once cooking is done. When the valve drops, carefully remove the lid.
Turn on the Sauté function. Add the peppers, pineapple, and remaining 1/2 cup BBQ sauce. Stir until well mixed. Cook for about 2-3 minutes until the peppers are tender. Turn off the Instant Pot.
If desired, add the cornstarch slurry to the Instant Pot and stir until well mixed. The sauce will continue to thicken as it cools.
Serve over rice, quinoa, sweet potatoes, or anything else you like. I like to meal prep this dish with rice. Store in an airtight container and eat within 4 days.
Notes
Cook rice using your Instant Pot as well, or make it using a different method while this dish cooks. You can also try the Pot-in-Pot method if you're an Instant Pot pro.
Adapted from Pressure Cooker Hawaiian Chicken. Nutrition information estimated with MyFitnessPal.
Nutrition Information
Serving Size:

1/4 of IP dish (no rice)

Calories:

338

Fat:

7g

Carbohydrates:

43g

Protein:

26g
Recipe Card powered by
Thanks for checking out the Instant Pot Sweet Ginger BBQ Chicken Meal Prep! Tag me or use #projectmealplan on social media to share your own version!