A healthier fried "rice" that's perfect for meal prep! Fried quinoa in place of rice with veggies and chunky chicken breast – you won't even know what's missing in these Meal Prep Chicken Quinoa Fried "Rice" Bowls!
Jump to Recipe · Jump to Video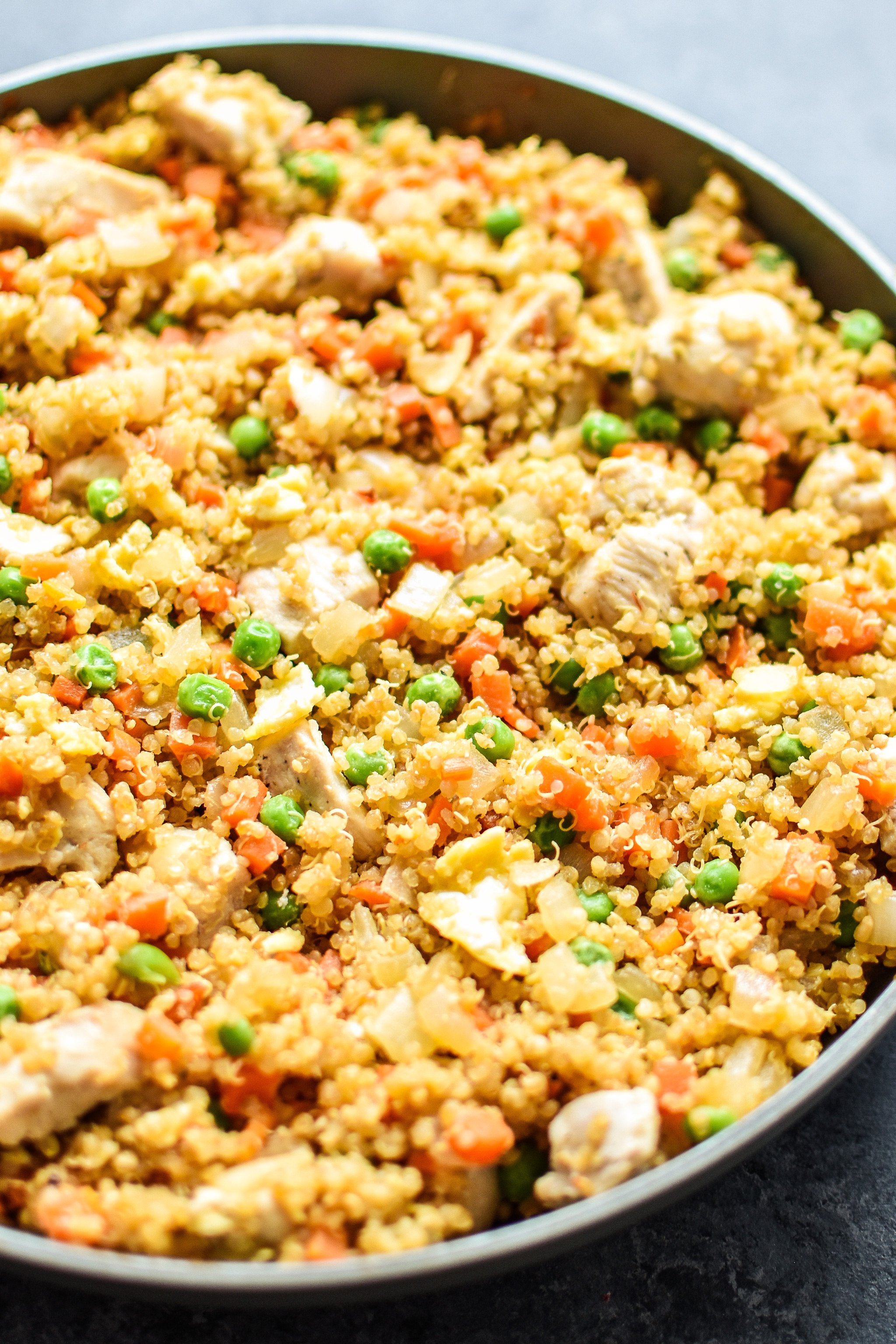 My latest obsession in the quinoa department! Not joking about the obsession part. Basically if there's leftover quinoa and I have carrots and peas available, then this is what happens.
Quinoa is not something I've always been into, despite having several quinoa recipes on the site. I started making it as an alternative to brown rice when I figured out how easy it was to cook in the rice cooker.
More recently, after receiving the best kitchen appliance EVER (my Instant Pot), I perfected How to Cook Quinoa in the Instant Pot. But this left me with lots of extra quinoa. I wasn't too happy about this because, well. Ugh… Confession:
I don't like quinoa by itself 😱
Then I realized I don't really like or eat brown rice by itself either, so it's not really that much of a shocker. But still. THE NERVE.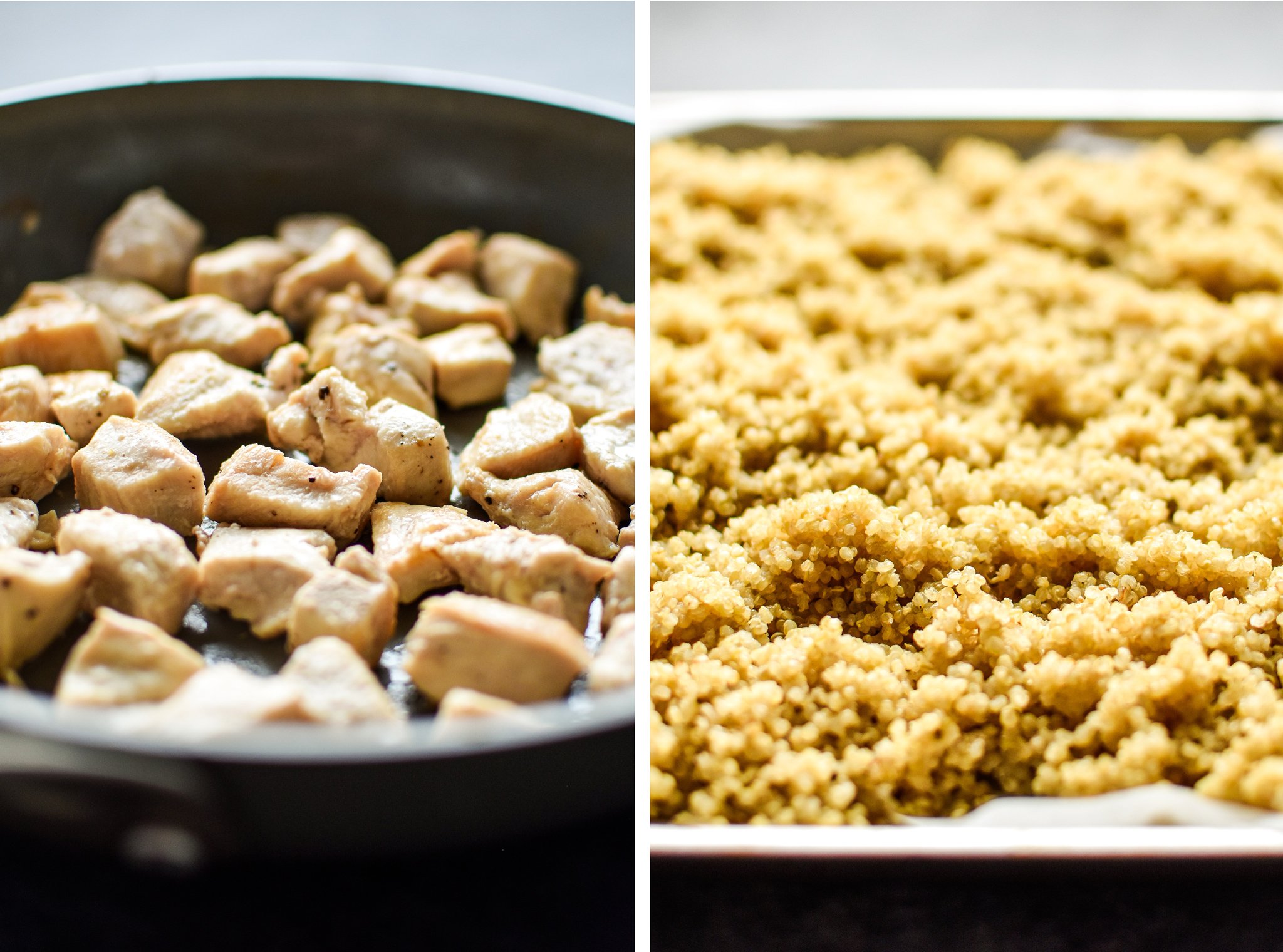 I always eat quinoa with something, mixed in with the main dish, or in a salad. But of course I didn't want to waste the quinoa from testing.
So I thought for a minute and researched – what's something super easy I could make with this entire batch of quinoa that I will actually eat?
Thanks Internet. Quinoa fried "rice" it was. We discovered it was perfectly amazing as leftovers, and so a meal prep version had to happen. Seriously, it doesn't taste like "leftovers". Unless you love takeout leftovers, then it tastes JUST LIKE THAT.
It's ADDICTING, super easy to make, less frantic than real home-cooked fried rice, and probably a little bit healthier too 😉
Simple and easy to make with lots of flavor. I left out the peas because we didn't have any and I'm still impressed.

– Iris, from Pinterest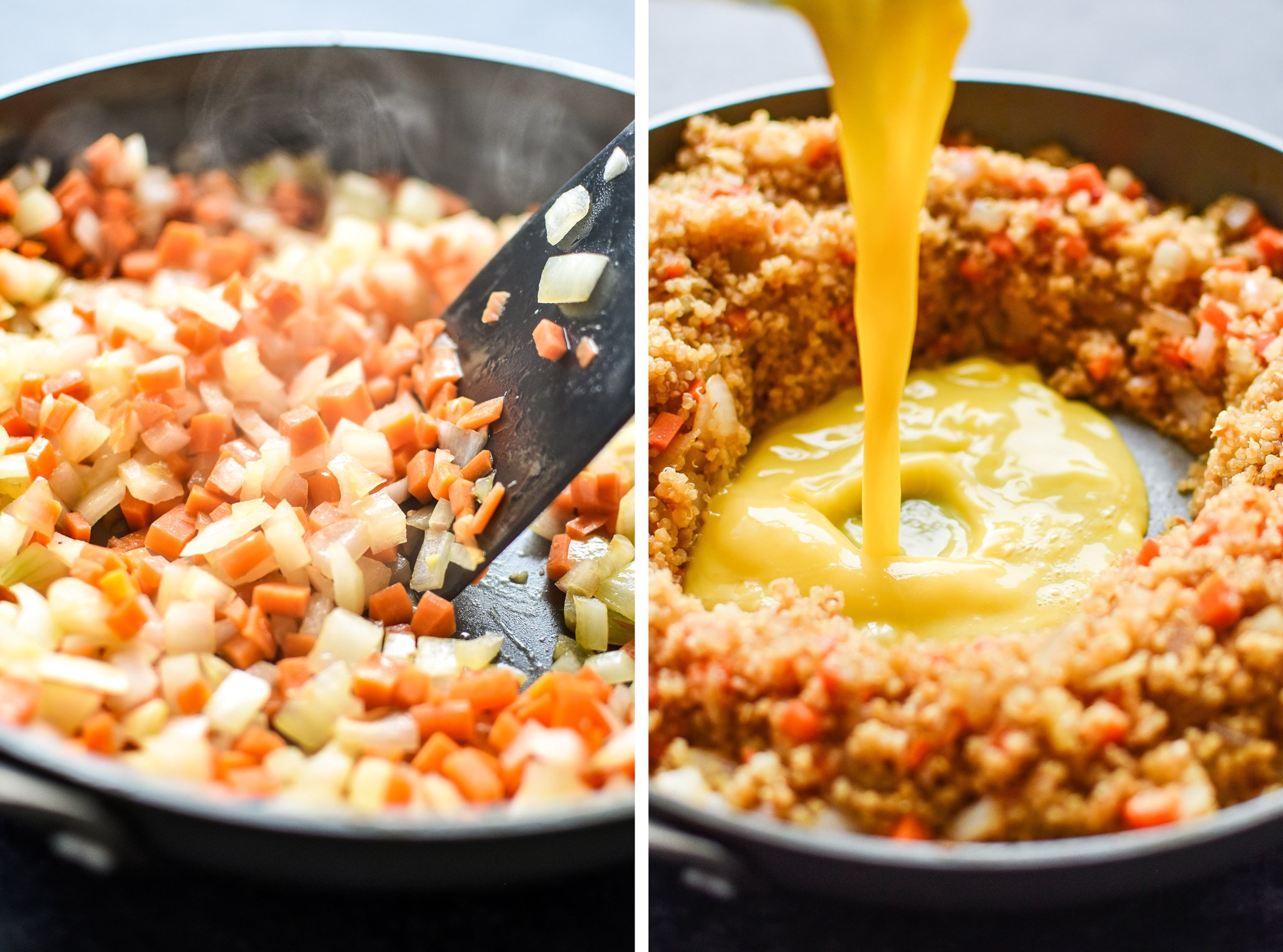 All the ways you could cook quinoa for this recipe (that I know of):
On the stove: Usually, the directions for this method are on the quinoa packaging. I suck at this method because I'm impatient and open lids too early. But it totally works if you can actually follow the directions. I've also used this method for a couple recipes where you toast the quinoa first (not required in this recipe).
In the rice cooker: I successfully relied on this method for multiple years, and wrote a very detailed post called How to Cook Quinoa in the Rice Cooker. It was my go-to before we got an Instant Pot. If you have a rice cooker, you should definitely be using this hands-off method, perfect for impatient people because you can leave and do something else instead of watching the stove!
In the Instant Pot: My new and current favorite method! Quicker than the rice cooker, no stove hovering, and perfect 100% of the time. Like I talked about above, I also wrote a detailed post on this method – How to Cook Quinoa in the Instant Pot. My go-to method!
Basically ANY leftover quinoa will work. You need about 3 cups of cooked quinoa. If new quinoa cooking methods arise, please tell me and I'll be sure to perfect the method and include it here! On to the best part – the Quinoa Fried "Rice"!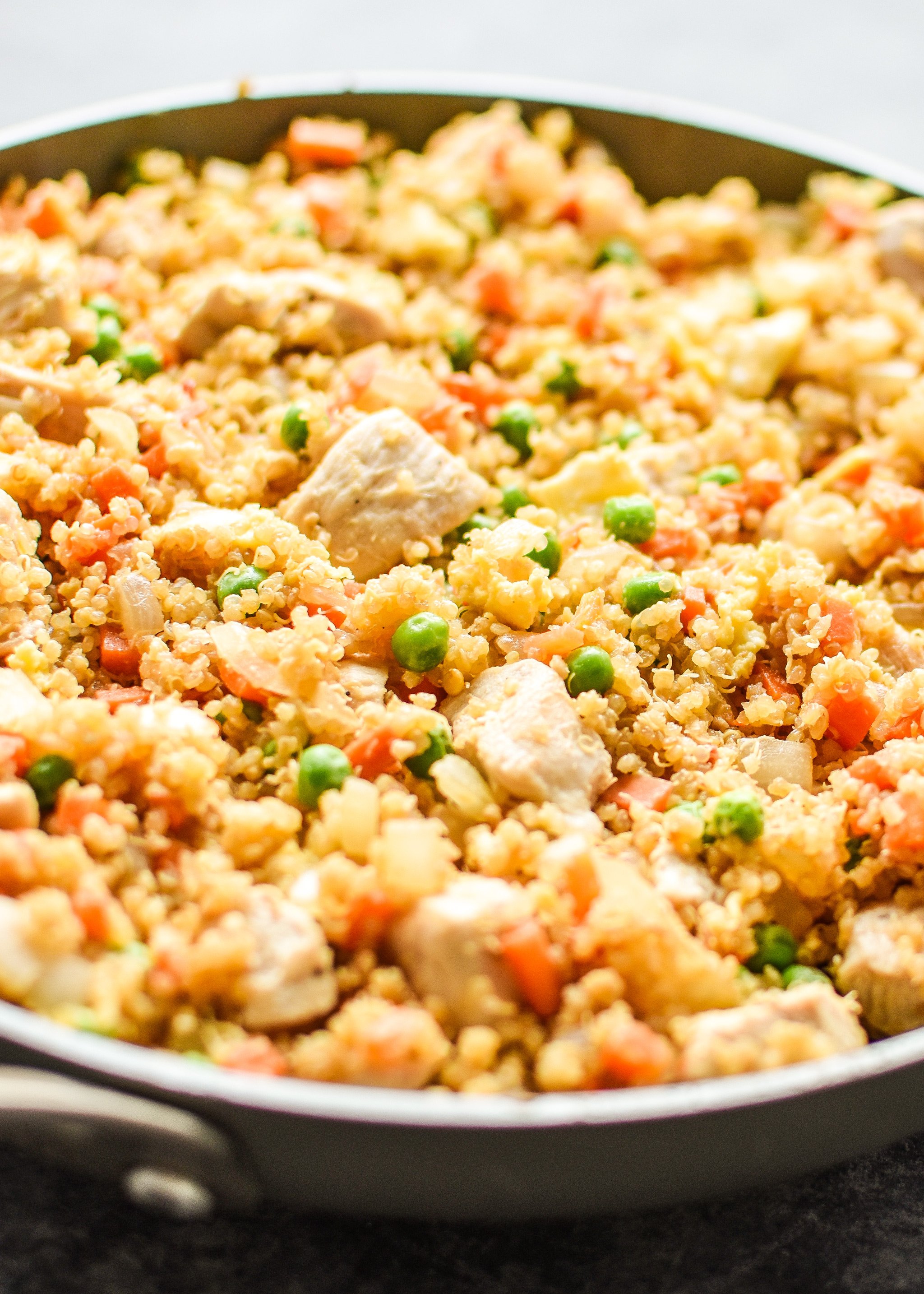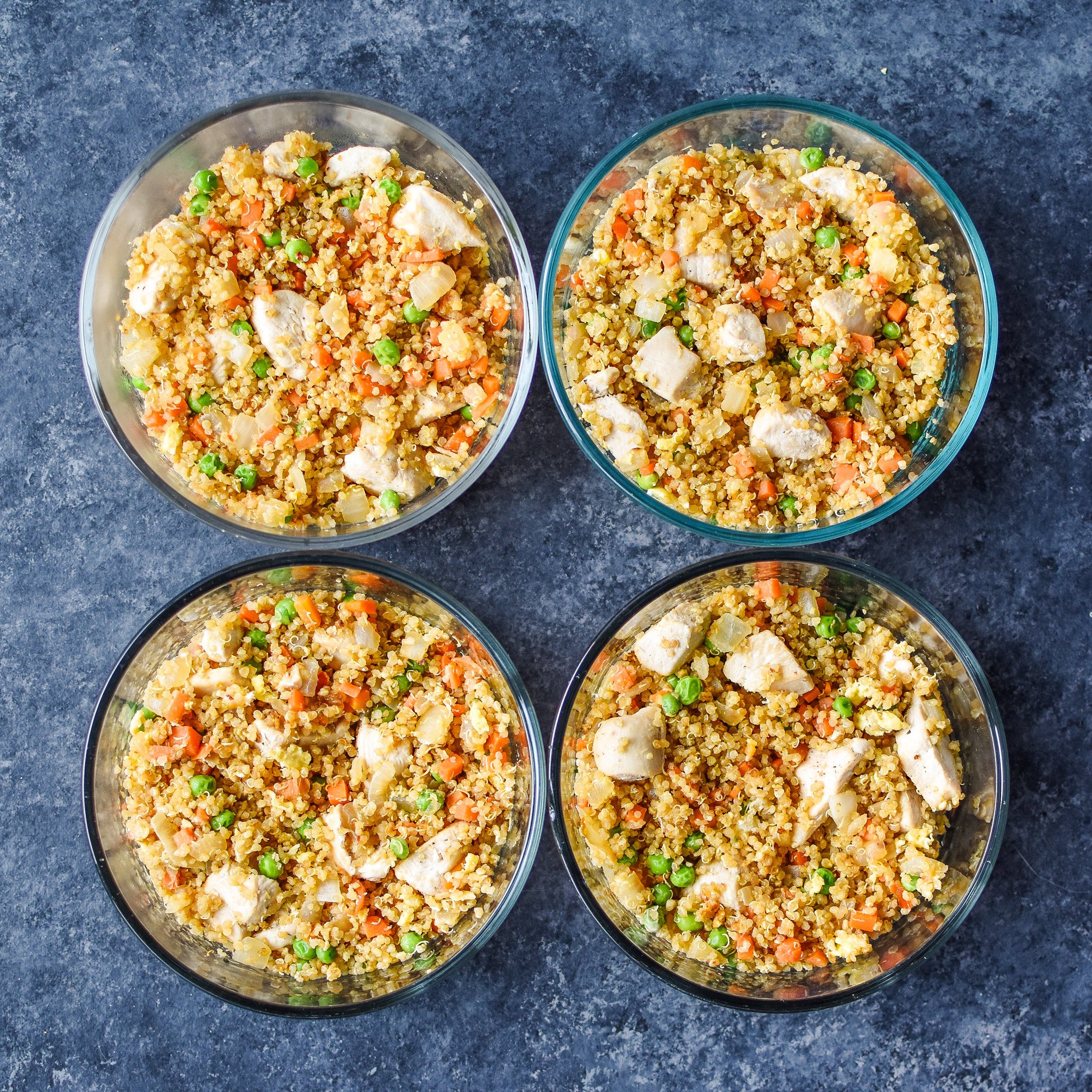 Did not add the peas and carrots due to preference but added red bell peppers instead. Absolutely delicious tastes just like chicken fried rice!!!

– Lexxa, from Pinterest
How to make the Meal Prep Chicken Quinoa Fried "Rice" Bowls (2 min):
More meal prep recipes from Project Meal Plan:
Print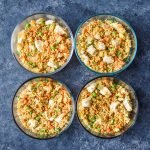 Meal Prep Chicken Quinoa Fried "Rice" Bowls
Author:

Danielle

Prep Time:

10 minutes

Cook Time:

40 minutes

Total Time:

50 minutes

Yield:

4

servings

1

x
---
Description
A healthier fried "rice" that's perfect for meal prep! Fried quinoa in place of rice with veggies and chunky chicken breast – you won't even know what's missing in these Meal Prep Chicken Quinoa Fried "Rice" Bowls!
---
1 cup

uncooked white quinoa, rinsed

1 1/4

–

2

cups chicken broth (amount depends on quinoa cooking method)

1

pound boneless skinless chicken breasts, cut into bite sized chunks

2 tablespoons

avocado or olive oil (separated)

1/2

medium onion, finely diced

2

large or

3

small carrots, peeled and finely diced

1 tablespoon

minced garlic (about

2

large cloves)

1 tsp

fresh minced ginger (about

1/2

inch cube)

3 tablespoons

low-sodium soy sauce

1 1/2 teaspoons

sesame oil (toasted or untoasted)

1/2 tablespoon

Sambal Oelek (chili garlic paste)

2

large eggs, whisked

1/2 cup

frozen peas
salt/pepper
---
Instructions
Cook the quinoa:
Cook quinoa on the stove top according to package directions using chicken broth. You can also cook your quinoa in a rice cooker, or in an Instant Pot. You need about 3 cups of cooked quinoa. When your quinoa is done cooking, spread it out on a parchment paper lined baking sheet to cool quickly. You can also used leftover chilled quinoa from the fridge. Do not continue with the rest of the recipe until your quinoa has just finished cooking, so that it has time to cool.
Cook the chicken:
Heat 1 tablespoon oil in a large non-stick skillet over medium heat. When hot, add chicken breast pieces to the pan in one layer. Let the chicken cook until browning (about 3-4 minutes), and then flip the chicken pieces and cook through (about 3-4 more minutes). Ensure chicken is fully cooked and then remove from the pan and set aside.
Put everything together:
In a small bowl, add soy sauce, sesame oil, and Sambal Oelek and mix well.
Heat 1/2 tablespoon olive or avo oil over medium-high heat in the same pan the chicken was cooked in. Add onion and carrot, and cook until onions are beginning to turn translucent (about 3 minutes), stirring occasionally.
Add garlic and ginger, and cook for 30 seconds, stirring constantly, until the garlic is fragrant.
Push the cooked veggies to the side of the pan. Add remaining 1/2 tablespoon olive or avo oil, and then add the cooked quinoa to the pan in large spoonfuls. Mix with cooked vegetables in the pan, and then add sauce mixture. Mix well and continue to cook over medium-high heat for about 3 minutes.
Reduce heat to low-medium. Create a well in the center of the pan, moving all the quinoa mixture to the sides and exposing the bottom of the pan. Pour whisked eggs into the well. Let the eggs cook for about 1 minute, or until the edges start to bubble, and then mix the eggs into the rest of the quinoa and veggies. Continue to stir until the eggs are cooked and completely mixed into the quinoa.
Add peas and return the cooked chicken to the pan. Mix well and continue to cook over low-medium heat for about 2-3 minutes until the peas are heated through.
Serve immediately or portion into 4 meal prep containers! Store in the refrigerator and consume with 4 days.
---
---
---
Nutrition
Serving Size:

about 1 1/4 cups

Calories:

433

Fat:

20g

Carbohydrates:

39g

Protein:

36g
Recipe Card powered by
Thanks for checking out Meal Prep Chicken Quinoa Fried "Rice" Bowls! If you're digging this meal prep, tag me or use #projectmealplan on social media to share your own version!

Disclaimer:
 Project Meal Plan is a participant in the Amazon Services LLC Associates Program, an affiliate advertising program designed to provide a means for us to earn fees by linking to Amazon.com and affiliated sites. For more information, please see our
Full Disclosure & Privacy Policy
.