My breakfast savior during Whole30! This Sausage Breakfast Gravy is made using almond milk, broth, coconut cream, and thickened with arrowroot flour for a gluten-free and dairy-free breakfast of champions! Serve over biscuits or potatoes for maximum comfort food status!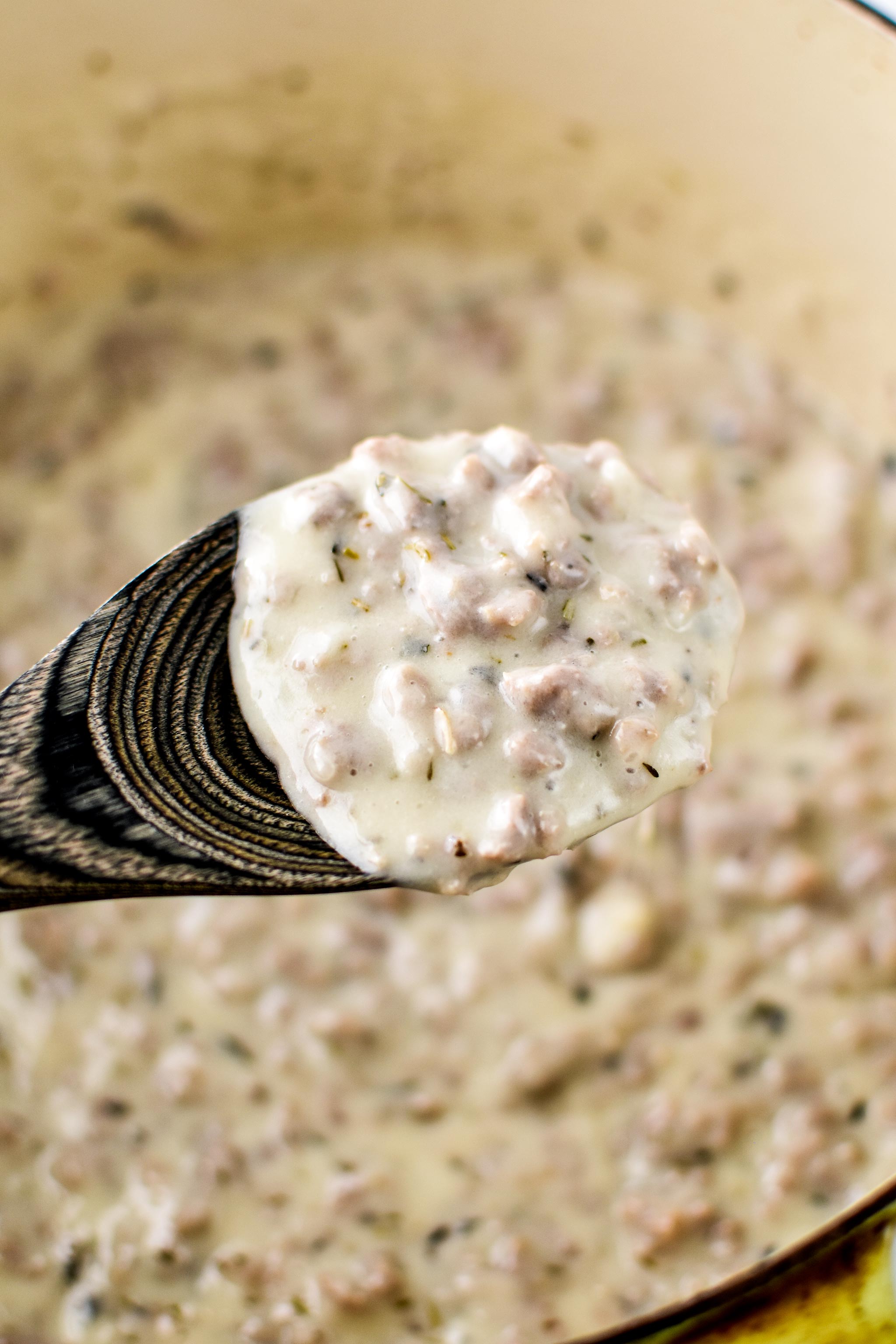 With my very first Whole30 month almost over, I thought I would celebrate with my favorite recipe discovery of this whole experience. That is – thickening gravy without regular flour or butter.
I wasn't originally planning to post any overly complicated or "fancy" paleo recipes, since I don't normally follow a paleo diet. Sticking to basics that we would also eat when not doing Whole30 was an unwritten priority this month.
But this gravy is not complicated at all. And I absolutely plan to keep making the recipe once Whole30 is over. It's THAT good. Even if most people don't feel like trying this paleo gravy situation, I'm still posting it for me because I don't want to forget about it (especially during future Whole30s!).
Can you make gravy without flour?
As I learned during this round of Whole30, YES. Gravy can be made without flour, and without butter for that matter. An alternative to flour-based gravy is starch-based gravy. This recipe specifically uses arrowroot starch (or flour or powder, same thing), but other types of starch also work as a flour substitute.
If you're not following a paleo or Whole30 diet, you can certainly use cornstarch instead of arrowroot. You can also use butter instead of ghee if you'd like, since most people are more likely to have these products in their home. Use whatever works for you!
What kind of sausage should I use?
Personally, I don't eat much red meat. But when I do, it's going to be from ButcherBox (affiliate link!). All their meat is sourced from small & family farms (think, NOT industrial farming), organic, free of antibiotics and hormones… ALL the good stuff!
For this recipe, I use their 1 pound breakfast seasoned pork sausage. Any kind of breakfast seasoned ground sausage would work, but high quality will taste better.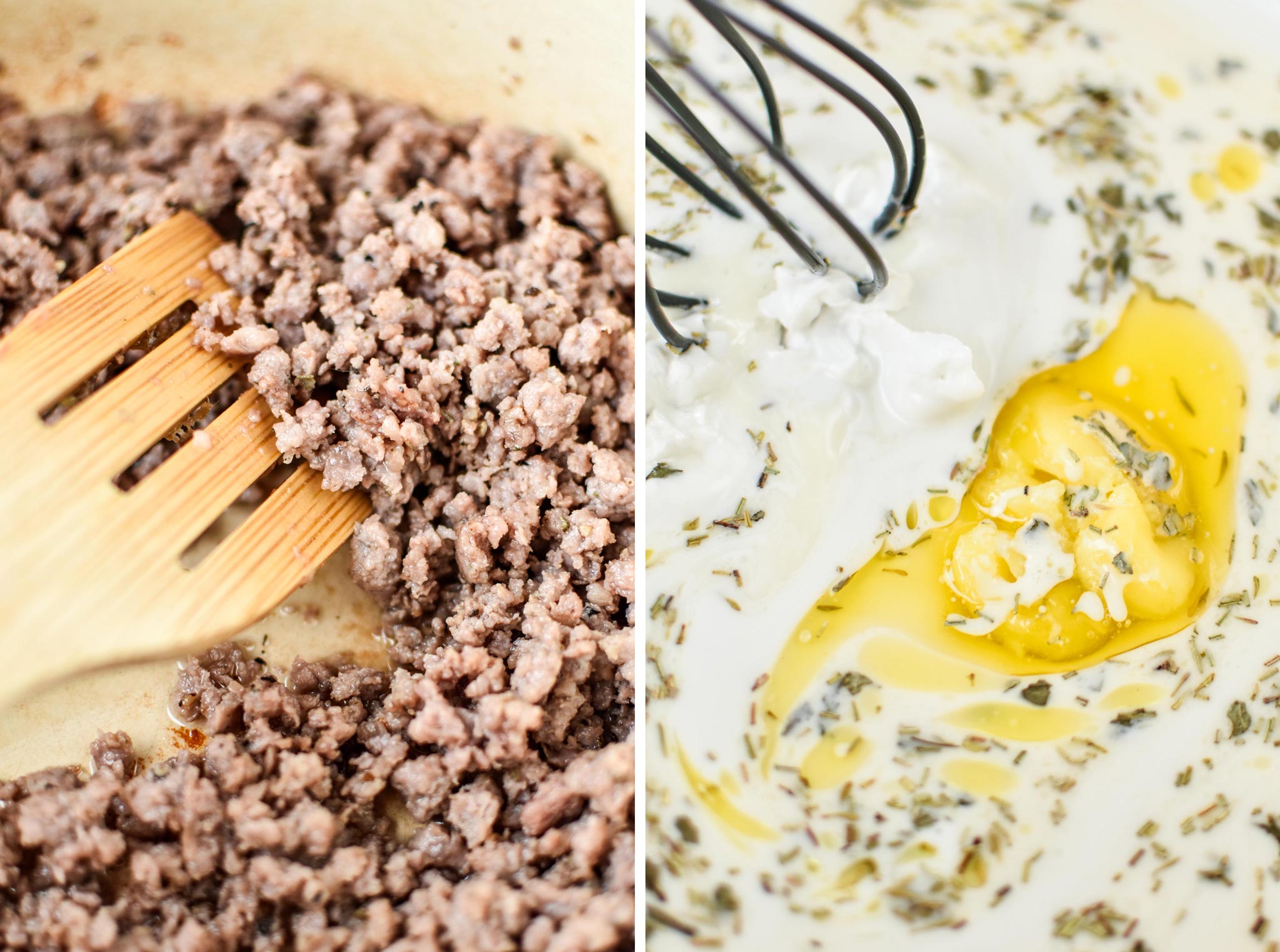 What makes this gravy thick and creamy like regular gravy?
THICK: It's the arrowroot starch. I use the Arrowroot Starch/Flour from Bob's Red Mill (affiliate link!) and it works great. It has many uses beyond gravy, and I seriously almost used a whole package during this round of Whole30. This is one of things that I don't mind using even when not on Whole30. I can't really tell the difference if I'm not eating the products side by side.
CREAMY: Confession, this is sort of a guess but I'm going with the coconut cream. The recipe calls for 1/2 cup of coconut cream, which is just about how much you get from one can of whole fat unsweetened coconut milk. It's the thick part at the top – that's what you want! It's nice and creamy, so it has to contribute to the creaminess of the gravy. I think the ghee helps a little too.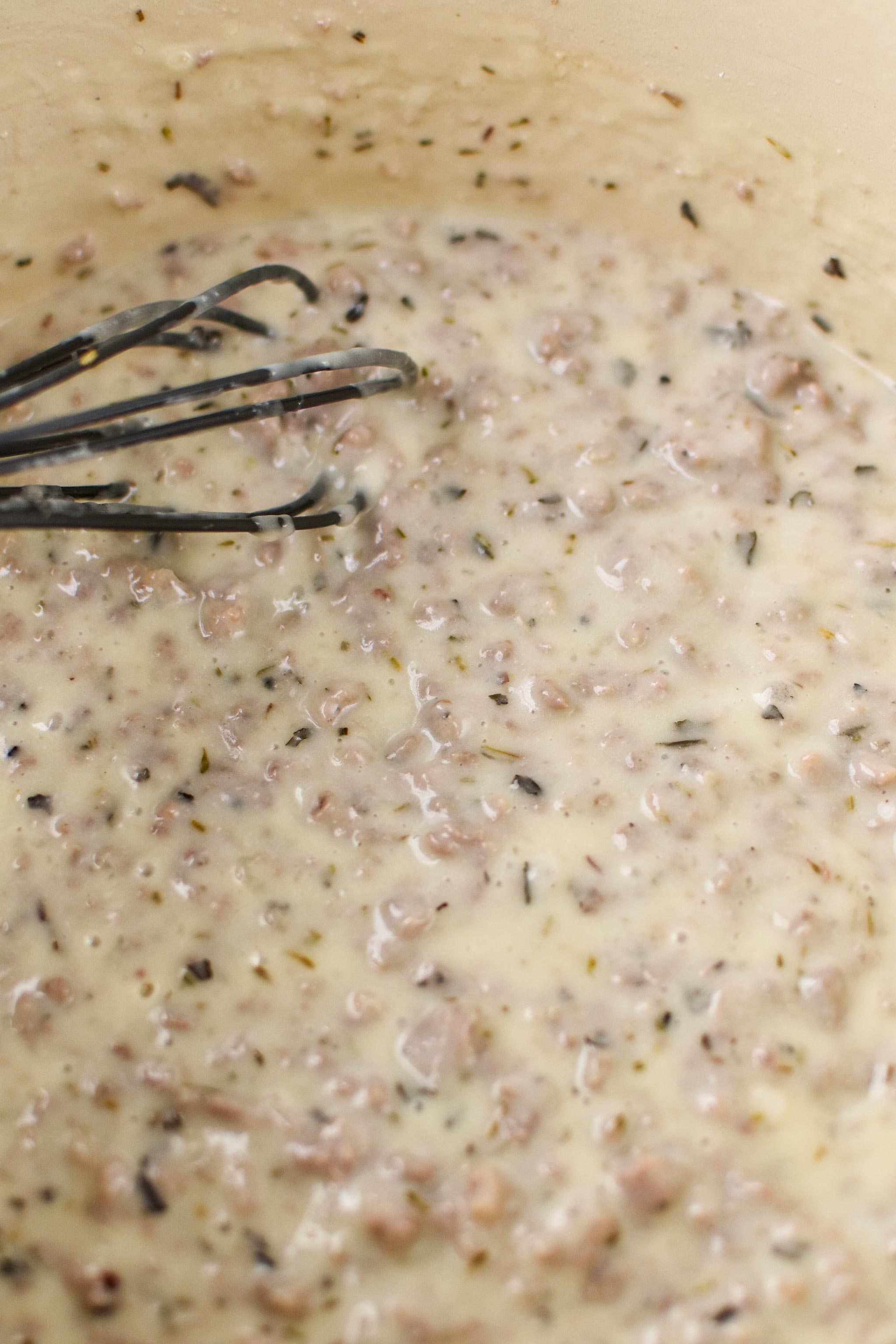 Hold up… Is this considered SWYPO??
SWYPO = Sex With Your Pants On. In the Whole30 program, SWYPO foods are ones made with substitute ingredients to imitate indulgence foods in attempt to satisfy cravings. The example given by the Whole30 community is paleo pizza, made with almond flour crust, lacking any cheese, and so obviously less exciting than real pizza. Your brain knows what it's missing out on (I dream of cheese, my brain won't forget about it). So eating SWYPO pizza really just makes your brain crave real pizza even more. These types of foods are discouraged during the Whole30 program, and I can totally see why.
So here's my answer to the question, is this paleo sausage gravy considered SWYPO? My answer is no. Not for me personally (it's important to remember SWYPO can be different for different people). Gravy is not something I crave. Gravy is not something we eat regularly. And best of all, this paleo sausage breakfast gravy is the REAL DEAL and I like it just as well or even better than other gravy I've had. It's not a knockoff made with substitute ingredients. It's made with real ingredients. You're allowed to make Whole30 versions of sauces and salad dressings, so I see no reason why gravy is off-limits.
What if my sausage breakfast gravy…
has lumps?
Keep whisking! It will help. The whole process of adding the starch and whisking can take a few minutes. Even if there are any tiny lumps, they blend into the sausage gravy along with the tiny pieces of pork sausage and you won't even notice when eating.
is too thick?
Add some more broth or water to thin it out, adding 1/2 cup more at a time and whisking well between each addition.
is too thin?
Add another 1/2 tablespoon arrowroot starch while whisking and then let everything continue to simmer or low heat for another 3-4 minutes. The mixture will thicken as it begins to cool.
What do you serve the sausage breakfast gravy with?
During Whole30, the main way I ate this gravy was over potatoes with a fried egg and some avocado, just like what's pictured below. If you're not doing Whole30, try it over biscuits! That's my next plan. I currently have some leftover breakfast stuffed potatoes in the fridge that will go with the gravy perfectly.
Does this sausage breakfast gravy reheat well?
Yes, this sausage breakfast gravy reheats very well. Keep it in an airtight container for up to 4 days after cooking. Rehat in the microwave on High for 30 second intervals until hot. I would not recommend freezing this gravy, since I don't think starch-thickened foods do well when thawing.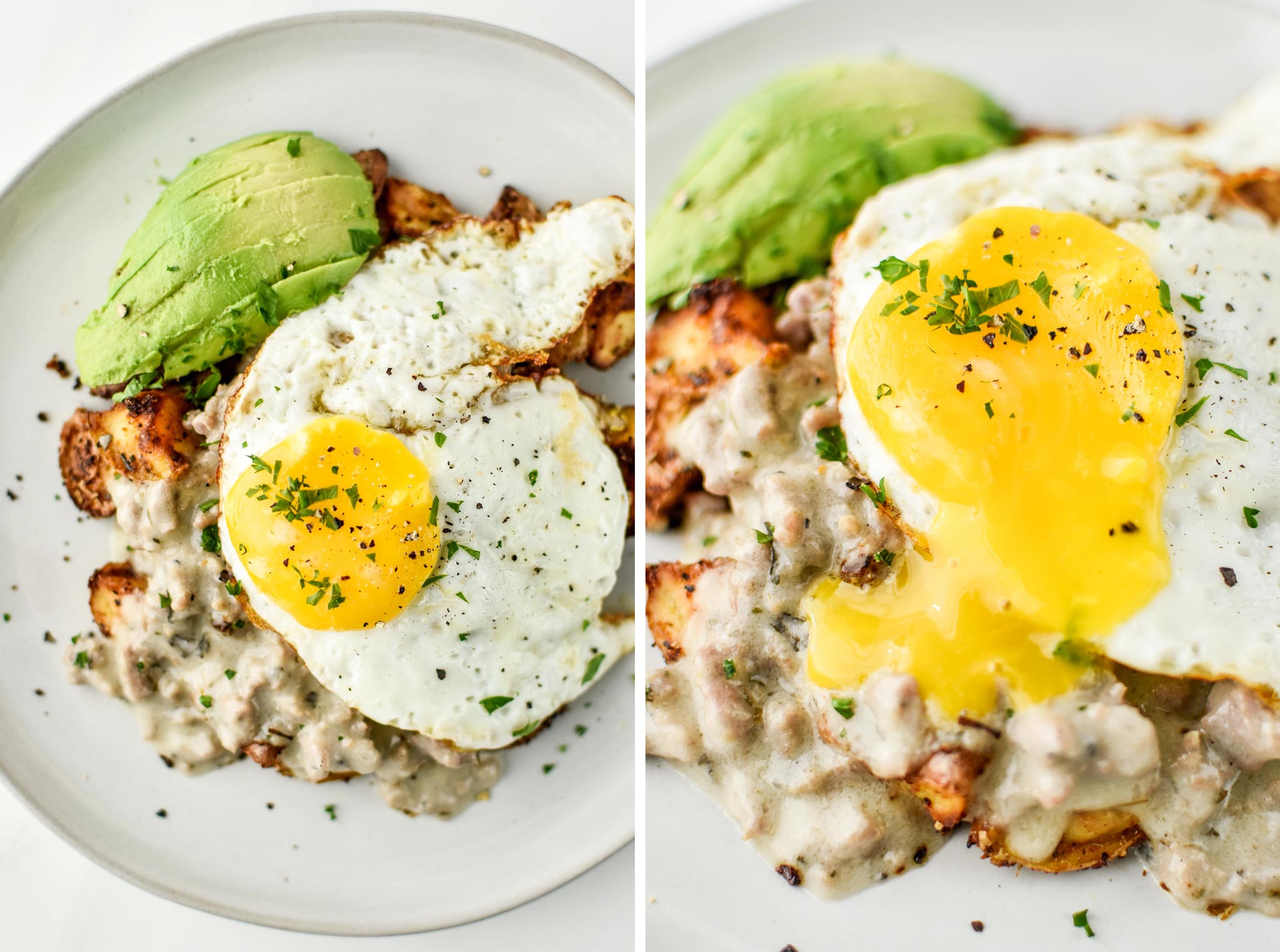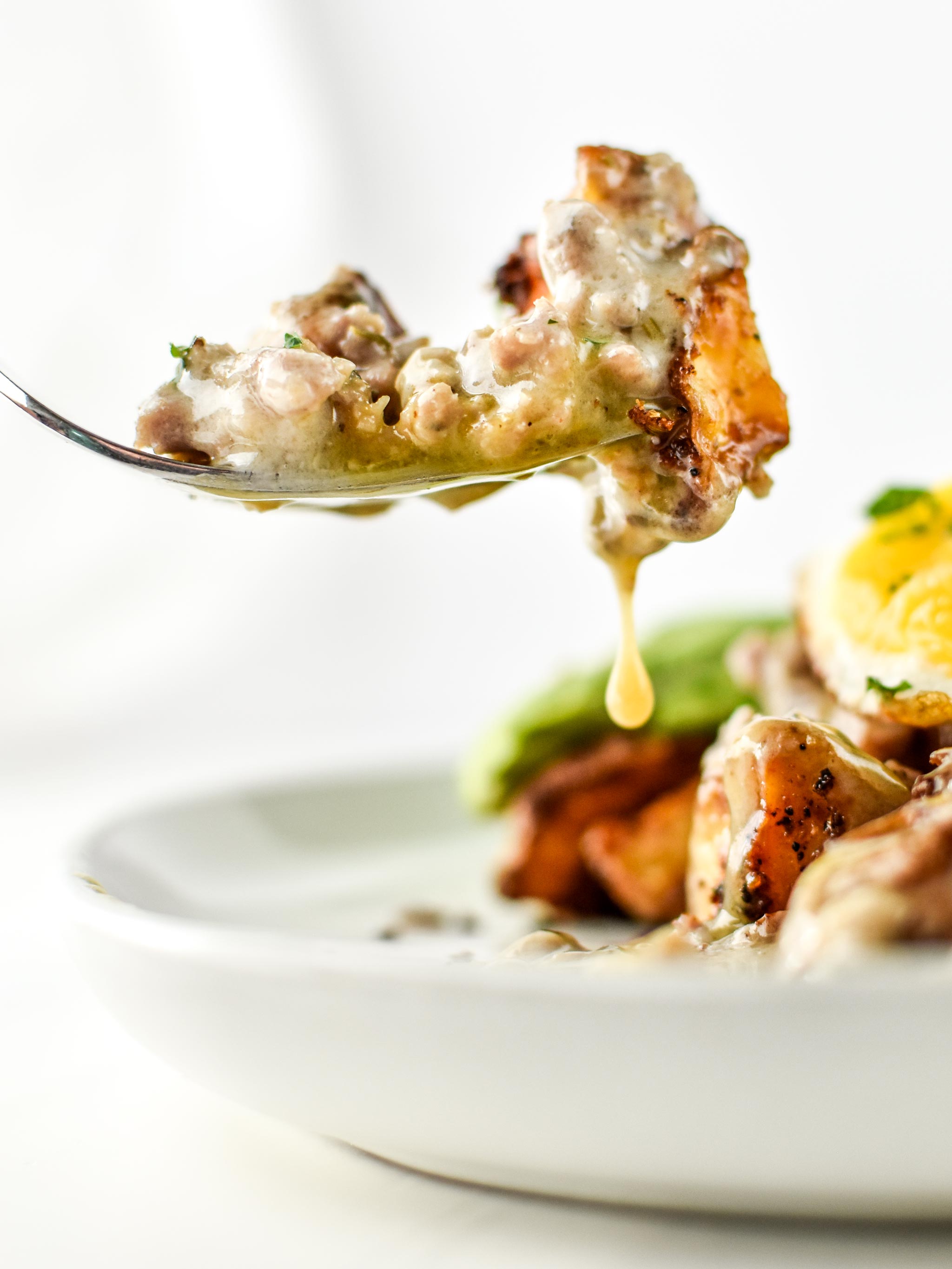 More Whole30 & Paleo recipes from Project Meal Plan:
Recipe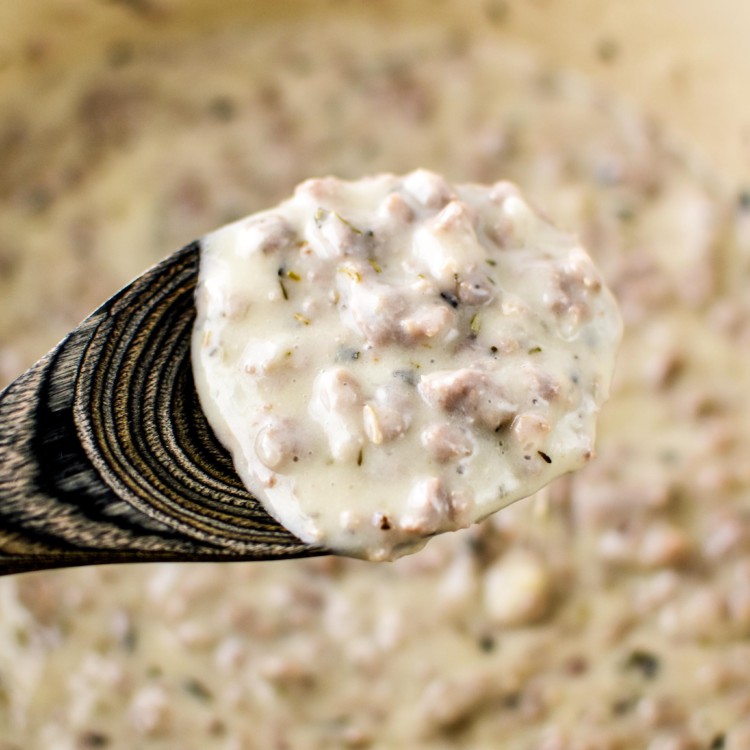 Sausage Breakfast Gravy (Whole30 & Paleo)
Prep:
5 minutes
Cook:
30 minutes
Total:
35 minutes
This Paleo & Whole30 Sausage Breakfast Gravy is made using almond milk, broth, coconut cream, and thickened with arrowroot flour for a gluten-free and dairy-free breakfast of champions! Serve over biscuits or potatoes for maximum comfort food status!
Ingredients
1

pound compliant breakfast seasoned ground pork sausage (I use ButcherBox)

1

+ 1/2 cups broth (chicken or beef)

1/2 cup

coconut cream (the thick part in a can of whole fat coconut milk)

1/2 cup

unsweetened plain almond milk

1 tablespoon

ghee (clarified butter)

1 teaspoon

dried rosemary

1 teaspoon

dried basil

1 teaspoon

garlic powder

1/2 teaspoon

dried thyme

1/4 teaspoon

each salt & pepper

2 tablespoons

 arrowroot starch/flour + 2 tablespoons water mixed together to make a slurry (can sub cornstarch if not Whole30)
Instructions
In a Dutch oven or deep skillet, brown the ground pork breakfast sausage over medium heat, using a wooden spoon or other utensil to break the meat apart into tiny bits as it cooks. Once the sausage is cooked through, remove it from the pan into a bowl and drain the excess grease from the pan. (If using unseasoned pork sausage, add a little thyme, ground sage, salt & pepper during this step. Unseasoned is fine but the gravy will taste less "breakfasty".)
Place the same pan back over medium heat, and add broth, coconut cream, almond milk, ghee, and all remaining spices (rosemary, basil, garlic powder, thyme, salt & pepper). Whisk well to combine, lower heat and let the mixture simmer for about 5 minutes.
Slowly whisk in the arrowroot flour + water slurry, adding a little at a time and then whisking, until the slurry is gone. Continue whisking frequently while the gravy thickens, about 3 minutes.
Return the cooked pork sausage to the pan and stir to combine with the gravy. If the gravy is too thick, add 1/3 cup water and whisk. If the gravy is too thin, add 1/2 tablespoon additional arrowroot starch and whisk for an addition 2-3 minutes.
Serve with roasted potatoes, avocado and eggs for Whole30, biscuits or toast if not Whole30. Store in an airtight container in the refrigerator and enjoy within 4 days.
Nutrition Information
Serving Size:

about 2/3 cup

Calories:

270

Sugar:

0g

Fat:

19g

Carbohydrates:

2g

Protein:

14g
Recipe Card powered by