I'm pretty happy when I get to eat cake for breakfast. And I feel even better when there's bananas and a little extra protein involved. Best with almost mushy bananas and melted peanut butter. I present, Banana Protein Pancakes. Simple, delicious, and very photogenic (jump to recipe!).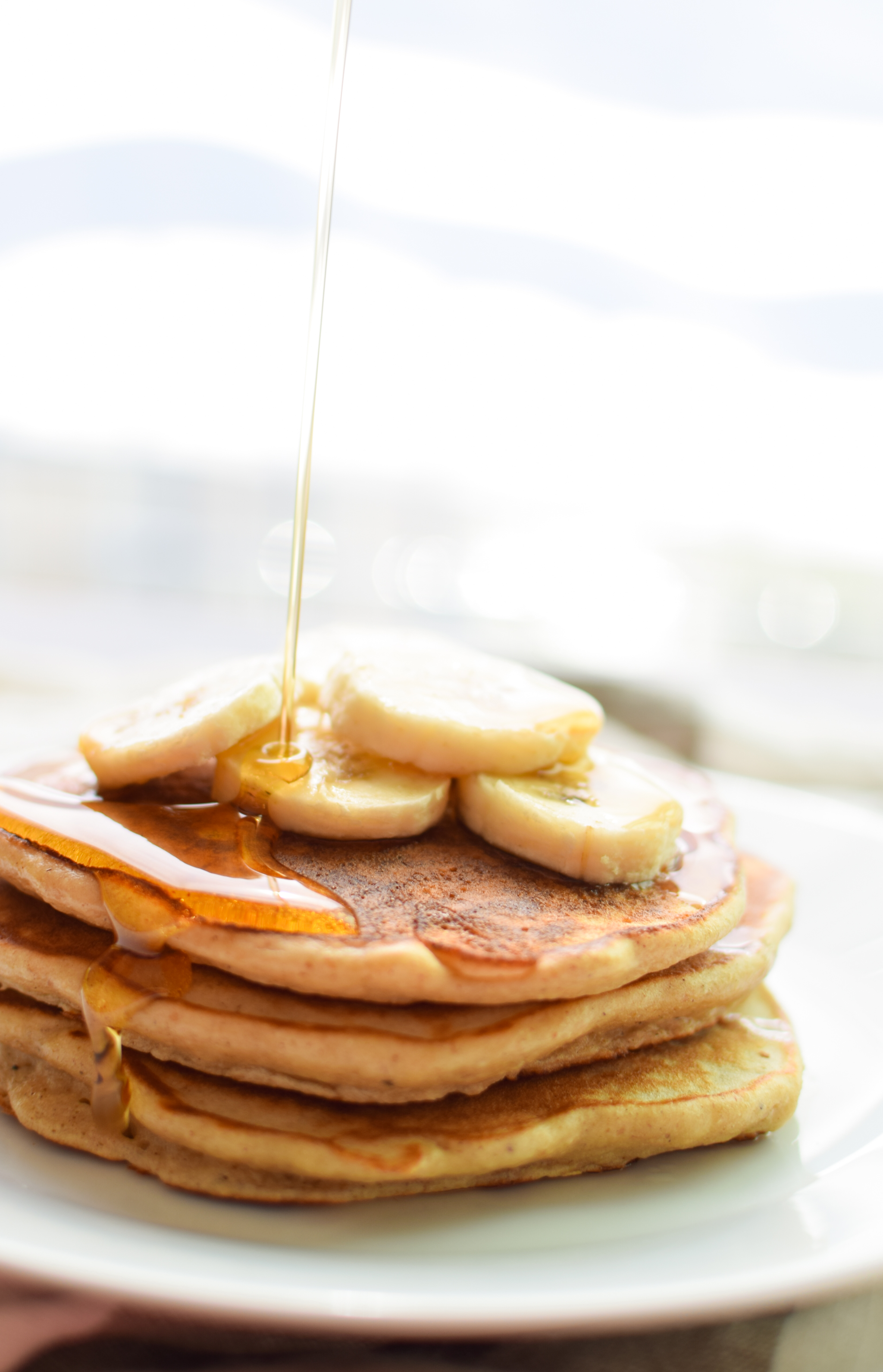 Confession: I don't make these completely from scratch. Once upon a time, the Costco gods presented us with Kodiak Cakes Power Cakes Waffle/Flapjack Mix. At the time, I didn't understand the pancake potential that just entered my cart, but there's a reason they've got five whole stars on Amazon. They're whole-grain, protein-packed, and super versatile. It's the kind of thing you accidentally buy more of because, 1) you're not sure exactly how much you have left at home, 2) it's okay because it won't expire anytime soon, and 3) pancakes. I don't think you can really have too much of this mix. We definitely had at least three boxes when our households combined. Oops!
In the past, I've made several varieties of pancakes (blueberry & chocolate chip, obviously!) with this mix, all with decent success. I normally don't make them on weekday mornings since there's a little bit of extra time and effort involved, but they store in the fridge or freezer pretty well. Guess what? I think that makes them perfect for Meal Prep Sunday.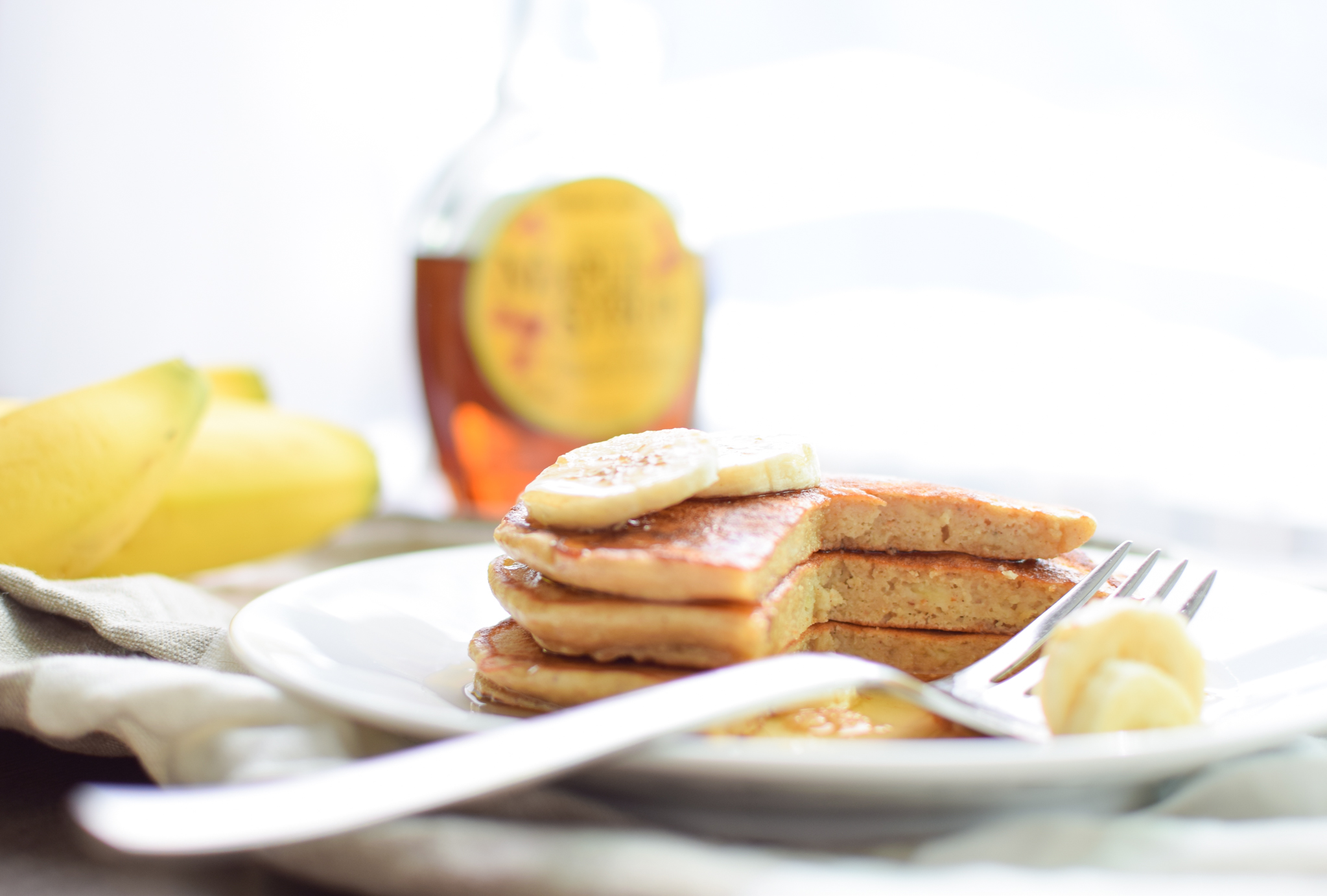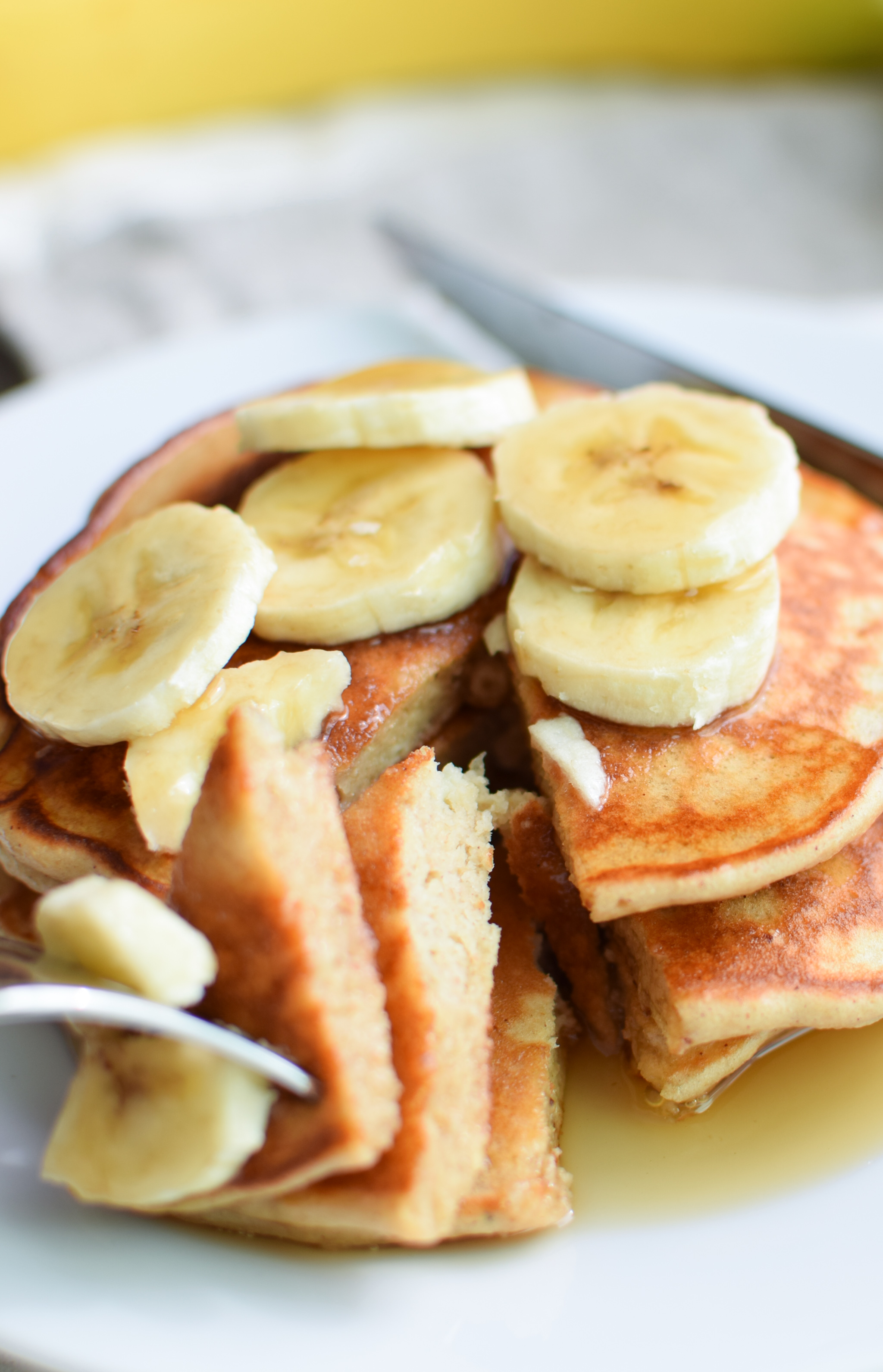 This batch makes about 14 5-inch round pancakes. It's really not that bad to spend less than an hour making your breakfast for the whole week… I certainly didn't mind. Two of these little cakes with a tablespoon of peanut butter ring in at 340 calories with 23g of protein (yes… for two little pancakes!). According to math, that's seven days of hassle free breakfasts for the next week, if you can manage to not eat any right when you make them.
For a little extra yummy, throw some blueberries on the pancakes right after they go in the pan. Don't mix them in with the batter or they get squished accidentally. I guess that's totally fine but your pancakes might turn blue. Plus you'll miss a little warm blueberry explosion in every bite. For some variety in your week's breakfasts, toss blueberries on half of your banana pancakes, chocolate chips on the other. Have a little fun (or as much as you can with pancakes).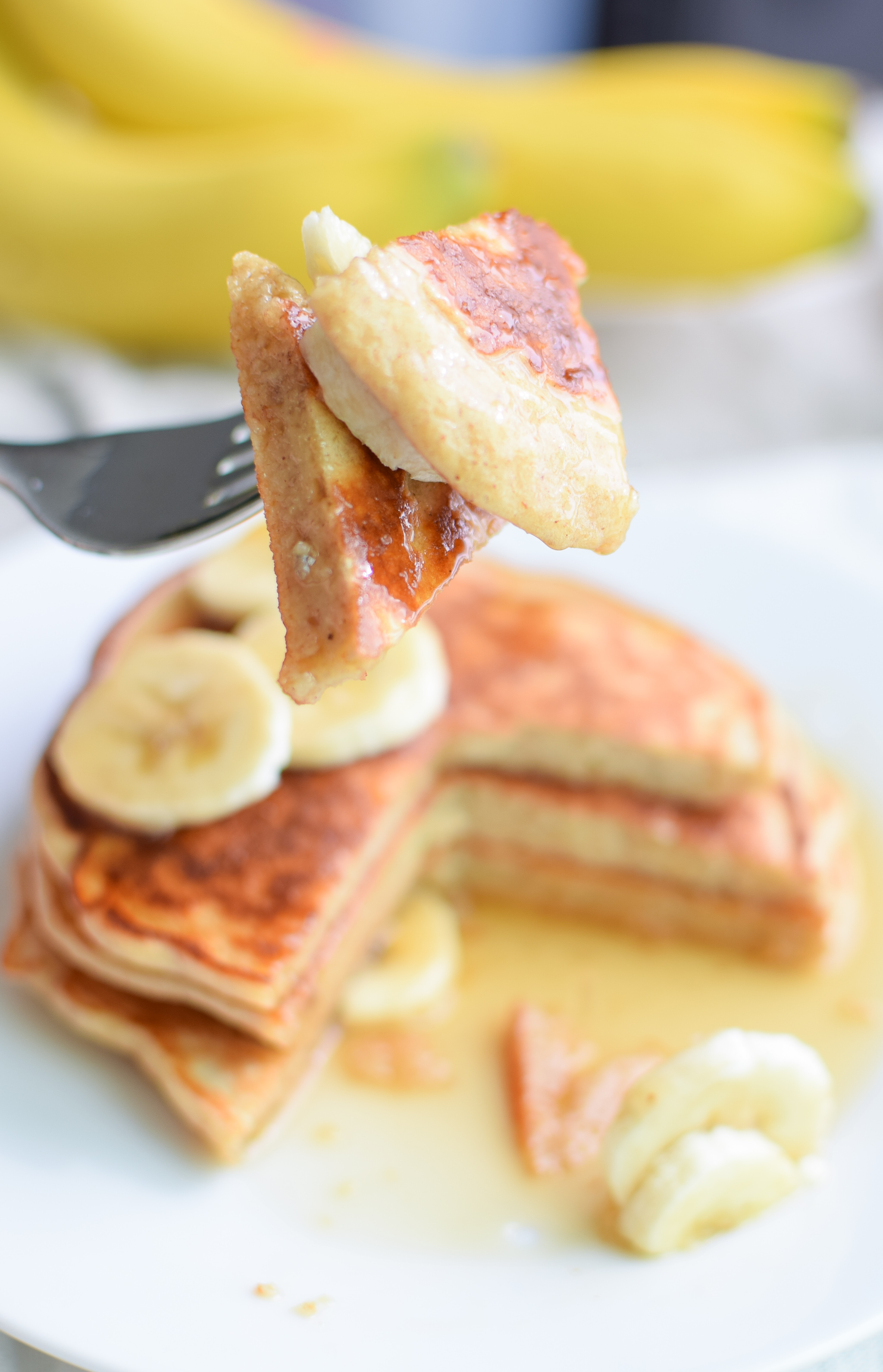 Store in the freezer or fridge (freezer for storing any longer than 3 days), and reheat in the microwave. I'm sure a toaster over would work too. They also travel really well, and I may or may not eat them cold sometimes!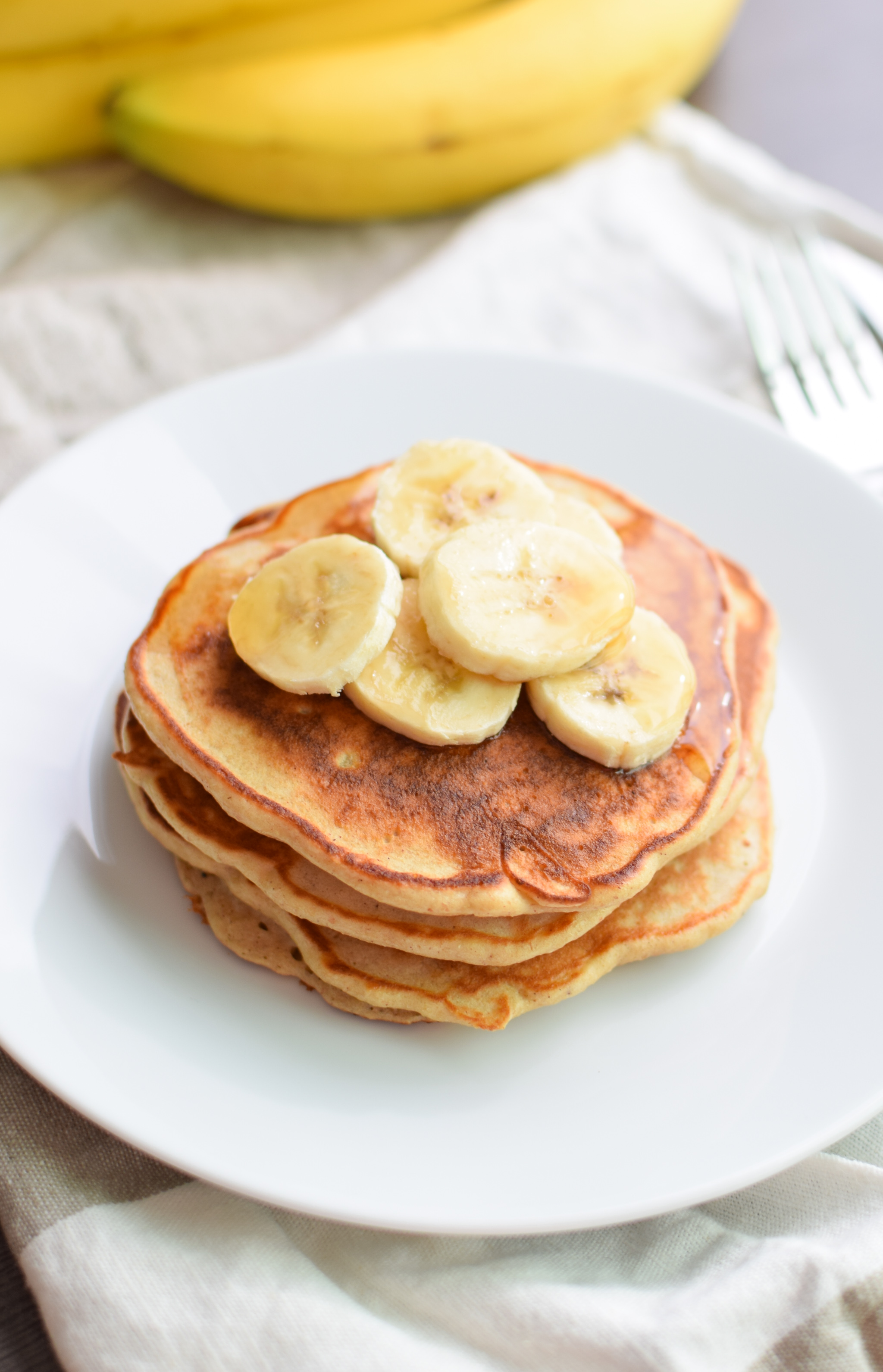 Print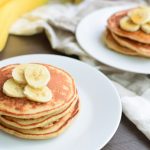 Banana Protein Pancakes
Author:

Prep Time:

5 minutes

Cook Time:

30 minutes

Total Time:

35 minutes

Yield:

14 pancakes
---
Description
Banana Protein Pancakes Recipe – Delicious, healthy way to eat cake for breakfast! With a little extra protein!
---
Ingredients
2 ripe bananas
3 eggs, beaten
3 cups Kodiak Cakes Power Cakes Waffle and Flapjack Mix
1 scoop vanilla protein powder
1 teaspoon cinnamon (or more if you are into cinnamon)
1/2 teaspoon nutmeg
pinch of salt
1-1/4 cup water
non-stick cooking spray
---
Instructions
In a large mixing bowl, mash bananas with a fork until chunky and soup-ish.
Add eggs and stir until mixed.
Add half of the Kodiak Cakes mix, and stir until incorporated. Add the remaining dry ingredients and mix for a few seconds until loosely incorporated.
Add 1 cup of the water and stir until mixed. Depending on how thick you like your pancakes, add small amounts of remaining water until pancake batter is your preferred thickness. I added an additional 1/4 cup water after the initial cup of water. Stir until batter is well mixed.
Heat a large skillet (or griddle) over slightly lower than medium heat. Coat with non-stick cooking spray and wait 2-3 minutes for the pan to heat up.
Spoon approximately 1/3 cup of batter on to skillet. I cooked two at a time so they would not touch in the pan.
Let the pancakes cook for approximately 3-4 minutes. Flip pancakes when bubbles form on the surface and do not fill with batter. Cook for another 2-3 minutes, checking the bottom for golden brown color.
Repeat until your batter is gone, spraying the pan between each set of pancakes. Top with sliced bananas, peanut butter, maple syrup, berries, whipped cream…
---
Notes
Note: For evenly portioned pancakes, I used a 2/3 measuring cup to scoop my pancake batter. Fill it half-ish full and cook evenly for pancakes similar to the ones pictured.
Prep: If you're meal prepping, store in a freezer Ziploc bag. When you're ready to eat them, either pull them out of the freezer the night before to eat them cold on the go. Or re-heat in the toaster or microwave when you need them!
---
Nutrition
Serving Size:

2 pancakes

Calories:

245

Fat:

4.2g

Carbohydrates:

34.9g

Protein:

18.5g
Want to know more about the health benefits of bananas? Check out 24 Science-Backed Health Benefits of Bananas by Helen Nichols on the blog Well-Being Secrets. It helped me love bananas just a little more!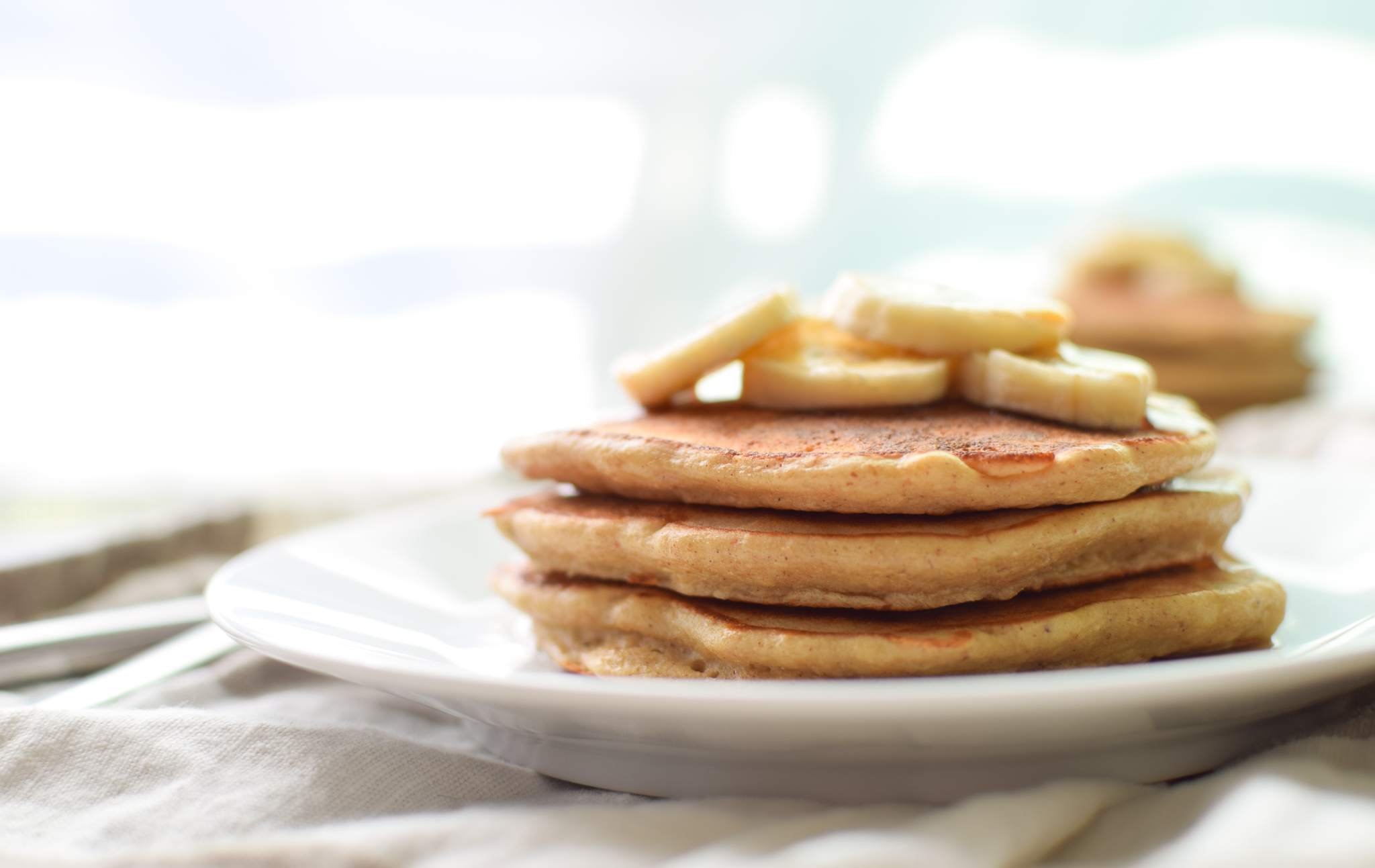 These Banana Protein Pancakes are on the meal plan next week! Check it out on the Sunday Meal Prep Post this weekend!
– Danielle
A little disclaimer: One of the links on this page is for an affiliated product on Amazon. If you are planning to make any purchases, please start your Amazon shopping here on Project Meal Plan! We'll get a small commission at no extra cost to you. I truly appreciate your support! For more information, please see our Full Disclosure.
Support and Share Project Meal Plan -
Disclaimer:
 Project Meal Plan is a participant in the Amazon Services LLC Associates Program, an affiliate advertising program designed to provide a means for us to earn fees by linking to Amazon.com and affiliated sites. For more information, please see our
Full Disclosure & Privacy Policy
.