These Banana Protein Pancakes are perfectly fluffy, delicious, and full of protein! Made with my favorite store-bought pancake mix, these pancakes use Kodiak Cakes mix base with some easy add-ins for perfect banana pancakes!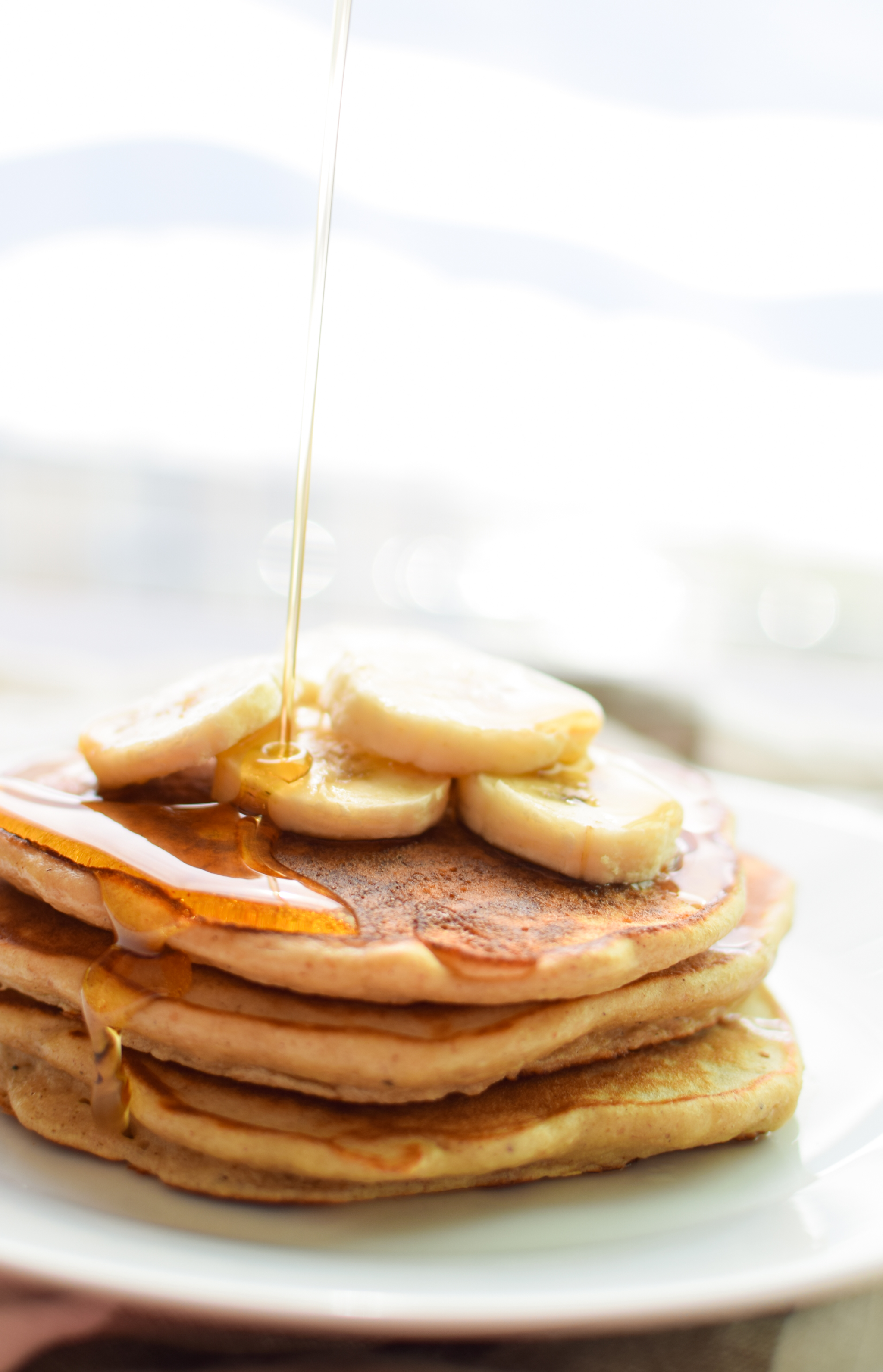 Watch how to make the Banana Protein Pancakes (1 min 20 seconds):
Confession: I don't make these completely from scratch. Once upon a time, the Costco gods presented us with Kodiak Cakes Power Cakes Waffle/Flapjack Mix. At the time, I didn't understand the pancake potential that just entered my cart, but there's a reason they've got five whole stars on Amazon.
They're whole-grain, protein-packed, and super versatile. It's the kind of thing you accidentally buy more of because, 1) you're not sure exactly how much you have left at home, 2) it's okay because it won't expire anytime soon, and 3) pancakes. I don't think you can have too much of this mix.
In the past, I've made several varieties of pancakes (blueberry & chocolate chip, obviously!) with this mix, all with decent success. I normally don't make them on weekday mornings since there's a little bit of extra time and effort involved, but they store in the fridge or freezer pretty well.
Guess what? I think that makes them perfect for Meal Prep Sunday.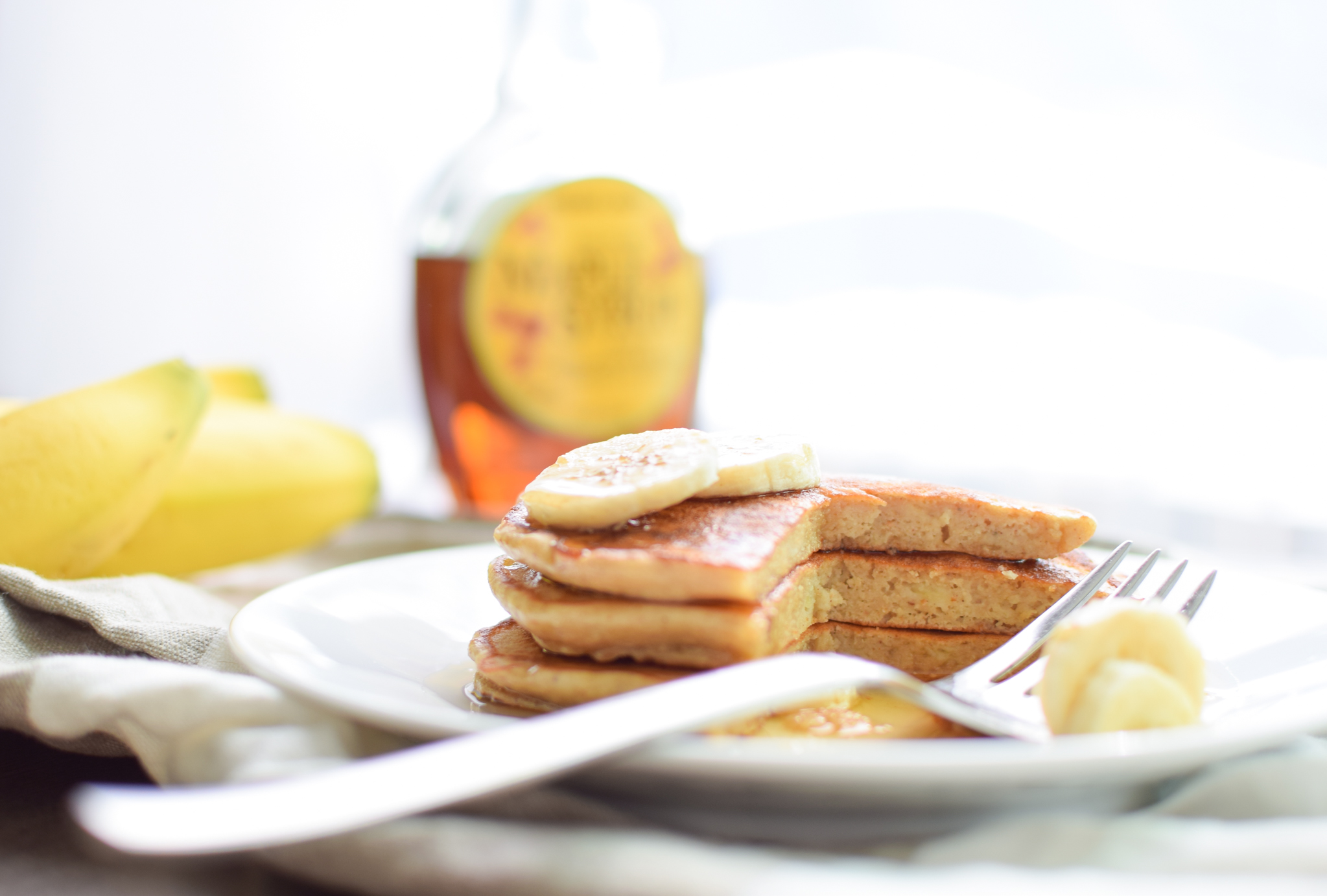 How many banana protein pancakes does this recipe make?
This batch makes about 12-14 5-inch round pancakes. It's really not that bad to spend less than an hour making your breakfast for the whole week… I certainly didn't mind.
According to math, that's seven days of hassle free breakfasts for the next week, if you can manage to not eat any right when you make them.
For a little extra yummy, throw some blueberries on the pancakes right after they go in the pan. Don't mix them in with the batter or they'll get squished accidentally. I guess that's totally fine but your pancakes might turn blue. Plus you'll miss a little warm blueberry explosion in every bite.
Get some variety in your banana protein pancakes:
For some variety in your week's breakfasts, toss blueberries on half of your banana pancakes, chocolate chips on the other. Have a little fun (or as much as you can with pancakes).
We had these for dinner tonight with stone ground grits and sausage patties, and the pancakes were phenomenal! The texture was perfect, and the flavor was incredible.

– Pamela, from comments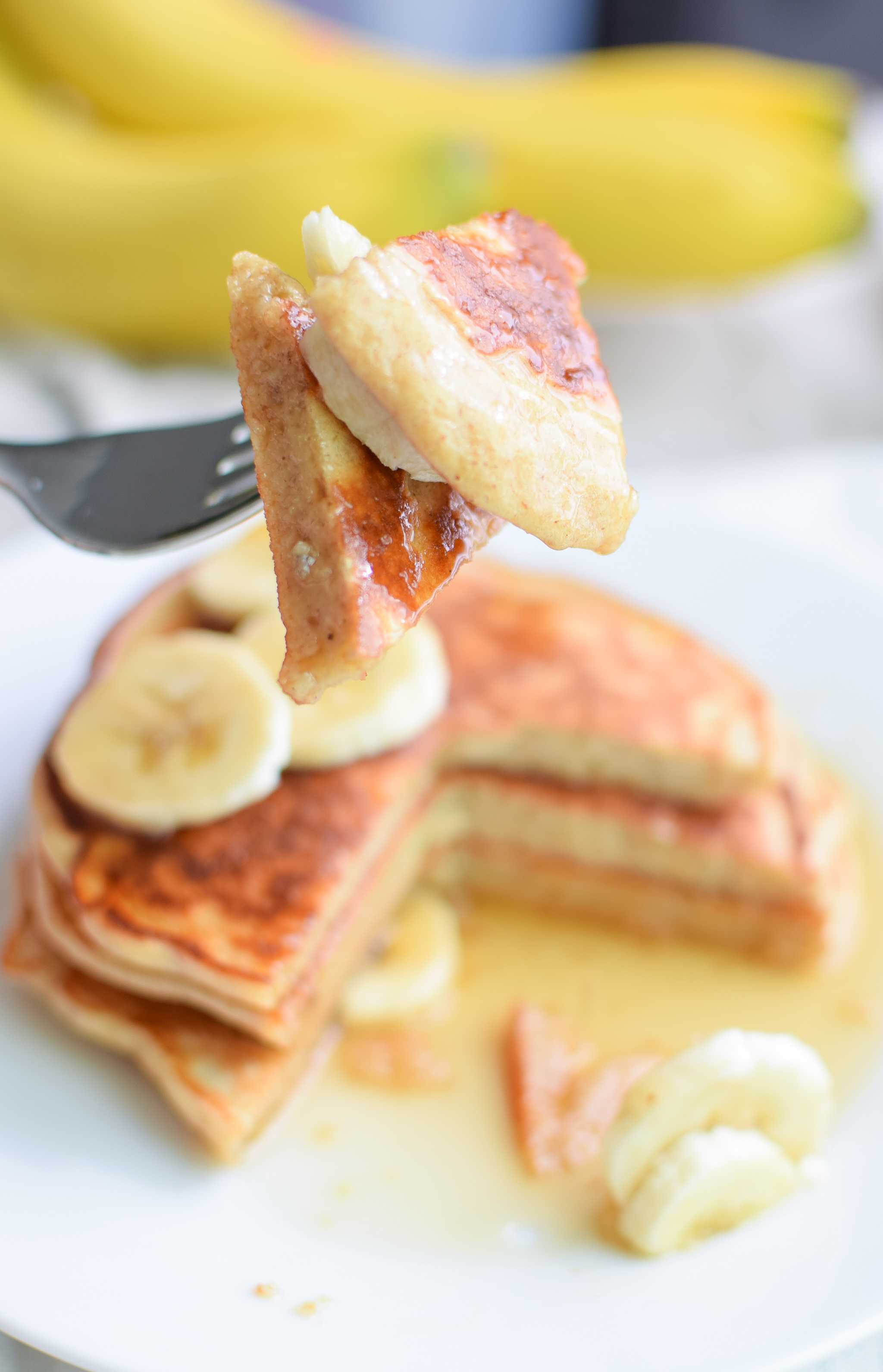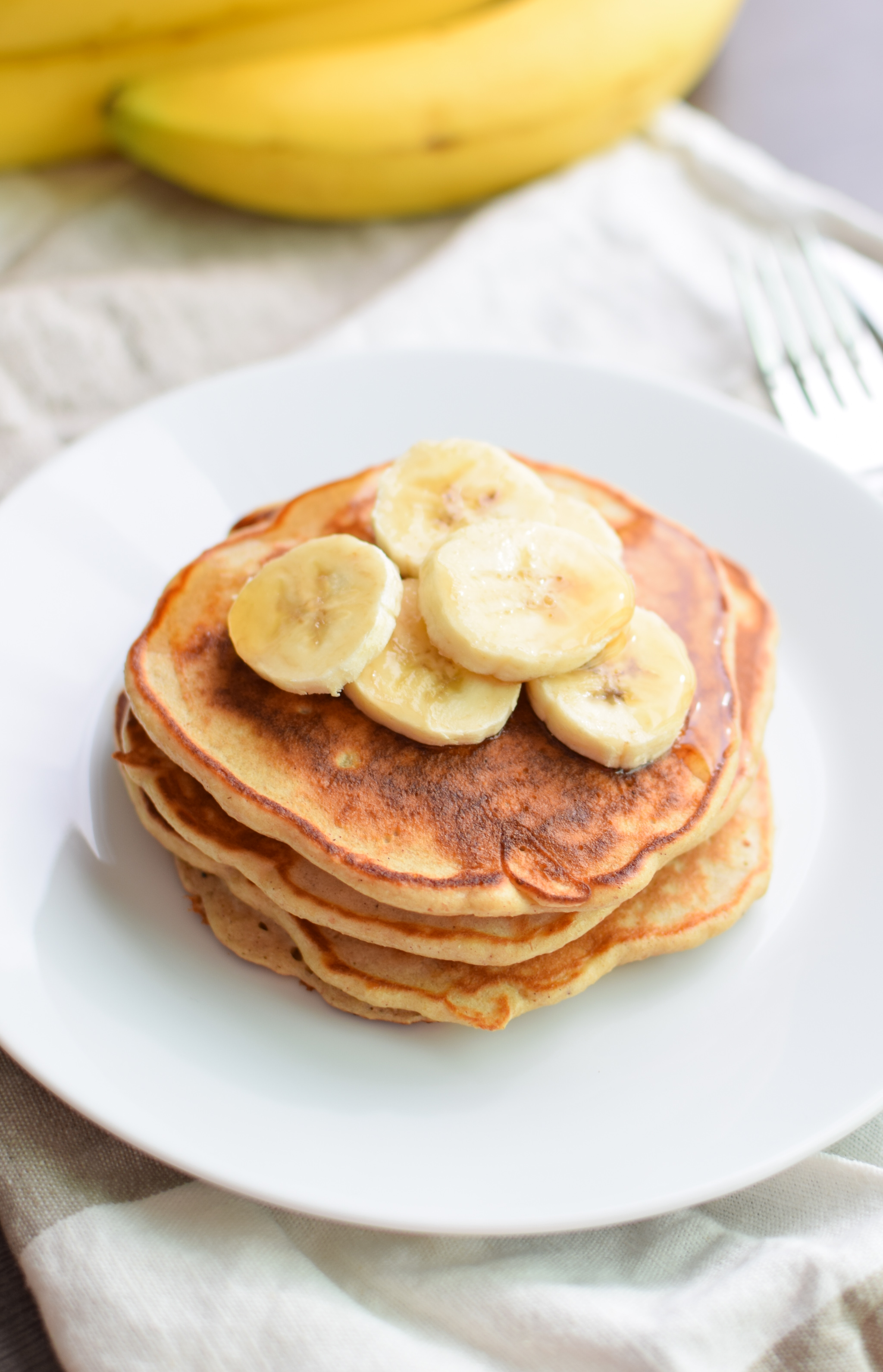 How long can you store the banana protein pancakes?
Store in the freezer or fridge (freezer for storing any longer than 3 days), and reheat in the microwave. I'm sure a toaster over would work too. They also travel really well, and I may or may not eat them cold sometimes!
I make these often and my family loves them! I love that it makes such a big batch, so I can freeze and have a great breakfast for those days that I just run out of time!

– Angela, from comments
Recipe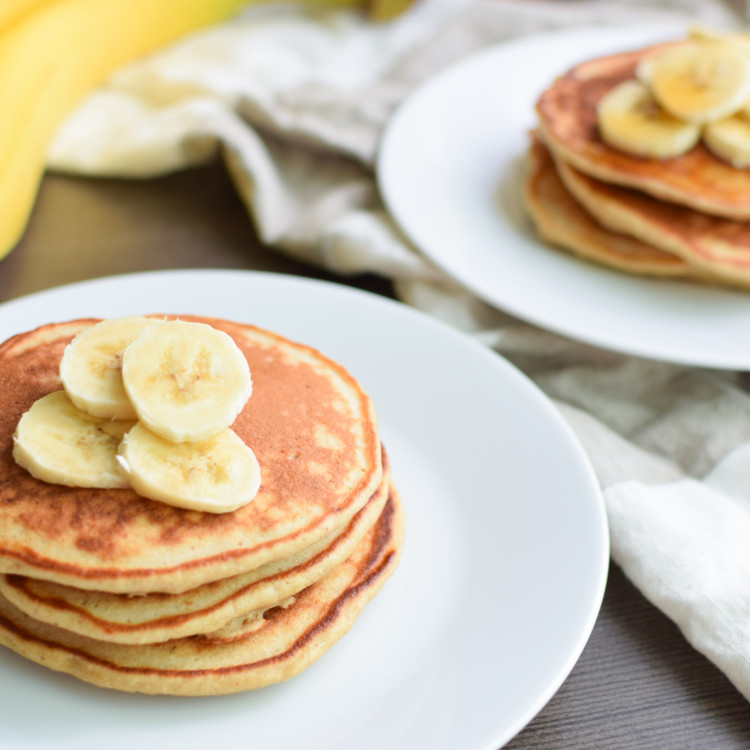 Banana Protein Pancakes
Prep:
5 minutes
Cook:
30 minutes
Total:
35 minutes
Banana Protein Pancakes Recipe – Delicious, healthy way to eat cake for breakfast! With a little extra protein!
Ingredients
2

ripe bananas

3

eggs, beaten

3 cups

Kodiak Cakes Pancake and Waffle Mix (any protein pancake mix will work)

1

scoop vanilla protein powder

1 teaspoon

cinnamon (or more if you are into cinnamon)

1/2 teaspoon

nutmeg
pinch of salt

1 1/4 cup

water
non-stick cooking spray
Mash bananas: In a large mixing bowl, mash bananas with a fork until completely mashed and soup-y.

Mix up batter: Add eggs and stir until mixed. Add half of the Kodiak Cakes mix, and stir until incorporated. Add the remaining dry ingredients and mix for a few seconds until loosely incorporated. Add 1 cup of the water and stir until mixed. Depending on how thick you like your pancakes, add small amounts of remaining water until pancake batter is your preferred thickness. I added an additional 1/4 cup water after the initial cup of water. Stir until batter is well mixed.

Cook pancakes: Heat a large skillet (or griddle) over slightly lower than medium heat. Coat with non-stick cooking spray and wait 2-3 minutes for the pan to heat up. Spoon approximately 1/3 cup of batter on to skillet (I use a 2/3 measuring cup and fill it about half full). I cooked two at a time in the pan.

Flip & repeat: Let the pancakes cook for approximately 3-4 minutes. Flip pancakes when bubbles form on the surface and do not fill with batter. Cook for another 2-3 minutes, checking the bottom for golden brown color. Repeat until your batter is gone, spraying the pan between each set of pancakes.

Serve & store: Serve pancakes topped with with sliced bananas, peanut butter, maple syrup, berries, whipped cream, any toppings you'd like! Store leftover pancakes in an airtight container in the fridge for up to 4 days or in the freezer for up to 3 months.

Notes
Make Ahead: If you're meal prepping, store in a freezer Ziploc bag. When you're ready to eat them, either pull them out of the freezer the night before to eat them cold on the go, or re-heat in the toaster or microwave when you're ready to eat! Nutrition information estimated with My Fitness Pal. Recipe video added 10/1/19.
Nutrition Information
Serving Size:

2 pancakes

Calories:

245

Fat:

4.2g

Carbohydrates:

34.9g

Protein:

18.5g
Recipe Card powered by