So you're new to meal prep, and it sounds great! But in the back of your mind, you're wondering… does 'meal prep' mean I have to eat the same thing every day? How do people even do that? Well, listen! I have some good news for you. Usually, when people eat the same breakfast or lunch every day, they do it because it's easier. But it's NOT a requirement. Here are some tips on How to Meal Prep and Eat Different Meals Every Day.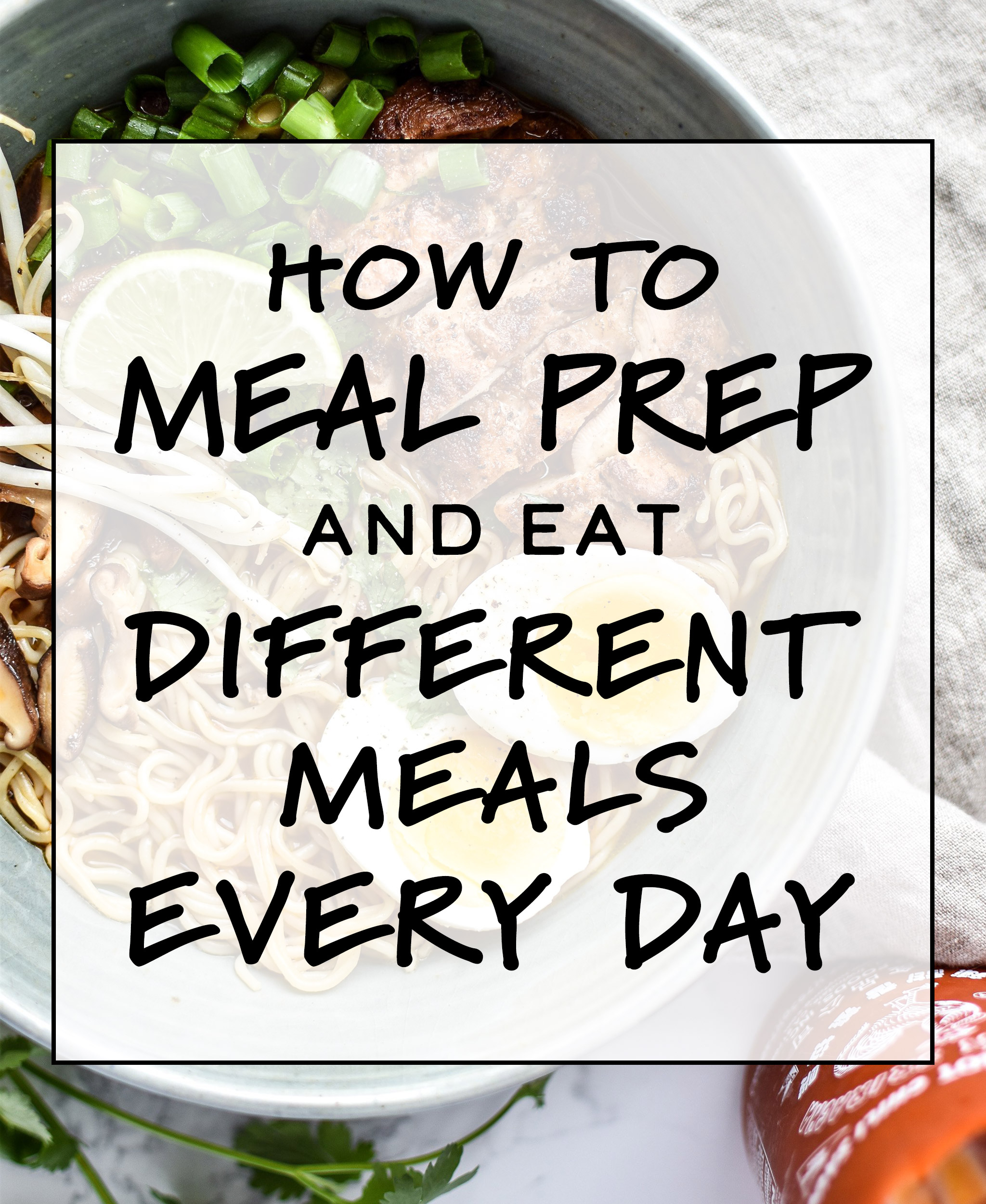 To all of the people who say they don't want to meal prep because they "don't want to eat the same thing every day", this one's for you. Guess what? It's still possible to gain all of the benefits of meal prepping, even if you're a little picky and despise repetitive leftovers.
I believe that those of us with the least picky palates have it the easiest: When there's nothing you don't like, you'll eat anything! Cool. But what about the rest of us who have certain food things we just can't stand? You have no explanation besides the fact that you just don't like it. That's fine! I get it. I have a few of those too.
But here's the problem: When you have pickier taste buds, you have to work a little harder to find things you enjoy eating. Like I said, this is totally okay. But if you really want to make meal prep work for you, then again, you're going to have to work a little harder than those people who can just eat chicken, broccoli and rice day after day after day (how?).
I want to be clear about my definition of meal prep: Meal prep is any preparation of your food that you do ahead of time (from How to Meal Prep for Beginners). It can be full on complete MEAL preparation, or it can be ingredient preparation. It can be fully cooking all of your ingredients, or just washing and cutting them for now. If it's related to homemade food and saves you any time when you want to actually eat the meal, it's meal prep.
There's not a single magical key to meal prep for everyone, but I'm hoping that with a combination of some or all of these tricks, you'll be spending less time in line to buy lunch and more time enjoying all the different meals you're meal prepping for yourself! Here are my tips for How to Meal Prep and Eat Different Meals Every Day.
1. Embrace planned leftovers.
This is my #1 tip for the "I don't want to eat the same thing every day" campers. It can be hard to hear, because it involves a little bit of work. But if you're committed to not buying your lunch every day, all it takes is weeknight cooking, and a little planning ahead.
Unless you actually DO want to cook every single meal individually (a ton of work), then embracing planning leftovers will help your quest to become better at meal prepping, while eating a different lunch every day.
Here's what you have to do:
Make a meal plan with the goal of saving an extra dinner portion and eating those leftovers for lunch the next day. I like to call these "planned leftovers". You can also make main dish dinner ideas that can be prepared differently when reheated (think protein… see #3).
If you do this every day, you will never eat the same lunch twice in one week ever again. It's not the easiest way to meal prep (since you're still cooking most evenings), but you can't say you're eating the same lunch every day. You're not buying lunch, and you're saving yourself the trouble of going somewhere to buy lunch at lunch time. This counts as meal prep!
Something to remember: If a recipe has "Meal Prep" in the title, that just means one or all of the following about the recipe:
there are specific instructions for portioning in the recipe to eat later
the recipe reheats well and tastes good as leftovers
there are instructions for prepping parts of the recipe ahead of time
there are instructions for freezing and reheating later
It does not necessarily mean that you must do any of these things! If the recipe says meal prep, you can still cook it and eat it at the same time. The best part about these recipes is they're perfect to eat some now and save some for later! Remember to write down (or try to remember) what foods you like to eat as leftovers. These ideas can be the base of your future meal prep meals.
Here are some of my favorite recipes that are easy to cut in half, and perfect to eat for dinner now, and have another one or two portions left for lunch tomorrow (there are two of us in the house so two extra portions is perfect for us):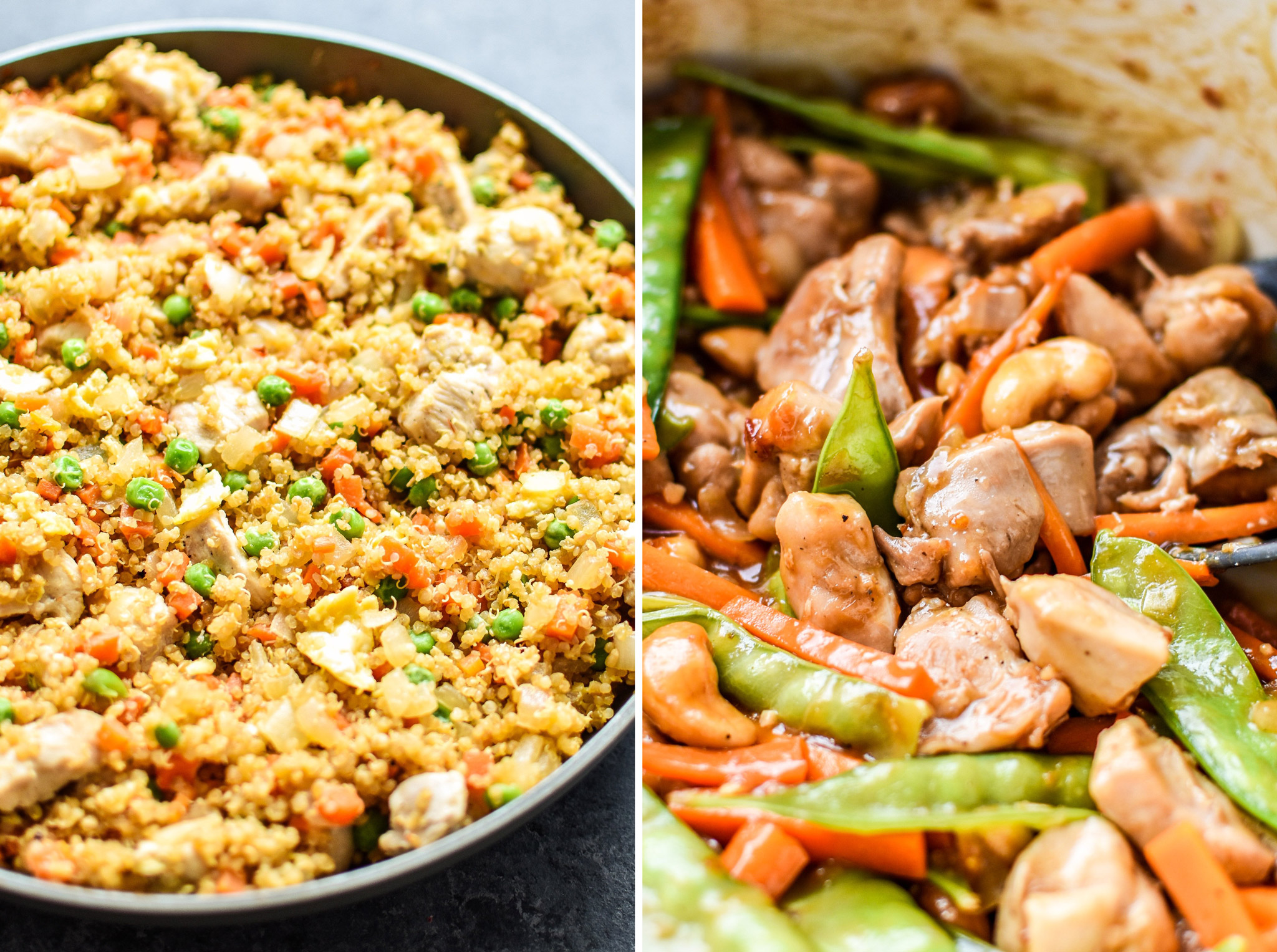 2. Store prepped food by type, then assemble later.
Prep your various ingredients for the week, roast your veggies just how you like them, cook up your favorite grain or two, and maybe a couple different proteins. But instead of assembling bowls ahead of time, skip that part. Wait, is this meal prep?! Yes, yes it is.
Mix and match what you want from what you have cooked on the day you're planning to eat the meal. That way, you're more likely to be in the mood for what you packed, because you just packed it that morning. But you saved yourself a ton of time by having the options precooked. Cool huh?
If Thursday hits and you have random stuff leftover, think of a dinner plan to use up those leftovers and then have a second mini prep session for your Friday meal.
https://www.instagram.com/p/Bni97G3gg64/?taken-by=spoonfuldelight
3. Cook up one protein and use it in different ways.
Cook one big batch of protein, then hit up your pantry. Mix and match with different sides to keep variety in your meals. Season the protein in a way that you know you like, or in a very basic manner so that other flavors can shine. You can also portion the meat in half and season each half in a completely different way.
The most common application of this method is for chicken, but this can work for pork, beef, and vegetarian proteins too. You can do this just for your dinners or you can portion meal prep lunch sizes as well.
Here are a few examples of cooking several portions of protein then splitting it up and using it for different meals throughout the week:
Whole Roast Chicken = Roast Chicken with roasted veggies & Mashed Potatoes + Chicken Enchiladas + Wild Rice Soup (from the broth) + Simple Homemade Chicken Ramen (from the broth)
Pulled Pork = Pulled Pork Stuffed Zucchini Boats + BBQ Pulled Pork Sandwiches + Pulled Pork Quesadillas
Ground Turkey = Ground Turkey Black Bean Tacos + Ground Turkey Snap Pea Rice Bowls
Shredded Chicken Breasts = Asian Chicken Salads + Shredded Chicken Nachos + Chicken Alfredo Casserole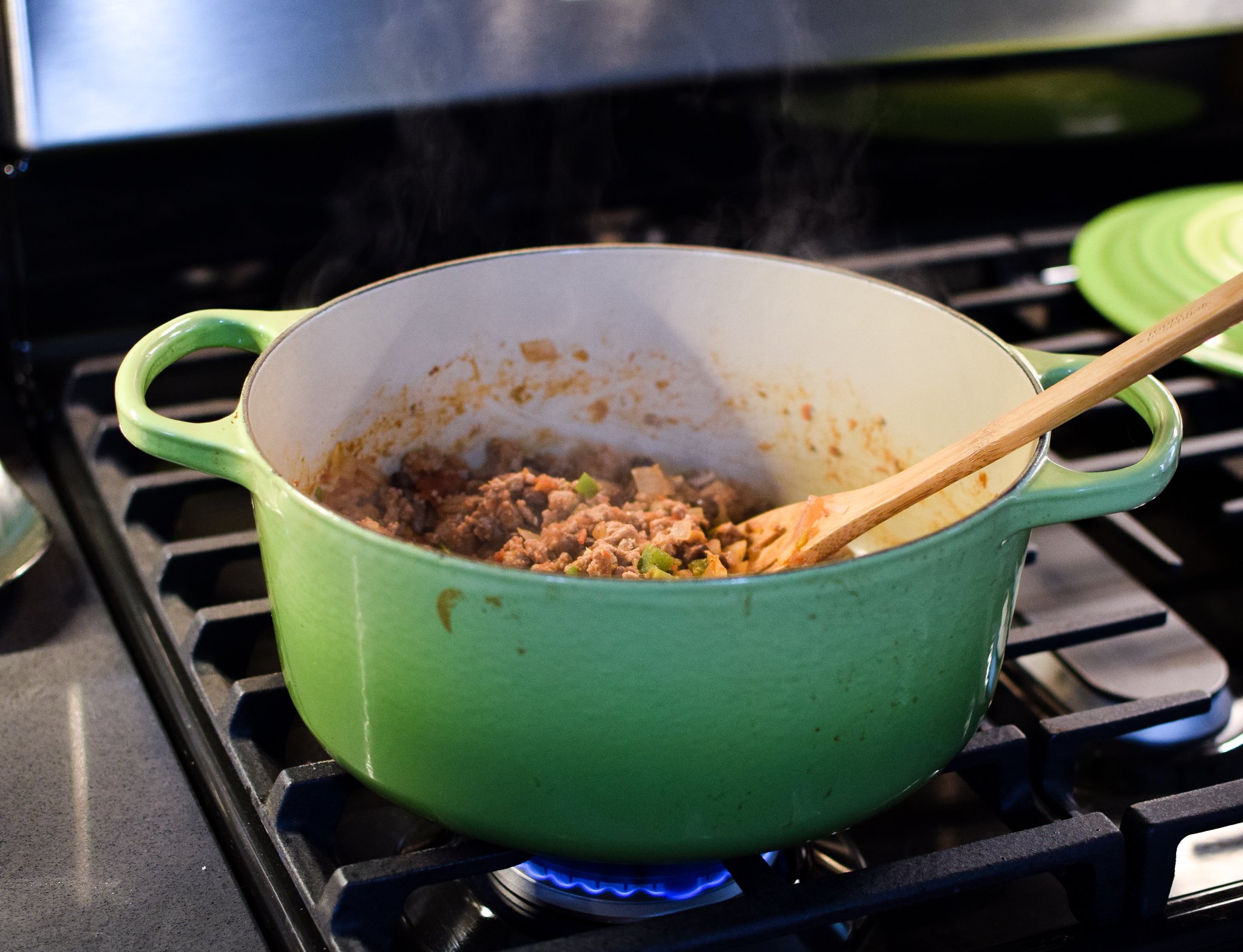 4. Cook one side, turn it into multiple side dishes.
Same concept as above, only this time, with your grains and legumes. Things like white or brown rice, quinoa, farro, lentils, can all be cooked in one big batch and then flavored according to how you're going to eat it. I use my Aroma 8-cup rice cooker (affiliate link!) to cook both rice AND quinoa (yes, in the rice cooker!). It's an easy, hands-off item to meal prep really – pour in the grain and liquid, shut the lid, hit a button and it does it's thing.
But that's why this is so important! Free your hands and eyes from things like rice and quinoa so you can get creative and keep focus while cooking your main dishes.
These simple side dishes are so easy to mix and match with your meal – flavor the rice or quinoa, or just leave it plain to be flavored by whatever you're eating. I would recommend prepping two different side grains or legumes per week so you can mix/match. They should go with whatever you match them with but bring a different texture and base to the whole dish. Be sure to plan ahead based on how many quantities you need.
Use quinoa for:
Use rice for:
Use farro for: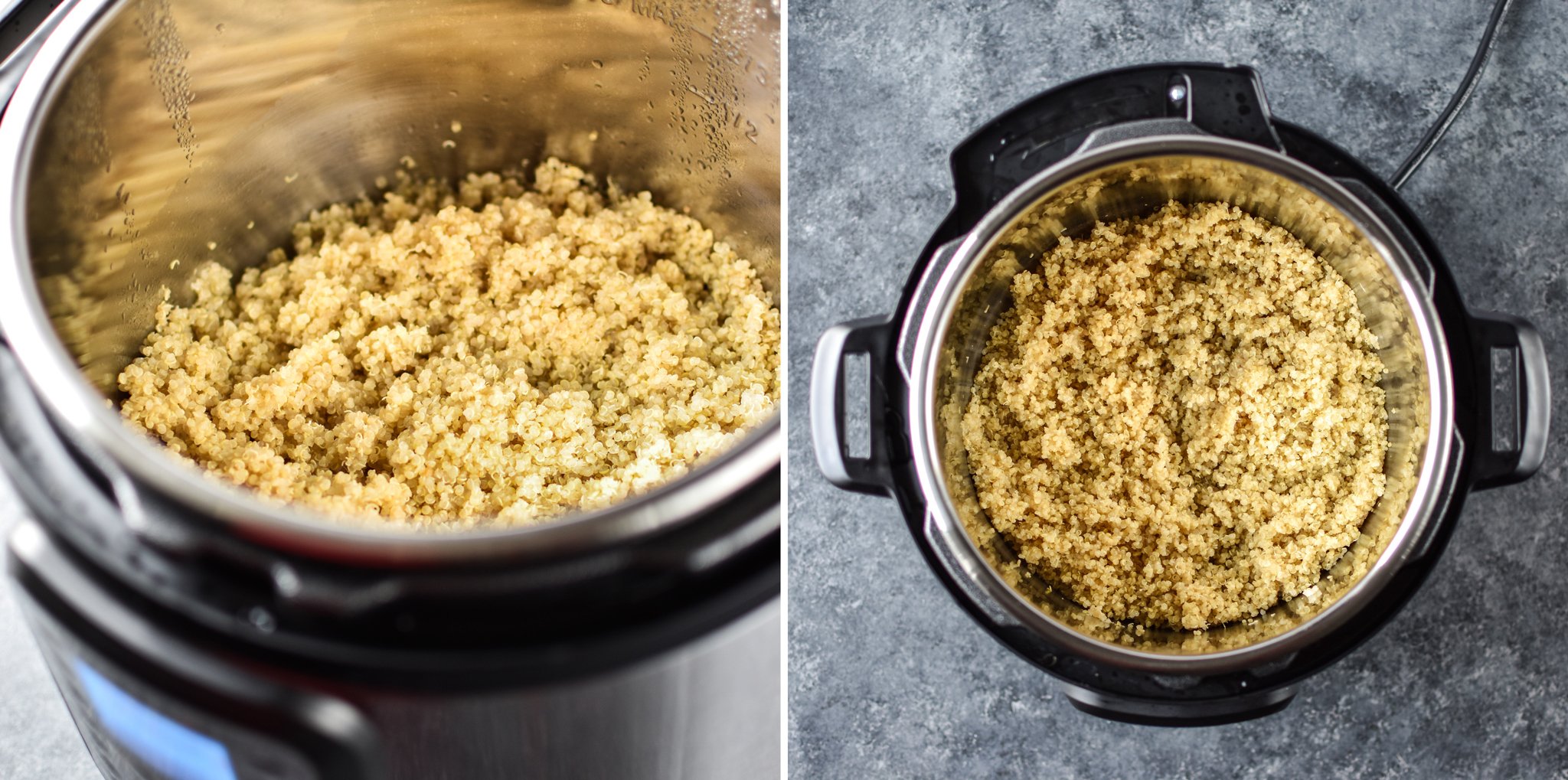 5. Try some vegetarian options.
Ever meal prepped chickpea bowls? I'm gonna go full honest here and say that I have not. But hey, I'm not the one complaining about eating the same food every day.
Try this: every other day (or even just once a week!), fill the meat void in your meal prep with extra quantities of your favorite vegetables. Flavor it the same as your favorite meat dishes. See what happens.
This option isn't for everyone, but it's still perfectly valid. If you're sick of eating chicken meal prep everyday, then just try it without chicken. Substitute another protein heavy grain instead (lentils!). Instead of feeling like something is missing from your meal, embrace options you've never tried. Trying something new is a great way to add variety to your prepped meals.
Here are a few delicious looking vegetarian friendly meal prep options I bet you've never tried: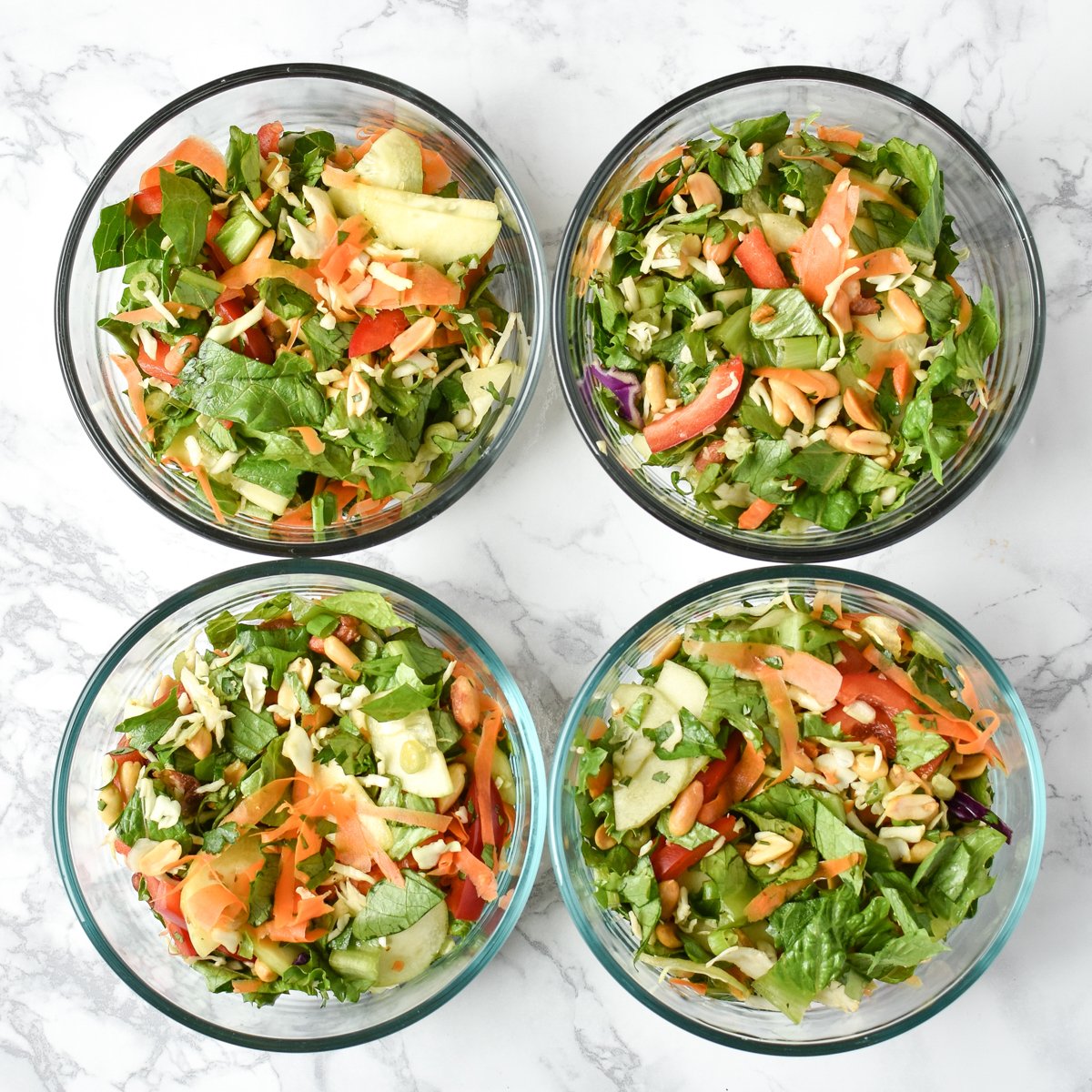 6. Cook different meals at the same time.
Go ahead, shove it all on one pan. The most popular method for this tip is using the sheet pan to cook up lots of food at the same time. Then, portion the food out according to your plan and flavor each (or half) differently. You can easily create two completely different meals at the same time just by cooking them on the same pan.
When deciding what foods should be cooked together on the same sheet pan, consult a roasting chart and be sure to look at the roasting temperature (here's my favorite for roasting vegetables). You can't change the temperature for different foods in the same oven, but you can change the size/shape and roasting time. Don't feel discouraged if things have vastly different cook times – just put one thing in first, or change the sizes of your chopped veggies.
If you're lucky, you'll stumble upon amazing recipes that have already thought about prepping two different meals at the same time. Here are a couple:
7. Keep "sauces" and sauce ingredients on hand.
Because sauce = easy meal prep variety.
Here's what I mean when I say "sauces" with quotation marks and also sauce ingredients:
you should have at least three different ready made "cooking sauces" available (examples: BBQ sauce, Frank's Red Hot Sauce, salsa – not homemade sauces but just plain ready-to-use sauces you like) AND
ingredients to make at least two more sauces from scratch (examples: Szechuan sauce, enchilada sauce, peanut sauce, honey mustard sauce, honey garlic sauce).
These sauces can be the base of your meals, and along with a couple other ingredient additions, can completely change the same rice and chicken into a chicken burrito bowl, or peanut chicken lettuce wraps or buffalo chicken bowls. Make the same food but flavor it differently and add just one or two other ingredients. You'll be amazed.
SAUCES MATTER. Making your own sauces at home not only saves money, but allows you to make the sauce exactly to your liking. If spice is the variety of life, then sauce is the variety of meal prep.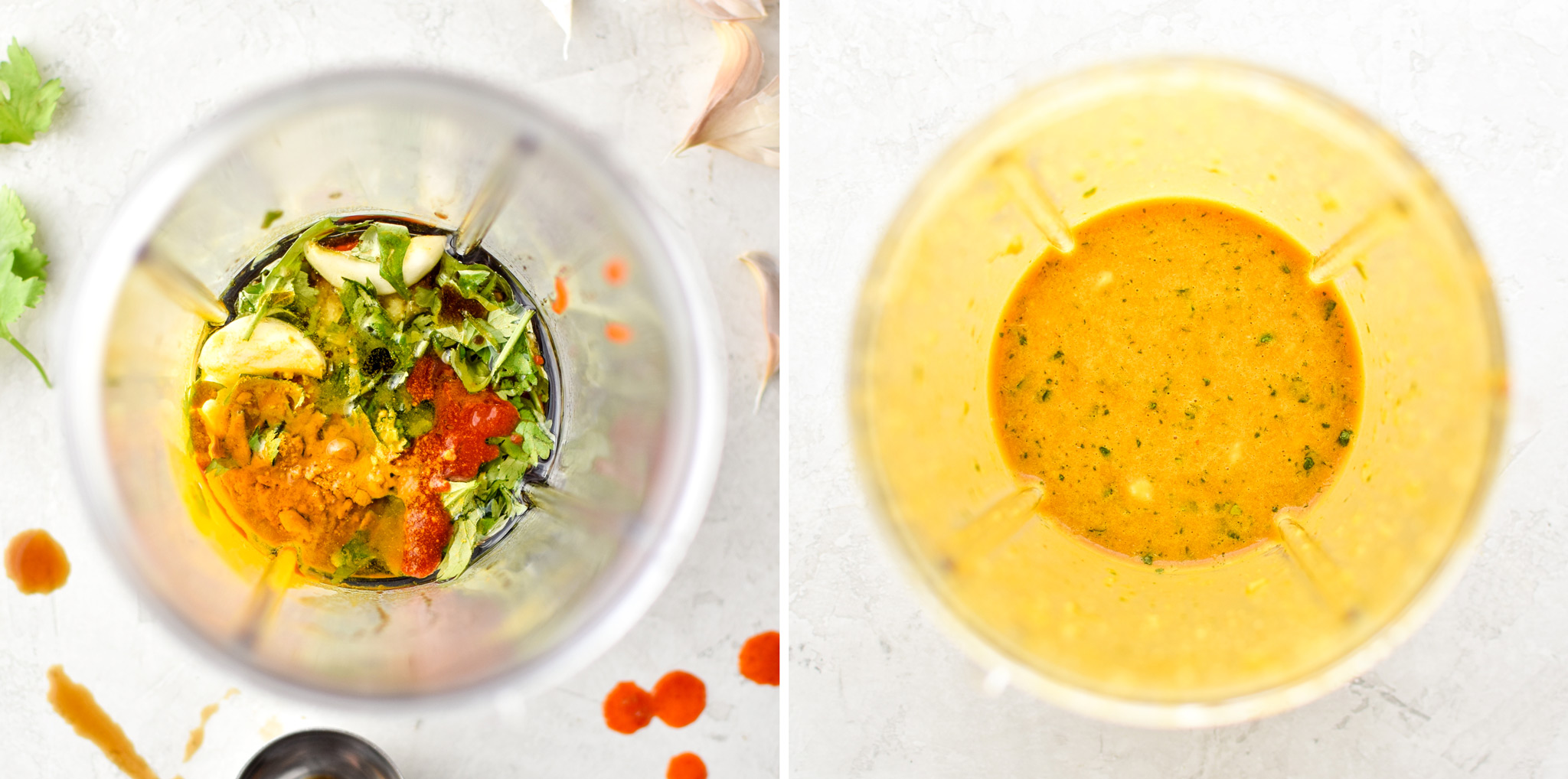 8. Freeze individually portioned meals for quick variety later.
Break up the monotony in your lunch or dinner menu with something you prepared a while ago, but kept safely snuggled in the freezer. Freezer meals are an easy way to add a single meal to your week without having to eat every portion that recipe created. Since the remaining portions are frozen, there's no need to worry about the rest of the recipe going bad. Here's a guide on How to Freeze and Reheat Prepared Meals from My Recipes.
You try this idea in either of two ways:
Cook up a full recipe with the intention of freezing every portion for later. Be sure to use freezer safe containers and label your meals with the name and date they were made.
Cook dinner, eat as much as you want, then freeze the remaining portions of dinner leftovers into individual meals. Again, be sure to use freezer safe containers and label with the name and date the recipe was made. This idea is good for those of us with less freezer space, but who still want to have a few backup meals.
Here are a few recipes that make great backup freezer meals:
That's it for my tips on How to Meal Prep and Eat Different Meals Every Day! Hope you're able to employ at least one of these tips to keep some variety in your meal prep routine. Craving more meal planning and meal prep info? Here are some more articles you might enjoy:
Leave a comment below if you have any questions!