These Meal Prep Turkey Taco Black Bean Salads are a simple classic! Goals for this meal prep: One-Pan. Easy. Customizable. Perfect for throwing on a little bed of greens with some homemade taco dressing as lunch for the week.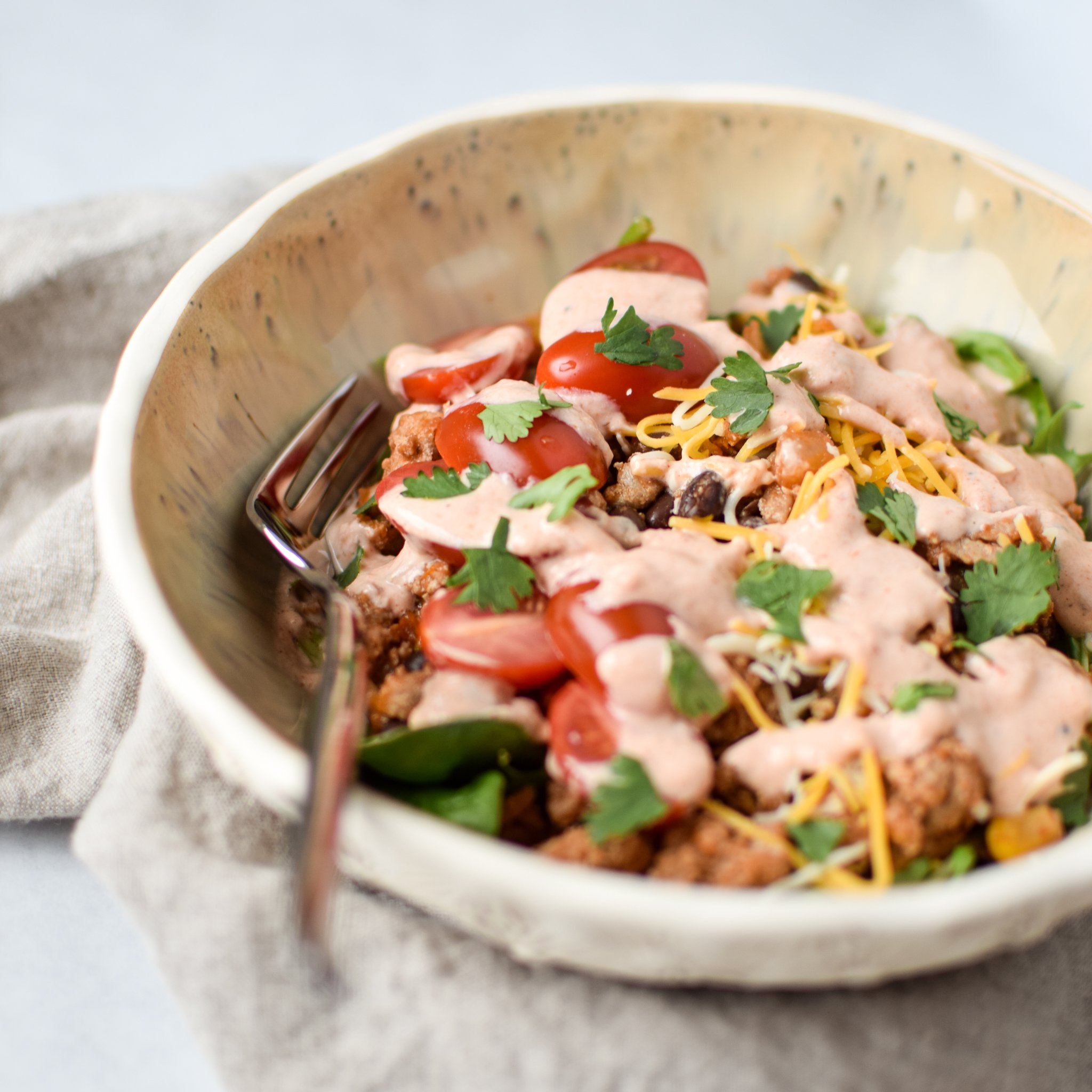 Let me quickly share that something weird always happens during a move – this time it was two of my glass 4-cup Pyrex bowls getting completely stuck together.
I'm not totally sure how it happened, but I can say we tried several ways to get them apart. Different temps of water, WD-40, the freezer, my Sonicare. Eventually, some good old fashioned banging on the counter got them apart.
The point of my Pyrex story is this – I only had two of my favorite 4-cup Pyrex available when I cooked this meal. So I wasn't able to take my favorite meal prep style photos.
The good news is I can always make this again and add more pictures (uhmm it's 2022 and I still haven't done this! SOON).
Recipe Overview
Total Time: 25 minutes
Difficulty: Easy
Method: Stovetop
Prep: Make-Ahead Friendly
Watch how to make Meal Prep Turkey Taco Black Bean Salads (2 min 22 secs):
What are the ingredients in these Meal Prep Turkey Taco Black Bean Salads?
The ingredients in this recipe are pretty flexible – feel free to use veggies and toppings you have on hands, instead of feeling like you need the exact same things as I used.
ground turkey – For this recipe, lean ground turkey will work. Of course, if you don't like ground turkey, you can easily swap for ground beef.
avocado oil – I generally always use avocado oil for cooking because of the high smoke point and neutral flavor. Olive oil would also work here.
yellow onion & jalapeño – These two veggies are my favorite to cook into the meat for tacos. Make it your own by adding different peppers or onions to the mix.
ground cumin, paprika, garlic powder – If you have a specific taco spice seasoning you prefer, go for it! This is just my preference on seasonings. Sometimes I also use smoked paprika.
fine sea salt & fresh ground black pepper – Using fresh ground black pepper is important, as it has the best flavor in my opinion.
black beans – One can of rinsed and drained black beans is used in this recipe. If you don't like beans, you can skip if you want!
chunky salsa – Using your favorite salsa is the best way to make this meal prep your own! I prefer to use a chunky salad to add additional tomatoes and veggies to the meat mixture and dresing.
lime – A squeeze of lime juice really brights up the meal!
cherry tomatoes, romaine/Spring mix lettuce – To make my salad, I went for romaine and Spring mix. Use your favorite lettuce or greens. I also like to use cherry tomatoes in my salads for easy cutting and eating.
cilantro – I'm a big cilantro fan and use it for garnish and flavor in all of my Mexican-inspired dishes.
shredded cheese – Sprinkle on your favorite cheese!
greek yogurt, milk, chili powder & salsa – To make the special salsa dressing, I used these ingredients. You can also swap the milk with water. I usually use almond milk for things like this, as it has a more neutral flavor of most non-dairy milks.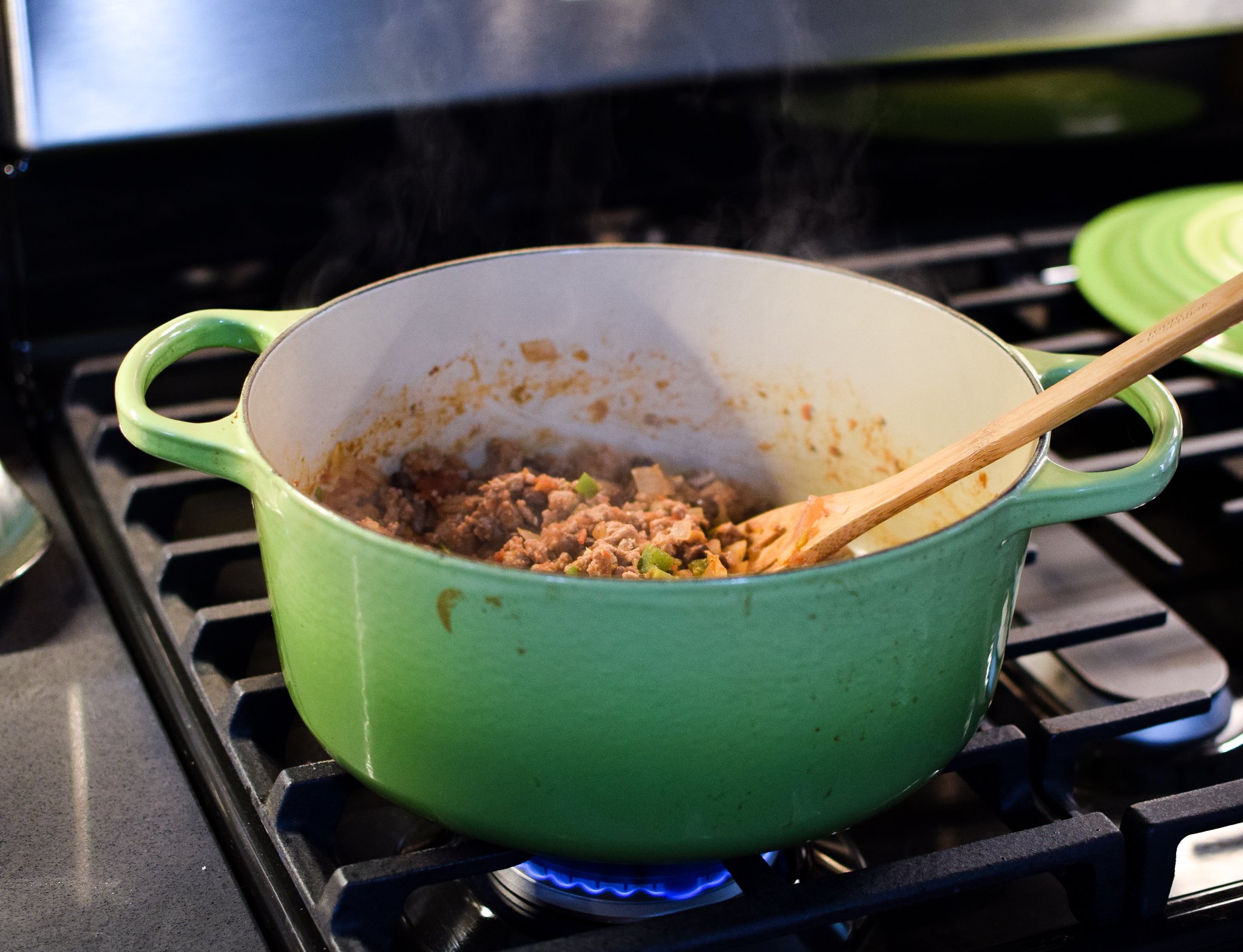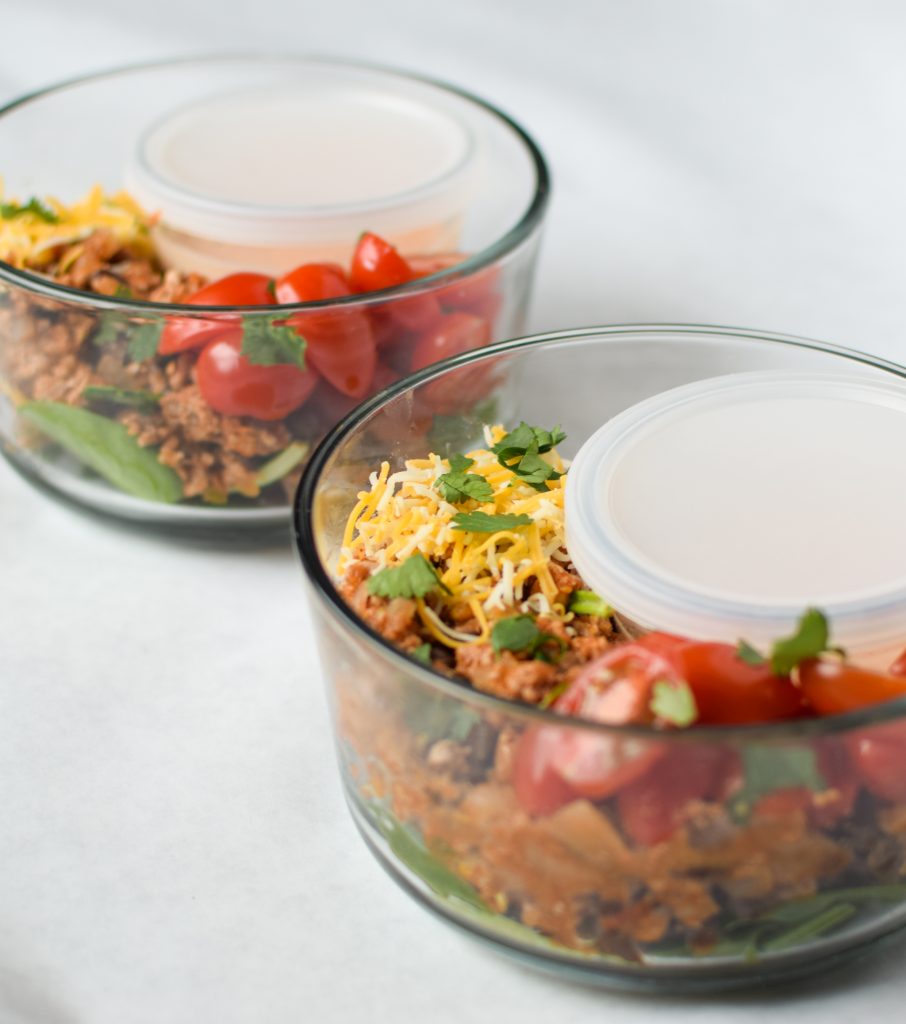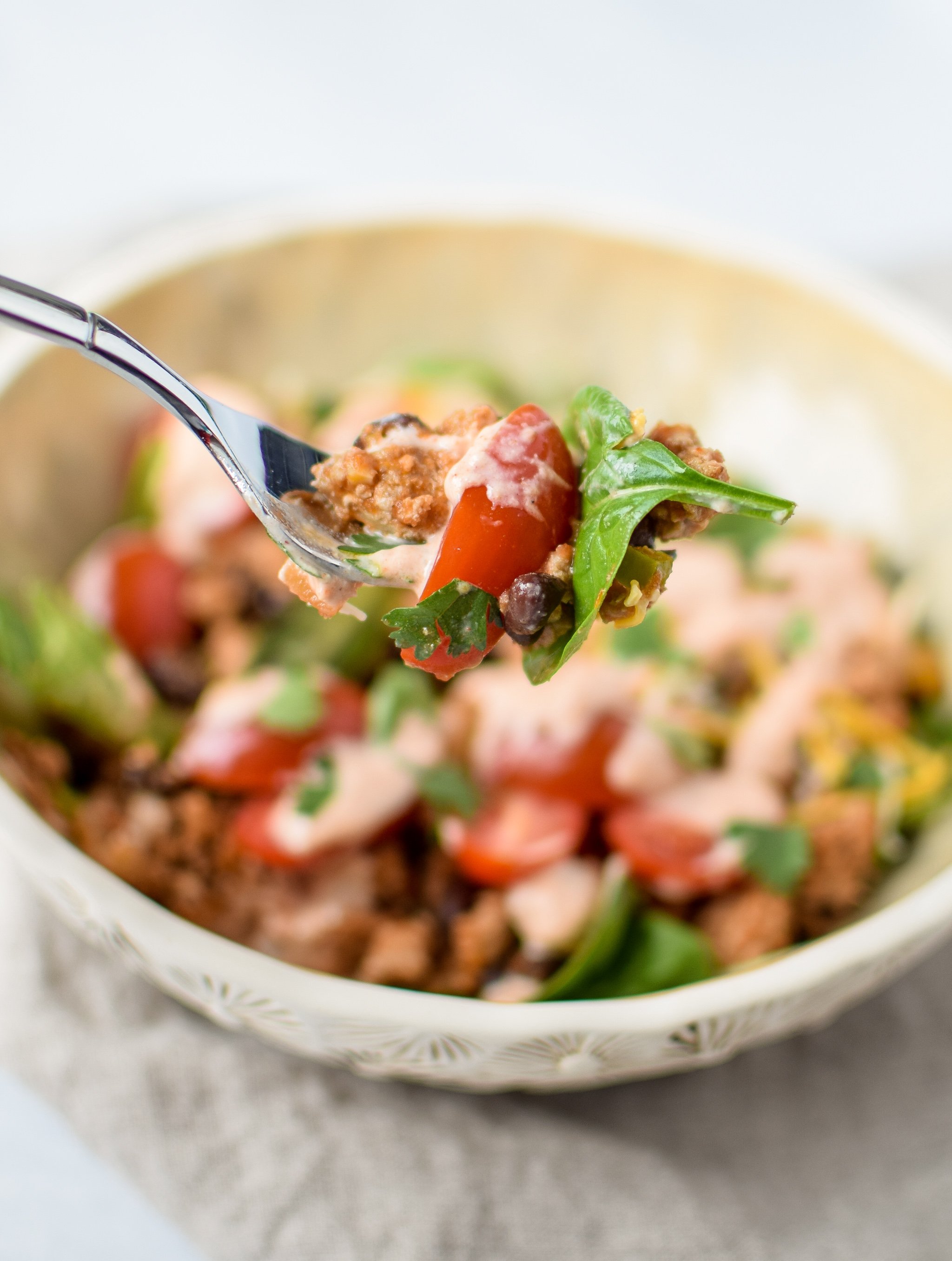 How to store prepared Meal Prep Turkey Taco Black Bean Salads:
Store prepared salads in airtight containers (with dressing stored separately) in the fridge for up to 4 days. If you're concerned about lettuce quality, feel free to use the mason jar salad method, or enjoy salads within 2-3 days.
How to freeze prepared turkey taco mixture:
The recipe as written is not intended to be frozen, but you can freeze the turkey taco mixture by itself to be enjoyed at a later date.
Store in an airtight freezer safe container for 3-6 months for best quality!
How to reheat prepared Turkey Taco Black Bean Salads:
I've found there's no need to reheat the proteins in this salad – it tastes great directly from the fridge!
Recipe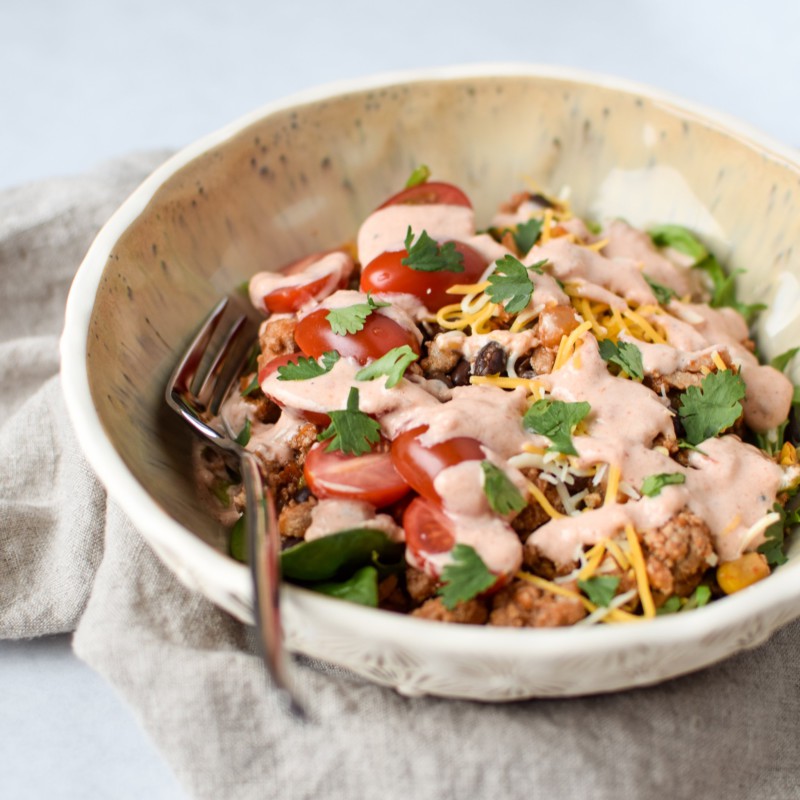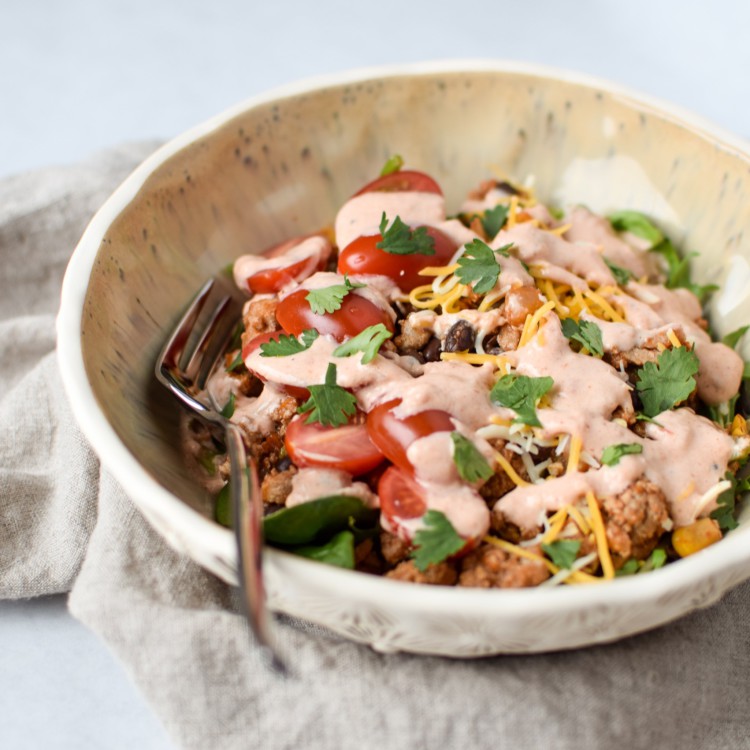 Meal Prep Turkey Taco Black Bean Salads
Prep:
5 minutes
Cook:
20 minutes
Total:
25 minutes
An easy recipe with ground turkey, black beans and veggies cooked in one pot! Easy meal prep right here!
Ingredients
Turkey Mixture
1

pound lean ground turkey, fresh or thawed

1 tablespoon

avocado oil (or any oil)

1/2

yellow onion, diced

1

jalapeño, diced, seeds removed (I sometimes sub

1/2

green pepper if I don't have any jalapeño)

1/2 teaspoon

ground cumin

1/4 teaspoon

paprika

1/2 teaspoon

garlic powder

1/2 teaspoon

fine sea salt

1/4 teaspoon

ground black pepper

1

15-ounce can black beans, rinsed and drained

1 1/2 cups

chunky salsa, your favorite brand, separated
juice of

1

lime
Dressing & Toppings
5 ounces

cherry tomatoes, cut in half (about

1 cup

)

4 cups

romaine lettuce, chopped (I used a spring mix)
cilantro

1/2 cup

shredded cheese (cheddar or mixed blend)

1/2 cup

nonfat greek yogurt

2 tablespoons

milk (any kind will work, or water)

1/8 teaspoon

chili powder (add more or less for spicy dressing)
Instructions
The turkey mixture:
Heat oil over medium heat in a deep skillet or Dutch oven. When hot, add ground turkey. Use a spoon or spatula to break the meat into smaller pieces. Cook for 6-7 minutes, stirring occasionally. If you have a lot of extra liquid, you can remove the excess from the pan.
Add onions and jalapeño to the skillet. Cook for another 4-5 minutes, until the onions begin to turn translucent.
Add cumin, paprika, garlic powder, salt, pepper, black beans, 1 cup salsa and lime juice to the pan. Reserve the remaining salsa for the dressing. Stir until mixed. Let simmer for 3-4 more minutes. Set aside to cool.
The dressing: 
Mix greek yogurt, 1/2 cup salsa, milk and chili powder in a small bowl until well mixed. Distribute evenly in four small prep cups, or place it directly on your salads when they're done. I use small glass prep cups that fit inside the Pyrex bowls.
Put it together: 
Distribute lettuce/greens evenly between meal prep bowls.
Next, add your little cups of dressing (if you've got them!). They'll sit on top of the lettuce in the bowl.
Distribute the turkey black bean mixture to each bowl. Top with cherry tomatoes, shredded cheese, and cilantro.
Equipment
Notes
Prep: You can prep the turkey black bean mixture ahead of time and make salads on the go – OR use it for tacos!
Taco Yogurt Dressing adapted from Chicken Taco Mason Jar Salads from The Seasoned Mom. Nutrition information estimated with My Fitness Pal. Update: Video added on 5/11/17.
Nutrition Information
Serving Size:

1 salad bowl

Calories:

388

Fat:

18.9g

Carbohydrates:

14.1g

Protein:

42.1g
Recipe Card powered by