Goals for this meal prep: One-Pan. Easy. Customizable. Perfect for throwing on a little bed of greens with some homemade taco dressing as your meal prep. Check out my newest creation, Meal Prep Turkey Taco Black Bean Salads.
Jump to Recipe · Jump to Video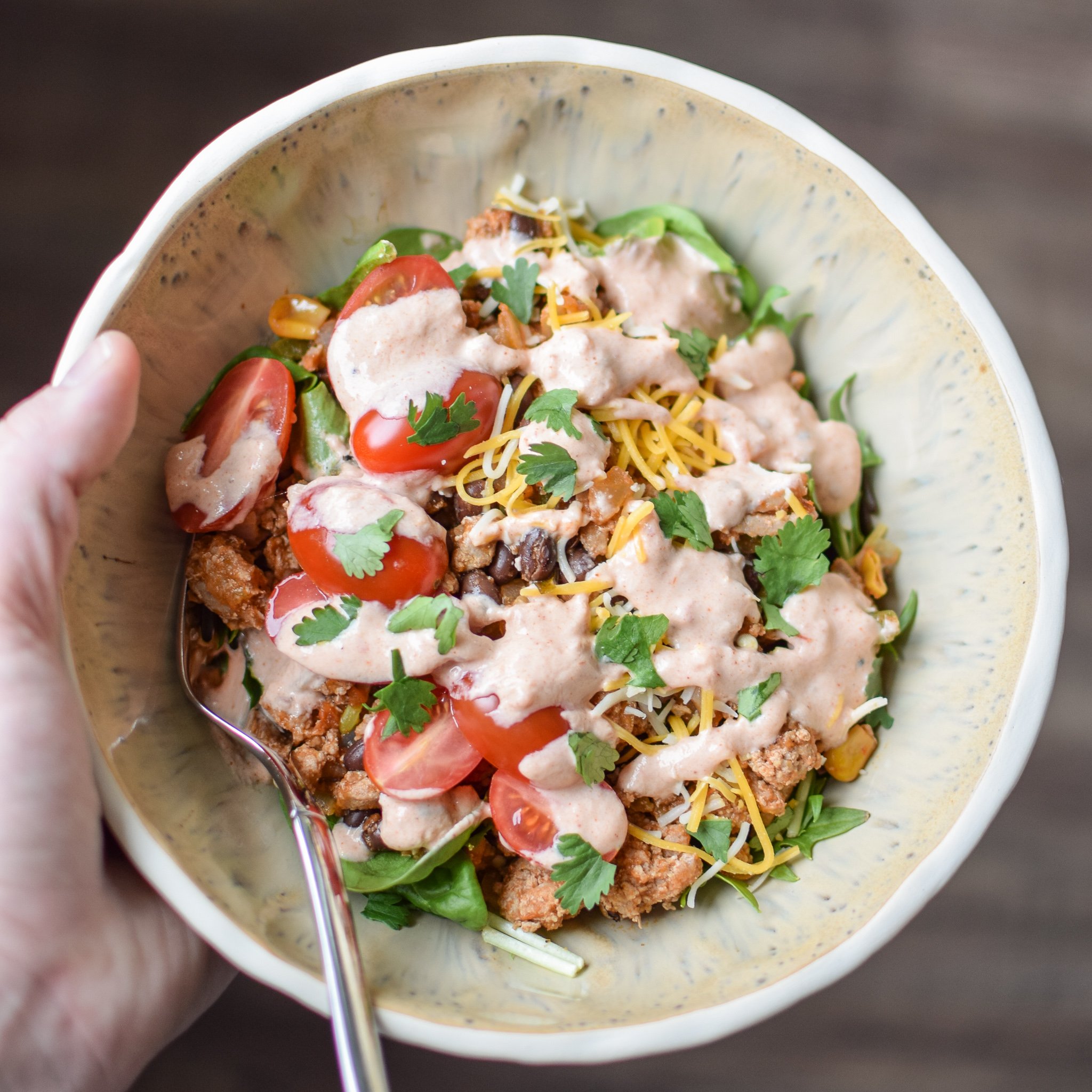 Let me quickly share that something weird always happens during a move – such as two of my 4-cup Pyrex bowls getting completely stuck together (you may have seen it on my Instagram story!). I'm thinking they just got pushed together really hard in the moving box. I'm not totally sure how it happened, but I can say we tried several ways to get them apart. I started with a simple scientific method which was definitely supposed work. I placed the bottom bowl in another larger bowl filled with super hot water. Next, I grabbed a bunch of ice (thank you ice maker that we used to not have 🙌) and filled up the top bowl. Theoretically, the bottom bowl was supposed to expand and the top bowl was supposed to shrink. Unfortunately, this was not successful.
I tried WD-40. Pulling really, REALLY hard also did not work. Several hours later we tried using my Sonicare for the vibrations (…people on the internet said it worked!). Nope. Eventually, some good old fashioned banging on the counter got them apart. I love Pyrex because I seriously think anything else would have broken from the havoc we wreaked.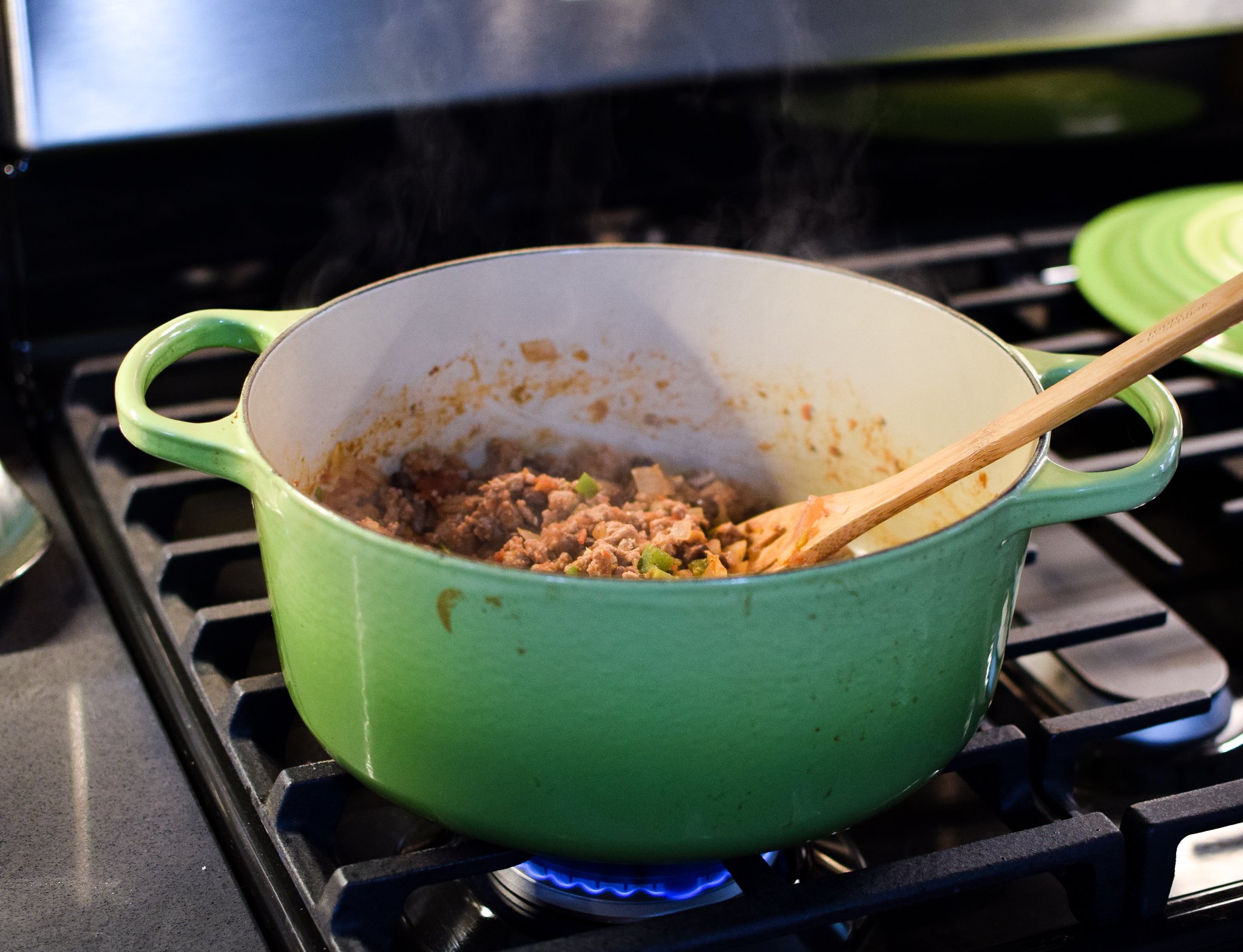 The point of my Pyrex story is this – I only had two of my favorite 4-cup Pyrex available when I cooked this meal. So I wasn't able to take my favorite meal prep style photos. The good news is I can always make this again and add more pictures.
My favorite thing about this recipe is you can use your own personal choice of salsa. That way you can make the dish your own, or try it with a couple different varieties of salsa. If you're looking for some of my other meal prep bowl style recipes, here are a couple options: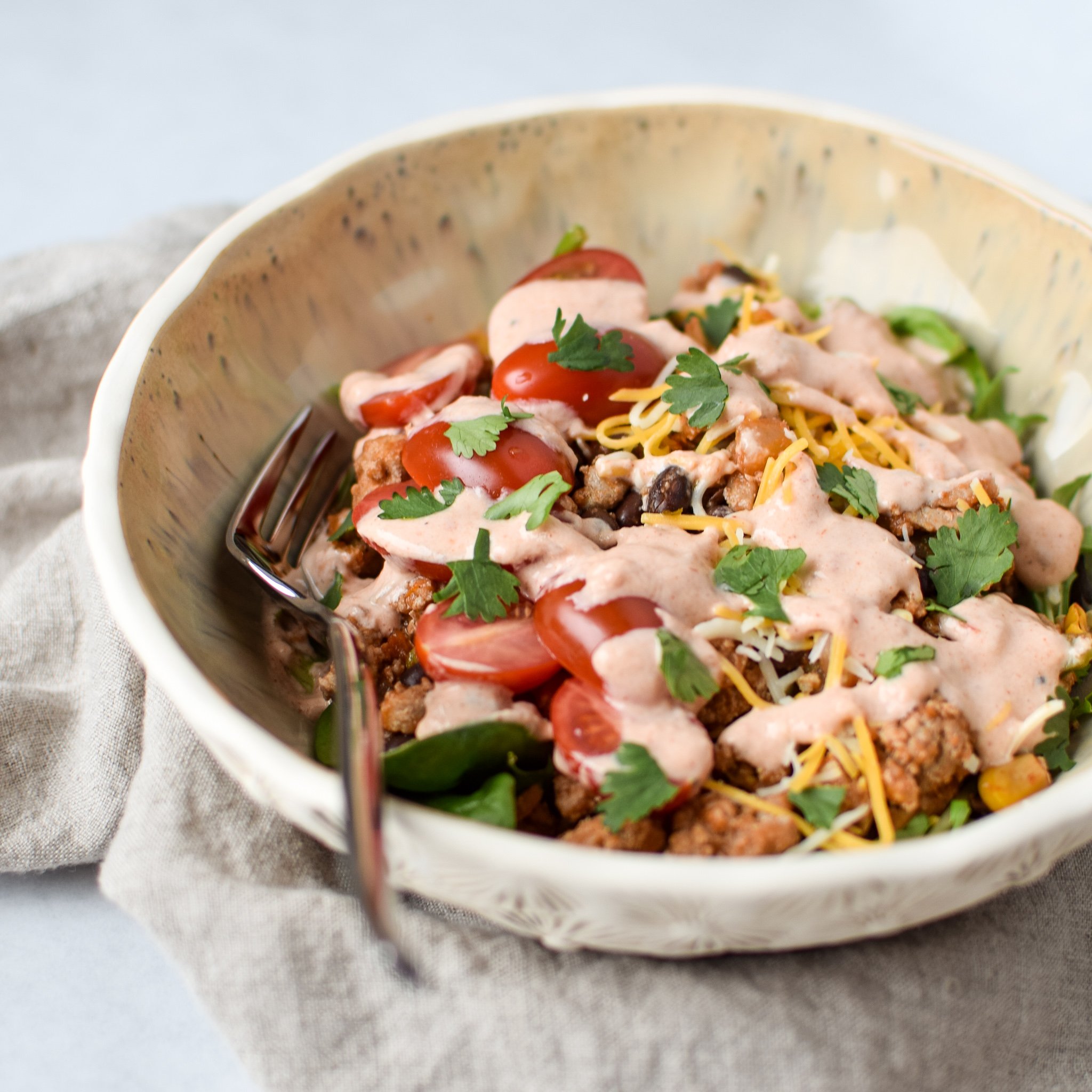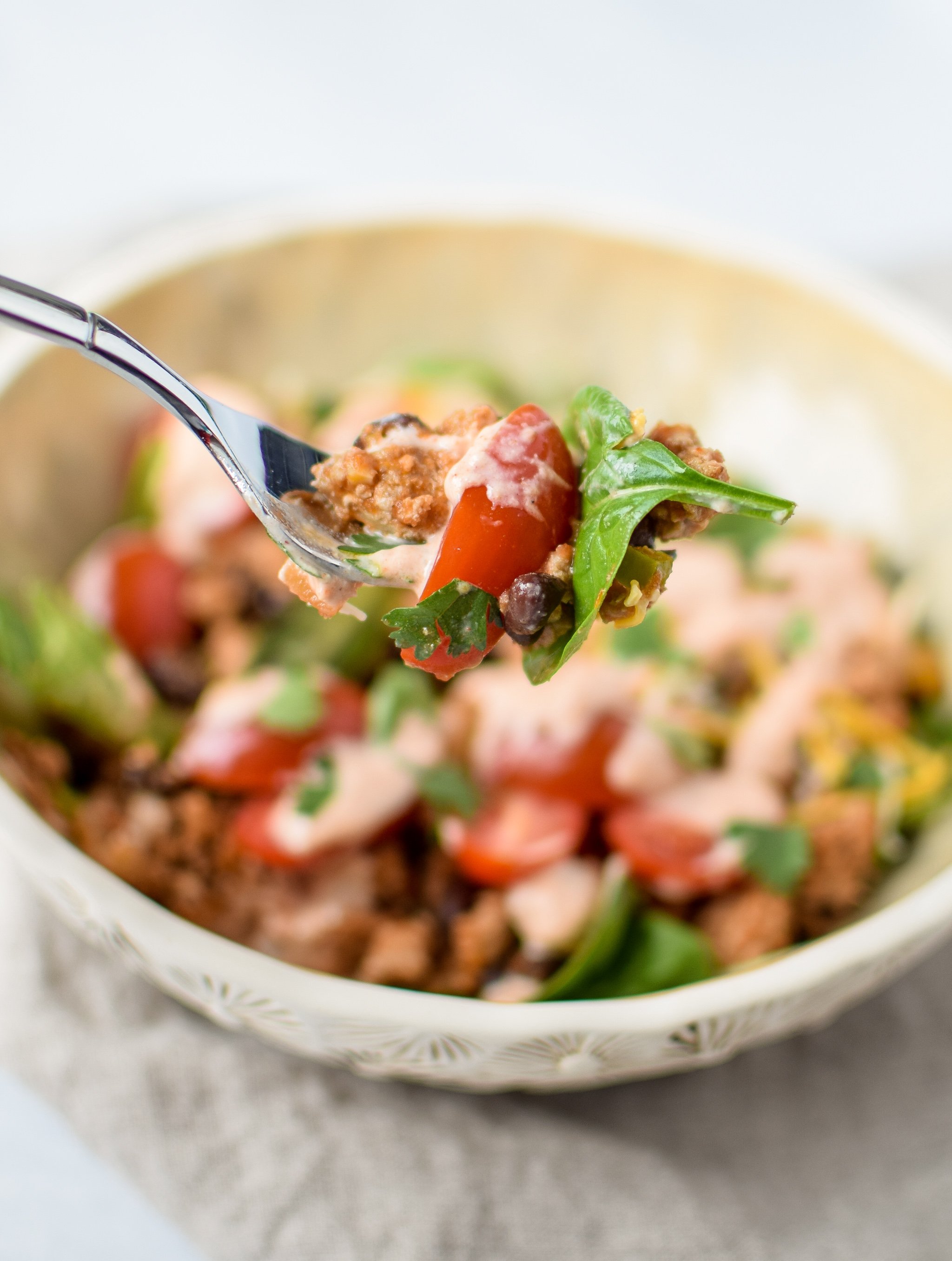 Here's how to make Meal Prep Turkey Taco Black Bean Salads (2 min 22 secs):
More meal prep recipes from Project Meal Plan:
Recipe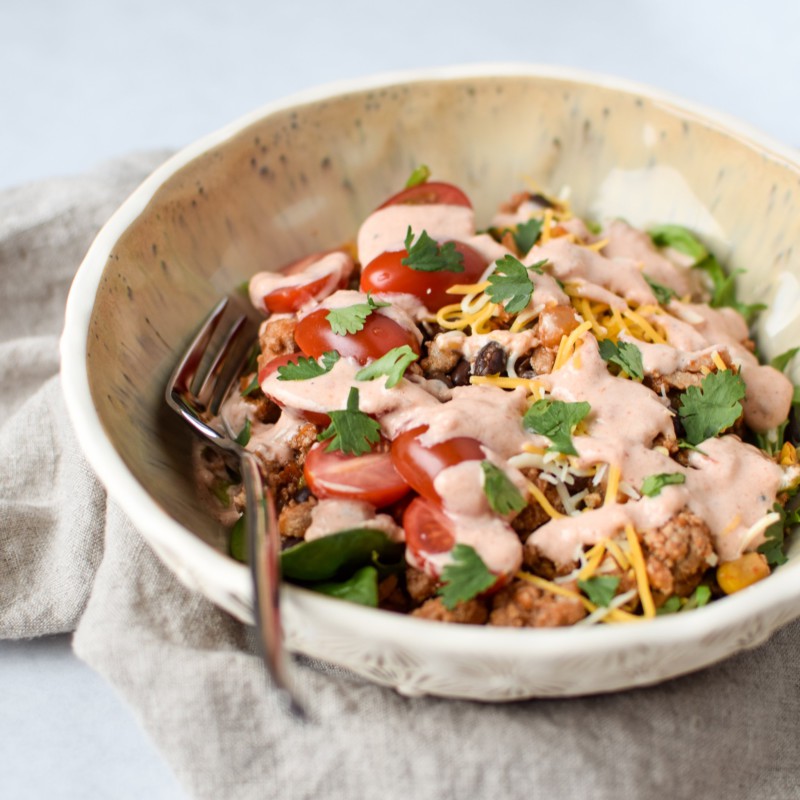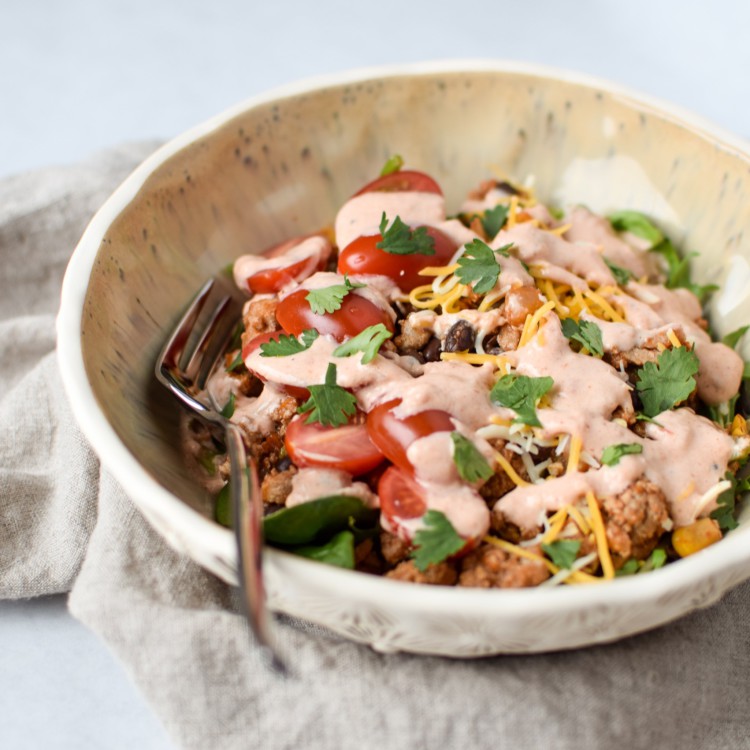 Meal Prep Turkey Taco Black Bean Salads
Prep:
5 minutes
Cook:
20 minutes
Total:
25 minutes
An easy recipe with ground turkey, black beans and veggies cooked in one pot! Easy meal prep right here!
Ingredients
Turkey Mixture
1

pound lean ground turkey, fresh or thawed

1 tablespoon

avocado oil (or any oil)

1/2

yellow onion, diced

1

jalapeño, diced, seeds removed (I sometimes sub

1/2

green pepper if I don't have any jalapeño)

1/2 teaspoon

ground cumin

1/4 teaspoon

paprika

1/2 teaspoon

garlic powder

1/2 teaspoon

fine sea salt

1/4 teaspoon

ground black pepper

1

15-ounce can black beans, rinsed and drained

1 1/2 cups

chunky salsa, your favorite brand, separated
juice of

1

lime
Dressing & Toppings
5 ounces

cherry tomatoes, cut in half (about

1 cup

)

4 cups

romaine lettuce, chopped (I used a spring mix)
cilantro

1/2 cup

shredded cheese (cheddar or mixed blend)

1/2 cup

nonfat greek yogurt

2 tablespoons

milk (any kind will work, or water)

1/8 teaspoon

chili powder (add more or less for spicy dressing)
Instructions
The turkey mixture:
Heat oil over medium heat in a deep skillet or Dutch oven. When hot, add ground turkey. Use a spoon or spatula to break the meat into smaller pieces. Cook for 6-7 minutes, stirring occasionally. If you have a lot of extra liquid, you can remove the excess from the pan.
Add onions and jalapeño to the skillet. Cook for another 4-5 minutes, until the onions begin to turn translucent.
Add cumin, paprika, garlic powder, salt, pepper, black beans, 1 cup salsa and lime juice to the pan. Reserve the remaining salsa for the dressing. Stir until mixed. Let simmer for 3-4 more minutes. Set aside to cool.
The dressing: 
Mix greek yogurt, 1/2 cup salsa, milk and chili powder in a small bowl until well mixed. Distribute evenly in four small prep cups, or place it directly on your salads when they're done. I use small glass prep cups that fit inside the Pyrex bowls.
Put it together: 
Distribute lettuce/greens evenly between meal prep bowls.
Next, add your little cups of dressing (if you've got them!). They'll sit on top of the lettuce in the bowl.
Distribute the turkey black bean mixture to each bowl. Top with cherry tomatoes, shredded cheese, and cilantro.
Notes
Prep: You can prep the turkey black bean mixture ahead of time and make salads on the go – OR use it for tacos!
Taco Yogurt Dressing adapted from Chicken Taco Mason Jar Salads from The Seasoned Mom. Nutrition information estimated with My Fitness Pal. Update: Video added on 5/11/17.
Nutrition Information
Serving Size:

1 salad bowl

Calories:

388

Fat:

18.9g

Carbohydrates:

14.1g

Protein:

42.1g
Recipe Card powered by
To make this recipe, I used:
Thank you so much for checking out the Meal Prep Turkey Taco Black Bean Salads! Use #projectmealplan on social media if you make this yummy recipe! And follow me on Pinterest for meal inspiration every single day.