We've all seen those articles – "12 Kitchen Hacks to Save Time" or "The Only Kitchen Hacks You'll Ever Need", etc. And let's face it: around 50% of those tips you already know, and 40% look like they might actually take more time. But then there's the other 10% you actually want to try. For me, making quinoa in a rice cooker was always in that 10%. So I tried it, and it's awesome. So awesome that I added some cilantro, lime, and turned it into The Easiest Cilantro Lime Quinoa.
Jump to Recipe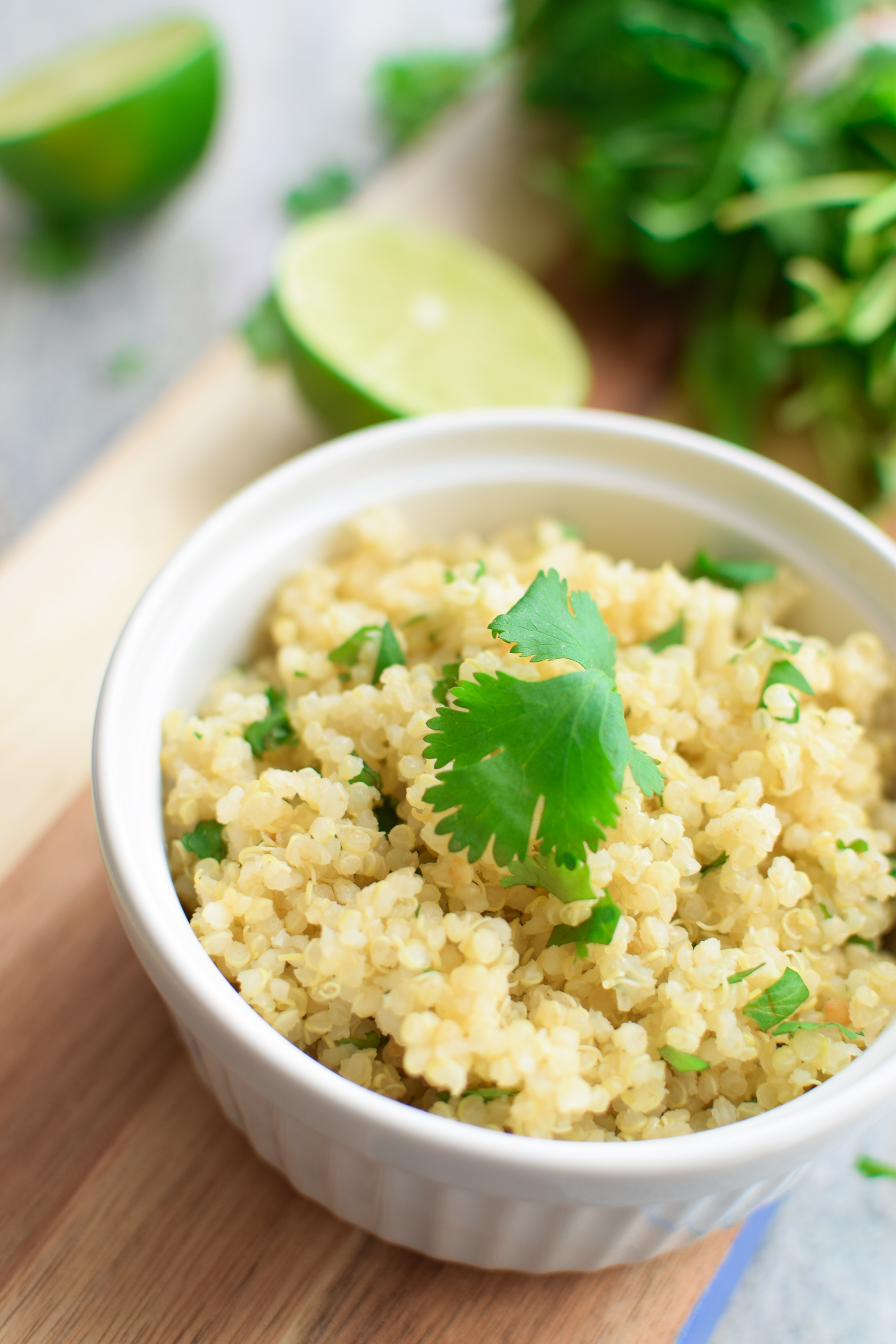 The first time I tried making quinoa in the rice cooker, I thought I was truly performing some kind of "kitchen hack". Turns out, the quinoa we use actually provides instructions for cooking the quinoa in a rice cooker. I've since decided it's not really a hack, just how anyone with a rice cooker should always cook quinoa. Besides, it's SO MUCH easier. Hence the name, The Easiest Cilantro Lime Quinoa.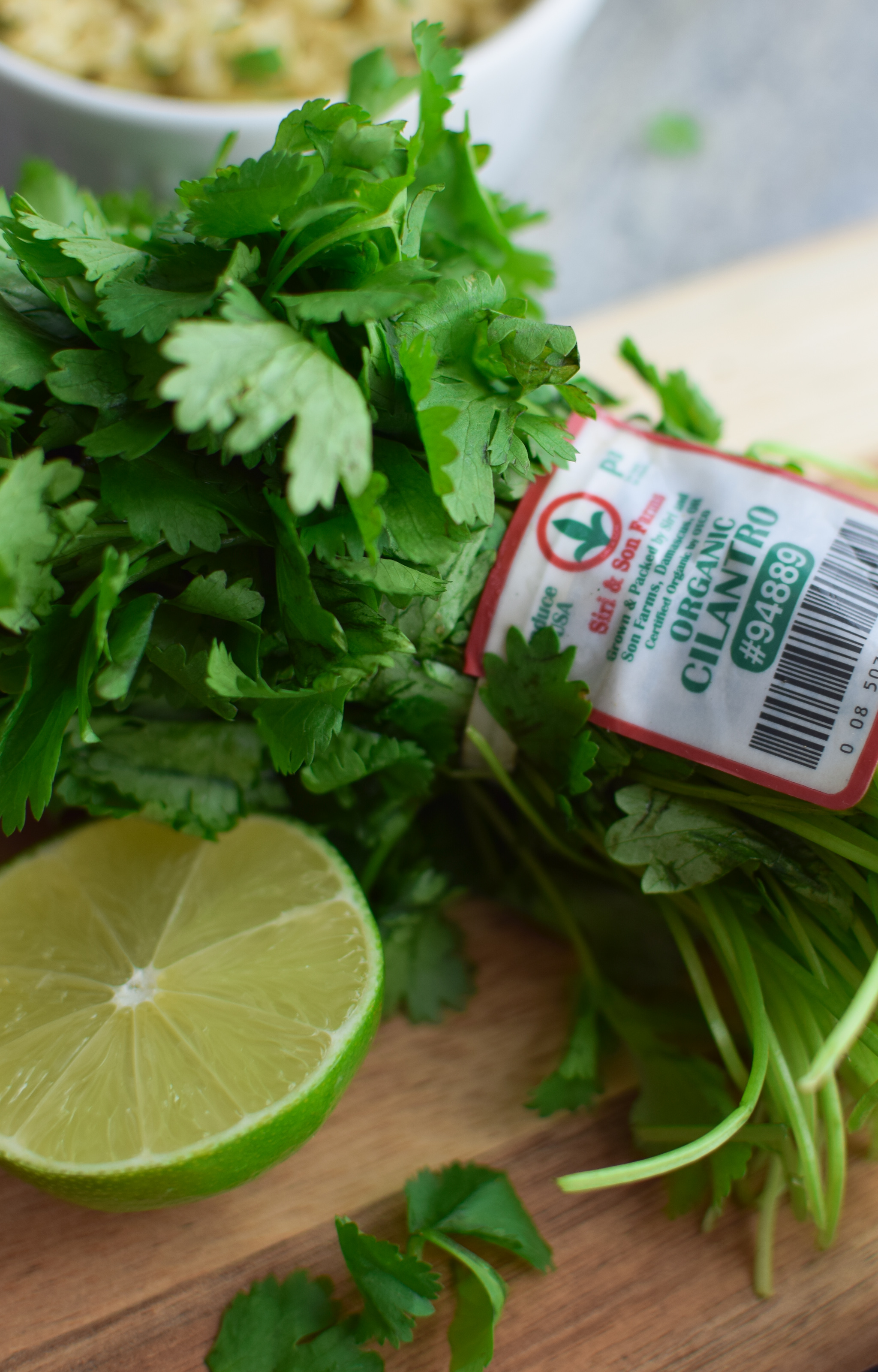 In search of ways to save even more time while cooking quinoa, I had to ask myself if rinsing the quinoa before cooking was a real requirement. I always thought you were supposed to rinse the quinoa, but I had to know if it was truly necessary. It's basically 2 to 3 minutes sooner that I could be eating the quinoa, right?
As normal, I looked to the internet and found this incredibly informative article called Do You Really Need To Rinse The Quinoa Before Cooking It? by Christine Gallary. Christine actually goes to the trouble to side-by-side taste test the quinoa with and without a pre-cooking rinse. According to Christine, rinsing does affect the texture and flavor of the quinoa, but it's really a personal choice. Check out her notes to see what you might prefer. I also learned boxed quinoa is sometimes pre-rinsed, so you might be able to skip the step without worry.
Apart from rinsing the quinoa, this recipe is incredibly easy and perfect for Sunday Meal Prep! We use this as an alternative to rice in our lunches and dinners. Plus it has a little more protein 🙂

Other quinoa dishes from Project Meal Plan:
Print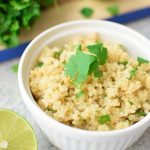 The Easiest Cilantro Lime Quinoa
Author:

Prep Time:

5 minutes

Cook Time:

40 minutes

Total Time:

45 minutes

Yield:

4 servings
---
Description
A super easy and yummy alternative to the cilantro lime rice you love 🙂
---
Ingredients
coconut oil
1 cup dry quinoa
2 cups chicken broth
1 teaspoon minced garlic
Lime juice of 1 lime
1/4 cup chopped cilantro
1/4 teaspoon salt
---
Instructions
Rinse your quinoa for two minutes in a fine mesh strainer, if you so desire.
Use coconut oil to grease the inside of your rice cooker bowl (reduces sticking after cooked).
Add quinoa and chicken broth to rice cooker, close lid and set to "rice" setting (I use the brown rice setting).
Let quinoa cook in the rice cooker as normal, and chop your cilantro.
When the quinoa is done cooking, open the lid and let it cool for about 5 minutes.
Fluff the quinoa with a fork, and transfer to a medium bowl.
Add garlic, lime juice, cilantro and salt. Stir until evenly distributed.
Serve, distribute servings for meal prep, or store covered in the fridge.
---
Notes
Instead of 2 cups of chicken broth, you may substitute 1-14.5 ounce can of chicken broth and 1.5 ounces of water. You may also use water in place of all chicken broth.
Super easy to double! Add 2 parts water for every 1 part quinoa. Just follow rice cooker instructions.
Recipe inspired by Serena Bakes Simply From Scratch – Cilantro Lime Rice.
---
Nutrition
Serving Size:

1/4 cup dry

Calories:

202

Fat:

4g

Carbohydrates:

31.2g

Protein:

9.1g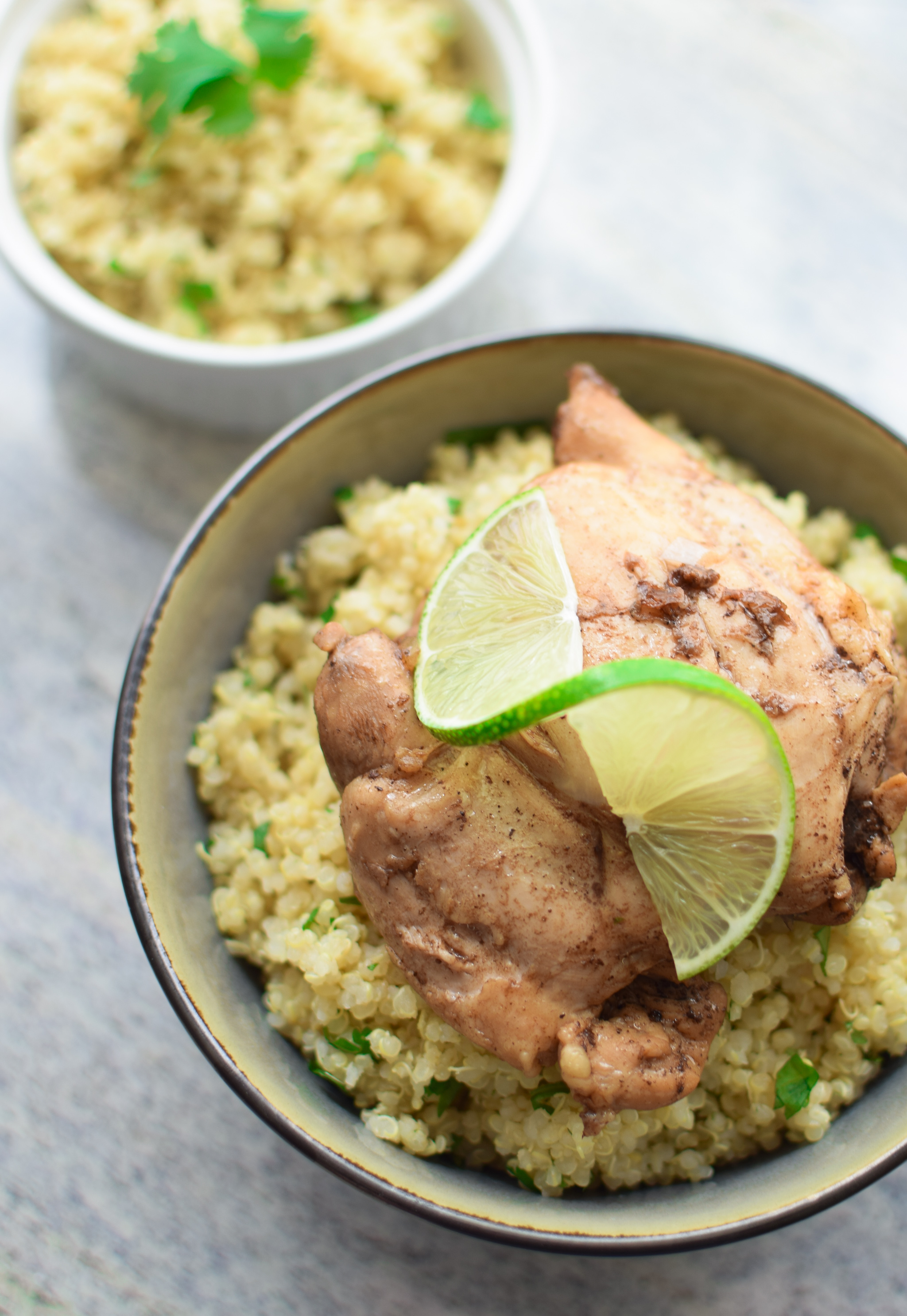 Stay tuned for this and other recipes to be included in our weekly meal plans at Project Meal Plan!
– Danielle
A little disclaimer: One of the links on this page is for an affiliated product on Amazon. If you are planning to make any purchases, please start your Amazon shopping here on Project Meal Plan! We'll get a small commission at no extra cost to you. I truly appreciate your support! For more information, please see our Full Disclosure.
Support and Share Project Meal Plan -
Disclaimer:
 Project Meal Plan is a participant in the Amazon Services LLC Associates Program, an affiliate advertising program designed to provide a means for us to earn fees by linking to Amazon.com and affiliated sites. For more information, please see our
Full Disclosure & Privacy Policy
.