Another recipe with Costco to thank! Since I stumbled upon these millet and brown rice ramen noodles, I've been working to perfect an easy homemade noodle bowl. Here it is! I like to use chicken bone broth to make this Simple Shiitake Mushroom Chicken Ramen that I think you'll love.
Jump to Recipe
Ramen Talk #1: Noodles.
If you've been following along with the blog lately, you might know we're in the middle of a Pantry Clean Out Challenge. Besides our little pre-planned vacation earlier this month, we've been avoiding restaurants 100%. So far, it's been going much better than I initially expected. Yes, thinking up things to eat is a little more challenging, and we run the dishwasher a little more than normal, but then I think about how I've only spent about $70 on produce and milk this month… and it feels great.
Since I shop at Costco a lot, we've had plenty of bulk pantry items to work through during this challenge (okay, I'm done with beans though). These Organic Millet and Brown Rice Ramen Noodles were such an awesome find, and the pantry challenge has given me an opportunity to use them all up. Now they have a new home in this delicious ramen recipe! I haven't done any actual research about the health factor of these noodles versus regular old ramen noodles, but I would bet they're better for you. Each ramen cake has 8 grams of protein (yeah, just the noodles)!
As discussed above, this recipe does use pre-made ramen noodles, combined with a home simmered broth and fresh veggies. If you're looking for a way to make your own quick-cooking ramen noodles, here's a good looking recipe for Homemade Ramen Noodles from Lucky Peach.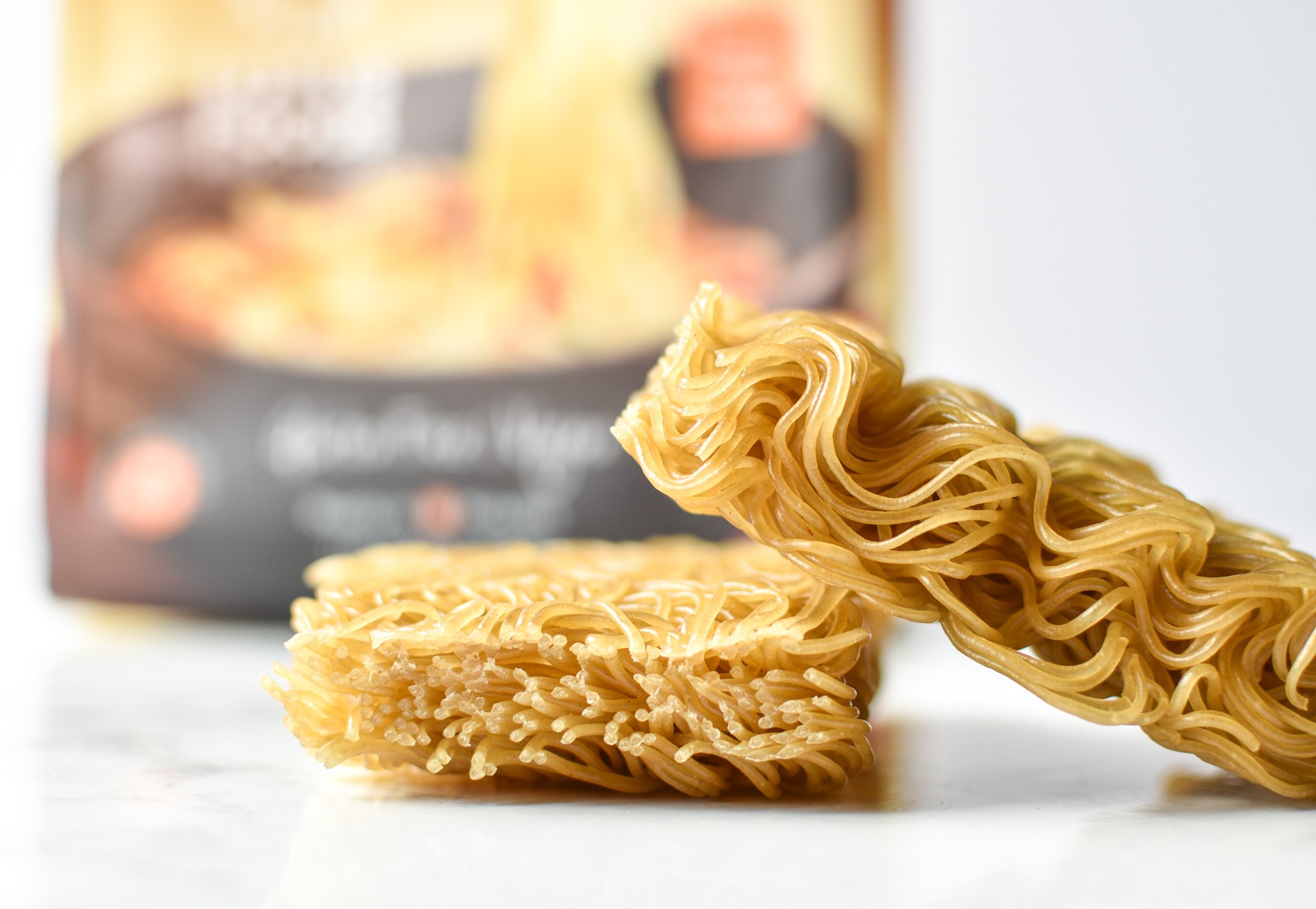 Ramen Talk #2: Ramen seasoning packets are out.
I tried to do a little research to determine what's in those seasoning packets… and I learned the following:
SO MUCH SODIUM
some pronounceable/known foods like onion powder, garlic powder, and dried leek flake (??)
some unpronounceable additives (I don't know what they are, seriously)
caramel color, citric acid, etc.
Basically, I'm to the point of my cooking life where I know I can make a version that's seriously delicious without the seasoning packet. Don't need it. I started playing around with deglazing the Dutch oven with chicken broth after cooking the shiitake mushrooms and seasoned chicken, and that's just my jam now. Hopefully you love it too.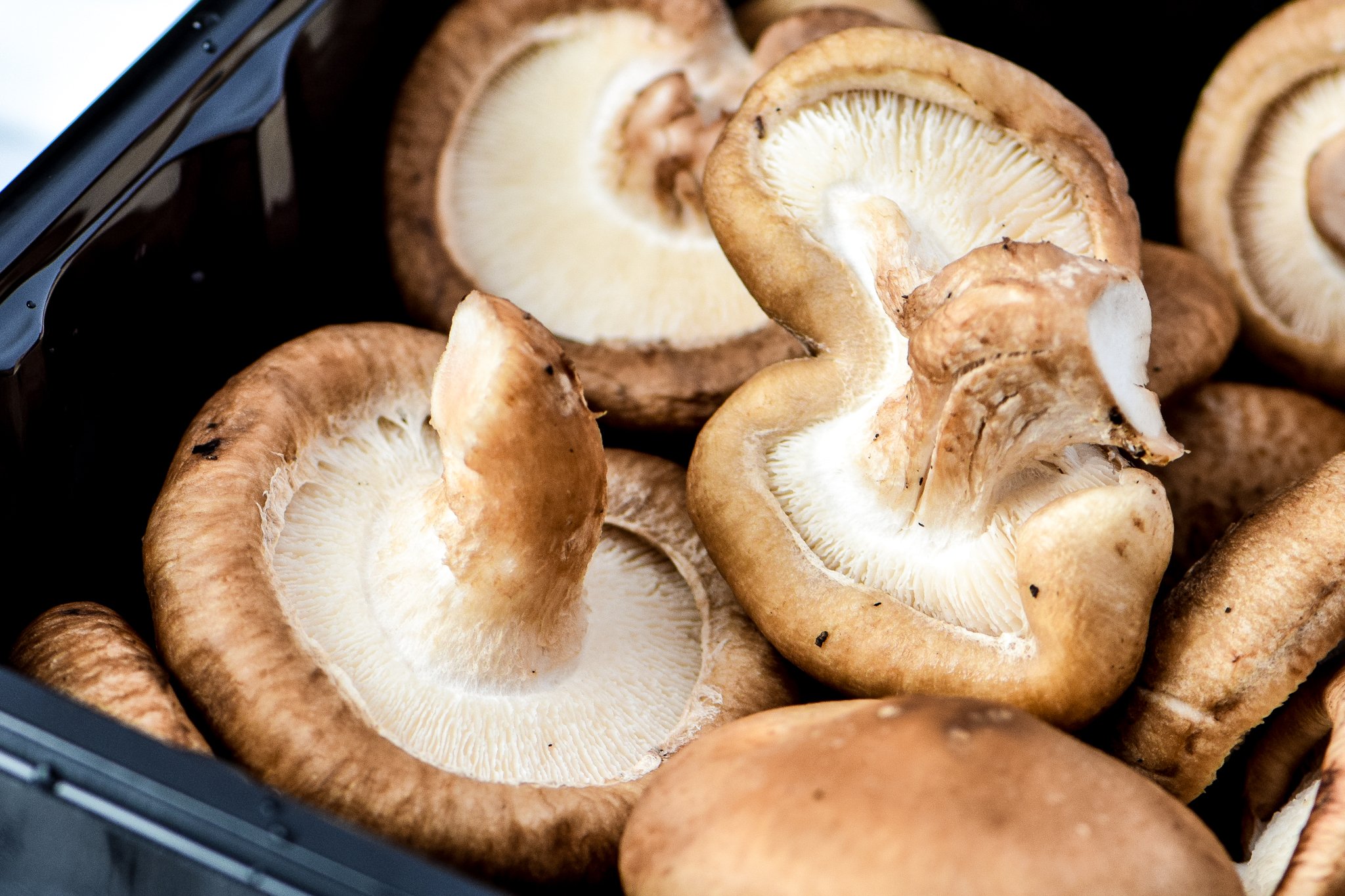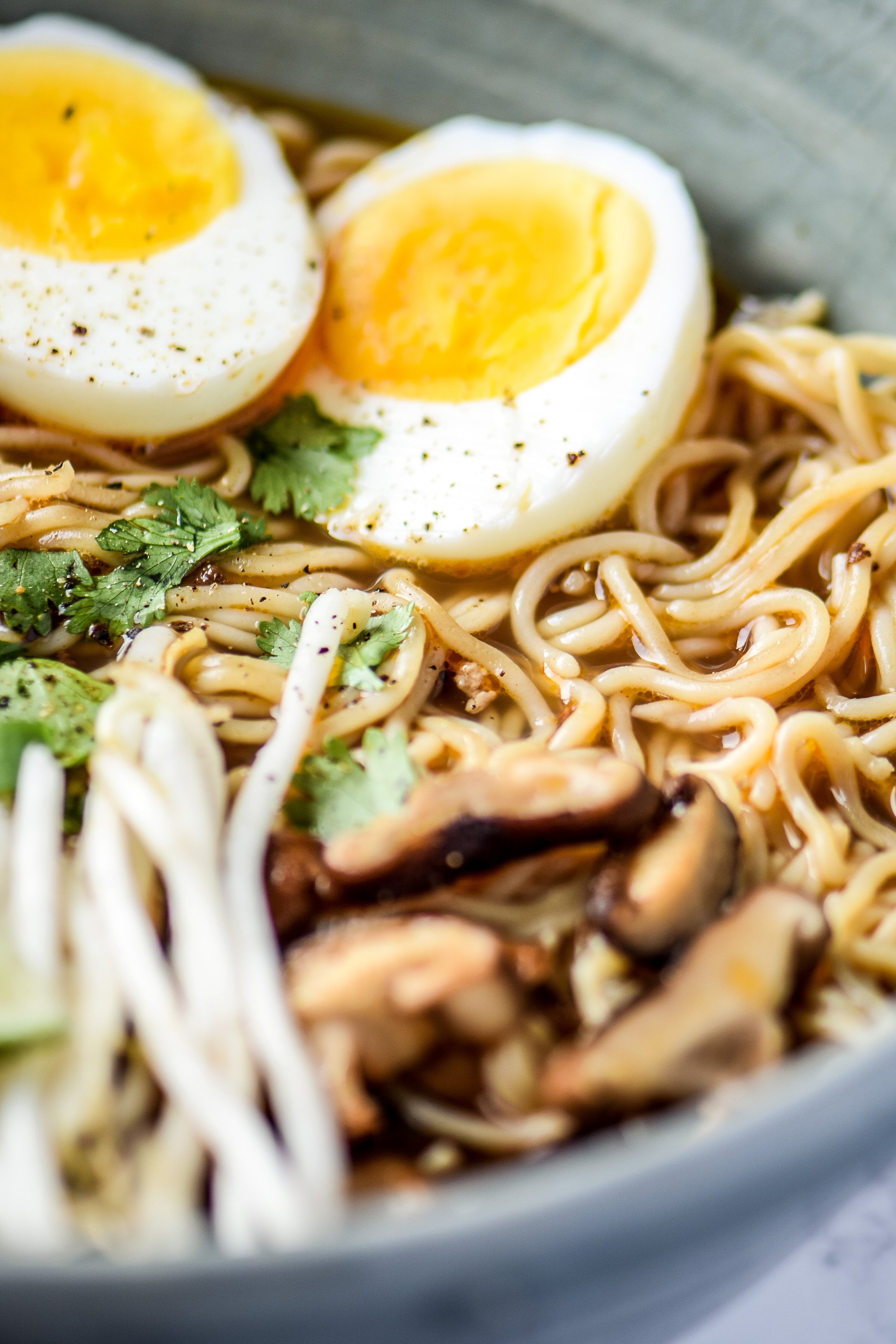 Ramen Talk #3: Don't make a special store trip just for bean sprouts.
Or lime. Or cilantro. Or eggs, for that matter. I've had this ramen with zero toppings, and ALL the toppings pictured. IT'S BOMB EITHER WAY. So don't just add an egg because I did. Do what you like. The point of this recipe is simple delicious eating with your favorite toppings and use vegetables you already have (or need to use up).
For example: All those perfect ramen bowls with soft-boiled eggs. Sorry, not for me. Runny eggs make me feel awkward and like I don't really want my mouth anywhere near them. It was only recently that I started liking regular hard-boiled eggs. I need some time you guys. (The pictured egg was cooked for 8 minutes.)
Ramen Talk #4: You don't have to use bone broth (I just like it).
Regular old chicken broth will do. But I've been very into bone broth lately, and I made use of it in this recipe. The most affordable bone broth I've been able to find is this Organic Free Range Chicken Bone Broth by Pacific Foods. Out of the two kinds of bone broth I've tried, this version was just a little less flavorful, but dramatically cheaper than the other brand I first tried. But when the broth is going into a soup that will give it a bit more flavor, I think it's perfect! Plus, it has 9 grams of protein per cup! Sold.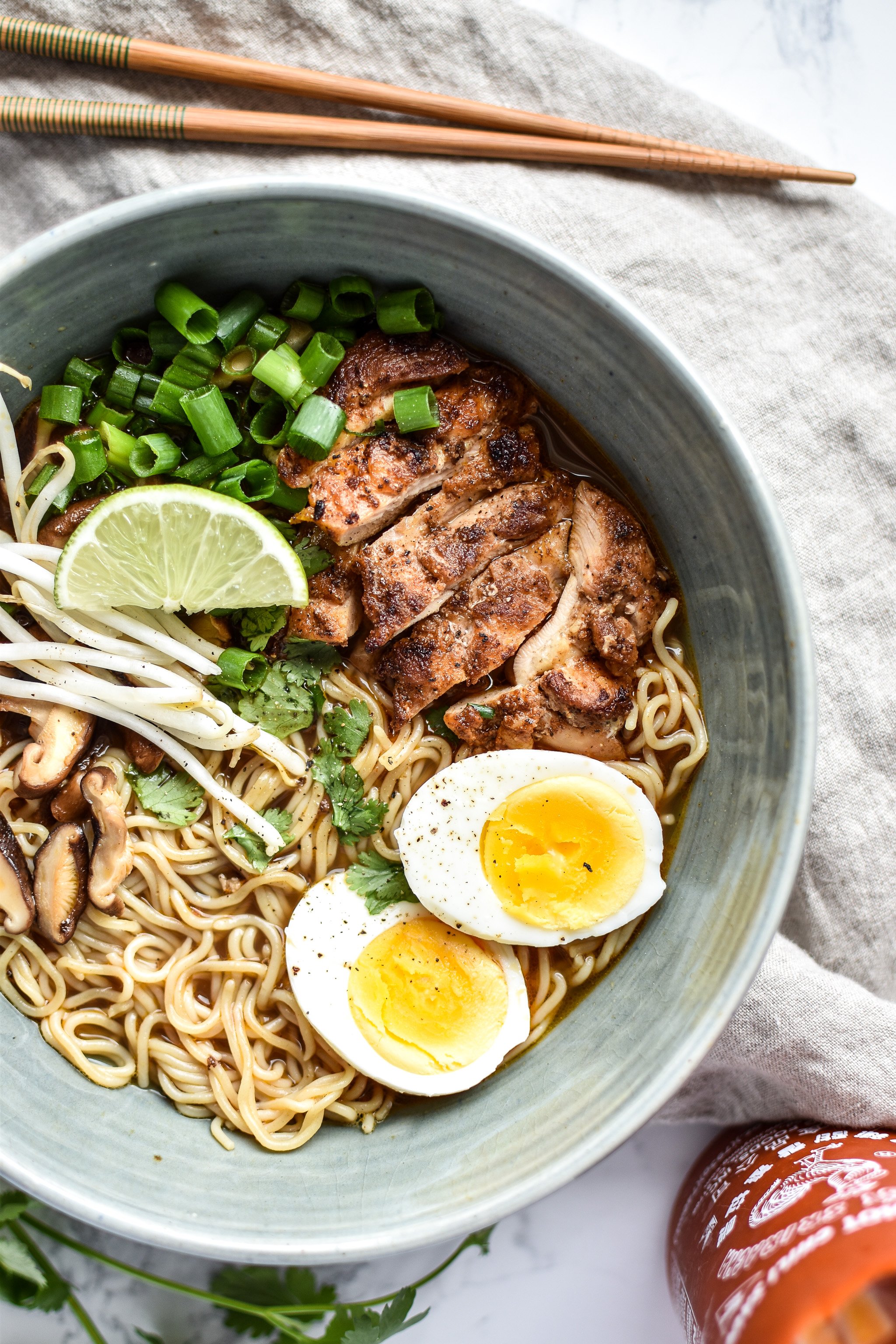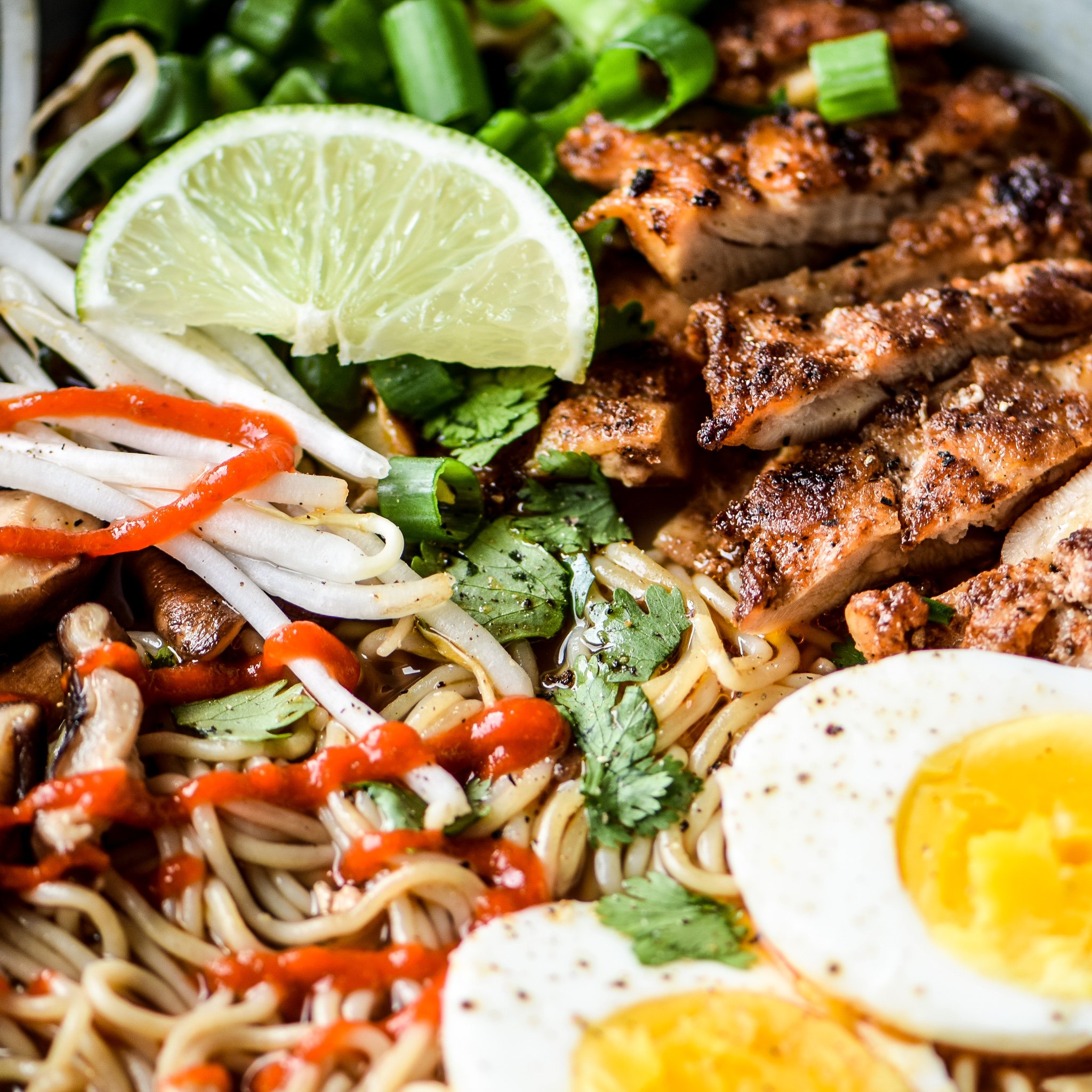 Other dinner ideas from Project Meal Plan:
Recipe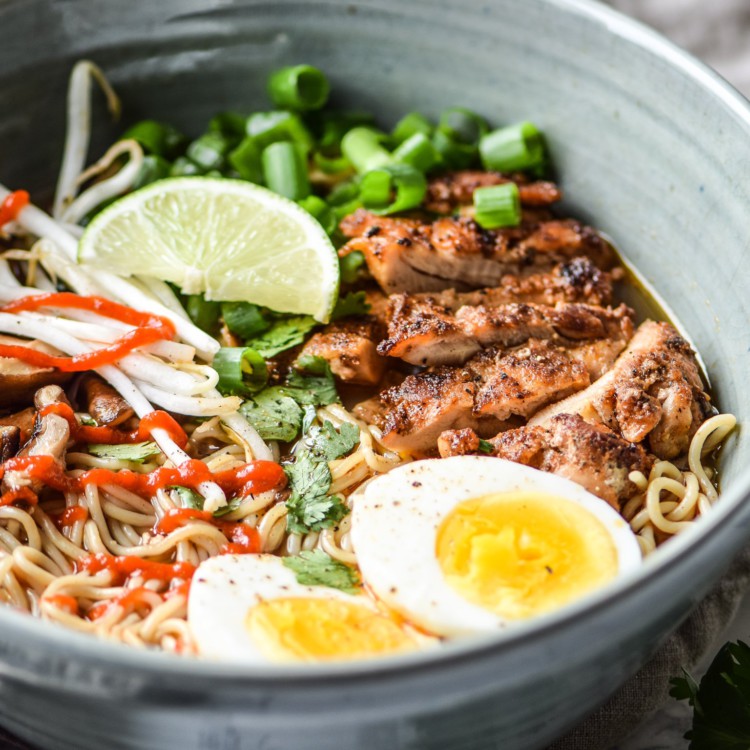 Simple Shiitake Mushroom Chicken Ramen
Prep:
5 minutes
Cook:
20 minutes
Total:
25 minutes
Simple Shiitake Mushroom Chicken Ramen recipe – I use chicken bone broth and brown rice ramen for this easy homemade noodle soup!
Ingredients
2

Organic Lotus Millet & Brown Rice Ramen cakes (can sub any ramen)

2 tablespoons

avocado oil (or EVOO)

4 ounces

shiitake mushrooms, sliced and stems removed

1/2 tablespoon

minced garlic

1/2

pound boneless skinless chicken thighs (

2

–

3

thighs)

1/2 teaspoon

each sea salt/ground black pepper

1 teaspoon

garlic powder

1/4 teaspoon

ground ginger

1 teaspoon

chili powder

4 cups

chicken bone broth

1 1/2 tablespoons

low-sodium soy sauce
Toppings: cilantro, lime juice, bean sprouts, soft or hard boiled egg, scallions (green onions), chili sauce
Instructions
Cook ramen noodles according to package directions and set aside. If using brown rice ramen, be sure to leave the noodles sitting in a small amount of cold water to avoid sticking while the chicken and broth are cooked.
In a small bowl, mix salt, pepper, garlic powder, ground ginger, and chili powder. Place thighs and seasoning mix in a medium bowl and use tongs to mix until seasoning coats the chicken evenly.
Heat 1 tablespoon of oil over medium heat in a large deep skillet or Dutch oven. Add shiitake mushrooms and minced garlic. Cook for about 5 minutes, stirring occasionally. Remove from pan and set aside.
In the same pan, add remaining 1 tablespoon of oil. Add chicken thighs and cook over medium heat for 5-6 minutes, until they begin to brown. Flip and cook for another 5 minutes, until the internal temperature reaches 165 degrees F. Remove the chicken from the pan and set aside. There should be brown bits from the chicken left in the pan. Cut the chicken into strips once cooled.
To the same hot pan over medium heat, add 1 cup of chicken broth and use a wooden spoon to scrape the bits from the bottom of the pan as they loosen (see notes below). After about 60 seconds, add remaining broth and soy sauce. Reduce heat to low and simmer for 10 minutes.
Assemble your noodle bowls: add noodles, mushrooms, chicken, cover with 2 cups of broth and add toppings.
Notes
Deglazing questions? I like this article from The Kitchn – When and How to Deglaze a Pan.
PREP: You can make all the individual parts (mushrooms, broth, chicken) and store in the fridge for up to 4 days. Assemble later!
This recipe is part of my Pantry Clean Out Challenge for April 2017! Nutrition information does not include egg or other toppings.
Nutrition Information
Serving Size:

1/2 prepared ingredients

Calories:

613

Sugar:

3g

Fat:

19g

Carbohydrates:

61g

Protein:

48g
Recipe Card powered by
To make this recipe, I used:
Thanks for reading the Simple Shiitake Mushroom Chicken Ramen recipe (and making it to the bottom)! Be sure to use #projectmealplan on social media if you make this recipe! And follow me on Pinterest for meal inspiration every single day.
– Danielle