1 Comment
Posted: 10/24/2018
Updated: 09/23/2021
Pizza Chicken Roll Ups Meal Prep is a creative and lightened up meal prep option complete with cheese and pepperoni stuffed chicken thighs, Parmesan cauliflower rice, and a side of pineapple (for the pizza of course!).
Jump to Recipe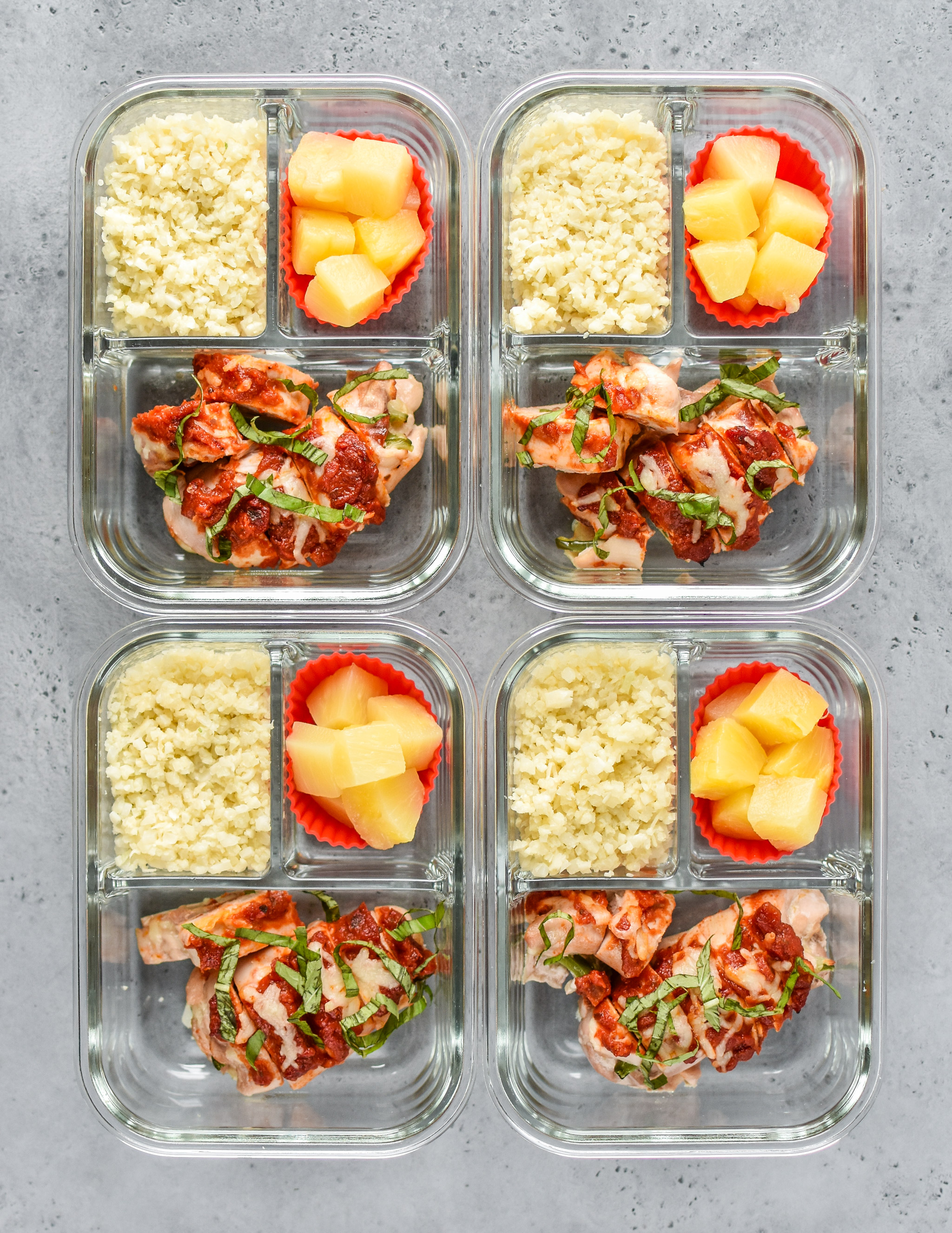 Time to embrace pizza without the pizza crust part! Yeah, probably not what you wanted to hear. But this new meal prep of mine has all the best flavors of pizza, just with a few less calories and carbs. Not that I'm counting, but I like to try and find a balance when I'm also eating more than one homemade chocolate chip pumpkin muffin in a day. OKAY? Cool.
Here's what's in this meal prep:
ButcherBox (affiliate link!) organic chicken thighs with pepperoni, green bell peppers, mozzarella cheese, and classic pizza sauce
garlic Parmesan cauliflower rice (with fresh grated parm!)
a side of pineapple chunks in a small silicone muffin cup (easy to remove for microwaving the rest of the meal prep!)
There's one question I get asked ALL the time, so here it is:
Where do you get those containers?!
First and most important – these are the 3 Compartment Glass Meal Prep Containers (affiliate link!) from Prep Naturals (these sometimes sell out so check back). This is probably the most common question I receive. These style containers are essential if you want to keep food separated during storage.
For this meal prep, I'm also using some reusable silicone baking cups (affiliate link!) to store the pineapple. Of course, the pineapple could be stored in the glass meal prep container itself and would still not touch the other food items. BUT, the silicone baking cup serves another purpose: easily remove the cup of pineapple from the meal prep container before microwaving the rest of the dish! It's brilliant. You don't want microwaved pineapple, but you do want microwaved everything else. Woohoo!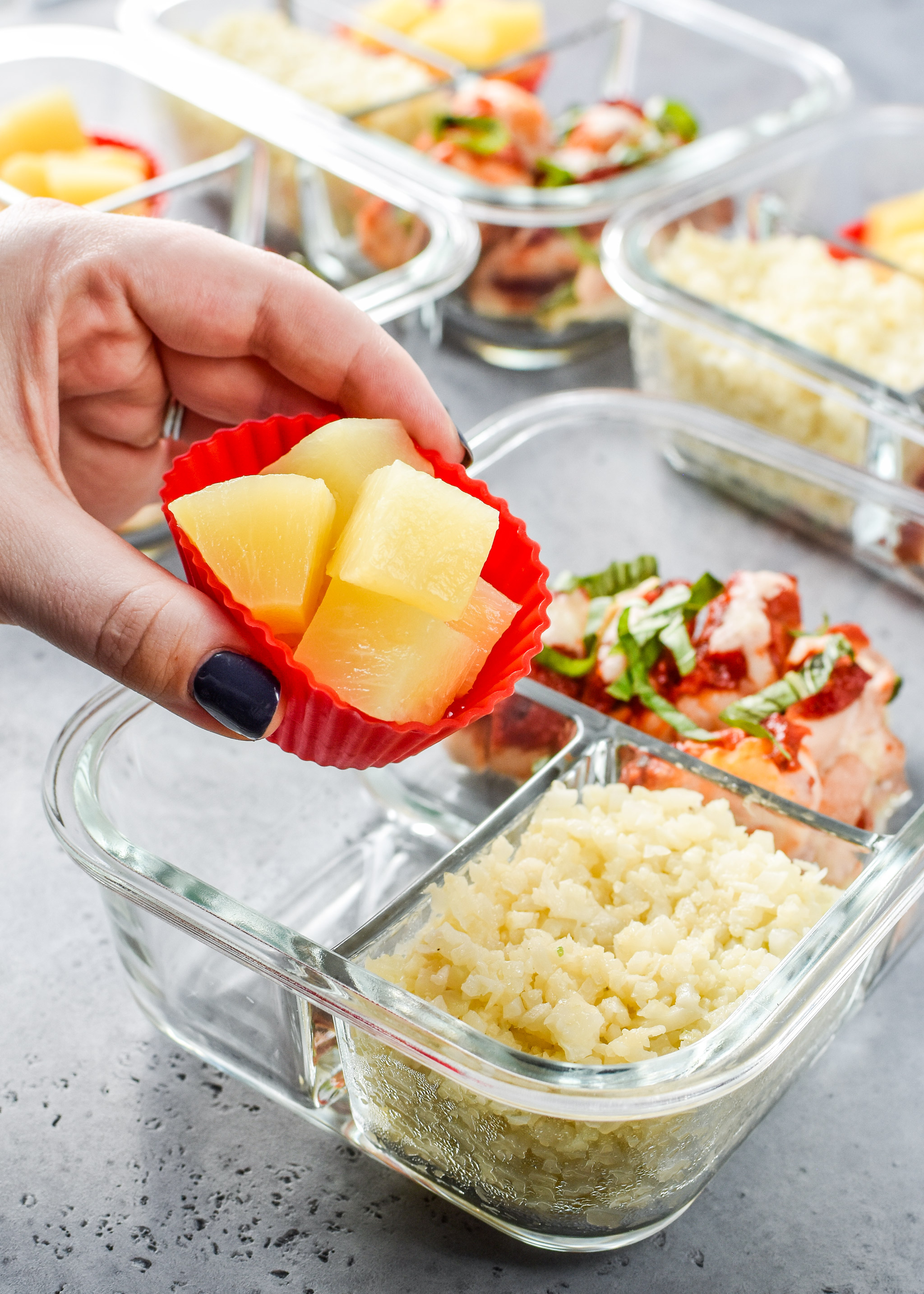 How do you make pizza chicken roll ups?
First, you're going to want to start with some quality chicken thighs – I prefer to use ButcherBox organic chicken thighs as my starting place. In order to be able to roll the chicken and keep all that pizza stuff tucked in there, it's a good idea to use a meat pounder or tenderizer to thin the chicken to about 1/4 of an inch thick. For this recipe, I actually used six chicken thighs and each meal included 1 + 1/2 pizza chicken rollup. Each meal prep lunch has about 1/3 of a pound of chicken, but it can vary based on how much protein you want in each meal.
Place your tenderized chicken on a lined baking sheet and gather the pizza supplies. Season with salt & pepper if you want. Add 3-4 pepperonis on each, 2-3 bell pepper strips, and a sprinkle of mozzarella cheese. My personal preference is to spoon the sauce on top of the chicken because it will mostly fall out of the roll up anyway. With less sauce inside, it's easier to roll up the chicken.
Start rolling *tightly* on the end with the pepperoni (so it's tucked in the middle!), and use a toothpick to hold everything together. Then go ahead and spoon your pizza sauce on top, like below!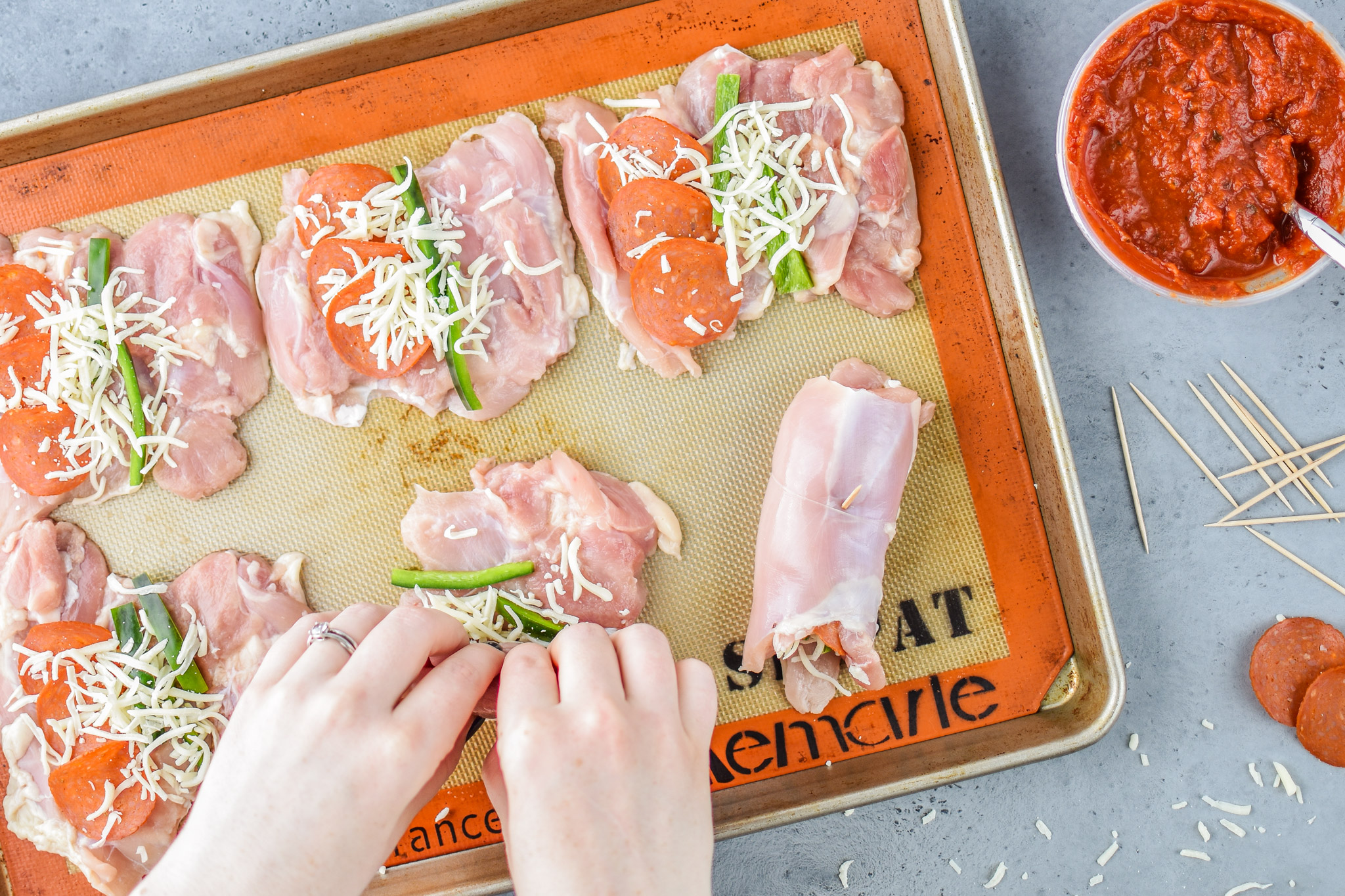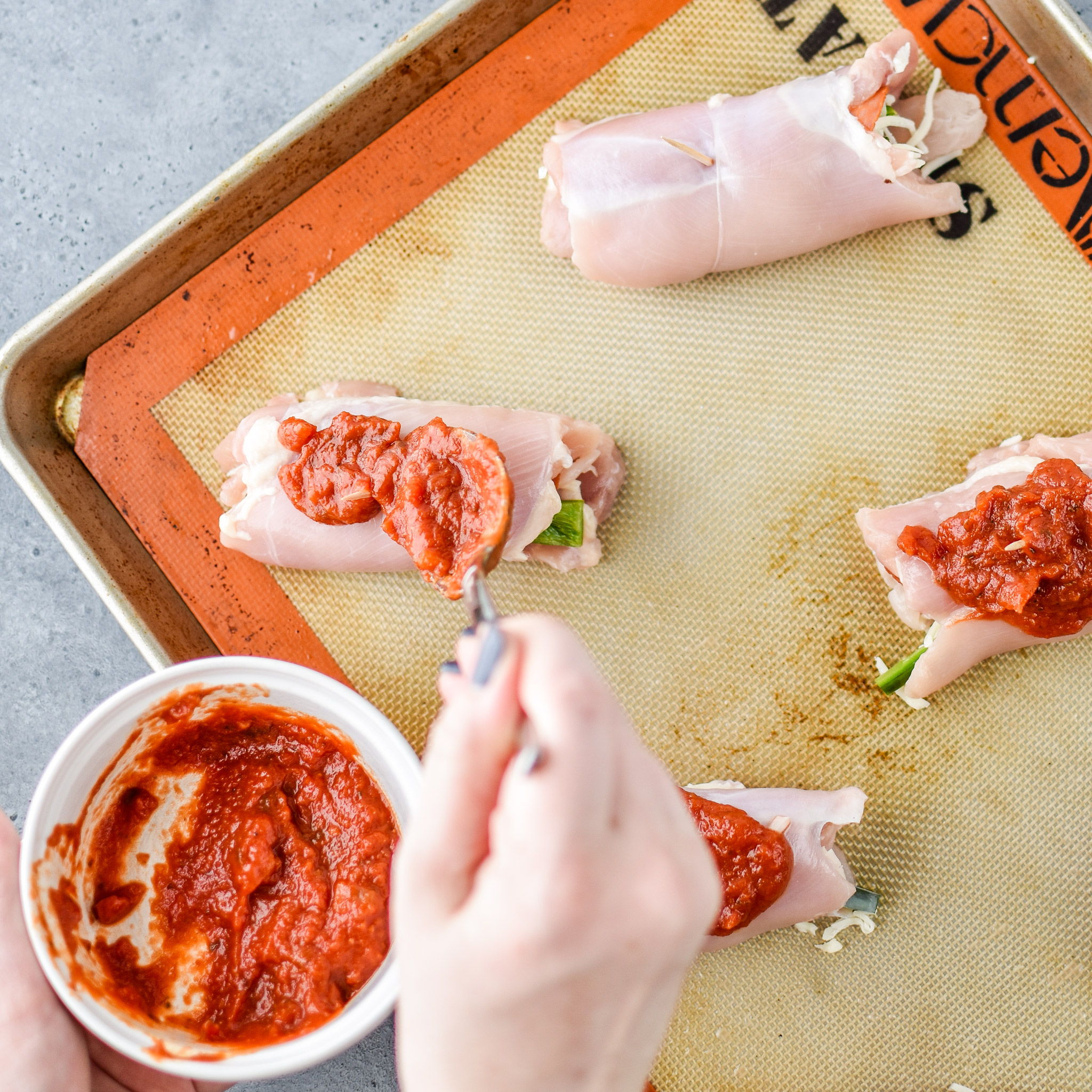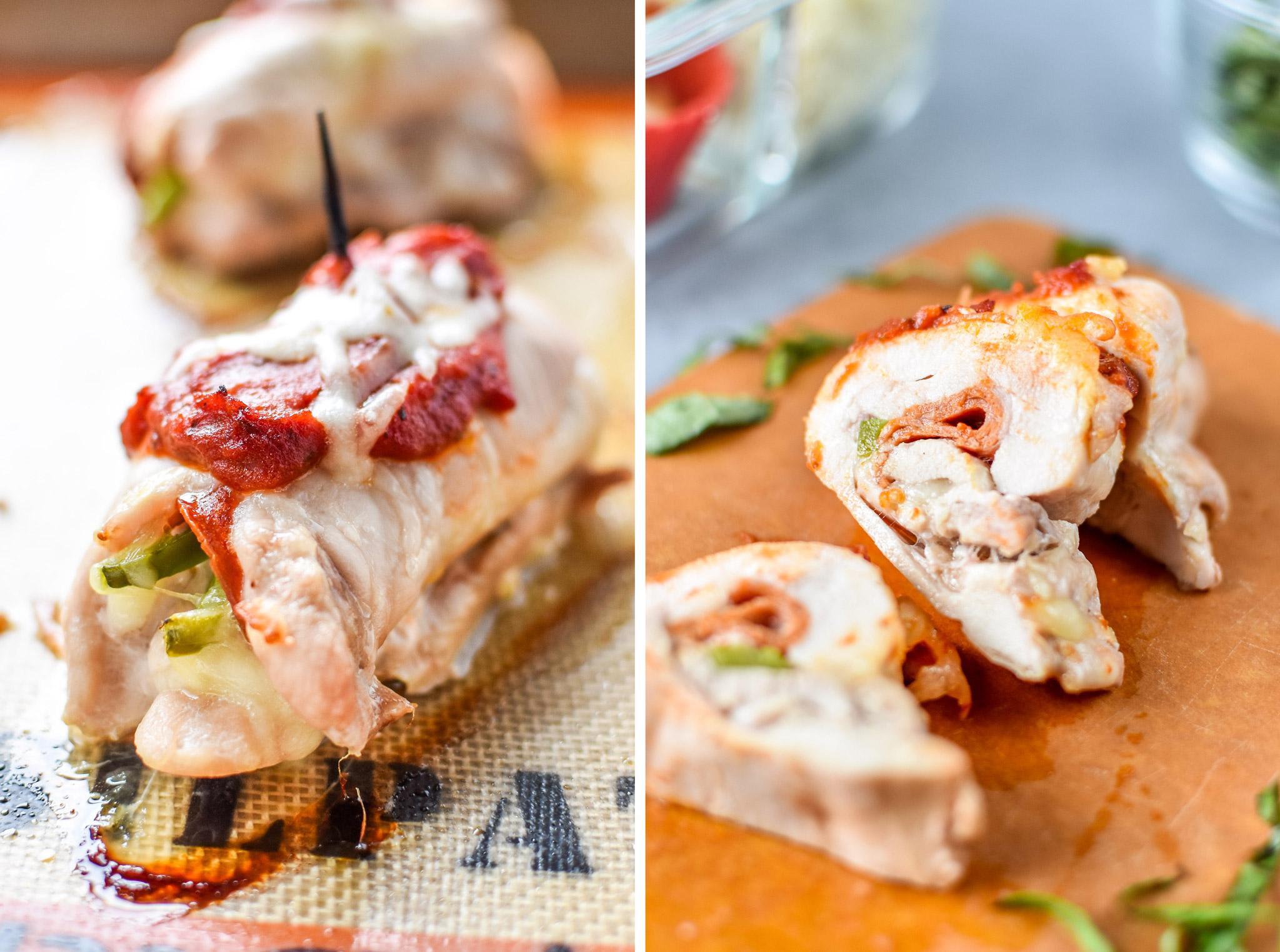 After assembly, bake the pizza roll ups in a preheated 400F oven for about 20 minutes, or until cooked to 165F. Add another sprinkle of cheese and stick it back in the oven for 3 more minutes or until melty. Easy meal prep main dish!
How about that cauliflower rice?
While the chicken is cooking in the oven is the perfect time to cook the up the cauliflower rice. For this meal prep, I decided to go with a simple Parmesan and garlic cauliflower rice that works well with pizza flavors. To make my cauliflower rice, I referenced the ultimate guide on the subject – 7 Cauliflower Rice Recipes from Sweet Peas and Saffron, which includes exactly how to make your own cauliflower rice at home with your food processor.
For my cauliflower rice, I purchased pre-riced cauliflower (bad!) because I already do a bazillion dishes as a food blogger, but normally I would opt for making the caulirice at home with a fresh head of cauliflower and my food processor. The 16 ounce bag of riced cauliflower from Trader Joe's was almost exactly 4 cups of riced cauliflower and works perfectly for this meal prep.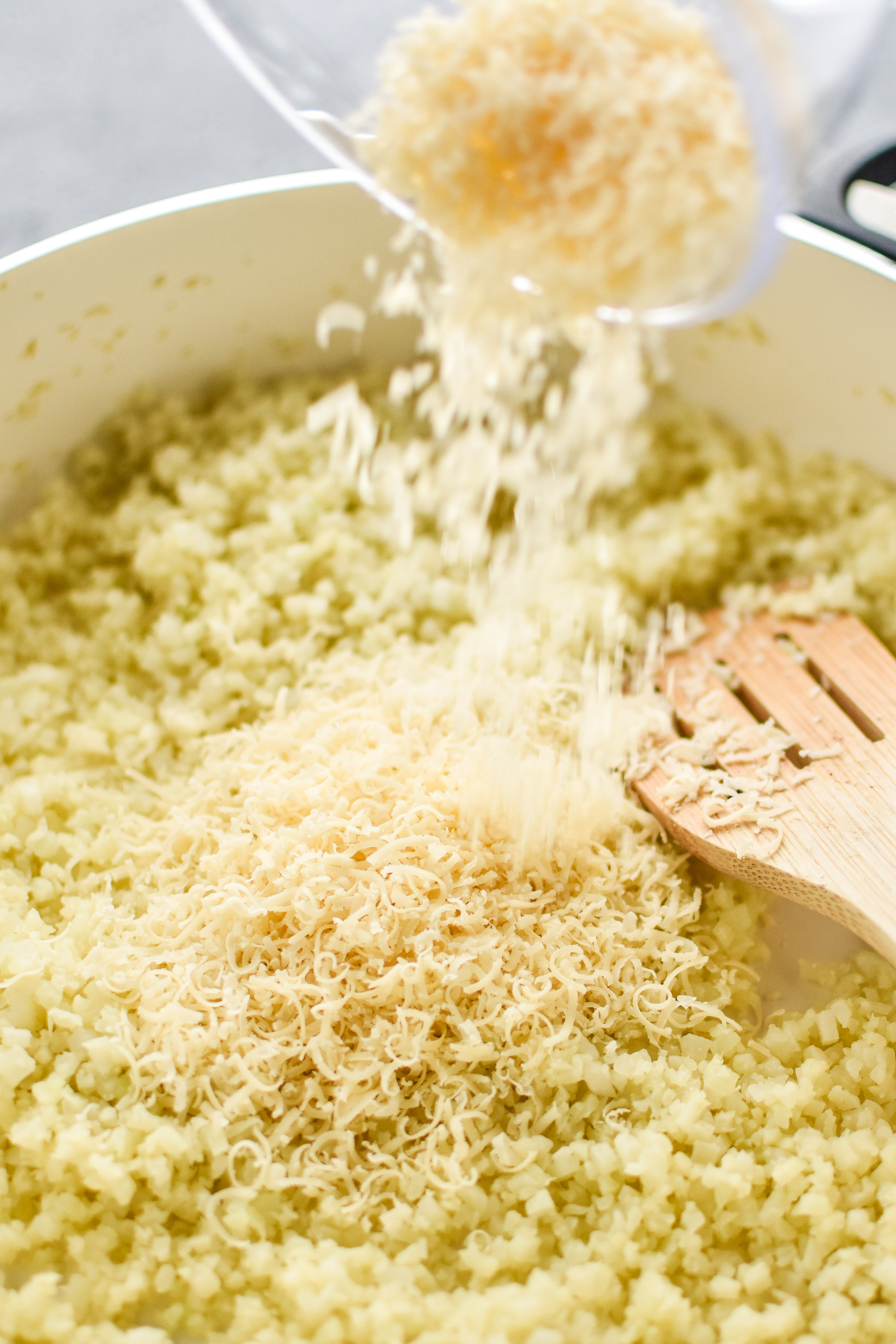 Pineapple on Pizza: Yes or No?
The final section of the meal prep container is for you to add in your extra pizza toppings or additional lunch side dish. We chose pineapple. The sweetness and cold temperature contrasts perfectly with the savory caulirice and pizza chicken roll up. The pineapple is super easy to pull out of the container for microwaving if you put it into a reusable silicone baking cup.
The choice of pineapple was an easy one for us, but if you don't like pineapple on pizza, there are other options for your third compartment:
raw pizza veggies such as mushrooms, tomatoes, spinach
a small side salad
nuts or a non-pizza related snack
more pizza sauce for dipping
more caulirice if you want!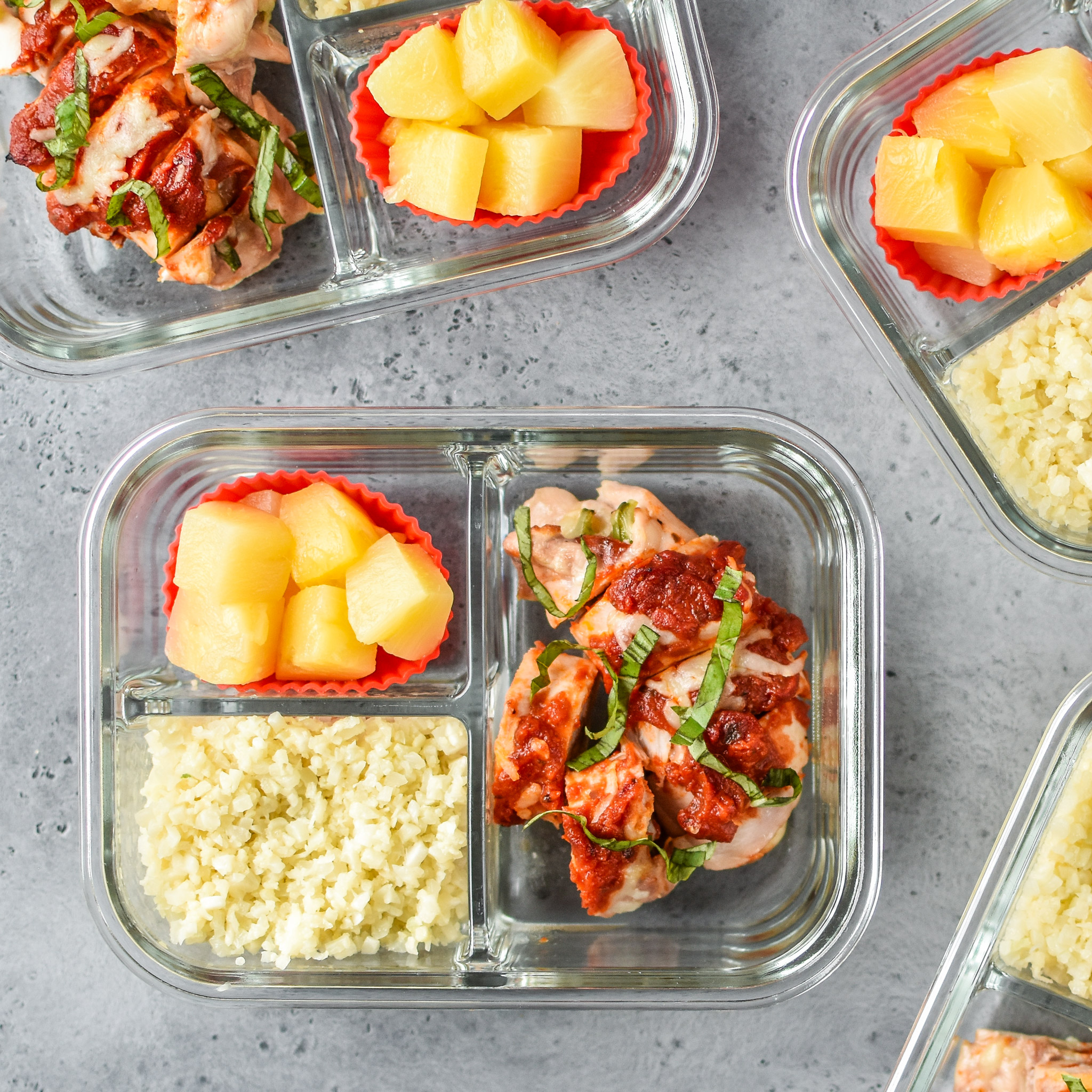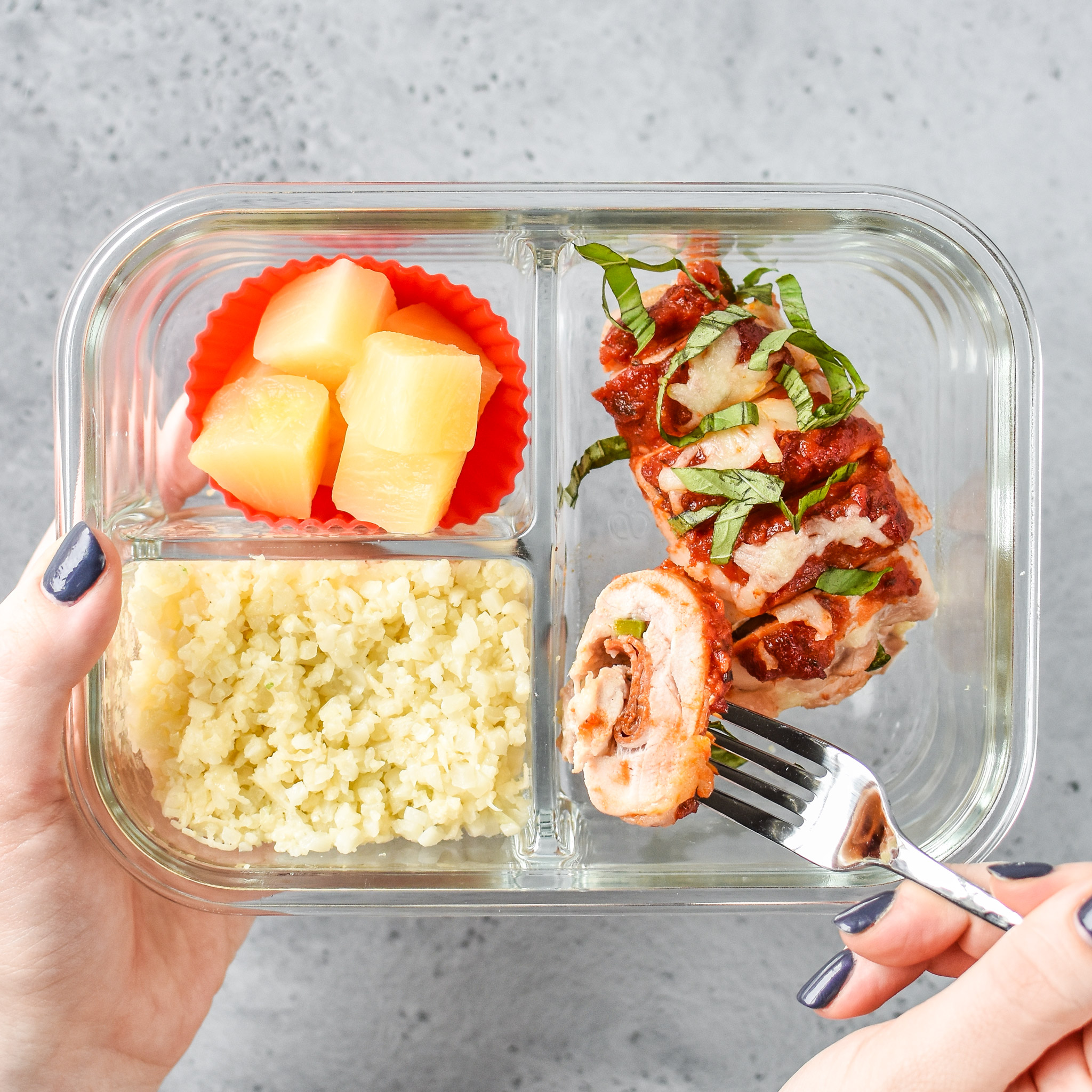 More meal prep recipes from Project Meal Plan:
Recipe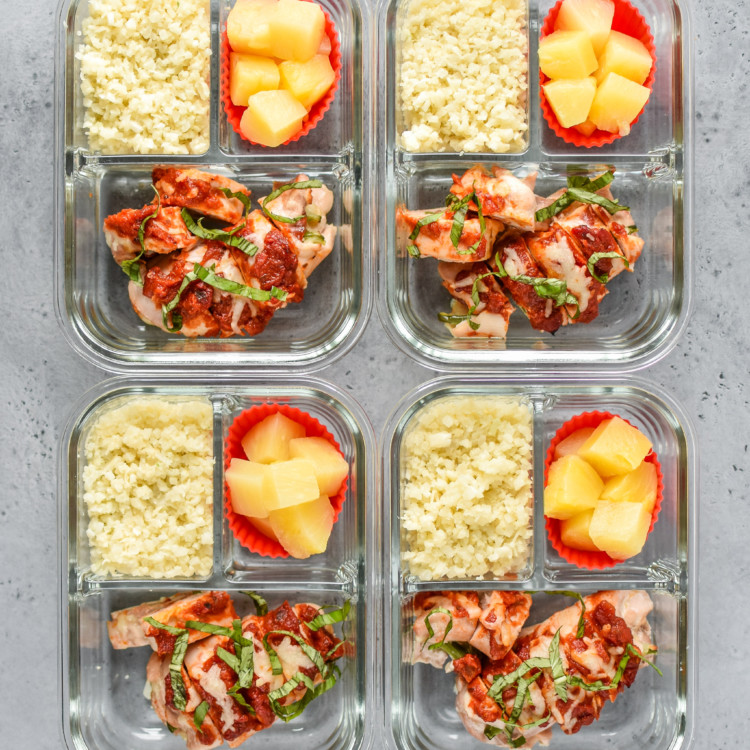 Pizza Chicken Roll Ups Meal Prep
Prep:
20 minutes
Cook:
30 minutes
Total:
50 minutes
Pizza Chicken Roll Ups Meal Prep is a creative and lightened-up meal prep option complete with cheese and pepperoni stuffed chicken thighs, Parmesan cauliflower rice, and a side of pineapple (for the pizza of course!).
Ingredients
6

fresh boneless skinless chicken thighs (around

20 ounces

)

18

pepperoni slices

1/2

green bell pepper, cut into thin strips

1/2 cup

mozzarella cheese, shredded

1/2 cup

pizza sauce (or more if you like it saucy)

1 tablespoon

olive oil

4 cups

cauliflower rice (about

16 ounces

or 1 head)

1/2 teaspoon

garlic powder

1/4 teaspoon

onion powder

1/2 teaspoon

salt

1/2 cup

freshly grated parmesan

1

+

1/2 cups

unsweetened pineapple chunks, drained
Instructions
Preheat the oven to 400F. Use a meat tenderizer to flatten the chicken thighs to about 1/4 of an inch thick. Lay the chicken thighs out flat on a baking sheet lined with foil or a silicone baking mat.
Add 3-4 pepperonis on each chicken thigh, 2-3 bell pepper strips, and a sprinkle of mozzarella cheese, all placed towards one end of the chicken thigh. Roll the chicken *tightly* from the end with the pepperoni (so it's tucked in the middle!), and use a toothpick to hold everything together once rolled. Spoon a bit of pizza sauce on top of each pizza roll.
Cook pizza chicken rolls in the oven for 18-20 minutes, or until cooked to 165F. Remove from the oven, sprinkle with a little bit of extra mozzarella cheese, and then return to the oven for 3 minutes or until the cheese is melty. Once cooled, pre-cut each pizza chicken roll and then add an even amount to each meal prep container (6 pizza rolls for 4 lunches is about 1.5 pizza rolls each).
Cook the cauliflower rice while the chicken is in the oven. Heat olive oil in a non-stick skillet over medium heat. When hot, add cauliflower rice, garlic powder, onion powder, and salt. Stir frequently and cook for about 5 minutes, or until the cauliflower is softened (taste to check if you like the consistency). Set aside and portion into meal prep containers when cool.
Finally, portion the pineapple chunks into the meal prep containers.

TIP

: Using reusable silicone baking cups

(affiliate link!)

to store your pineapple lets you quickly remove the pineapple from the container so you can microwave the rest of the meal without microwaving your pineapple. If you don't like pineapple with your pizza, just replace with another fruit or vegetable you do like with your pizza. Store in the refrigerator and enjoy within 4 days.
Equipment
Nutrition Information
Serving Size:

1 meal prep lunch

Calories:

392

Sugar:

17g

Fat:

17g

Carbohydrates:

22g

Fiber:

5g

Protein:

40g
Recipe Card powered by
Thanks for checking out the Pizza Chicken Roll Ups Meal Prep! Please tag me or use #projectmealplan on social media to share your chicken pizza roll up meal prep combos!