If you're just starting out with meal planning, finding your groove can take some time! The key for me was making my own reusable weekly meal planner! No more weekly printing, no more using up paper and ink. Turn a paper meal planner into a reusable weekly meal planner! Here's How to Laminate Your Weekly Meal Planner Template!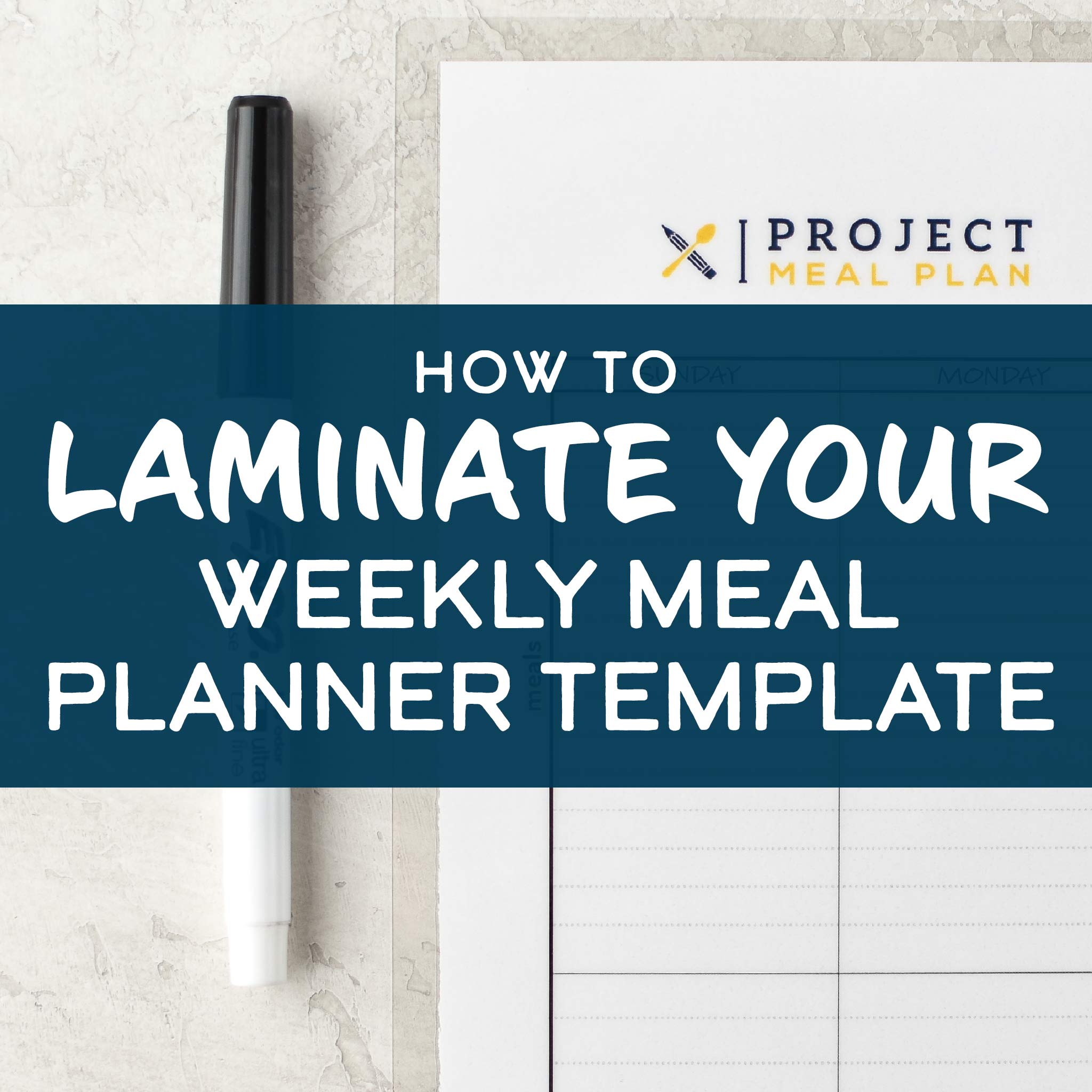 What is a Weekly Meal Planner Template?
A weekly meal planner template is a tool used for meal planning. It can be in the form of a dry erase board, a piece of paper, or chart on the computer.
Weekly meal planner templates come in lots of different sizes and types, but they all have one thing in common: A chart with the days of the week and space so you can write down your meals each day.
Other things a weekly meal planner template might include:
notes for prep day
shopping list
thaw list
daily notes
repeated meals
If you're looking for a Weekly Meal Planner template, try mine! I spent time designing a meal planner I would actually use. The Project Meal Plan Weekly Meal Planner Template includes:
space to remind myself of healthy snack options – sometimes I forget when things are hidden in the fridge!
note space for each day – I use this for things like reminding myself to thaw frozen meat, or noting any events that might impact the meal plan.
undefined meal sections – I like less defining boxes and more space to write.
the Sunday Meal Prep recipes and planning section to remind myself what I'm planning to prep ahead for the week.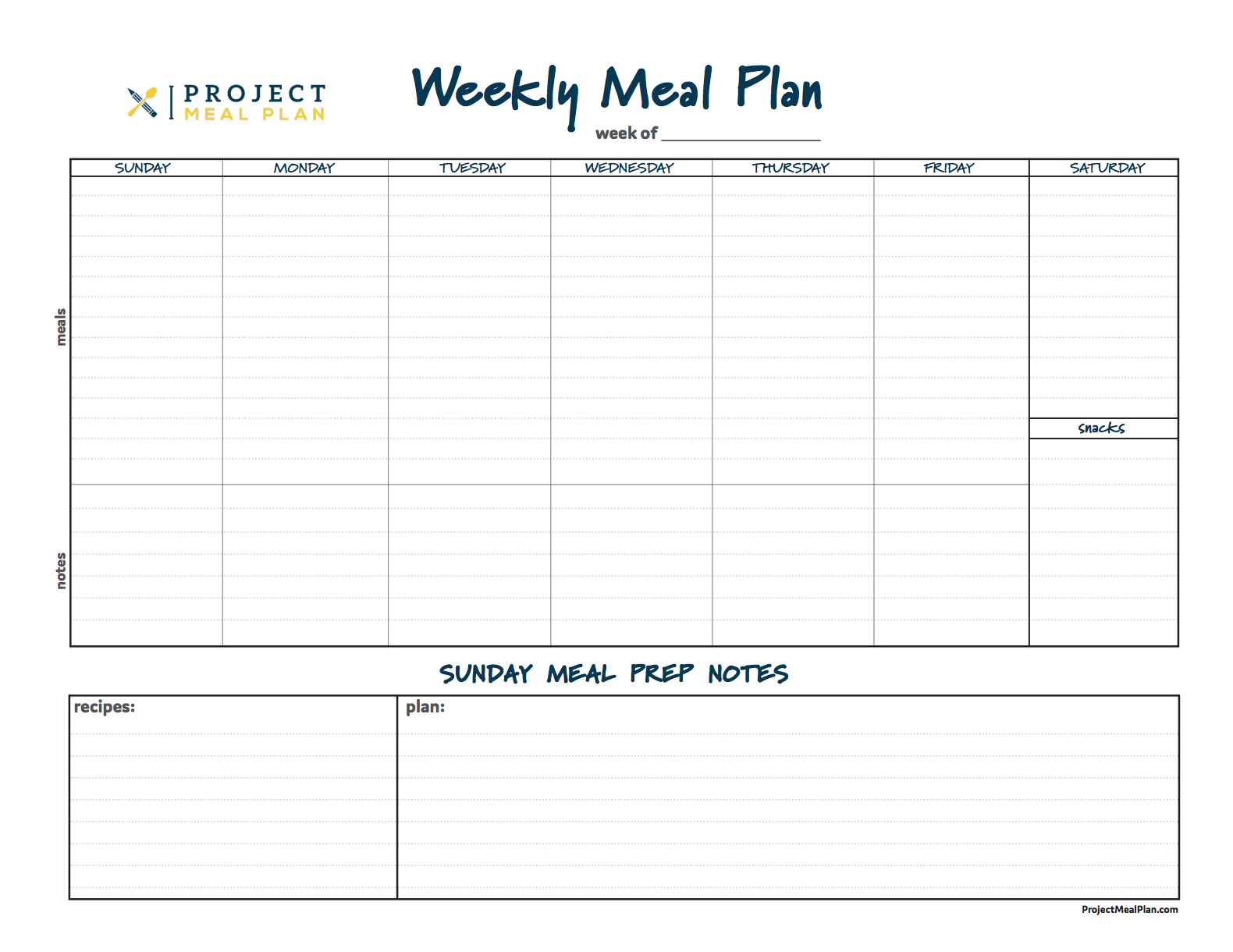 Of course, there are tons of meal planner templates across the internet! Any that you can print out on paper can be laminated. Personally, I keep my shopping list in my phone so I always have it on hand. That's why I didn't include a shopping list on my weekly meal planner template, but they do exist!!
If you're looking for a different kind of weekly meal planner template that includes a shopping list on the same page, check out my friend Steph's template over at Meal Plan Addict!
Why laminate your meal planner template?
The biggest reason to laminate your weekly meal planner is CONVENIENCE.
I'm embarrassed to say that for years, lacking a functional printer was reason enough for me to skip meal planning entirely. Printing out a meal planner once seemed like a possibility, but printing one every week? Maybe I'm high maintenance, but I wasn't into that!!
Paper, ink and printers all cost money. It's a lot of moving parts that have to be in order every week, continuously, for meal planning to be successful. For some people, it's easy. But other people, like me, are always out of ink (how?).
Laminate your meal planner once, and never print a meal planner again!
All it takes is a quick wipe down to erase last week, then you're set! I'm positive it takes less time and energy than printing a new meal planner every week.
More reasons to laminate your meal planner:
no food or water stains
easy to change mistakes
no paper waste
anyone can use it
I got my meal planner laminated in January 2018. I meal plan every week. I'm still using the same exact laminated meal planner more than 18 months later.
How to Laminate Your Weekly Meal Planner Template
1. Download a PDF copy of the meal planner template you want to laminate.
If you do a Google search for 'Weekly Meal Planner Template PDF', a lot of options will come up. Most of these will be free to download from websites like mine. Think about what you would want in your meal planner, do a little research if you want, then download a copy from the website (download mine HERE).
2. Save the file on a flash drive, in your email or print it at home.
After downloading a copy of the PDF to your computer, you'll need to make it accessible while you're at your local print center. Here are the options:
Save on a flash drive: Save the Weekly Meal Planner Template PDF on a flash drive so you can bring it with you to the print center you choose. If you have the file, the experts will be able to help you from there!
Email the file to yourself: If you don't have a flash drive handy, you can always email the file to yourself and it will be saved in your email. When you get to the print center, they'll have an email address you can forward the email to. They'll help you open the email and access the PDF for print and laminating.
Print at home to take with: You can always print out the meal planner sheet you choose at home to avoid dealing with the PDF file at the print center. The downside of this method is creases, bends or other damage can happen to the paper meal planner in transit, and then you don't have access to a fresh copy at the print center.
3. Find a print center that offers laminating services.
Almost all full service print and copy centers offer lamination as a finishing service. To avoid a wasted trip, you can always call and ask if they do laminating. If they don't, ask them if they know anyone who does.
Based on my research, here are some locations in the United States that offer laminating services: Office Depot & Office Max, FedEx Office Print & Ship Centers, The UPS Store, Staples, and some Costco locations. Local (non-chain) print and copy centers may also offer these laminating services. Call and ask!
4. Visit the print center in person to get your weekly meal planner laminated.
The staff at the print and copy centers will know how to help you complete your meal planner lamination project (it's their job!), so you don't have to be any kind of expert with printing or laminating.
However, there may be some options to choose from. Here are a couple things to keep mind:
Lamination thickness: Thickness of lamination is measured in millimeters. The thicker the lamination, the more expensive it will be. I would suggest going no thinner than 3 mil, but I prefer 5 mil. Thinner lamination will be lighter and more flexible but also more susceptible to damage (less covering, less protection). My weekly meal planner template is 5 mil thick. 10 mil thickness is probably not necessary, as it will be heavy and may be hard to keep on the fridge.
Size of paper: The meal planner PDF was developed to fit normal letter size paper (8.5×11 inches). However, you can get one a little bigger by using larger paper. Ask if they have size A3 paper available (11.7×16.5 inches) and if lamination is possible for that paper size. There will be an inch or two of extra ends which can easily be trimmed off before lamination (note: large paper will cost a few cents extra).
5. Get a dry erase marker and start meal planning!
While you're at the print and copy center or office supply store, grab a dry erase marker! A thinner tip will work better for fine writing on the meal planner. I use an "ultra fine tip" black Expo marker (affiliate link to show you which one I use) for my meal planning. Any office supply store should have these in stock!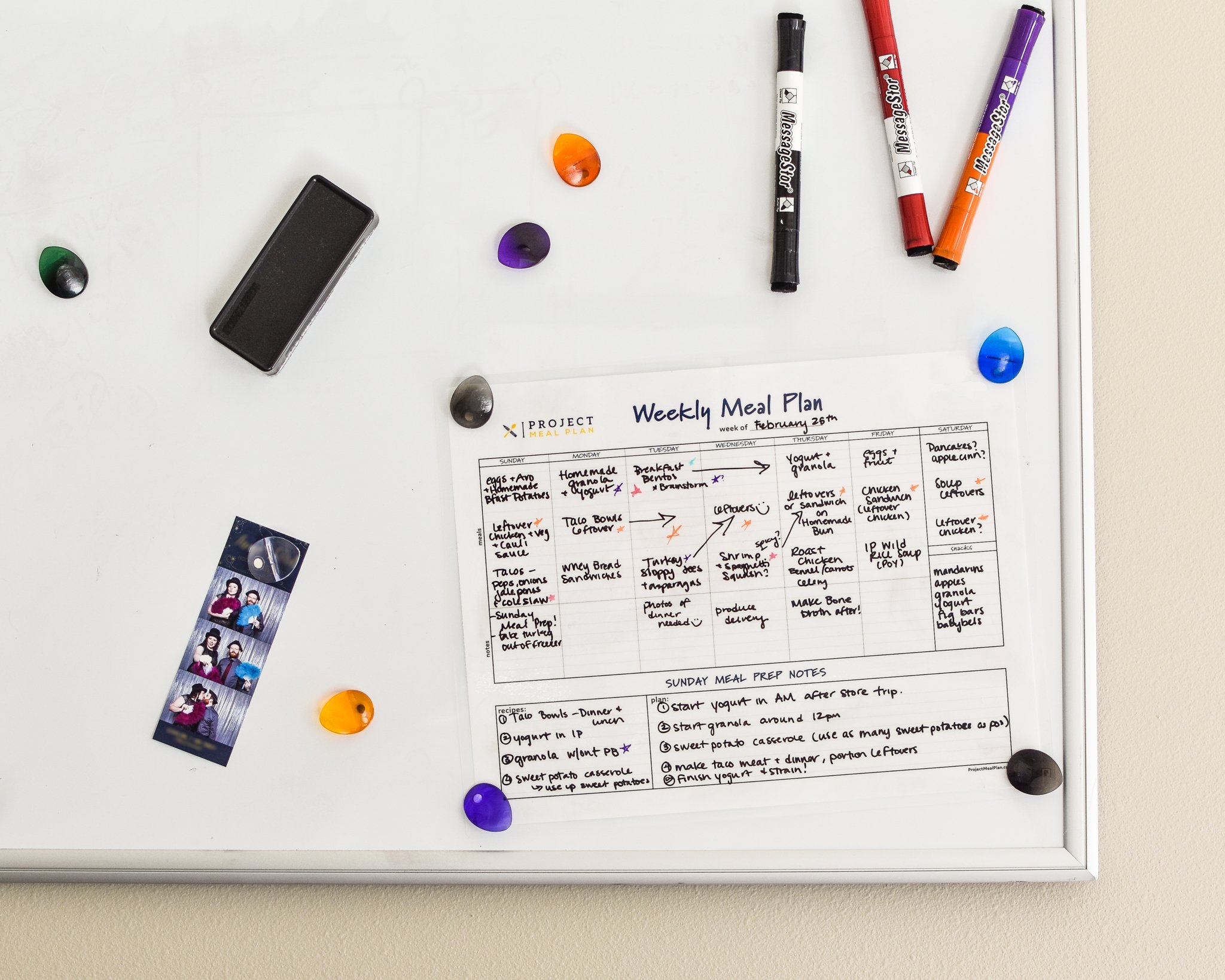 How much does it cost to laminate a weekly meal planner template?
Overall, it should not cost more than $5-6 to get your meal planner template laminated. Here's a cost breakdown of how much it cost me to get my meal planner laminated at my local Costco:
Printed on A3 paper: $0.69 / copy
Lamination services: $2.19 / copy
Total: $2.88 for one large meal planner to be printed AND laminated (smaller size would be cheaper)
Staples has lamination service prices listed on their website – $1.89 per 5 mil lamination pouch OR $2.00 per square foot for larger sizes. If it's concern, call around and see who can do it for the cheapest!
The cost of a ultra fine tip dry erase marker should be no more than $3-5, depending on the size and variety of the packs available (I like Expo brand!). In total, obtaining and using a laminated meal planner template should cost no more than $10.
How do I get started with meal planning?
So you've picked out a meal planner and maybe you even got it laminated! But now, it's time to start meal planning and you're still a little stuck.
Here's where to go next:
5 Steps to Help You Make A Weekly Meal Plan That Works
10 Simple Things to Remember When You Start Meal Planning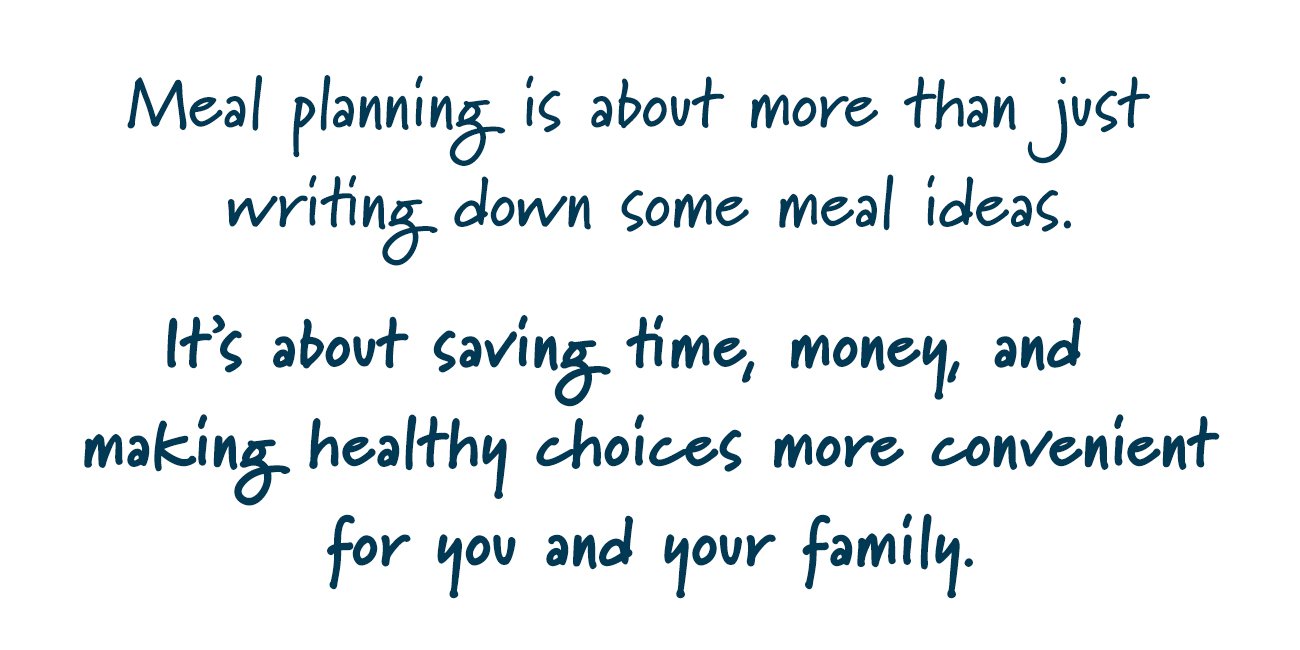 If you want ideas, tips or feedback on your meal planning strategy, join us in the Project Meal Plan Motivation and Ideas Group on Facebook. Share your meal plan, ask questions, look for recipe ideas. Anything! Hope to see you there!