1 Comment
Posted: 08/17/2016
Updated: 09/24/2021
You know that internal struggle that sometimes happens when you're craving Chinese take-out? To dial or not to dial… A mental pros and cons list begins. If you eat out, it will surely be delicious, easy, and possibly even delivered to your home. All great reasons. Then the cons side starts off with a couple big ones: expensive, and probably unhealthy (depending on your choices of course). Maybe you're having this debate with your significant other, and it's even more difficult because you both agree on all the pros and the cons. That's been us, of course. So then there was Fried Cauliflower Rice.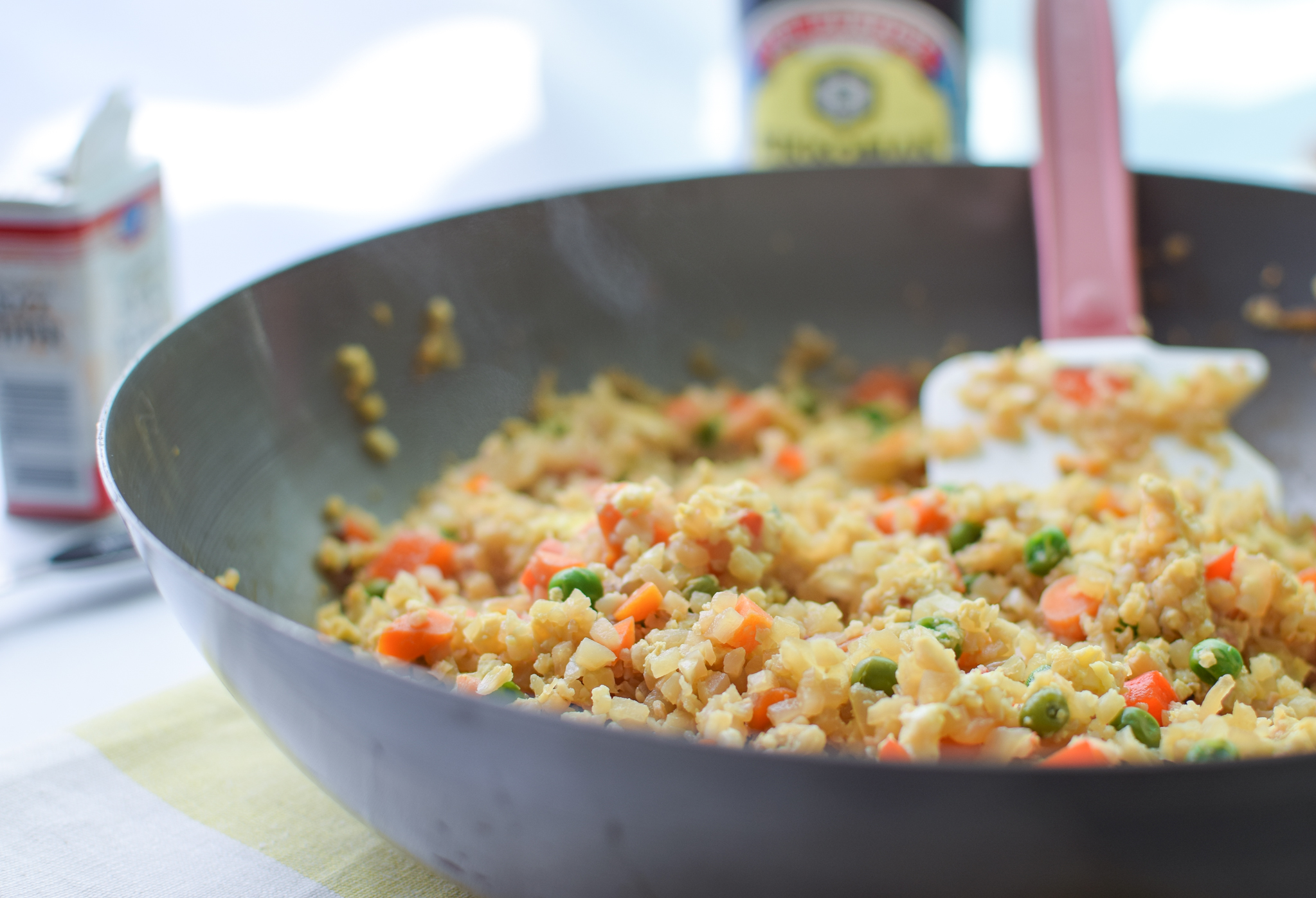 In the past few months I've been learning that cauliflower is pretty easy to disguise. So I was thinking… why not fried rice style? Turns out, it's totally doable. Fried Cauliflower Rice is a perfect healthy substitute for some fried rice take out. Looks like we can make a new list of pros for resisting the temptation and cooking this anti-take out at home.
Once again, I have to give some kudos to Trader Joe's. Riced cauliflower is my current favorite vegetable solution courtesy of the next door grocery haven. Unfortunately, I don't have one of those classic food processors yet.
We do have the food processor Kitchen-Aid attachment, but it's a lot of pieces for a tiny job. If you don't have access to Trader Joe's Riced Cauliflower, I would suggest browsing Cook Eat Paleo's post called How to Make Cauliflower Rice. Lisa discusses a couple easy methods to prepare some simple cauliflower rice.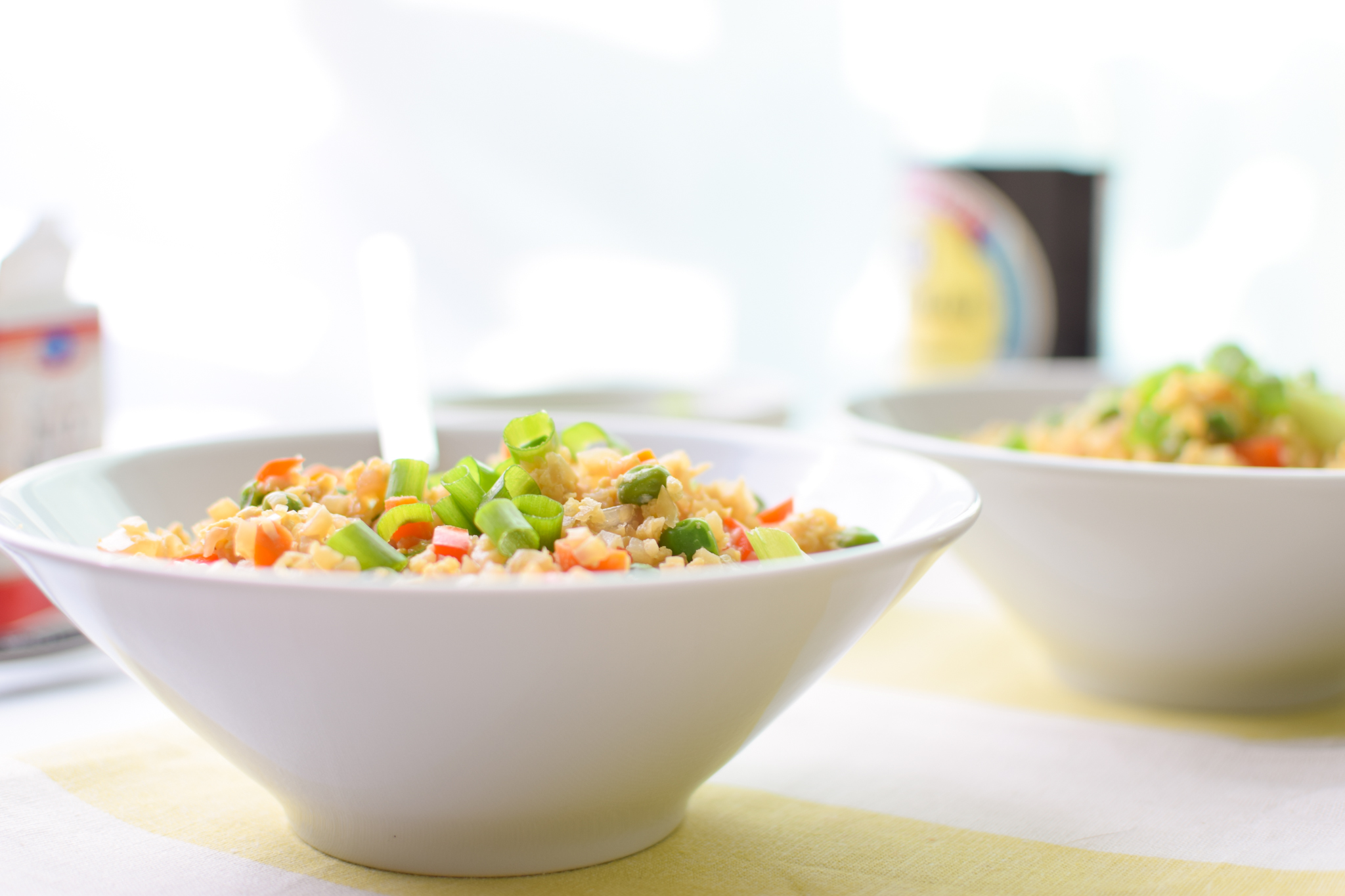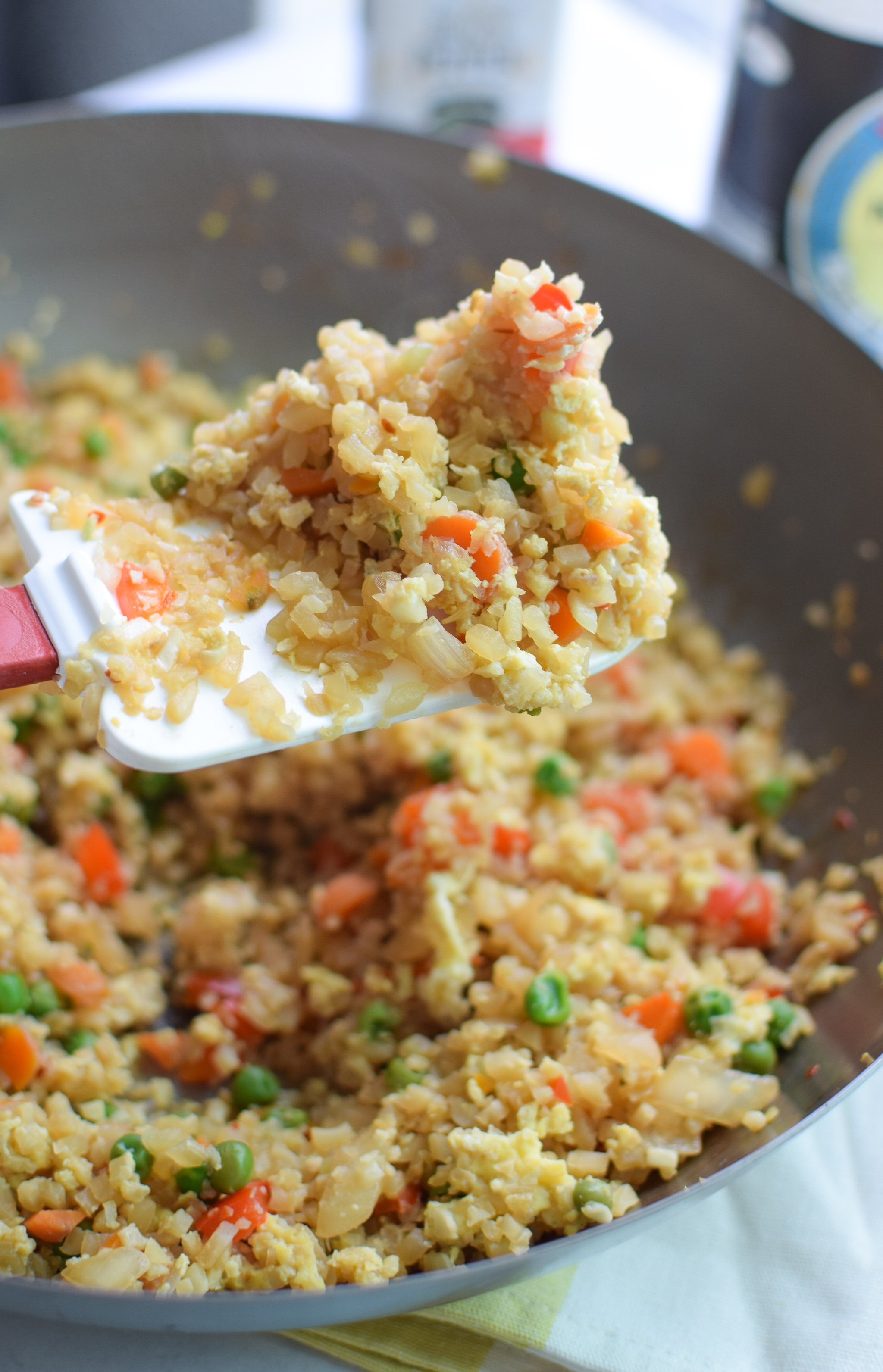 This fried cauliflower can be as versatile as take out fried rice – add chicken (my favorite), pork, beef, tofu, shrimp… I could go on. Sub or swap any of the veggies to change it up each time you make it. For preparing ahead, this recipe splits into about 4 servings. Pair that with a good heaping portion of one of the above named proteins, and you've got yourself a super veggie/protein packed lunch that you might almost forget is actually cauliflower. Plain as a side works too!
I cooked the cauliflower rice while I had some chicken breast tenders in the oven. The chicken was bathed in a sauce of ground ginger, honey, red pepper flakes, soy sauce, garlic and toasted sesame oil. Maybe that recipe will come along soon! Rotisserie chicken is also a completely legit option.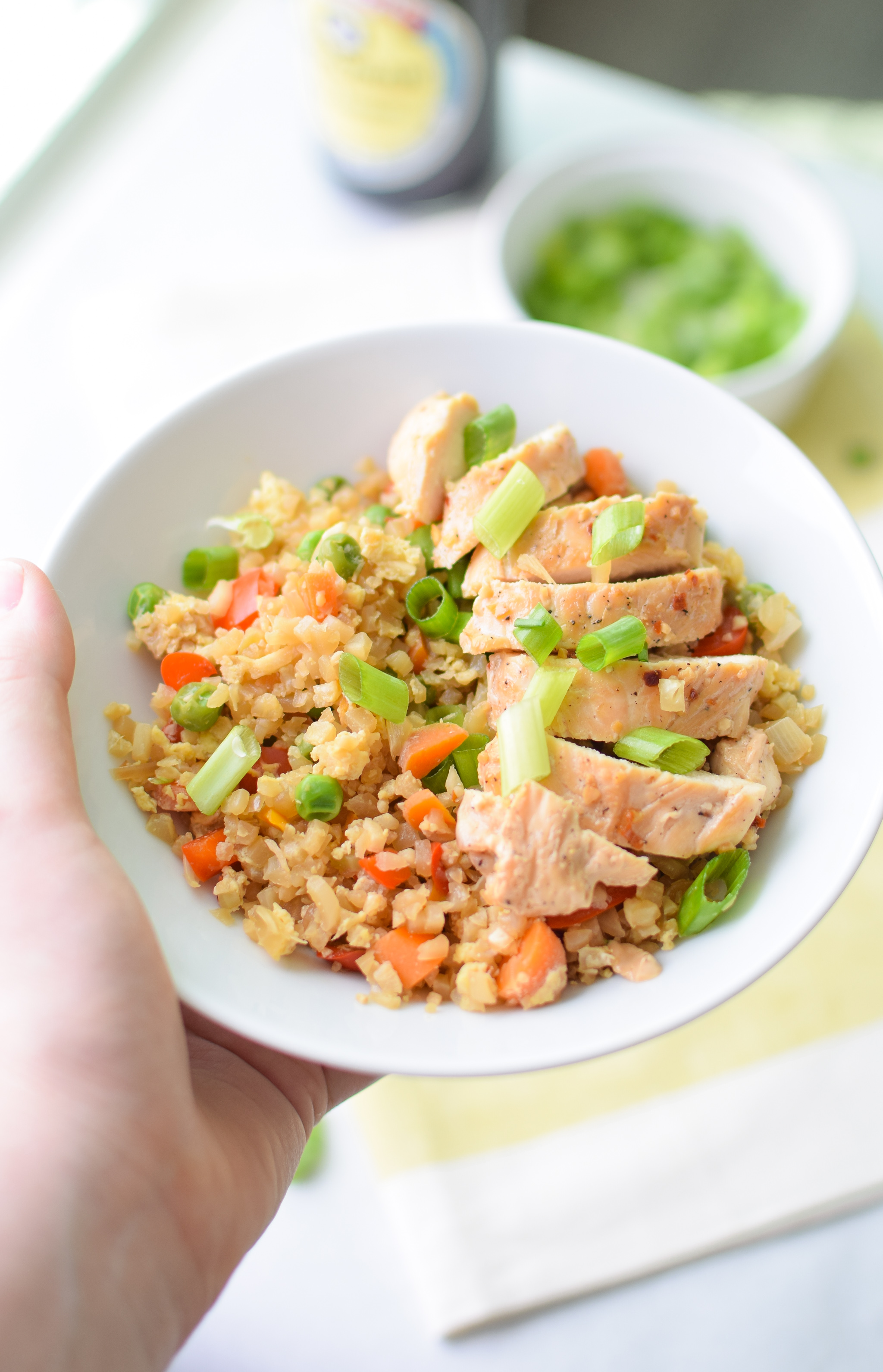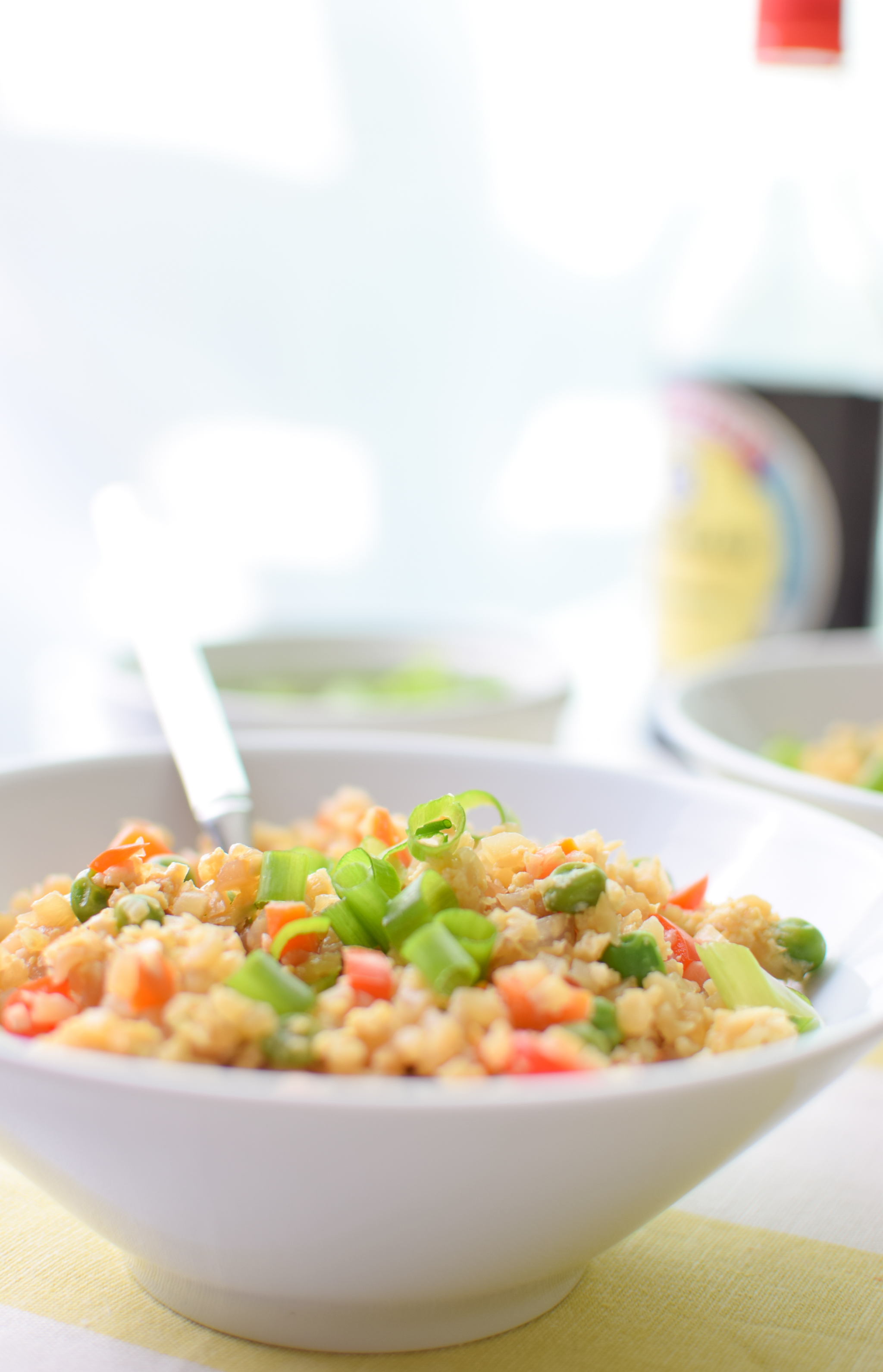 Recipe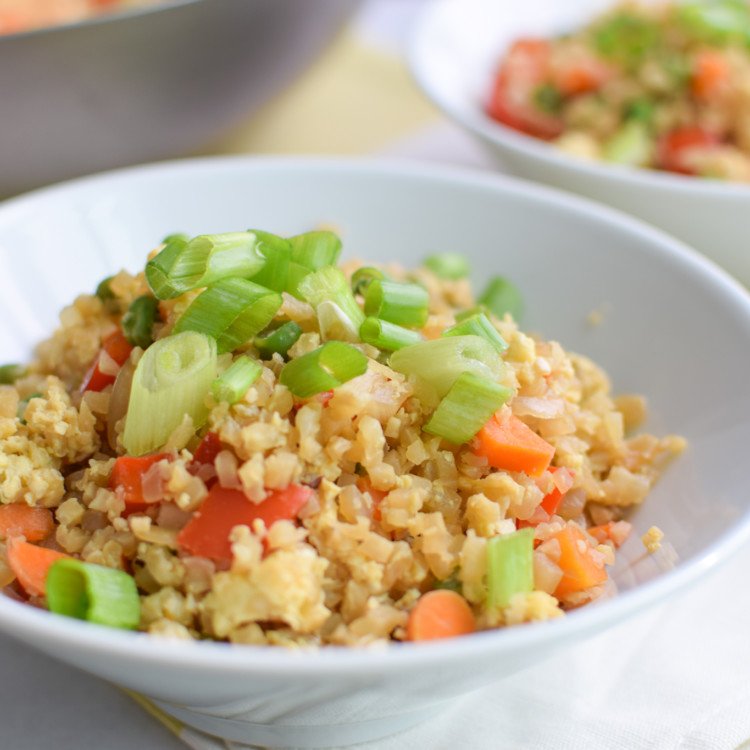 Fried Cauliflower Rice
Prep:
10 minutes
Cook:
15 minutes
Total:
25 minutes
Fried Cauliflower Rice Recipe – Super healthy takeout style fried cauliflower rice.
Ingredients
2 tablespoons

toasted sesame oil (separated)

1/2 cup

carrots, chopped (I used about

10

baby carrots)

1/2

red pepper, chopped

1/4

white onion, chopped

1/2 cup

frozen peas

1 teaspoon

minced garlic

16 ounces

riced/shredded cauliflower (about

1

head of cauliflower)

1/4 cup

soy sauce

1/2 teaspoon

red pepper flakes (or a big pinch!)

1/4 teaspoon

ground ginger

2

eggs, whisked together
green onions, for garnish
Instructions
Heat one tablespoon of toasted sesame oil in a large skillet or wok over medium to medium-high heat. When hot, add carrots, red pepper, and onions. Cook for about 4 minutes, stirring frequently until the vegetables begin to soften.
Reduce heat to medium and add remaining toasted sesame oil. Add the cauliflower and frozen peas (wait a couple extra minutes to add if they are not frozen). Cook for 6-7 more minutes, stirring frequently, until the cauliflower softens.
Add garlic, red pepper flakes, and ground ginger. Stir until incorporated.
Move all ingredients to the sides of the wok to create a circle or well in the middle of the pan exposing the wok, about the size of a mason jar lid.
Add whisked eggs to the center of the wok. Wait for approximately 30 seconds, then begin to scramble the eggs into the cauliflower rice while the dish continues to cook.
When the eggs are done cooking, remove from heat and serve immediately. Store leftover in airtight containers in the fridge.
Nutrition Information
Serving Size:

1 cup

Calories:

161

Fat:

9.8g

Carbohydrates:

12.2g

Protein:

7.9g
Recipe Card powered by
Thank you so much for reading! Tag @projectmealplan on social media if you make this yummy recipe! I'd love to see what you've created!
– Danielle