This Super Clumpy Nut-Free Snack Mix Granola is full of classic snacks like pretzels, sunflower kernels, and dried cranberries. It's a perfect make-ahead snack or breakfast! The best part: it's super clumpy!!
Jump to Recipe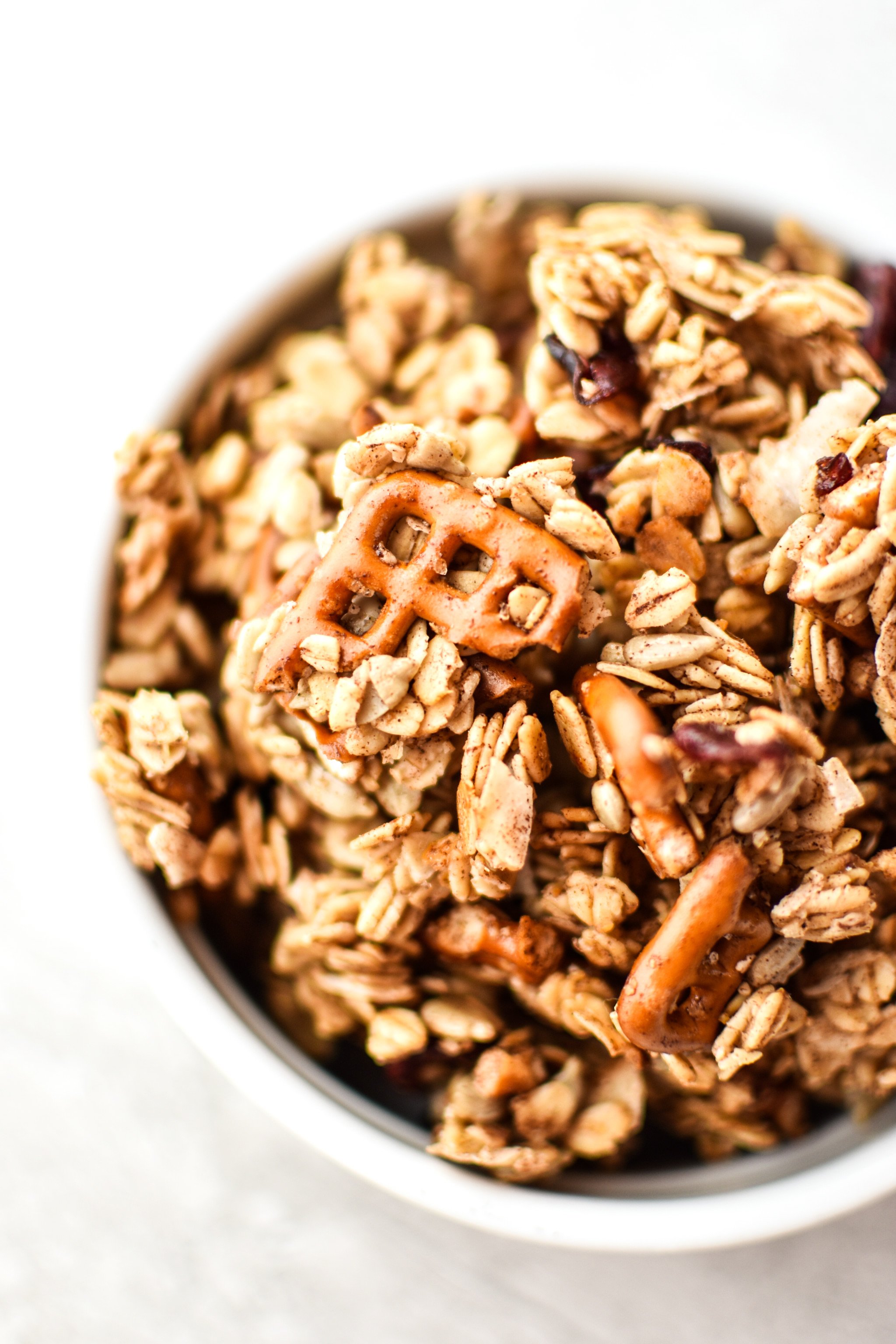 Finally, a granola made at home with the most important characteristic I require: CLUMPS. Oh, sweet clumps. Granola without clumps is just cereal.
I've been testing granola recipes for literal months now, and I was never happy with the results. I tried a few ways of making it, with my own spices and tweaks, but a) there were never any clumps; and b) these granolas did not feel like my own personal versions.
But then, two things happened:
I discovered the REAL trick to clumpy granola.
Sean suggested I put PRETZELS in the granola.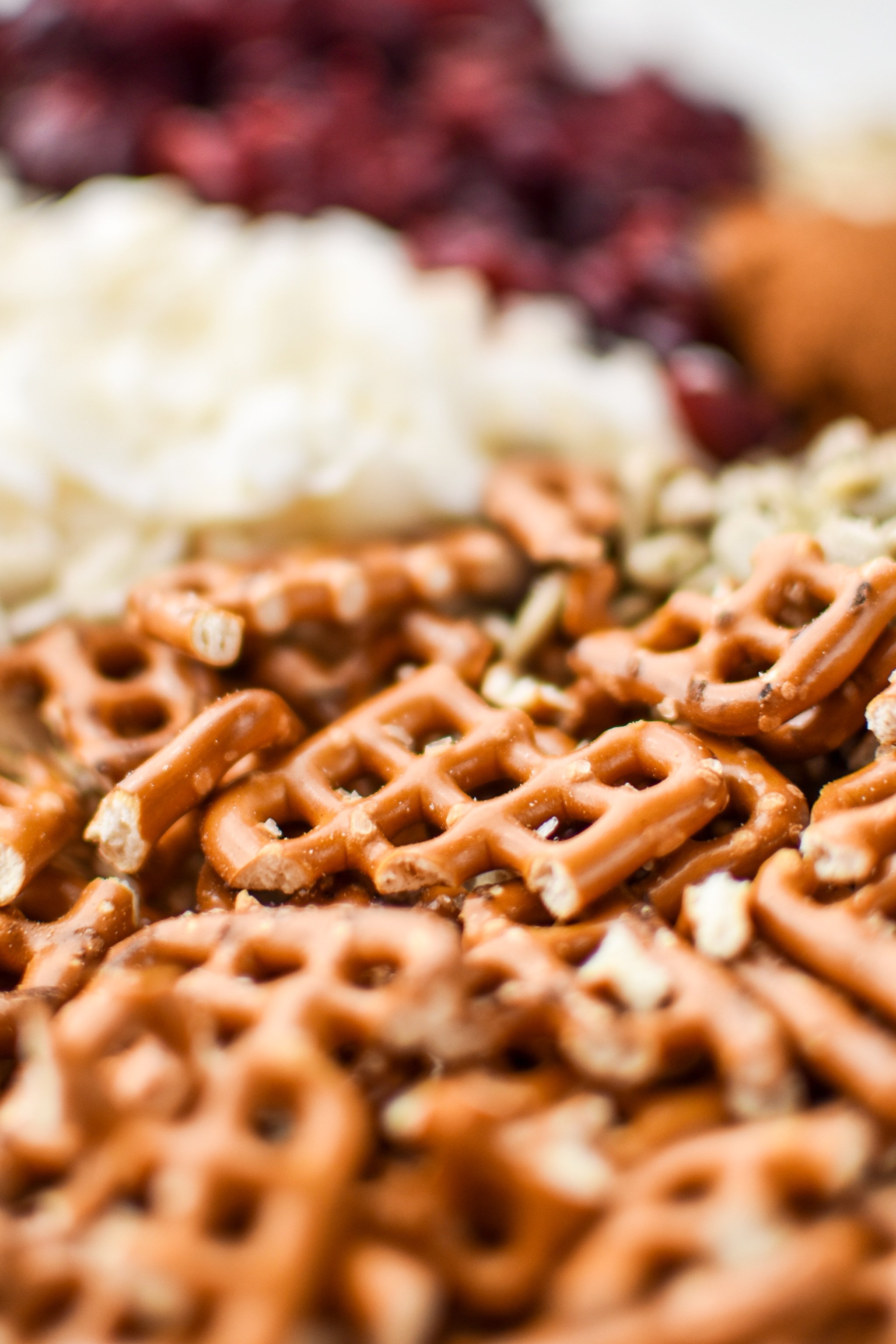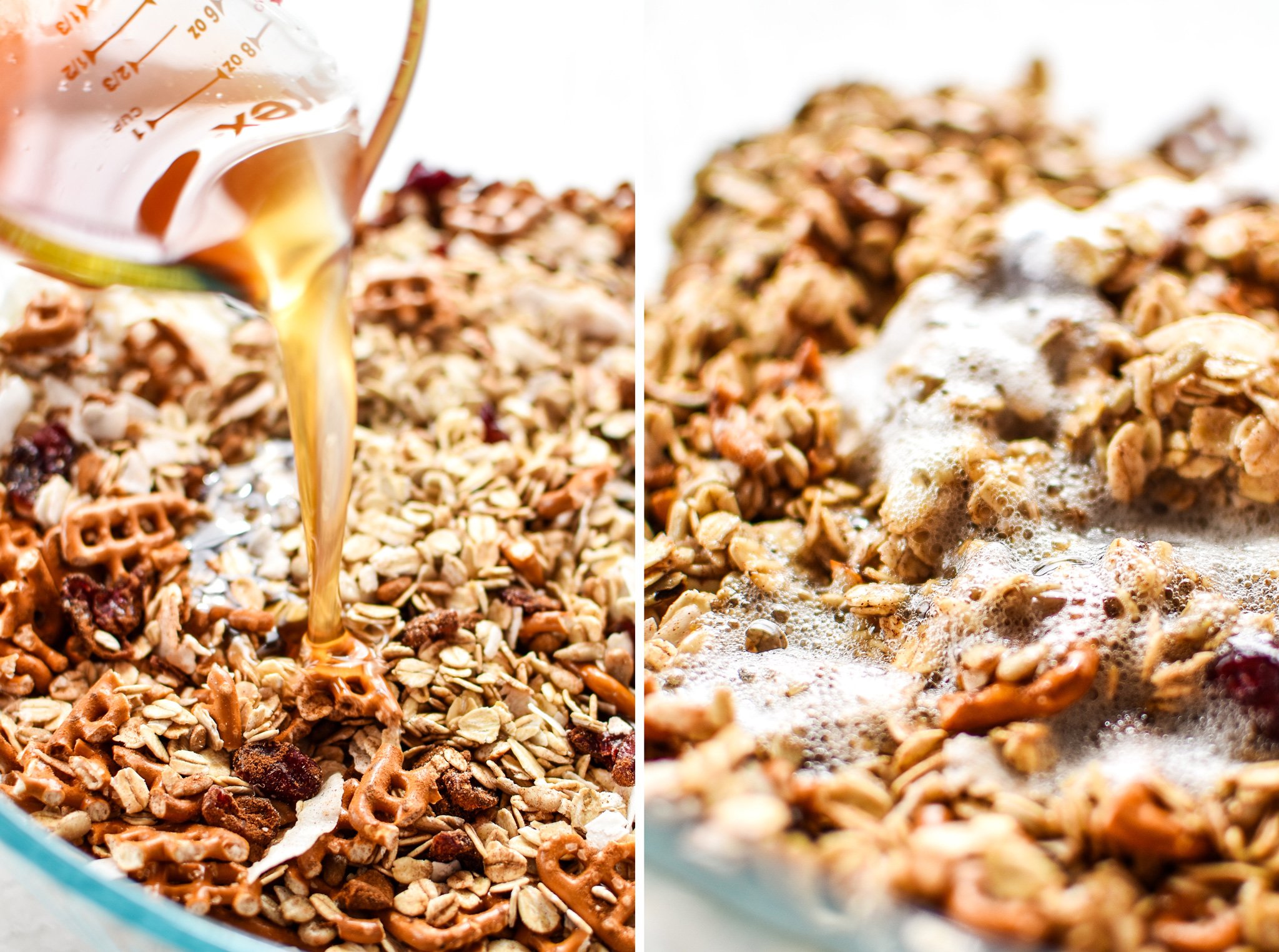 The trick to clumpy granola:
I'm pretty sure Nagi from Recipe Tin Eats knows every trick to anything, but this trick came through for me when I needed it most. I was legit about to give up on clumpy granola at home. I even tried a batch with flour added… But then I found out I just needed a couple egg whites.
Nagi's original recipe uses two egg whites, but I like to add three for even more clumpiness!
Using pretzels in granola:
I've never seen granola with pretzels before. It's also been a really long time since I've seen granola without any nuts in it.
Don't get me wrong, I'm into nuts. But I've been making nut butters at home recently, so I was trying to think of a way to tone down the nut situation without the granola feeling like something's missing.
Enter pretzels! I was slightly concerned about burnt pretzels happening while everything else cooked, but it doesn't seem to be a problem for me.
I tried regular shaped pretzels, but I think these Snap Pretzels are a little better at getting oats stuck inside all the nook and crannies. Not to mention these just look cooler.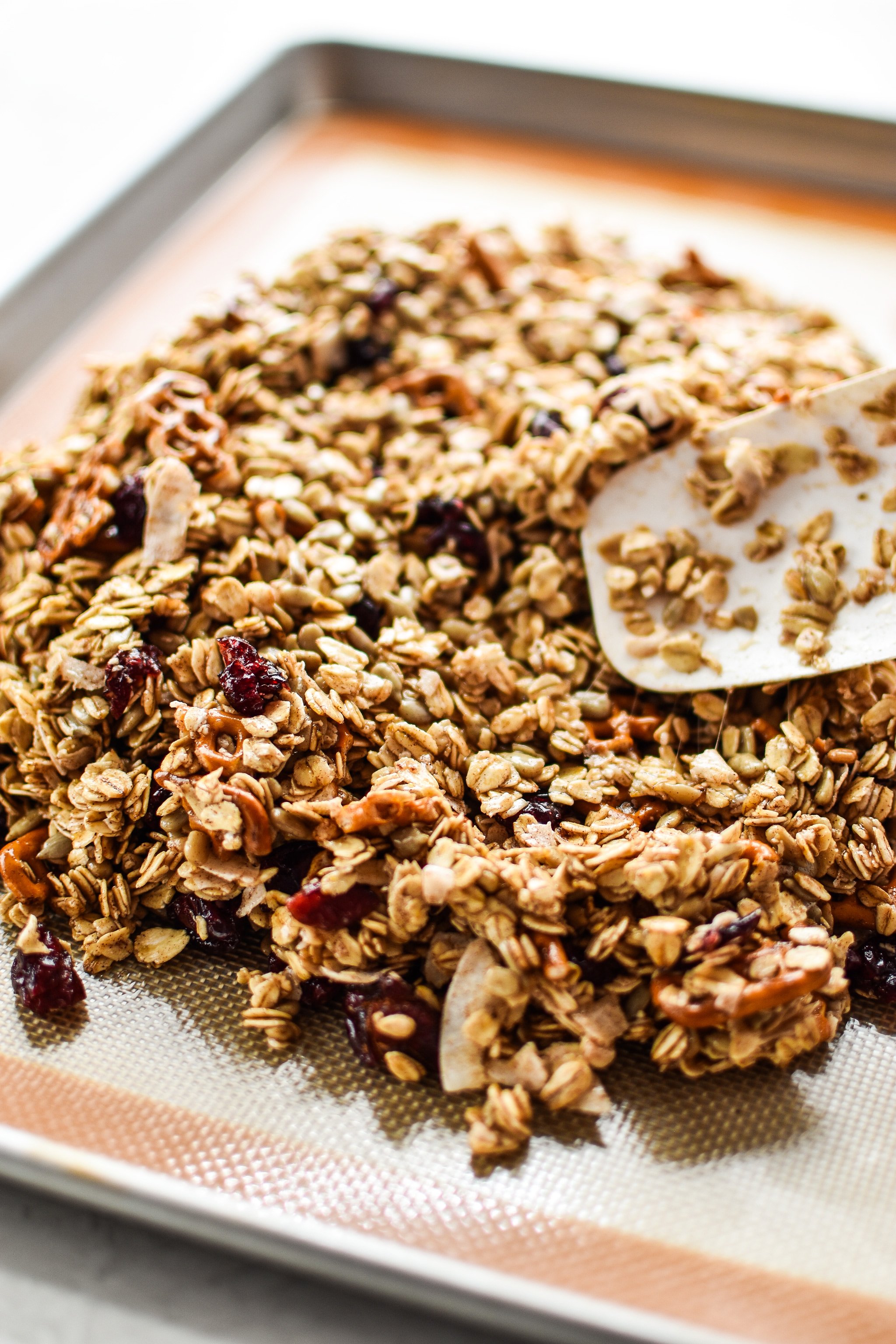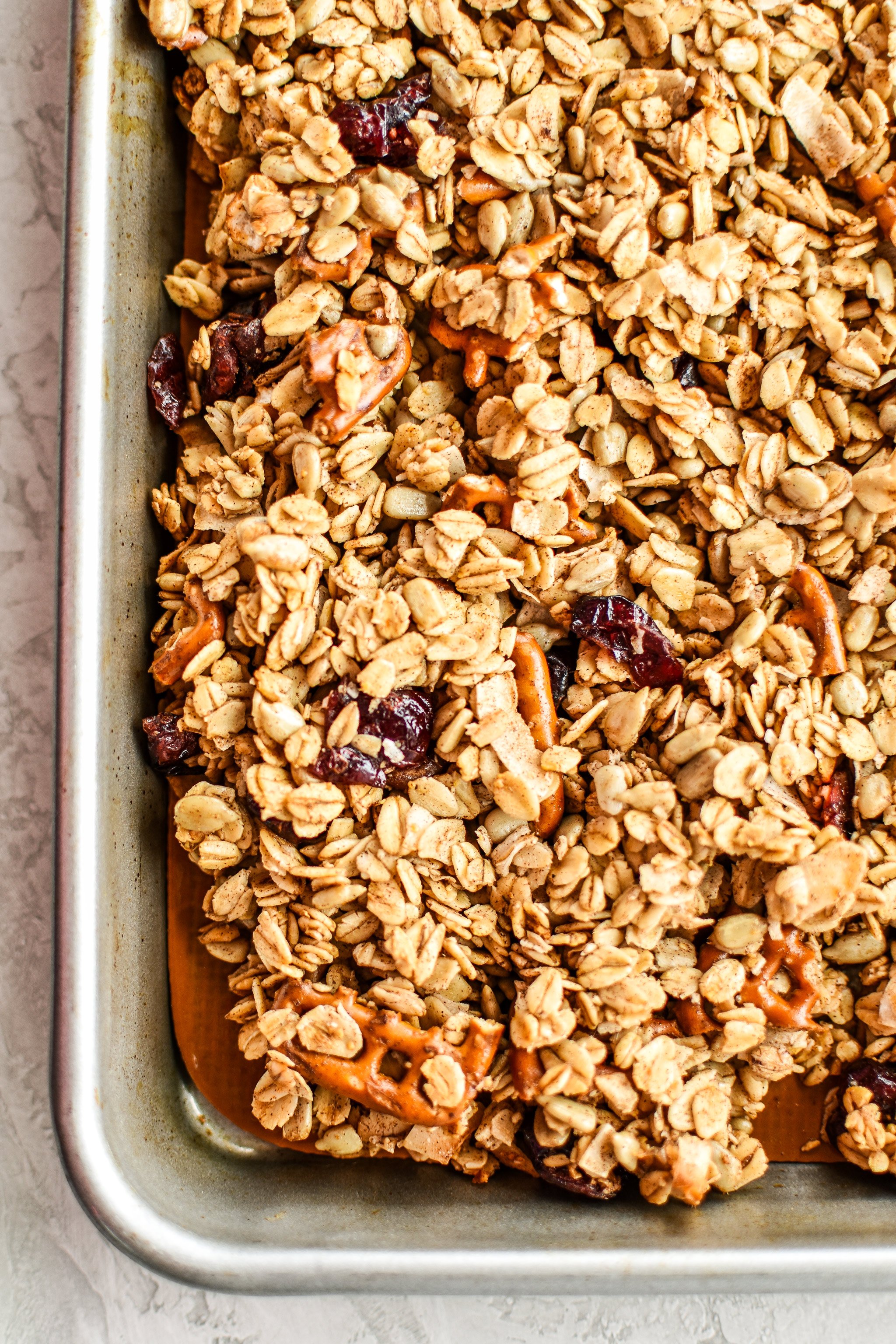 One more thing…
Are sunflower seeds kernels?
We all know what sunflower seeds are, but when I went to the store to buy some without the shell, I realized what I was actually searching for were sunflower kernels!
So that's the part you eat. And apparently a lot of people search this on the internet, so I thought I would address it real quick here.
The entire thing with the shell is called the "seed", but the edible part inside is called the "kernel". Most people actually are buying sunflower seeds, but then they spit out the shell and only eat the kernel.
I love the addition of sunflower kernels to this granola because it helps give it a bit of depth and flavor, but without adding any nuts. I hope you enjoy this super clumpy granola as much as we do!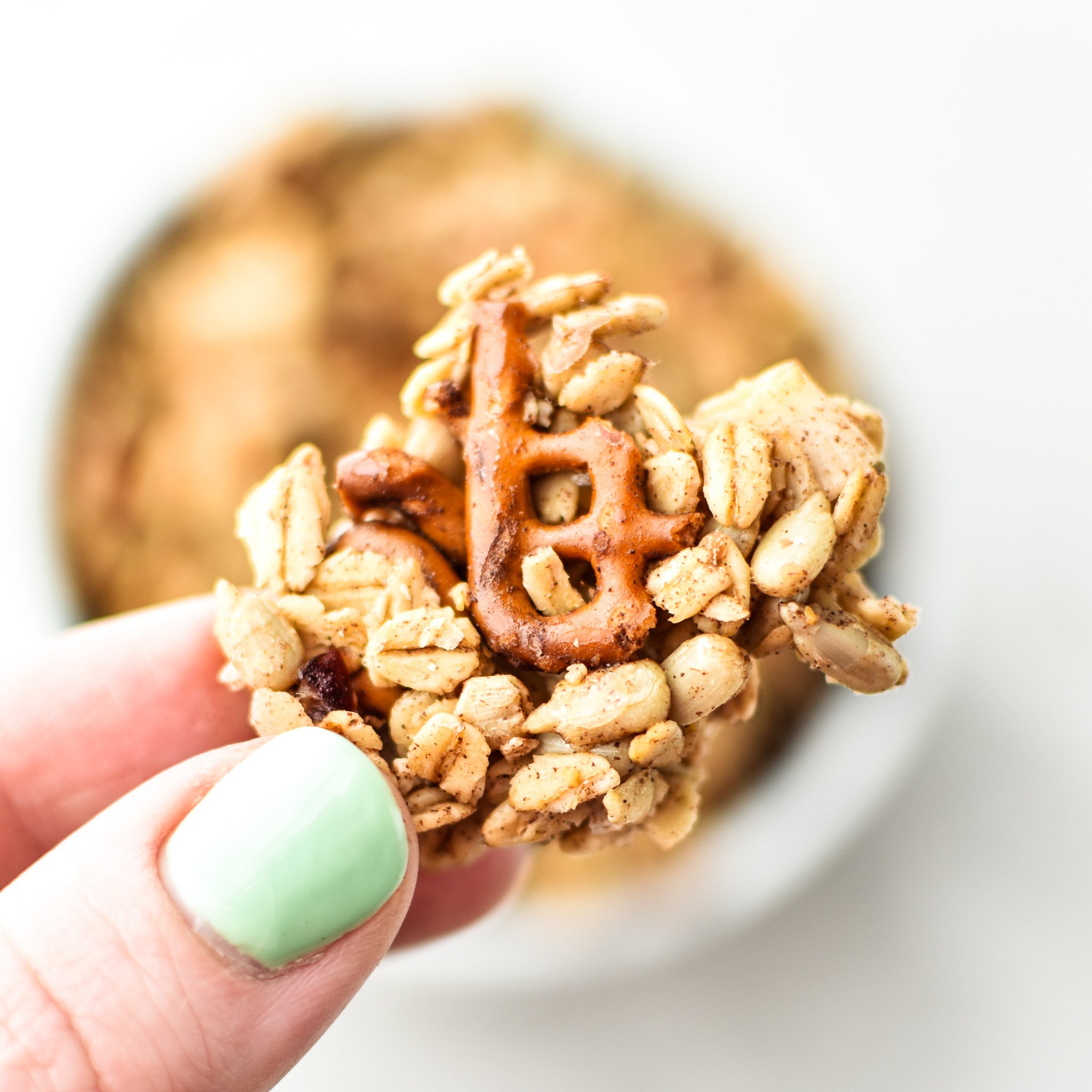 More make-ahead breakfast recipes from Project Meal Plan:
Recipe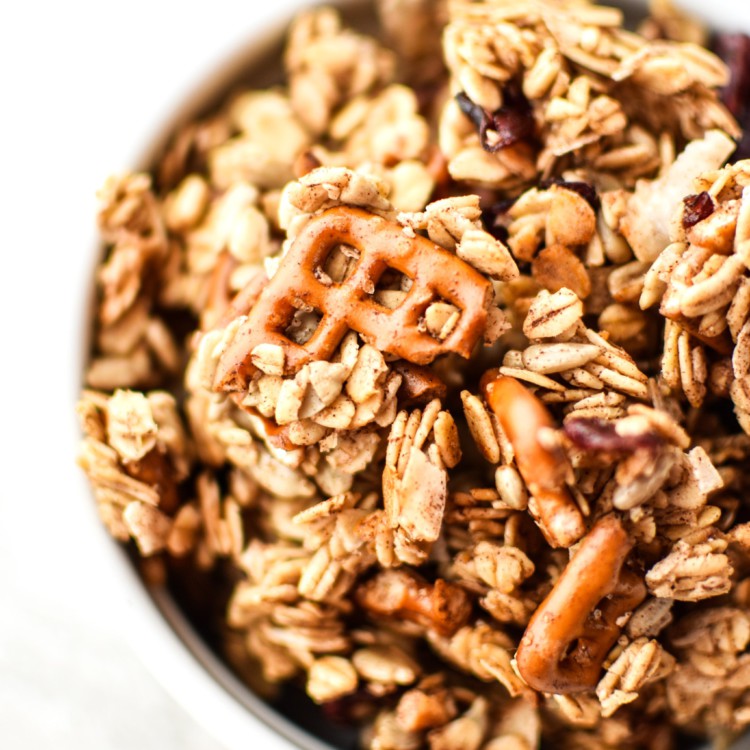 Super Clumpy Nut-Free Snack Mix Granola
Prep:
5 minutes
Cook:
45 minutes
Total:
1 hour 10 minutes
This Super Clumpy Nut-Free Snack Mix Granola is full of classic snacks like pretzels, sunflower kernels, and dried cranberries. It's a perfect make-ahead snack or breakfast! Best part: it's super clumpy!!
Ingredients
Dry Ingredients:
4 cups

rolled oats (not quick cooking or steel cut)

1/2 cup

unsweetened shredded coconut

1 cup

pretzel pieces (pictured: Snap Pretzels broken in half)

1 cup

sunflower kernels

1/2 cup

dried cranberries

1 tablespoon

ground cinnamon

1/2 teaspoon

salt
Wet Ingredients:
1/4 cup

maple syrup

2 tablespoons

honey

1/3 cup

coconut oil, melted

1 1/2 teaspoons

vanilla

2

–

3

egg whites (

2

for clumpy,

3

for SUPER clumpy)
Instructions
Preheat oven to 280F. In a large bowl, mix all dry ingredients together.
In a small bowl, add maple syrup, honey, coconut oil, and vanilla and mix together. The mixture will probably stay separated, but give another good stir before pouring over dry ingredients. Add the mixed wet ingredients (except egg whites) to the dry ingredients and mix well.
In a small bowl, whisk your egg whites until they are light and foamy. Pour egg whites over the granola mixture and mix well, until completely saturated (you do not want any extra egg white pooling in the bottom of the bowl).
Spread the granola mixture out on a half sheet size baking tray lined with parchment paper or a silicone baking mat. Leave a rectangular space empty in the middle of your sheet pan and spread the granola around the outsides. This way there are no problems with the center granola cooking faster than the edge granola.
Bake for 45-55 minutes, and DO NOT stir. The clumps will break up if the granola is stirred during cooking. When done, turn the oven off and let the granola cool for about 10 minutes in the oven with the door open, then remove from oven and let cool for another 10 minutes. The granola will harden as it cools.
Use a spatula to lift large sections of the granola from the sheet pan. Store in an airtight container and eat within 4 days. Serve with yogurt, milk, berries or eat plain!
Equipment
Notes
You can use all maple syrup or all honey as the liquid sweetener. I like both!
Note: If you have a severe nut allergy, please make sure all of your ingredients are up to your personal nut-free standards!
Recipe adapted from Recipe Tin Eats formula for Healthy Homemade Granola – Build Your Own. I use her egg whites trick for clumpy granola! Nutrition information estimated with My Fitness Pal.
Nutrition Information
Serving Size:

about 1/2 cup

Calories:

311

Fat:

15g

Carbohydrates:

39g

Protein:

9g
Recipe Card powered by
Thanks for checking out my Super Clumpy Nut-Free Snack Mix Granola! If you're digging this granola, tag me or use #projectmealplan on social media to share your own version!