These are my favorite methods for cooking boneless skinless chicken breast in the Air Fryer, Instant Pot, and on stovetop! Always season well, lock in moisture, and prep in the method best for your future meals. Here's How to Cook Chicken for Meal Prep 3 Ways, plus make-ahead chicken recipe ideas!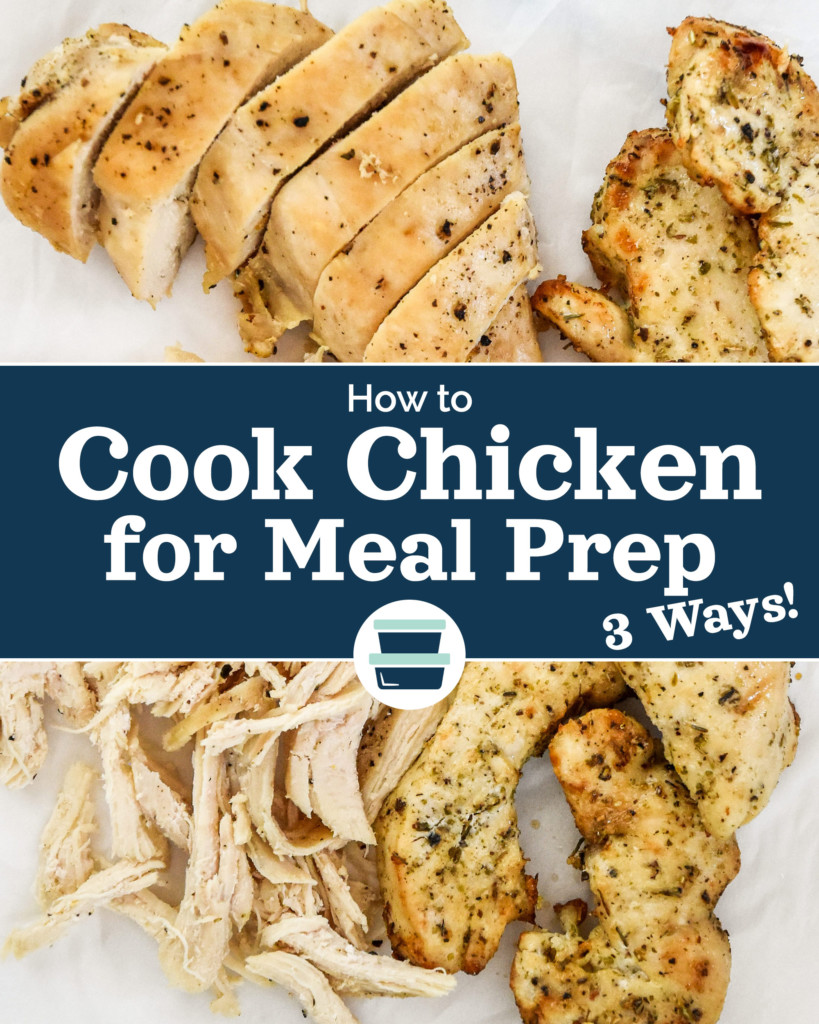 Chicken breasts for meal prep. She's a classic. She's an icon. And I'm convinced we can stomp out her reputation for being dry and blegh when it comes to meal prepping.
In this post, I'm talking about the three different ways I cook chicken for meal prep. All of these methods are make-ahead friendly and great for beginners.
Why learn how to cook chicken in different ways?
Sure, you could survive all your days with only one chicken cooking method, and everything would be fine. But I want better than fine for my meals!
Here's why it's beneficial to know different ways to cook chicken:
Different preparation methods of chicken can come in handy for different chicken recipes. For example, shredded chicken is perfect for things like chicken salads or casseroles. On the other hand, sliced or cubed chicken is better for eating as a finger food, or layering with other snacks. It all depends on how you want to eat it!
In case one way isn't possible at the moment, you know another! Say you're staying at a friend's house and you want to help them meal prep (how nice of you!). Maybe they don't have an Instant Pot or Air Fryer – that's okay, because you can do it on the stovetop too. Or, if you normally make the air fryer version and you don't have a sharp knife, a version where you don't have to cut the chicken might work better at that time.
Time vs. Appearance: One of these methods is completely hands off, easy peasy, but also is NOT pretty. Another method makes beautifully golden brown, picture perfect chicken breasts, but it takes a little longer. It's nice to have different methods so you can adapt to your time constraints and needs.
Knowing more methods to prepare the same ingredients helps you become a better cook. I've cooked a lot of chicken breasts in my life, which is why I feel like it's appropriate for me to even write this article. Steak on the other hand… I know one good method that I still get nervous about! I'm a lot more confident with chicken and it feels easy for me to cook in different ways.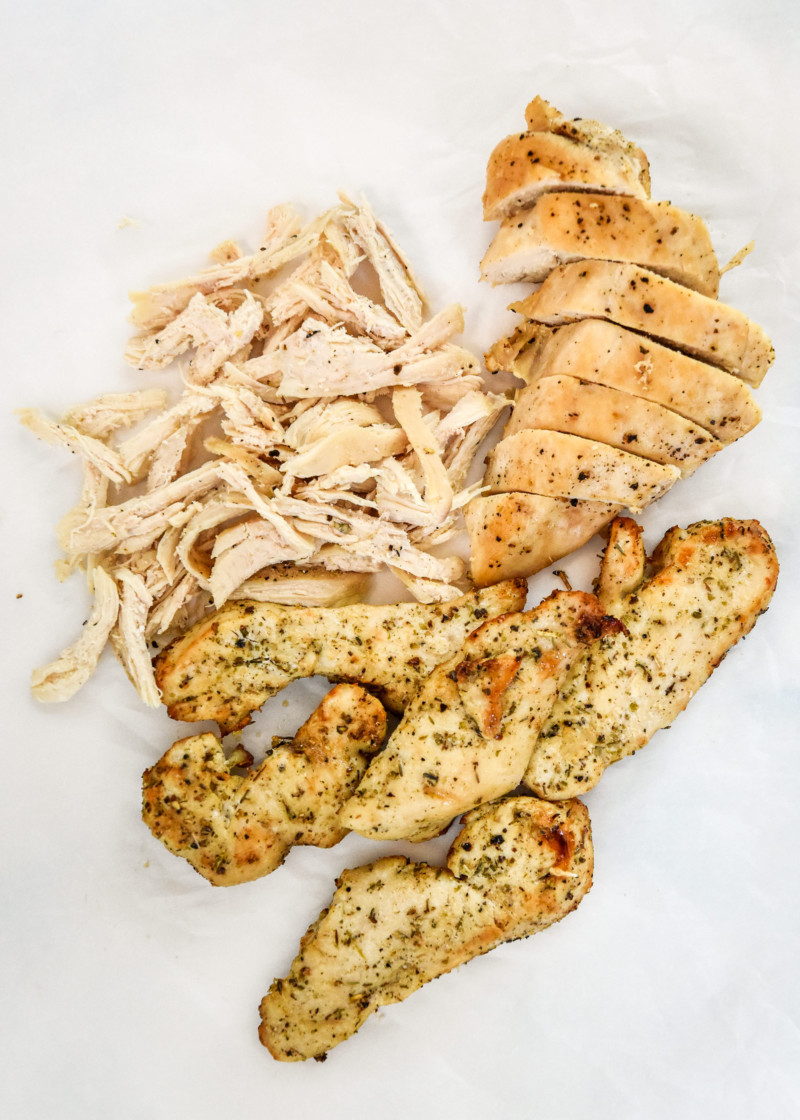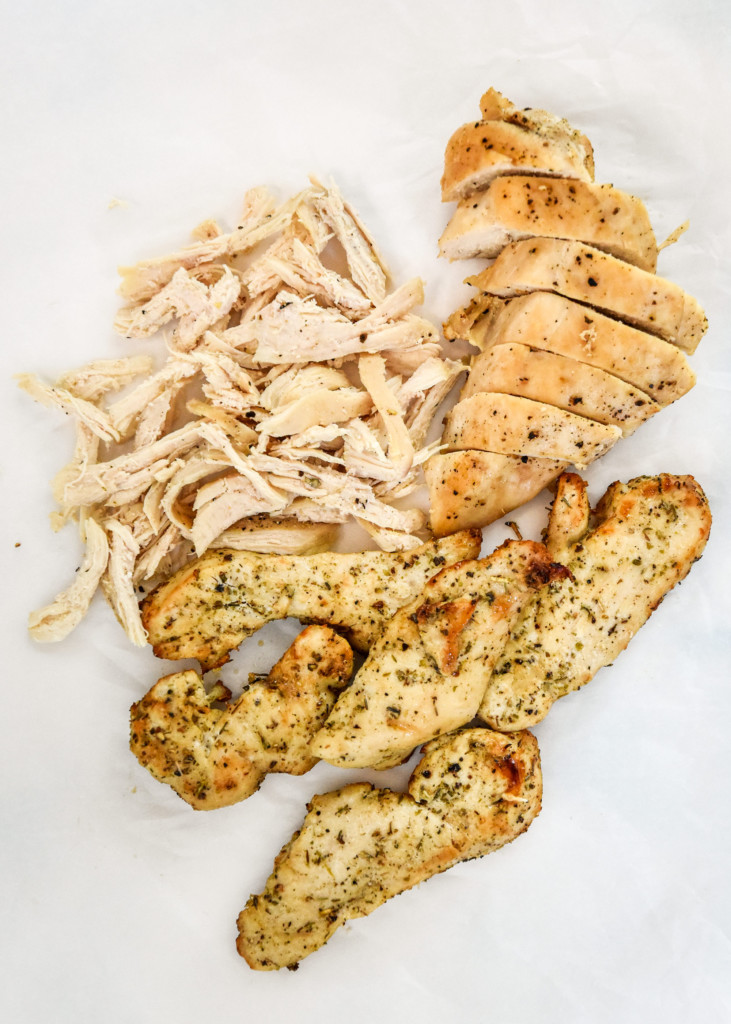 How do you cook chicken breasts for meal prep without them getting dry?
There are a few general tips I always try to follow to ensure I end up with juicy, delicious chicken breasts every time.
Buy high quality, free-range, organic, chicken breasts when possible. The quality of the chicken you buy greatly influences the taste and texture of the final product.
Don't overcook the chicken. Invest in a meat thermometer! This eliminates guessing when the chicken is done, so you can cook your chicken to the exact right temperature.
Use a marinade, brine, or seasoning rub to flavor and tenderize the chicken. I will admit, sometimes I stop at salt and pepper when I'm making quick shredded chicken with no recipe, but it still helps!! My Air Fryer Chicken Tenders recipe calls for a quick 30 minute marinade with vinegar and it seriously helps – check the reviews!
Cook it with a sauce. This article is about how to cook chicken for meal prep on it's own, but there are a zillion recipes that cook chicken in a sauce which will keep it nice and juicy. My Meal Prep Spicy Chicken & Asparagus Bowls are an example.
Always let the chicken rest, no matter your cooking method. Letting chicken rest, even for at least 5 minutes if you're in a hurry, but preferably 10-15 in a warm place, helps let the moisture relax and absorb back into the fibers of the meat.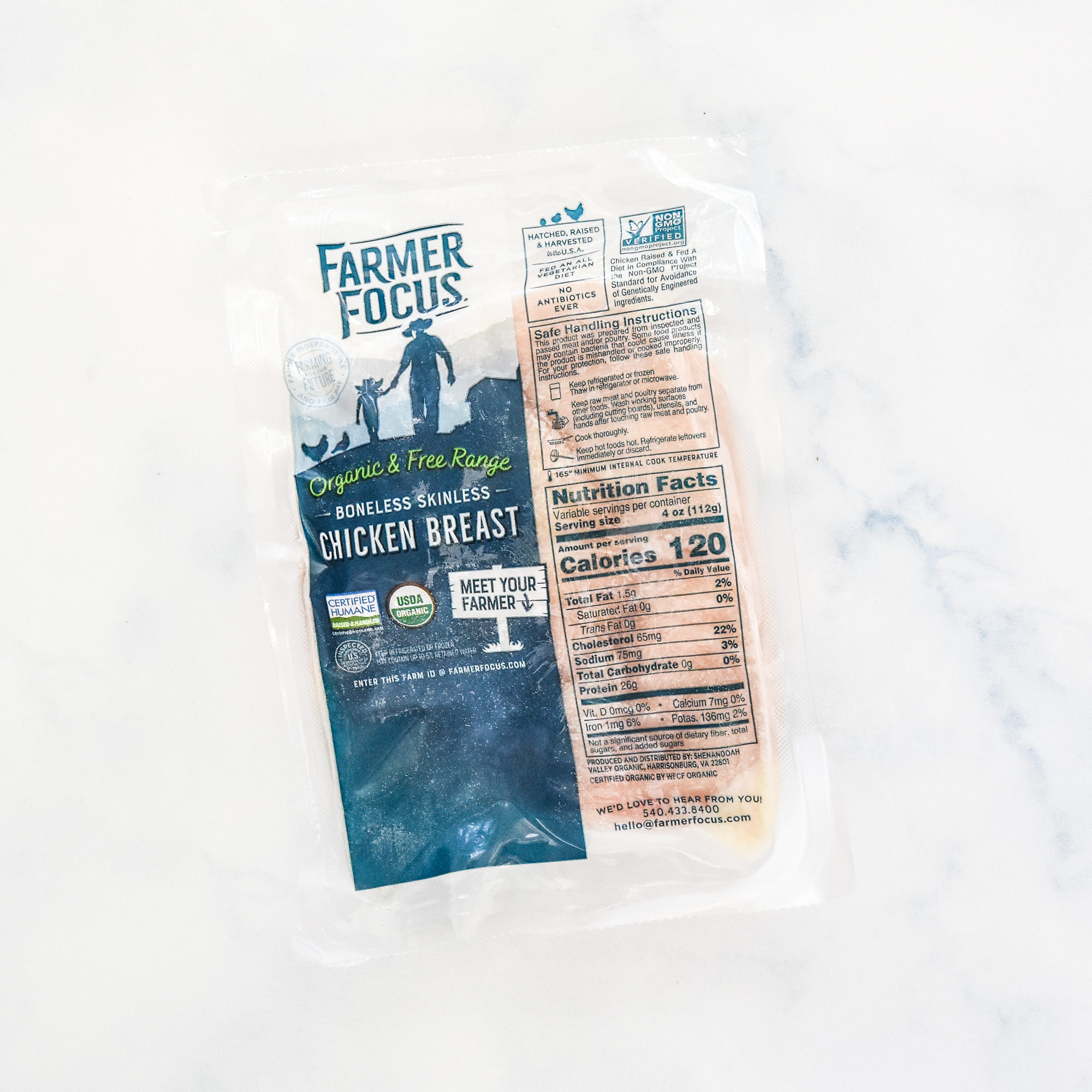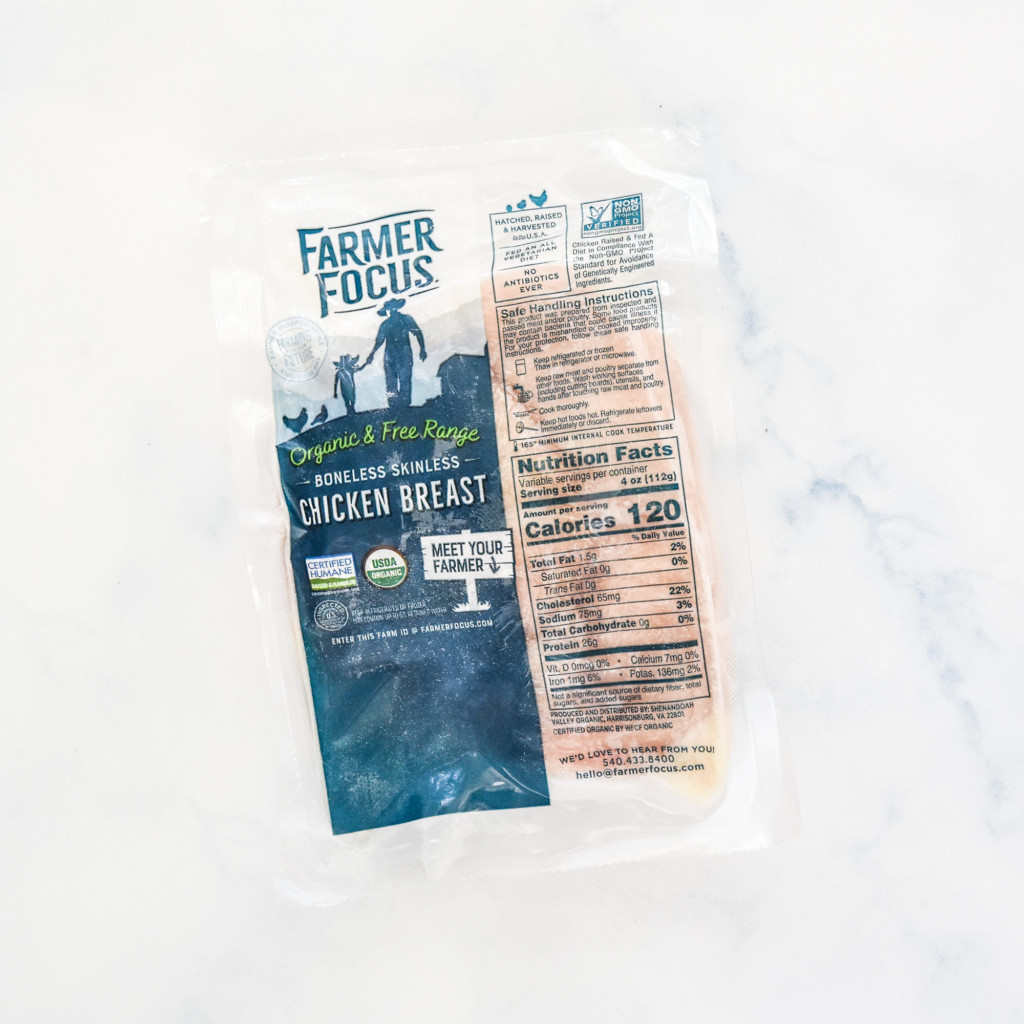 What kind of chicken breasts should I buy?
Here are the most important things to look for when purchasing chicken breasts:
free-range: This means the chicken has been given access to the outdoors, which also means better treatment, less stress on the chicken, and overall better taste.
air-chilled: If the label does not indicate which, that means it was most likely water-chilled. When chicken is chilled in water, it absorbs some of the water, meaning you might end up paying for a bit of water when you buy the chicken. This is okay, but not ideal.
certified organic: This means the chicken was fed organic feed for their entire lives, which includes no animal byproducts, no genetically engineered grains, and no pesticides or herbicides in their feed.
look for smaller: Smaller chicken breasts tend to be more tender and have retained less water.
Hormones are not given to any poultry in the US, so this is not a label factor you need to really care about. Everything else on this list is important and can vary.
If you'd like to read more about the kinds of chicken I would recommend, check out the chicken standards at Farmer Focus, which is where the Butcherbox chicken I'm currently using is sourced from.
Chicken Breasts vs. Chicken Thighs
This article was written to discuss the ways to cook boneless, skinless chicken breasts for meal prep. Chicken thighs are also a great option for meal prep. I find that less people struggle with using chicken thighs because they stay more juicy due to their higher fat content than chicken breasts.
If you're looking for some easy chicken thigh recipes, try my Simple Baked Salsa Chicken Thighs or my Air Fryer Boneless BBQ Chicken Thighs.
How much chicken should I put in my meal prep?
Generally, one serving of chicken is customarily around 3-4 ounces, meaning that one pound of chicken will make about 4 servings. I find this is a great place to start if estimating for a new recipe.
However, every person is different and everyone's needs are different! If you eat a meal prep containing 4 ounces of cooked chicken and you find yourself still hungry, try upping your potion to 6 ounces.
It can also depend on what else is in the recipe. Do what works best for you and don't feel limited by the instructions of a recipe.
How to Cook Chicken for Meal Prep 3 Ways
Here are my three favorite methods for How to Cook Chicken for Meal Prep! Remember, these are just ideas I use in my home. This is does not mean there aren't other equally as delicious ways to meal prep chicken!
Method #1: Air Fryer Chicken Tenders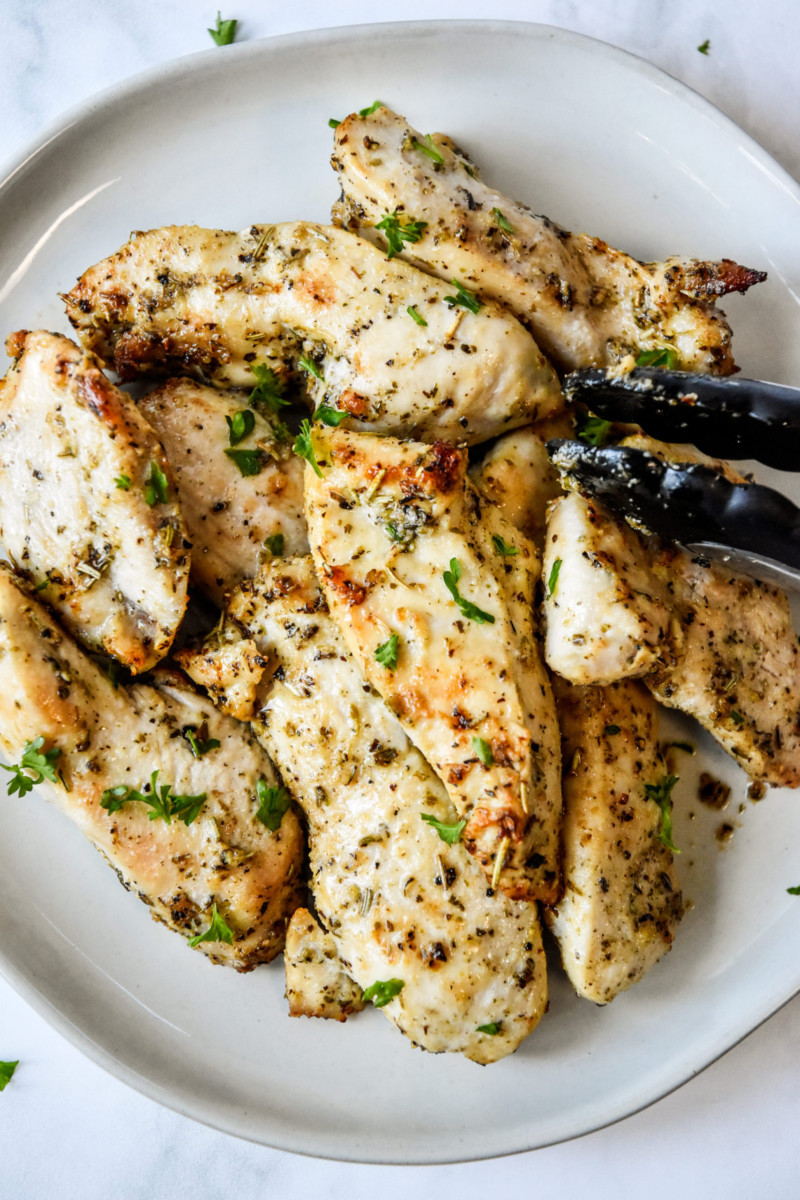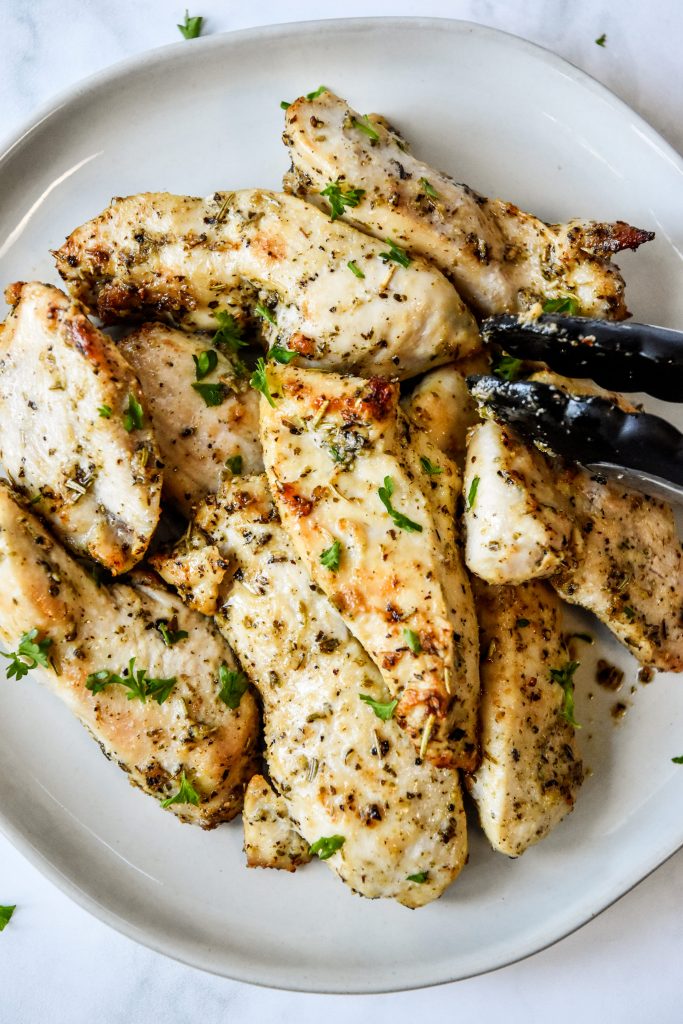 My Air Fryer Chicken Tenders are a versatile, no breading recipe for chicken breast tenders using Italian seasoning and garlic to flavor. Preparation requires 30 minutes of marinating, using vinegar to tenderize the chicken.
This recipe has already received four different raving 5 star reviews, plus more great feedback on Pinterest. It's a simple way to make restaurant quality, super tender chicken in the air fryer. The whole recipe takes about 50 minutes start to finish.
I prefer to use this method for chicken going into wraps or onto green salads. It's tender and juicy enough to bite into so you don't need a knife to cut. It is similar to the stovetop method, but uses the air fryer and a marinade instead. I also love the seasoning and additional surface area for more of it!
Why this method works:
This method works because the quick marinade tenderizes the chicken, while the hot and fast cooking method locks in moisture.
It's great for meal prep because it's easy to make, can be customized with different seasonings, and will taste good cold directly from the fridge.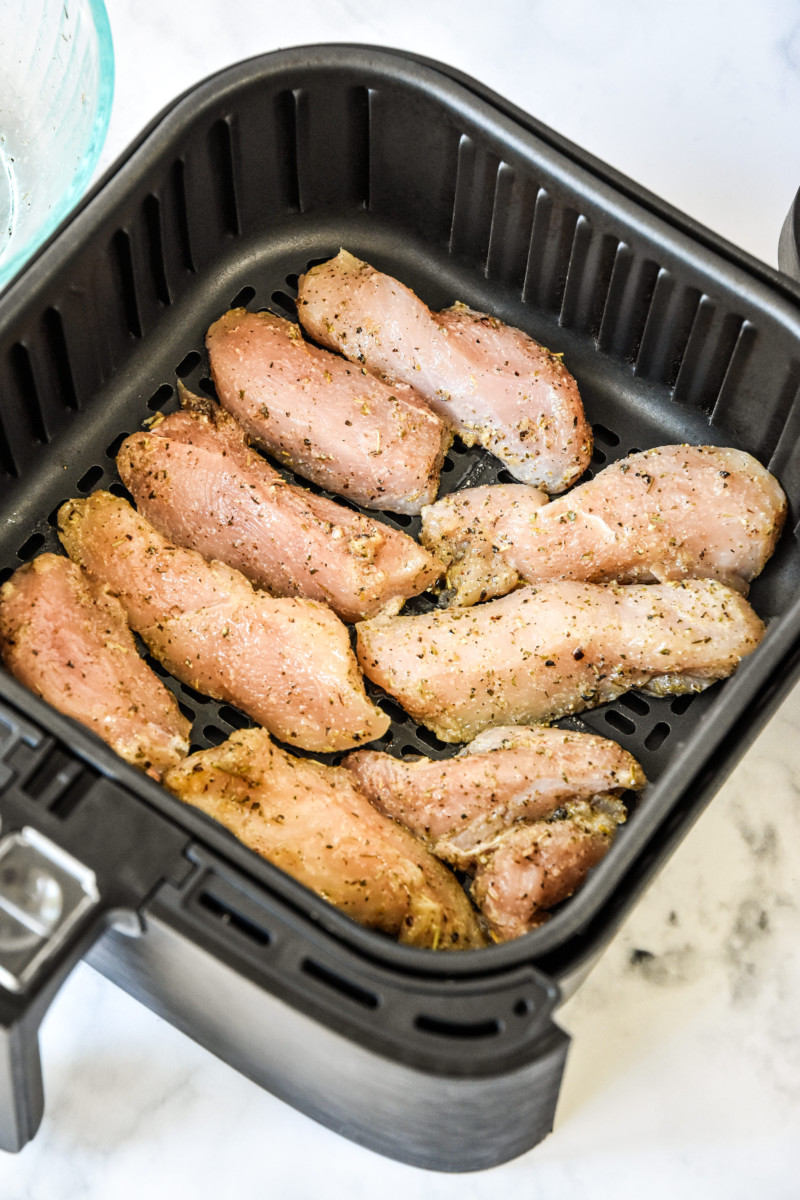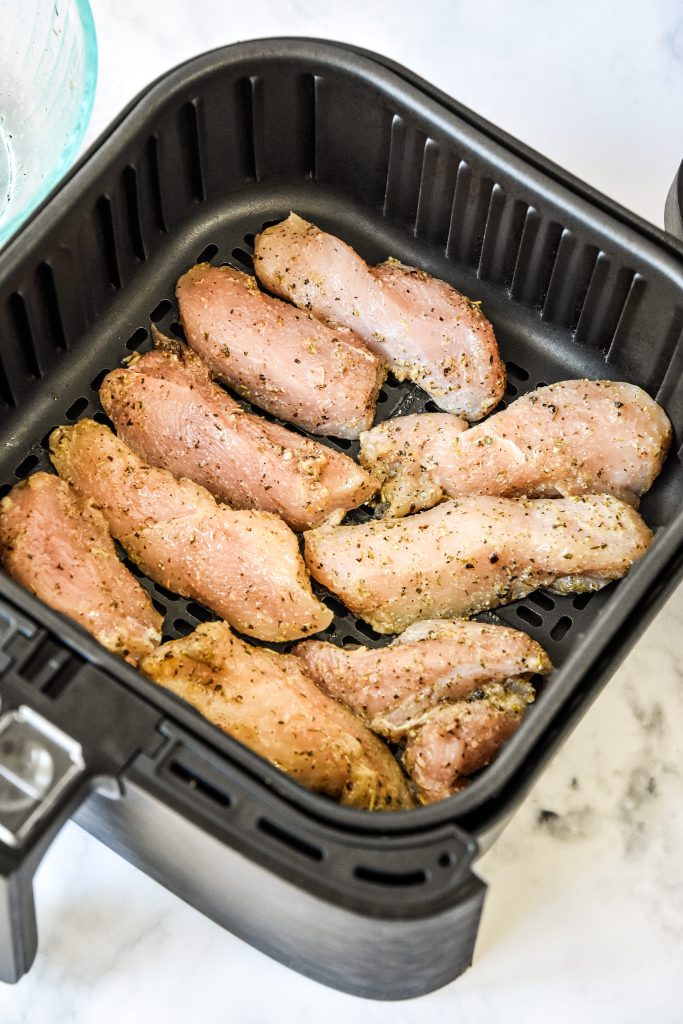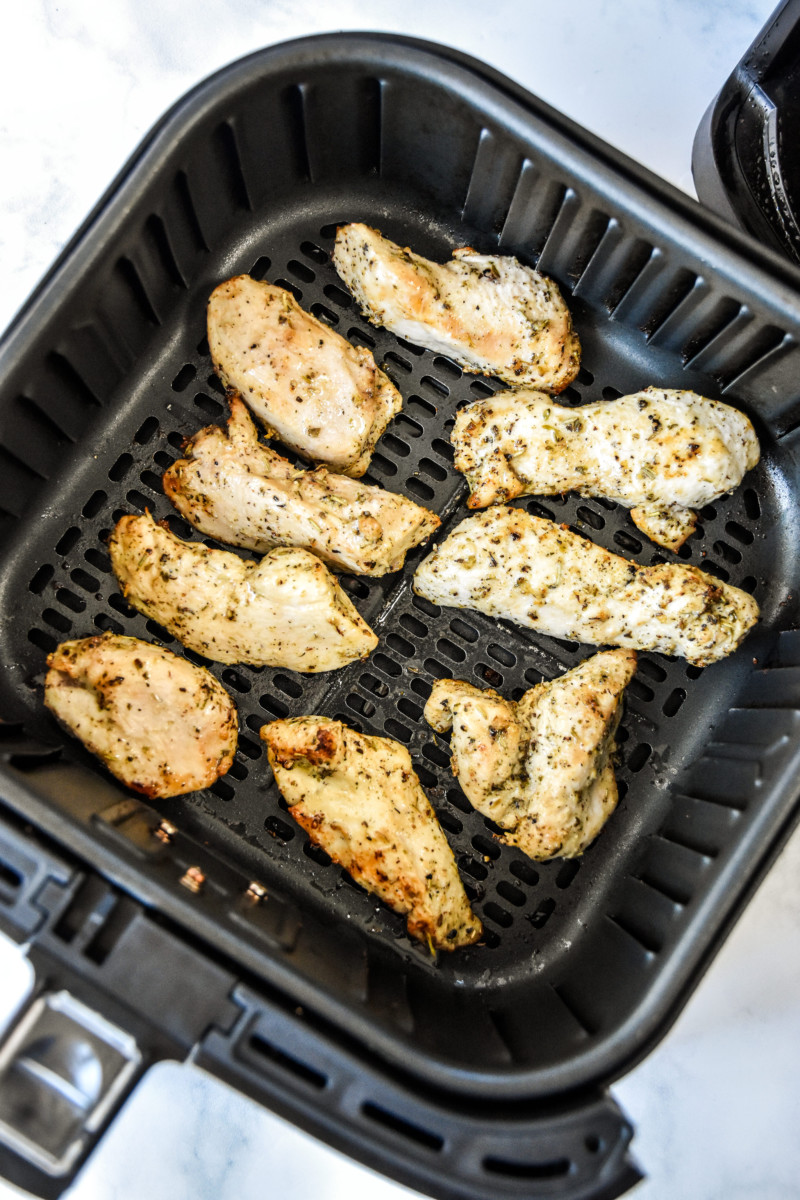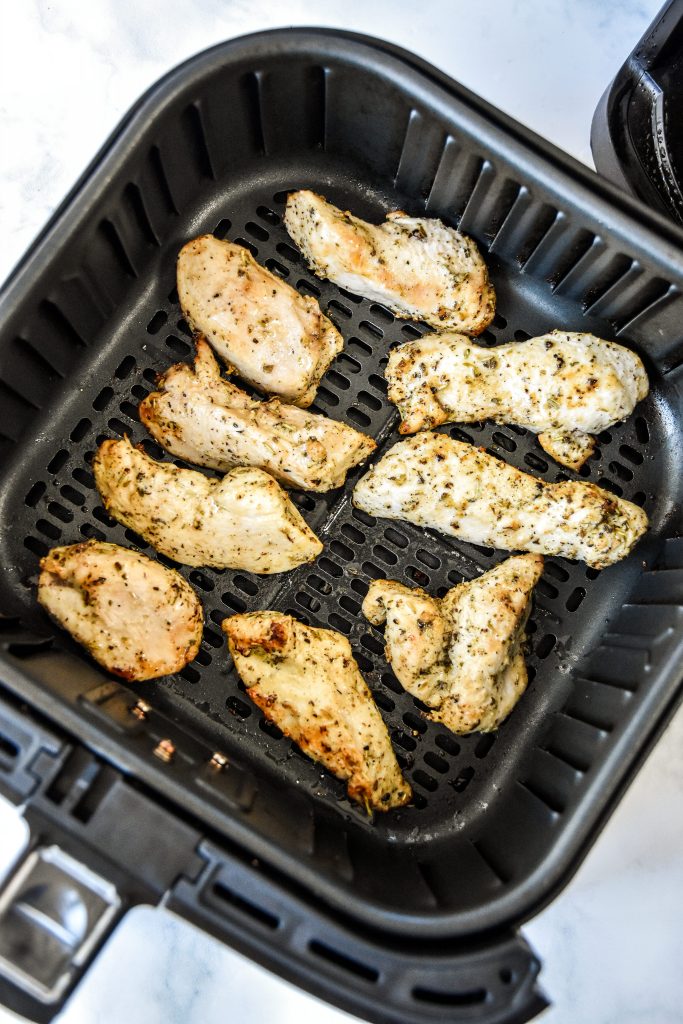 Recommended Equipment:
For my air fryer, I use the Cosori XL 5.8 qt Air Fryer (affiliate link!). I recommend this brand to all my friends and family. It's reliable and easy to use.
If you're going to invest in an air fryer to cook things for 2 or more people, you should opt for a larger size like this one, in my opinion!
Recipes to use this chicken breast:
The best way to eat this version of make-ahead chicken breasts is on it's own, or in a salad. It goes really well with any of those salad kits you can get at the grocery store.
I also think this version of chicken tenders would be delicious served with some potato wedges or tater tots.
Method #2: Serena Wolf's Idiotproof Chicken Breasts (Stovetop!)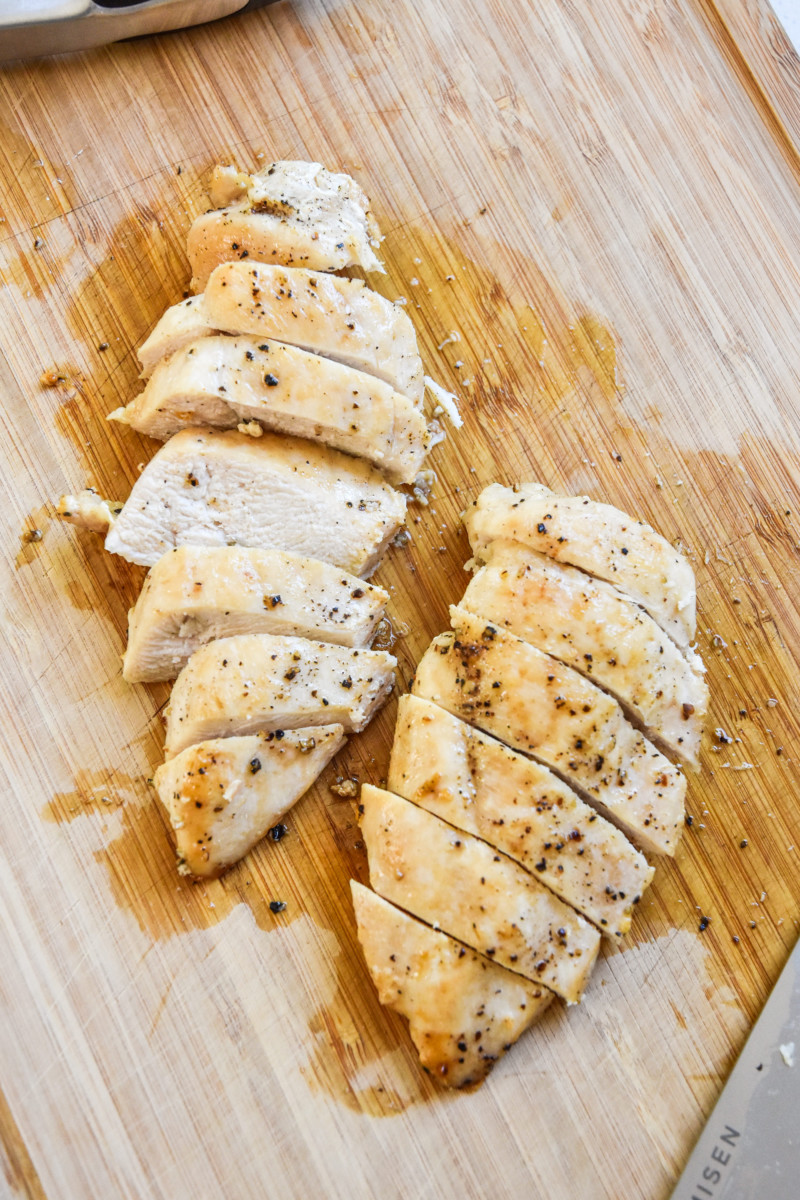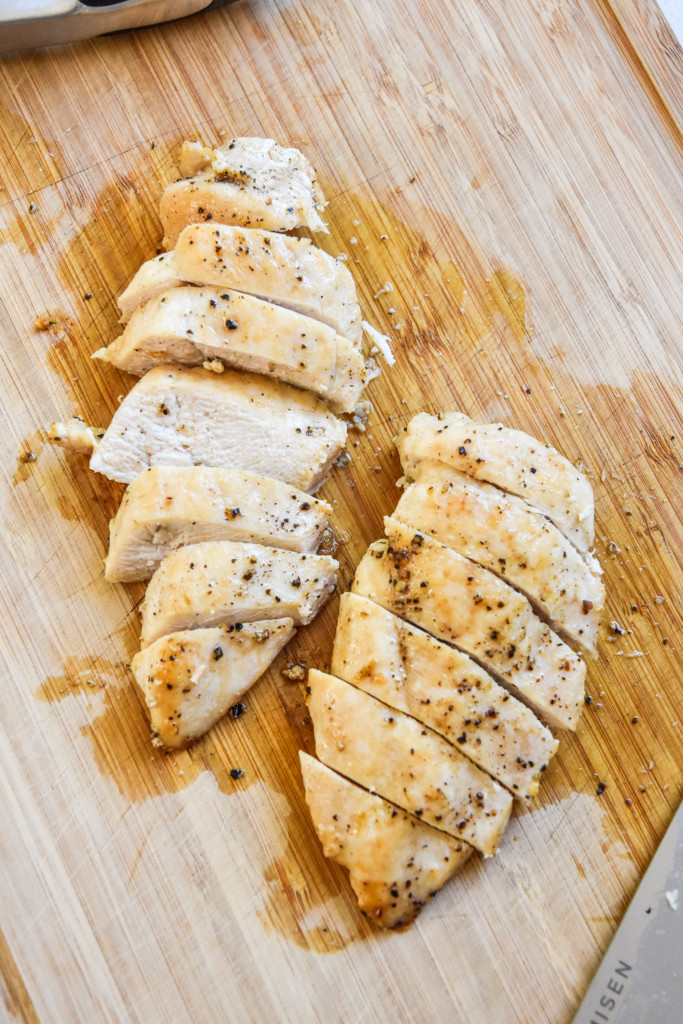 I've been making this Idiotproof Chicken Breasts recipe every once in a while for years now, I think even before it was officially published on Domesticate Me? Either way, it's a classic go-to when I want picture perfect golden brown stovetop cooked chicken breasts.
Honestly, idiotproof is not the first name I would choose. If you have even a single idiot in your house who walks into the kitchen and lifts the lid when you aren't looking… well that's not idiot proof. We would need a lid lock or skillet cage.
But this chicken is so damn good, we can keep the name. If you follow the easy (idiotproof!) directions, you will have perfect, tender, juicy, amazing chicken breasts every time. These are gorgeously sliceable, melt in your mouth pieces of chicken.
Why this method works:
This method works because Serena Wolf is a Le Cordon Bleu trained chef, and she's really good at what she does.
By searing the chicken first, you're locking in the moisture. I also think by not lifting the lid, you're sealing in all that hot hot steam. Instead of exiting the pan or cooking appliance, it's sealed in there with the chicken.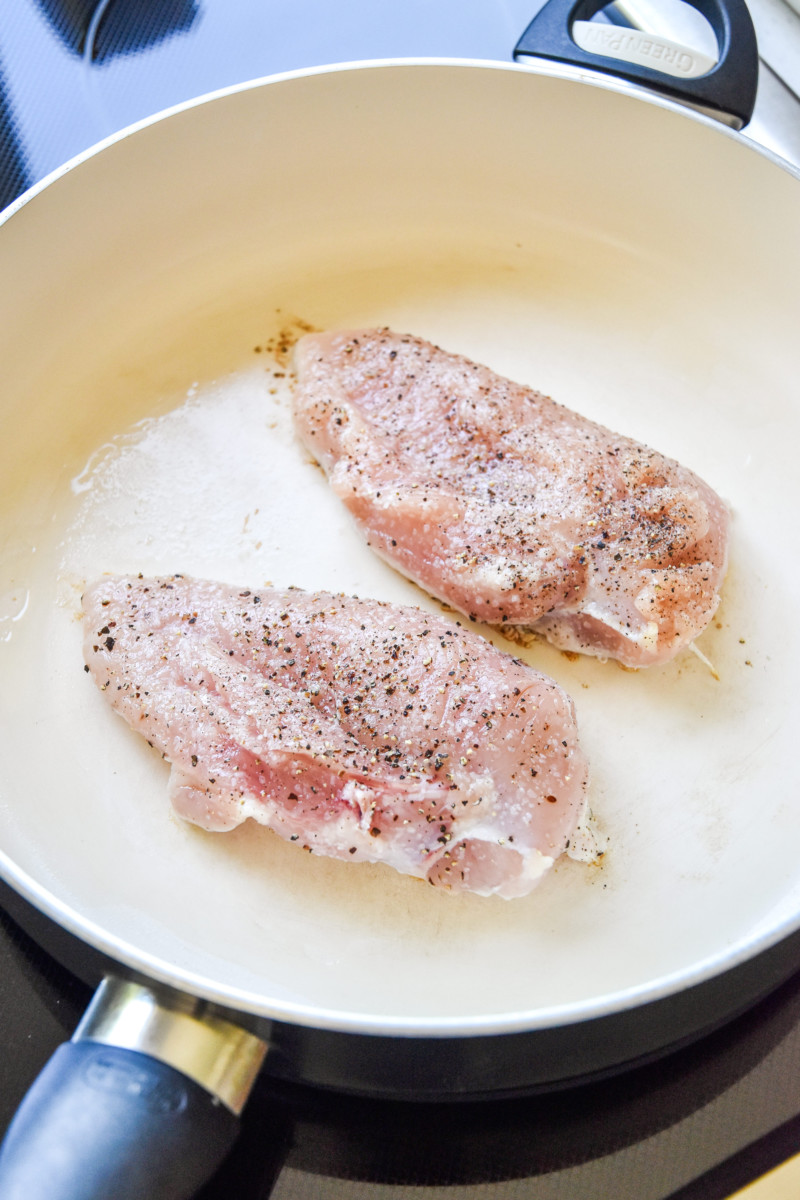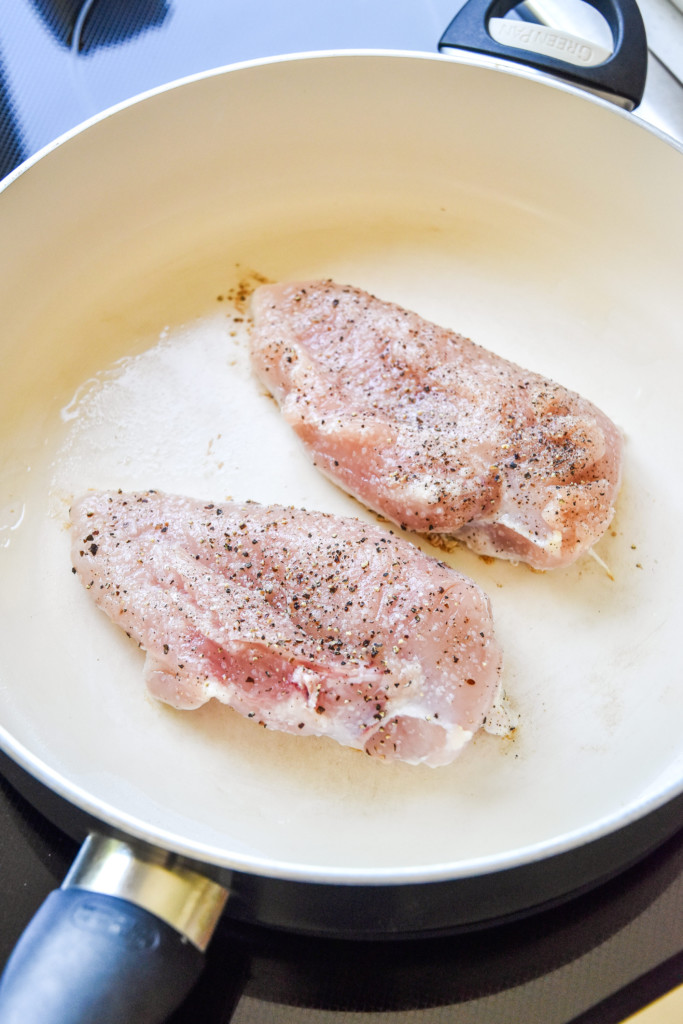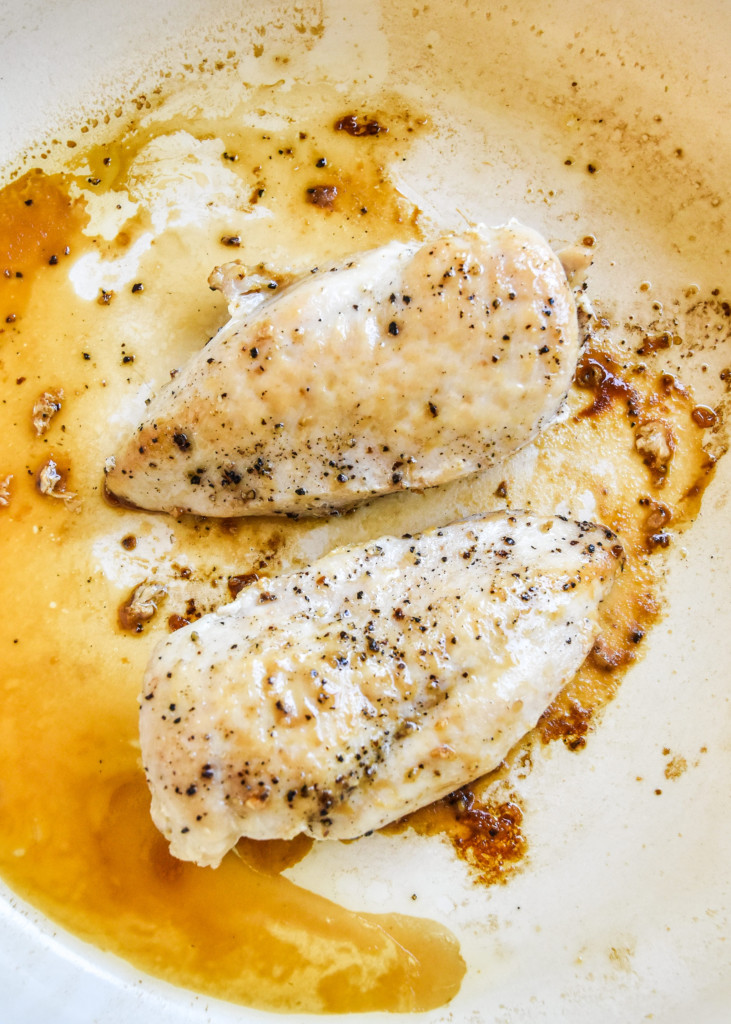 Recommended Equipment:
The recipe calls for using a large skillet or sauté pan.
Recipes to use this chicken breast:
I use this method anytime I want to think outside the air fryer, and it's NOT going to turn into shredded chicken.
This is pretty chicken. This is doesn't-need-sauce chicken. This is impress people chicken. This is also very good cold from the fridge chicken (like in my Chicken & Hummus Plate Lunch Meal Prep).
Method #3: Instant Pot Shredded Chicken Base Recipe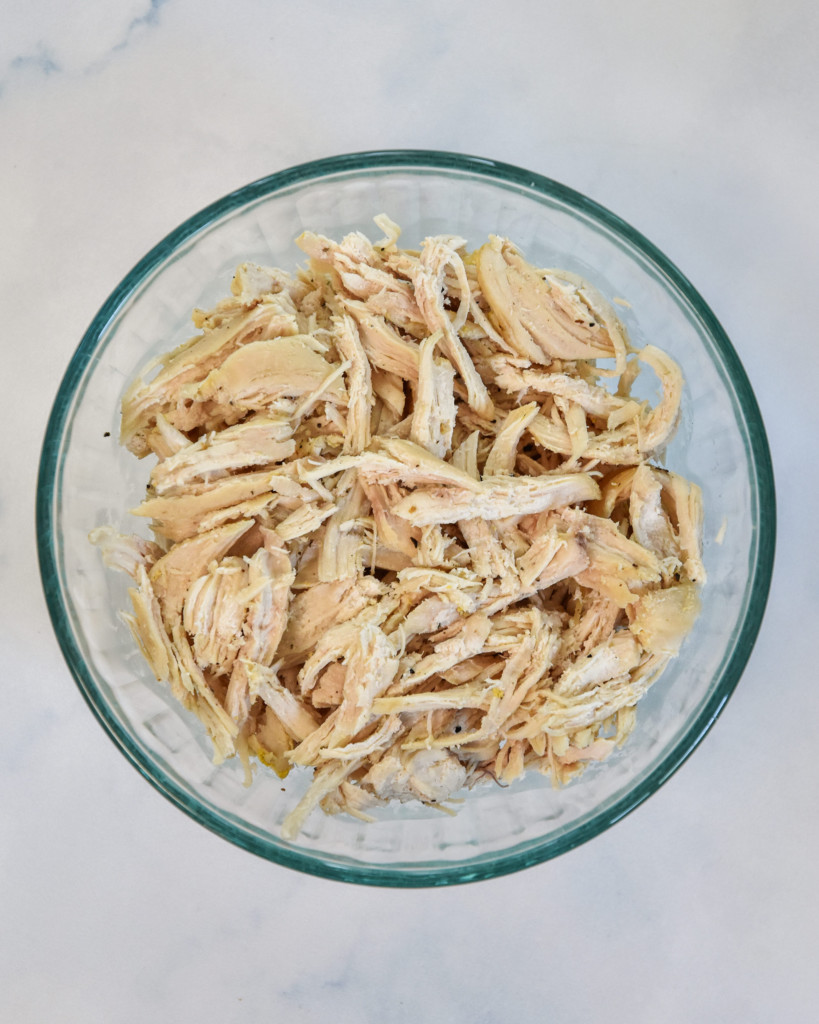 Instant Pot Shredded Chicken Base Recipe is my go-to when I want the quickest, most hands-off method for chicken breasts that's going into another recipe. It's good for virtually anything where you are not eating the chicken by itself – a shredded chicken base for tons of recipes!
In other words, if I need shredded chicken for a recipe, this is how I do it. If I want a sliceable, biteable, super juicy chicken breast, I'll use method #1 or #2 above instead.
My version of Instant Pot Shredded Chicken is simple, requiring only chicken, broth or water, salt and fresh ground black pepper. I also add garlic powder but it's not a requirement. See the recipe card below for step by step instructions.
Why this method works:
This is the easiest, throw it in there, use it for anything chicken. There are so many ways to do it, and you really can't mess it up.
It's not pretty, but the Instant Pot makes it so hands off, you fully understand why it's not pretty, so it doesn't even matter. Plus, it's going to get shredded anyway.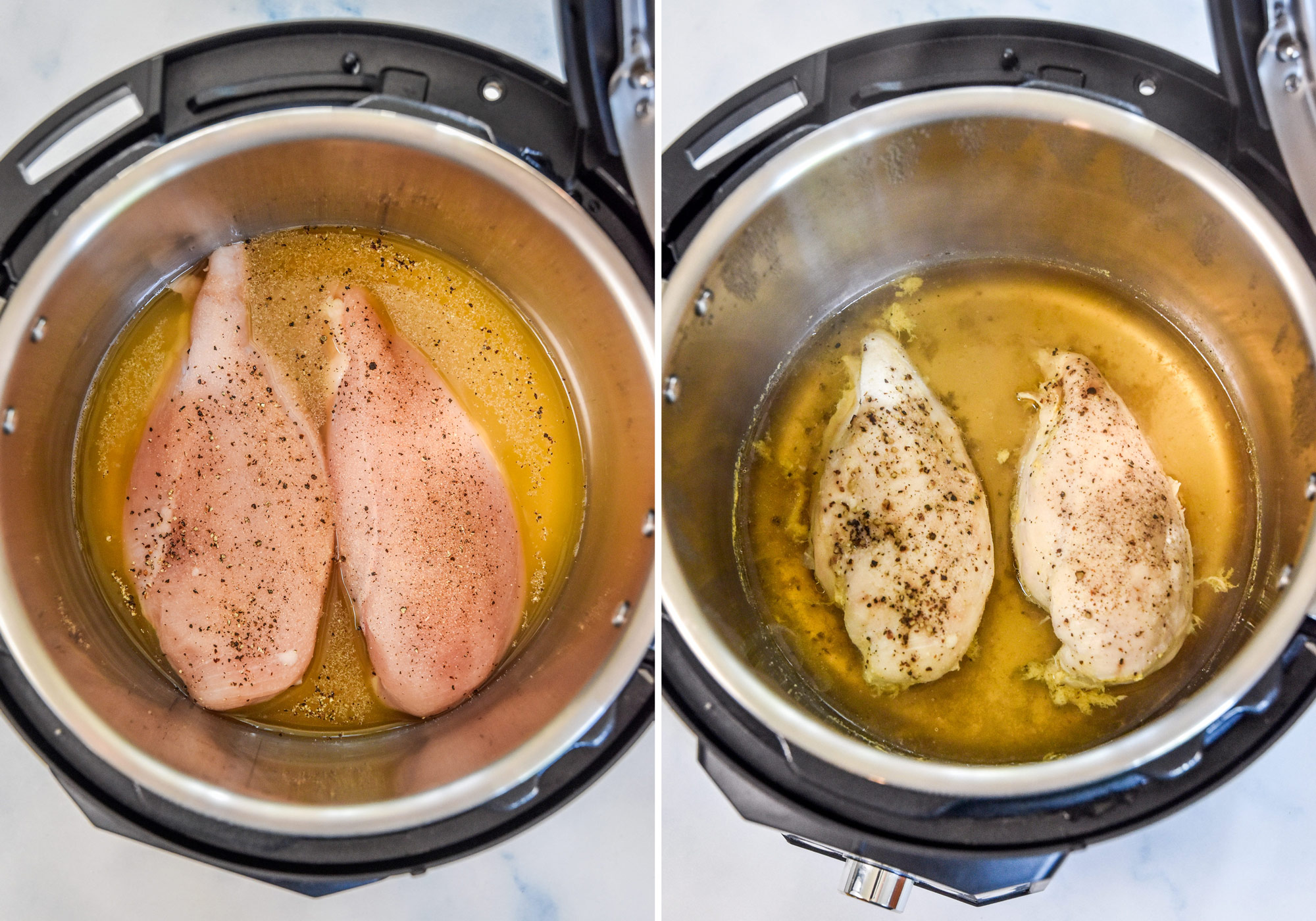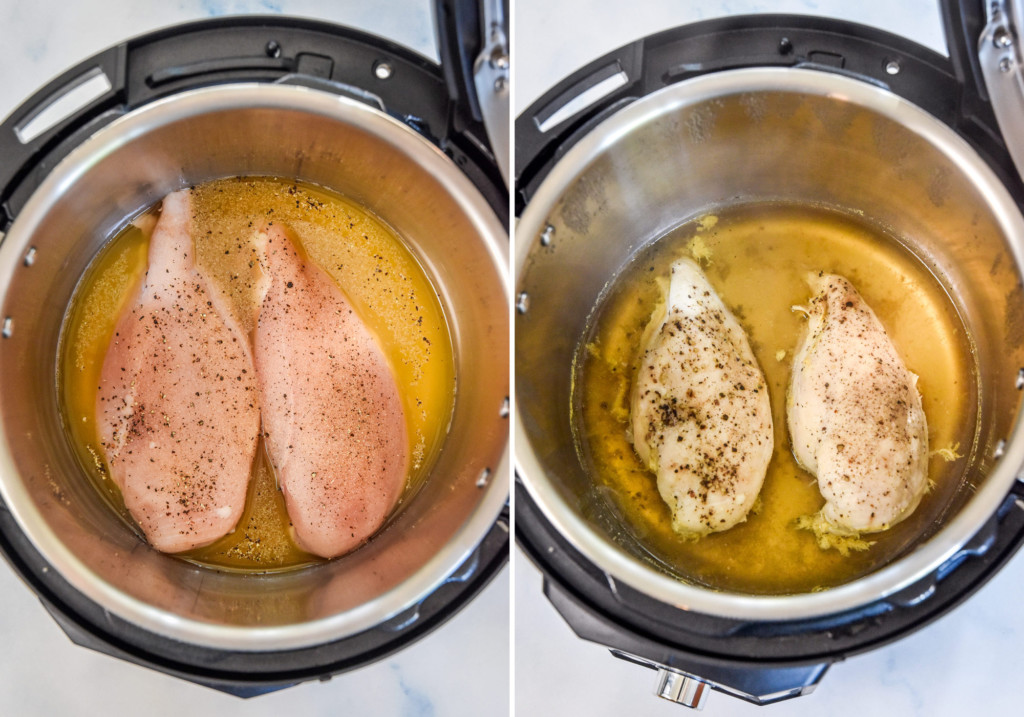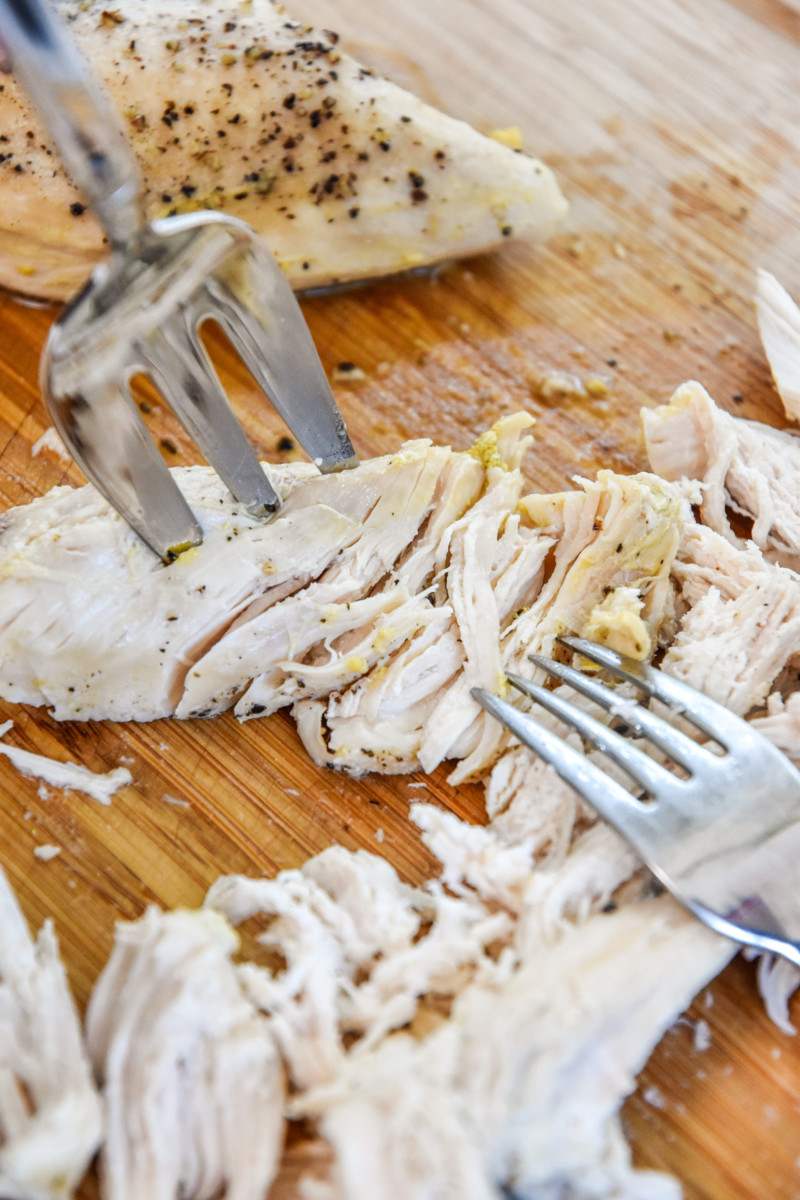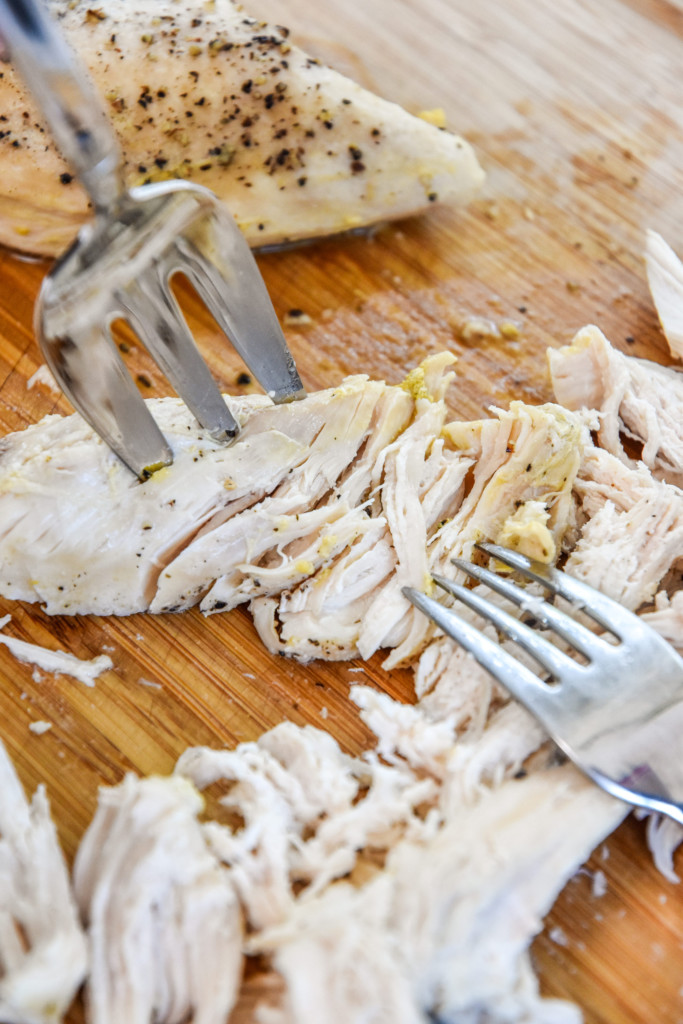 Recommend Equipment:
Any size of Instant Pot will work for this recipe (full instructions below). I like the Instant Pot Duo Plus 6 Qt (affiliate link!). I do not use a trivet for cooking chicken.
Recipe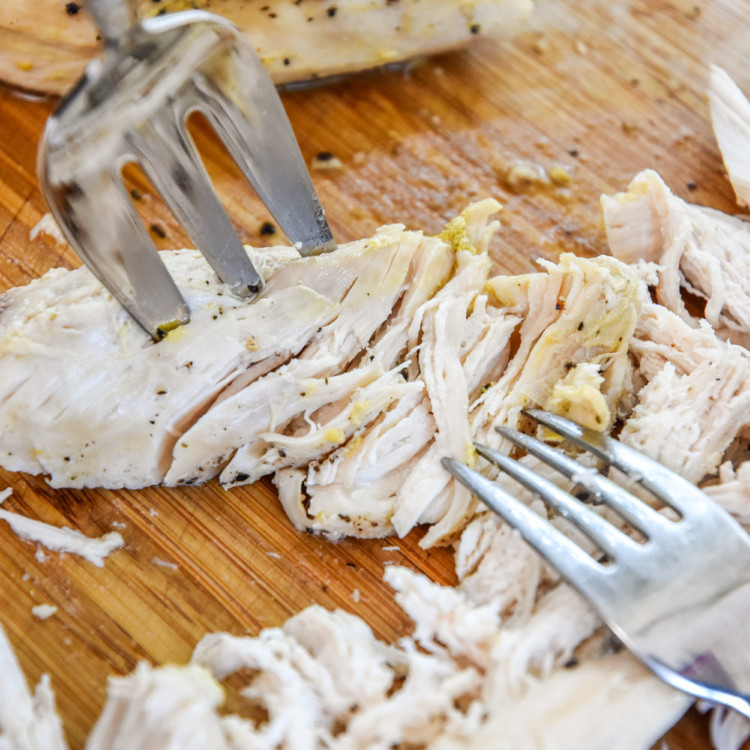 Instant Pot Shredded Chicken Base Recipe
Prep:
2 minutes
Cook:
18 minutes
Total:
20 minutes
An easy recipe for How to Cook Chicken for Meal Prep, made in the Instant Pot. Use this Instant Pot Shredded Chicken Base Recipe for anything that calls for cooked shredded chicken. Super hands-off cooking method and perfect to go in lots of other recipes, feel free to double or triple for big batch cooking!
Ingredients
1 cup

low-sodium chicken broth (or water)

1

pound boneless skinless chicken breasts (fresh or frozen)

1/2 teaspoon

each sea salt and fresh ground black pepper
(optional) heavy dash of garlic powder
Instructions
Cook the chicken: First, add broth or water to the Instant Pot liner. Next, add the chicken breasts, followed by a heavy pinch of sea salt, fresh ground black pepper, and garlic powder sprinkled over the chicken. Place the IP lid on and make sure the steam release valve is sealed. Set the IP to Manual or Pressure Cook High for 8 minutes. If the chicken is over an inch thick OR frozen, pressure cook for 9 minutes. If the chicken is both over an inch thick AND frozen, pressure cook for 10 minutes. When it's done cooking, let the steam naturally release for 10 minutes. Hit the quick release valve to release the remaining steam.
Shred & serve or store: After the float valve has gone down, carefully remove the lid. Remove chicken breasts and shred with two forks, or your preferred method. Serve immediately (on a salad, in a soup or other recipe), or store in an airtight container with lid and use for recipes within 4 days.
Nutrition Information
Serving Size:

4 ounces

Calories:

120

Fat:

1.5g

Carbohydrates:

0g

Protein:

26g
Recipe Card powered by
Recipes to use this chicken breast:
Shredded chicken works for meal prep because it's incredibly versatile and goes well with almost any other type of sauce, dish, or liquid. It can go into casseroles, soups, salads, tacos, nachos and more. Shredded chicken breast can almost always be used in place of rotisserie chicken.
Here are a few Project Meal Plan recipes that call for shredded chicken breast:
Which method to cook chicken for meal prep is the easiest?
The easiest, most hands-off method on this list is the Instant Pot shredded chicken. However, if I want to eat the chicken by itself in big juicy chunks, I'll go with the air fryer or stovetop methods.
More ways to meal prep chicken breasts:
There are tons of ways to meal prep chicken that are not on this list. When it comes to meal prep, it's all about trying recipes and methods to see what works best for you.
I would encourage you to try more than one way to cook chicken for meal prep! If none of the ideas on my list work for you, here are a few other ways you can try:
How long does cooked chicken last in the fridge?
According to the FDA's Cold Food Storage Chart, cooked meat or poultry lasts 3-4 days in a refrigerator at 40F or below.
How do you store leftover cooked chicken breasts?
Store leftovers in airtight containers with lids in the refrigerator or freezer. If freezing, be sure to wrap tightly and label with the recipe name and date. Store in the fridge for up to 4 days. Store in the freezer for 3-6 months for best quality.
Can I freeze cooked chicken breasts?
Yes, cooked chicken can be stored in the freezer. Wrap tightly and store in an airtight container. Enjoy within 3-6 months for best quality.
To reduce freezer burn, freeze chicken in a bit of chicken broth or cooking liquid. A great tool for job this is 1-Cup Souper Cubes Trays (affiliate link!). Freeze in cubes then transfer to a freezer safe bag or container.
How do you reheat leftover cooked chicken breasts?
According to the FDA, it is important to reheat all leftovers to 165F. That being said, any method you want to use to achieve this will work.
Here are my ideas for how to reheat meal prep dishes with chicken (best methods will depend on what the complete dish is!):
microwave – This method works best if your chicken has a sauce and is not just plain on its own. Reheat individual portions, loosely covered, in microwave safe containers for 90 seconds to 2 minutes, checking often.
oven – Place food in an oven safe dish and into the cold oven. Turn the oven on and set to 350F. Set a timer for 15-30 minutes, depending on the type, amount, and thickness of the food. After 15-20 minutes, check temperature, stir leftovers, and add more time if needed. Here's more info on How to Reheat Food Without a Microwave.
air fryer – If you just need to reheat some chicken, the air fryer is a great method. Place cold tenders in the air fryer and cook at 350 for 5-7 minutes or until the tenders are hot.
HotLogic mini oven

(affiliate link!)

– Any chicken leftovers you cook at home can be reheated in a HotLogic oven, it will just take time. It's a great option for travel and workplace meals. Read my full HotLogic mini oven review for all the info!
Some people do not prefer the taste of chicken after it has been reheated. If that's you, check out my round up of meal prep recipes for people who can't stand reheated chicken!
Remember, you do not have to deal with dry chicken in your meal prep! There are lots of recipes that cook the chicken in the sauce or in the pan with the veggies – when you include those, there are endless ways to cook chicken for meal prep.
What's your favorite way to cook chicken for meal prep? Let me know in the comments below! Let's chat meal prep chicken!