The HotLogic Mini Portable Oven is a lunchbox sized container that uses conductive heat to cook and reheat leftovers without overcooking. Here's my HotLogic Mini Portable Oven Review, including three different food tests, temperature checks, and how I liked the product overall.
NOTE: I purchased this product at regular price in order to review the product. This post contains affiliate links to the product on Amazon.
What is a HotLogic Mini?
The HotLogic Mini Portable Oven is a lightweight, personal "oven" that can cook and reheat food via conductive heating plate inside the container. The HotLogic can be plugged into any outlet at home, at work, or while traveling. There is also a 12V vehicle plug-in version available on their website.
View this product on Amazon (HotLogic Mini Oven (affiliate link!)) or on the product website, here.
You can place any kind of container inside the HotLogic, as long as it can zip closed. This includes plastic containers, glass containers, and compostable food containers.
The HotLogic heats food and holds it around a temperature of 165F for as long as it remains plugged in. This temperature ensures the food is safe to eat while not drying out, burning or overcooking. Of course, I had to test this out for myself!
With your purchase, you get the HotLogic Mini Portable Oven, a plastic container that fits perfectly inside, and a welcome book with some instructions and basic recipes.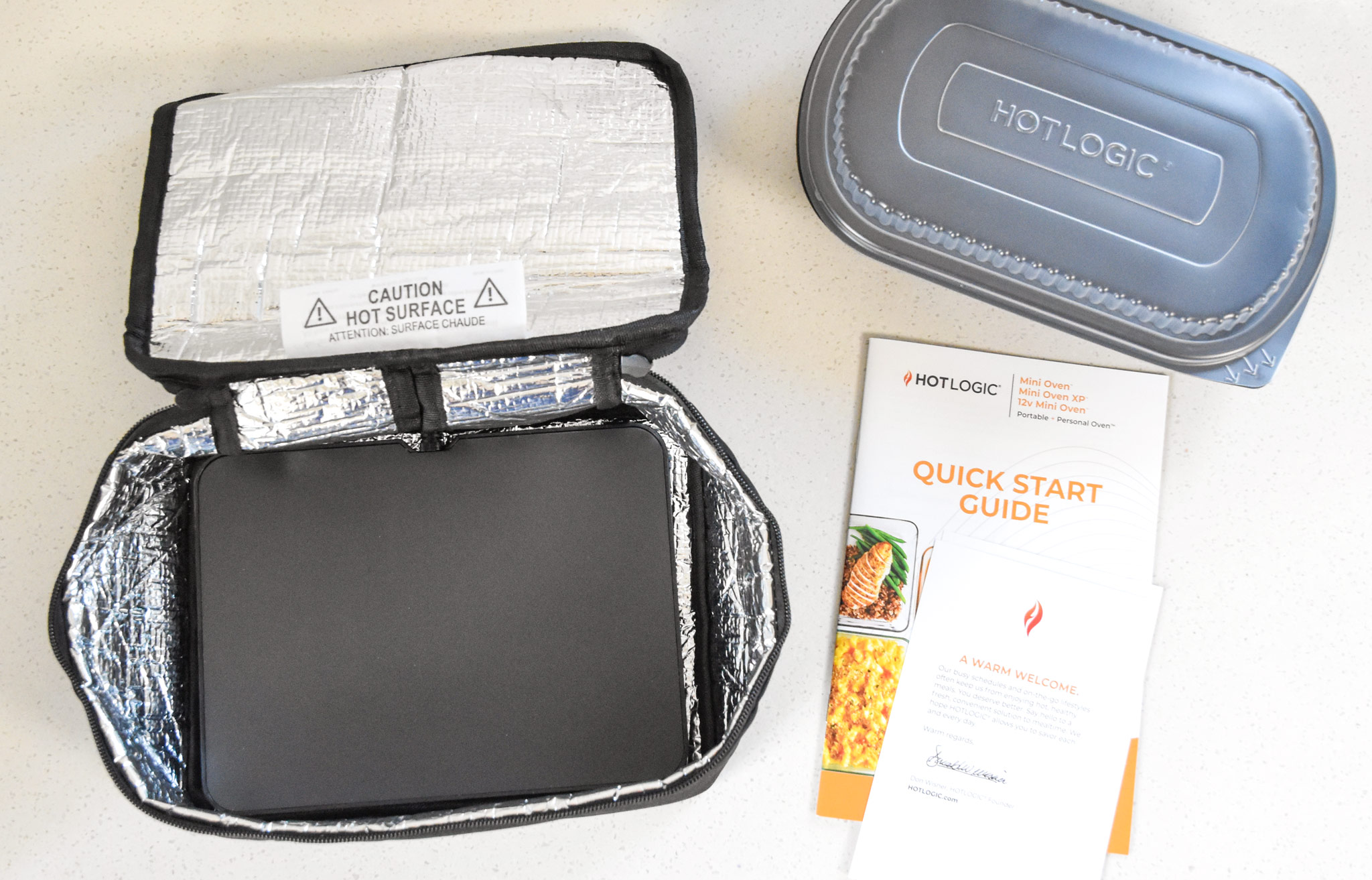 How does the HotLogic Mini work?
Heating food in the HotLogic is incredibly simple, as I learned during my testing. There are no buttons or dials on the HotLogic – simply plug it in, and it heats the plate inside.
To heat up your food, place the food in a container with a lid, and then place it inside the HotLogic. Zip up the HotLogic, plug it in, and let it heat your food. Based on the instructions, raw foods need around 2 hours to cook, while fresh or frozen veggies would take less time, and so on.
The HotLogic will keep food hot for as long as it is plugged in. Because the temperature never gets above the boiling point (212F), food does not burn or overcook. It really is that simple!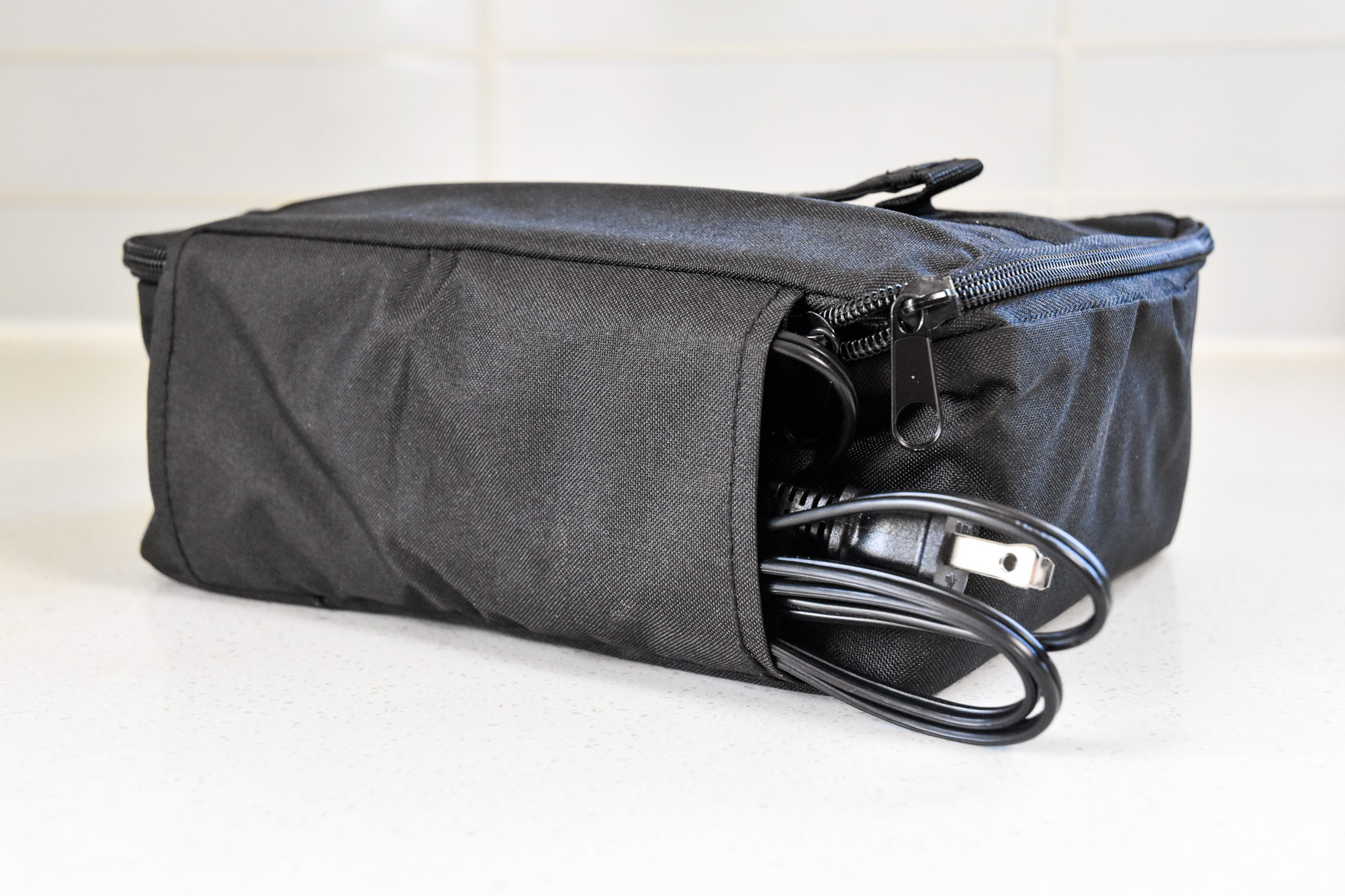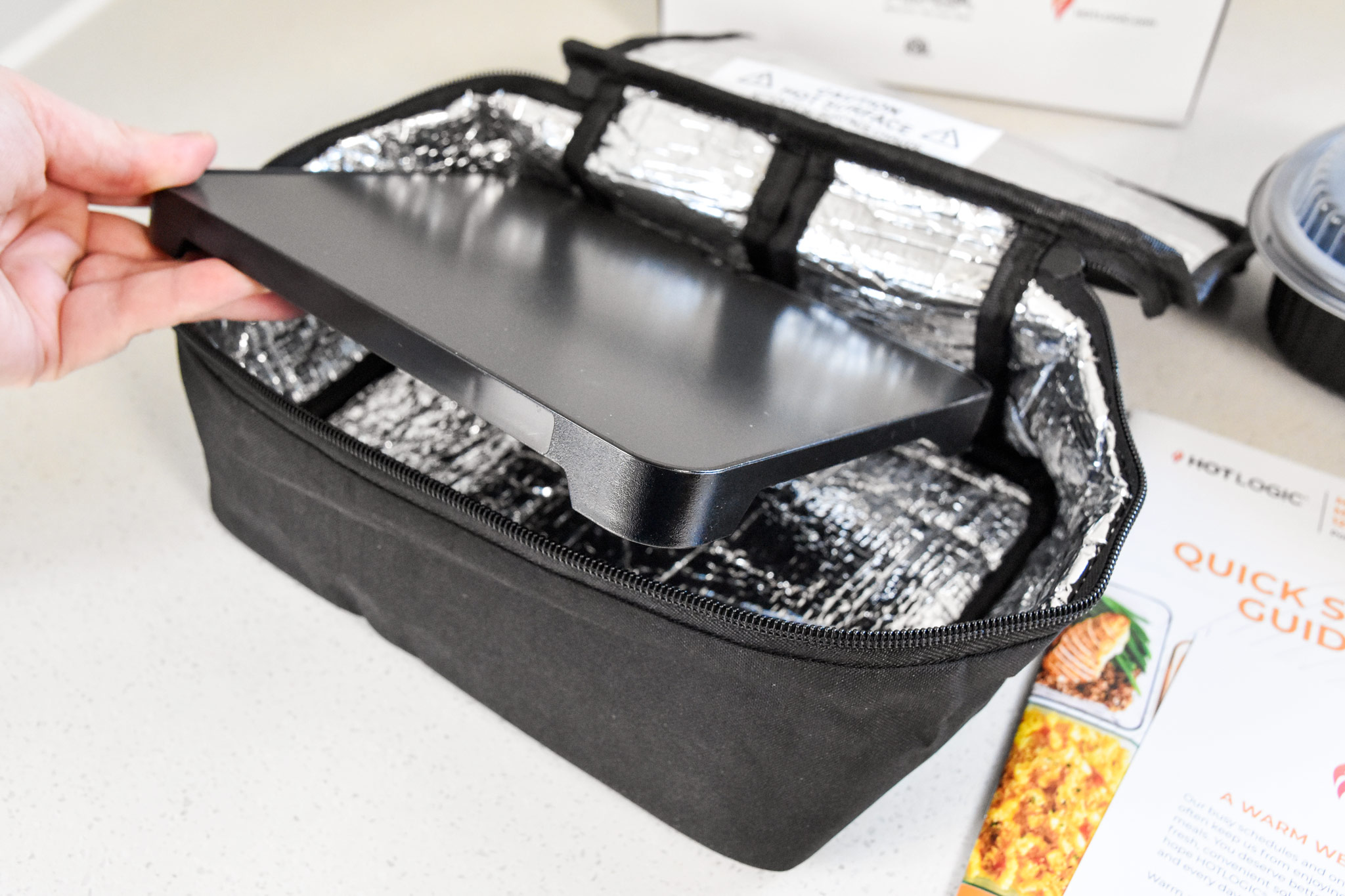 HotLogic Mini Portable Oven Review Cooking Tests
In order to test the claims of the HotLogic, I conducted three tests. For each test, I placed a food item inside, left it for anywhere from 90 minutes to 4 hours, and then checked the temperature and quality of the food inside.
The three tests were: 1) a frozen cube of verde chicken soup; 2) tenderized and seasoned raw chicken breasts; and 3) a frozen macaroni and cheese meal from the store.
Test #1: Frozen Soup Cube
I placed a completely frozen 2-cup portion cube of verde chicken soup in the plastic container with the lid on, placed it into the HotLogic, zipped it up and plugged it in.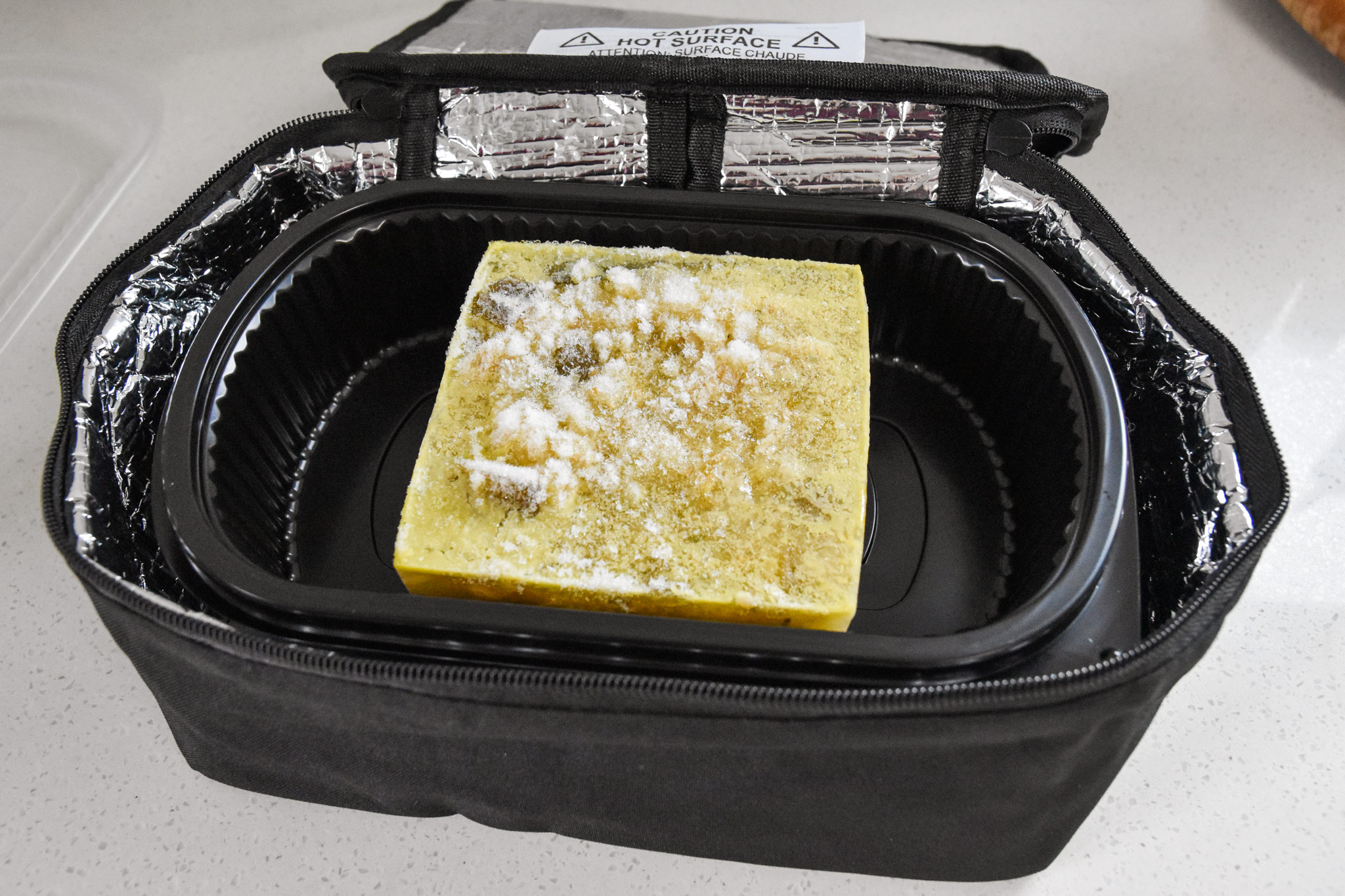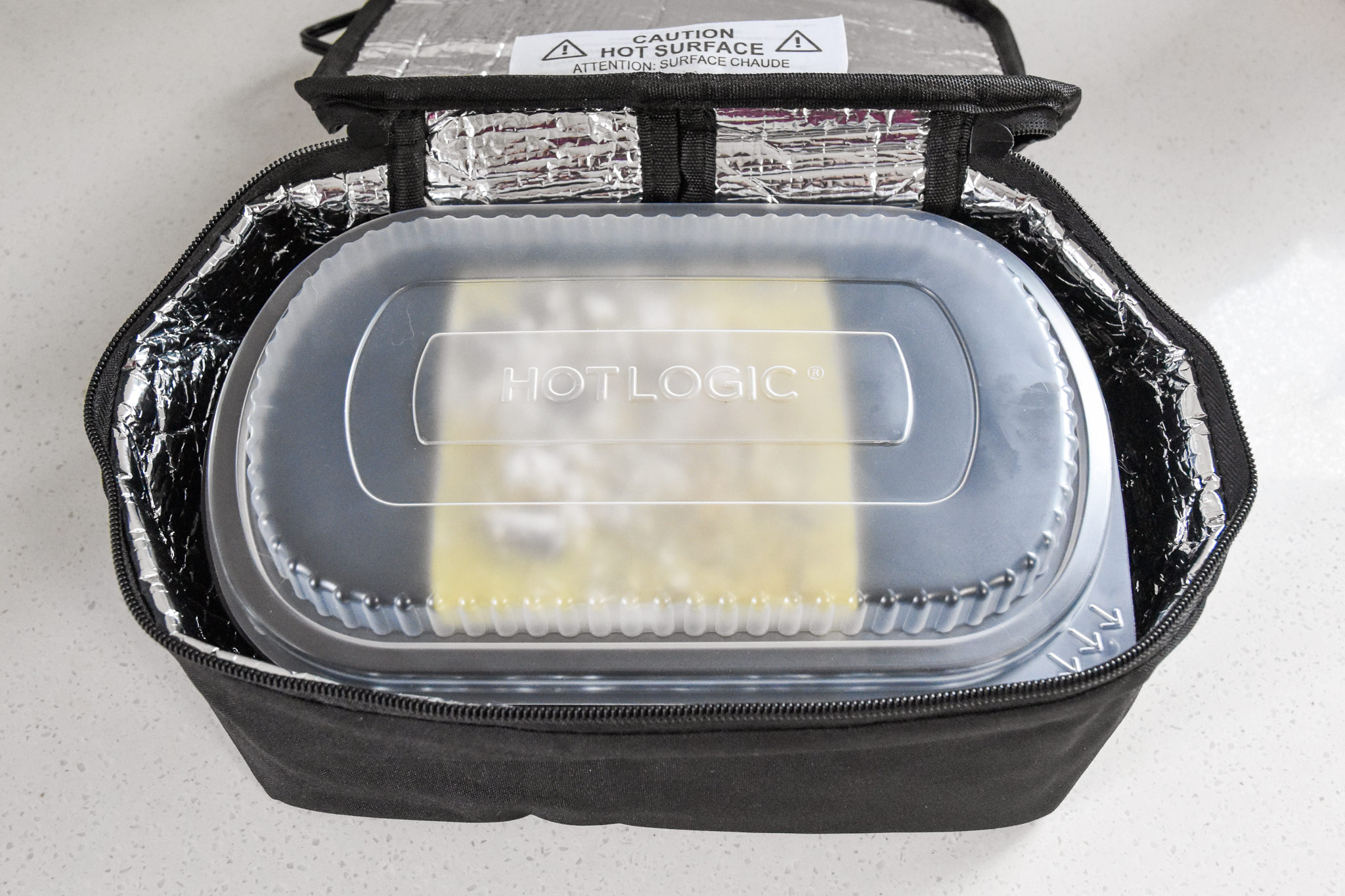 I didn't know how long it would take, so I set a timer for 4 hours.
After 3 hours, I could smell the soup, so I opened it up and checked it out.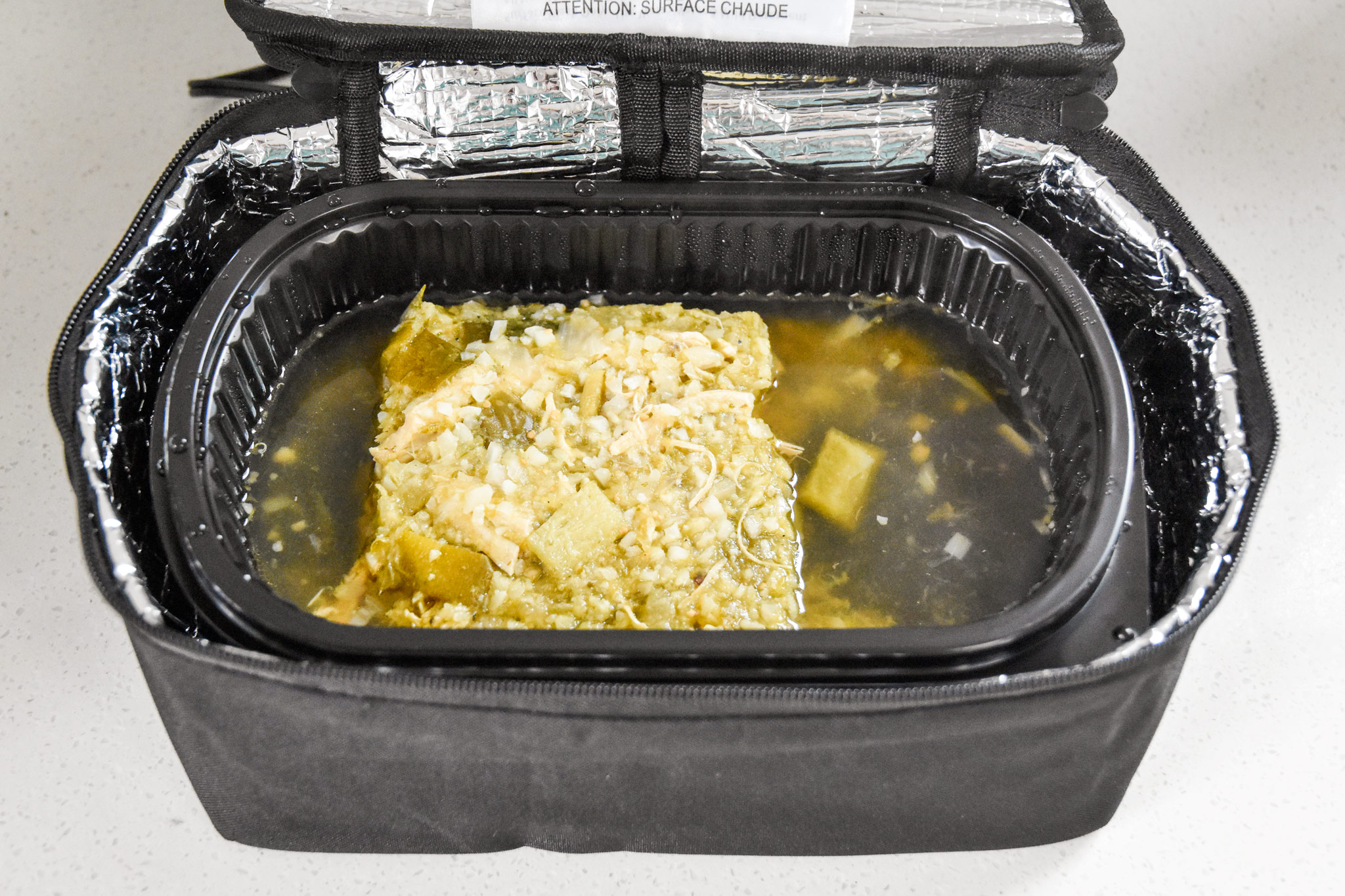 Obviously there is no stirring mechanism, so anything previously frozen will look a little funky at first glance. I gave it a stir and it looked just like the original soup.
Now, to take the temperature just in case.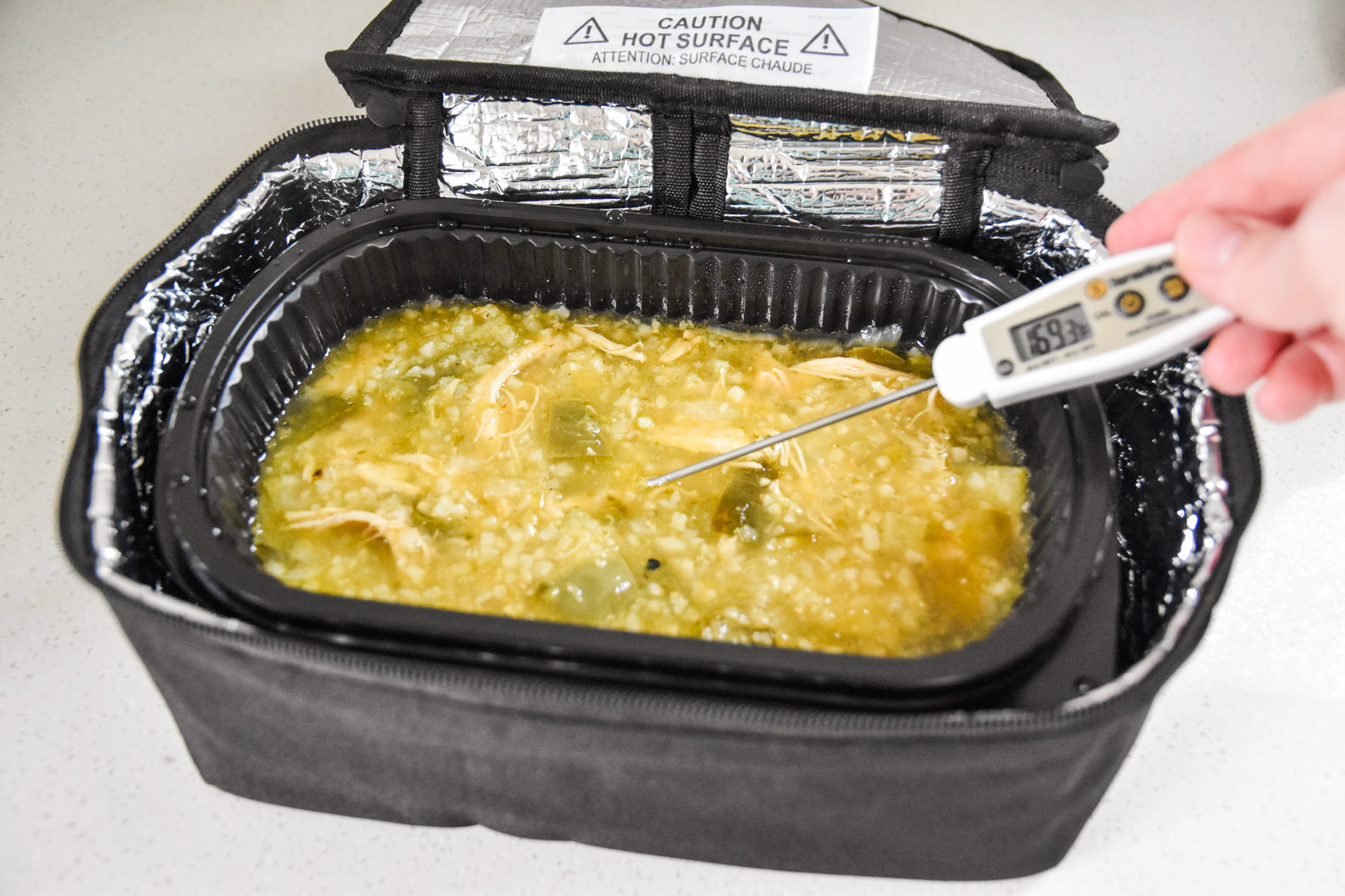 I registered around 169F for the soup, which means it was perfectly hot. Success!
Test #2: Frozen Macaroni & Cheese Store Bought Meal
I placed a completely frozen personal size macaroni and cheese meal into the HotLogic. I did put a small slit in the plastic film on top, just as I would if it was going into the microwave (unsure if this is necessary). I zipped the container closed and plugged it in.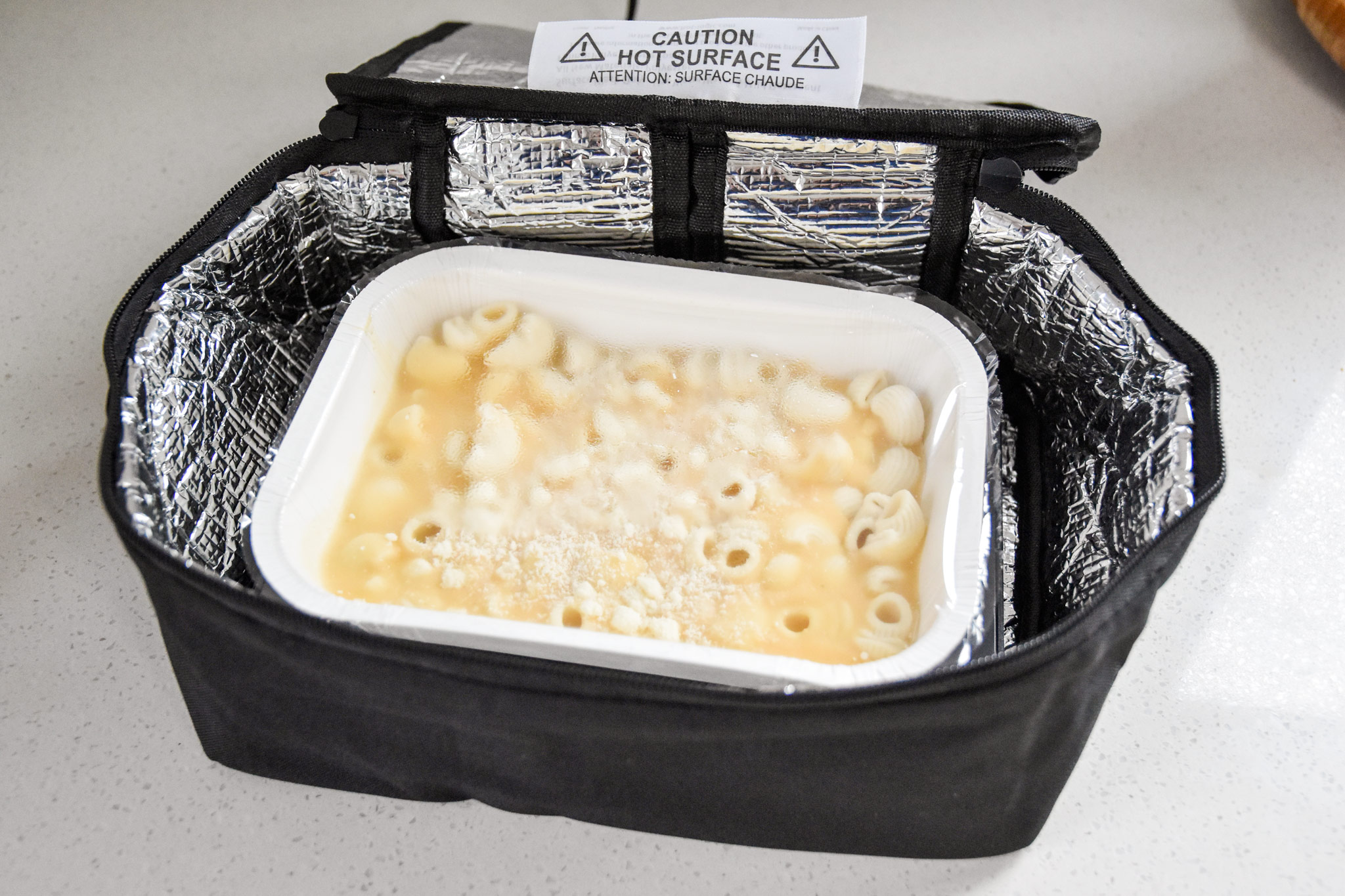 I set a timer for 2 hours, but I got hungry so I checked the macaroni and cheese after 90 minutes (I felt okay with that since this was reheating and not cooking anything raw).
Upon checking, the macaroni and cheese appeared completely cooked. I gave it a stir and took the temperature, which registered almost 180F at the bottom.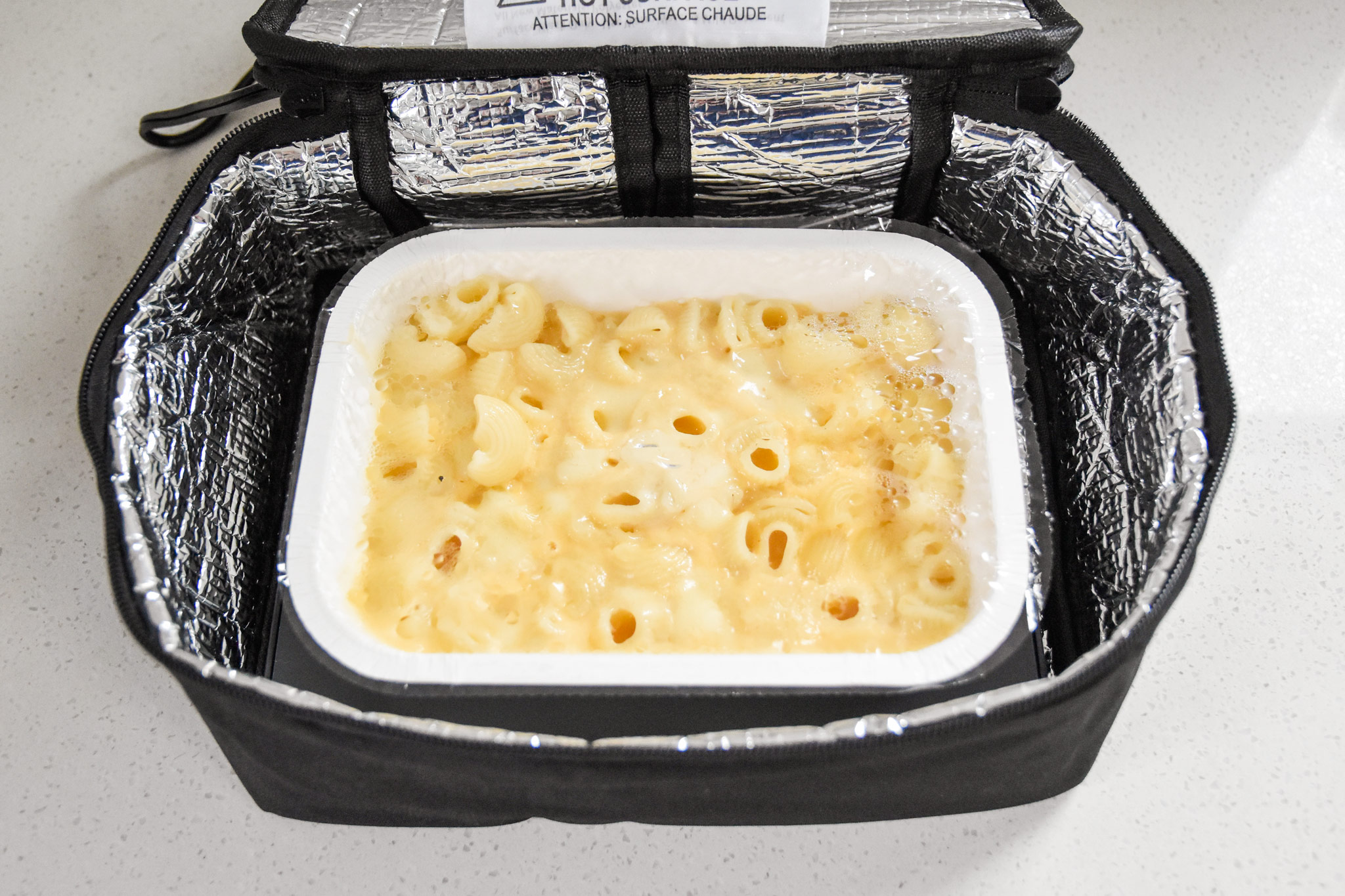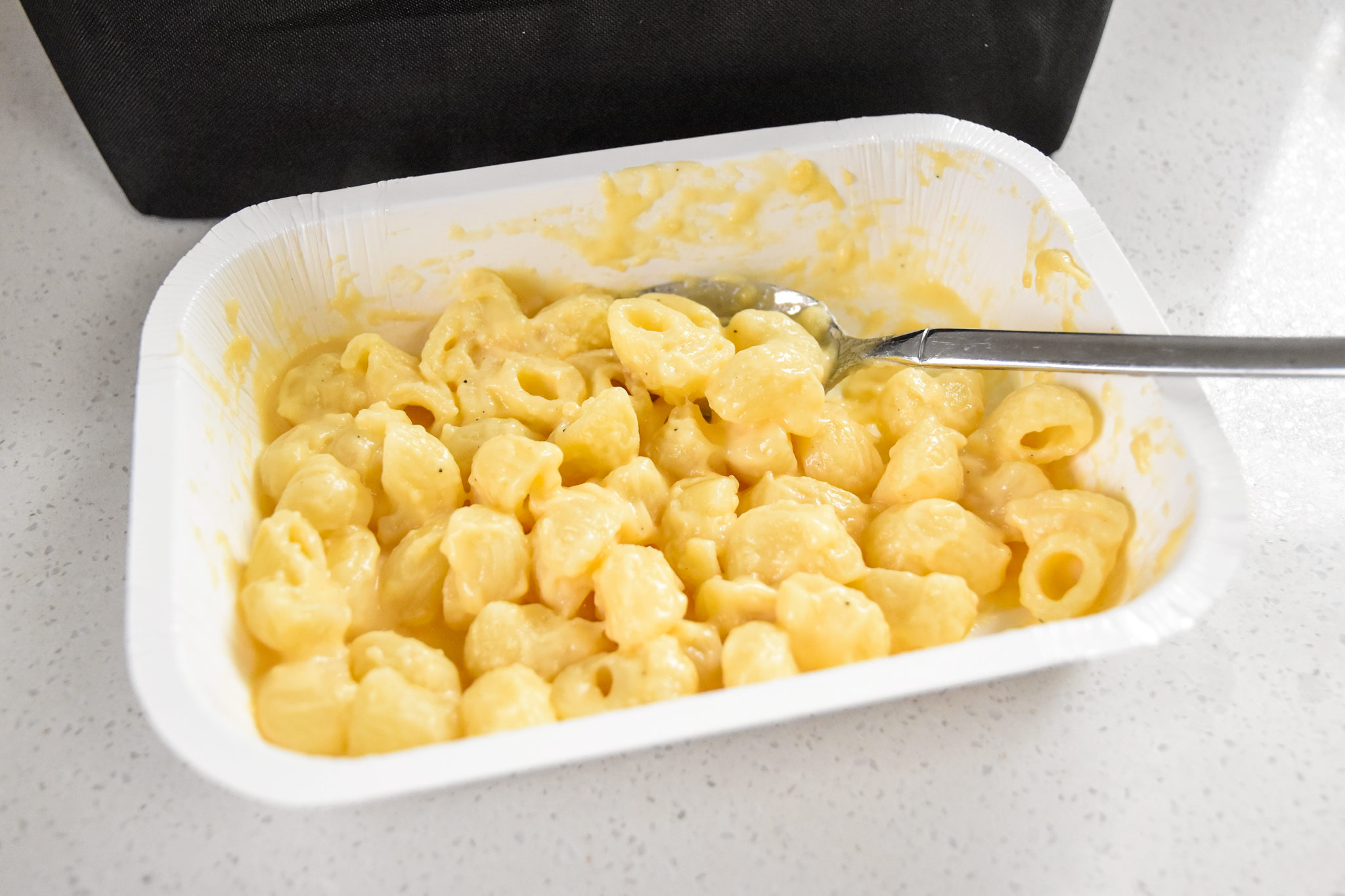 The macaroni was super steamy and delicious. It was very evenly cooked as well. No ice spots or lava spots. I call this test a success!
Test #3: Raw Chicken Breasts
For this test, I used 1 pound of raw boneless skinless chicken breasts. I tenderized both breasts and seasoned with salt, pepper, and garlic powder. I put the chicken breasts into a glass Pyrex dish, covered with a lid, and put it into the HotLogic Mini.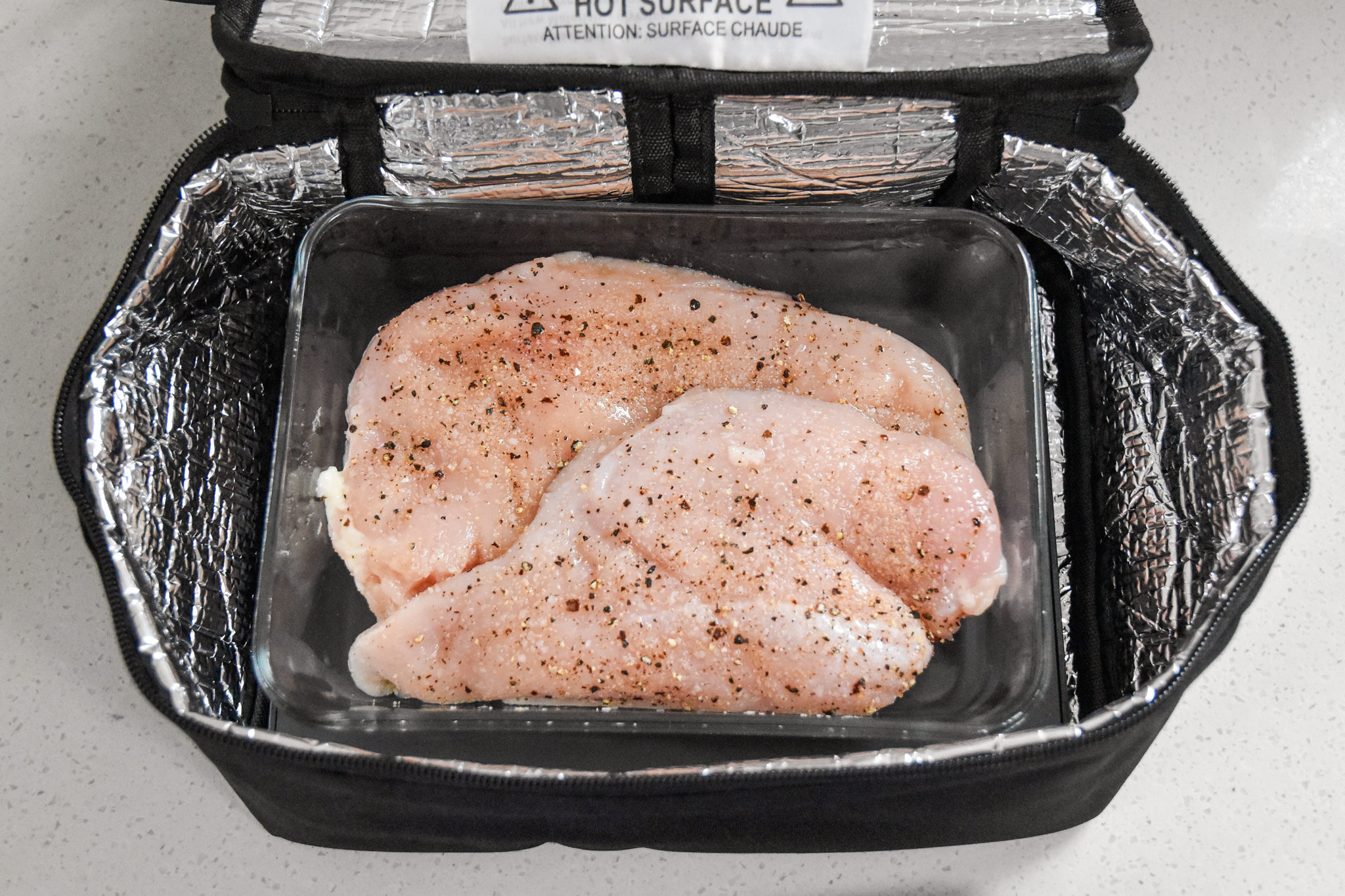 After plugging the HotLogic in, I set a timer for 4 hours. This is longer than required for cooking, but I also wanted to see how the chicken tasted after sitting for 4 hours, similar to a slow cooker.
After 4 hours, I returned to the HotLogic and found that my chicken was cooked, and honestly didn't look too bad at all. Here's the final result.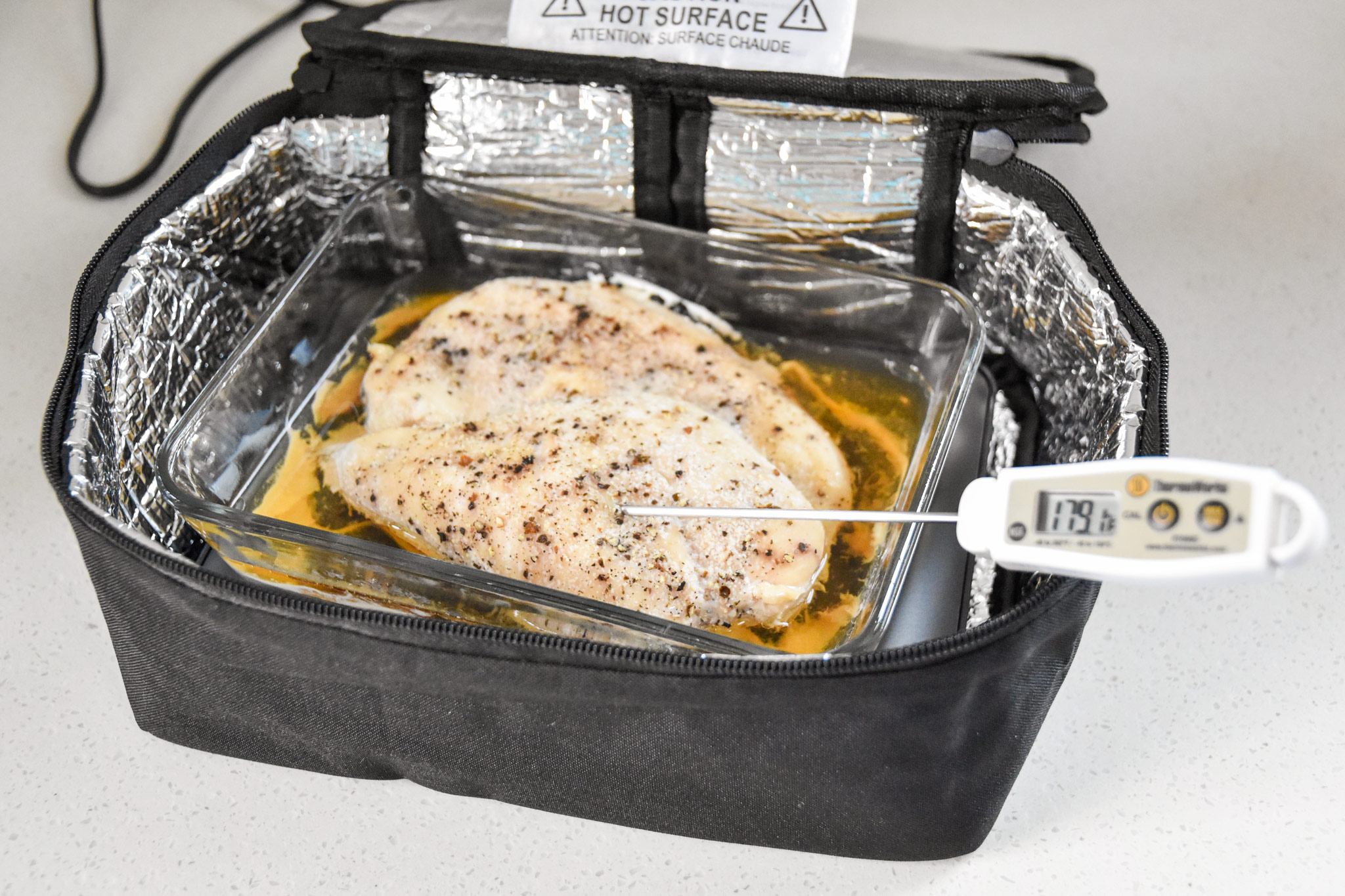 The chicken registered up to about 180F. It was fully cooked, and very tender upon cutting. This was not the best chicken breast I've ever had, but for the conditions and the fact that I left it for 4 hours, it was pretty good.
I wanted to cook all my raw chicken on hand, but you could easily do one chicken breast with veggies for a complete meal.
I also was able to store the chicken in the glass container I cooked it in. I used the chicken for a later meal and it was wonderful that the chicken was already perfectly cooked. Overall, this test was a success.
Summary of tests:
Overall, each of the three tests was a success. The food was cooked every time, even when it was raw to begin with. The frozen meal took about 90 minutes. The soup and chicken probably were done in 2 hours, however I let them go longer and they were great too.
How hot does the HotLogic Mini get?
This is a good question, because obviously the HotLogic must get pretty hot if it can cook chicken from raw.
After I was done with my food tests, I took the temperature of the hot plate, while it was plugged in. I got a whopping 208F degrees, which is pretty hot.
However, the counter underneath the HotLogic registered around 76F, which is only a few degrees above room temperature and not a danger to the counter or to touch.
The outside of the HotLogic barely gets warm – you can tell it's working, but it's not hot to the touch at all.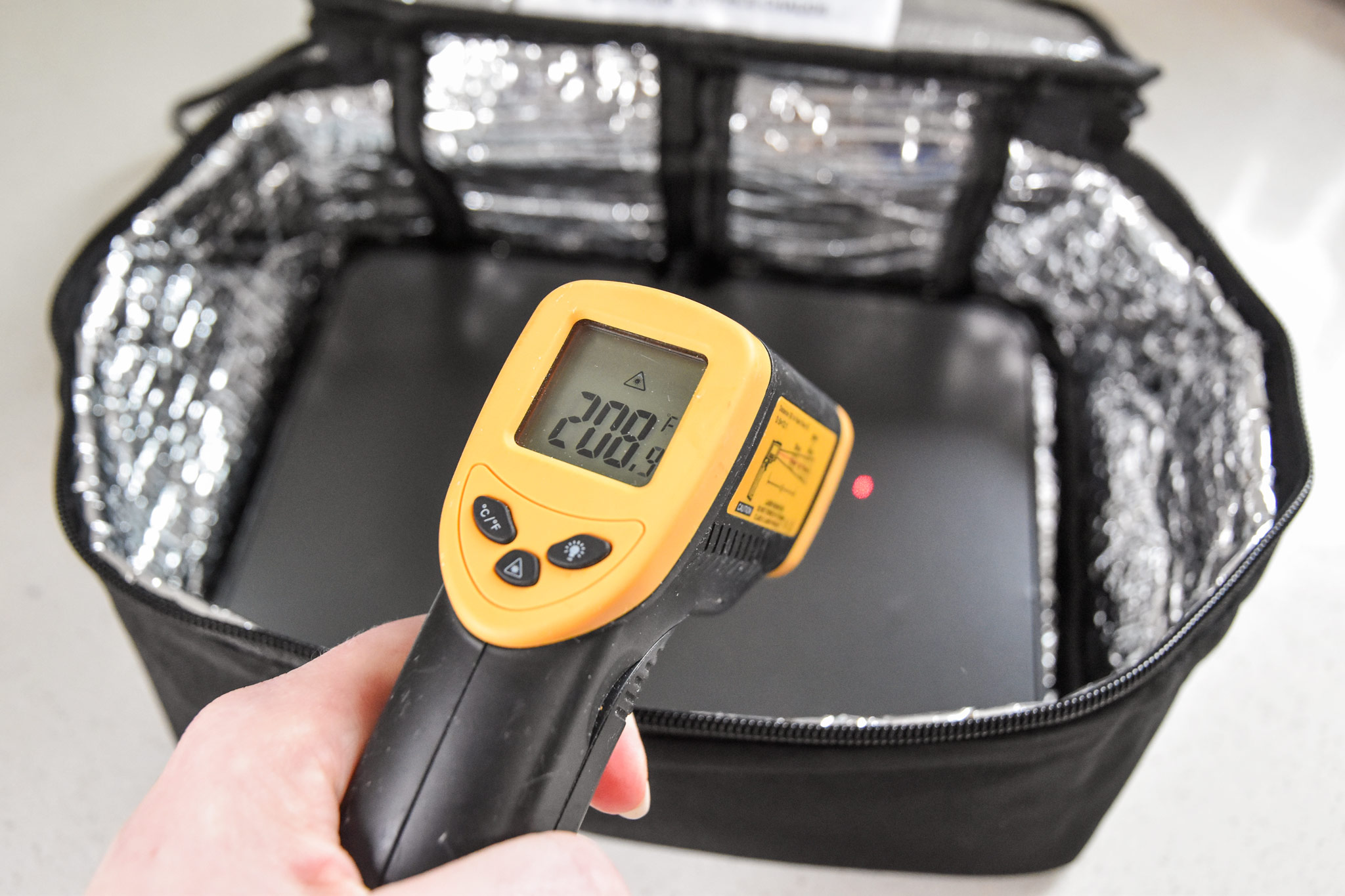 While it does get pretty hot, the plate cools down within minutes of being unplugged. As long as you keep it in the container and don't touch the plate, the burn hazard is super minimal. Temperatures on your stovetop get much, much higher.
Who would the HotLogic Mini be good for?
The HotLogic Mini would be great for so many different kinds of people! Here are some examples:
Great for offices and work environments without a microwave
Great for people who do not own a microwave (me!)
Great for truckers or drivers who want a hot meal on the road
Great for using in a hotel room to cook nice meals
Great for people who don't really like to cook
Great for people who want hot food but aren't sure when they can eat it
Anyone who wants to reheat food without a microwave
How much does the Hot Logic Mini cost?
I paid $29.95 for my HotLogic Mini in January 2021. I think they got the memo that these little portable ovens are becoming more popular, because the price has gone up to $39.95.
Be sure to compare prices from Amazon to the HotLogic website – they are currently the same price but may differ slightly in the future. View the HotLogic Mini Oven (affiliate link!) on Amazon or the HotLogic website for purchasing information.
Pros of the HotLogic Mini
Reheat any food, anywhere – This is the ultimate pro of this product. It can go anywhere there is electricity. Great for workplaces without a microwave, long haul drivers, hotel room meals and more.
Food is hot and ready when you are – If work is busy and you get stuck, the food doesn't overcook or dry out. It stays hot and ready for several hours, and will be there when you want it.
Super lightweight and portable – No bigger or heavier than a lunchbox or cooler. Definitely smaller than a microwave.
Cooks food better than a microwave – The HotLogic's conductive heating means no hot or ice spots in your food like a microwave might give you.
No buttons or dials – You just plug it in and let it go. You can't mess it up! Great for people who are less into cooking and more into home cooked food.
Reasonably priced – For a mini oven, the $40 price tag isn't that bad. Not a bad price to pay for some convenience.
Cons of the HotLogic Mini
Takes time – It's going to take time to heat up anything in HotLogic. You can't make anything instantly and planning ahead is necessary if you want food at a specific time.
Can't bake or boil – It can't make everything, because it isn't magic. No cookies, no cooking pasta. But it can reheat those things!
Dry items need a little water – If you are reheating rice or drier pasta style dishes, I have been advised to add a couple tablespoons of water to avoid crisping on the bottom. I have not personally experienced this yet, but it makes sense, as that's what I would do for other reheat methods as well.
Summary of my HotLogic Mini Portable Oven Review
Overall, my impression of the HotLogic Mini Portable Oven is very positive. It has exceeded my expectations as far as cooking raw food and reheating food from frozen. I have a lot more things to try, but everything I've tried so far worked well.
Food does take a while to cook (90 minutes to a couple hours or so), but the HotLogic keeps your food hot until you're ready to eat it, so it's flexible.
It is reasonably priced for the convenience it provides ($39.95 on Amazon and the HotLogic website).
It is easy to use and easy to clean. Since your food never touches the hot plate, it needs little cleaning (unless you have a spill!).
It seems useful for lots of different applications – useful at jobsites, offices with no microwaves, in a car or truck, anywhere you have electricity. They do sell a 12V car version.
I would buy this for friends and family as a gift, based on the usefulness and price.
Hope you found my HotLogic Portable Oven Review useful! View the HotLogic Mini Oven (affiliate link!) on Amazon or the HotLogic website for purchasing information.
This product lived up to the hype! Do you have your own HotLogic? How do you use it? Share your comments below!