Tasty little bites of chicken meatball goodness over your favorite pasta with roasted veggies on the side… four portions, TWO WAYS. Add variety to your meal prep with these Chicken Meatballs Two Ways Meal Prep Lunches!
Jump to Recipe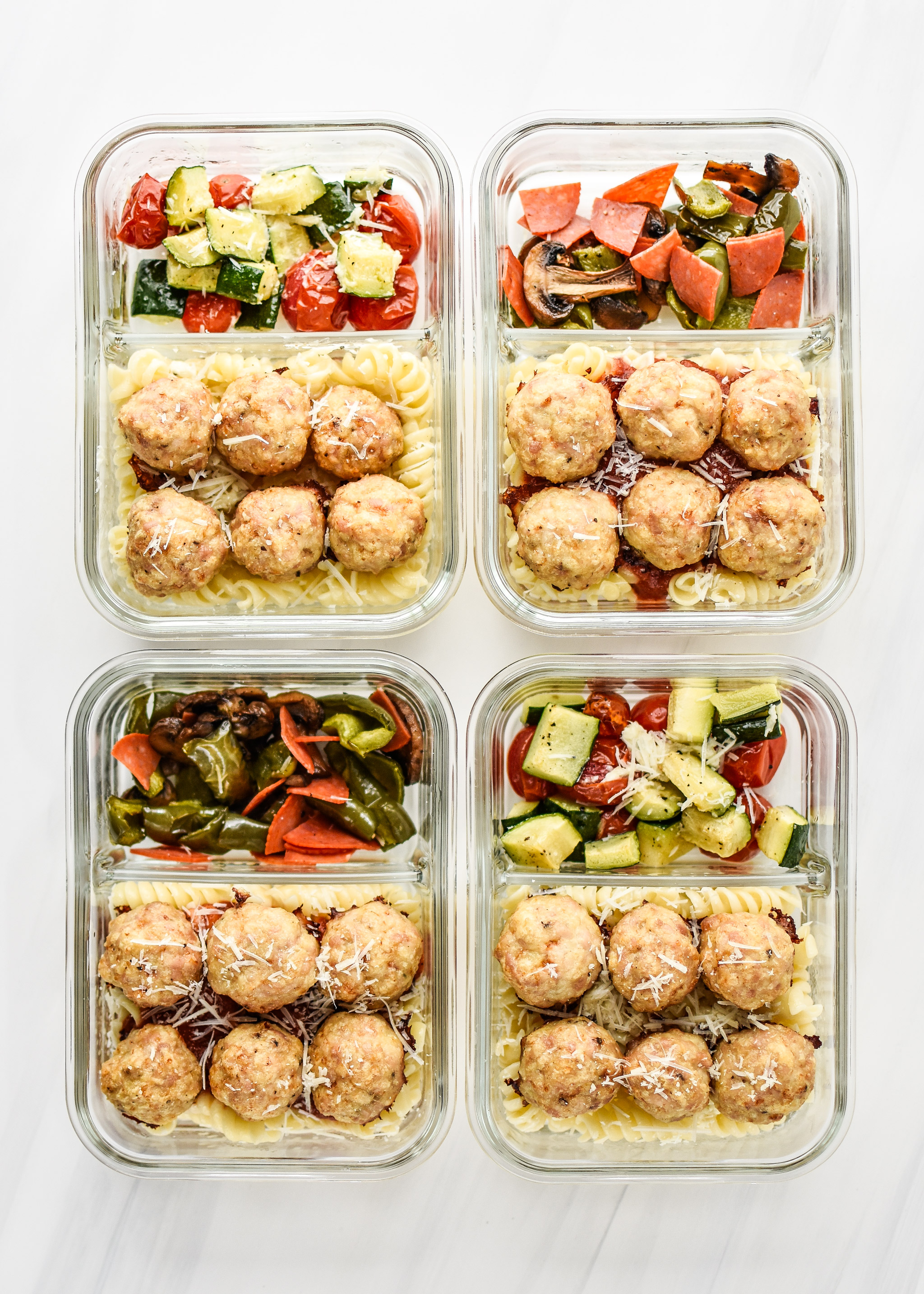 This week I'm flexing my meal prep muscle with something a little more creative… It's something I definitely advocate trying (especially in my recent post on How to Meal Prep and Eat Different Meals Every Day), but I realized I don't have many good recipe ideas for this method on my site. So, introducing the Chicken Meatballs Two Ways Meal Prep Lunches!
Why do "two ways"? Isn't that more work?
"Two way" meal prep, by my definition, is simply a meal prep recipe that provides two flavor or combo options while really only cooking one recipe of four portions. If it sounds like it's a little more work, that's because it might be, but it's for good reason!
In this recipe, the "more work" part comes in the form of cutting up four kinds of veggies instead of just two (each meal gets two kind of roasted veggies). But I've done all the portioning work for you, which is normally the hard part about "two way" meal preps. As well as the part about being creative enough to come up with two ways to flavor the same cooked dish in the first place… I'm practicing!
Here are a few reasons "two way" meal prep lunches are awesome:
Alternate your meals so you don't have the same flavored lunch two days in a row (in this meal prep, the flavors are pizza & garlic lemon veggie – totally different!).
Add variety with different vegetables (options #1: bell peppers & mushrooms; option #2: zucchini and cherry tomatoes).
Healthy foods you do not usually prefer won't get incredibly boring (example: zucchini here – I don't want to eat it everyday but it's a healthy option, so I put it in half of these lunches!).
All the normal benefits of meal prep & meal planning (Related: The Important of Meal Planning)
Now that you know the purpose of a "two way" meal prep, let's get started!
Super Simple Chicken Meatballs
If you've seen my recipe for Instant Pot Buffalo Chicken Meatballs Meal Prep, then you know I am no stranger to chicken meatballs. But the ones in this recipe are a bit different. After reading Lindsay from Pinch of Yum's rationale for ingredient choices in her chicken meatballs, I knew they were meal prep perfect!
Here's the difference: Of course, no buffalo sauce. But a less obvious change is the transition from fresh minced onion to using onion powder. Normally, I'm all about using real onions, but for this meal prep, onion powder ended up being the way to go. It's much quicker and easier compared to mincing and adding real onion to the mix. You're already cutting up a few veggies, so this makes one less. And for meal prep? Quicker and easier is the way to go.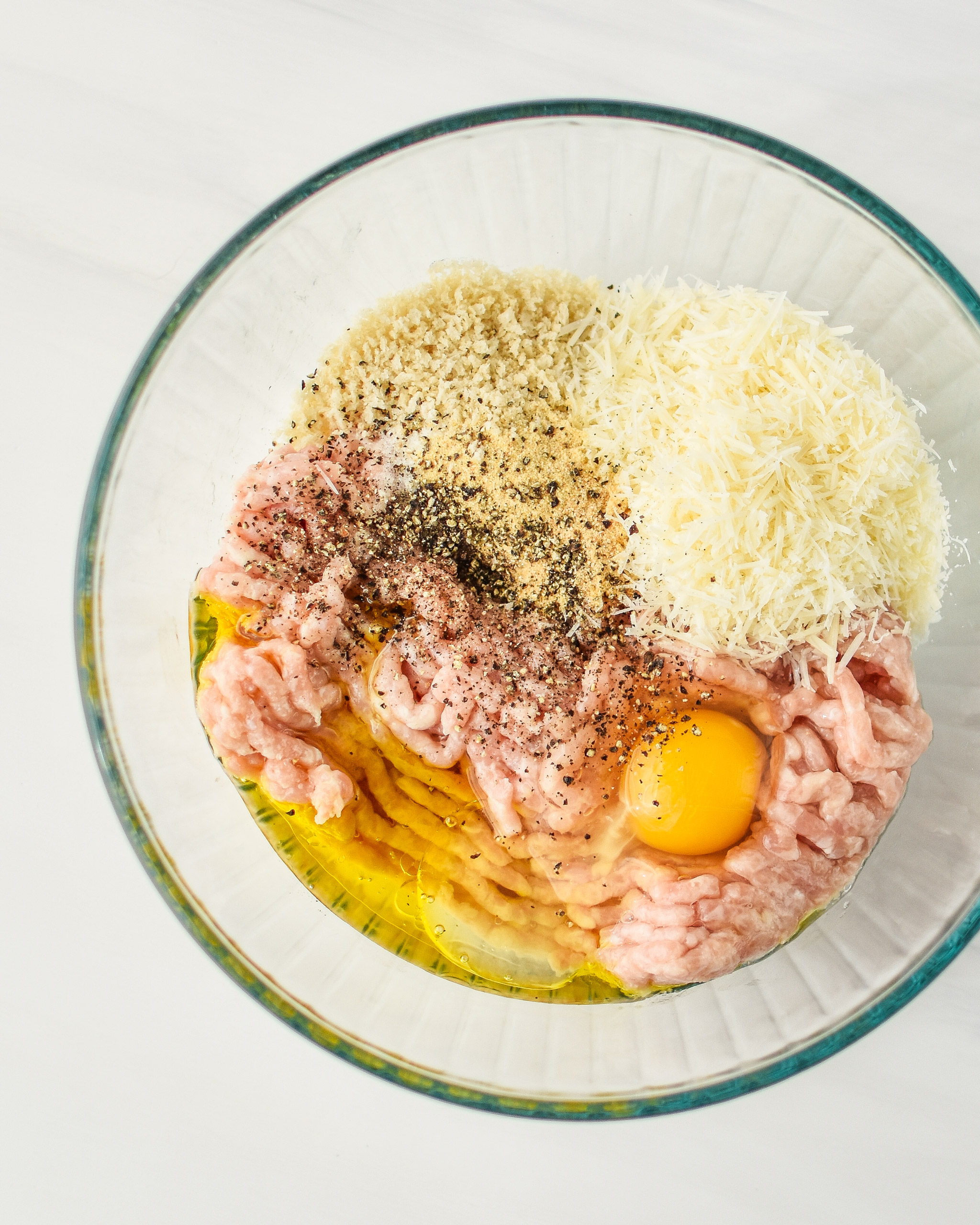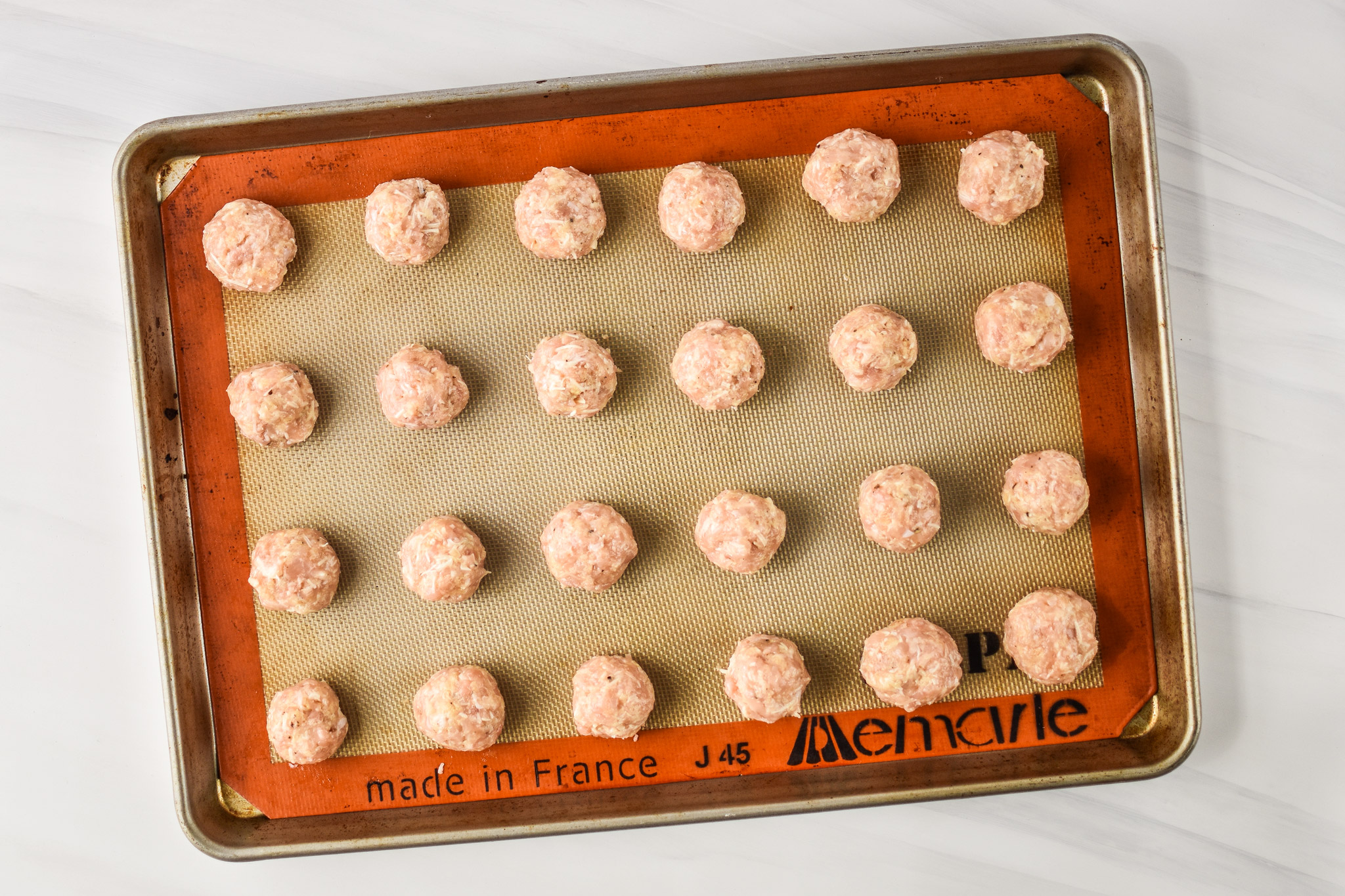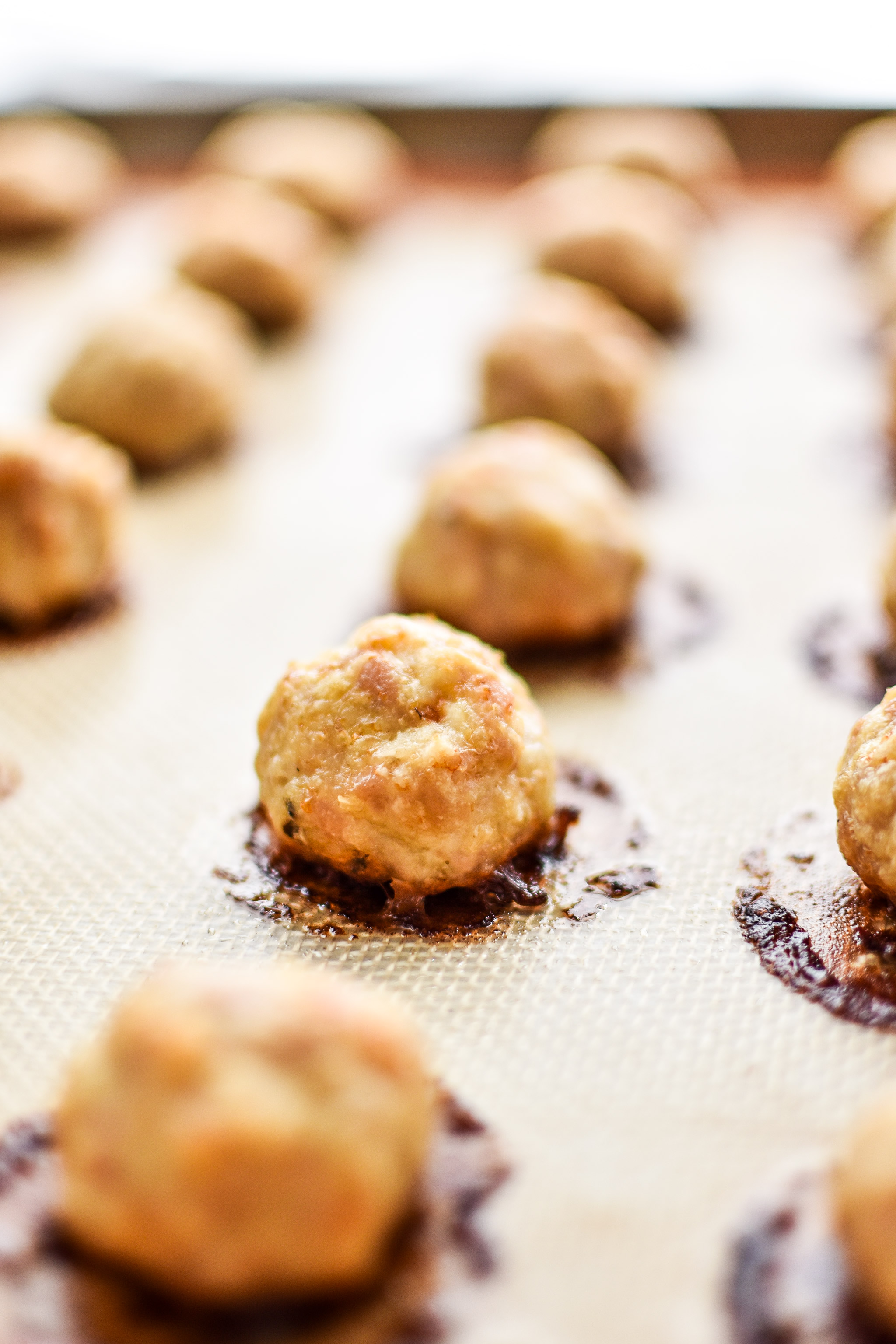 Roasted Veggies & Garlic
Roasted veggies on a sheet pan are quite possibly my favorite way to cook vegetables. But sometimes I lack the knowledge to know what veggies should go with what veggies. There are lots of variables, such as how long a vegetable takes to roast and how to best prepare the vegetable (smaller cuts are quicker, thicker veggies take longer).
To help me figure out what things belong on a sheet pan together, I always consult this helpful chart from Heal with Food: Oven Roasting Times for Different Vegetables. The chart lists most common vegetables, how to prepare them, and how long they take to roast at 450F. With this information, I easily constructed the rest of my sheet pan ingredients.
The chicken meatballs require a 400F oven, cooking for 25-30 minutes. For my vegetable choices, I decided on the following:
zucchini
whole cherry tomatoes
mushrooms
bell pepper
garlic whole head
According to the chart, most of these items roast fairly quickly at 450F. However, we're cooking at 400F, so all these vegetables will take slightly longer than the chart says to roast. For example, the chart says cherry tomatoes take 15-20 minutes to roast at 450F, so we know they'll take a bit longer at a lower temperature. All of the vegetables I've chosen should be just fine to roast for 25-30 minutes at 400F.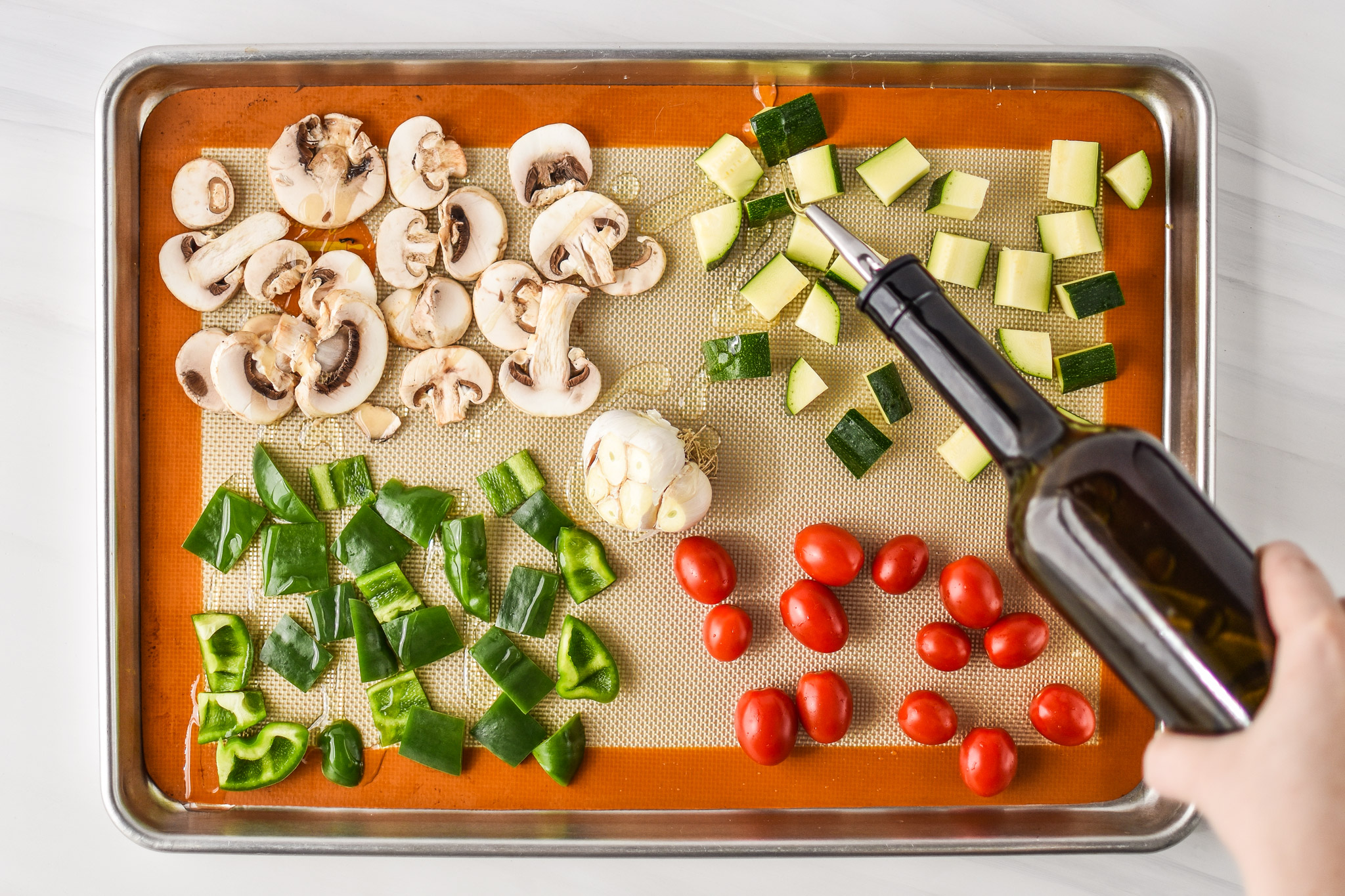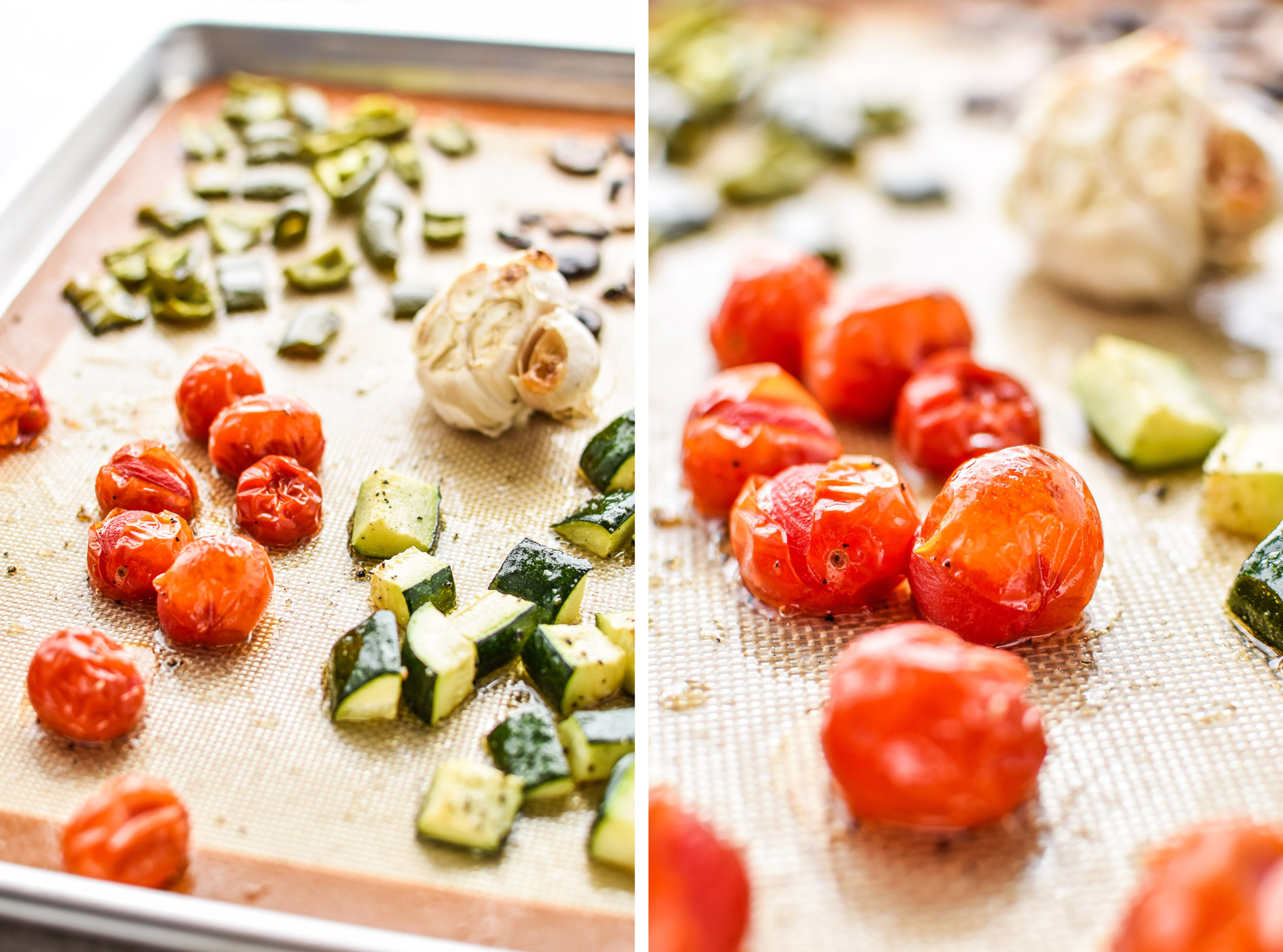 Two Sauces for Two Meal Prep Combos
For the pizza flavored meal prep, I went with plain old pizza sauce bought from the store. This is a super easy sauce option that perfectly matches the theme I wanted. You can easily freeze the leftover pizza sauce or use it for an actual pizza later in the week.
For the lemon garlic butter sauce, I decided to make use of the roasted garlic from the pan. I pushed the soft garlic cloves out of the head and roughly chopped and squished them up with a knife. I mixed the garlic with about 1 + 1/2 tablespoons of room temperature butter, then added half a lemon's worth of juice (1 tablespoon). I mixed the garlic butter thoroughly, and then used that as a sauce for everything in the two garlic veggie meals. EASY.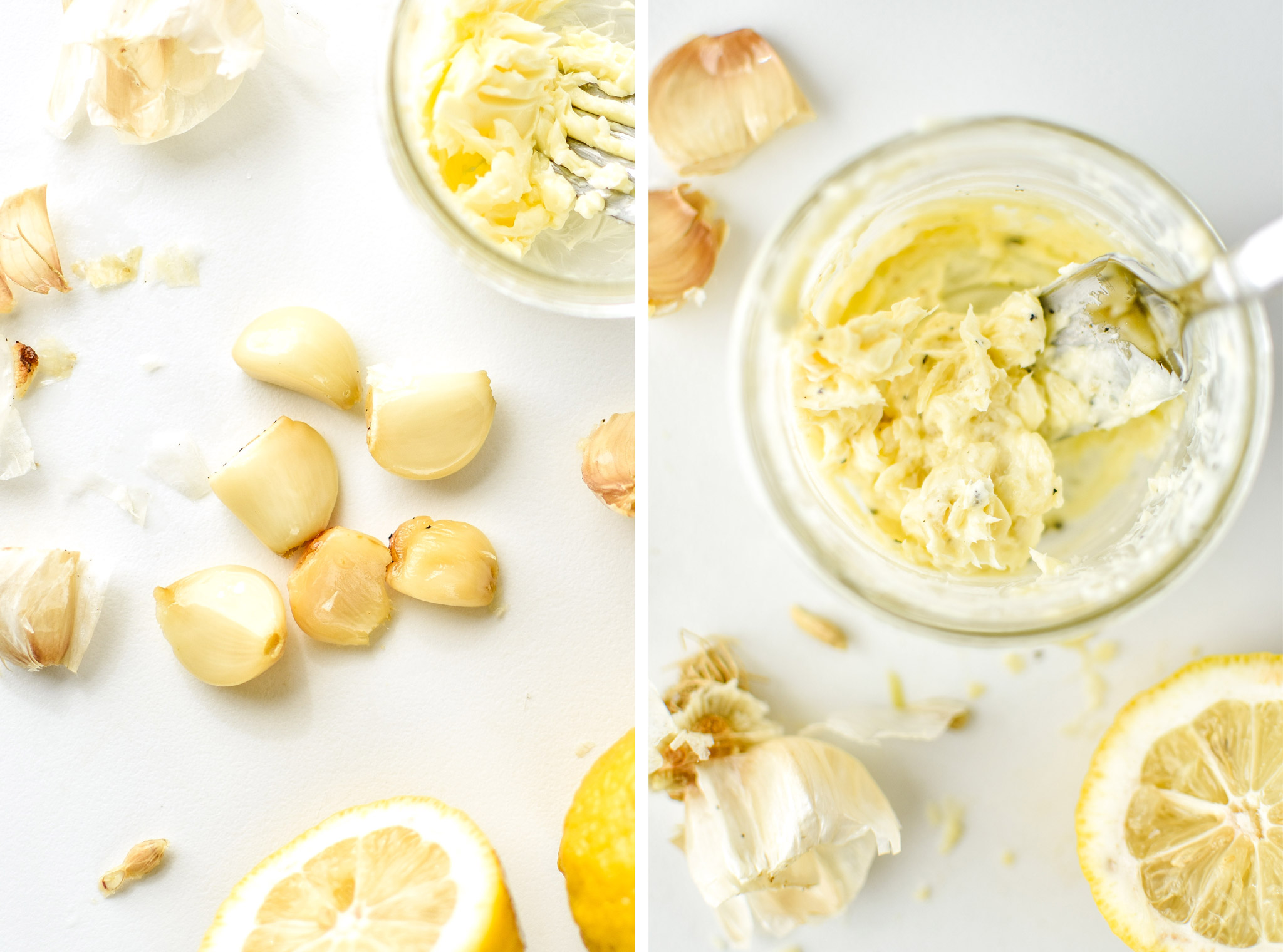 How to Assemble the Chicken Meatballs Two Ways Meal Prep Lunches
For this meal prep, I would recommend using glass containers, either basic 4-cup Pyrex round glass containers (affiliate link!) or the ones I have pictured, 2 compartment glass meal prep containers (affiliate link!), which will keep your veggies separate from the pasta/sauce/chicken until you're ready to eat.
Here's how I assembled this meal prep:
Portioned 2 ounces of cooked pasta into each large compartment.
Added all cooked vegetables to the meal prep containers: mushrooms & peppers to half, zucchini and tomatoes to half.
Added my "sauces" to each meal prep: 1/4 cup of pizza sauce on top of the noodles in the "pizza" flavored meal preps; split the lemon roasted garlic butter between the other two meal preps.
Added exactly SIX meatballs to each meal. I started with 1 pound of ground chicken, and ended with 24 meatballs total. This equals exactly six meatballs with about 4 ounces of chicken total for each meal.
Sprinkled with finely shredded parm because cheese is life.
That's it! Really, the hardest part of a two way meal prep is figuring out what the two ways will even be. So all you have to do is cook and assemble!
Chicken Meatballs Two Ways Meal Prep Lunches
And here are the final products! Two different flavor options with different veggies, which you are welcome to mix and match to your own liking. My favorite is the Garlic Veggie meal, but the pizza meal is a fabulous choice too (add more cheese if you want!).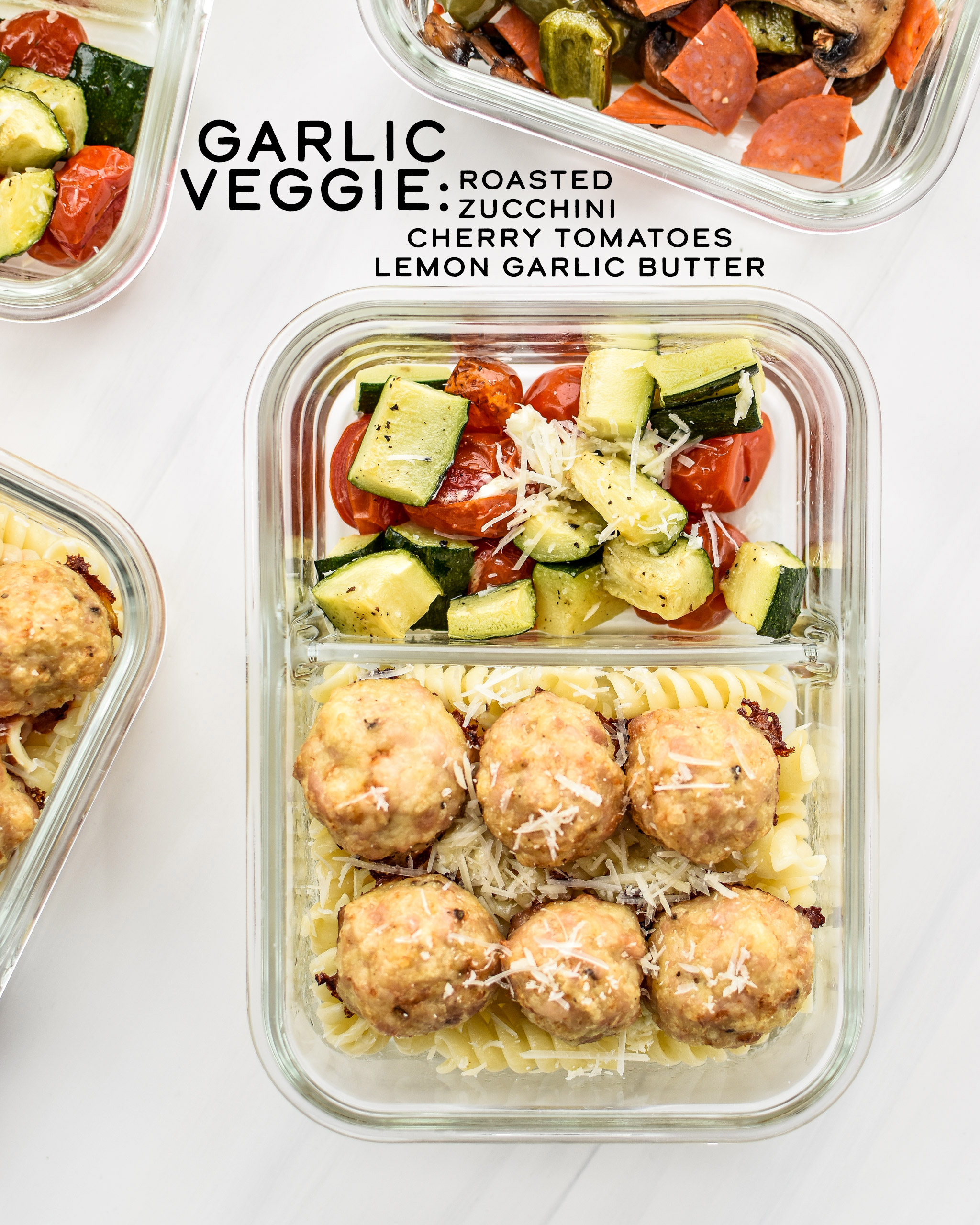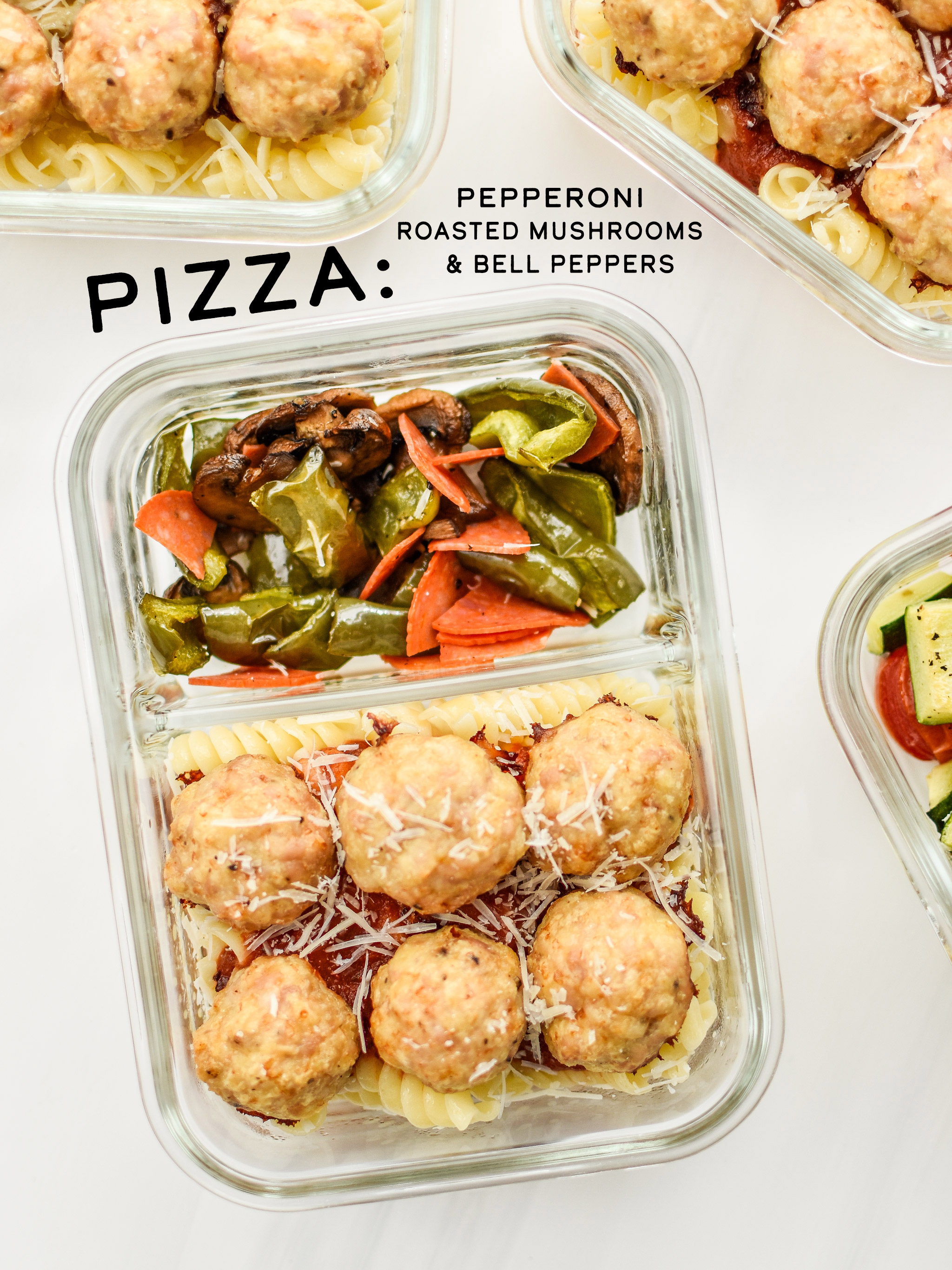 Ways to personalize the Chicken Meatballs Two Ways Meal Prep Lunches:
Change up you veggies with whatever you'd like, just make sure the cooking times are similar.
Add different pizza toppings, such as olives, pineapple, spinach, or other extra veggies you have.
Add some mozzarella cheese to the pizza meals.
Skip the roasted garlic butter and just do a store bought white sauce for the garlic veggie meals.
Add roasted garlic to the pizza meals too!
Use ground turkey instead of ground chicken to make the meatballs.
Use a different kind of pasta – make sure it's a kind that will hold up for a couple days in the fridge.
Enjoy this delicious two way meal prep lunch!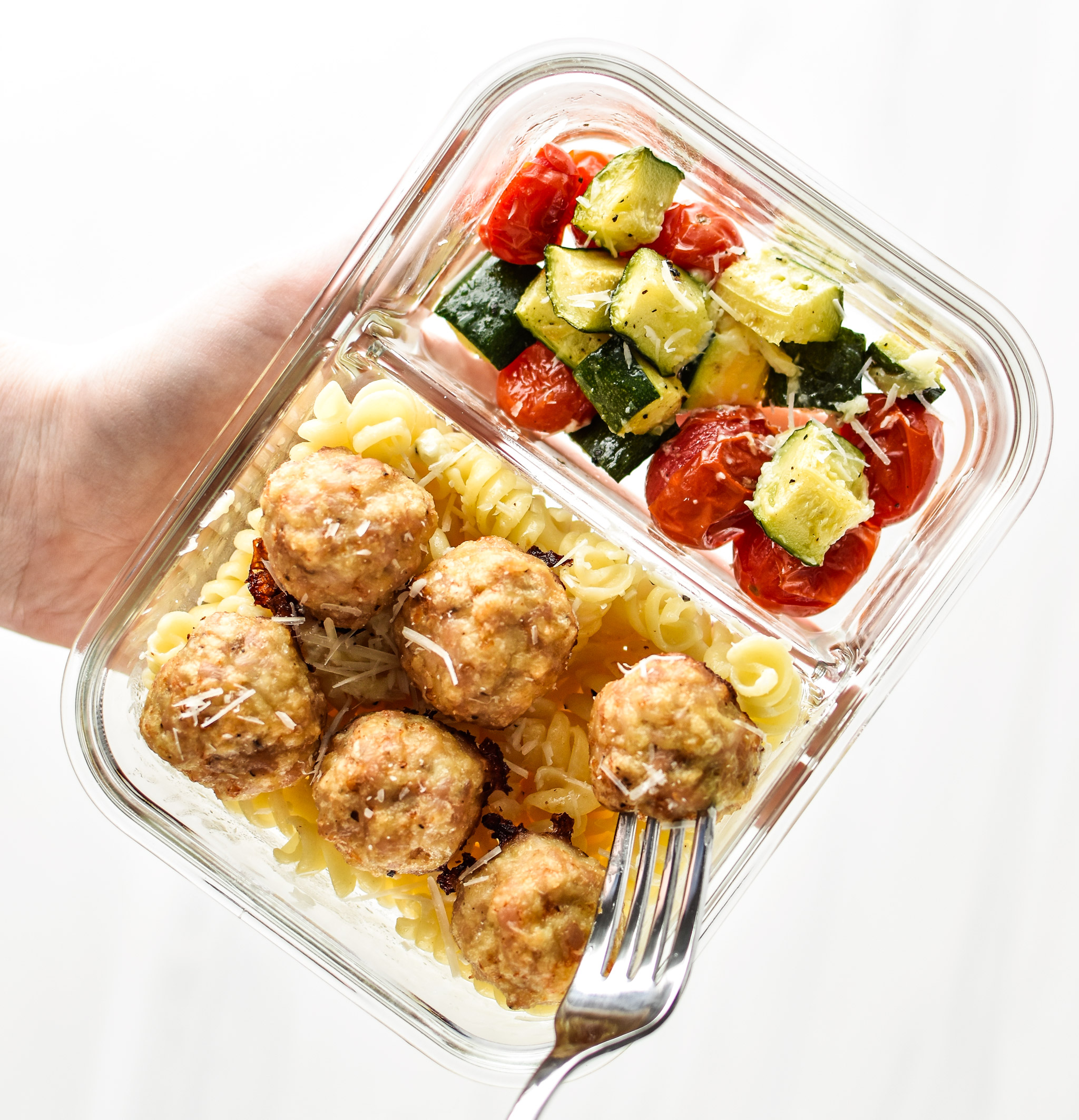 More meal prep lunches from Project Meal Plan:
Recipe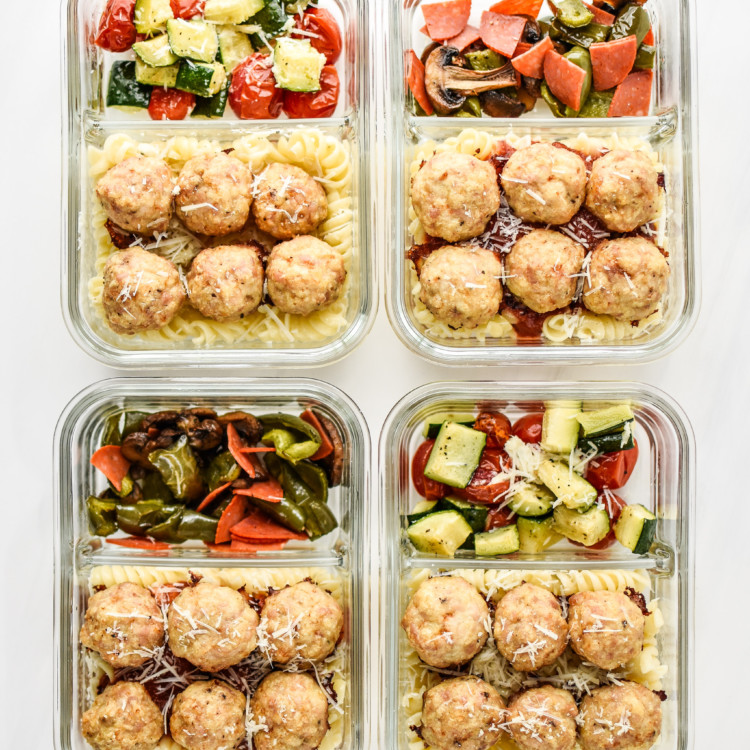 Chicken Meatballs Two Ways Meal Prep Lunches
Prep:
30 minutes
Cook:
30 minutes
Total:
1 hour
Tasty little bites of chicken meatball goodness over your favorite pasta with roasted veggies on the side… four portions, TWO WAYS (pizza & garlic veggie!). Add variety to your meal prep with Chicken Meatballs Two Ways Meal Prep Lunches!
Ingredients
For the Meatballs & Pasta:
1

pound ground chicken

1

egg

1 tablespoon

olive oil

1/2 cup

panko breadcrumbs

1/2 cup

grated or finely shredded parmesan cheese

1/2 teaspoon

garlic powder

1/2 teaspoon

onion powder

1/4 teaspoon

salt

1/4 teaspoon

black pepper

8 ounces

pasta spirals (or pasta of choice)
For the Garlic Veggie Meals:
1

small head of garlic

10

–

12

cherry tomatoes

1

small zucchini, cut into bite sized pieces (

4

–

6

ounces)

1

+

1/2 tablespoon

butter, room temperature

1 tablespoon

lemon juice (about

1/2

lemon)
shredded parmesan, for garnish
For the Pizza Meals:
1

small green bell pepper, cut into

1

inch pieces
~2/3 cup sliced white mushrooms (2-4 ounces)

1/2 cup

pizza sauce

8

–

10

slices pepperoni
shredded parmesan or mozzarella cheese (optional)
Instructions
First, make the meatball mixture. Add all the meatball ingredients (ground chicken, egg, olive oil, breadcrumbs, parmesan cheese, garlic powder, onion powder, salt and pepper) to a large bowl. Use clean hands to mix everything together until just mixed. Place the meatball mixture in the fridge while you prepare the veggies and sheet pans.
Preheat the oven to 400F. Line two large sheet pans with parchment paper or a silicone baking sheet.
Cut the top end of the garlic head off (about 1/2 inch) to reveal the cloves. Place all your prepped veggies onto one sheet pan with head of garlic cut side up in the center (I like to keep the veggies separate for easier portioning later). Drizzle veggies with avocado or olive oil (about 2 tablespoons), then sprinkle lightly with salt and pepper. Use a wooden spoon or your hands to mix each section of veggies so they are covered with oil. Set this sheet pan aside.
Remove the meatball mixture from the fridge. Use clean hands and/or a small cookie scoop to form 24 meatballs, spacing them evenly apart on the second prepared sheet pan.
Place both sheet pans into the preheated oven, veggies on top. Cook for 25-30 minutes, or until the veggies appear roasted and tomatoes have burst. Check the temperature of the meatballs, they should be over 165F. If not, they may need another 5 minutes on the top rack after the veggies come out of the oven.
While the meatballs and veggies are in the oven, cook pasta according to package directions for just barely al dente (minimum cook time). Drain, set aside, and toss with a small amount of olive oil so the pasta doesn't stick together.
Once everything has come out of the oven and is cooling, it's time to make the lemon garlic butter. Take the roasted garlic and squeeze the cloves out through the top. Take 2-4 cloves of the roasted garlic (more if you are a garlic lover) and use a fork to mash them up with the room temperature butter. Once thoroughly mixed, add lemon juice and mix once more. Save any extra roasted garlic for another meal.
 Finally, assemble your meal prep bowls. Divide pasta evenly between all four bowls. Add mushrooms and peppers to two bowls, and add zucchini and tomatoes to the other two bowls. Add 1/4 cup pizza sauce on top of the pasta to each pizza meal, and add lemon garlic butter to the garlic veggie meals. Cut the pepperoni into quarters and add to pizza meals. Top each meal with six meatballs each. Sprinkle with extra shredded parmesan cheese.
These meals will store for up to 4 days in the fridge in airtight containers. To reheat, cover and microwave on high for 90 seconds – 2 minutes.
Notes
I like to use either basic 4-cup Pyrex round glass containers (affiliate link!) or the ones I have pictured, 2 compartment glass meal prep containers (affiliate link!) to store these meal prep lunches. If you do not have two sheet pans, just cook the meatballs first, followed by the veggies on the same sheet pan. This will significantly increase cook time but works just fine.
If you want to skip the two ways part of this recipe, just double the ingredients for the flavor combo you've chosen and make the rest as normal. Chicken meatballs adapted from Best Anytime Baked Chicken Meatballs from Pinch of Yum. Nutrition information estimated with My Fitness Pal.
Nutrition Information
Serving Size:

1 meal prep lunch

Calories:

515

Fat:

17g

Carbohydrates:

57g

Protein:

39g
Recipe Card powered by
Thanks for checking out Chicken Meatballs Two Ways Meal Prep Lunches! Please tag me or use #projectmealplan on social media to share your two way meal prep creations!