Whether you're headed to work, school, or morning errands, I've got breakfast ideas for you! Homemade muffins, mason jar meals, and savory classics are all included in this list of 15 Grab-and-Go Meal Prep Breakfast Ideas for Work!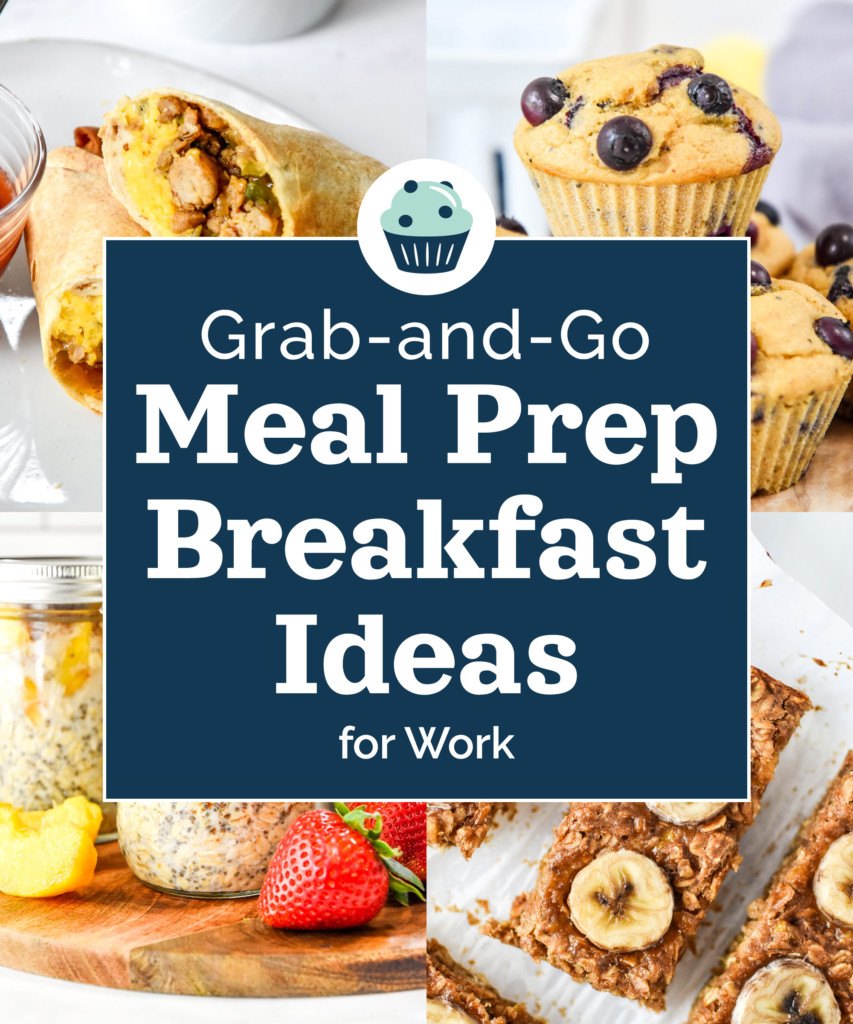 What is a grab-and-go meal prep breakfast?
It's important to define our terms so we're all talking about the same thing, even if it sounds simple. Let's break down the longer phrase into parts so it's easier to think about.
grab-and-go – This phrase by itself usually refers to packaged, ready to eat foods that can be easily transported and consumed. In some contexts, it can reference items sold at a self-service station or food store (not in this case though!).
meal prep – This phrase refers to any planning and preparation of your food that's done ahead of time. This can be parts of meals, or whole meals. For more basic info, check out How to Meal Prep for Beginners.
breakfast – Generally, this is your first meal of the day, when you break your fast after waking up from sleep.
When you put these three phrases/words together, you get grab-and-go meal prep breakfast, which means packaged, ready to transport and eat, first meal foods that are prepared ahead of time.
Why meal prep breakfast? What are the benefits?
Why should we meal prep breakfast? How is it beneficial? Here are a few good reasons, in my opinion:
Saves money – Breakfast foods prepared at home are usually much cheaper than premade breakfasts you would find at a coffee shop or restaurant. You can usually make something similar for less at home.
Saves time – Some people consider mornings the busiest time of day. If something is ready to eat, that means you save time not having to think about what to make. You also save time by not having to prepare something for yourself right at that moment – it's already made.
Makes food choices easier – I'm so much more likely to eat a breakfast food that's already made and sitting right there in my fridge (especially if it's a breakfast sandwich 🤤). Instead of mulling over what's easy or what I could make with the time I have, it's already done, saving me some brain power.
More control – Spending the time to think about your future meals gives you more control over the choices and logistics. If you plan ahead, you have more time to think through the choices, account for variables, search for sales, and make changes to the plan if necessary.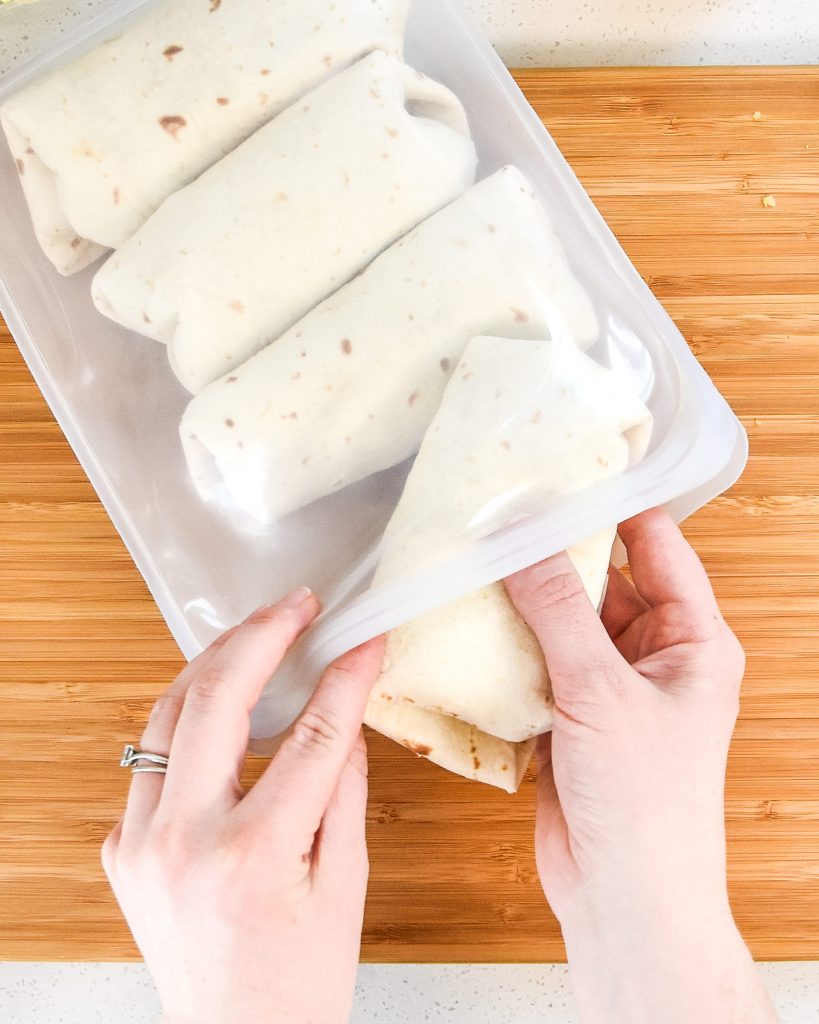 What type of foods are on this list?
This list of breakfast meal prep ideas is quite biased towards things I love to eat and my favorite Project Meal Plan breakfast recipes.
I am not saying any breakfast ideas are right or wrong – these are just some delicious ideas I want to share with you!
My favorite breakfast recipes often include ingredients like:
eggs – I love a good breakfast burrito or breakfast sandwich.
oats – Oatmeal is something I ate a lot of growing up, and I love it even more as an adult. There's tons of ways to cook and flavor all different kinds of oats.
peanut butter – Browsing this list, I realized a lot of my breakfasts include peanut butter, which makes sense, because I love it!
Greek yogurt – A great way to get some protein when there's no meat or eggs. I love turning it into breakfast and dessert 😉
muffins – You can make muffins out of a lot of things, and they're always an easy to transport breakfast option. You'll find a few different breakfast muffin ideas on this list!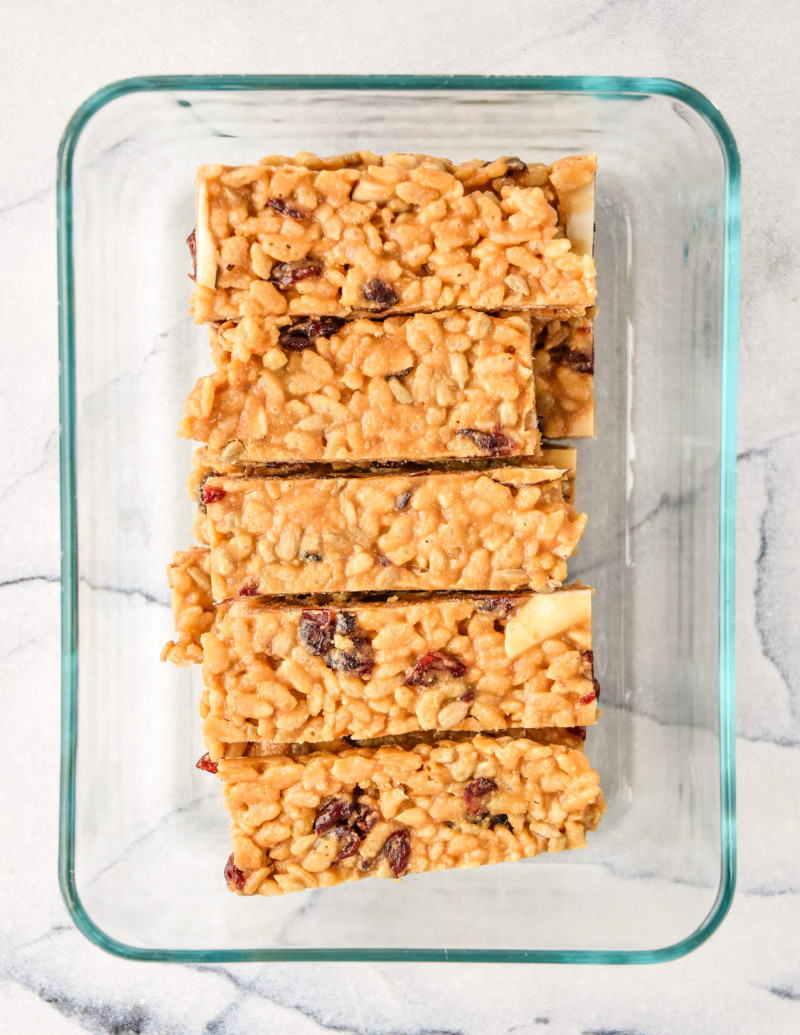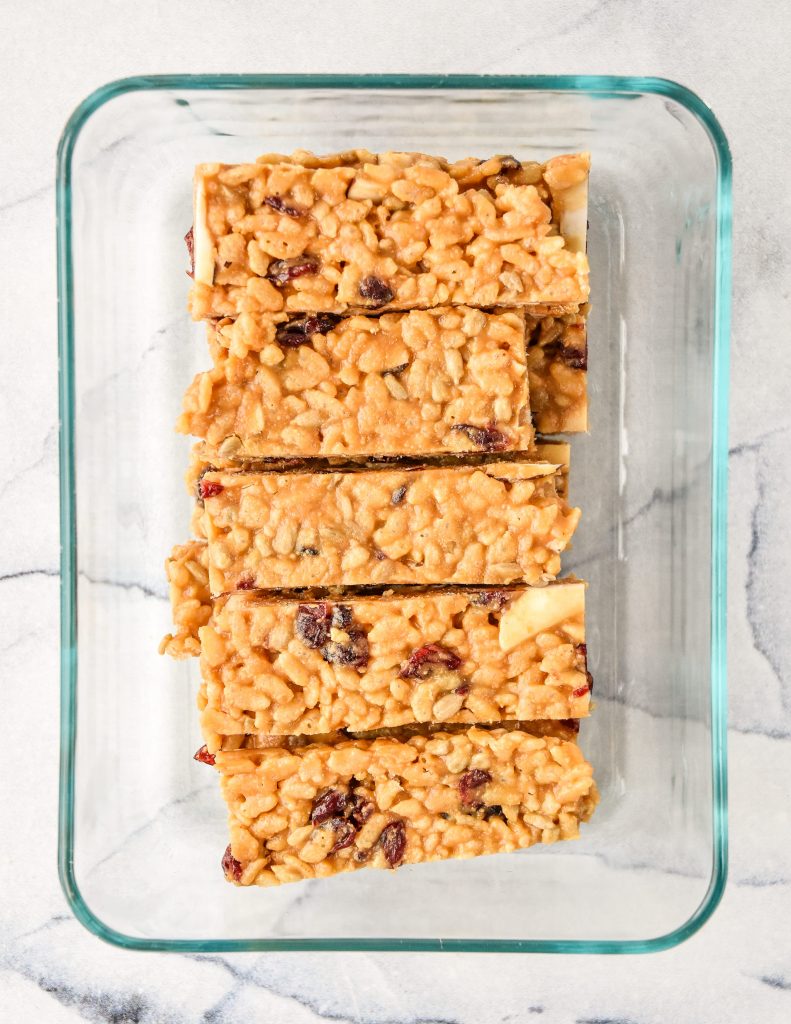 What containers do you use for these grab-and-go meal prep breakfast ideas?
The only absolutely essential thing you need for a reliable grab-and-go meal prep breakfast is an appropriate container to store and transport your food. Here are a few containers I use to store meal prep breakfast foods:
mason jars – This is how I store most of my overnight oats, chia pudding, and yogurt parfaits. I like using Half Pint Wide Mouth Mason Jars

(affiliate link!)

or Pint Sized Wide Mouth Mason Jars

(affiliate link!)

. Wide mouth is my preference because they're easier to eat from and clean.
Stasher bags – I have a full collection of Stasher Silicone Food Storage Bags

(affiliate link!)

bags in all sizes, and they're perfect for holding things like breakfast bars, muffins, and granola.
parchment paper and aluminum foil – For long term freezer storage of things like breakfast burritos or sandwiches, I'll double wrap with parchment paper (to avoid any sticking), followed by aluminum foil (to help keep it airtight).
glass containers with lids – In my experience, breakfast is usually the least likely meal to need a full size container with lid, but there are definitely times when it happens. In that case, I'll use 4-cup Pyrex round glass containers

(affiliate link!)

or 2 Compartment Glass Meal Prep Containers

(affiliate link!)

.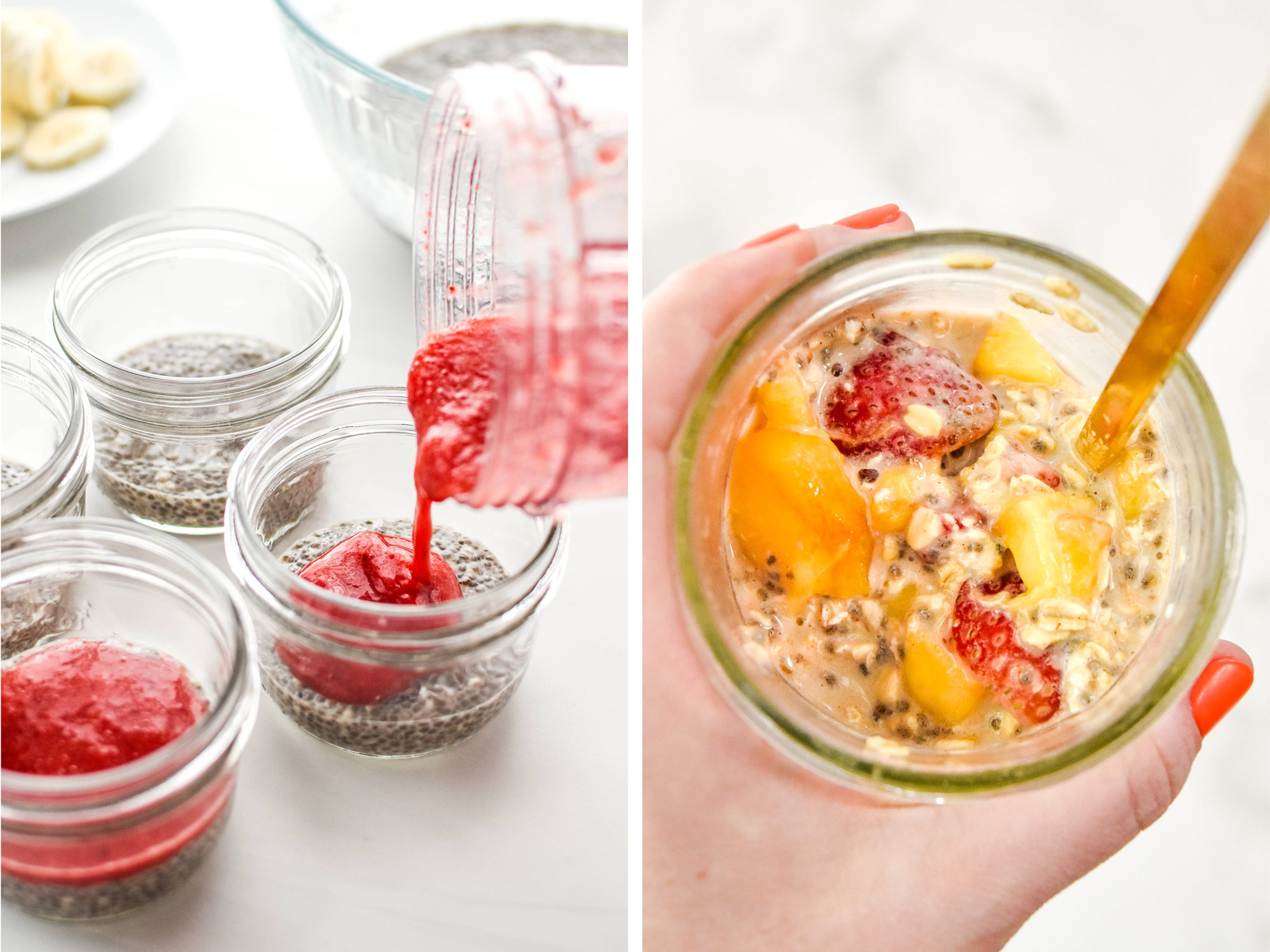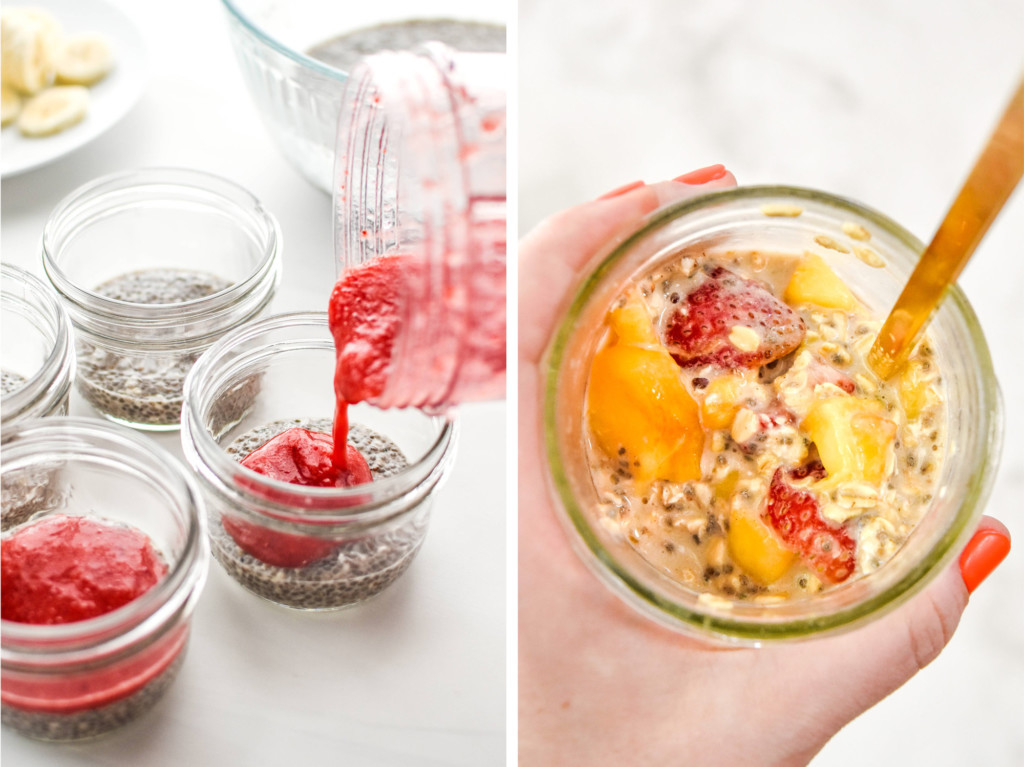 General tips for meal prepping breakfast:
If you have a way of doing things that you love, feel free to stick to your methods as well as incorporate any of mine. If you gain even one recipe idea or meal prep tip from this post, I've done my job!
Here are some of my general tips for meal prepping breakfast, based on my experience:
Don't overcomplicate things. If you love fruit and hard boiled eggs, do it. If you love breakfast sandwiches on repeat forever, do it! It doesn't have to be fancy to be effective.
Portion ahead of time. Of course it helps to prep the recipes ahead of time, but it also helps even more to actually portion the food out. If you don't portion, it's not technically grab-and-go!
Think about appliances at your destination. Be sure to meal prep appropriate foods for the situation. If there's no way to heat food, I would avoid a breakfast burrito or sandwich, and instead, stick with a cold option. If there's no fridge, you may need to bring a breakfast bar or something that does not need to be refrigerated.
Prep foods you like. If you didn't like broccoli egg white muffins before, you won't magically like them when they're meal prepped. When you're just starting out, try to meal prep foods you already know you like. This takes some of the guesswork out of the whole process.
How to start meal planning:
Meal prepping your breakfast foods naturally requires a little bit of planning ahead. To take it to the next step, grab a piece of paper and plan out the rest of your meals for the week too! Hey look, you just meal planned!
For an easy method to keep you going with meal planning, check out my article 5 Steps to Help You Make a Meal Plan That Works!
The best way to meal plan is a little bit different for everyone – some use a mobile app, some write on a laminated sheet with dry erase marker, some simply keep a note with meals listed in their phone.
It depends on what works for you! The only way to know what works best for yourself is to start and give it a try. If it doesn't work very well, try another method instead.
Try one of these 15 Grab-And-Go Meal Prep Breakfast Ideas For Work:
Have you made any of these grab-and-go meal prep breakfast ideas? Which ones are your favorite? Let me know in the comments below!