1 Comment
Posted: 02/27/2018
Updated: 09/23/2021
Don't you think it's time to prep yourself a hearty breakfast instead of just grabbing a bar or a muffin? These Southwest Roasted Potato Breakfast Meal Prep bowls are full of smoky roasted potatoes and peppers, seasoned black beans, and two scrambled eggs! Meal prep and reheat – simple!
Jump to Recipe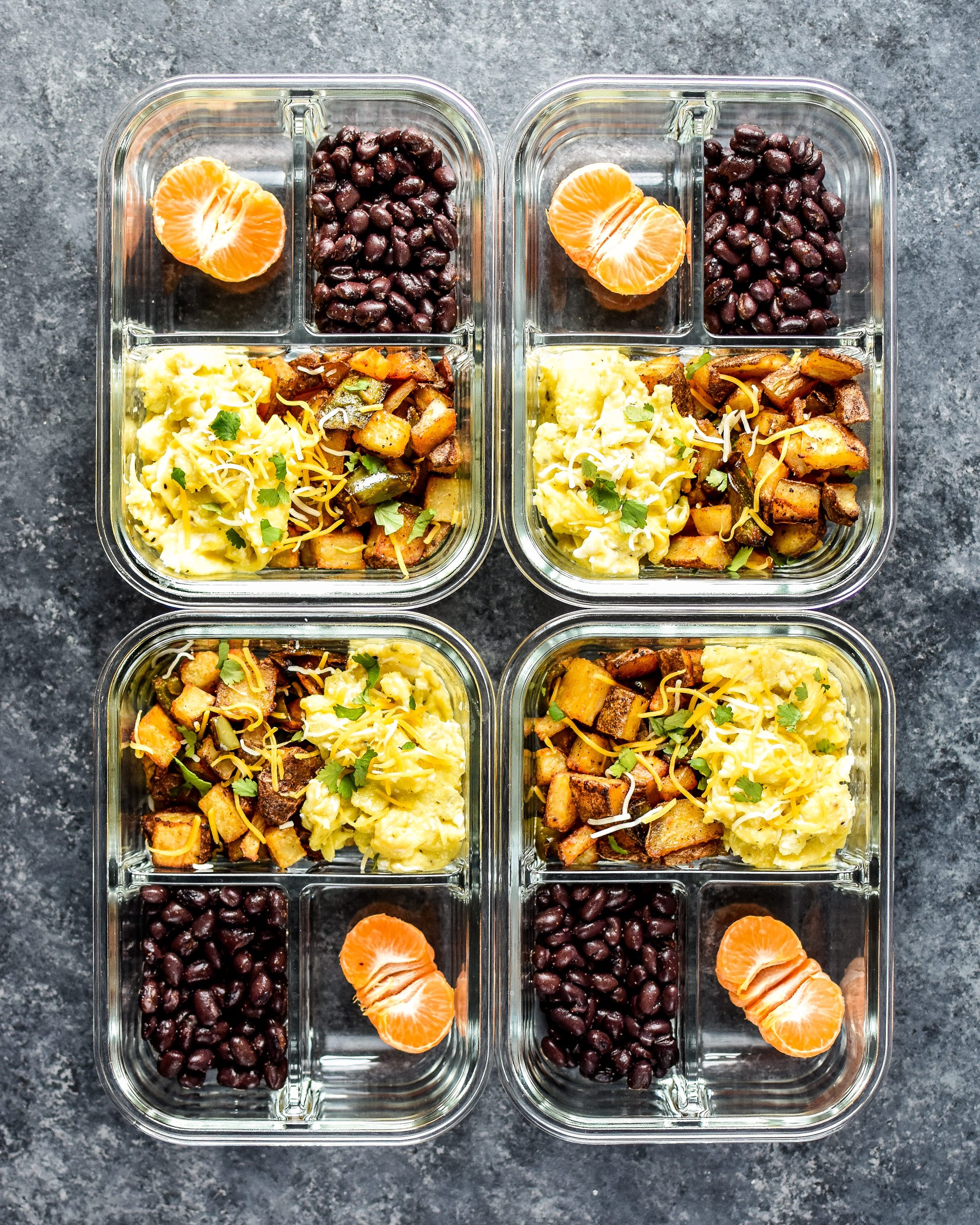 I realized what was missing from the blog, and it's breakfast meal prep bowls/containers (any shape is fine). We seriously enjoy some hearty potatoes and eggs on the weekend, so why not have it in meal prep form during the week?
These breakfast meal prep bowls are:
super filling, and perfect if you're incredibly busy and need a good-sized meal for fuel!
vegetarian (beans instead of breakfast meat)
simple to assemble
delicious
the perfect breakfast meal prep!
Roasted Breakfast Potatoes & Peppers
These breakfast potatoes are adapted from The Pioneer Woman in all her glory. I trust her with any of the classics. The only issue is that all of her recipes make like 16 servings to feed her giant family, and that's just too much for us.
You only need one pepper and a couple large russet potatoes (instead of uhmm 5 pounds) for this four serving meal prep version.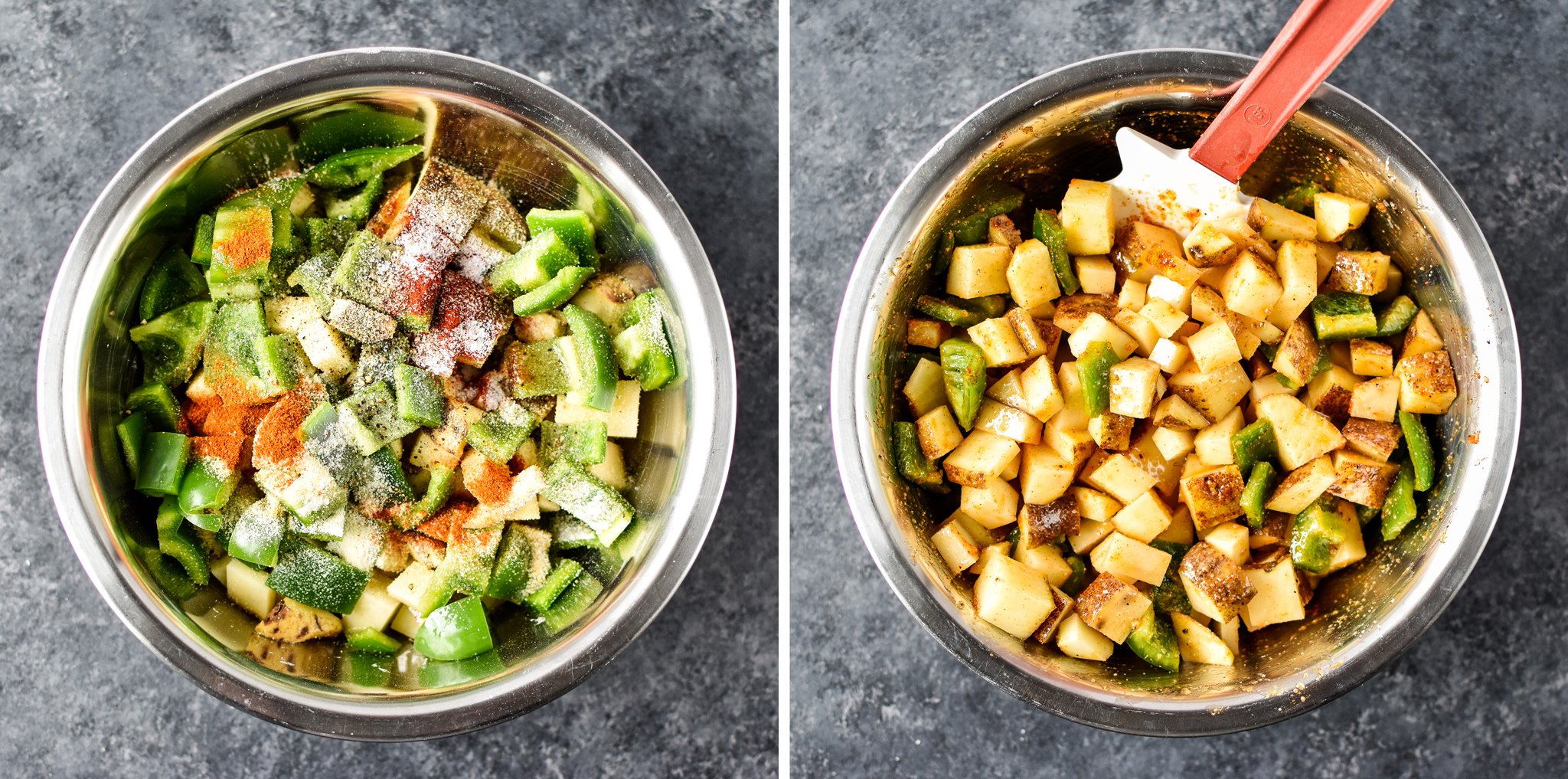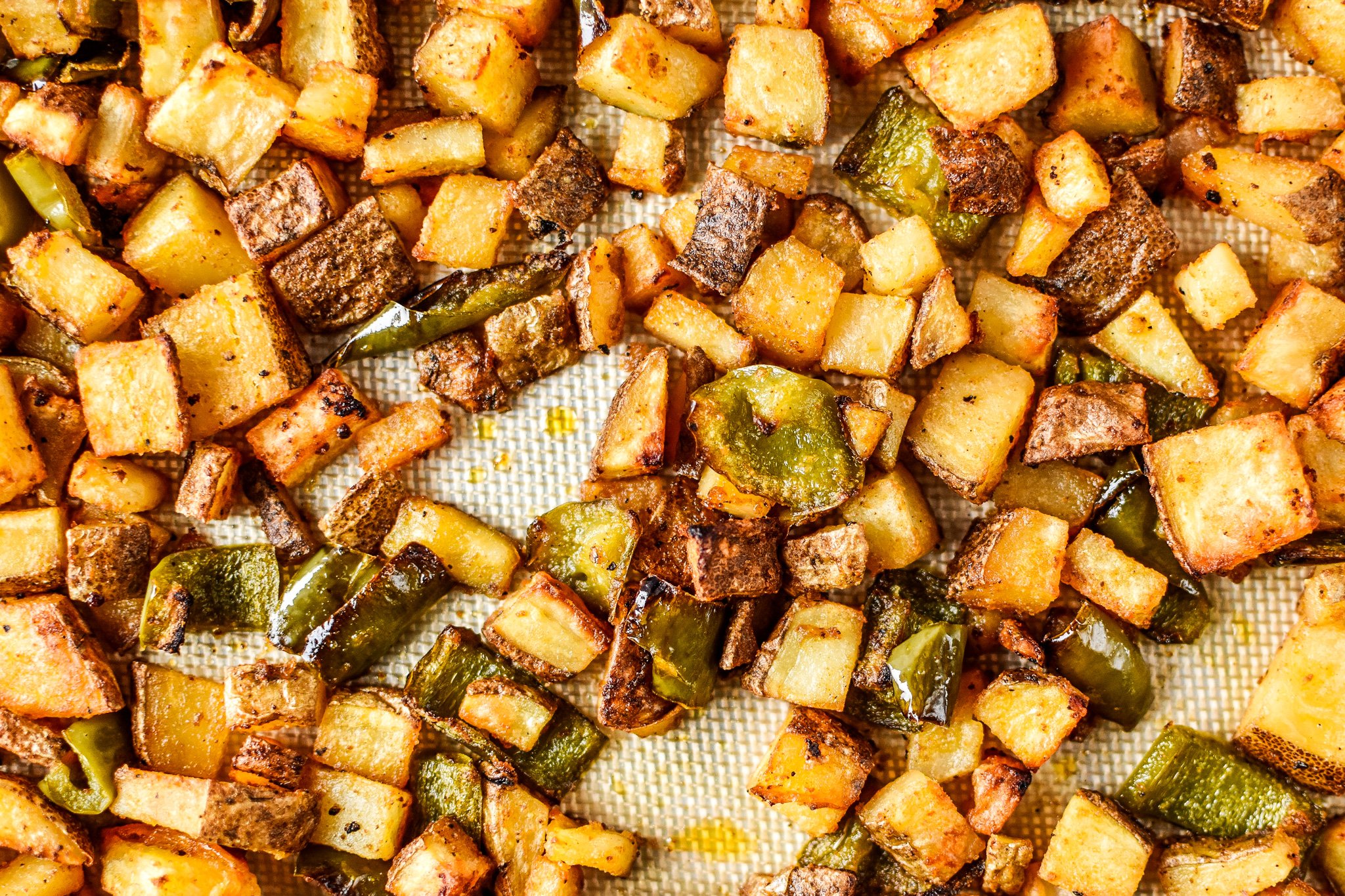 Scrambled Eggs (or your favorite eggs!)
I spent a long time making scrambled eggs with no instructions – just eggs in a pan with heavy sticking and lots of crusties. But they tasted fine so it wasn't a big deal.
Until I realized every single thing I was missing out on in when I tried these Life-Changing Soft Scrambled Eggs from Pinch of Yum. I actually followed the instructions for making SCRAMBLED EGGS. My egg world was forever changed, and my pans never had that much egg stuck to them again.
For these meal prep bowls, it's best to just slightly undercook your eggs. Maybe 30 seconds away from when you would actually want to eat them. You're going to have to reheat everything and you don't want hard overcooked eggs! They'll cook a little more in the microwave during reheating.
Of course you can make your eggs however you prefer, but I like scrambled the best!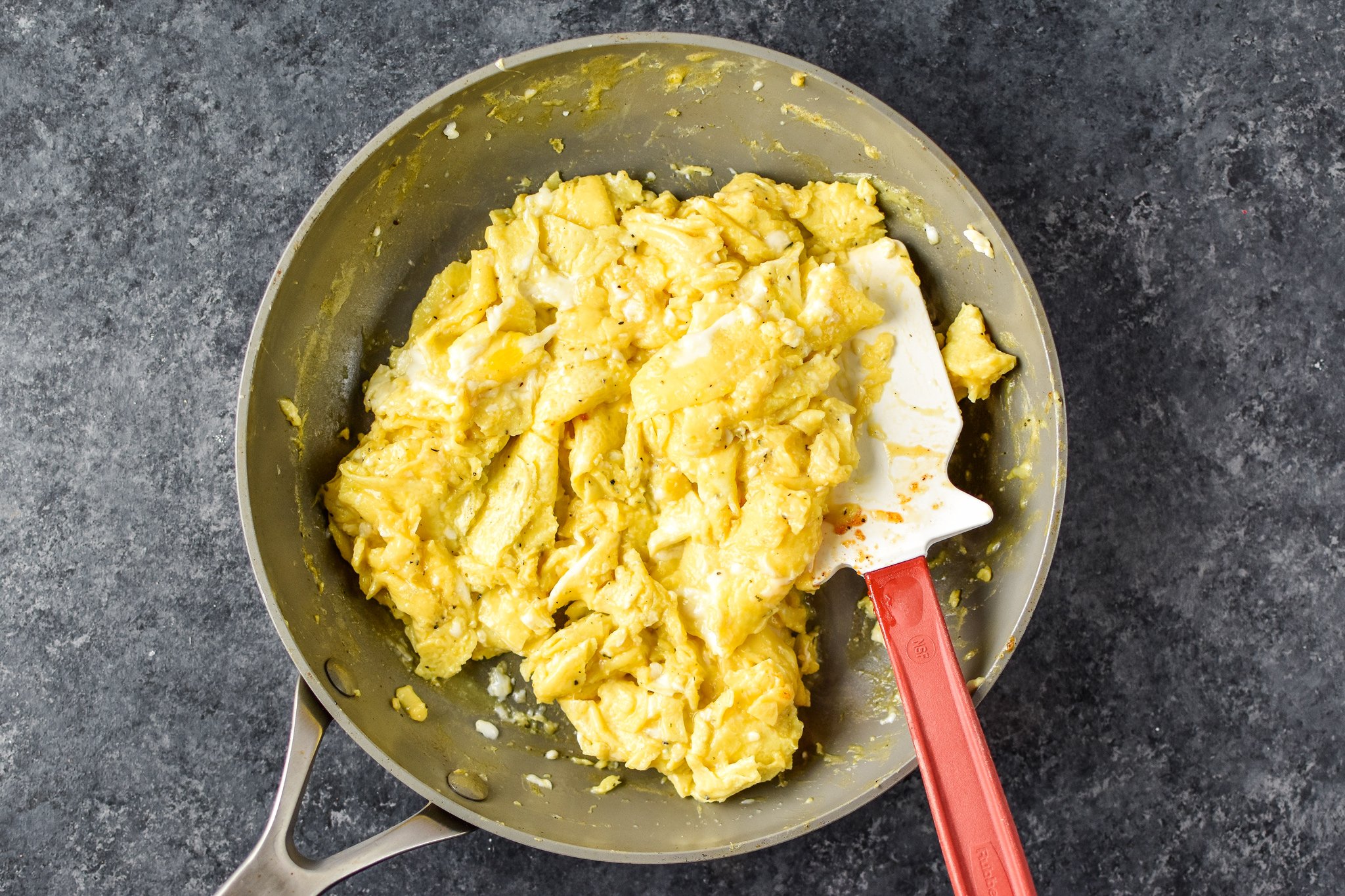 Seasoned Black Beans
These black beans are SO simple – just combine with some chili powder and garlic powder. I like to mix mine into the main dish but just like a bite at a time, you know? A few beans here a few beans there.
We found that dividing a whole can of black beans into four servings ended up being a little too much for breakfast, so it might be best to just use 1 cup total (1/4 cup black beans each), but you can use more if you love black beans. Save the rest of those black beans and toss into a salad or on a tortilla 👌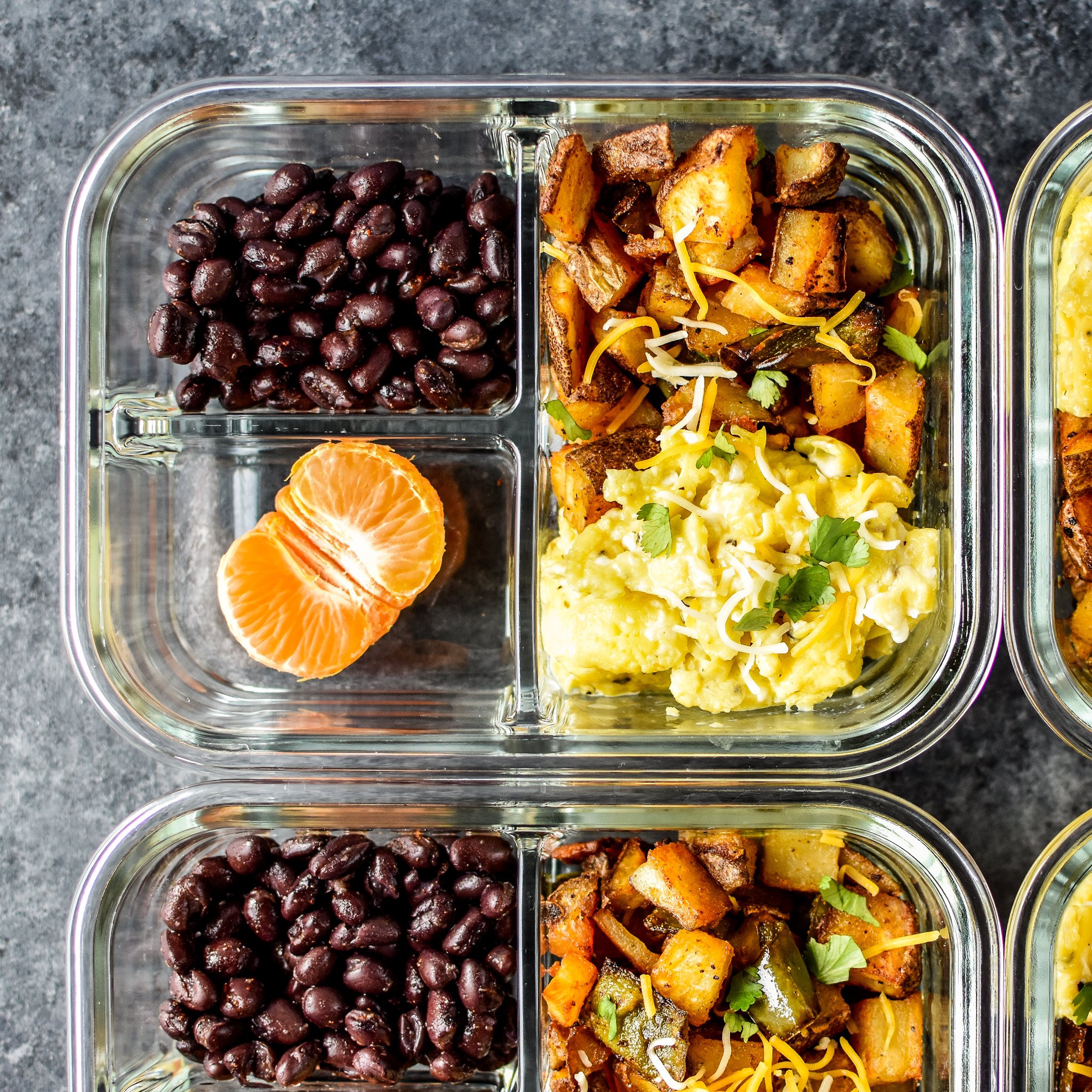 Other cool things about this breakfast meal prep:
You should definitely add things like salsa, avocado, chipotle Tabasco, or your favorite hot sauce after reheating.
I like to add half a mandarin or clementine to each meal to keep a little something sweet on the menu for breakfast. Take it out before reheating!
Or skip the citrus and toss everything into one big hearty bowl!
You can skip the beans if that's not your thing. Add an extra pepper to bulk up the veggies.
They can also work for lunch if you love breakfast that much 👍
I love roasted potatoes, but there's literally never enough time to make them on a weekday morning. That's why they're PERFECT to meal prep. Meal prep things you love to eat all week but only need to cook once!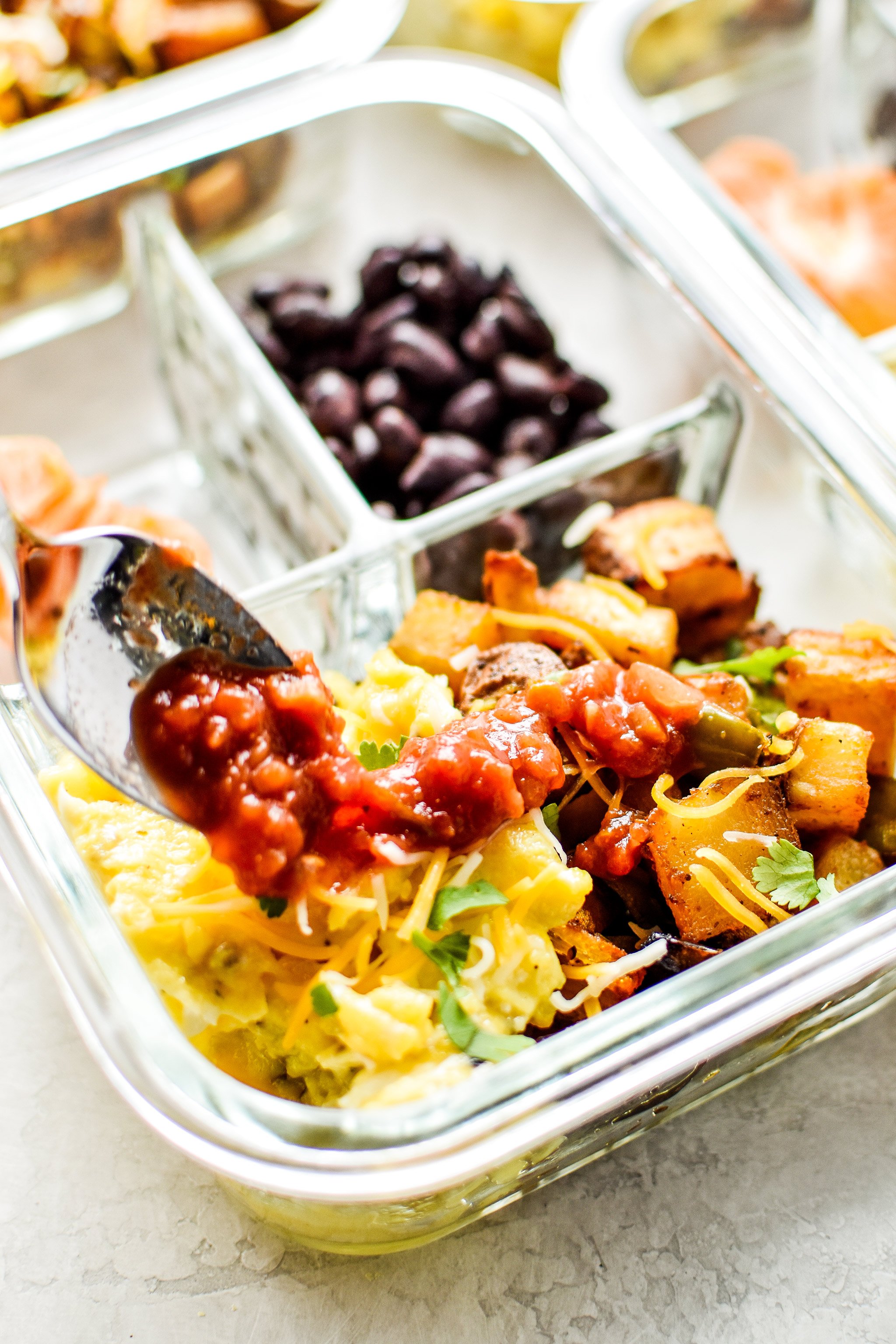 More breakfast meal prep ideas from Project Meal Plan:
Recipe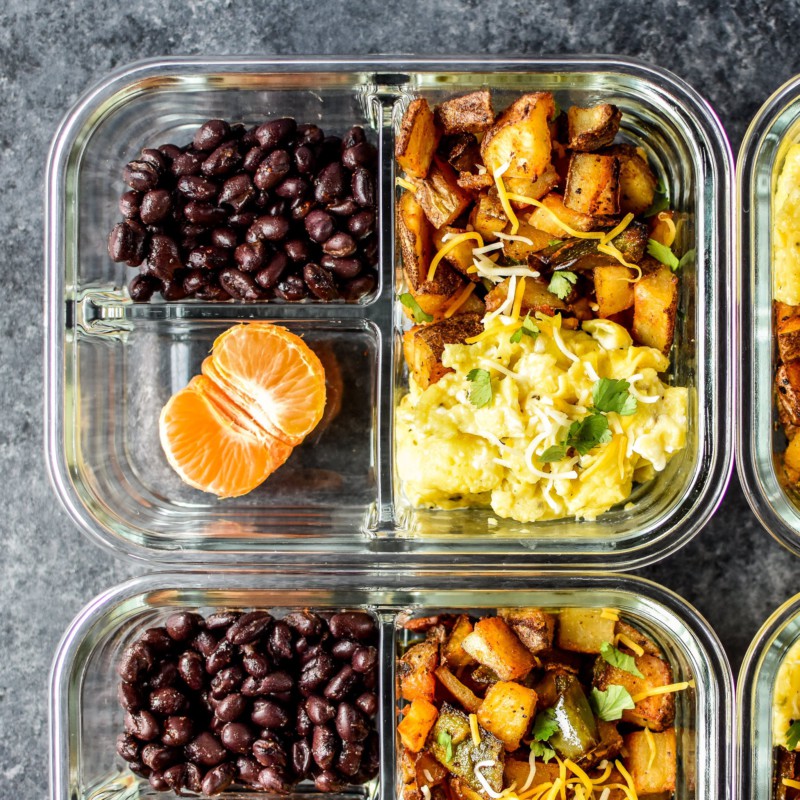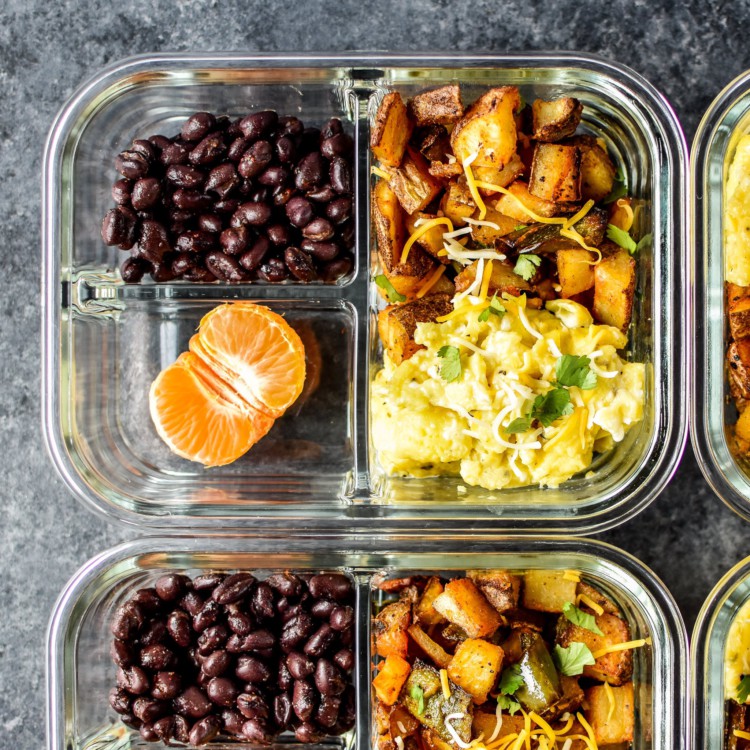 Southwest Potato Breakfast Meal Prep
Prep:
15 minutes
Cook:
50 minutes
Total:
1 hour 5 minutes
These Southwest Roasted Potato Breakfast Meal Prep bowls are full of smoky roasted potatoes and peppers, seasoned black beans, and two scrambled eggs! Meal prep and reheat – simple!
Ingredients
Veggies
2

large or

3

small russet potatoes, diced into

1

inch or smaller pieces

1

green bell pepper, seeds and stem removed, cut into

1

inch pieces

1 teaspoon

garlic powder

1 teaspoon

onion powder

1/4 teaspoon

cayenne pepper

1/4 teaspoon

smoked paprika

1/4 teaspoon

ground black pepper

1/2 teaspoon

salt

1/4 cup

avocado oil 

2 tablespoons

butter, melted
Eggs
8

large eggs, whisked

1/2 teaspoon

salt

1/4 teaspoon

ground black pepper

1/4 teaspoon

garlic powder or your favorite seasoning

1 tablespoon

butter
Black Beans
1 cup

black beans, rinsed

1/4 teaspoon

cayenne pepper

1/4 teaspoon

garlic powder
Toppings:
cheese, avocado, salsa, hot sauce
Instructions
Veggies:
Preheat oven to 475 F. Mix all the veggie ingredients together in a large bowl. Pour on a baking sheet (I like to use a Silpat) in a single layer and bake for 45-50 minutes, stirring halfway through. Remove from the oven when the potatoes are crispy. Portion evenly into four meal prep bowls.
Eggs:
In a medium bowl, whisk eggs with salt, pepper, and garlic powder.
In a non-stick skillet, heat butter over low heat. Let the butter roll around the pan until it coats the bottom.
When the butter just begins to bubble, pour the eggs into the pan. Wait until the edges start to set, and then use a rubber spatula to pull the edges of the eggs towards the center of the pan and let the liquid eggs move to the bottom of the pan to be cooked.
Continue the process for about 2 minutes, or until the eggs are NEARLY cooked, NOT all the way cooked. The edges of the egg curds should be soft and maybe even a little liquidy looking. You want them about 30 seconds from fully cooked eggs, this way they do not overcook when you reheat the breakfast bowls. Note: If serving immediately, feel free to fully cook the eggs.
Remove from heat and portion evenly into meal prep bowls.
Black Beans:
In a small bowl, combine beans, cayenne pepper and garlic powder until well mixed. Portion evenly between four meal prep bowls.
Top it off:
Make sure to store in airtight meal prep containers in the refrigerator and eat within 4 days. Remove fruit and reheat for 2 minutes with the lid off but covering the container. Top with salsa and avocado.
Nutrition Information
Serving Size:

1 breakfast bowl

Calories:

429

Fat:

26g

Carbohydrates:

33g

Protein:

19g
Recipe Card powered by
Thanks for checking out the Southwest Roasted Potato Breakfast Meal Prep bowls! If you're digging this meal prep, tag me or use #projectmealplan on social media to share your own version!