Here's a new breakfast idea that's easy to assemble and perfect for meal prep! These Chia Pudding Breakfast Parfaits are dairy & gluten-free, sweetened only with a bit of maple syrup, and they're about to be a new favorite in your breakfast lineup!
Jump to Recipe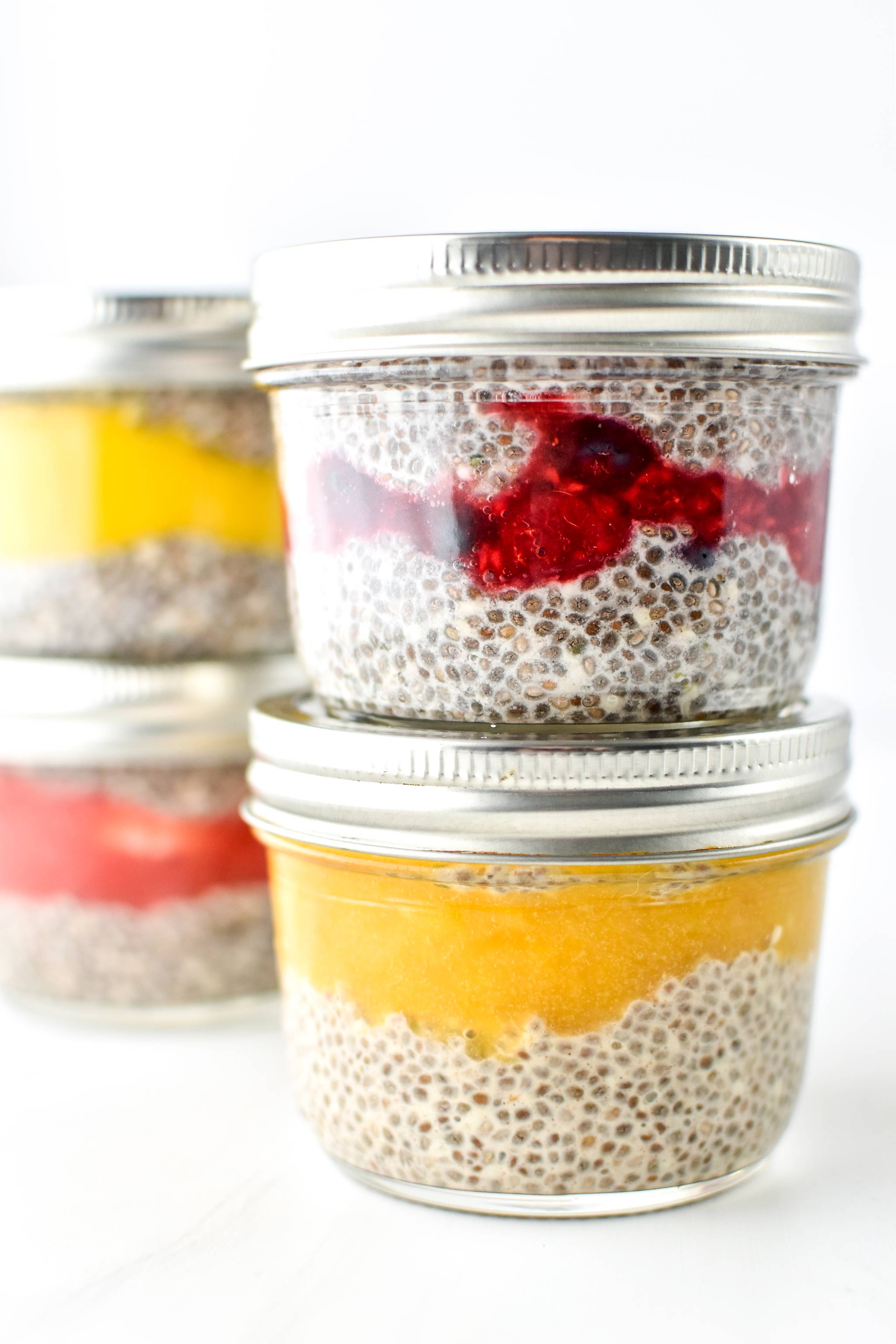 You guys probably know I'm a Greek yogurt gal. There are some yogurt parfait ideas on the blog, a full comparison of the price of store-bought vs. homemade Greek yogurt, amazing whipped Greek yogurt in multiple flavors, and even plenty of entrees with Greek yogurt involved (Veggie Loaded Rotisserie Chicken Casserole is the most popular by far).
I do love me some good old fashioned Greek yogurt (probiotics, ya!!), but I'm also trying to reduce my dairy intake. Enter chia seed pudding!
Chia seeds have the amazing ability to absorb up to 10x their weight in liquid, forming a gelatinous, sort of, pudding mixture.
This mixture can be made with any kind of liquid (coconut milk, almond milk, water, etc), and then flavored with sweetener, fruit and other add-ins. It's actually a pretty cool phenomenon.
So, why eat chia seeds?
I was first introduced to chia seeds in the form of "Chia Pets" advertisements during daytime TV as a kid.
At the time, I had ZERO clue those chia seeds were something you could consume and were actually nutritious.
Here are a few reasons why chia seeds are a good thing to eat:
One ounce of chia seeds (two tablespoons) has 6 grams of protein and 10 grams of dietary fiber.
Chia seeds are a complete protein, which means they contain all nine essential amino acids that the human body can't produce.
They're the richest plant based source of omega-3 fatty acids.
They are really cool!! There are not many other edible things that can go from seed to jelly goo with only some liquid added. You can mix them with any liquid to make a gel, jam, pudding or even eat them once sprouted as microgreens.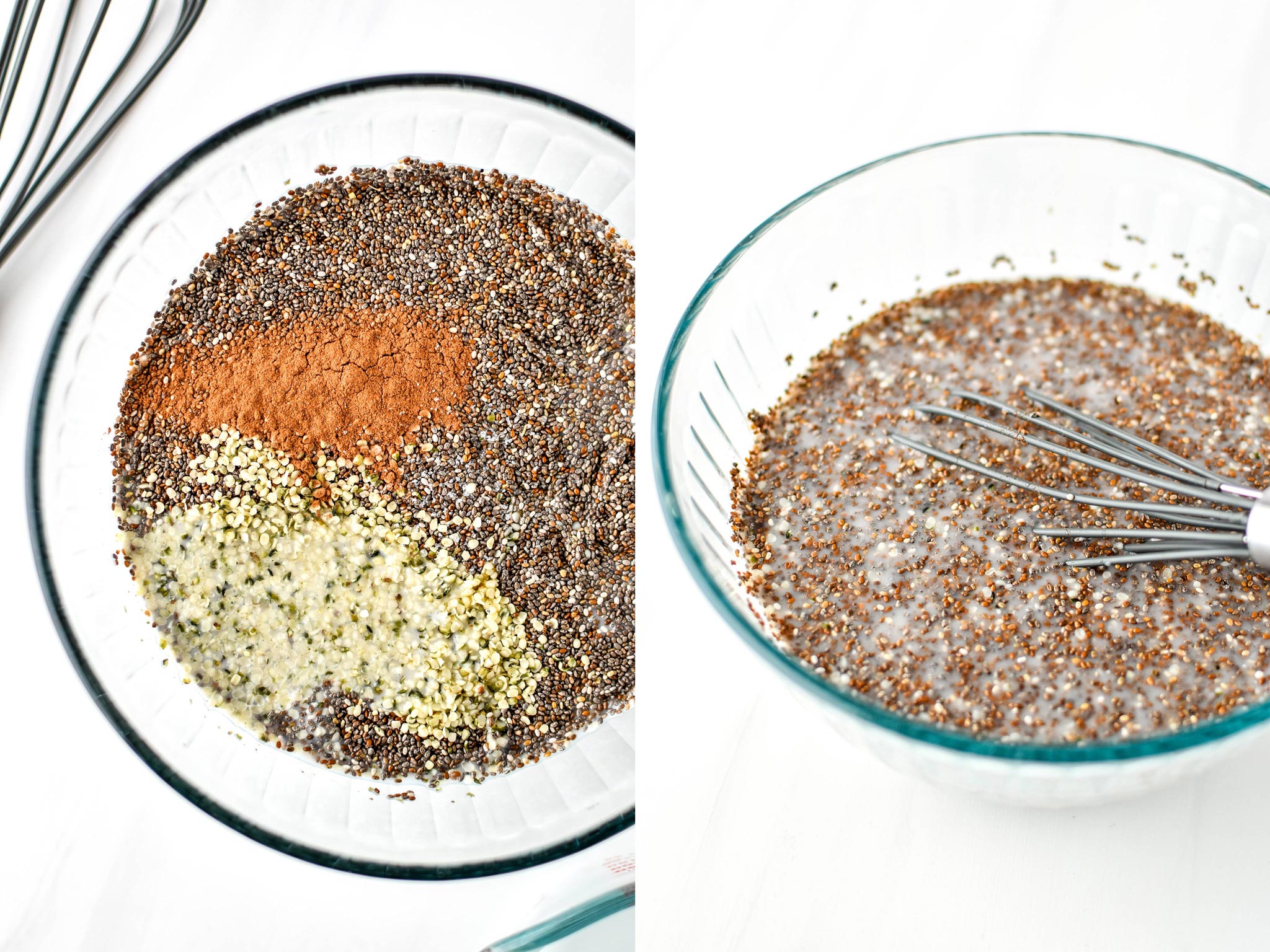 What is chia pudding made of?
There are tons of recipes and ideas for how to make chia pudding, but the basic idea is to combine chia seeds with a liquid of choice and let them sit anywhere from 20 minutes to overnight as the texture changes from a seedy liquid to a gelatinous pudding.
The "pudding" can have additions such as liquid sweeteners, fruit juices, hemp hearts, or flax seeds to change the flavors and textures of the chia pudding even more.
Besides chia seeds, my chia pudding has: unsweetened vanilla almond milk as the liquid, maple syrup as the sweetener, hemp hearts for extra protein, and cinnamon for flavor.
Do I have to use almond milk?
No, you do not have to use almond milk, it's just what I like. I've heard that using coconut milk can make the pudding even creamier than the original, but any milk you have on hand will work.
You can also use water for a less creamy, but still gelatinous result that may need some extra cinnamon or vanilla extract for more flavor.
What's the best chia to liquid ratio for pudding?
The basic, easy to remember ratio for making chia pudding is 1 part chia seeds to 4 parts liquid. If you like a thicker pudding, use less liquid, and for a thinner pudding, use more liquid.
With this ratio you can make as many servings as you'd like and adjust for your preferred thickness.
In my recipe below, I aimed for a thicker pudding, deviating from the ratio above slightly. To make 4 servings, I use 1/2 cup chia seeds and 1 + 3/4 cups of almond milk.
How do you make a chia pudding breakfast parfait?
First, make one batch of the chia pudding base recipe by combining all ingredients and letting it thicken in the fridge. While the chia pudding mixture does thicken a bit after only 15-20 minutes in the fridge, I prefer to give it at least 4-6 hours to fully thicken and saturate all the chia seeds.
Here's the deal with parfaits (not the French dessert) – it's just a fancy name for a sweet treat with layers.
To make a parfait, you just need layers. Ultimately, you can add in tons of layers not listed here, such as fresh honey, granola, cocoa nibs, walnuts, pecans, whatever.
But I've chosen to go simple with just a blended fruit layer.
First, I added two big spoonfuls of the base chia pudding to each of the four containers. To make the mango, peach, and strawberry layers, I grabbed some frozen fruit from my freezer, blended it up in my Nutribullet, and then poured it on as the second layer.
If you let the frozen fruit thaw on the counter for a few minutes or in the fridge overnight, it will bring some moisture to help blend up the fruit.
For the berry parfaits, I just mashed up some fresh raspberries and tossed some blueberries in because I love all berries, and poured that in to each container as the second layer. Finally, I added the remainder of the chia pudding evenly to each container.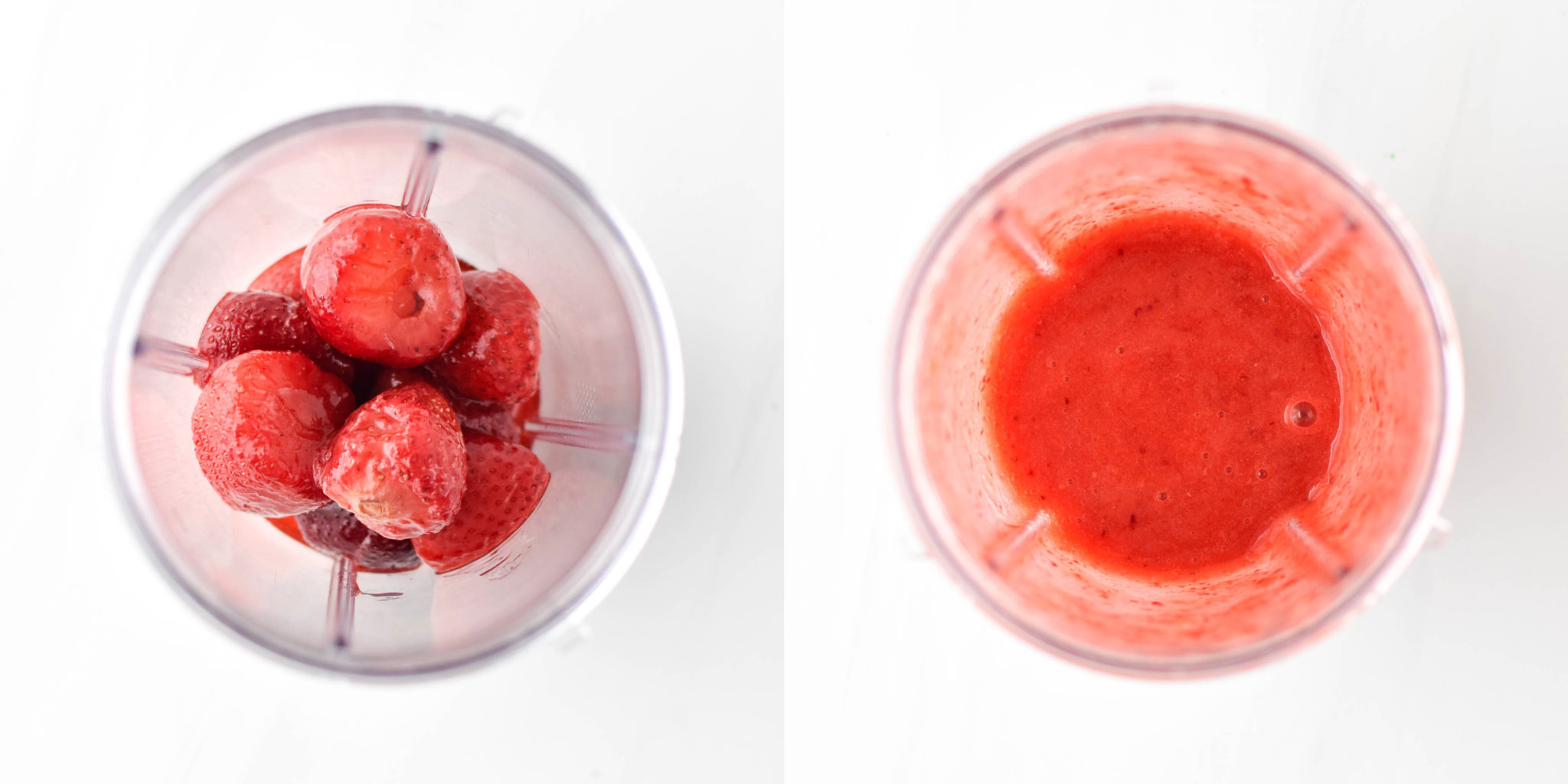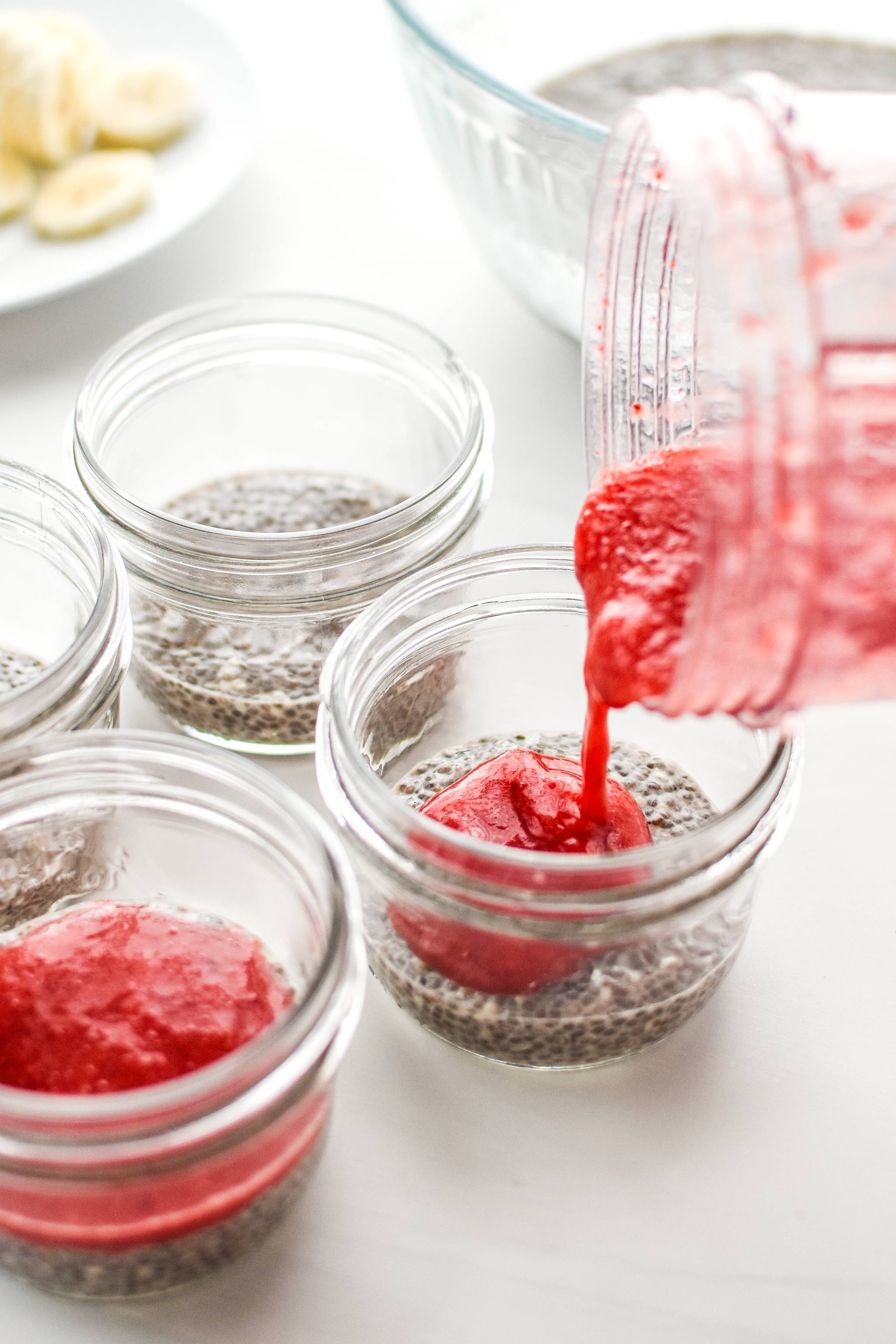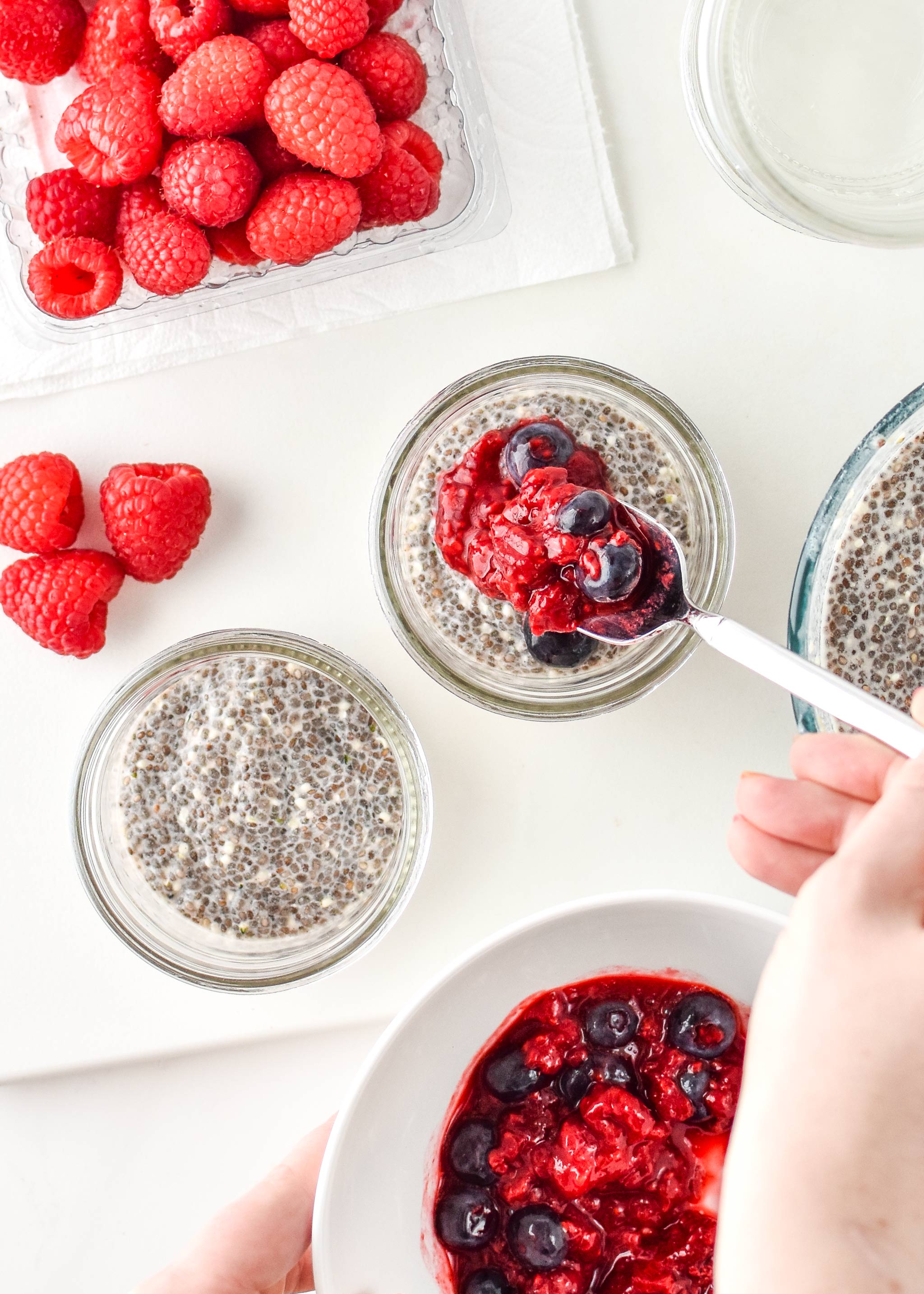 How long do these parfaits last?
These Chia Pudding Breakfast Parfaits can last up to one week in the refrigerator. I would not recommend freezing the parfaits!
However, the great part is that you can use frozen fruit to make your fruit layers, so you don't have to go out and buy fresh fruit to make these. I pretty much always have the base chia pudding ingredients on hand, so I can make it whenever I want with whatever extra fruit I have!
What containers do you use for parfaits?
To make my parfaits, I use these Half Pint Wide Mouth Mason Jars (affiliate link!). Any kind of jar with an airtight lid would work just fine, but these half pint ones are the perfect size for these chia pudding breakfast parfaits.
In order to be able to view the layers of the parfait, you do have to use a glass jar or bowl. If you aren't concerned with seeing the layers, any bowl or cup container with an airtight lid will work to contain these parfaits.
Chia Pudding Breakfast Parfaits FOUR WAYS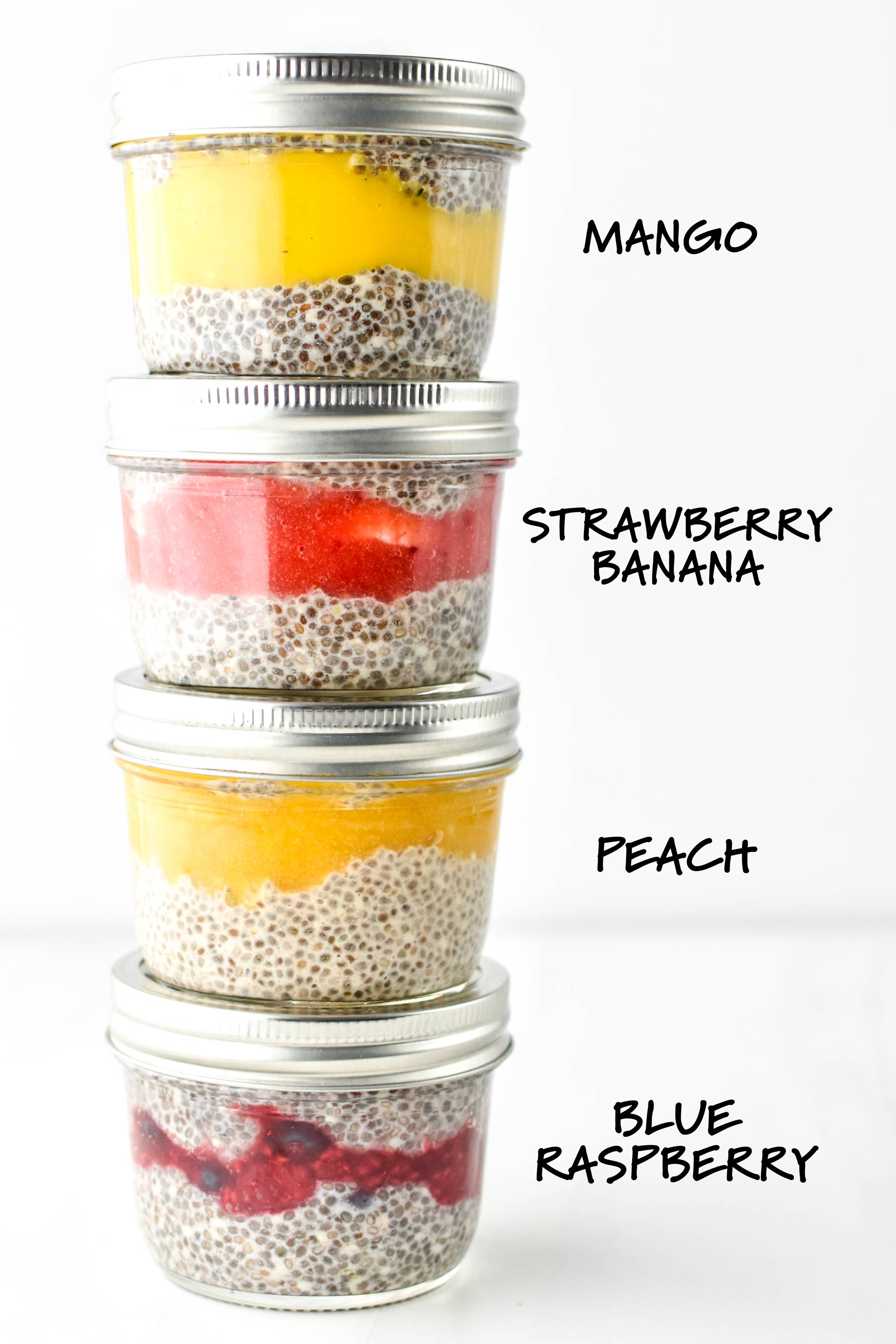 MANGO: Frozen mango is something I keep on hand for smoothies. I get it for a really good price at Costco. Having frozen fruit on hand is a great use of my precious freezer space because it helps reduce food waste, and let's be real, mangos are never really 'in season' here in Washington State. This was probably my favorite of all the flavors because it reminded me of Hawaii!
STRAWBERRY BANANA: Frozen strawberries, another thing always on hand for smoothies. I combined this with banana slices for a yummy multi-fruit combo that you can't help but enjoy. You can always go sans banana and just do a layer of blended up strawberries. Letting the frozen fruit thaw a bit will make blending easier.
PEACH: Frozen peaches work the same as the frozen mango, though they're a bit less sweet. This would be an especially good flavor to add some walnuts or pecans for some crunch.
BLUE RASPBERRY: Blue because there are blueberries added. You can use fresh or frozen to get the same juicy effect – just smoosh the raspberries up and toss some blueberries in too. Consistency of the homemade 'jam' is up to you.
Of course feel free to make your chia pudding breakfast parfaits with whatever fruits or fillings you have and want to try – these are just my examples and ideas! I think any fresh or frozen fruit would work. Whether you want to blend for a smooth layer is up to you.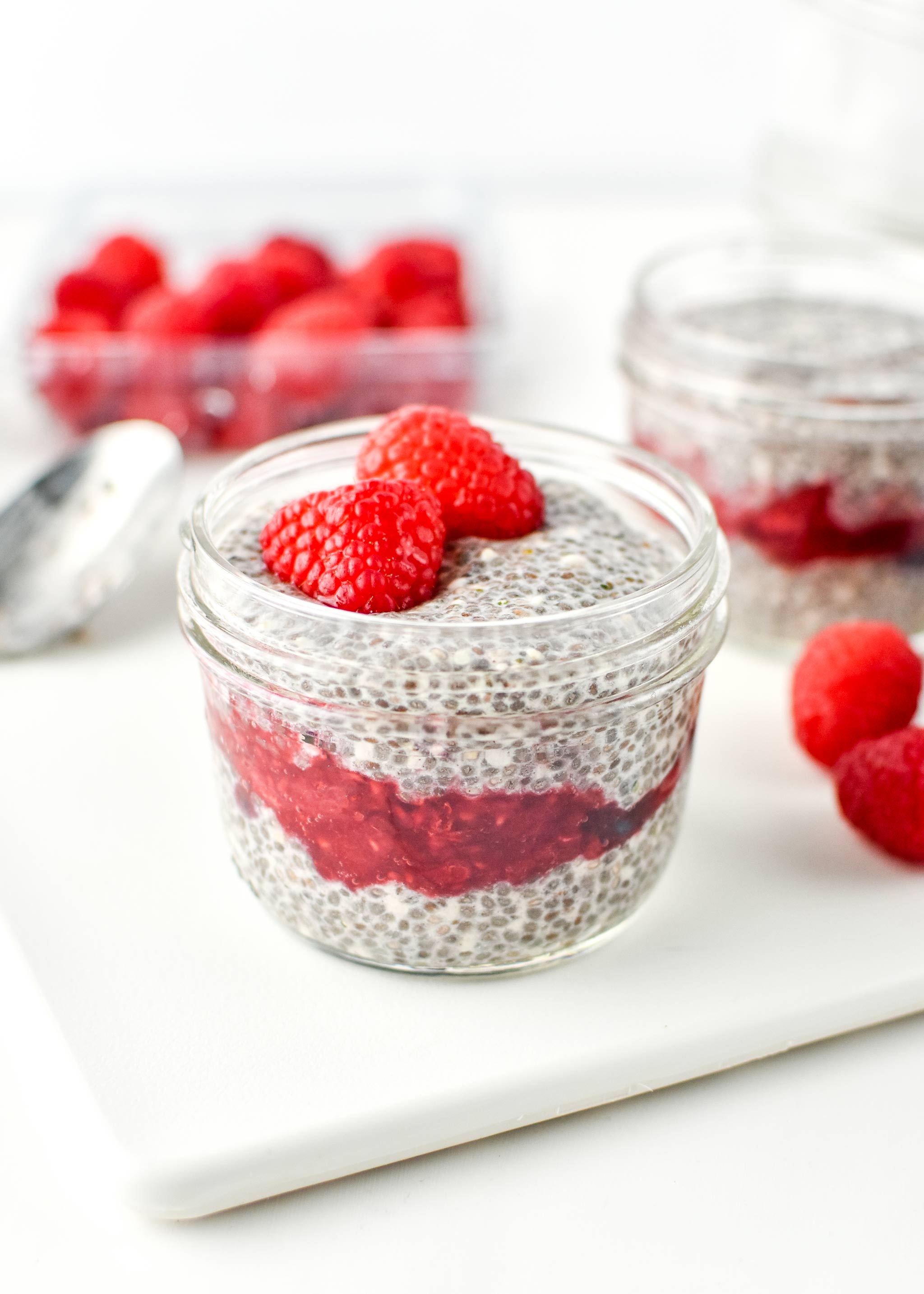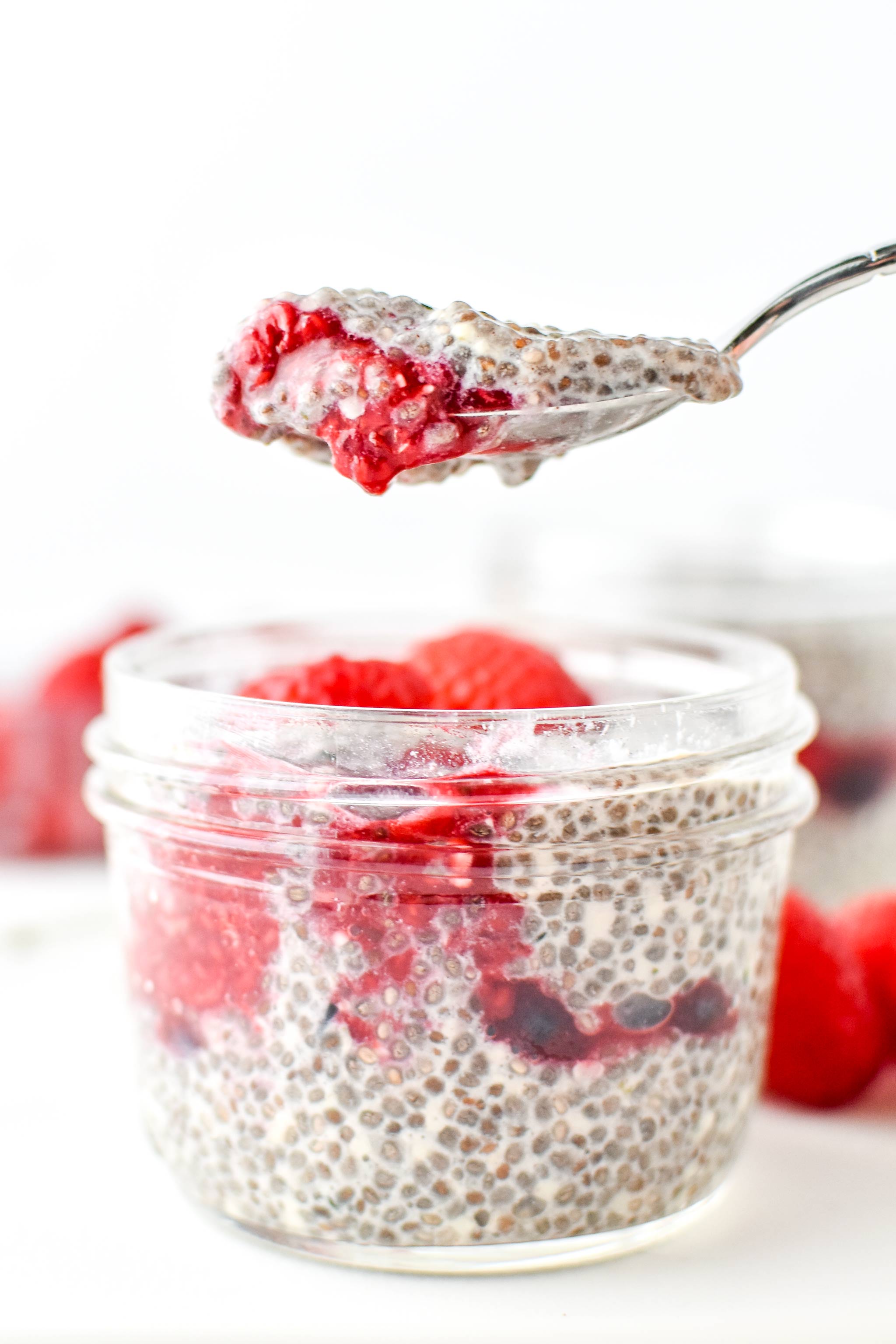 More breakfast meal prep ideas from Project Meal Plan:
Recipe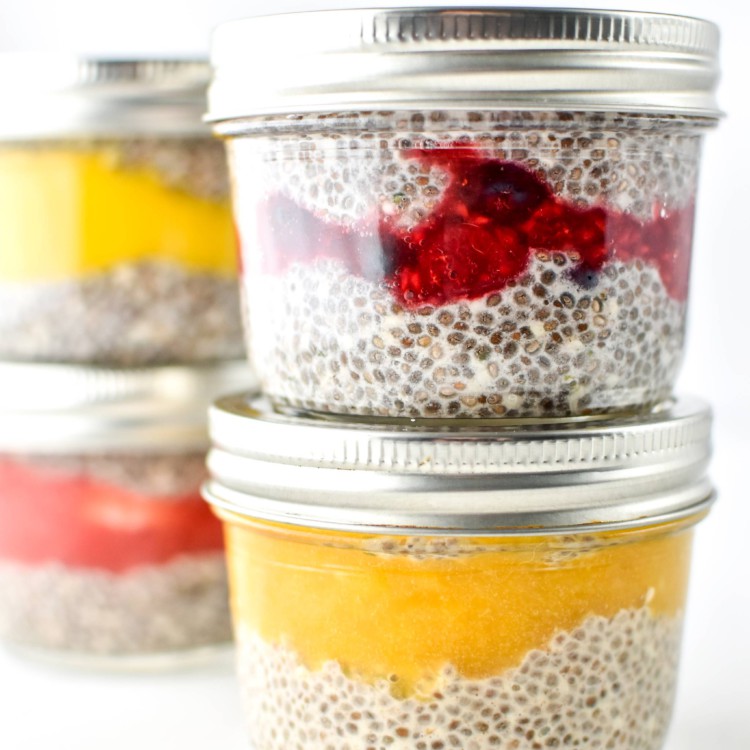 Chia Pudding Breakfast Parfaits Four Ways
Prep:
10 minutes
Total:
4 hours
These Chia Pudding Breakfast Parfaits are dairy & gluten-free, sweetened only with a bit of maple syrup, and perfect for your breakfast meal prep!
Ingredients
Base Chia Pudding Recipe (makes 4):
1

+

3/4 cup

unsweetened vanilla almond milk

1/2 cup

chia seeds

3 tablespoons

hemp seeds (optional but adds fiber and protein)

2

–

3

tablespoons maple syrup (to taste)

1/2 teaspoon

ground cinnamon
Fruit Layer Options (makes 4 each):
Mango: 2 cups frozen mango chunks, slightly thawed
Strawberry Banana: 2 cups frozen strawberries, slightly thawed; 1 small banana, peeled and sliced
Peach: 2 cups frozen peaches, slightly thawed
Blue Raspberry: 1 cup fresh raspberries, packed and then mashed to make a 'jam'; 1/4 cup fresh blueberries
Instructions
Make the base chia pudding: Combine almond milk, chia seeds, hemp seeds, maple syrup, and cinnamon in a medium bowl. Whisk vigorously until the mixture is well combined. Store the chia pudding mixture in an airtight container for at least four hours to overnight before moving on and assembling the chia pudding breakfast parfaits. Note: If you are not interested in making parfaits, feel free to eat the pudding anytime after it has thickened!
Make the fruit layer: Blend your selected fruit in a Nutribullet or food processor until smooth (or mash up fresh berries to make a 'jam') to create your fruit purée. If you let the frozen fruit thaw on the counter for a few minutes or in the fridge overnight, the moisture from the fruit will help it blend. I use about 1/4 fruit purée for each parfait.
Assemble the parfaits: Give the chia pudding mixture a good stir, and then add 2 large spoonfuls of the pudding to each parfait container. Next, spoon your blended or mashed fruit into each container to make a fruit layer. Finally, spoon the rest of the chia pudding mixture to make the final layer of parfait.
Store in airtight sealed containers in the fridge and enjoy with 5 days!
Notes
Base chia pudding recipe adapted from Rachael's Good Eats. Nutrition information estimated with My Fitness Pal using strawberry banana as an example. Half the recipe to make only two parfaits.
Nutrition Information
Serving Size:

1 chia pudding parfait

Calories:

276

Sugar:

16g

Fat:

11g

Carbohydrates:

37g

Fiber:

14g

Protein:

10g
Recipe Card powered by
Thanks for reading about (and hopefully making!!) these Chia Pudding Breakfast Parfaits!! Which one is your favorite? Or did you make a new flavor instead of one of my own? Comment below or be sure to tag me @ProjectMealPlan or use #projectmealplan on social media to share!

References:
1) Chia Seeds; Harvard School of Public Health; https://www.hsph.harvard.edu/nutritionsource/food-features/chia-seeds/