Eat the rainbow with these Herbed Goat Cheese Rainbow Snack Boxes – the perfect meal prep snack idea! Dip cucumbers and mini peppers in herbed goat cheese + red grapes and blueberries to complete the rainbow! Swap in your favorite fruits and veggies to customize!
Jump to Recipe
You can (and should) meal prep snacks too!
Especially your produce! Stuff that needs prepping before you can eat it. When I'm feeling hungry, I'm 10x more likely to grab a healthy snack if it's already prepared and ready to go. And I know I'm not the only one.
Most unprepared produce is not a quick snack. Spending 10-20 minutes washing/chopping/prepping all the produce you have is the way to go, instead of letting it sit in the fridge. I know every experienced meal prepper out there would agree with me.
So in the spirit of meal prepping snacks, here are these adorable Herbed Goat Cheese Rainbow Snack Boxes that are perfect for meal prepping up some fruits and veggies. Eat the rainbow!
Where do you get those meal prep containers?
The containers I use for meal preps (and snack preps!) are these 3 Compartment Glass Meal Prep Containers (affiliate link!) made by Prep Naturals. They also make 1 and 2 compartment containers. I get them on Amazon.
I like to keep my dips and sauce away from things until they're ready to be dipped, you know? So for this snack box meal prep, I like to use the 3 compartment containers. For all my meal prep container recommendations, please have a read of The Best Meal Prep Containers (all based on my own opinions and containers I've tried!).
How do you make the Herbed Goat Cheese?
Set out 8 ounces of a plain goat cheese log and let it come to room temperature (or close – it's easier to mix that way). Meanwhile, chop up some fresh herbs. Use at least two of the following fresh herbs – parsley, chives, tarragon, and dill. You need about two tablespoons.
In the mix that's pictured, I used fresh parsley and dill because that's what I had on hand. Use herbs you like best, or whatever is left in your fridge!
Mix the herbs into the goat cheese with about 1 tablespoon of olive oil, fresh ground black pepper and a little bit of sea salt. And it's ready! To divide into four containers, I just eyeball measured but feel free to weigh out the portions for accuracy.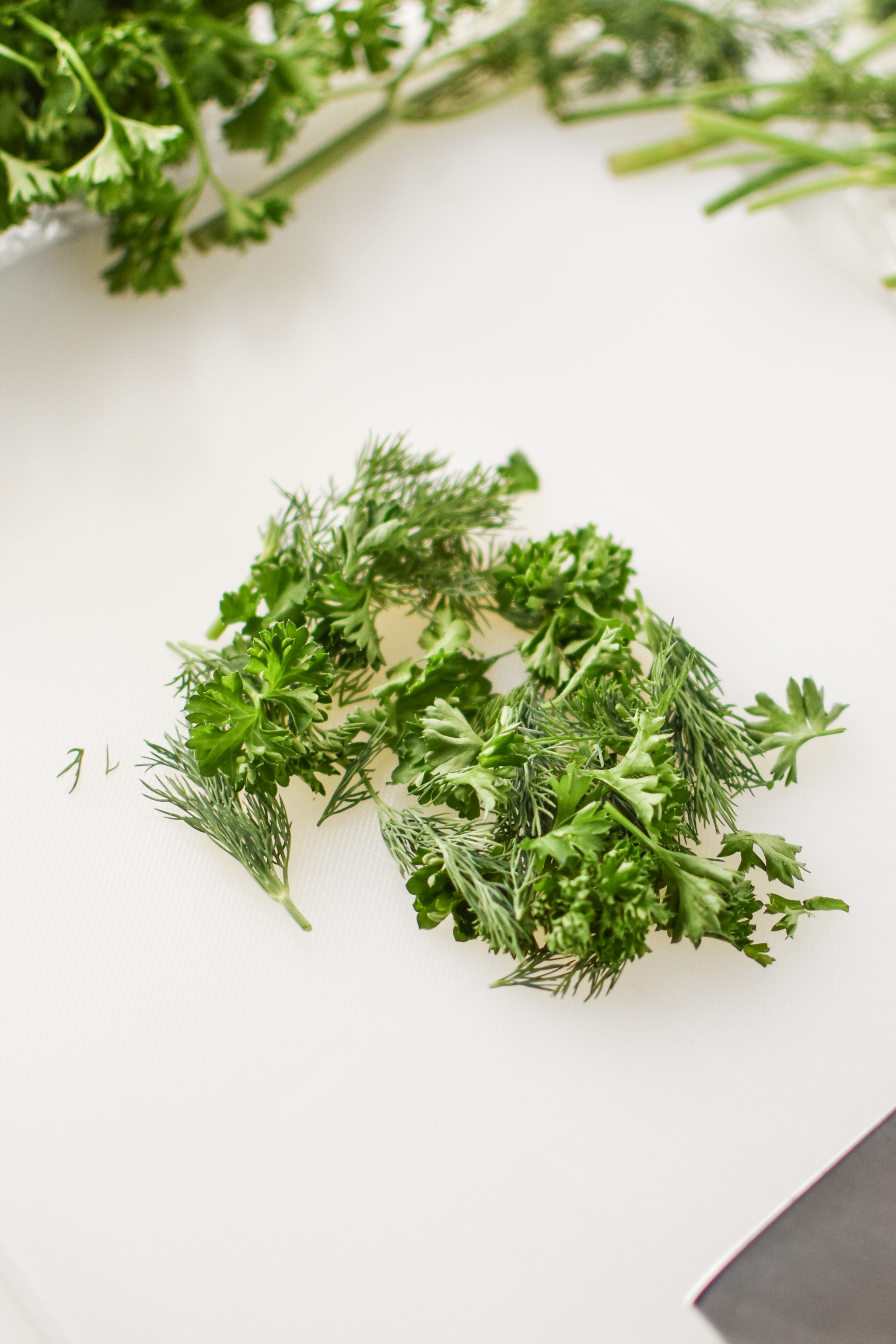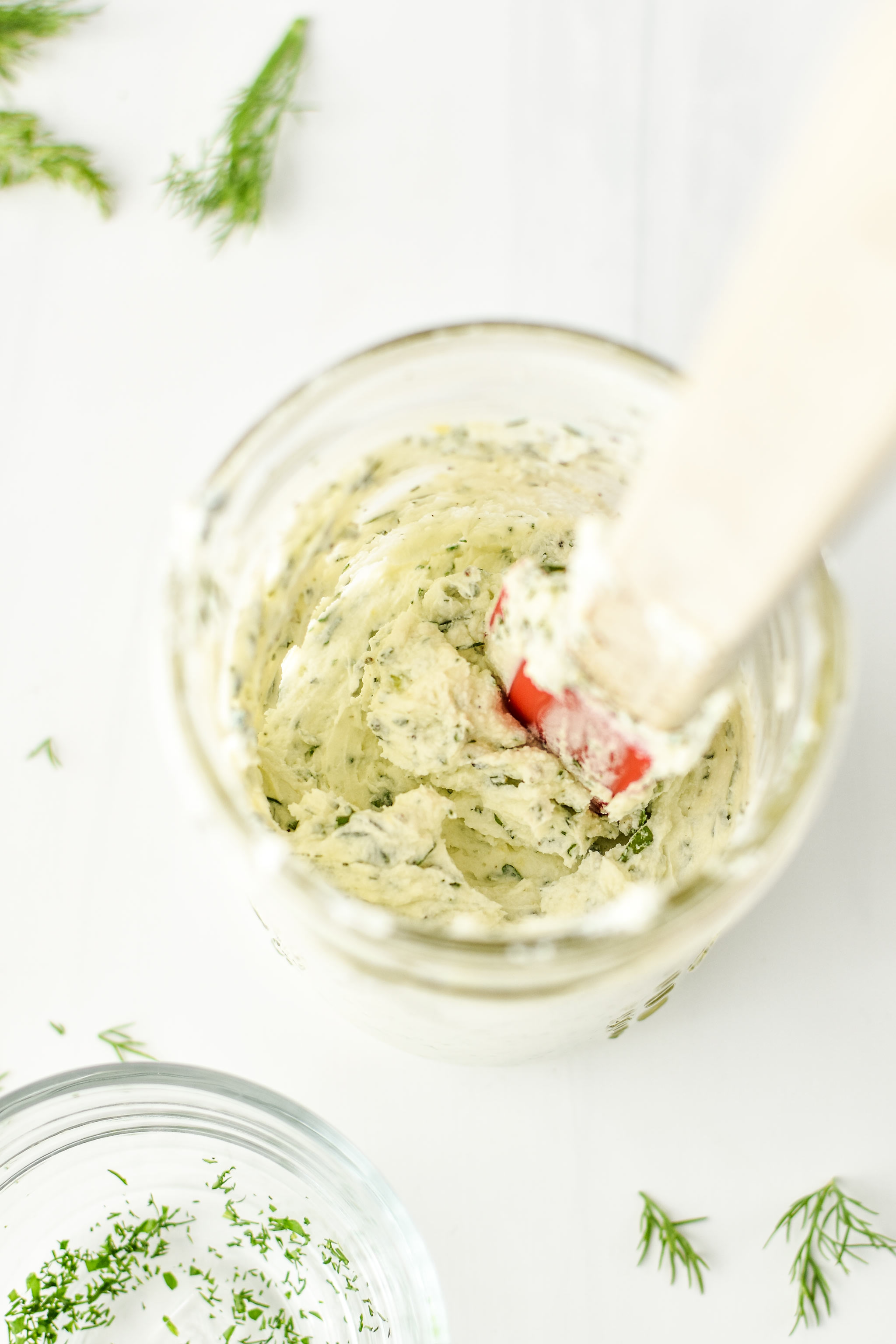 What's in the Herbed Goat Cheese Rainbow Snack Boxes?
Herbed Goat Cheese: I've been trying to eat less dairy lately, at least dairy that's more friendly to my stomach, and goat cheese fits the bill. Similar to my Pesto Goat Cheese Dip, but less pesto, less calories, and more fresh herbs.
Rainbow Mini Sweet Peppers: These are the ones you find in a bag near all the hot peppers. Trick is they aren't hot at all, but seriously sweeter than bell peppers. So cute and delicious!
Cucumber: To achieve the stripes on the sides of the cucumber slices, use a peeler to remove long strips of cucumber peel following the entire length of the cucumber. Leave a strip of peel on the cucumber in between the removed strips. It doesn't even have to be neat to look fancy once the cucumber is cut!
Red Grapes: Which actually fit into the rainbow under the purple category. We love grapes around here so that's why I use them often! Use green grapes if you want but your rainbow will start to turn green.
Blueberries: We all love blueberries, don't we? That's why I added them in to this snack box. YUM.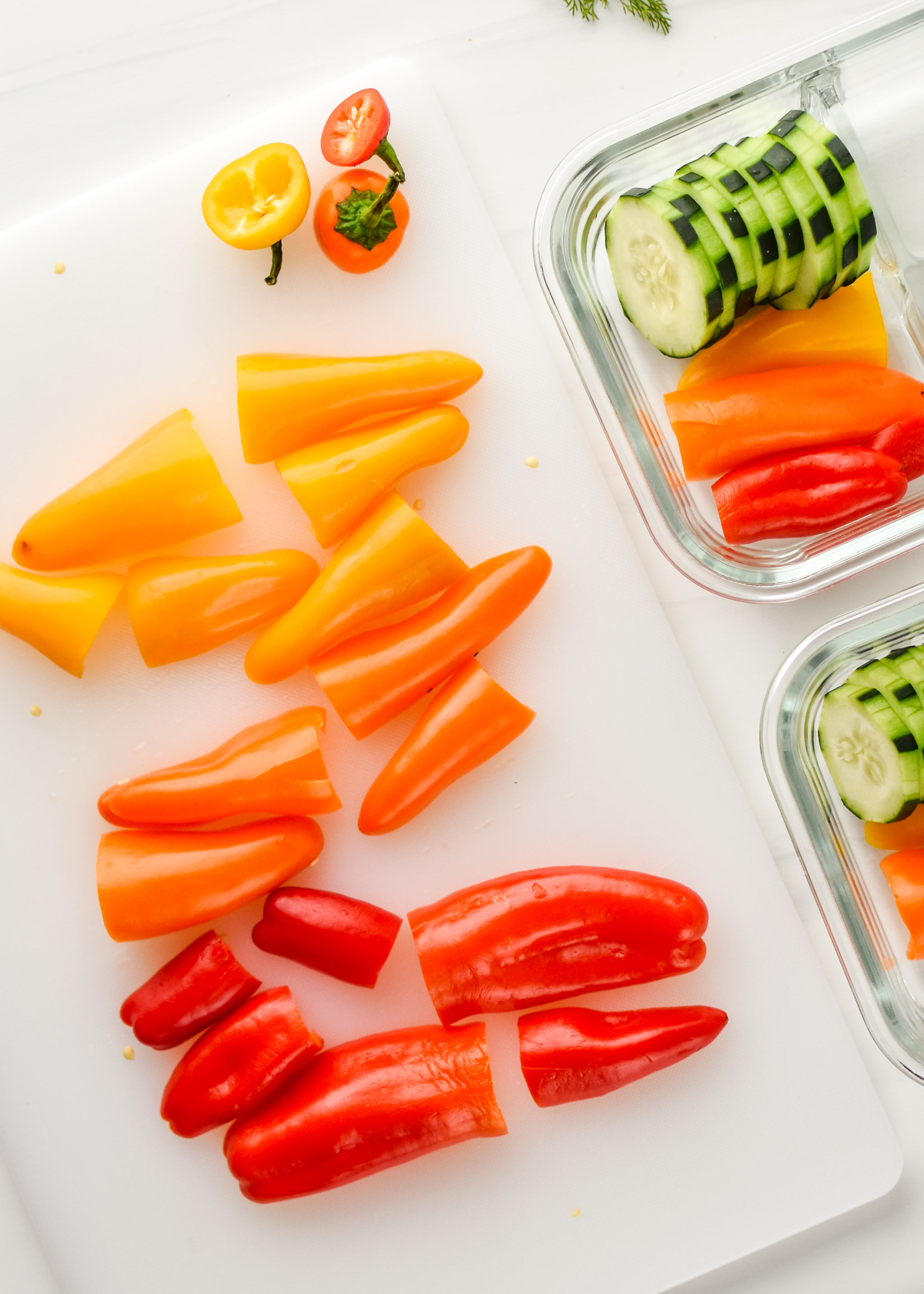 Swap the _________ For ___________
Swap the herbed goat cheese for hummus: A dip for all vegetables, I feel like more people enjoy hummus over goat cheese, so if you're one of those people then just go with any hummus you enjoy!
Swap the cucumber for broccoli florets, avocado slices, sugar snap peas, or any other green vegetable you enjoy raw.
Swap the sweet mini peppers for regular bell peppers, carrots, cherry tomatoes, strawberries, mandarin orange slices, or any combination.
Swap the grapes and blueberries for strawberries, raisins, or raspberries.
Add cooked chicken, crackers or nuts to make it a more substantial snack or small meal.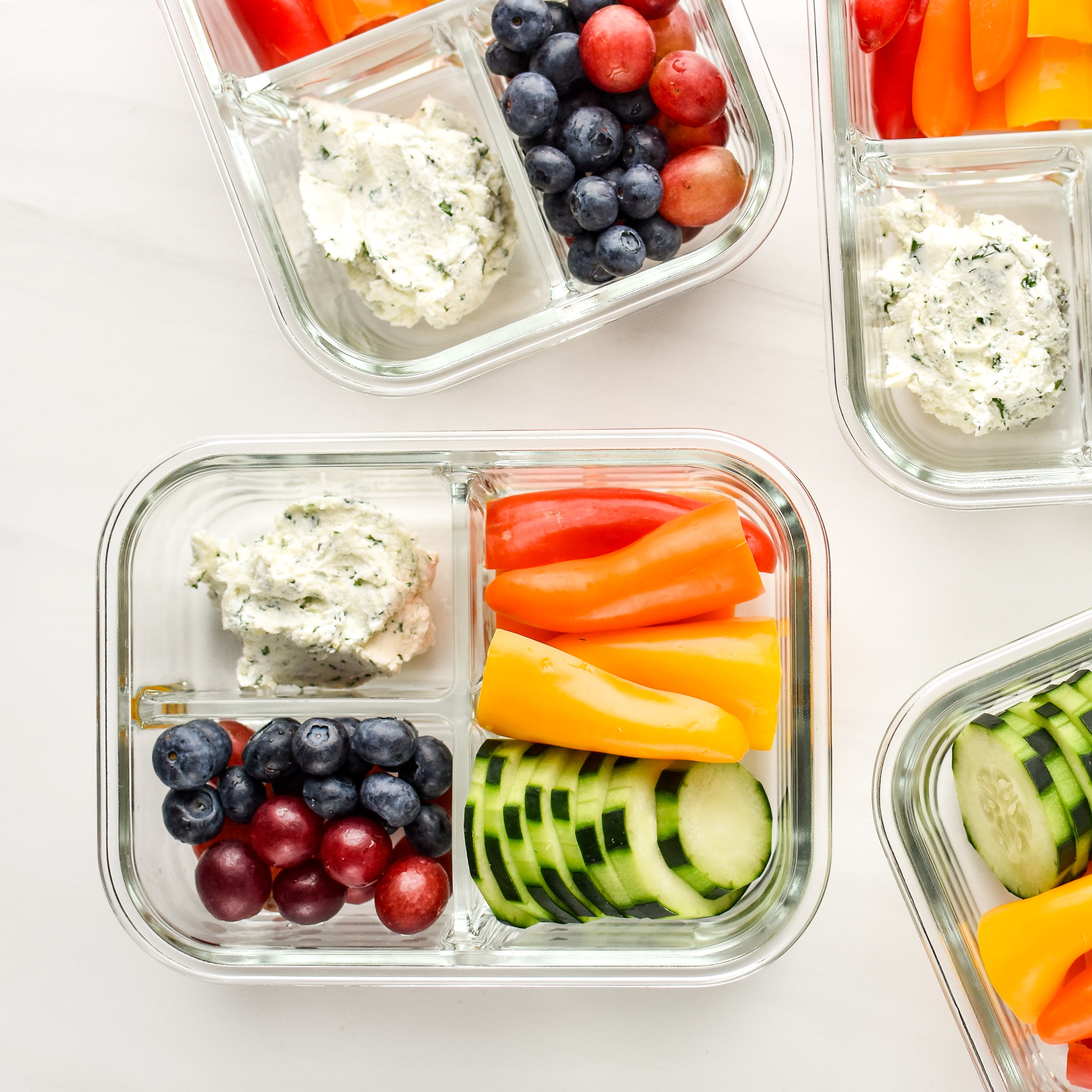 More no-heat meal preps from Project Meal Plan:
Recipe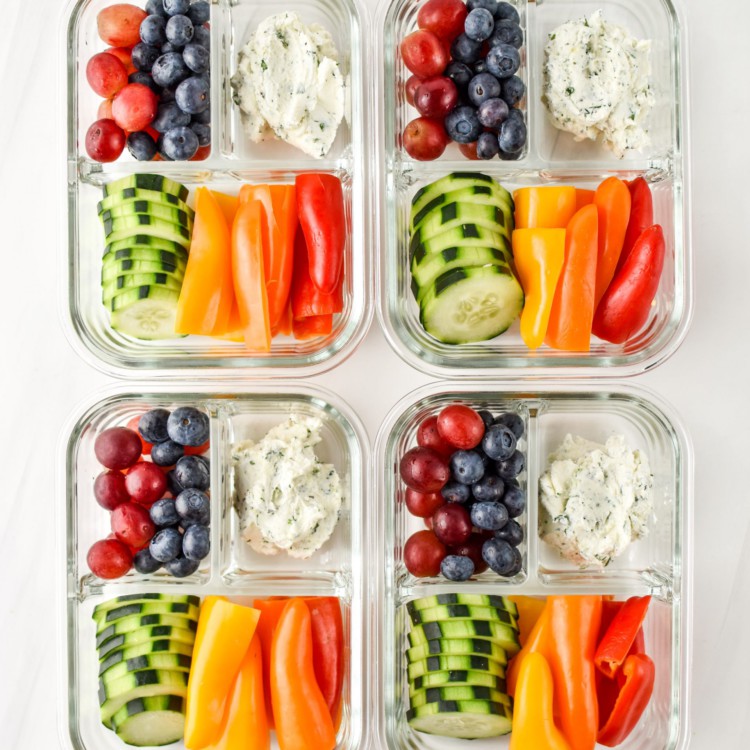 Herbed Goat Cheese Rainbow Snack Boxes
Prep:
15 minutes
Total:
15 minutes
Eat the rainbow with these Herbed Goat Cheese Rainbow Snack Boxes – the perfect meal prep snack idea! Swap in your favorite fruits and veggies to customize!
Ingredients
Herbed Goat Cheese
8 ounce

plain goat cheese log, softened to room temp

2 tablespoons

chopped fresh herbs (at least

two

of these: parsley, chives, tarragon, dill)

1 tablespoon

olive oil

1/2 teaspoon

fresh ground black pepper

1/4 teaspoon

salt
Fruits & Veggies
1

medium cucumber, sliced

16

–

20

rainbow mini sweet peppers (red, orange & yellow), stem & seeds removed, cut in half

1

+

1/2 cups

red grapes, stems removed

1 cup

blueberries
Instructions
Mix up the goat cheese: Add goat cheese, fresh herbs, olive oil, pepper and salt to a medium bowl and mix thoroughly.
Assemble the snack boxes: Divide the herbed goat cheese evenly between meal prep containers. Divide the cucumbers, mini peppers, grapes and blueberries evenly between meal prep containers. For additions and swap ideas, see above post content! Store in airtight containers in the fridge and enjoy within 4 days.
Nutrition Information
Serving Size:

1 snack box

Calories:

258

Sugar:

17g

Fat:

16g

Carbohydrates:

23g

Fiber:

3g

Protein:

10g
Recipe Card powered by
Thanks for checking out my Herbed Goat Cheese Rainbow Snack Boxes! Hope they spark some meal prep inspiration for you! Be sure to tag me @ProjectMealPlan or use #projectmealplan to share!