Are you a snacker? Me too! If you're trying to up your meal prep snack game, this is for you! Here are tons of Make-Ahead Snack Ideas You Can Meal Prep!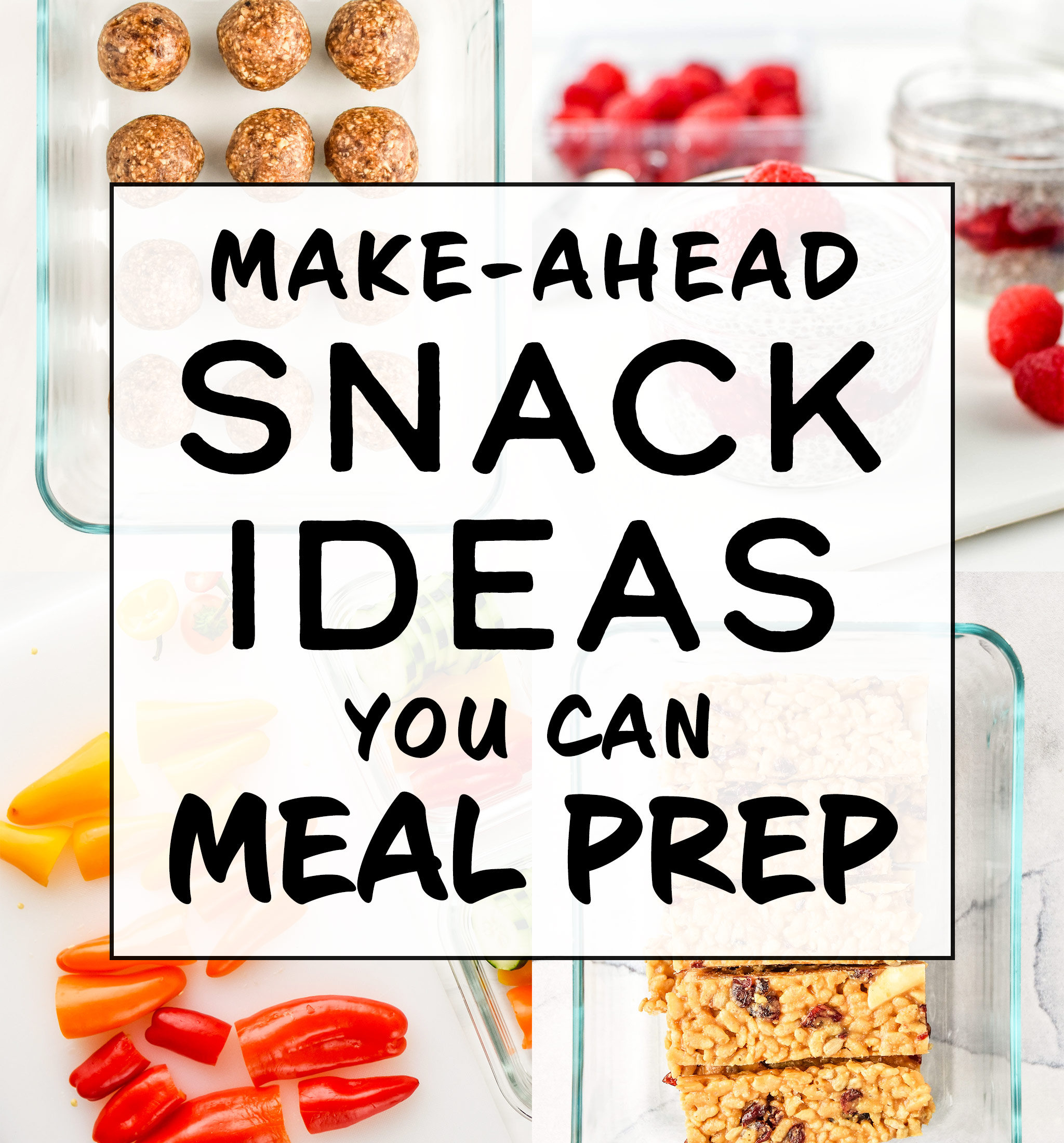 Snacks are just as important as meals themselves – they help satisfy our hunger between meals, boost our energy, and they're just plain awesome.
We all know that meal prepping our breakfasts, lunches and dinners can be a huge time and money saver. Meal prep can seriously relieve the stress of having to search for an appropriate meal when you're hungry. If my meal is already planned and made for me, it makes things go a lot smoother.
I'm here to tell you that snacks can work in the exact same way! Meal prepping your snacks can help you save money, save time, and reduce the stress of searching for something when you're hungry.
No matter if you're taking snacks to work, to school, or prepping snacks for your family at home, make-ahead snack ideas can be a life-saver.
Just as it goes with make-ahead meals, you can meal prep snacks to fit within any dietary guidelines you need. Snacks are a part of life! It's completely normal to be hungry in between meals, no matter how you eat.
Meal prepping snacks (or even just planning them out ahead of time) can be just what your busy week needs.
Why meal prep snacks?
Why should we meal prep snacks? How is it beneficial? Here are a few good reasons, in my opinion:
Saves money – Snacks prepared at home are usually much cheaper than premade snacks you would find at a coffee shop or restaurant.
Saves time – If something is ready to eat, that means you save time not having to think about what to grab. You also save time by not having to prepare something for yourself right at that moment – it's already made.
Makes food choices easier – I'm so much more likely to eat a snack I prepared for myself if it is already made. Instead of mulling over what's easy or what I could make with the time I have, it's already done!
Add variety – By making snacks at home, you can try new recipes, make new flavor combinations, and try new foods outside of meal time.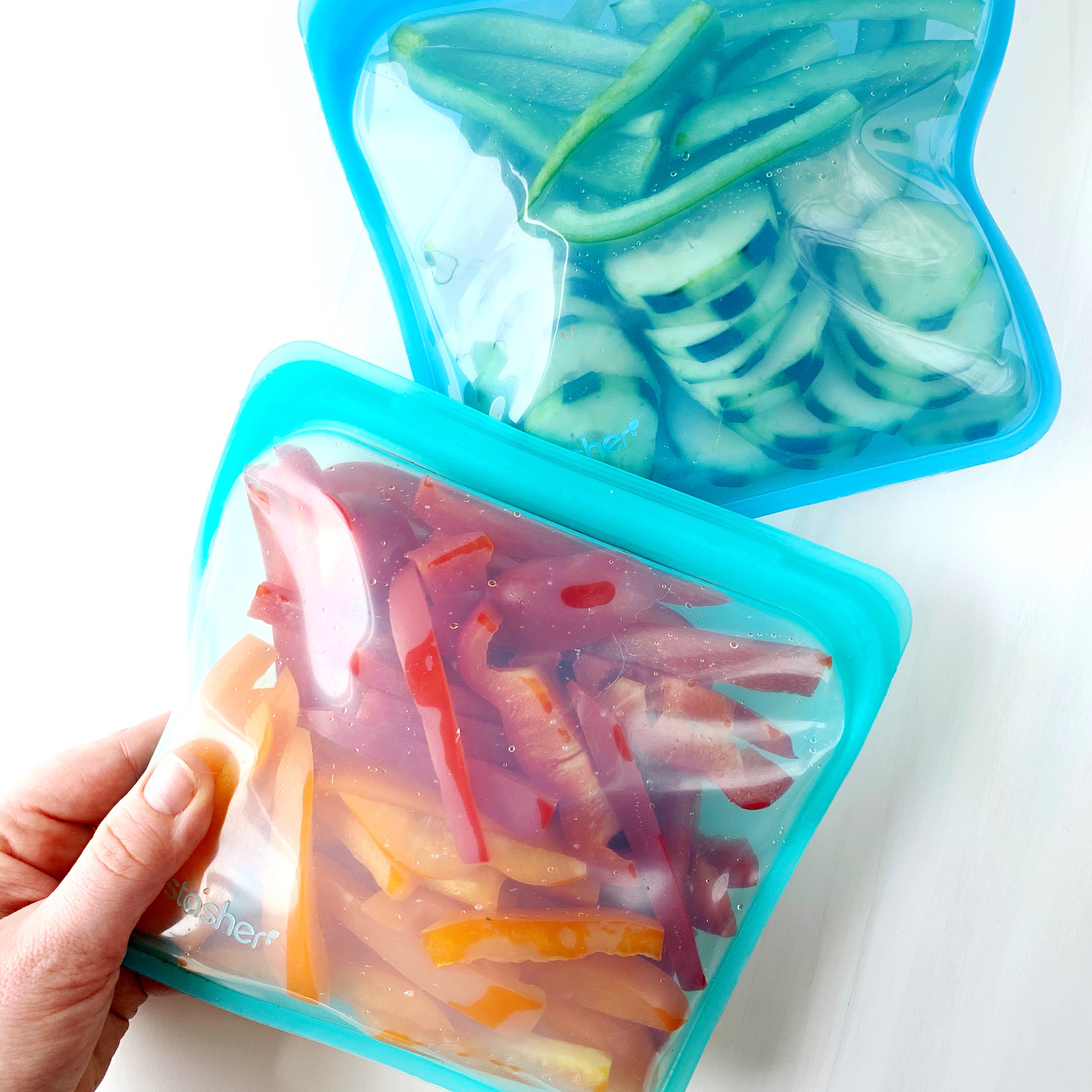 What snacks are good for meal prep?
There are tons and tons of make-ahead snack ideas out there! Almost any food can be a snack. I don't have many snack rules at all.
Generally, my personal definition of a snack relates to portion size – my snacks tend to be smaller amounts of food than full meals.
I'm not actively measuring the amount of food – it's more that I'm looking for a portion of food that will tide me over until my next meal (the word 'meal' indicating it will be a larger amount of food).
With that being said, a snack can be anything you want it to be. When people are just starting out with meal prep, I tell them to meal prep meals they know they like. The same goes with snacks.
Prep snacks you know you'll want. Preparing broccoli and carrots for a snack will not make you magically like it if you didn't before. If you do like it, that's great too!
Like I said, snacks can be anything you want them to be. But when I'm thinking about good make-ahead snacks, here are some qualities that come to mind:
easy to package & travels well (important if you're taking snacks on-the-go)
not too messy (this is objective, but something I think about)
probably doesn't need to be heated up (but if it does, that's fine too)
But like I said, don't let my ideas about snacks stop you from doing your own snack thing! I just want to give you more ideas!
How do you meal prep snacks?
Meal prepping snacks can be as simple as portioning them out and putting them in containers for easy grab-and-go access.
Exact prep will vary depending on the food item. Some snacks will require zero prep, while other snacks, particularly homemade snacks, may require you to package them yourself.
You can't talk about meal prepping snacks without talking about the containers used to hold them!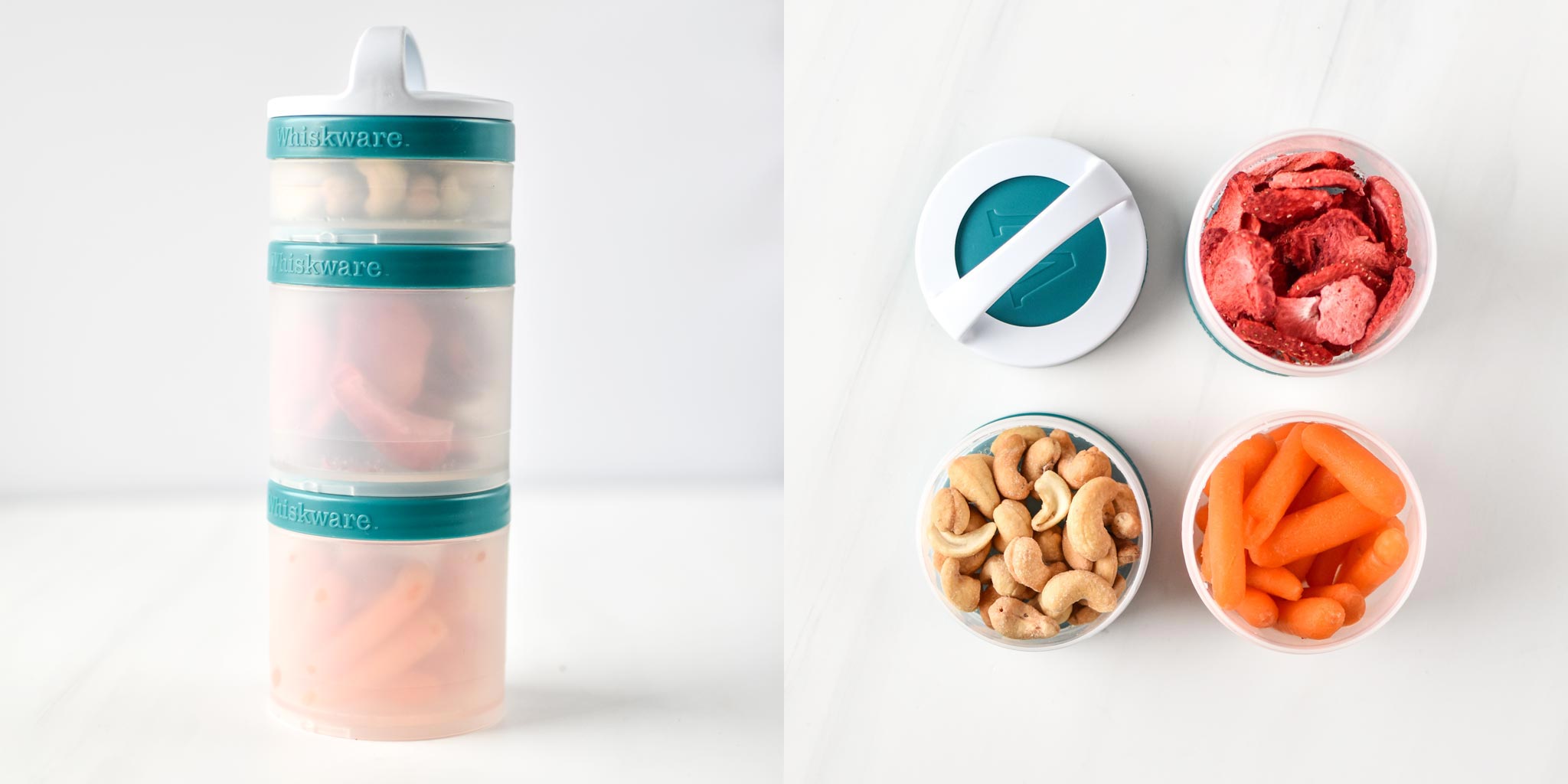 What equipment do you need to meal prep snacks?
The only essential equipment you need to meal prep all sorts of snacks are containers to hold your snacks. Obviously, if you're making homemade snacks, you may need other equipment to do so, but we're keeping it simple here.
These are my favorite containers for make-ahead snacks:
No Recipe Make-Ahead Snack Ideas You Can Meal Prep
There are tons and tons of snack ideas that you can grab in their original form, or in pre-portioned packs from the store. Let's talk about snack ideas that don't need a recipe.
Raw fruit & veggie snacks: Cut up veggies and fruit are wonderful snack, pair with your favorite dip and it's as simple as cutting up and eating. Apples & peanut butter, carrot sticks and hummus, sliced cucumbers, sugar snap peas, cut up pineapple or melon, oranges, bananas, and so many more!
Nuts & dried snacks: Anything from a trail mix to some dried mango. From cashews to hazelnuts. Meat sticks to jerky. Maybe you want a fruit roll-up. I'm not judging!! I love sweet and salty, like roasted peanuts with chocolate or dried pineapple. Almonds, pecans, chocolate covered raisins, freeze-dried strawberries, banana chips, dried seaweed snacks, and more.
Dairy & cheese snacks: I LOVE CHEESE. Sliced cheese, string cheese, cheese spread dips + crackers. I also love Greek yogurt paired with some fruit. Cottage cheese and pineapple is a great classic.
Other easy snacks: Hard boiled eggs, chips and salsa, store-bought snack bars, side salad, cup of soup, scones, breads, toast, etc.
There are even more ideas when you start thinking about making homemade snacks! Here are a few of my favorites.
Homemade Make-Ahead Snack Ideas You Can Meal Prep
How are you feeling about Make-Ahead Snack Ideas? Hopefully I've given you some spark to get you started. Share your favorite snacks and snack ideas below in the comments!