We've got a couple things to talk about – and they both have to do with this Smokey Green Bean Turkey Skillet. First of all, I'm so happy to have another unique recipe for ground turkey. Ground turkey tacos are good for any dinner, but I wanted to share something good for meal prepping ahead (or dinner with leftovers!). Something with a seasoning that really sinks in the day after it's made. Those are the absolute best lunches. And that brings me to the second topic for discussion – this seasoning blend. It's truly a magical smokey combination. (Jump to recipe!)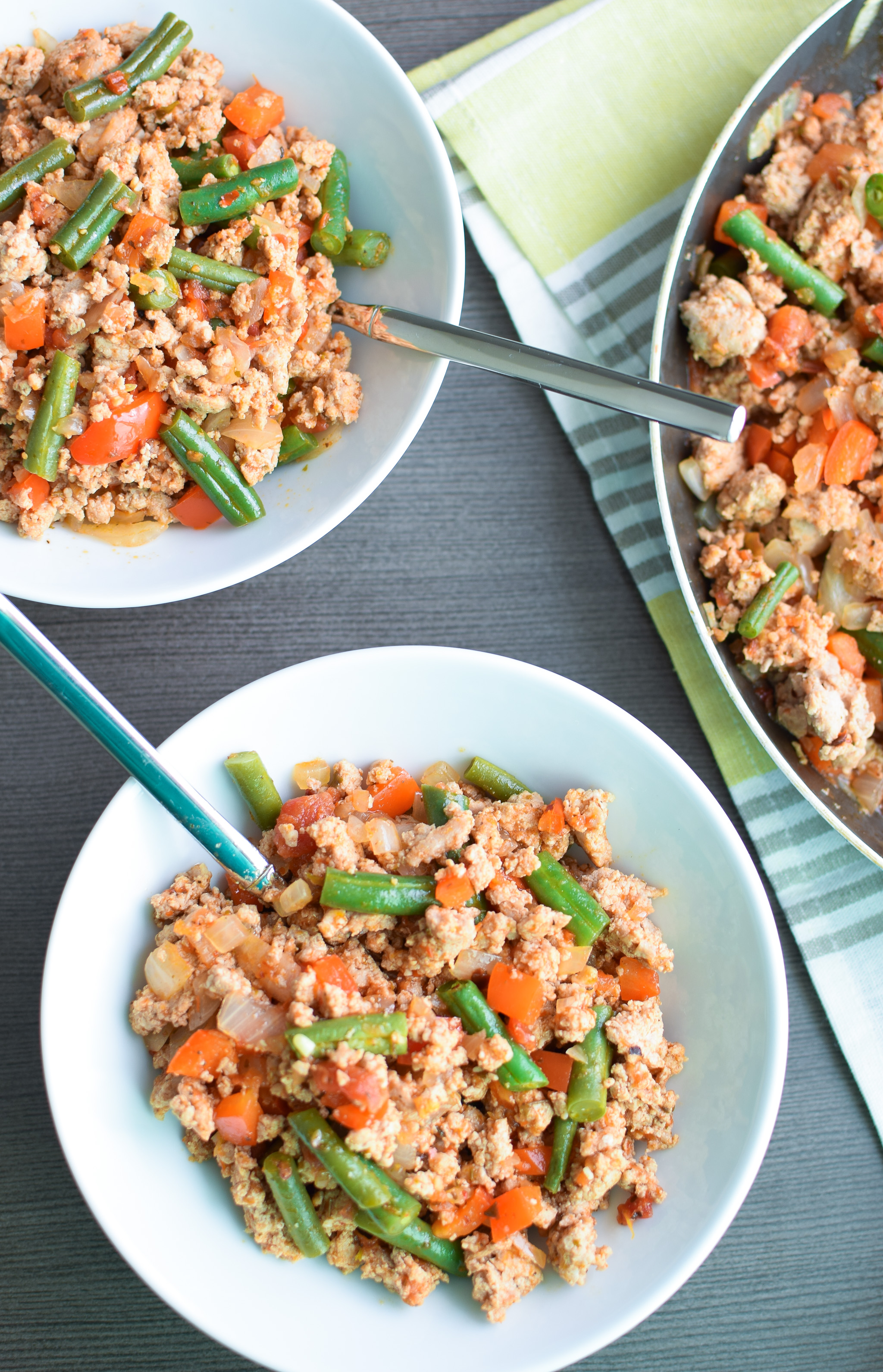 So this South African Smoke Seasoning Blend – it's from Trader Joe's (surprise surprise). The only ingredients listed are paprika, sea salt, garlic and basil. That's it. It's hard to describe the flavor combination other than 'smokey goodness' in sprinkle form. You can put this stuff on literally anything. I should probably run over to TJ's and buy more. I read it's only available for a couple months of the year! That could be an untrue rumor, but I don't want to risk it.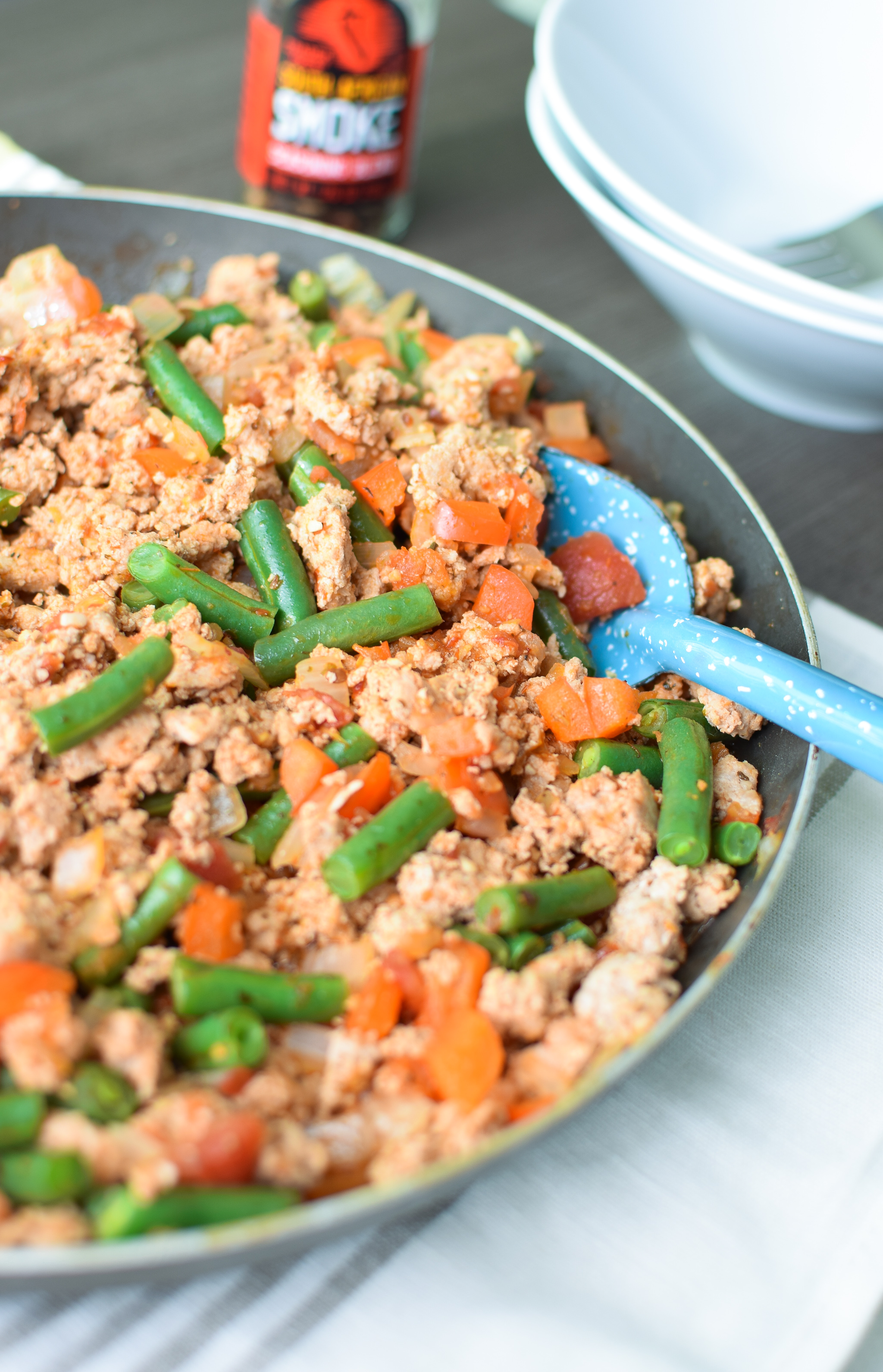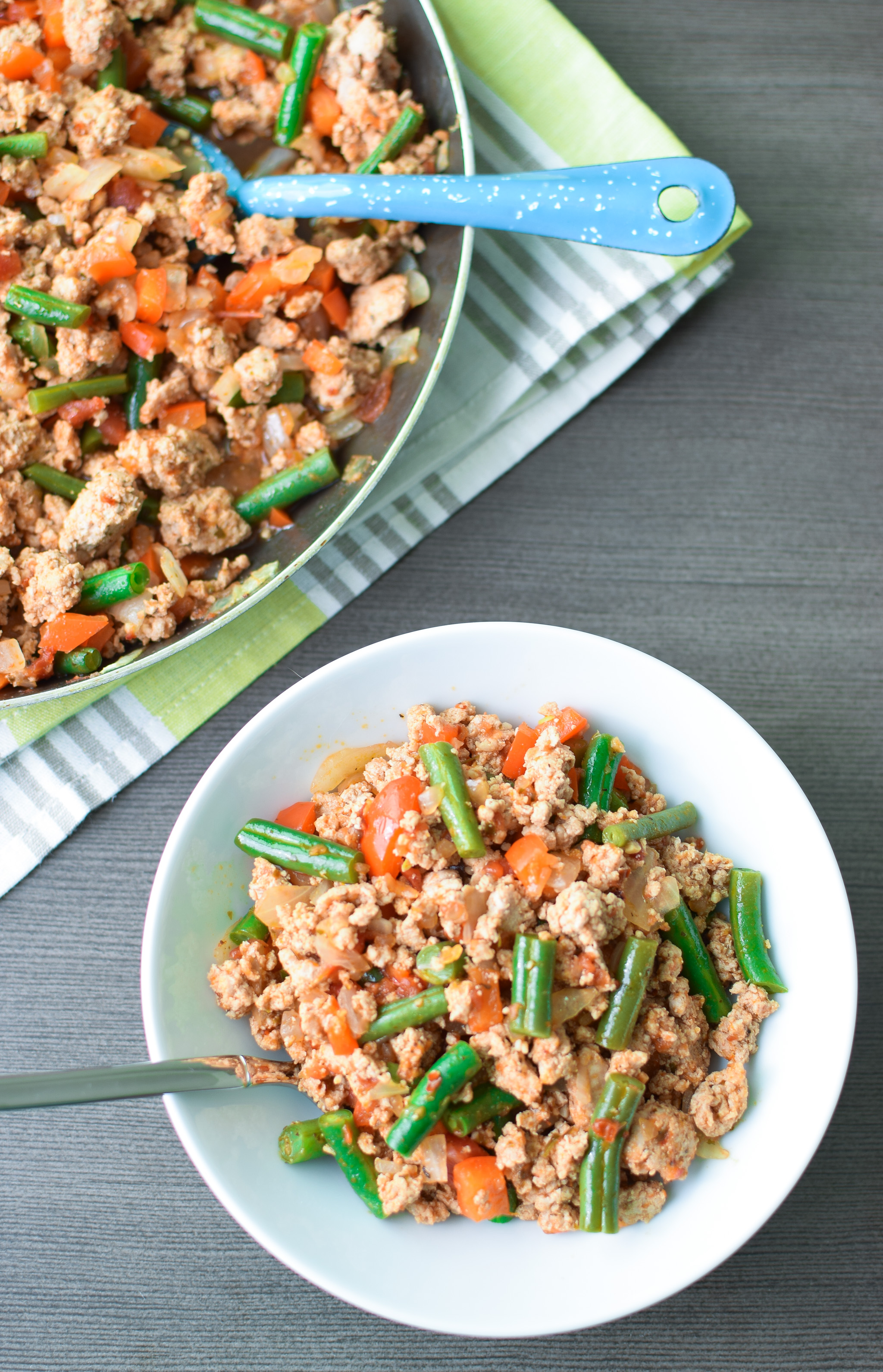 Fresh green beans are a must-do for this recipe. Hopefully they're available near you. If you live around Washington, here's a handy vegetable seasonality chart that tells you what's in season. Canned green beans just don't stay crisp or bright. And… they're canned green beans. I don't need to say more.
I love this recipe for lunch or dinner, but it's especially easy for meal prepping. Before starting the turkey, I get some quinoa going in the rice cooker. When both are done, I split the quinoa evenly between four 4-cup Pyrex bowls. Then top each bowl of quinoa with Smokey Green Bean Turkey Skillet, and you're off. Add some cheese if you feel like it. A bowl of yummy ringing in at 539 calories (and 44 grams of protein!). And it's coming up on next week's Sunday Meal Prep!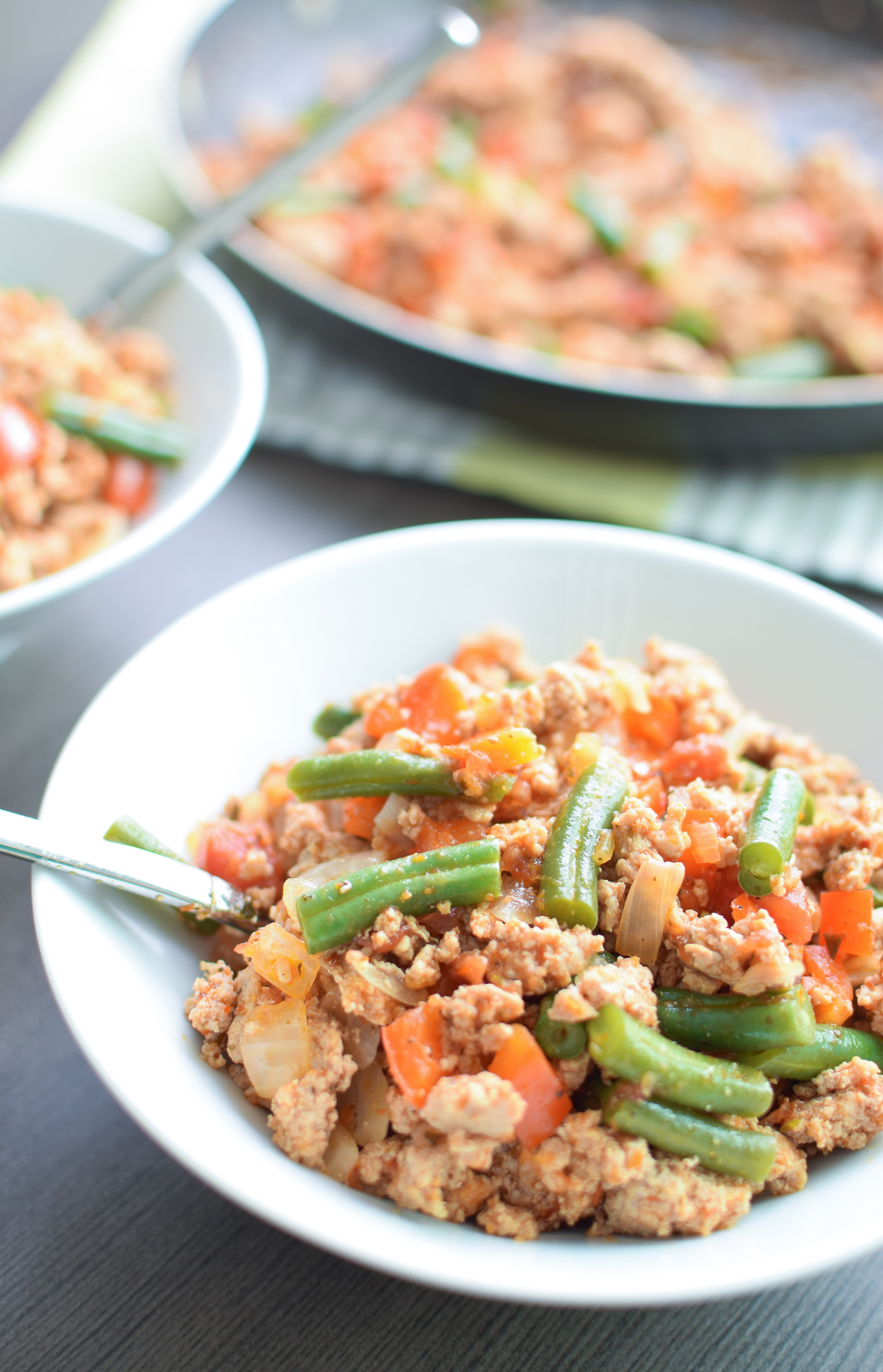 Print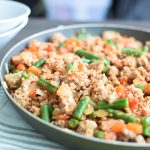 Smokey Green Bean Turkey Skillet
---
Author:

Danielle

Prep Time:

10 minutes

Cook Time:

15 minutes

Total Time:

25 minutes

Yield:

4 servings
Description
Smokey Green Bean Turkey Skillet recipe – Great for meal prep, dinner, lunch – serve over rice or quinoa!
---
Ingredients
1 tablespoon olive oil
about 1 pound (or slightly more) of ground turkey, 93/7%
1 red bell pepper, diced
1/4 yellow onion, diced
1-1/2 cups fresh green beans, cut into 1 or 2 inch lengths
1/2 teaspoon garlic, minced
2 teaspoons smoke seasoning blend
3/4 cup chipotle salsa
pinch of salt
---
Instructions
Heat olive oil in a large skillet over medium-high heat. Add ground turkey and break apart with a spatula. Add a pinch of salt. Cook until meat is nearly cooked, about 4-5 minutes. Remove excess liquid from pan.
Push turkey meat to one side of the skillet. Add red pepper, onion, green beans, and garlic. Mix meat and vegetables together and saute for 3-4 more minutes, stirring occasionally.
Add seasoning and salsa. Mix ingredients in skillet until evenly distributed. Reduce heat to low, and simmer for 6-7 minutes or until green beans are tender, stirring occasionally.
Serve over rice, quinoa, or pasta!
Nutrition
Serving Size:

1/4 of dish

Calories:

312

Fat:

15.6g

Carbohydrates:

8g

Protein:

34.9g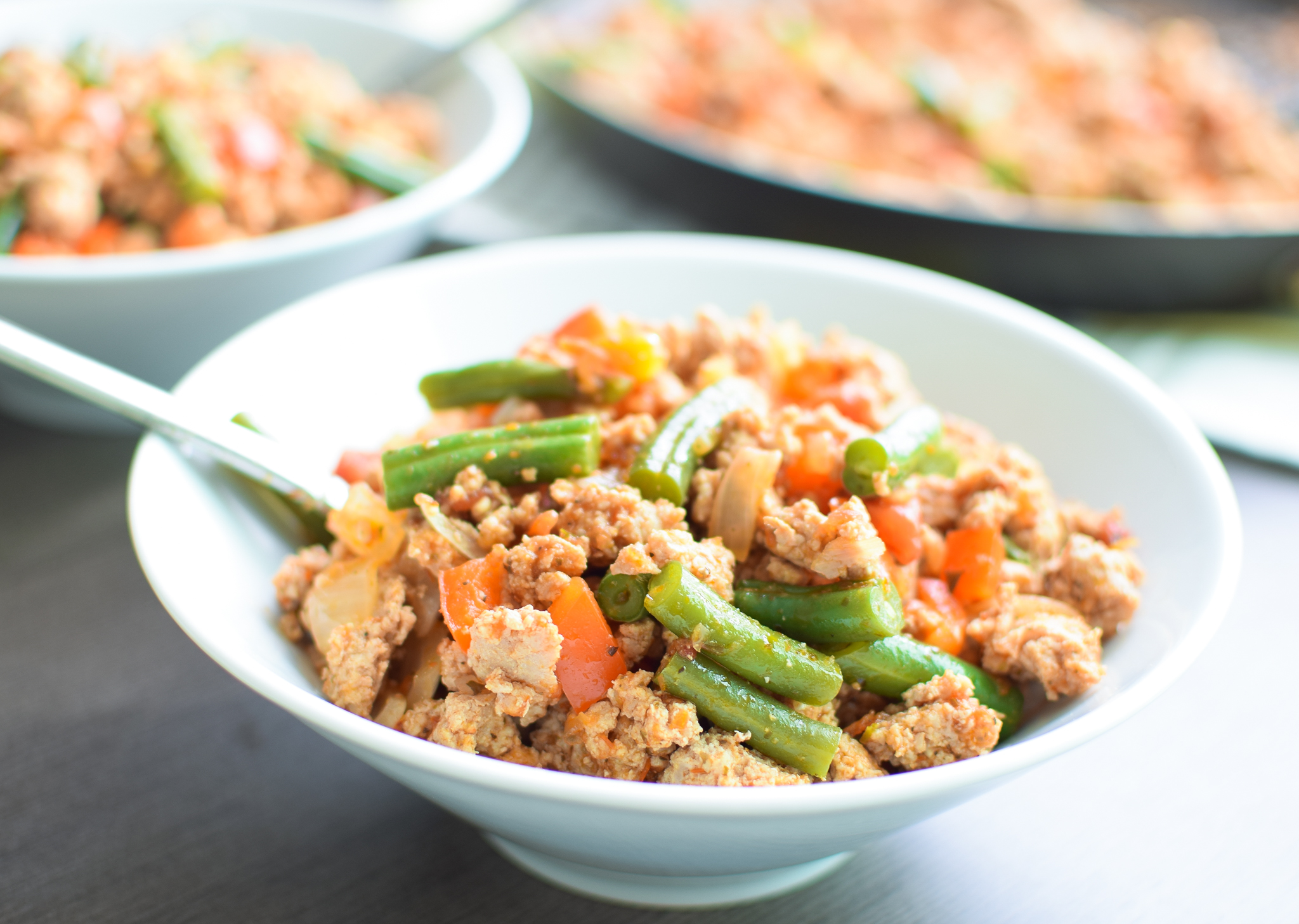 Happy Eating!
– Danielle
A little disclaimer: One of the links on this page is for an affiliated product on Amazon. If you are planning to make any purchases, please start your Amazon shopping here on Project Meal Plan! We'll get a small commission at no extra cost to you. I truly appreciate your support! For more information, please see our Full Disclosure.
Support and Share Project Meal Plan -