Garden inspired meal prep lunches make the freshest ideas! These Meal Prep Ground Turkey Snap Pea Stir Fry Rice Bowls feature carrots, onions, kimchi, ginger, and garlic, along with fresh snap peas for a delicious make-ahead meal!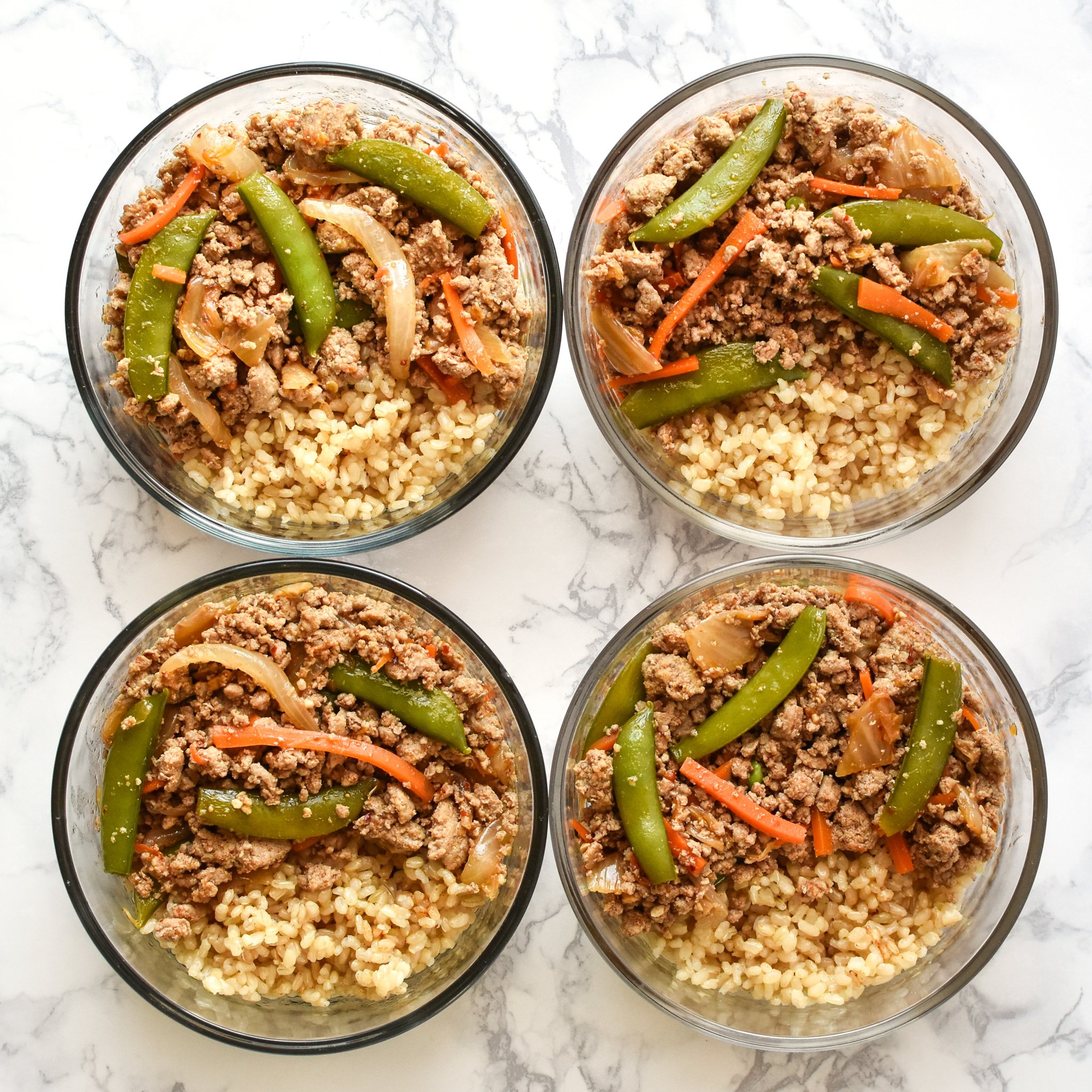 Recipe Overview
Total Time: 35 minutes
Difficulty: Easy
Method: Stovetop
Prep: Make-Ahead Friendly
Watch how to make Meal Prep Ground Turkey Snap Pea Stir Fry Rice Bowls (1 min 11 sec):
Veggies in the Ground Turkey Snap Pea Stir Fry Rice Bowls
We've got carrots, onion, kimchi, ginger, garlic… and can't forget the star – snap peas! I love the tiny hint of sweetness brought to the dish from the sugar snap peas going wild in my garden.
I'm of the opinion you could always add more veggies to this dish. Just don't take away my sugar snap peas!
Kimchi was a last minute addition because it was sitting in my fridge wishing for a home (other than the fried rice where it normally ends up). I used the spicy flavor Seoul Kimchi that I picked up at the grocery store – the jar, NOT the bag shown in the Amazon link!
Usually this is near the vegan items and produce in a little refrigerated aisle ender. The kimchi is a bit spicy, but when dispersed into the whole dish, it gives a more mild overall spice. I'm loving the extra dimension it brings to the stir fry.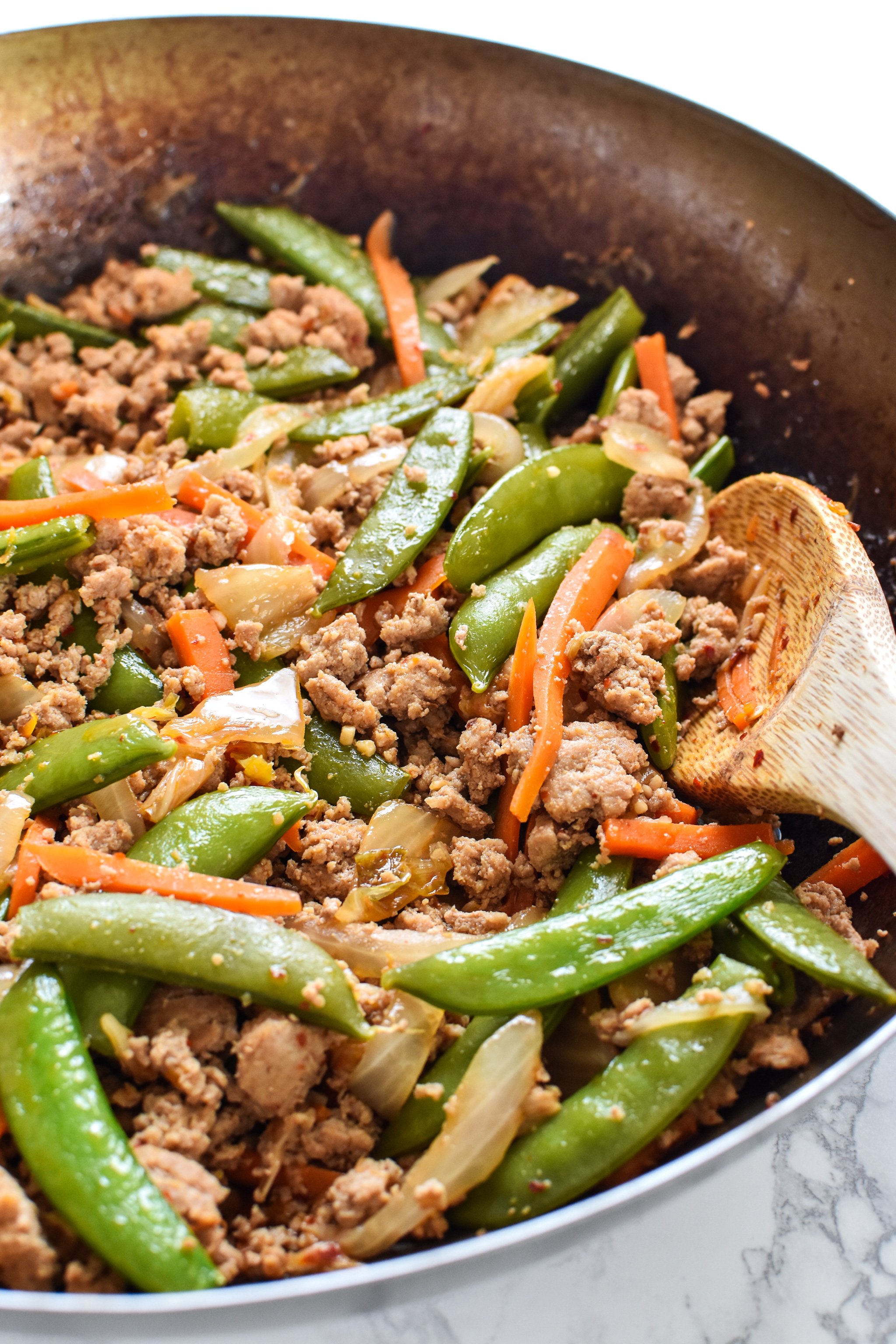 Carrots in this recipe:
Have you ever julienned a carrot? This video does a quick and dirty demo of the process that's actually super easy.
This method of cutting the carrots is not a requirement. But I think in general, the shape and color provides a unique look and style to the stir fry dish. All the long shaped veggies should cook at about the same rate. And again, they look pretty good.
What to serve in these Ground Turkey Snap Pea Stir Fry Rice Bowls:
If you're around this blog a lot, you may know I've been in more of a quinoa phase since I started documenting my recipes. But brown rice is a good old fashioned go-to. How about actually using my rice cooker for cooking rice, eh?
But really though, I think this Asian inspired stir fry could go with almost any grain you might normally use in your meal prep.
In my opinion, rice seemed to fit the best. But if you only have quinoa, or farro, or rice noodles, they will work too.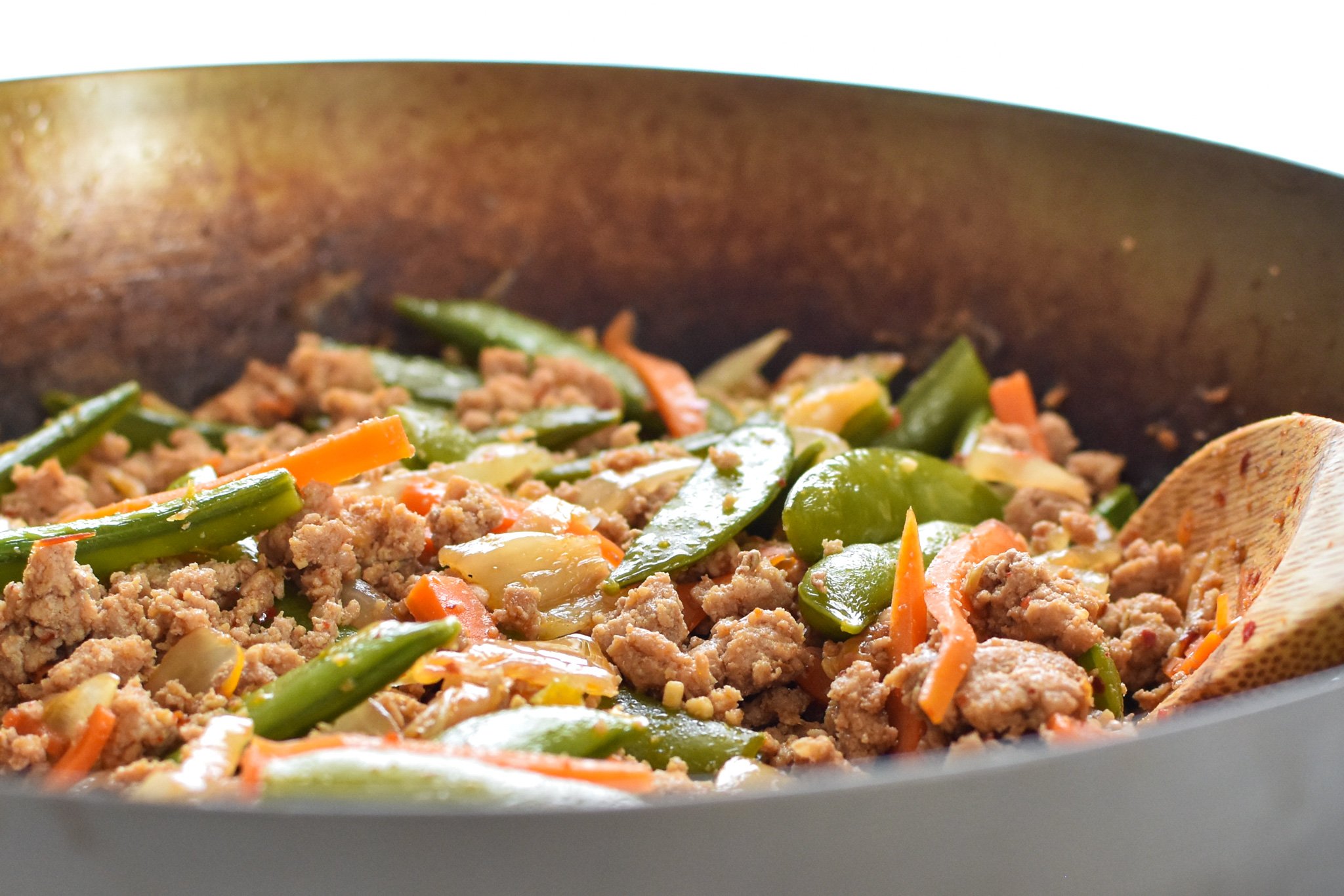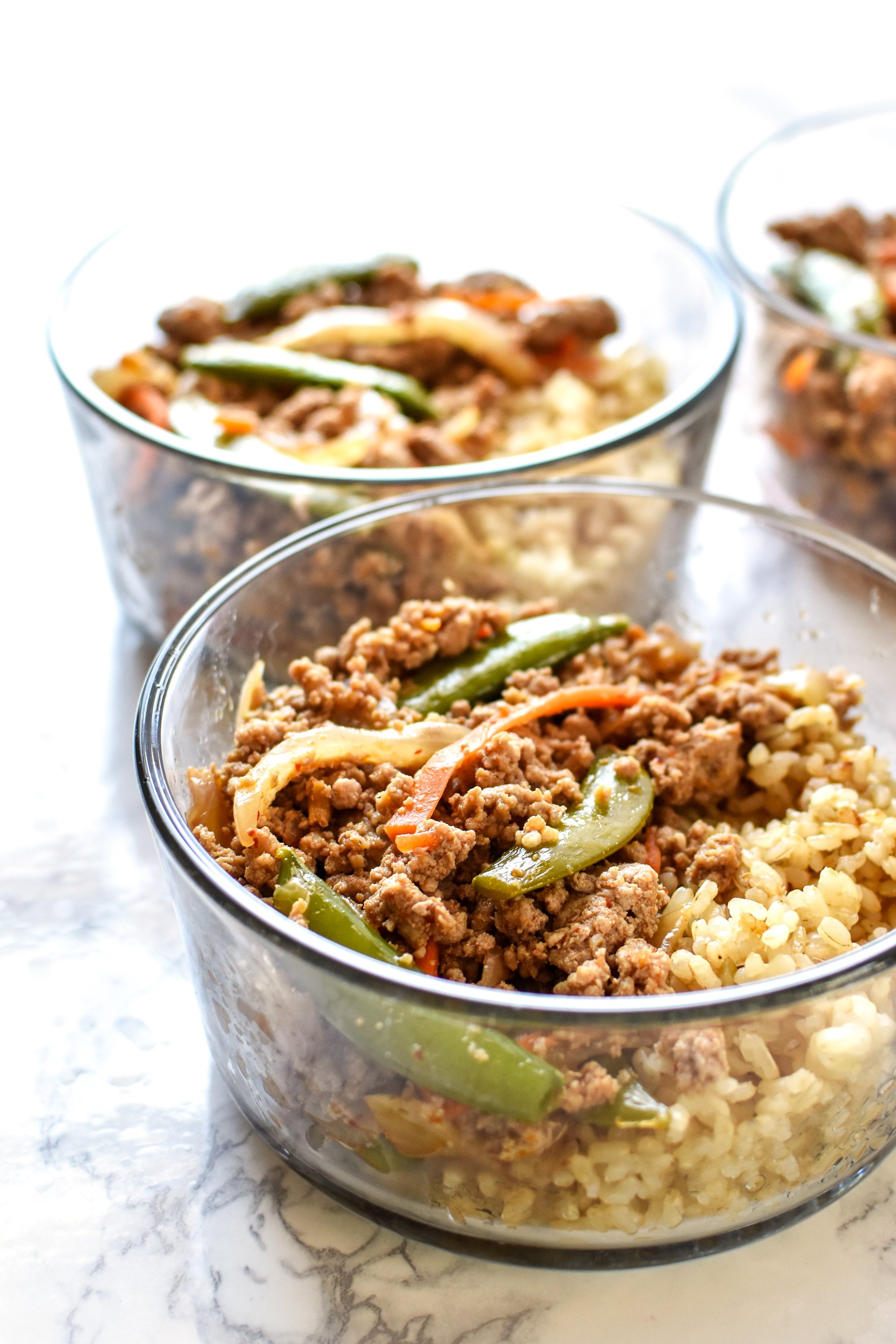 How to store prepared Stir Fry Rice Bowls:
Store prepared Ground Turkey Snap Pea Stir Fry Rice Bowl meals in airtight containers in the fridge and enjoy within 4 days.
How to freeze prepared Stir Fry Rice Bowls:
To freeze, store portioned meal prep meals (or meat mixture only) in airtight containers in the freezer for up to 3 months.
How to reheat Stir Fry Rice Bowls:
From the fridge: Reheat cold meal prep in the microwave loosely covered for 90 seconds to 2 minutes.
From the freezer: Thaw frozen meal prep overnight before eating and then reheat normally, or defrost slowly in the microwave. This meal prep would also reheat well from the fridge or freezer in a HotLogic portable oven – read my review here.
Recipe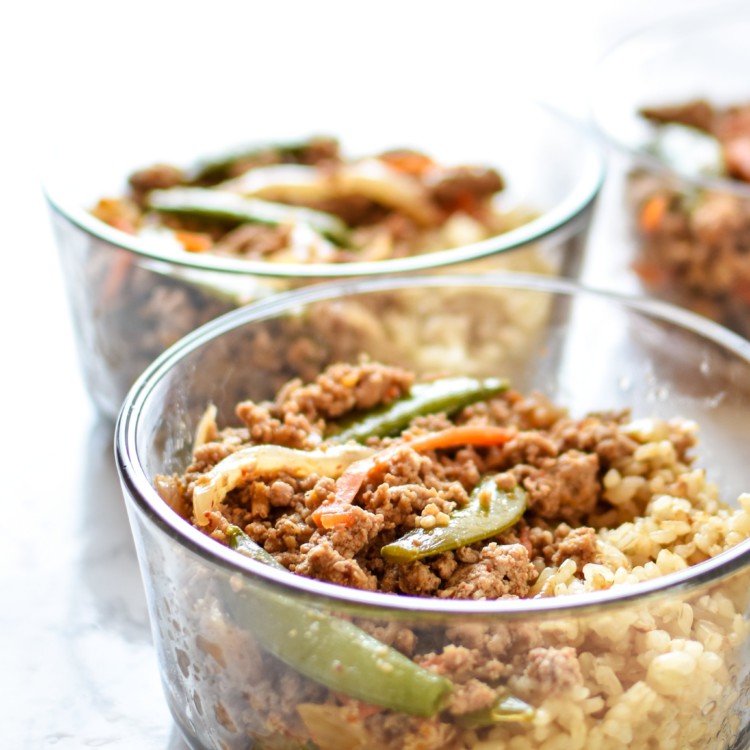 Meal Prep Ground Turkey Snap Pea Stir Fry Rice Bowls
Prep:
10 minutes
Cook:
25 minutes
Total:
35 minutes
Meal Prep Ground Turkey Snap Pea Stir Fry Rice Bowls – A delicious recipe for veggie filled stir fry, super easy to meal prep for lunch!
Ingredients
For the sauce:
1/4 cup

water

1/4 cup

low-sodium soy sauce (or liquid aminos)

1 tablespoon

sesame oil

1 tablespoon

honey

1 tablespoon

chili garlic sauce (I use Sambal Oelek)

1/2 tablespoon

fish sauce
For the stir-fry:
2 tablespoons

avocado oil (or EVOO)

16 ounces

lean ground turkey meat

1/2 teaspoon

salt

2 teaspoons

fresh ginger, minced

1 tablespoon

minced garlic (

2

or

3

cloves)

1/2

sweet onion, cut into strips lengthwise

2 cups

sugar snap peas

1

large carrot, julienned

1/3 cup

kimchi, roughly chopped
For your grain:
4

servings carbohydrate of your choice; I like to use 1 1/2 cups dry brown rice

1

14.5-ounce can chicken broth + water = 3 cups liquid total
Instructions
Get your grain going: 
I use a rice cooker to make my rice (1:2 brown rice to liquid ratio) – feel free to use your favorite method or follow the package directions. You can also use a rice cooker to cook quinoa instead of rice.
Prep the sauce:
In a mason jar, add all sauce ingredients and shake until combined. You can also use a bowl/whisk but this way is faster and cleaner!
Make the stir-fry:
Heat oil in a wok or deep skillet over medium-high heat. When hot, add turkey meat and salt. Use a wooden spoon to break up the meat, stirring frequently. Cook until the meat is cooked through and just beginning to brown, about 10 minutes. Drain excess liquid if there is more than a small amount in the bottom of the pan.
Add ginger, garlic, onion, snap peas and carrot. Stir briefly to incorporate. Give the sauce jar a couple shakes and then pour the liquid into the pan. Stir until all meat and veggies are coated in the sauce. Continue cooking over medium high heat, stirring occasionally, until the veggies start to soften, about 4-5 minutes.
Reduce heat to low. Add kimchi to the pan and stir. Let the stir fry simmer until the sauce is almost completely reduced, about 5-6 more minutes. The onions should be translucent and the veggies should be completely cooked through and softened.
Serve immediately with rice, or portion into 4 equal containers with lids. Store in the fridge for up to 4 days.
Nutrition Information
Serving Size:

1 bowl

Calories:

514

Sugar:

10g

Fat:

9.7g

Carbohydrates:

73.8g

Protein:

29.3g
Recipe Card powered by