1 Comment
Posted: 03/12/2019
Updated: 09/23/2021
These Peanut Butter Cookie Balls taste JUST like a peanut butter cookie. Best part? This version is no-bake and made with only TWO ingredients in your food processor! Hello new favorite guilt-free snack!
Jump to Recipe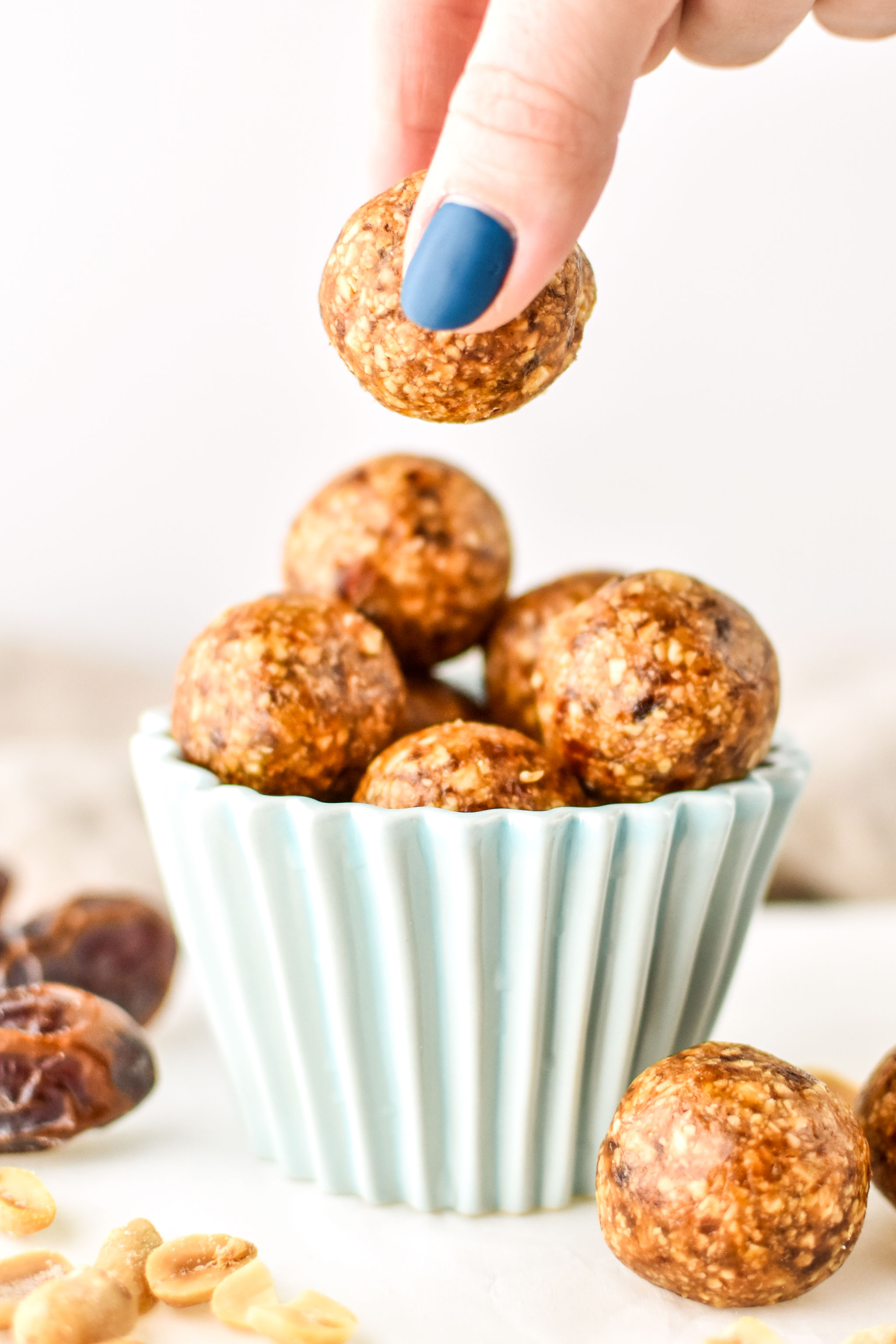 I've finally reached the point in my life where I've tried every flavor of Larabar! What a time to be alive. During Whole30, we tried all the Whole30 friendly flavors. Then after Whole30, in the spirit of healthy snacks, we tried the rest of the flavors (ones with peanuts, sugar, and/or vanilla). Peanut butter cookie was easily top 3.
Not to spill the beans on the Larabar recipe, but the peanut butter cookie bar has only two ingredients: peanuts, and dates. As an avid date buyer and lover, I knew this flavor could be replicated with ease at home using the same ingredients.
What are the two ingredients?
#1. Peanuts
The peanuts give you the – you guessed it! – peanut butter taste. I use roasted and salted peanuts. If you're using unsalted peanuts, I would add a shake of salt to this recipe to help bring out the sweet flavors.
#2. Dates
Dates provide the sugar and sticky-ness to keep these balls together. They taste like a blend of brown sugar and honey (personal opinion), so they make a great sugar substitution, if you're able to blend them up.
Before I was date enlightened, I thought any dates would work for recipes like these. But in fact, medjool dates are going to be the juiciest and best for eating raw. I buy my medjool dates at Costco where they sell the brand Natural Delights. I also used to be weary of taking the time to remove the pits from dates myself, but it really does not take that long and is super easy to accomplish.
If you can't find medjool dates, deglet noor dates will work. Just be sure to soften them by soaking in hot water for 10ish minutes!
What equipment do you need to make these Peanut Butter Cookie Balls?
You're going to need a food processor of some kind to make these cookie balls. I use this Cuisinart 8-Cup Food Processor (affiliate link!), but any food processor will work. I'm not sure if a Vitamix would work since there's not much liquid here.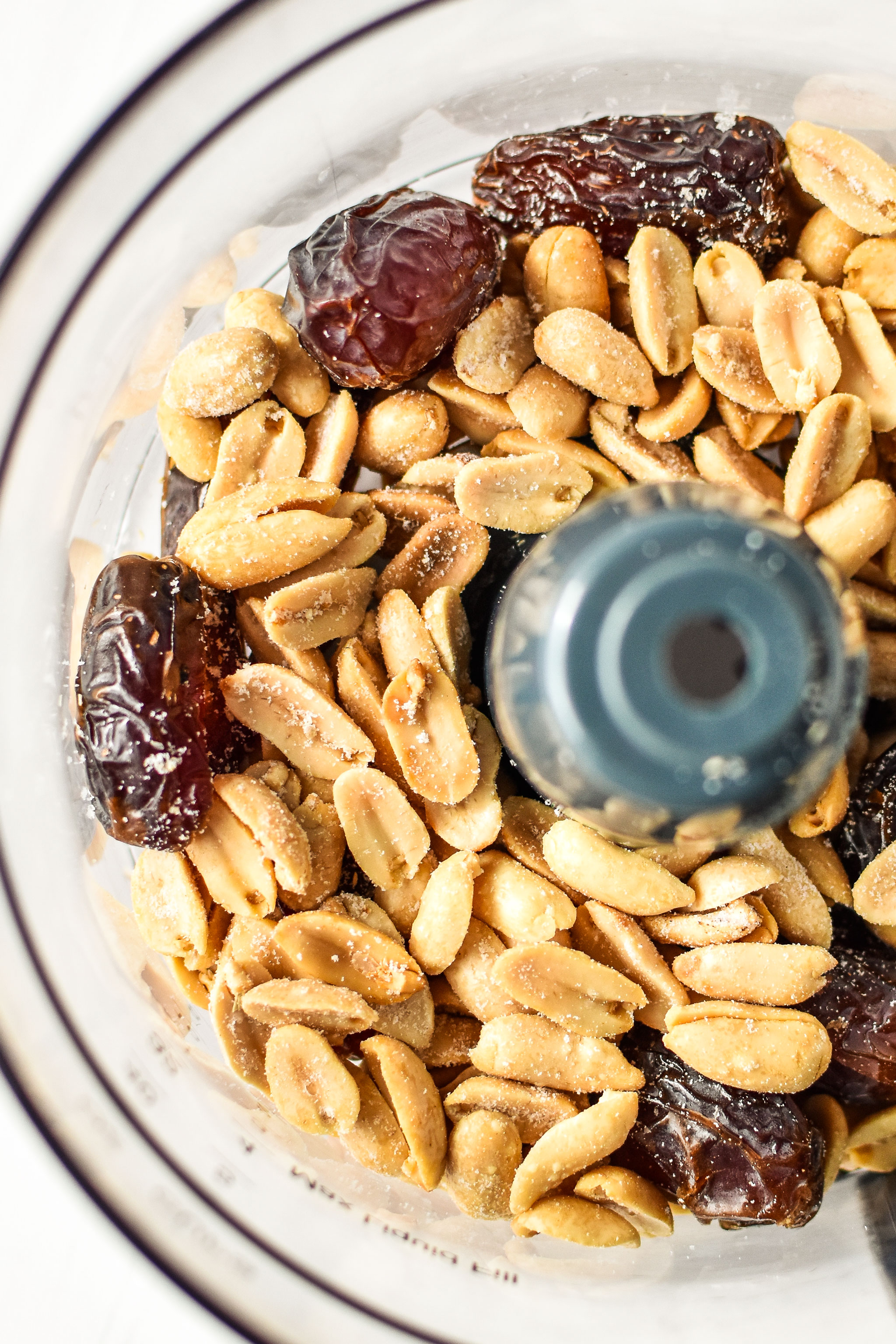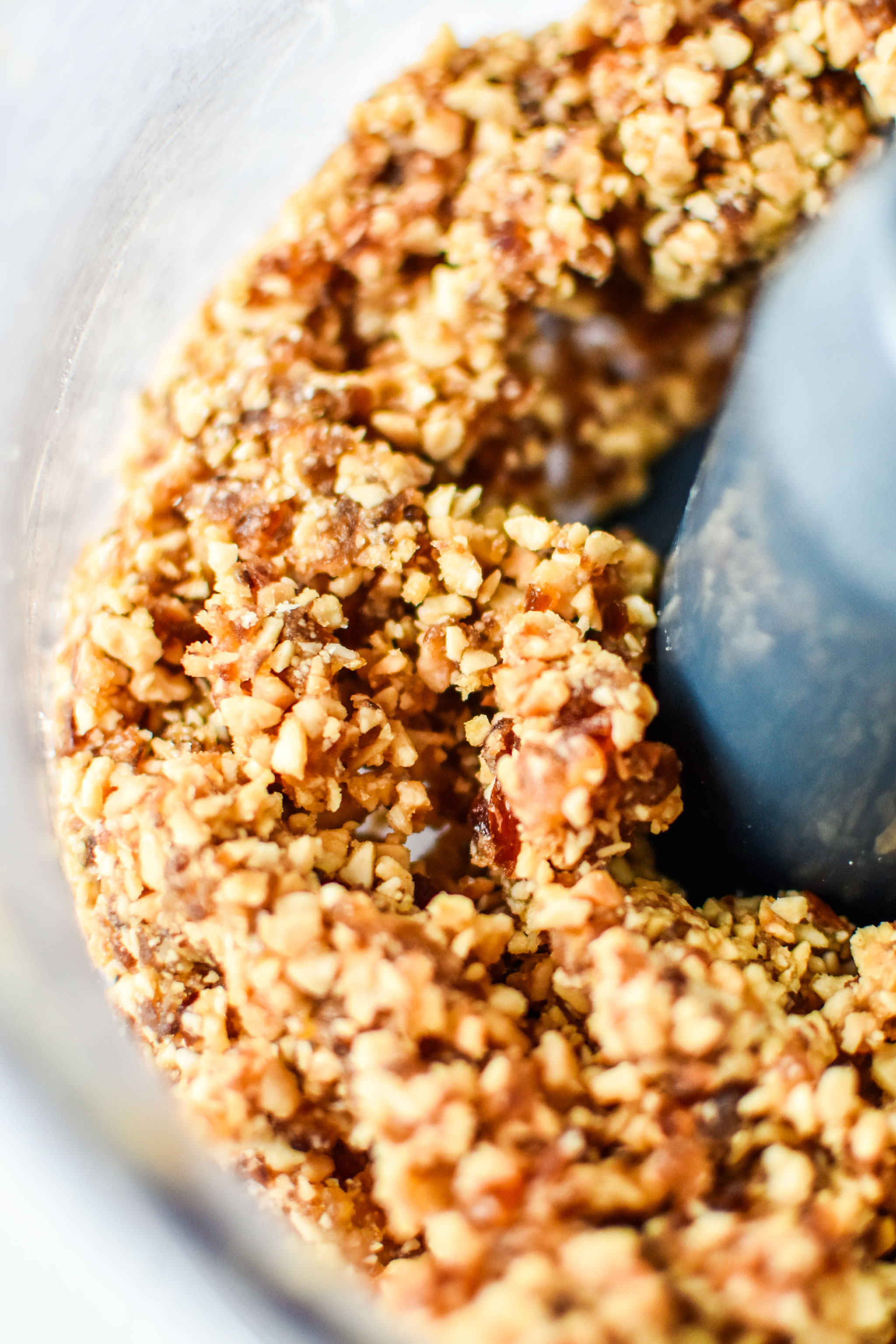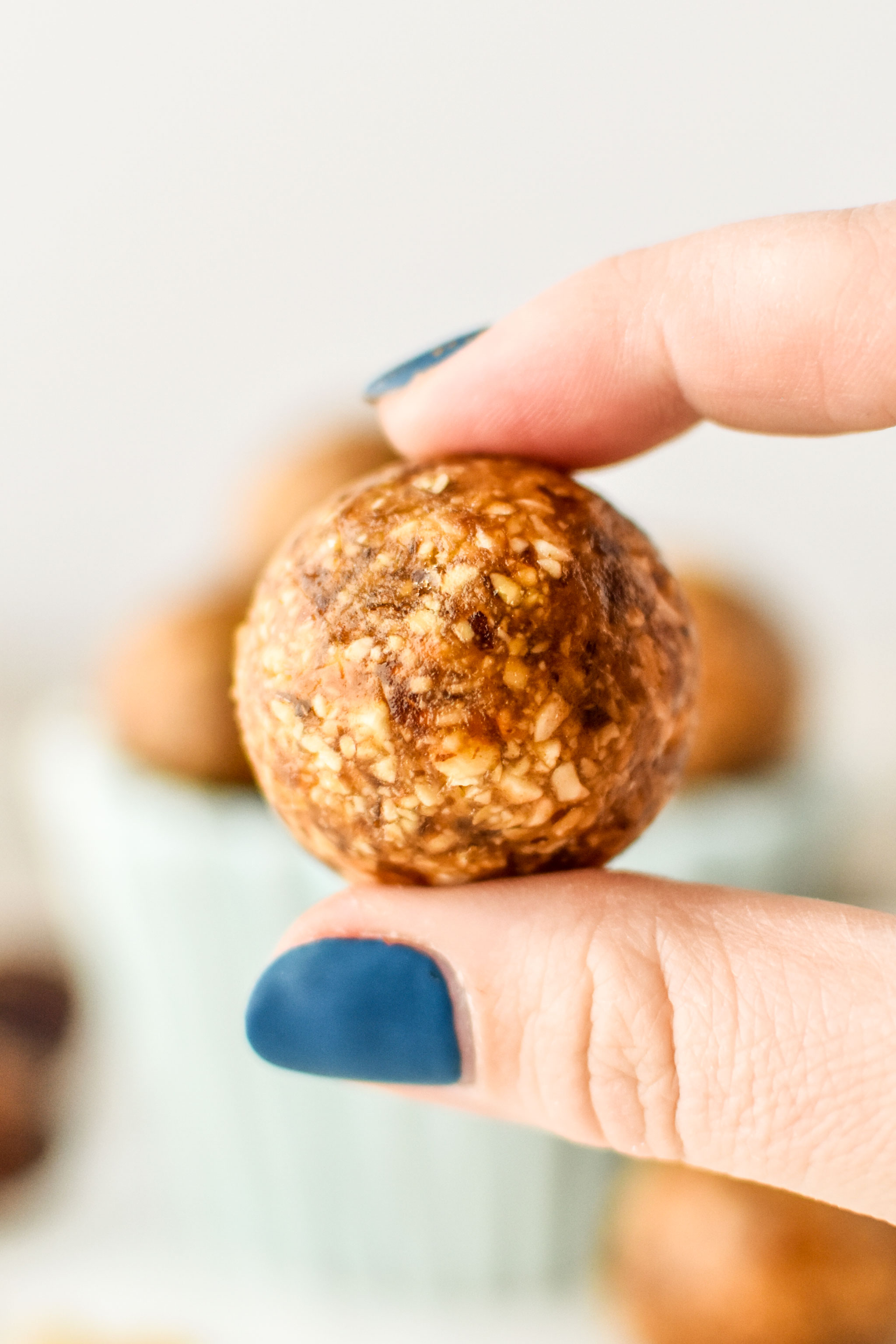 How do you make these Peanut Butter Cookie Balls?
Making these Peanut Butter Cookie Balls is so incredibly simple. I mean, there are only two ingredients and no cooking is required, so it really couldn't get much simpler than that.
Add the dates and peanuts to the bowl of the food processor and process on High until well blended (this takes around 30 seconds). Add about 1/2-1 tablespoon of water and another 1/4 cup peanuts (for 'chunky' peanut butter cookie balls), then pulse for another 10 seconds until the mixture begins to clump together.
The mixture does get a bit sticky, so I like to use gloves and a scooper to make even-sized balls. The recipe makes 12 balls!
How do you store these Peanut Butter Cookie Balls?
These balls can be stored in any container with an airtight lid on the counter for up to one week. They'll be pretty popular, so beware! Pictured below is a 6 cup rectangular dish from the 6-piece Pyrex Rectangular Container Set (affiliate link!).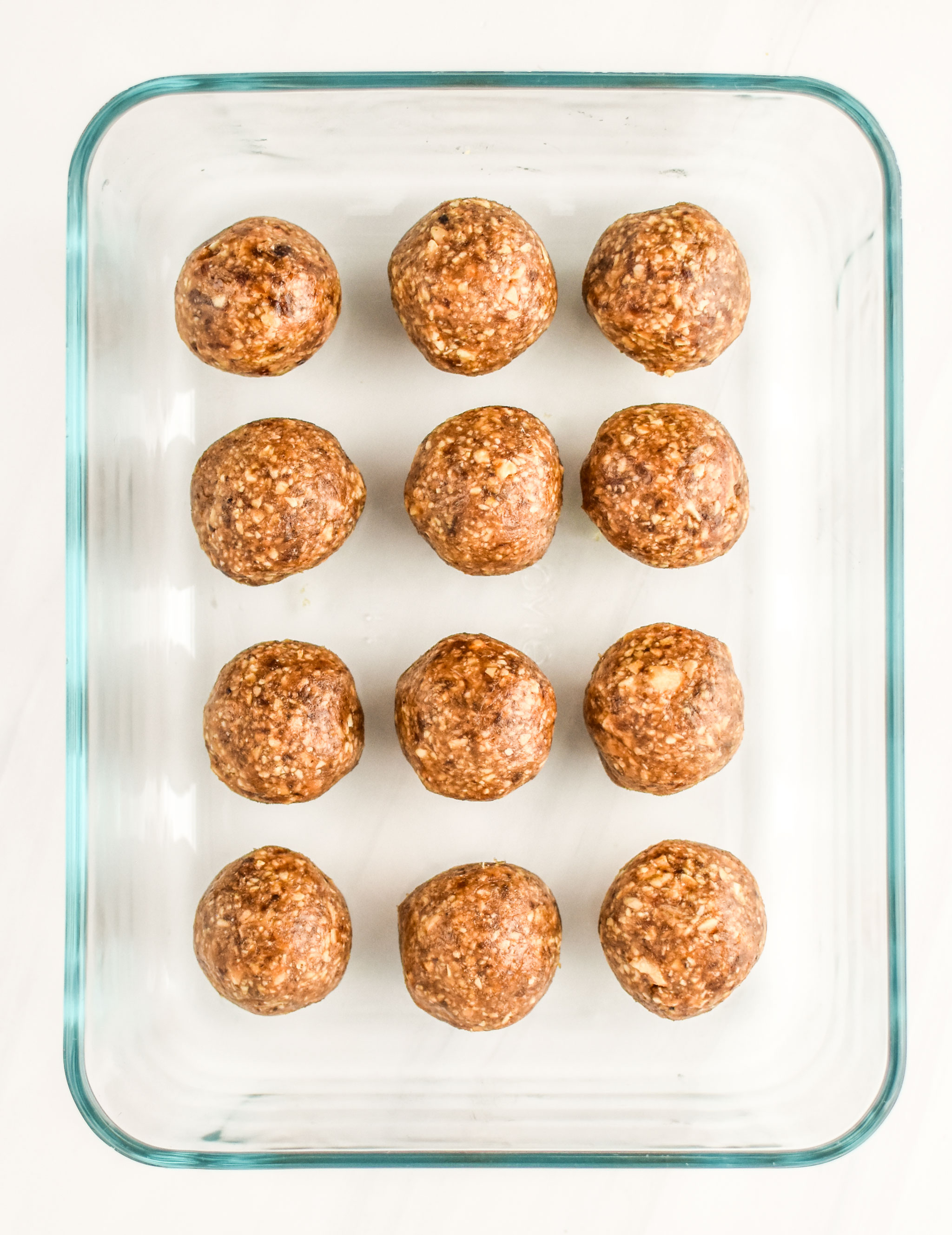 Why balls and not bars?
I used to make my date-sweetened snacks as bars (see No-Bake Pumpkin Spice Date Bars or No-Bake Cinnamon Apple Date Bars), but this past year, I've decided that balls are better. Here's why:
With balls, you just form the balls and then you're done. With bars, you have to put parchment in a rectangular dish, press all the date mixture into the pan, take the pressed date mixture out of the pan, then cut it into bars. That's like, four more steps than balls.
It's super easy to grab one ball and shove it in your mouth. With a bar, you can not shove the whole thing in your mouth or risk choking.
One date ball is a slightly smaller snack than one date bar. You don't have to hold the rest of the bar while you chew the first part. The ball is a one-bite winner!
The balls are easier to store and they stay stuck together in ball shape. The bars might fall apart or break during storage.
Balls > bars! At least when it comes to date/nut creations (& legume, because peanuts are nut imposters).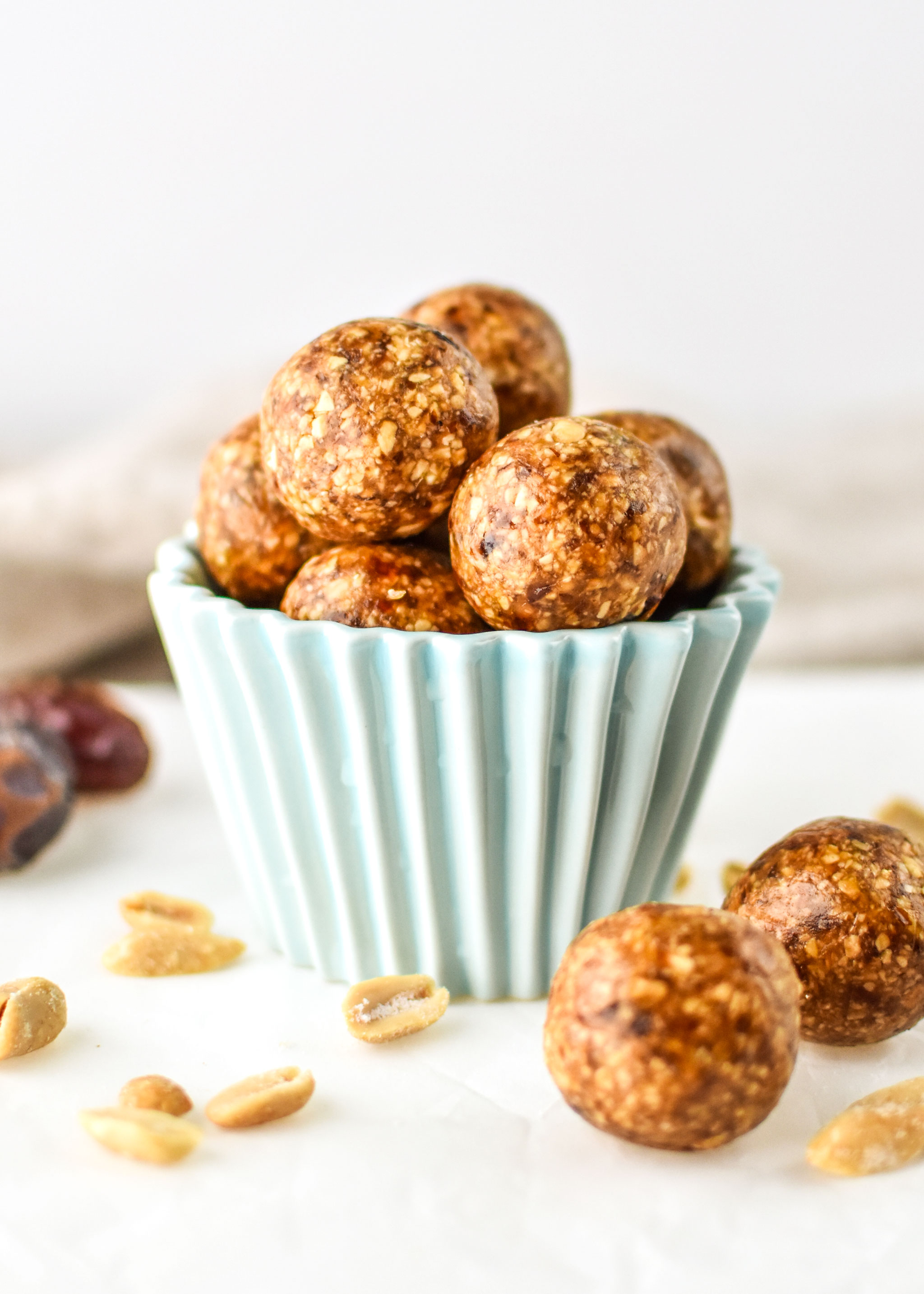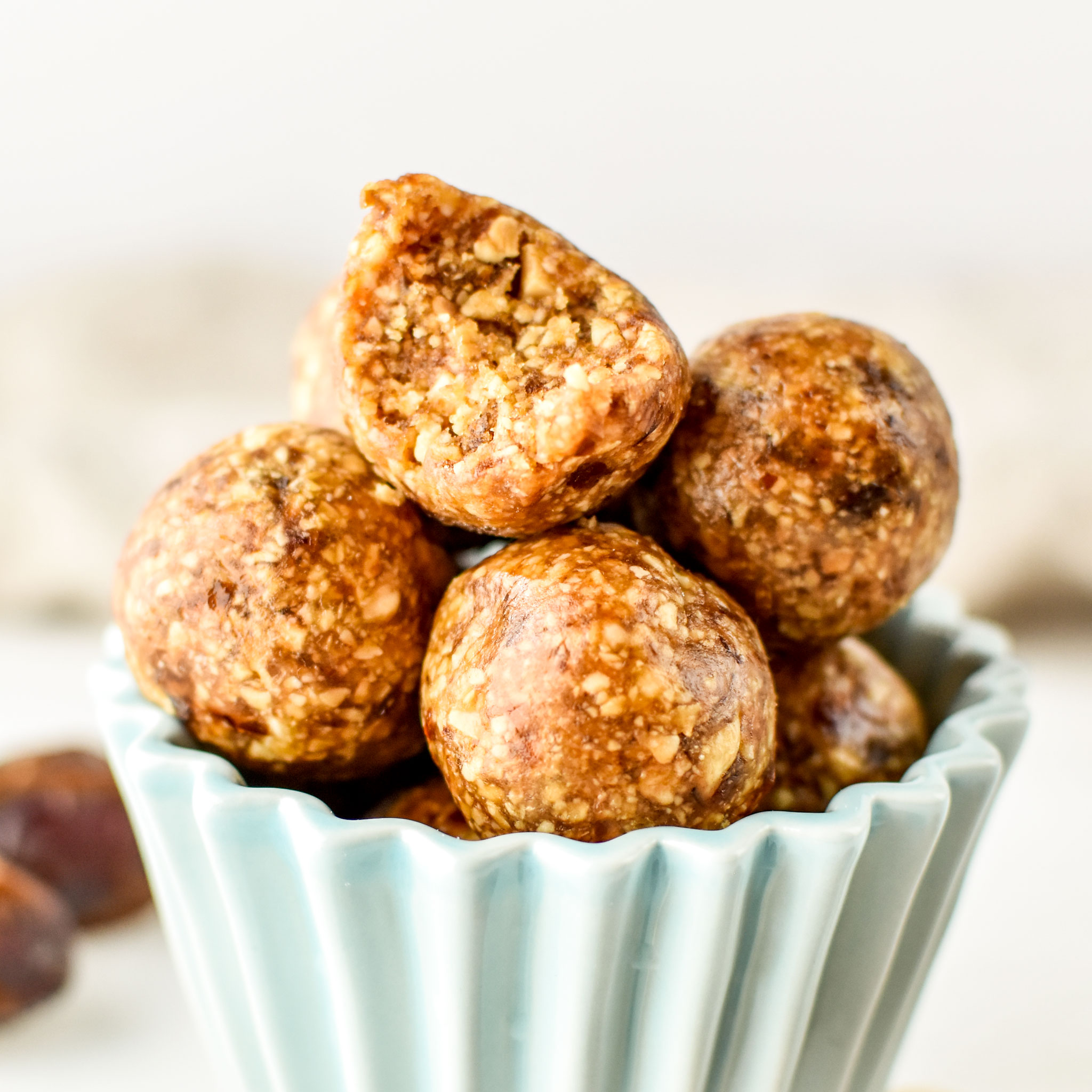 More snacks from Project Meal Plan:
Recipe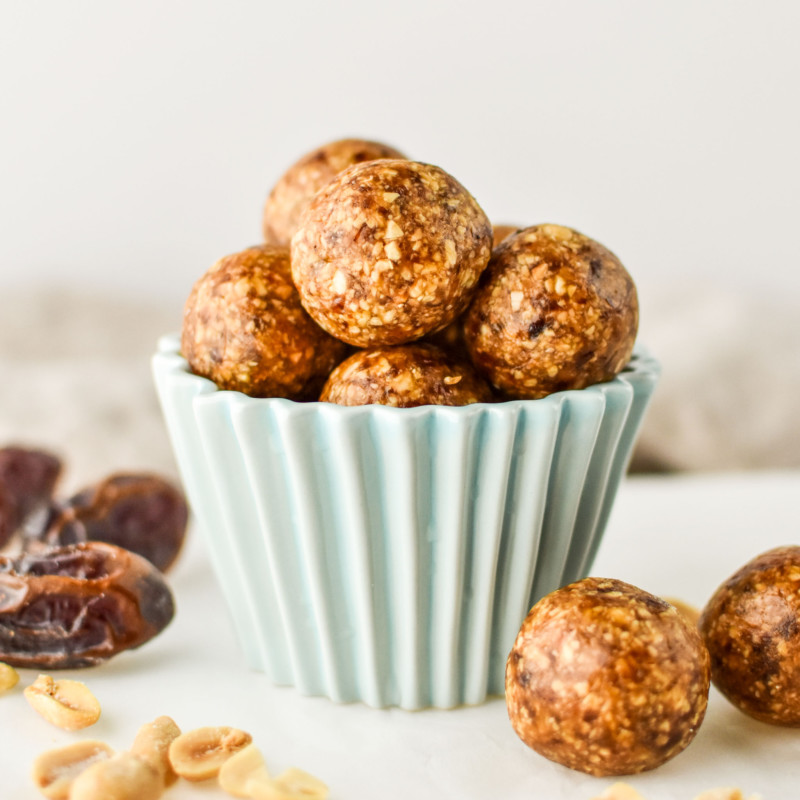 2 Ingredient Peanut Butter Cookie Balls
Prep:
10 minutes
Cook:
0 minutes
Total:
10 minutes
These Peanut Butter Cookie Balls taste JUST like a peanut butter cookie. Best part? This version is no-bake and made with only TWO ingredients in your food processor! Hello new favorite guilt-free snack!
Ingredients
10

medjool dates, pitted (use juicy dates!)

1

+

1/4 cup

roasted, salted peanuts

1 tablespoon

water
Instructions
Add all dates and 1 cup of the peanuts to a food processor and blend on High for about 30 seconds, until well blended. Add remaining 1/4 cup peanuts (for 'chunky' peanut butter!) and 1 tablespoon of water. Pulse for about 10 seconds, until the mixture starts to clump together.
Use a scooper and gloved hands to form the mixture into 12 balls. Store in an airtight container on the counter for up to one week.
Notes
If using deglet noor dates (or any drier dates), soak in boiling water for 10 minutes on the counter then drain completely. Nutrition information estimated with My Fitness Pal.
Nutrition Information
Serving Size:

1 ball

Calories:

122

Fat:

10g

Carbohydrates:

15g

Fiber:

2g

Protein:

4g
Recipe Card powered by
How incredibly easy are these 2 Ingredient Peanut Butter Cookie Balls? If you love them, comment below or be sure to tag me @ProjectMealPlan. Use #projectmealplan on social media to share your PB ball creation with me!