1 Comment
Posted: 06/11/2019
Updated: 09/23/2021
This Easy Strawberry Sauce is AMAZING – you won't believe you can make it at home! My version is sweetened with honey and takes just 20 minutes – no blender or special equipment required. It's a hit at brunch, or stash it in the fridge for your ice cream and pancakes!!
Jump to Recipe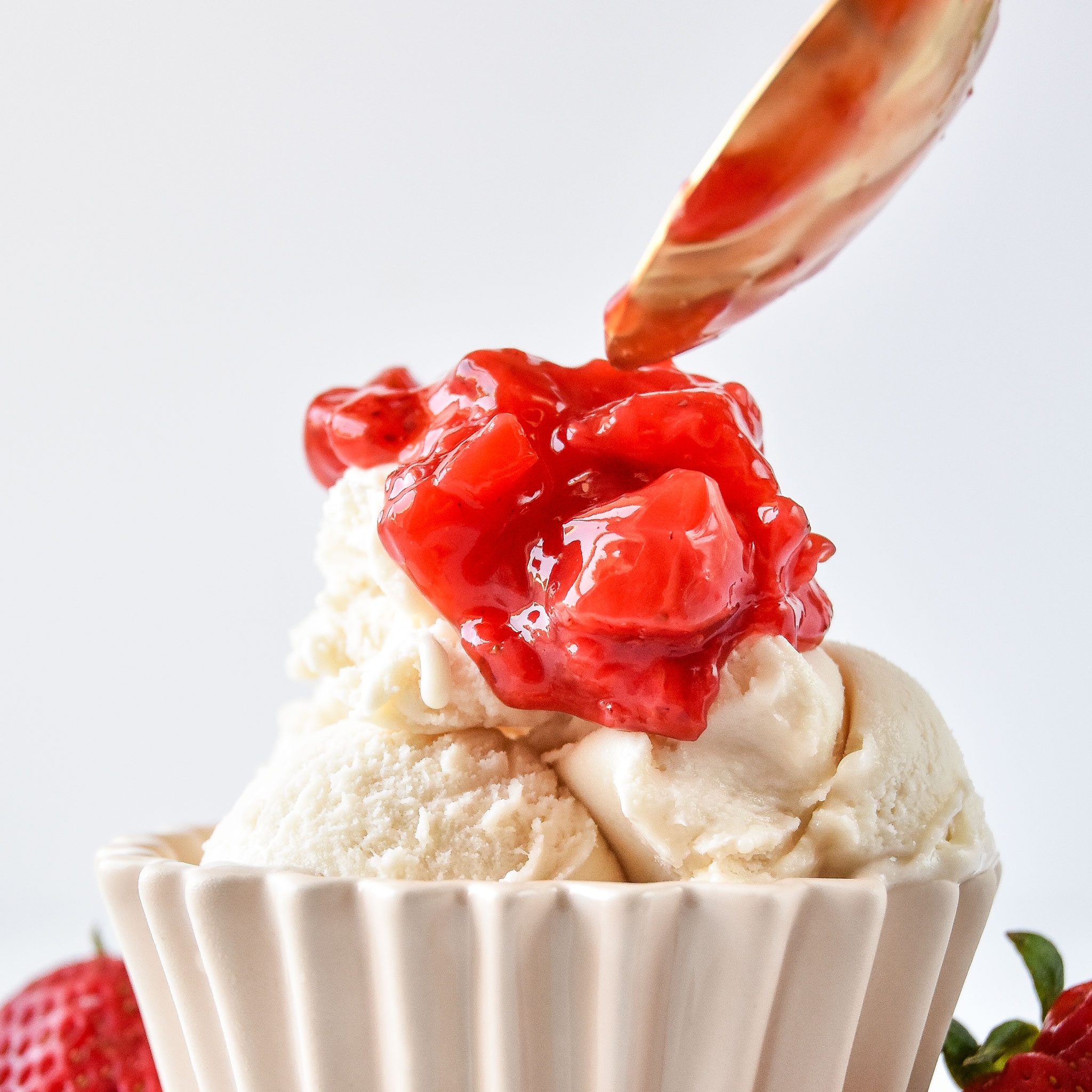 NEWSFLASH: Homemade fruit sauce isn't just for apples!!
Strawberry season has me thinking about strawberry everything, which includes sauce. It started as a craving for strawberry topping on my pancakes – I began with a blender version, moved to a stovetop version (easier for anyone to make), and finally came out with this masterpiece. It's honestly so similar to a basic applesauce recipe, I don't know how I didn't think of it sooner.
This stuff literally tastes like it's from a bottle or an ice cream store. It's magical. The best part is that it's NOT full of processed sugar and preservatives – just strawberries and a couple other ingredients you might already have at home.
How do you make Easy Strawberry Sauce?
To make this Easy Strawberry Sauce, you need these ingredients:
Strawberries – Fresh or frozen strawberries will work, but I prefer to use fresh organic strawberries. June is the best month to buy fresh strawberries. With frozen strawberries, the stovetop cook time will be increased and there will be a lot of extra moisture. A blender also might be necessary if the frozen strawberries are whole (and frozen) when you start, or you can let them thaw and them chop them up.
Honey – I use just two tablespoons of honey to sweeten the batch. Any kind you like will work.
Lemon juice – Cuts down the sweetness with a touch of tang, and really brings out the flavor of the strawberries.
Salt – Also helps bring out the flavors and make the strawberry sauce perfectly sweet.
Starch thickener – You could probably leave this out if you are opposed to using starch thickener, but I like the sauce thickened slightly. The Easy Strawberry Sauce recipe calls for cornstarch, but I also tested with arrowroot starch and that worked as well.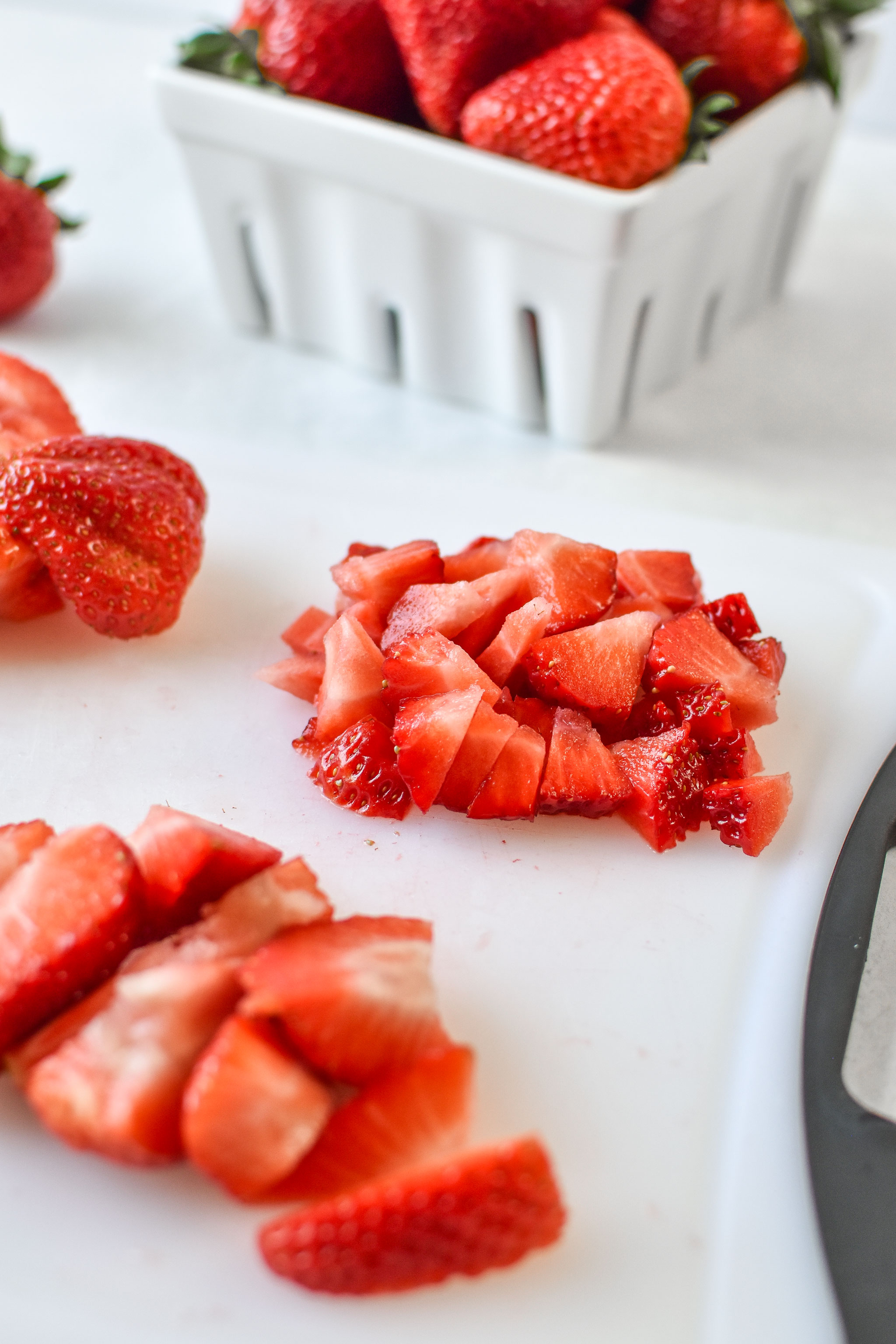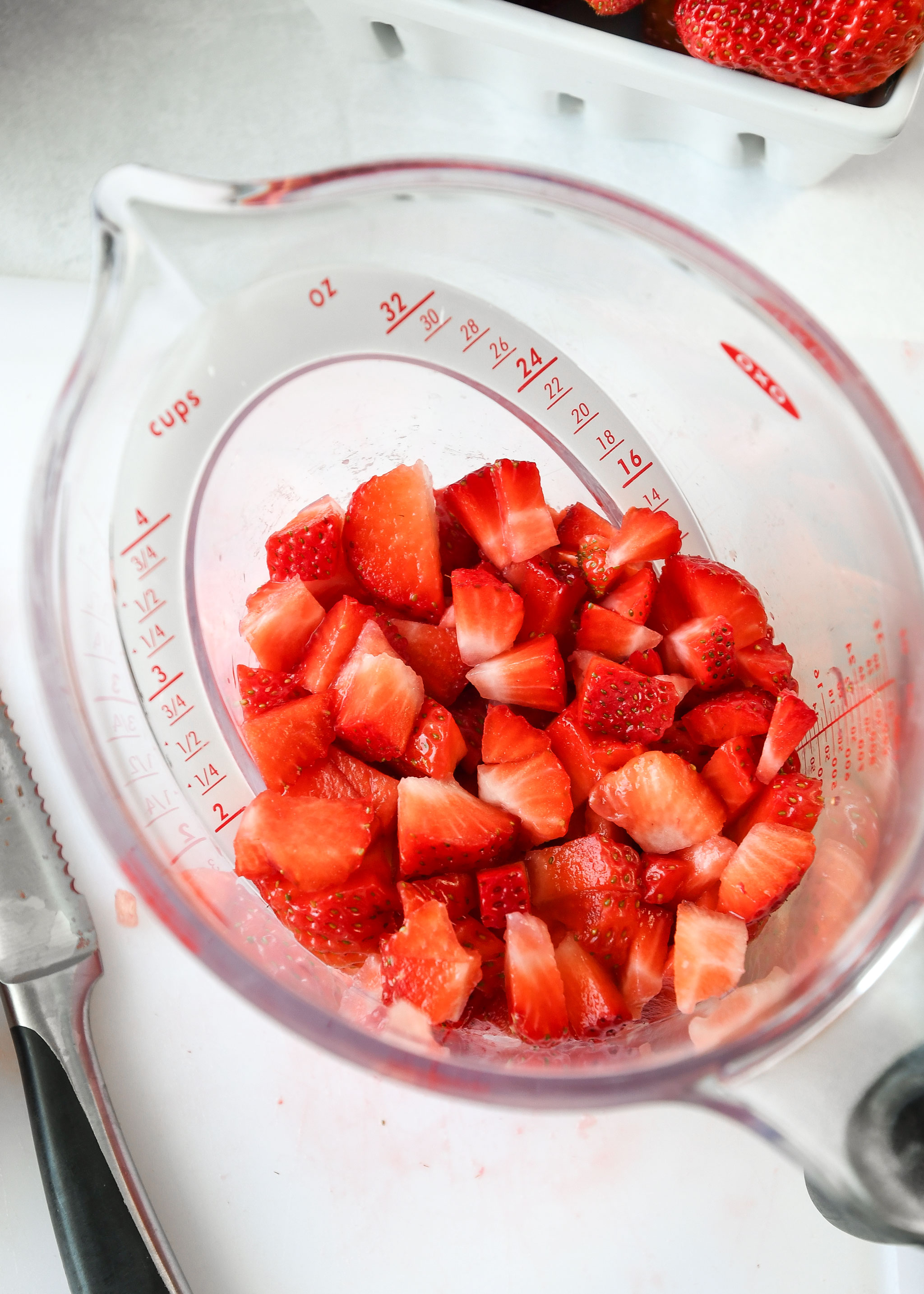 The size of the strawberry pieces will determine the consistency of the strawberry sauce when it's done. If you chop them up into pretty small pieces, it eliminates the need to use a blender to cut up the big chunks/whole strawberries. Bigger pieces going in = bigger pieces in your sauce.
Place the strawberries, honey, lemon juice, and salt into a medium saucepan over low to medium heat. Stir it frequently to avoid any burnt strawberries. After the first few minutes, the strawberries start to soften, and let off liquid as they are cooked. The process is very similar to applesauce, if you've made that at home!
Continue for about 10 minutes, until the strawberries are very soft. At this point, add the starch slurry if you'd like, then cook for about 2 more minutes as the sauce begins to thicken. Remove it from the heat and let it cool, then dig in! If storing, transfer to a container with an airtight lid (I usually just stick it in a mason jar). That's it! Easy Strawberry Sauce.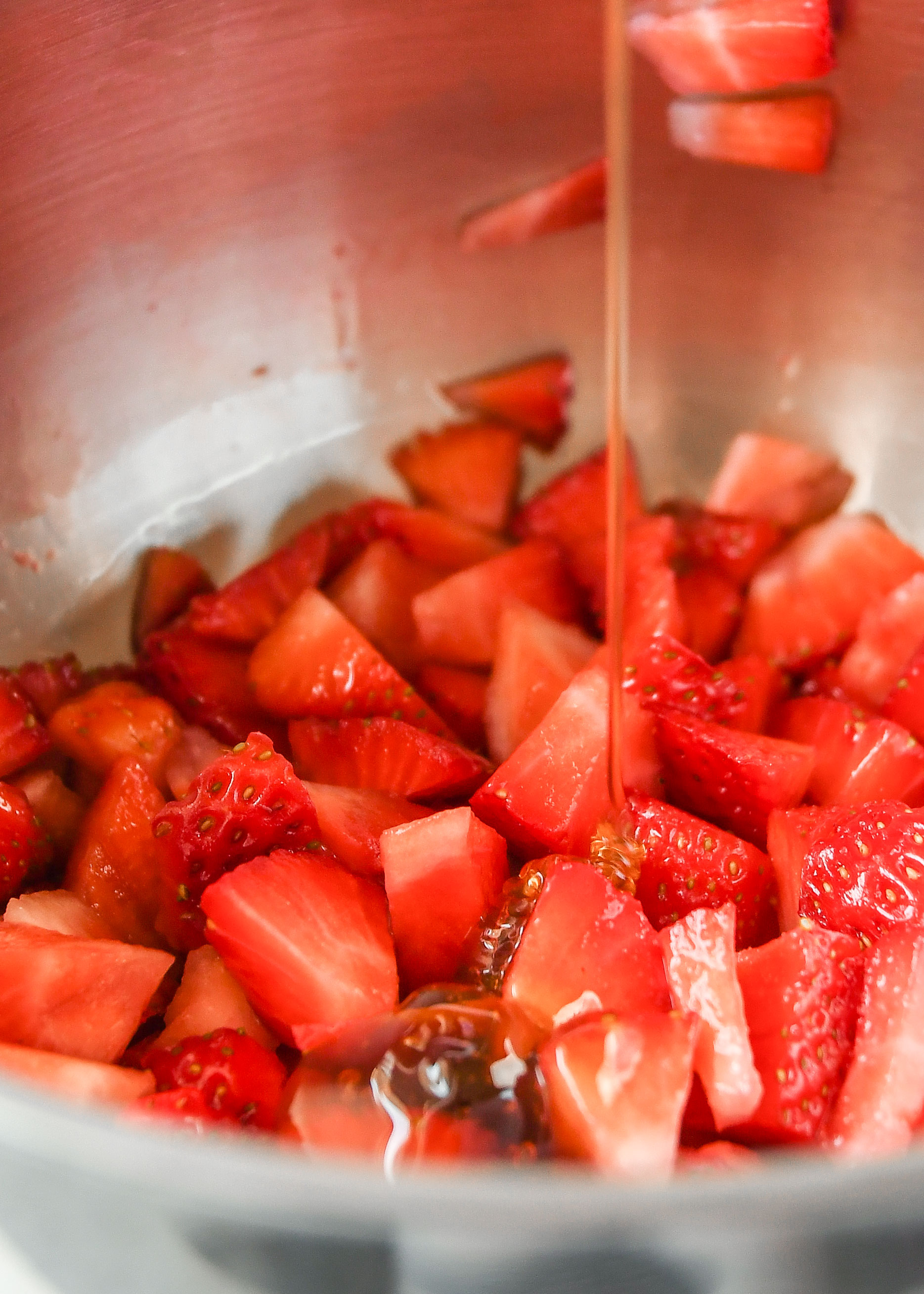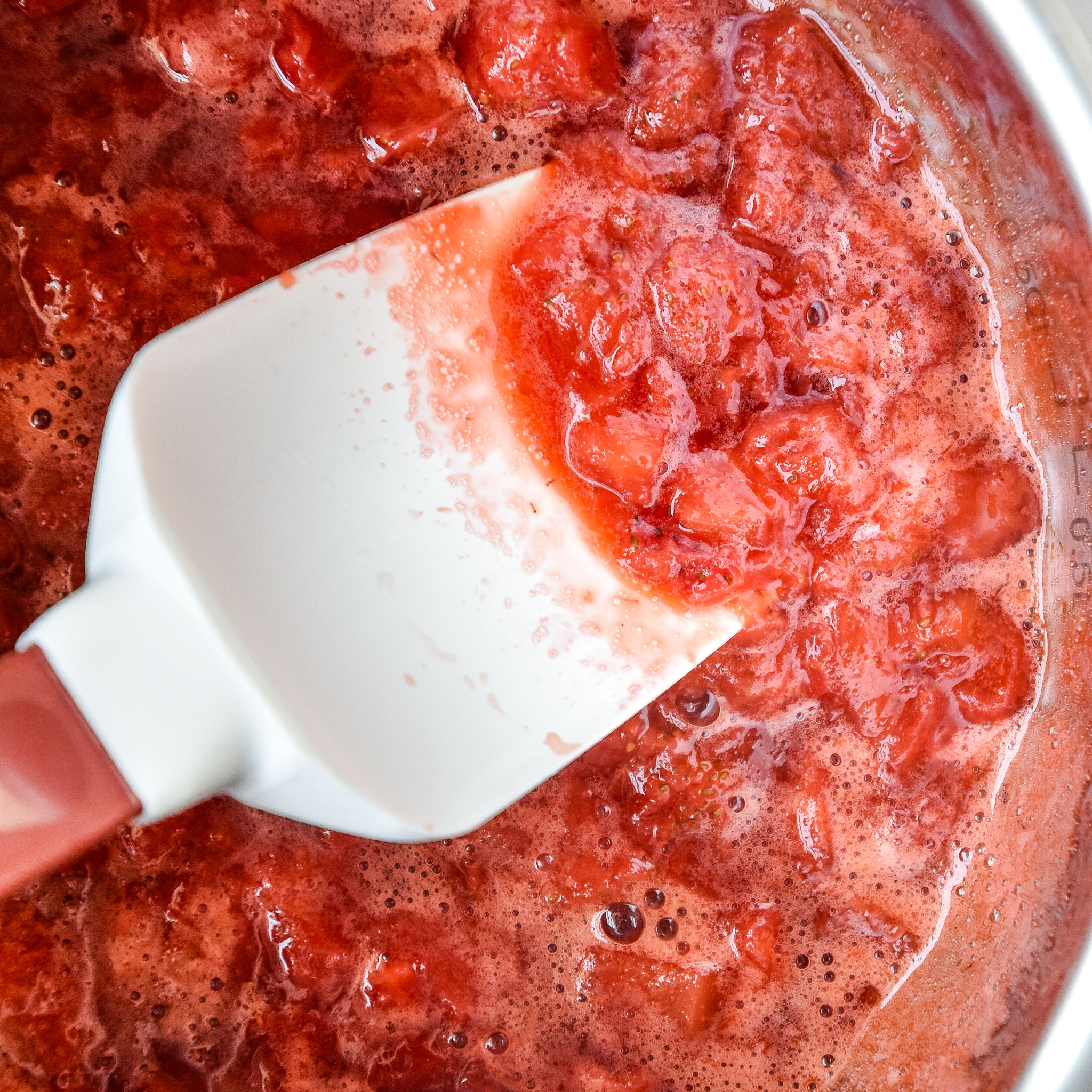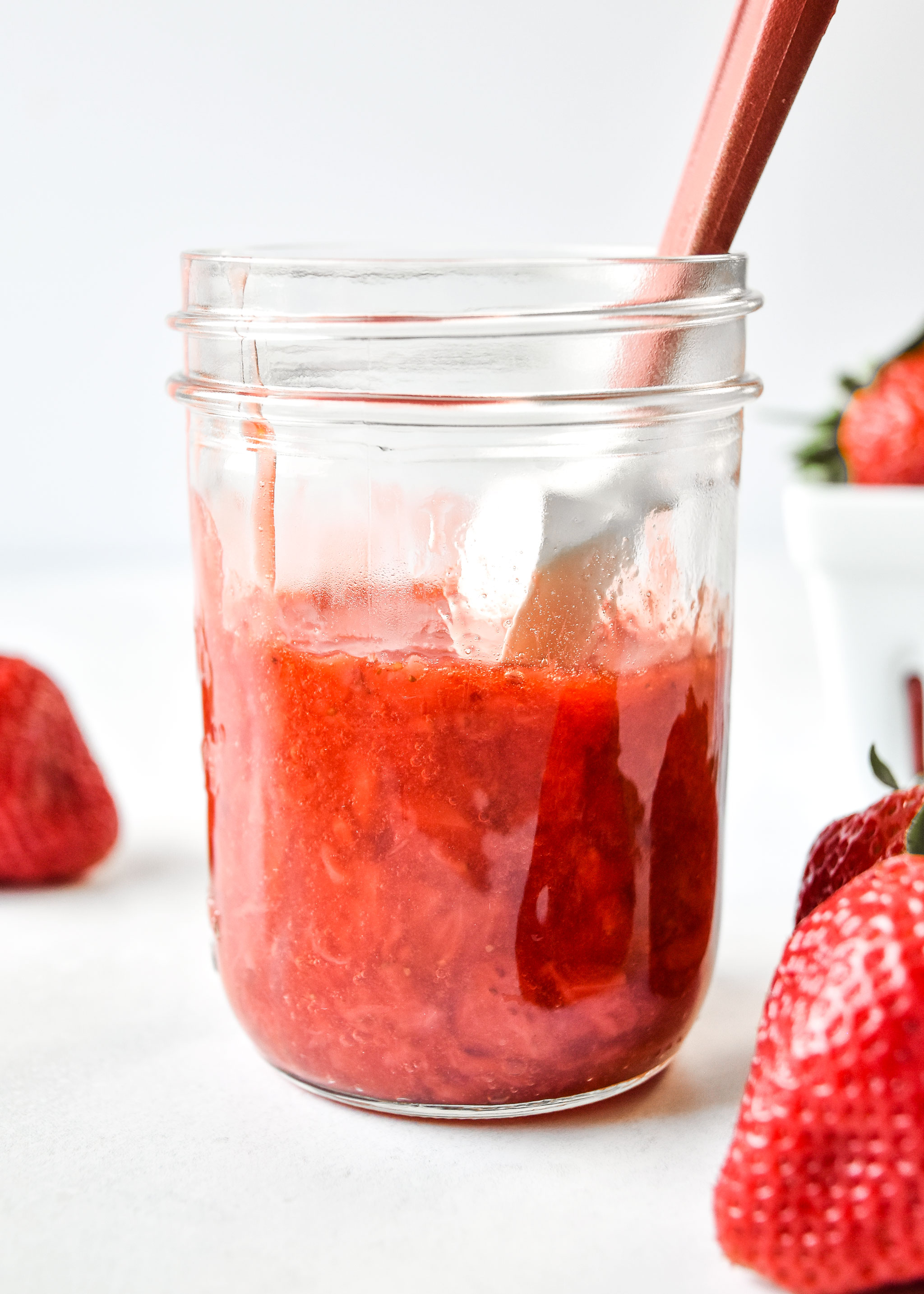 Can you use frozen strawberries for the Easy Strawberry Sauce?
Yes, you can use frozen strawberries to make this recipe. I haven't tried it, but there's no reason it wouldn't work. A few things to remember when using frozen vs fresh for this easy strawberry sauce recipe:
Frozen strawberries may have more liquid – beware of how much extra liquid you add when mixing up the starch slurry.
The stove top cook time may be increased 5-10 minutes depending on the size of the strawberries.
If the strawberries are whole, it might be best for consistency to blend them up a bit after cooking (immersion blender or standing blender would work).
Can you freeze the Easy Strawberry Sauce?
Yes, you can freeze the sauce. Freeze it in small portions (such as an ice cube tray) or one large mason jar for 3-4 months.
This recipe makes a pretty small batch – about 1 1/4 cups of strawberry sauce. If you like strawberries, it will go fast!
What are some uses for this Easy Strawberry Sauce?
First of all, you can literally eat this with a spoon it's that amazing. But if you want to exercise some self control, add a heading spoonful to any of the following:
pancakes/waffles – The first time I made homemade strawberry sauce, I put it on pancakes. I made strawberry pancakes too, but you can put it on any pancakes, including my favorite Banana Protein Pancakes.
ice cream – See photos. You guys know how ice cream works!!
cheesecake or other similar dessert – I'm going to use it as a filling in a cake and I'll get back to you but like how could it be bad
on yogurt – check out these Strawberry Whipped Yogurt Cups!
toast – Because who doesn't like toast and strawberries in candy form??
oatmeal – you can basically put this stuff on any sweet + breakfast combo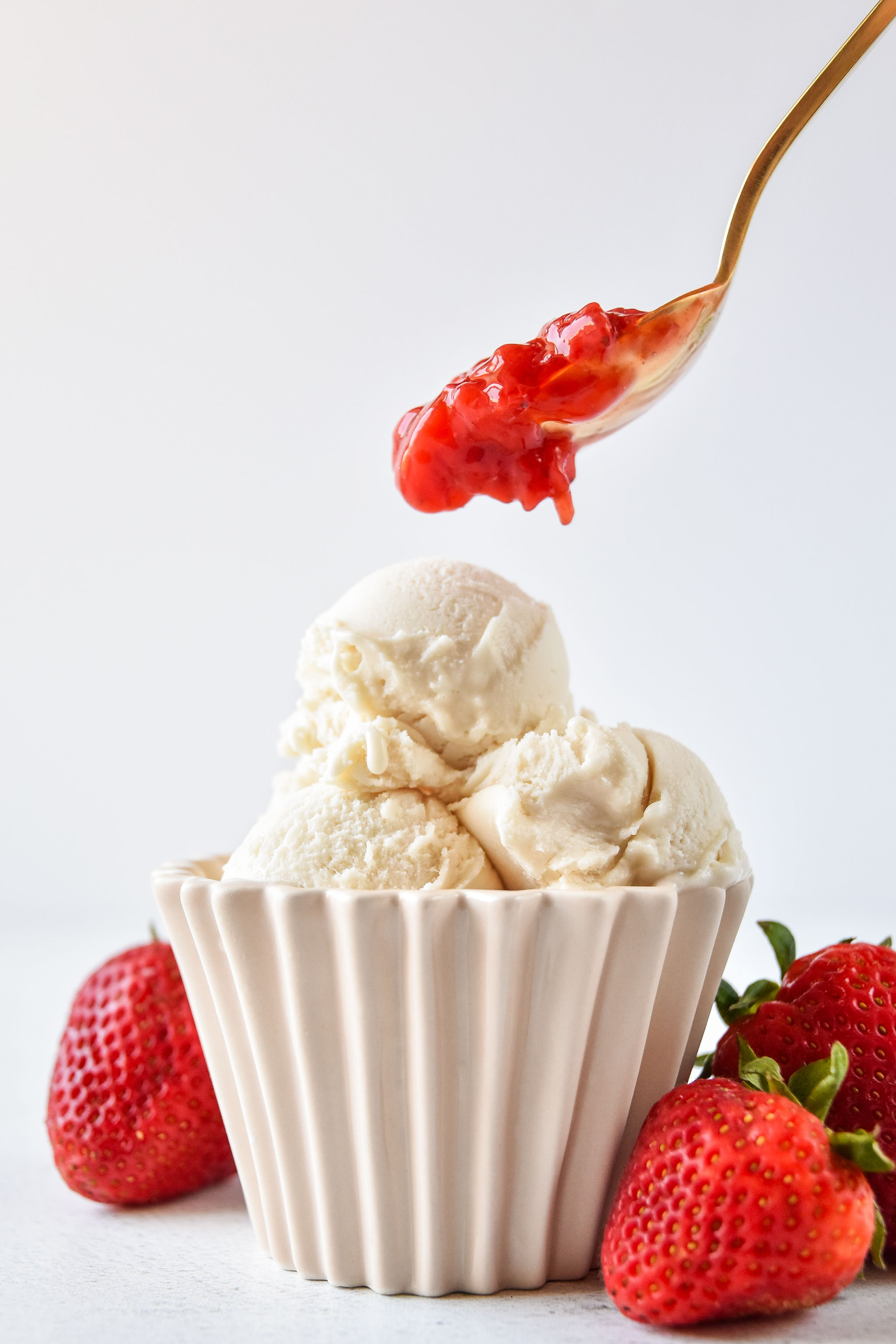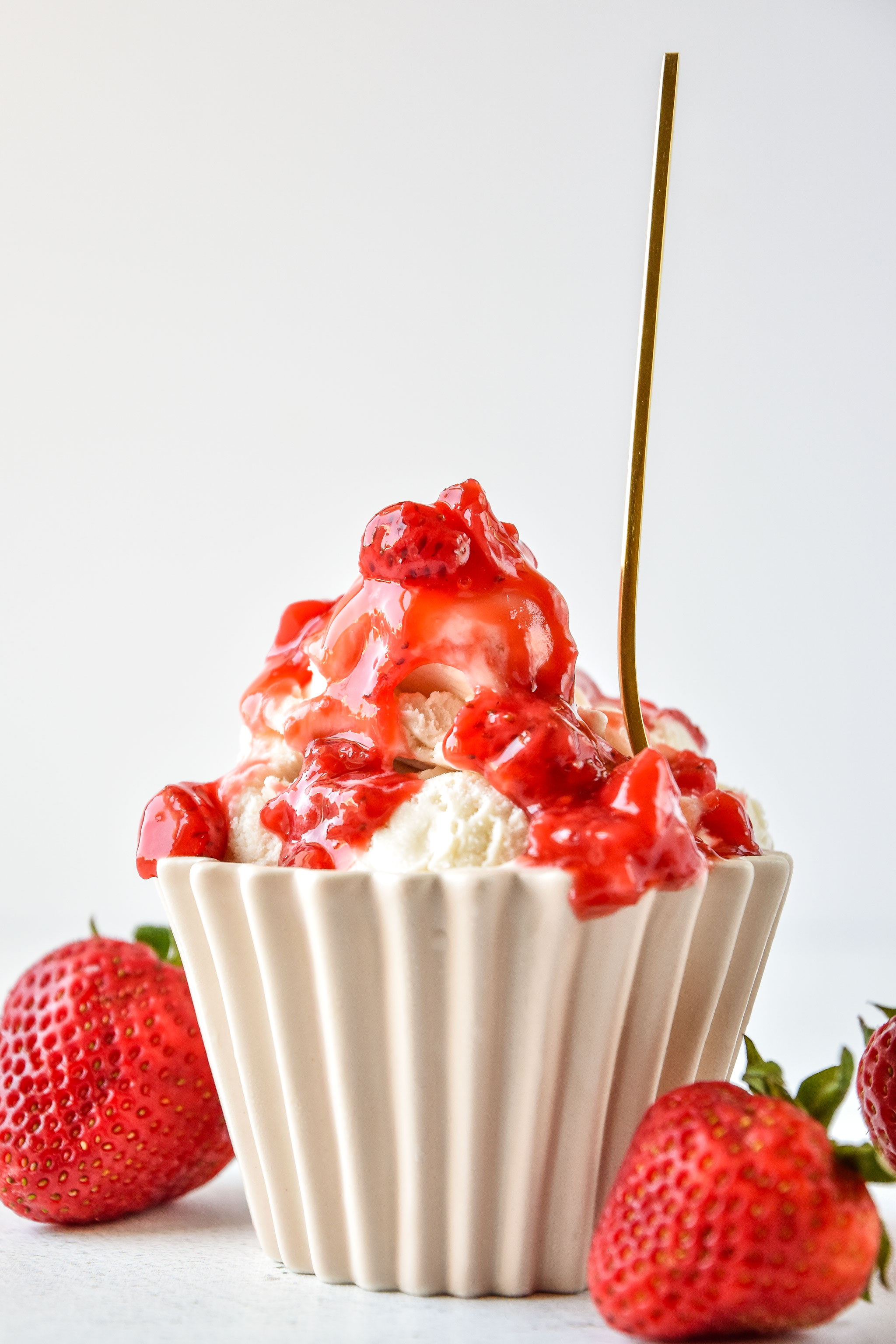 More simple dessert ideas from Project Meal Plan:
Recipe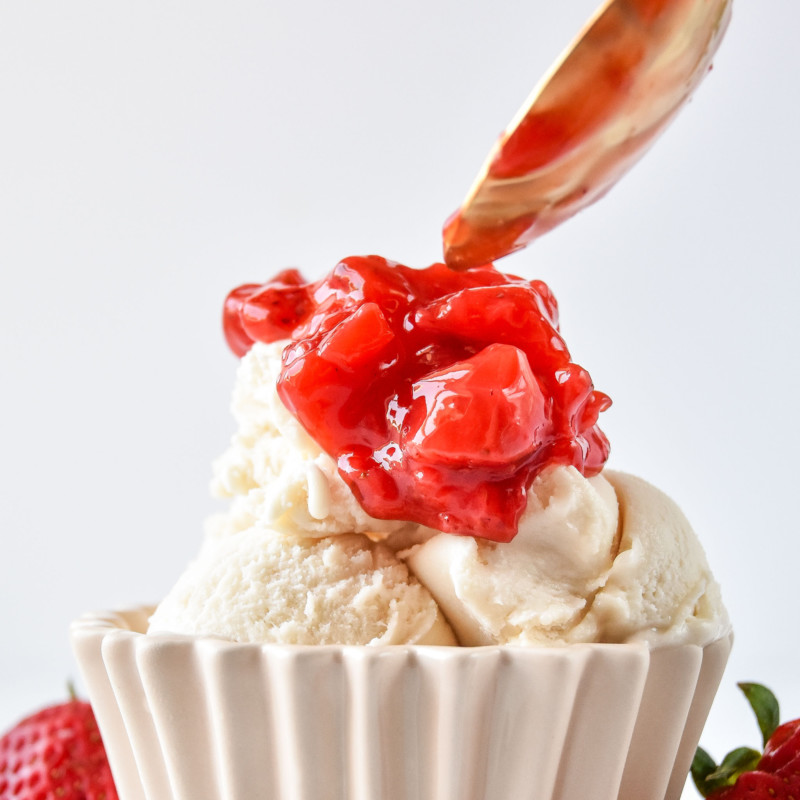 Easy Strawberry Sauce
Yield:
1 1/4 cups

sauce

1

x
Prep:
8 minutes
Cook:
12 minutes
Total:
20 minutes
This Easy Strawberry Sauce is AMAZING – you won't believe you can make it at home! My version is sweetened with honey and takes just 20 minutes – no blender or special equipment required. It's a hit at brunch, or stash it in the fridge for your ice cream and pancakes!!
Ingredients
1 pint

fresh strawberries, roughly chopped (about

2

–

2.5

cups packed; or

12

–

16

ounces)

2 tablespoons

honey

1 1/2 tablespoons

lemon juice (about

1/2

lemon's worth)
pinch sea salt (1/8 teaspoon)

1/2 tablespoon

cornstarch + 2 tablespoons water, mixed together (can sub arrowroot)
Instructions
Place the strawberries, honey, lemon juice, and salt into a medium saucepan over low heat, stirring frequently. Continue simmering for about 10 minutes total, until the strawberries are very soft.
Add the starch slurry (optional for thickening), then cook for about 2 more minutes as the sauce begins to thicken. Remove from the heat and enjoy immediately, or let it cool in the pan for at least 15 minutes and transfer to an airtight container (I usually just stick it in a mason jar). Will last in the fridge for up to 5 days or freezer for 3-4 months.
Notes
Nutrition information estimated with My Fitness Pal.
Nutrition Information
Serving Size:

1/4 cup

Calories:

53

Sugar:

11g

Fat:

0g

Carbohydrates:

14g

Protein:

1g
Recipe Card powered by
I want to see what you made! Show me what you made with this Easy Strawberry Sauce on social media by tagging @projectmealplan or using the hashtag #projectmealplan. I'll be able to find your creation that way!