AMAZING 4 Ingredient Mango Lime Nice Cream is made with just bananas, mango, lime juice and a little bit of unsweetened almond milk! It's easy to make, smooth and creamy, and just happens to be completely dairy free!
Jump to Recipe
I'm sure most of you know about 'nice cream' – the dairy-free ice cream phenomenon that hit the Internet in the early 2010's, but if you don't, let me break it down for you…
What exactly is "nice cream"?
Nice cream is everything you love about ice cream, but just a little nicer on your gut.
A basic nice cream recipe simply uses frozen bananas and blends them until a smooth, soft-serve like consistency is created. It can be eaten right away, or frozen for a few minutes then scooped for a thicker, ice cream like consistency.
Regular vanilla ice cream has about 207 calories per 100g, not to mention the added sugar and the dairy included. A 100g serving of plain banana nice cream has barely 100 calories, zero added sugar, and no dairy. I LOVE ice cream, but I love how nice this nice cream is!!
Is banana nice cream any good?
Banana nice cream is surprisingly delicious. Yes, it tastes like bananas, but the flavor combinations are endless. The final product doesn't have to taste like bananas at all. It's smooth, creamy, and totally satisfies that ice cream craving.
My favorite way to eat nice cream is when it's perfectly scoopable: it's been frozen for a 20-30 minutes in a loaf pan; it's not 100% frozen, but close; it's the nearest consistency to ice cream!
If the strong banana taste isn't your thing, you should probably try out a few flavor combinations. My current recommendation is to try this 4 Ingredient Mango Lime Nice Cream – it tastes like summer in a bowl! I also really need to try this 5 Ingredient Peanut Butter Cup Nice Cream from Pinch of Yum. OMG.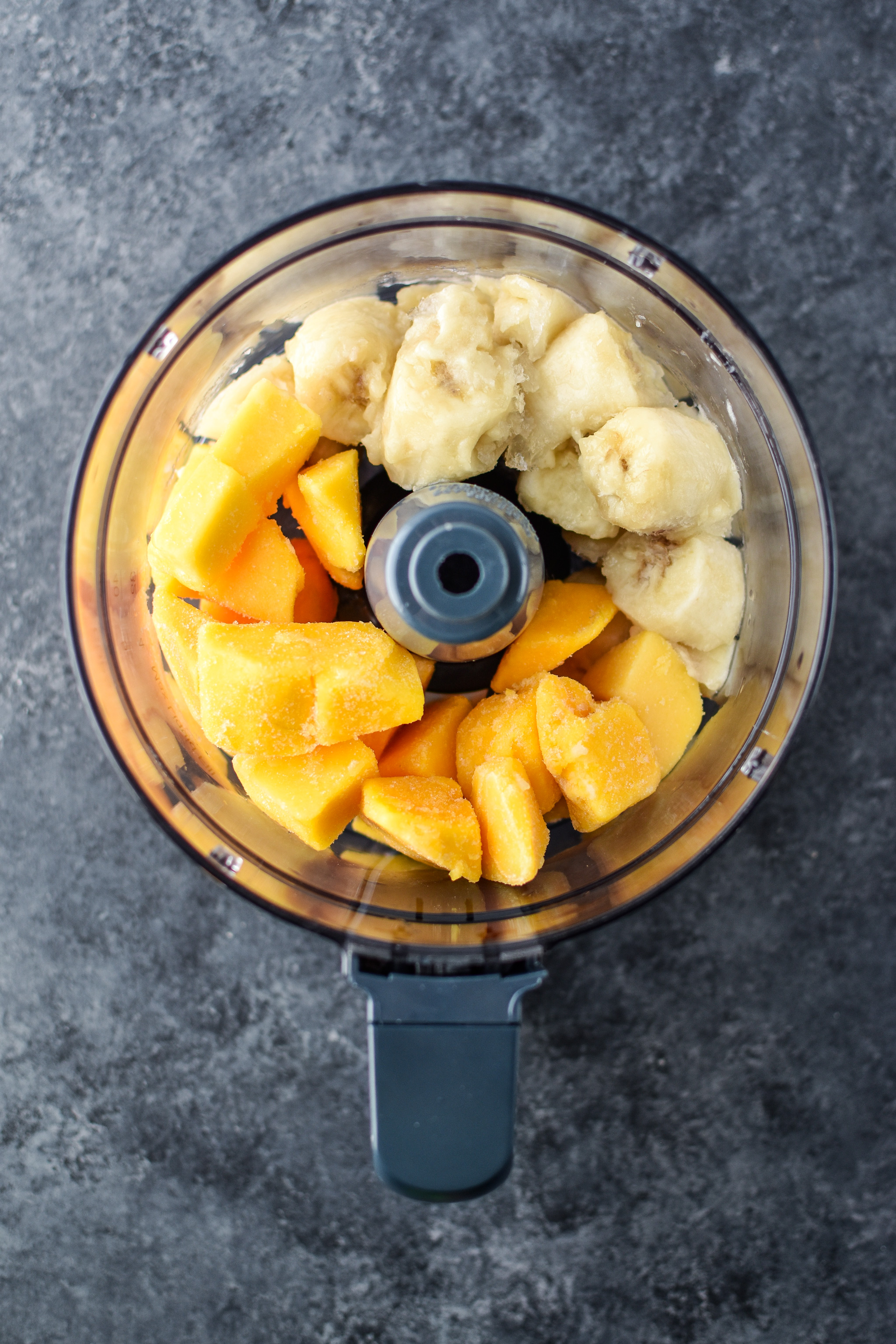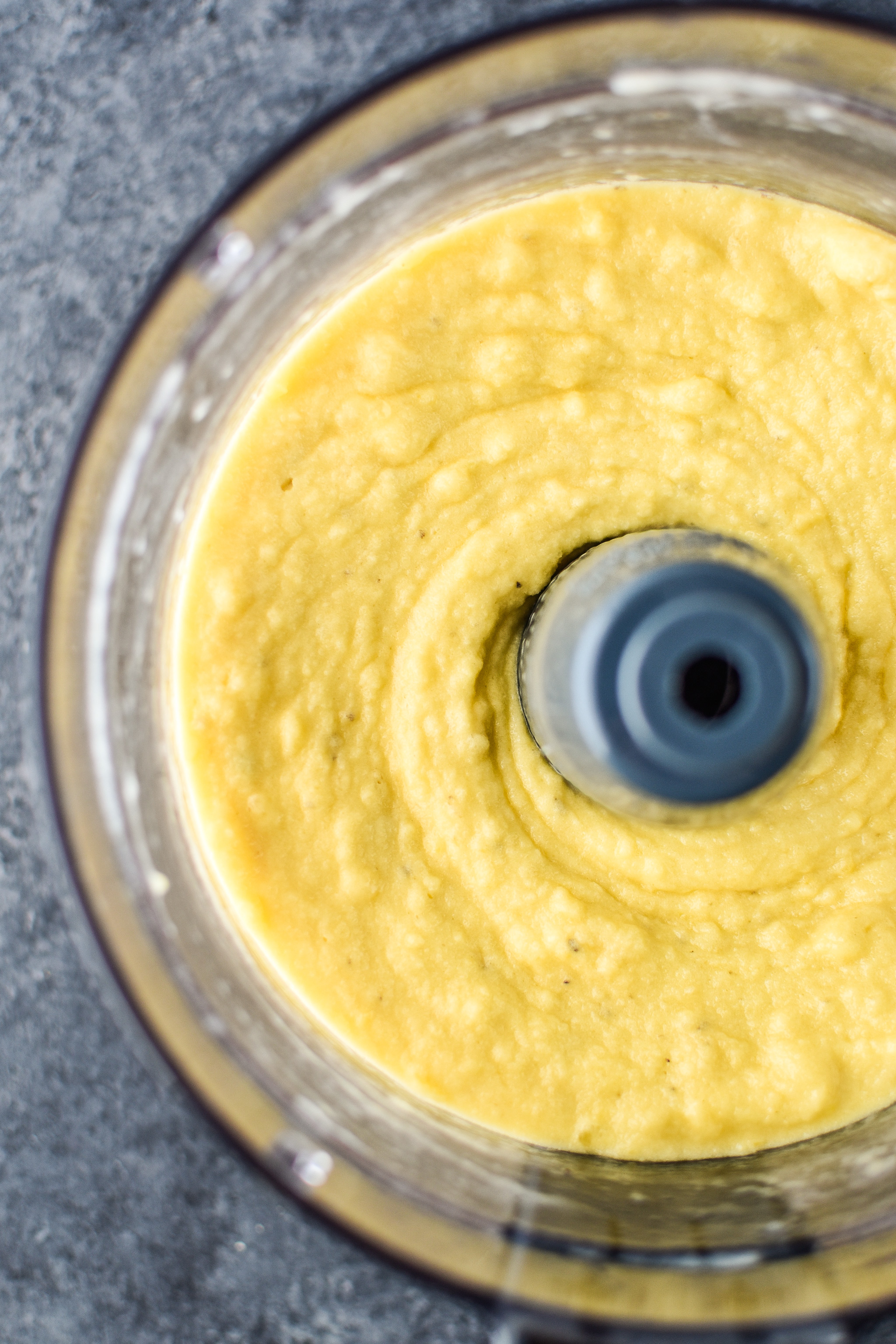 How do you freeze bananas for nice cream?
There's no real "wrong way" or "right way" to freeze the bananas for nice cream, since they all get blended up in the end. But I do have some tips to make your bananas easy to use from frozen.
Start with overripe bananas. They're sweeter and will give your final nice cream more sweetness without added sugar.
Peel and then cut the bananas into smaller, 1 inch pieces before freezing. Your blender or food processor will have an easier time with several small pieces rather than a large hunk of frozen banana.
To avoid a huge hunk of frozen bananas (even if you cut them small), freeze all the bananas in a single layer on a flat baking sheet lined with parchment paper for at least 4 hours. This will ensure every piece of banana freezes separately. This method is best when freezing lots of bananas at once.
After the initial freeze, move all your frozen bananas to a freezer friendly storage container or Ziplock bag. This way you can grab only what you need and leave the rest in the freezer.
So how do you make banana nice cream?
You'll want to start with frozen fruit to ensure a thicker consistency. Follow the steps outlined above for freezing your bananas.
It's important to use a either a food processor or high powered blender to make the nice cream. I like to use my food processor for nice cream because my Vitamix requires a bit more liquid than I want to add to this recipe for it to blend properly. However, it's definitely worth a try and would probably work if you used the tamper.
I used the Cuisinart 8-Cup Food Blender (affiliate link!) to make this recipe, but any food processor or high powered blender should be doable. Remove the lid and scrape down the sides of the bowl as necessary to make sure everything is completely blended.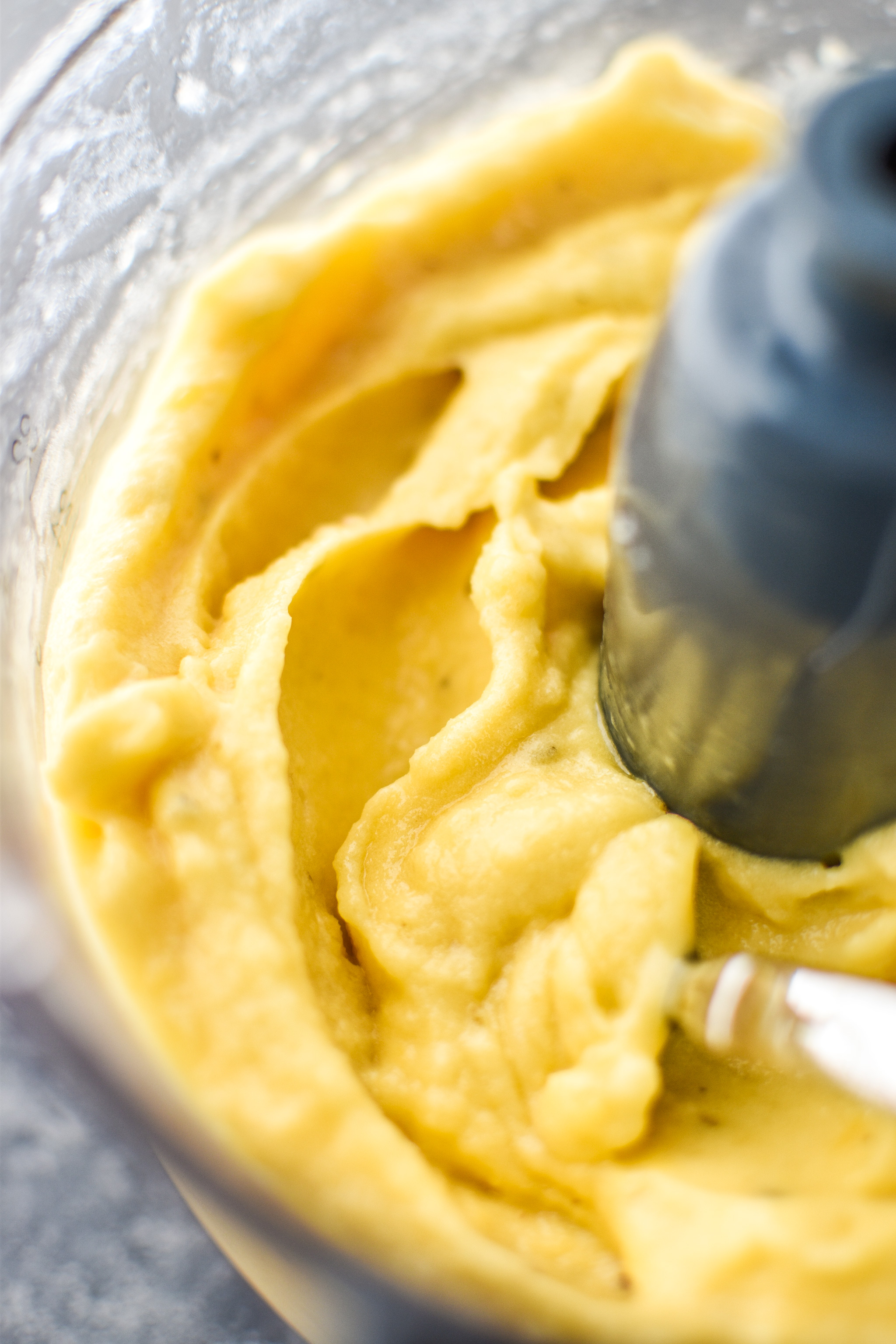 If you've got add-ins for flavor combos, make sure to do that now. Frozen chunks you want completely blended should be added at the beginning with the banana (ex. mango in this recipe). However, if you want some chunks or you're working on your own flavor combo, add anything you don't want completely blended last (ex. PB cup chunks in the Pinch of Yum recipe).
IMPORTANT: After blending well, make sure to do a taste test! Too chunky? Keep blending. Too thick? Add more almond milk. Too thin? Add another chunk of banana.
My recipe (Mango Lime Nice Cream) calls for frozen mango chunks, juice from one lime, and a couple tablespoons of unsweetened almond milk to help blend. Easy!!
If you want, you can eat it now. It's going to be a soft-serve like consistency. Alternatively, spread out the mixture in a 9×5 loaf pan and stick it in the freezer. Remove after 20-30 minutes, and guess what? It's now scoopable!!
Reasons I love this Mango Lime Nice Cream:
Most importantly, it tastes like SUMMER. And also mango sherbet.
It's great for using up leftover bananas (even just freezing the bananas is a great way to avoid wasting them).
I've been keeping frozen mango on hand for smoothies, and I'm glad to find another use for it.
No added sweeteners. For real, I would probably guess there was a TB of maple syrup or something, but NOPE.
Satisfies sweet/cold cravings.
Easy ingredients you can buy anywhere.
Wait are you waiting for? Go buy some bananas, let them ripen, and freeze away. You're well on your way to nice cream for dessert!
More make-ahead dessert recipes from Project Meal Plan:
Recipe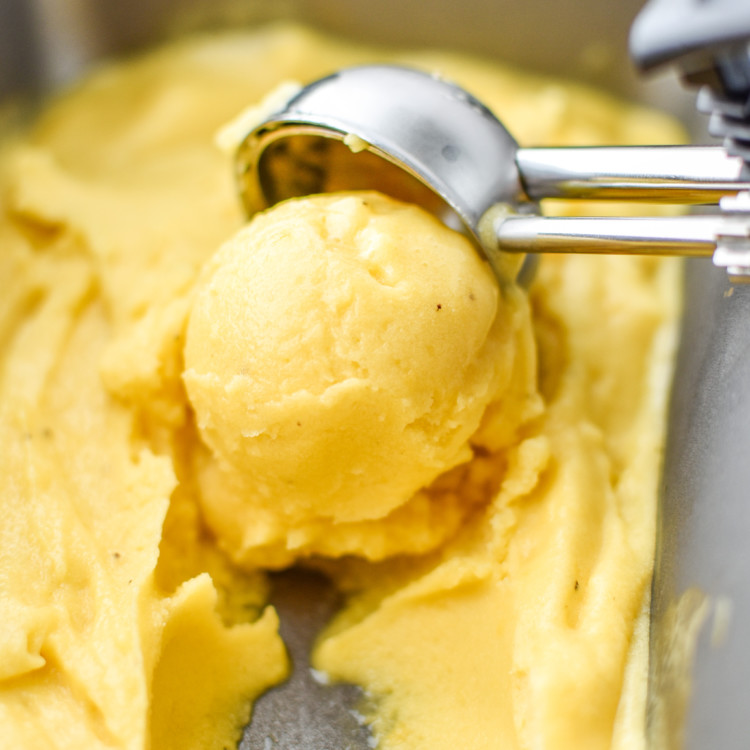 4 Ingredient Mango Lime Nice Cream
Prep:
10 minutes
Cook:
0 minutes
Total:
10 minutes
AMAZING 4 Ingredient Mango Lime Nice Cream is made with just bananas, mango, lime juice and a little bit of unsweetened almond milk! Easy to make, smooth and creamy, and completely dairy free!
Ingredients
2

large overripe bananas, peeled and cut, frozen

2 cups

mango chunks, peeled and cut, frozen

2 tablespoons

fresh lime juice (juice from

1

lime)

2

–

3

tablespoons unsweetened vanilla almond milk
Instructions
Add all ingredients to a food processor or high-powered blender. Blend on high for about 1 minute, or until completely blended with no chunks. Remove lid and push down the sides of the bowl as necessary to help blend. Add additional almond milk one tablespoon at a time as necessary to help blend.
You can eat the nice cream at this point – it will have a smooth, soft-serve like consistency.
OR – transfer the nice cream mixture into a freezer friendly flat pan (such as a 9×5 loaf pan). Freeze for 20-30 minutes. Remove from freezer and use an ice cream scoop to serve. The nice cream will have a thicker, sherbet like consistency at this point.
Store in the freezer for up to 4 days. To serve from frozen, remove from freezer and let thaw on the counter for 20 minutes until scoopable. Alternatively, place the nice cream in the microwave for 30 seconds, then scoop and serve (be sure to use a microwave safe container).
Notes
For the mango, I generally use precut organic frozen fruit from Costco. Nutrition information estimated with My Fitness Pal.
Nutrition Information
Serving Size:

about 1/2 cup

Calories:

109

Fat:

1g

Carbohydrates:

27g

Protein:

1g
Recipe Card powered by
Thanks for checking out the 4 Ingredient Mango Lime Nice Cream! Please tag me or use #projectmealplan on social media to share your nice cream creations!