How about some pancakes with a little holiday cheer? These Double Chocolate Peppermint Pancakes are perfectly qualified to satisfy your sweet tooth while also packing a little more protein than your average chocolate breakfast treat!
Jump to Recipe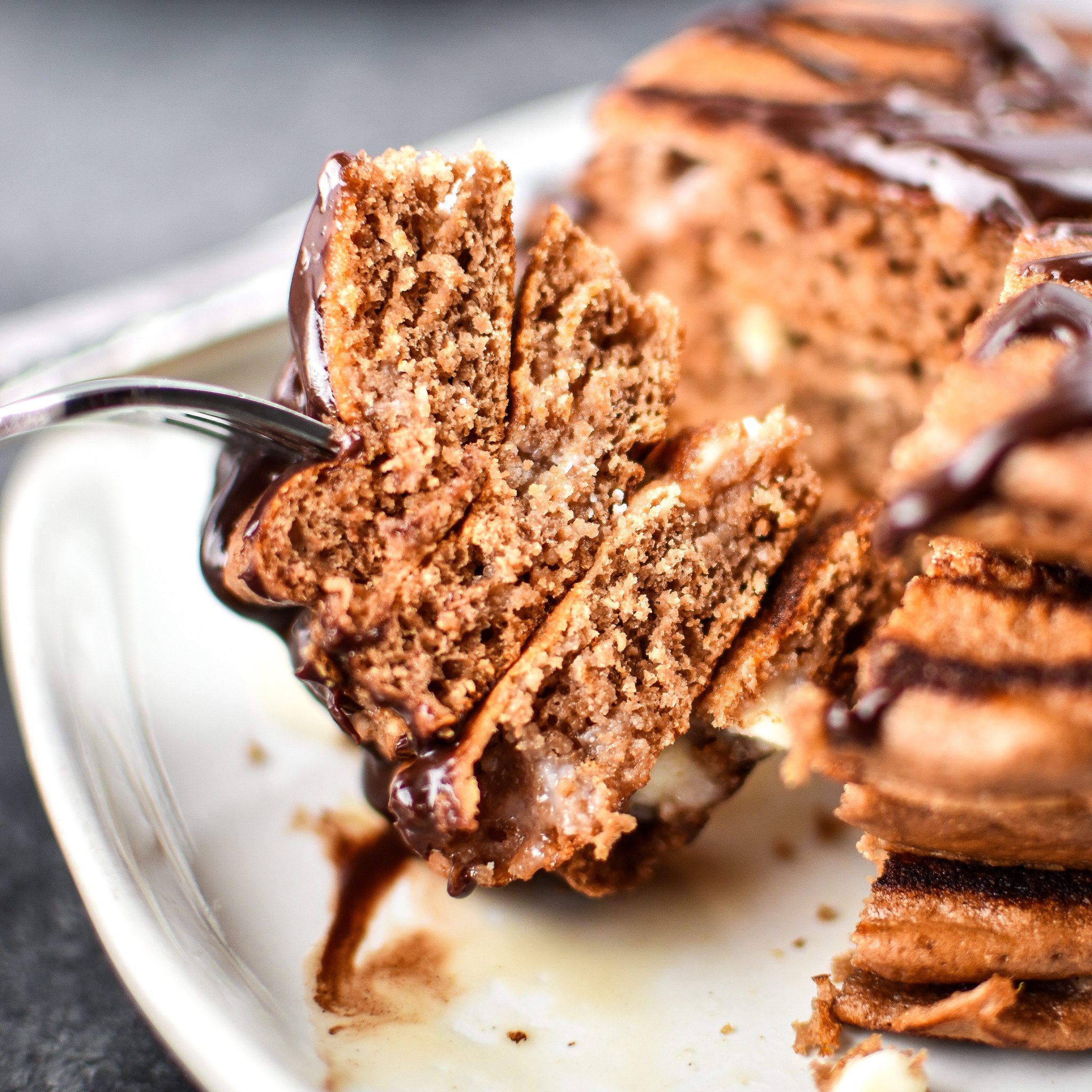 Approximately three Costco trips ago, I was casually strolling each aisle, just as I normally do. Specifically, I was located in the constantly rotating/shifting area of baking supplies, breakfast cereals, and spices. It was then that I suddenly noticed, the pallet of Kodiak Cakes mix was GONE.
I wish I could tell you that I didn't slightly panic.
This item wasn't even on my list.
But I was instantly upset that there may be a gap in our inventory of Kodiak Cakes, just in case we used up the rest in the pantry before my next Costco trip AND they had none again during that next visit.
Totally irrational thoughts, but they definitely occurred. That's how much I like Kodiak Cakes. Sorry Bisquick. I refuse you. And homemade pancakes from scratch just don't have that extra protein punch.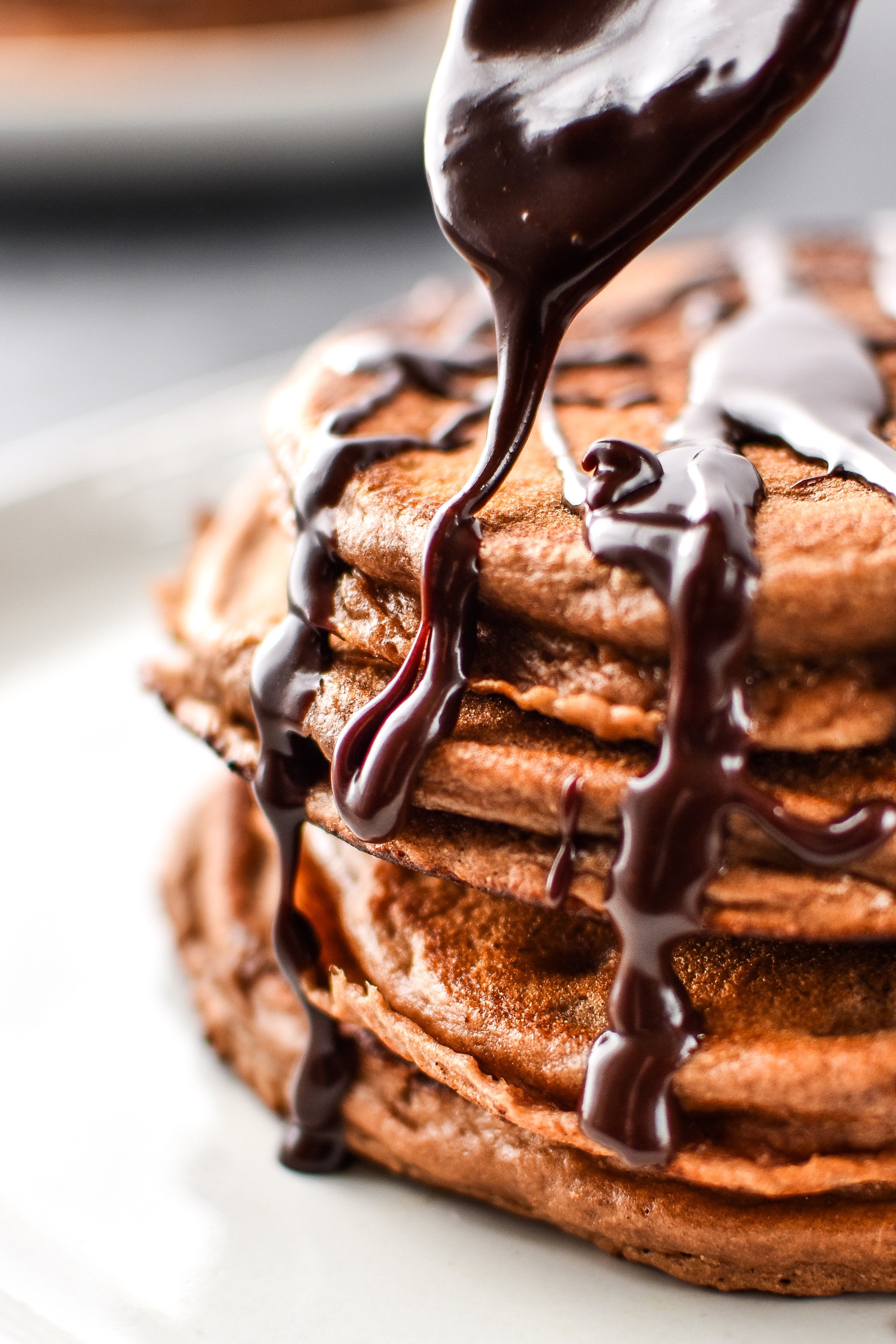 Reasons I like to meal prep pancakes:
You can eat them hot or cold.
Don't get me wrong here, I certainly love me some pancakes fresh off the griddle/stovetop/wherever they are cooked. But the convenience and chill factor of the fridge mixed with the peppermint chocolate is just so right. Sort of like comparing hot chocolate to chocolate milk. Same concept but different pros/cons at their various temperatures. Okay – maybe not the best comparison but hopefully you get it. These pancakes are temperature flexible. Which leads to my next reason:
They're so easy to grab and go.
It sounds weird because pancakes are normally consumed on a plate, drenched with toppings. But if you're actually trying to make healthy pancake choices, skip the extra syrup/chocolate/anything I have pictured, and eat them plain while on the go. EASY.
Literally make them however you want.
Pancakes are so versatile. I think that's one of the main reasons I love them. I particularly like using my absolute favorite Kodiak Cakes Flapjack Mix (as in I can't even remember the last time I had any other kind of pancake mix!) because it's packed with extra protein and super macro friendly. Their pancake base can even be made with plain old water, but I always go for eggs and milk to get that fluff factor. And those are just the options on the box!
More ways to customize pancake mixes (and specifically Kodiak Cakes mix if that's your jam too) to keep your meal prep DIFFERENT and not boring:

Use almond milk instead of regular milk or water.
Use chocolate almond milk instead of regular milk (UHhhh just thought of this and now I might have to go try it!!).
MIX IN whatever you want. Skip my silly crushed candy cane idea and go for whatever your heart desires.
Crush fruit and mix it in with your food processor/blender (like these Tropical Protein Pancakes).
Make marbled pancakes with two kinds of mix (we did this with chocolate kodiak cakes mix and peanut butter kodiak cakes mix – SO GOOD)
Get creative! That's how this recipe developed… crushed candy canes and all!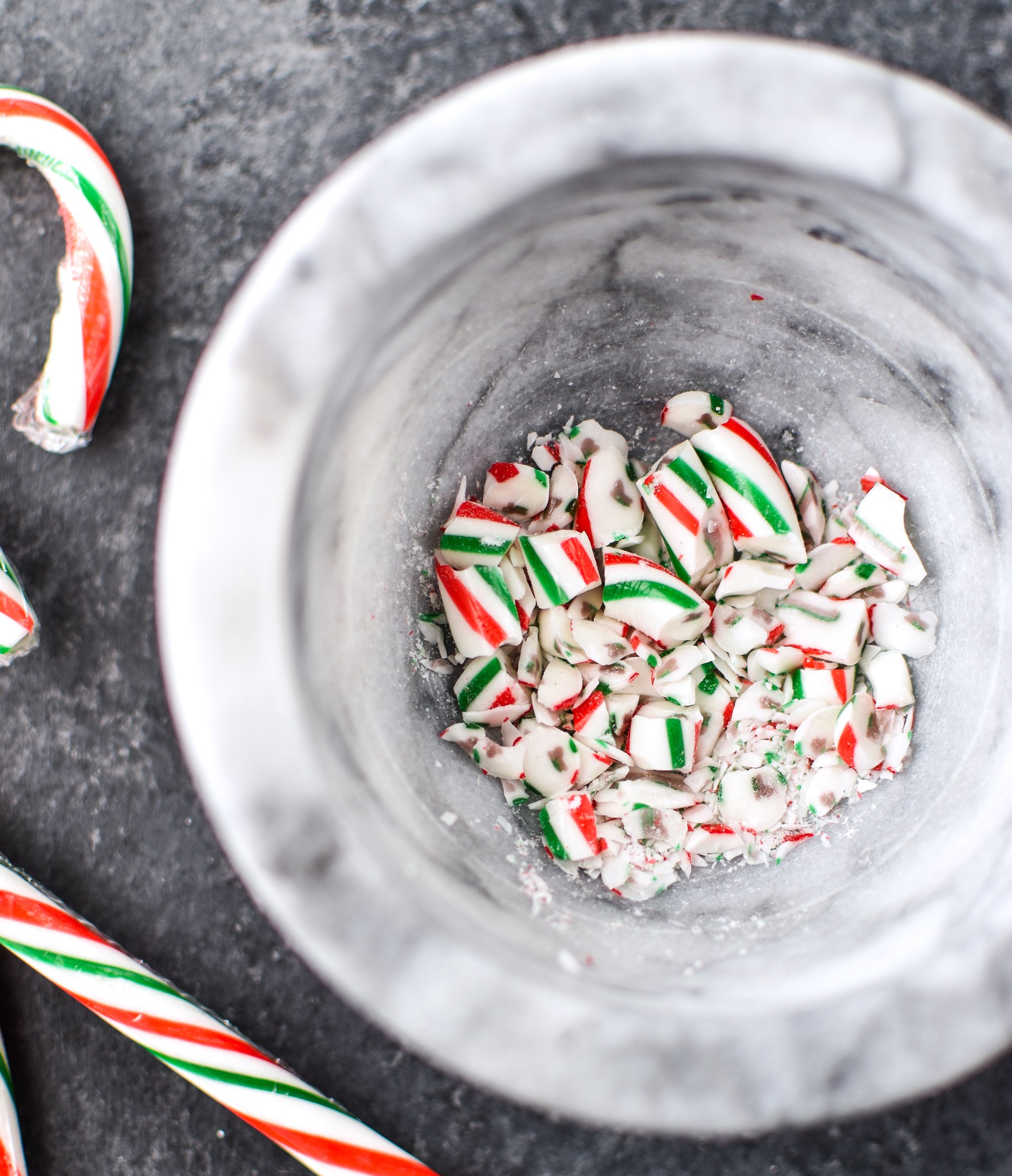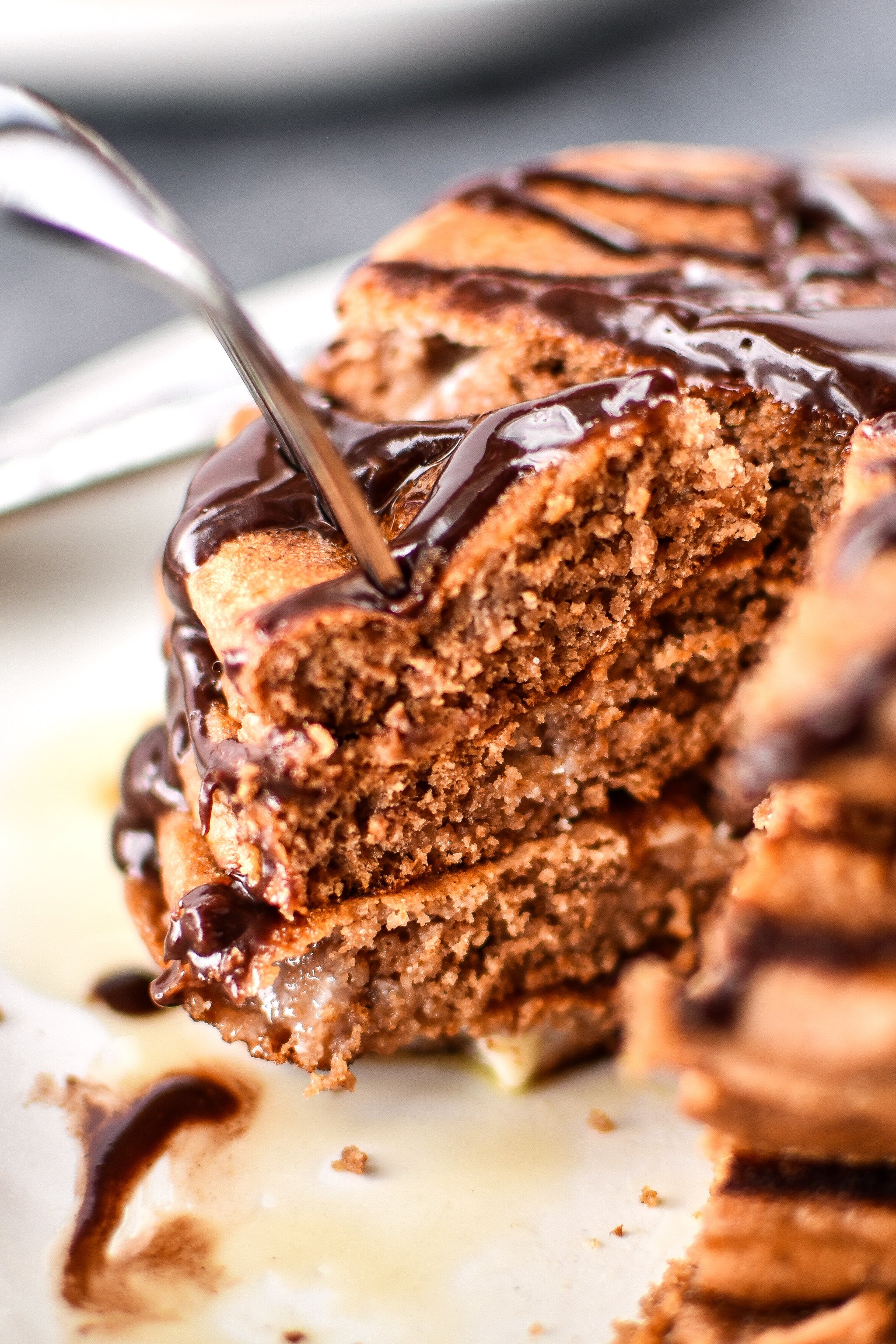 BY THE WAY: I have been to Costco twice since the above explained incident and I'm happy to report they have fully restocked the Kodiak Cakes. Phewww. Thanks Costco. You rock (so much that I wrote about how great you are for meal prepping!!).
More pancake recipes from Project Meal Plan:
Recipe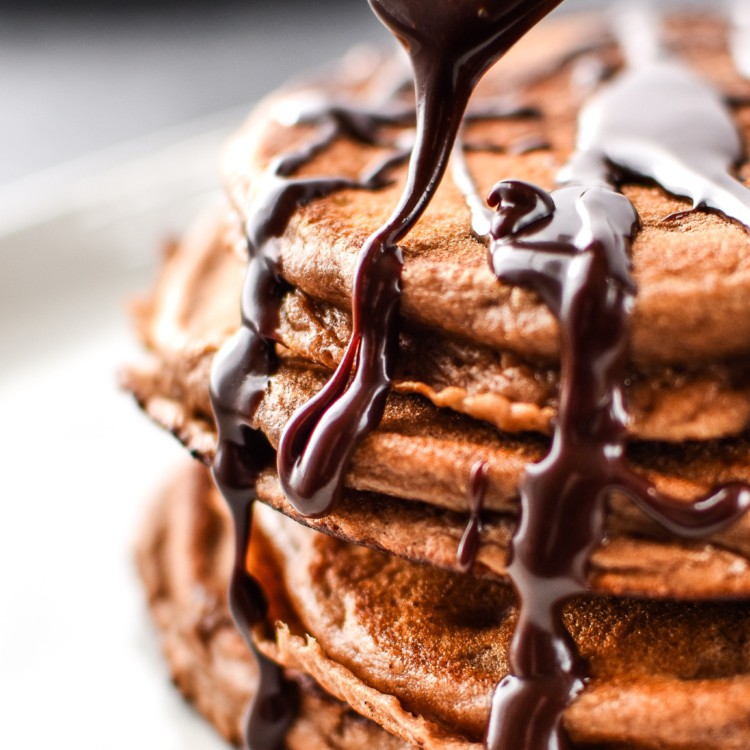 Double Chocolate Peppermint Protein Pancakes
Prep:
5 minutes
Cook:
20 minutes
Total:
25 minutes
How about some pancakes with a little holiday cheer? These Double Chocolate Peppermint Pancakes are perfectly qualified to satisfy your sweet tooth while also packing a little more protein than your average chocolate breakfast treat!
Ingredients
3 tablespoons

unsweetened cocoa powder

1 tablespoon

instant espresso powder (I use this kind)

1 1/3 cups

milk (unsweetened vanilla almond milk works great)

2

large eggs, whisked

1/4 tsp

peppermint extract

1/3 cup

white or milk chocolate chips

1

crushed candy cane (optional but so delicious and fun)
Instructions
In a medium mixing bowl, combine Kodiak Cakes mix, cocoa powder, and espresso powder until well mixed and no lumps remain. Add milk, eggs, and peppermint extract and stir until combined and batter is formed. If the mixture is too thick, add an additional tablespoon of milk. Finally, add mix-ins – chocolate chips and crushed candy cane.
Heat a large skillet (or griddle) over low-medium heat. Wait 2-3 minutes for the pan to heat up and then coat with non-stick cooking spray. Spoon approximately 1/3 cup of batter on to skillet or griddle for each pancake. Let the pancakes cook for approximately 3-4 minutes.
Flip when bubbles form on the surface and do not fill with batter, and the edges are no longer shiny. Cook for another 2-3 minutes, checking the bottom for a dark golden brown color.
Repeat until your batter is gone, spraying the pan between each set of pancakes. Recipe makes approximately 8 pancakes. Serve immediately or refrigerate for up to 3 days in an airtight container.
Notes
The crushed candy cane is not essential, but it makes the pancakes a tiny bit sweeter!
You can also create a version of this recipe using Kodiak Cakes Dark Chocolate Flapjack Mix, but this tends to be more expensive since I can't get the chocolate version at Costco. I also like it this way better!
Nutritional information estimated with My Fitness Pal and does not include any toppings.
Nutrition Information
Serving Size:

2 pancakes

Calories:

351

Fat:

11g

Carbohydrates:

48g

Fiber:

7g

Protein:

18g
Recipe Card powered by
To make this recipe, I used:
Thanks for checking out these Double Chocolate Peppermint Pancakes! Be sure to use #projectmealplan on social media if you make this recipe, or have other amazing uses for Kodiak Cakes 🙂 PS: NOT sponsored or affiliated with Kodiak Cakes – I just love them!