Lemon Poppy Seed Blueberry Protein Pancakes are made with Kodiak Cakes Pancake Mix, frozen blueberries, Greek yogurt, and they taste like a muffin! Make these on the weekend or meal prep them to eat during the week!
Jump to Recipe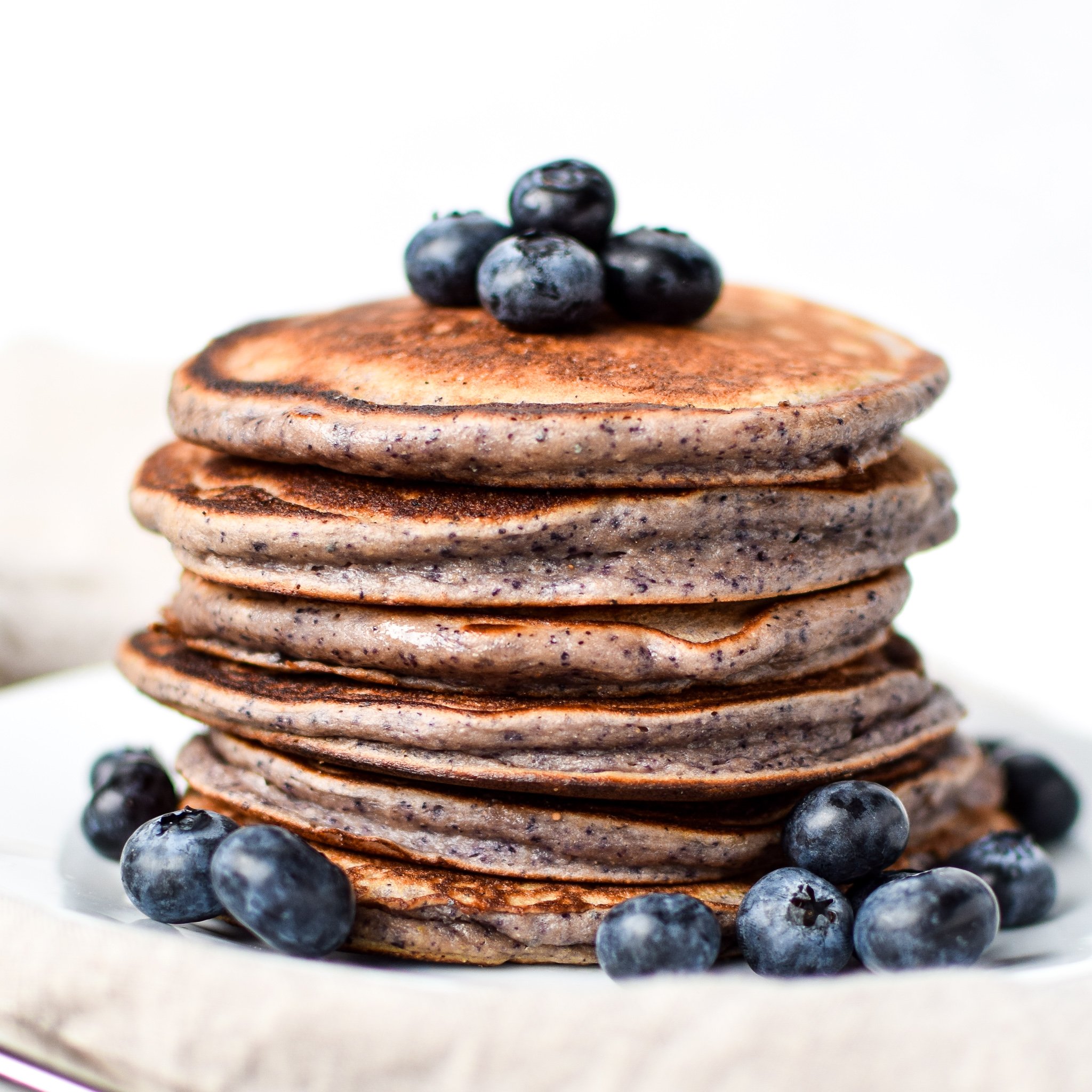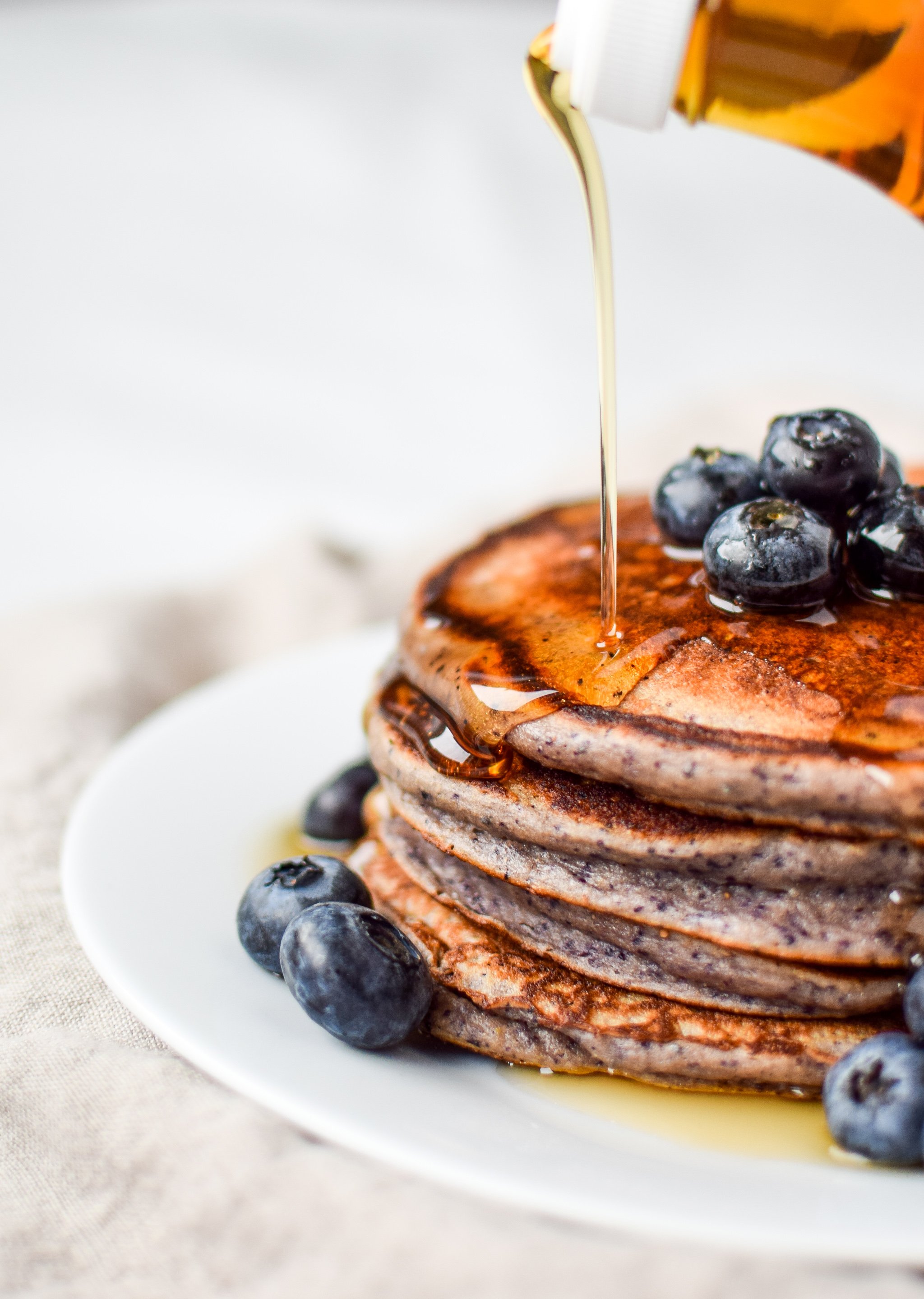 Lately, I've been thinking about a variation of blueberry pancakes made with Kodiak Cakes. I had an idea, but it needed a little kick of inspiration. Then it happened – a leftover lemon (from making Quinoa Party Salad) got me thinking. Blueberries and lemon are a thing, a delicious thing. So I worked on some tasty, but less sugar-y than muffins, Lemon Poppy Seed Blueberry Protein Pancakes.
The two following items are crucial to the protein aspect of the protein pancakes. First of all, it couldn't happen without the Kodiak Cakes Flapjack & Waffle Mix. I use it as the base for all my pancakes recipes. It's whole grain, low sugar, high protein, and SO delicious. Plain or dressed up. Chocolate or buttermilk. It's the only pancake mix I ever buy, I swear! #notsponsoredjustobsessed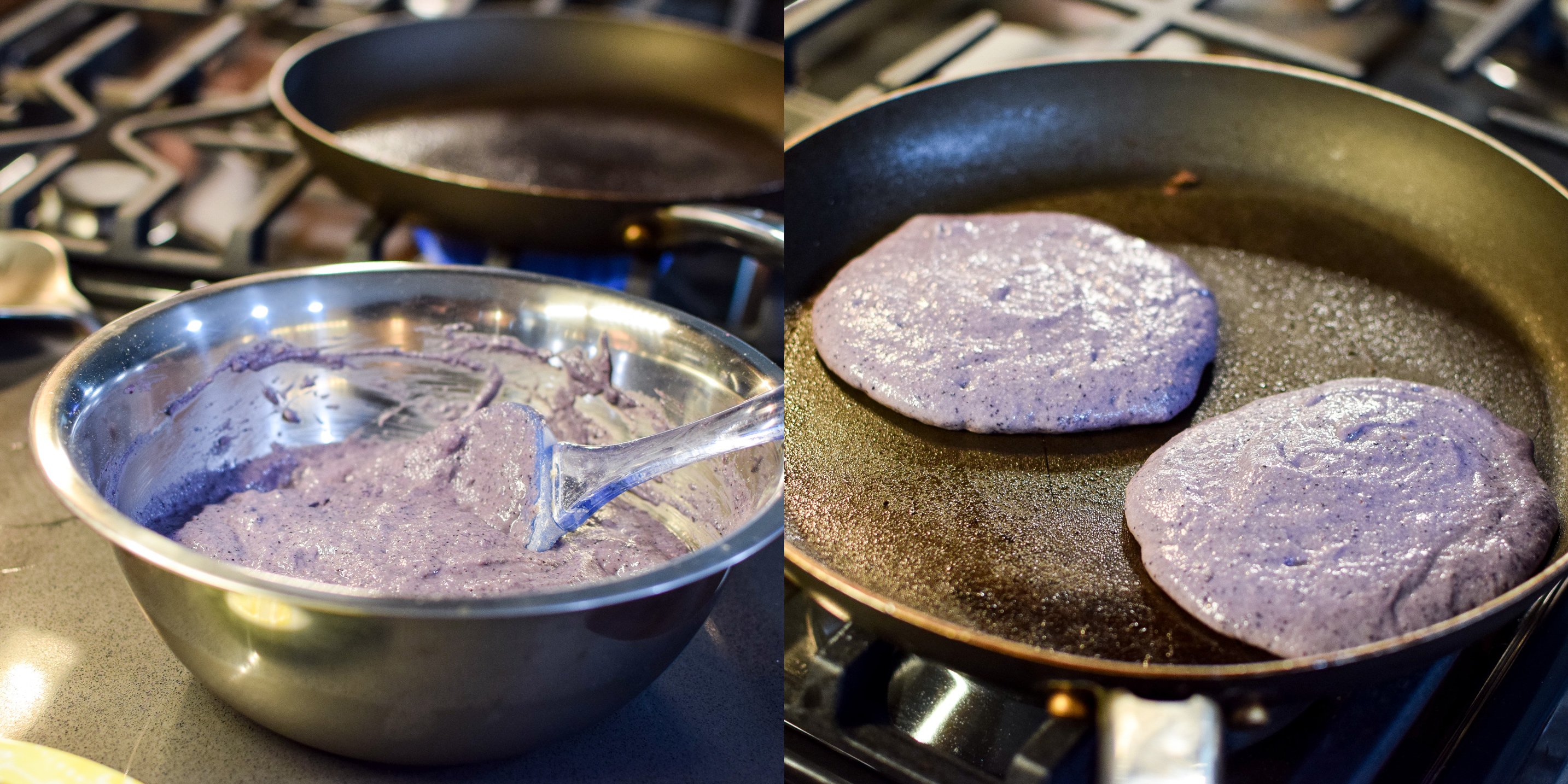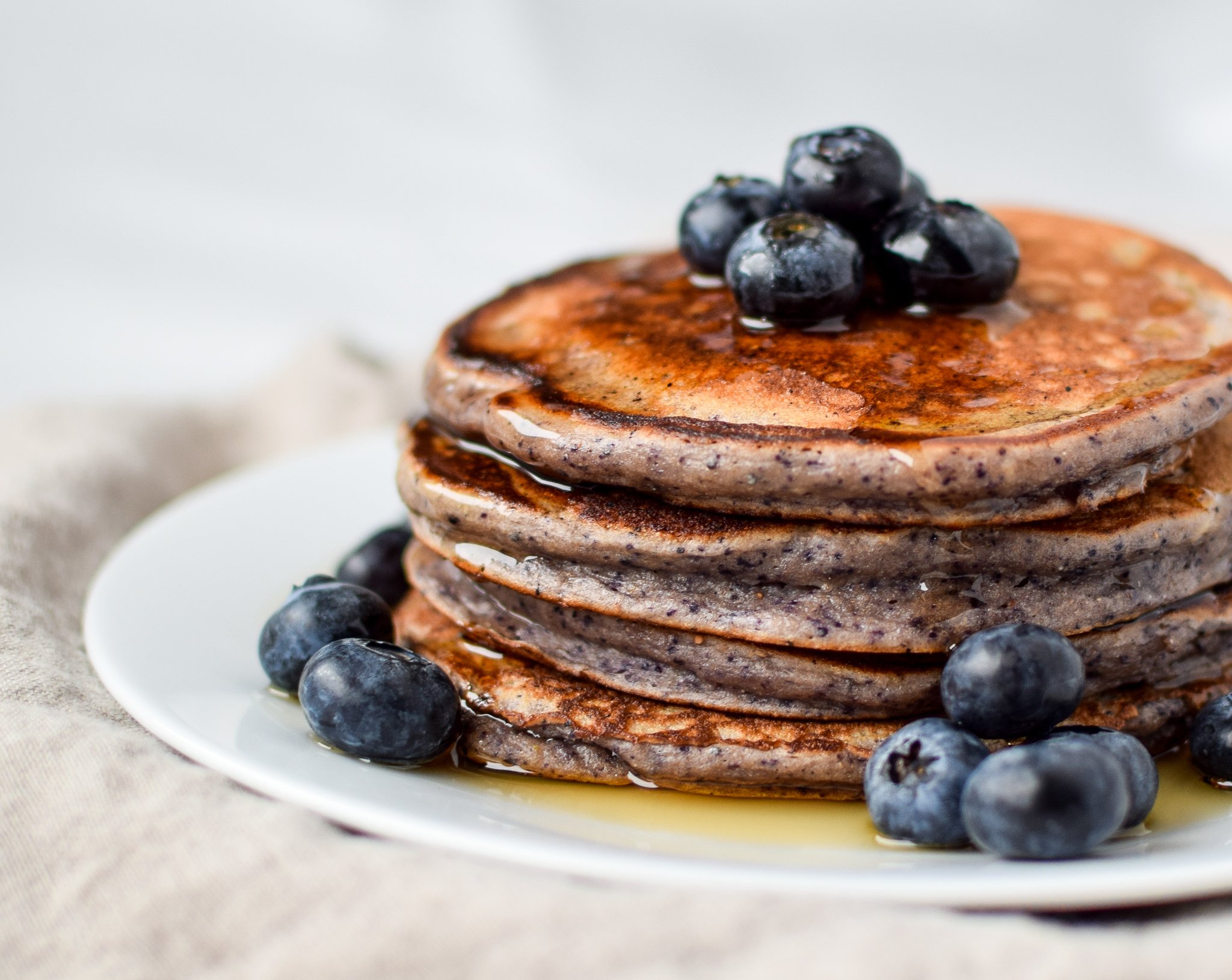 Second protein increasing ingredient: Greek yogurt. I normally buy Fage Total plain yogurt for recipes (and Siggi's for snacking of course). Just by itself, one cup of the yogurt has 20 grams of protein. I love the taste, texture, and added protein from Greek yogurt in my pancakes.
So, combo Kodiak Cakes + Greek yogurt = 18 grams of protein for two pancakes. Slather some PB on there for a few more. This blueberry and lemon poppy seed combo is not something we normally have, so I'm especially loving it! I made a ton of these and froze about 2/3. Once we go through the ones in the fridge, I'll pull some more out of the freezer. Sort of like, healthy version frozen eggos?? If only.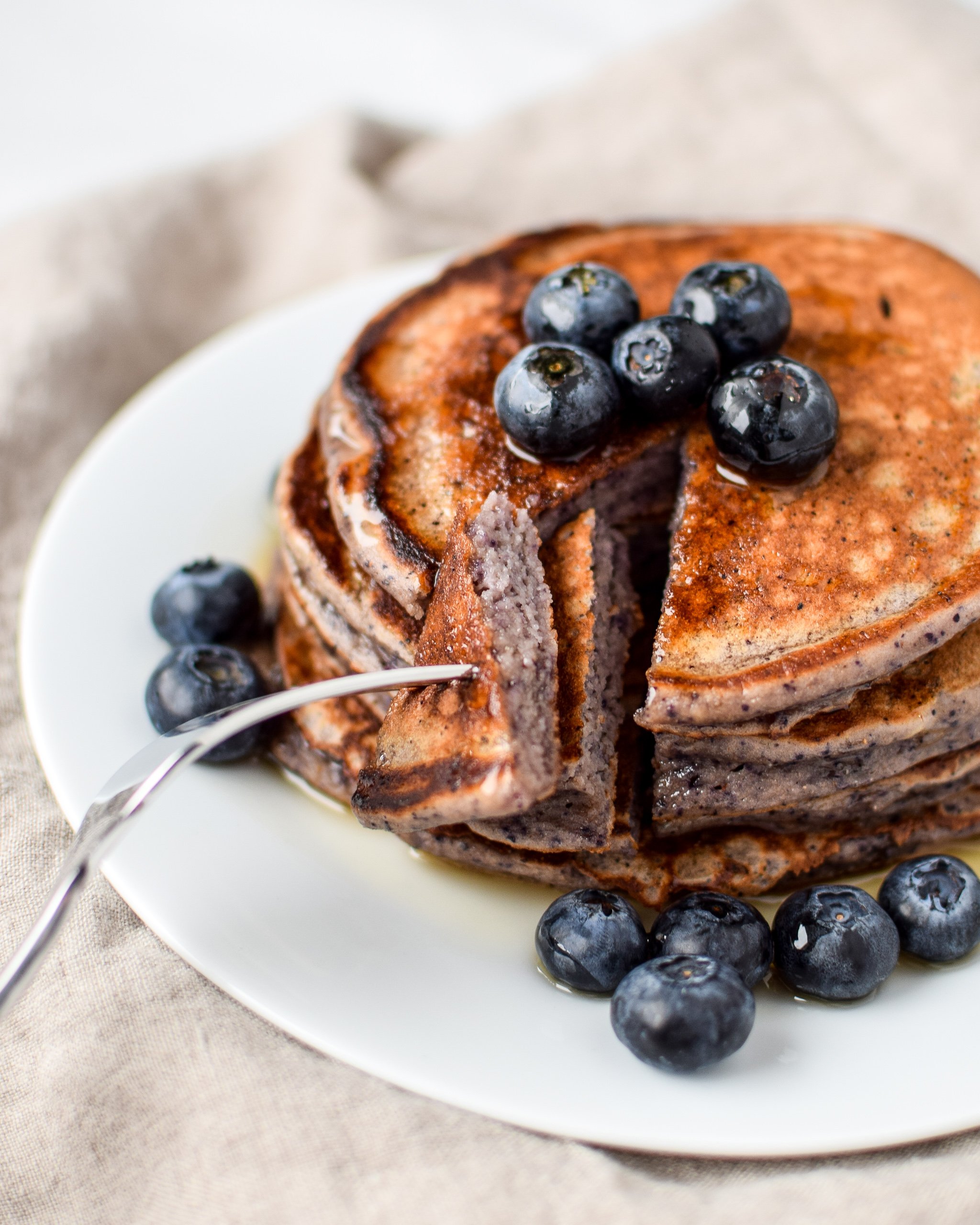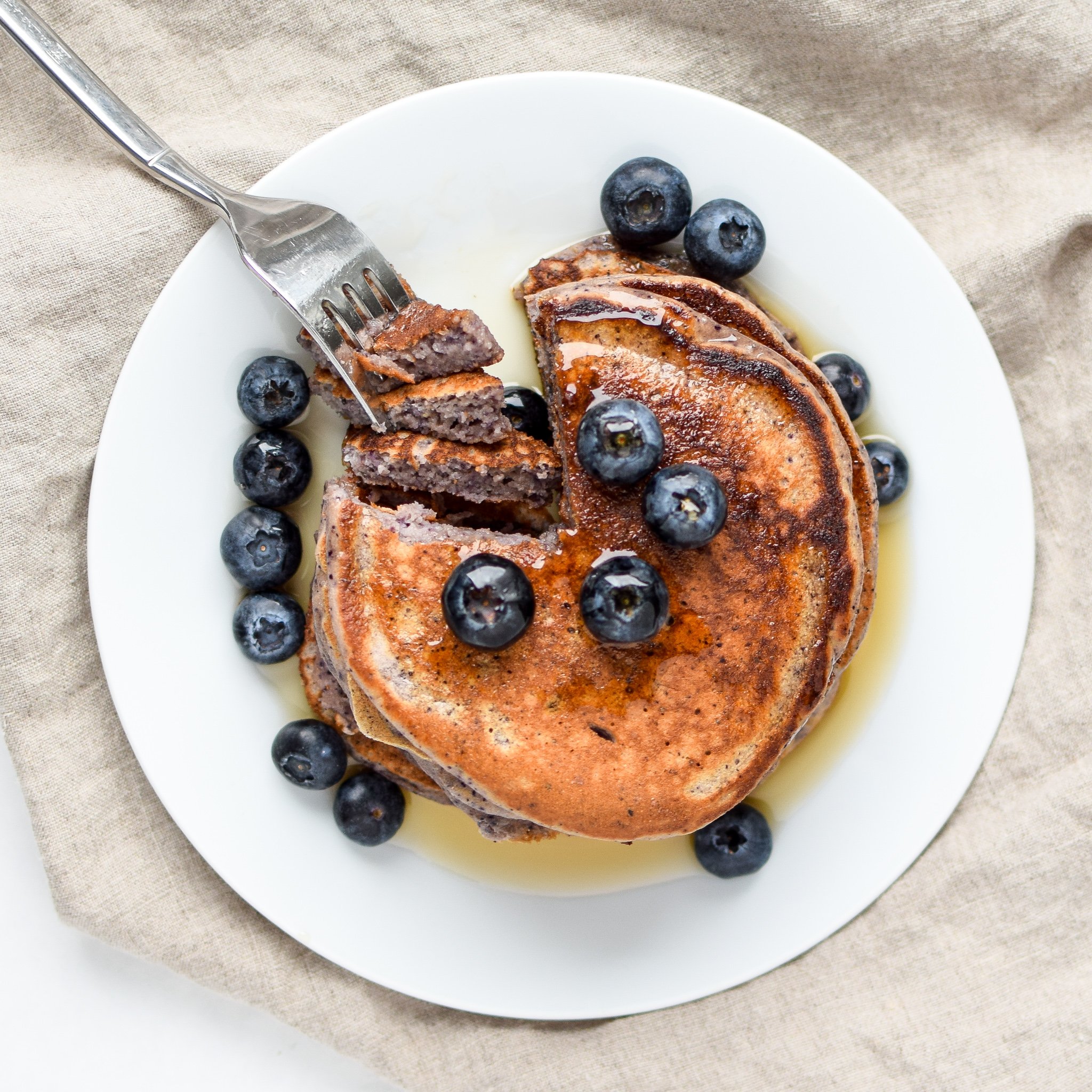 Other yummy pancake recipes from Project Meal Plan:
Recipe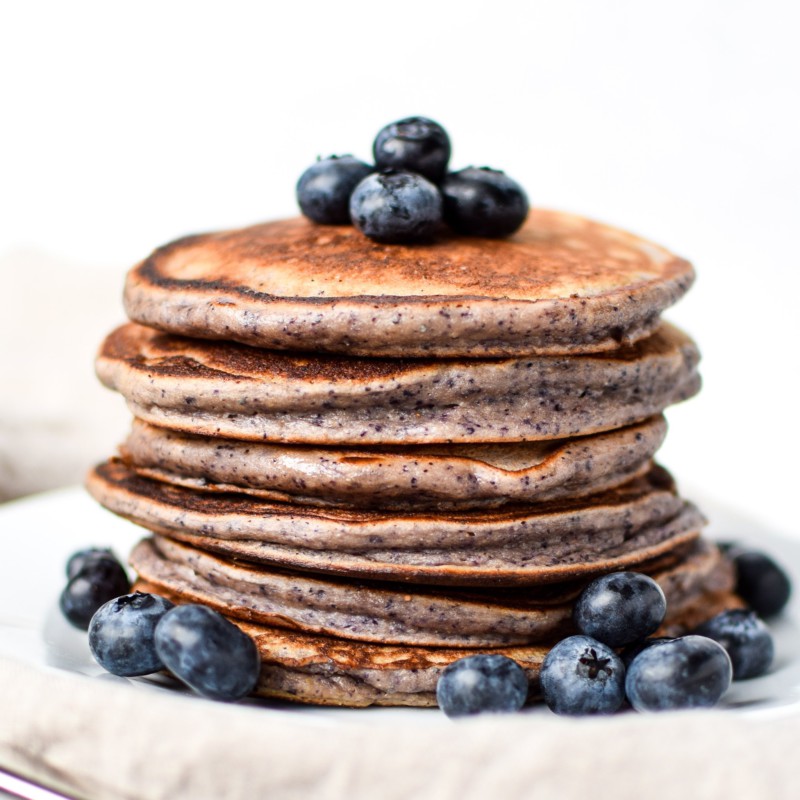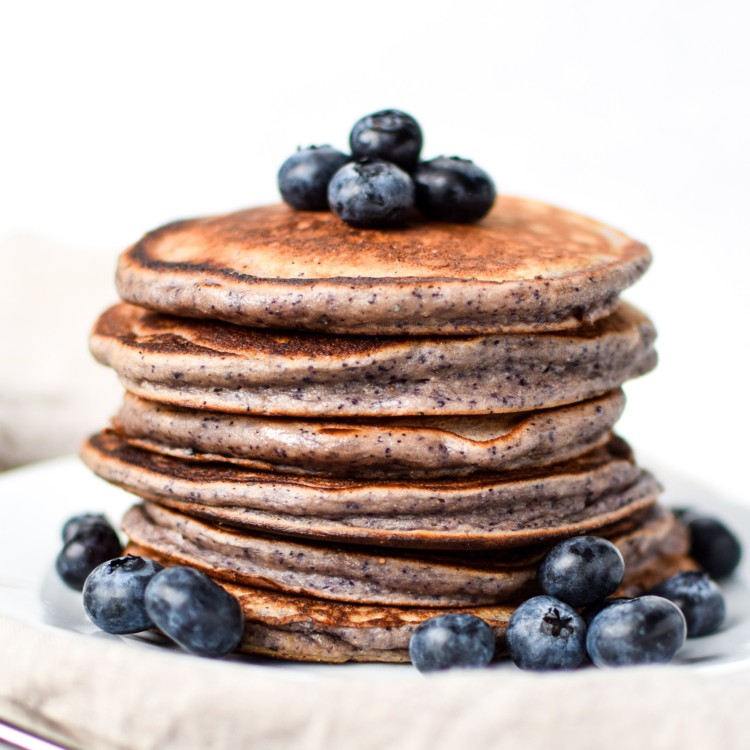 Lemon Poppy Seed Blueberry Protein Pancakes
Prep:
5 minutes
Cook:
20 minutes
Total:
25 minutes
Your favorite Lemon Blueberry muffin now in pancake form! Try meal prepping these delicious pancakes made with Kodiak Cakes Power Cakes Mix 🙂
Ingredients
1 1/4 cup

frozen blueberries

3/4 cup

Greek yogurt (2% of full fat – I like Fage)
lemon juice from 1/2 lemon (1.5-2 tablespoons)
zest of 1 lemon (about 1 tablespoon)

2

eggs, whisked

1/3 cup

unsweetened vanilla almond milk

1 1/2 cups

Kodiak Cakes Flapjack & Waffle Mix

1/2 tsp

vanilla extract

1/2 tsp

poppy seeds
pinch of salt (about 1/8 teaspoon)
Instructions
To a Nutribullet or blender, add blueberries, Greek yogurt, lemon juice and lemon zest. Blend thoroughly.
In a large mixing bowl, add eggs, almond milk, Kodiak Cakes mix, vanilla extract, poppy seeds, salt, and blueberry lemon yogurt mixture. Stir until completely mixed with no clumps remaining.
Heat a large skillet (or griddle) over low-medium heat. wait 2-3 minutes for the pan to heat up and then coat with non-stick cooking spray.
Spoon approximately 1/3 cup of batter on to skillet or griddle for each pancake. I cook my pancakes two at a time since I don't have a griddle.
Let the pancakes cook for approximately 3-4 minutes. Flip pancakes when bubbles form on the surface and do not fill with batter, and the edges are no longer shiny. Cook for another 2-3 minutes, checking the bottom for golden brown color.
Repeat until your batter is gone, spraying the pan between each set of pancakes. Recipe makes approximately 8 pancakes.
Equipment
Notes
Prep: You can meal prep and freeze the pancakes, then pull them out of the freezer as you need them.
Nutrition Information
Serving Size:

2 pancakes

Calories:

255

Sugar:

9g

Fat:

6g

Carbohydrates:

32g

Protein:

18g
Recipe Card powered by
To make this recipe, I used:
Thank you so much for checking out the Lemon Poppy Seed Blueberry Protein Pancakes! Be sure to use #projectmealplan on social media if you make this recipe! And follow me on Pinterest for meal inspiration every single day.