Pumpkin Pie Greek Yogurt Pancakes: Moist and delicious fall breakfast treat! Plus, they're make-ahead and fridge friendly! Sponsored by leftover greek yogurt and canned pumpkin from my fridge. And the letter P.
Jump to Recipe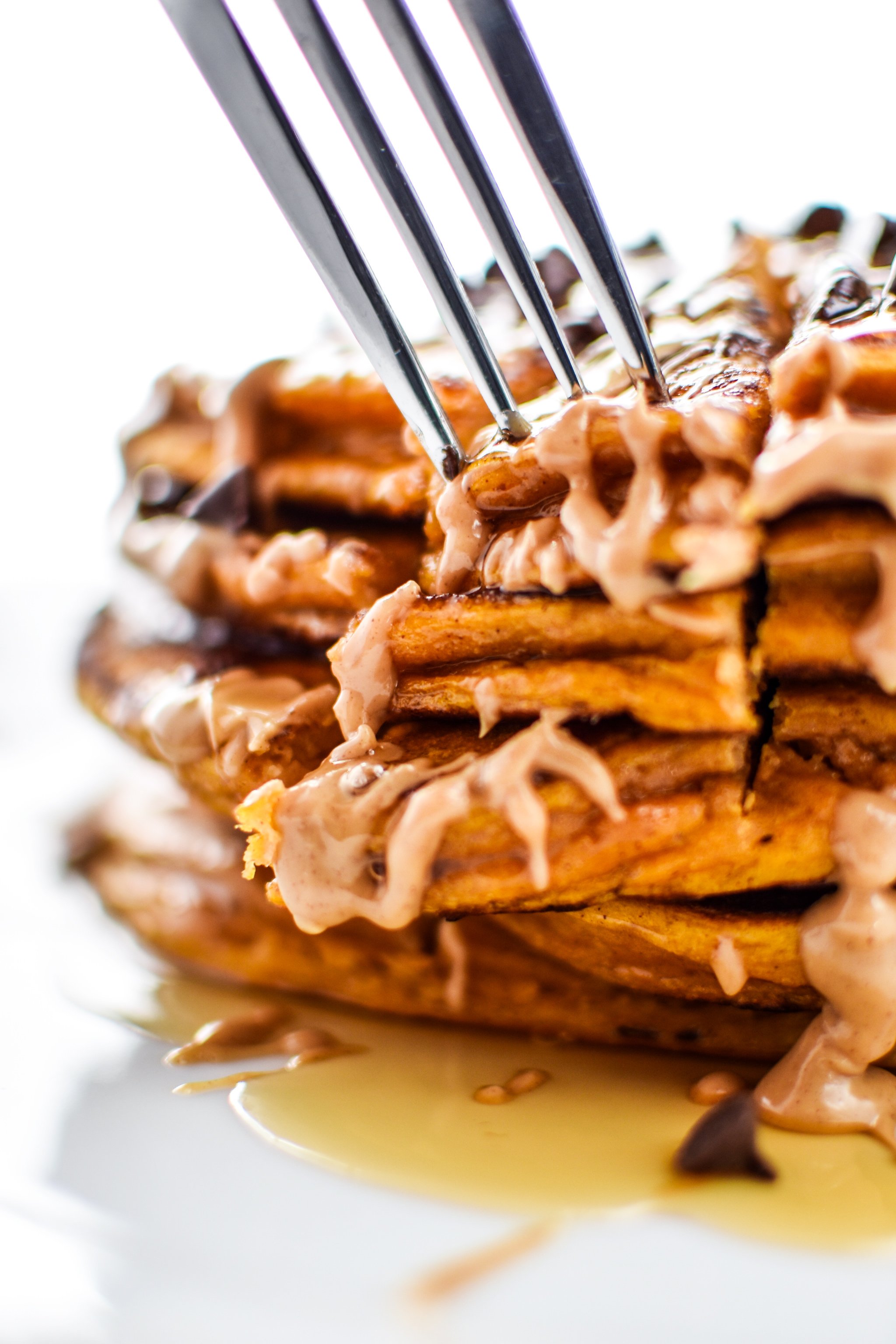 Sometimes I mix things together that seem like they should work. Add a little this and that until an appealing consistency appears, and just go with it. In this case, I was hoping the greek yogurt would keep the pancakes moist and add a touch of protein. And I wanted the pumpkin and pumpkin pie flavors to sort of cover up the normal greek yogurt tartness. Of course, I counted on my ultimate go-to protein pancakes mix – Kodiak Cakes Power Cakes Mix. This stuff is incredibly simple (just add water!), but also incredibly versatile. You can add pretty much anything to the mix for some incredible pancakes. And I'd say these pancakes turned out just right.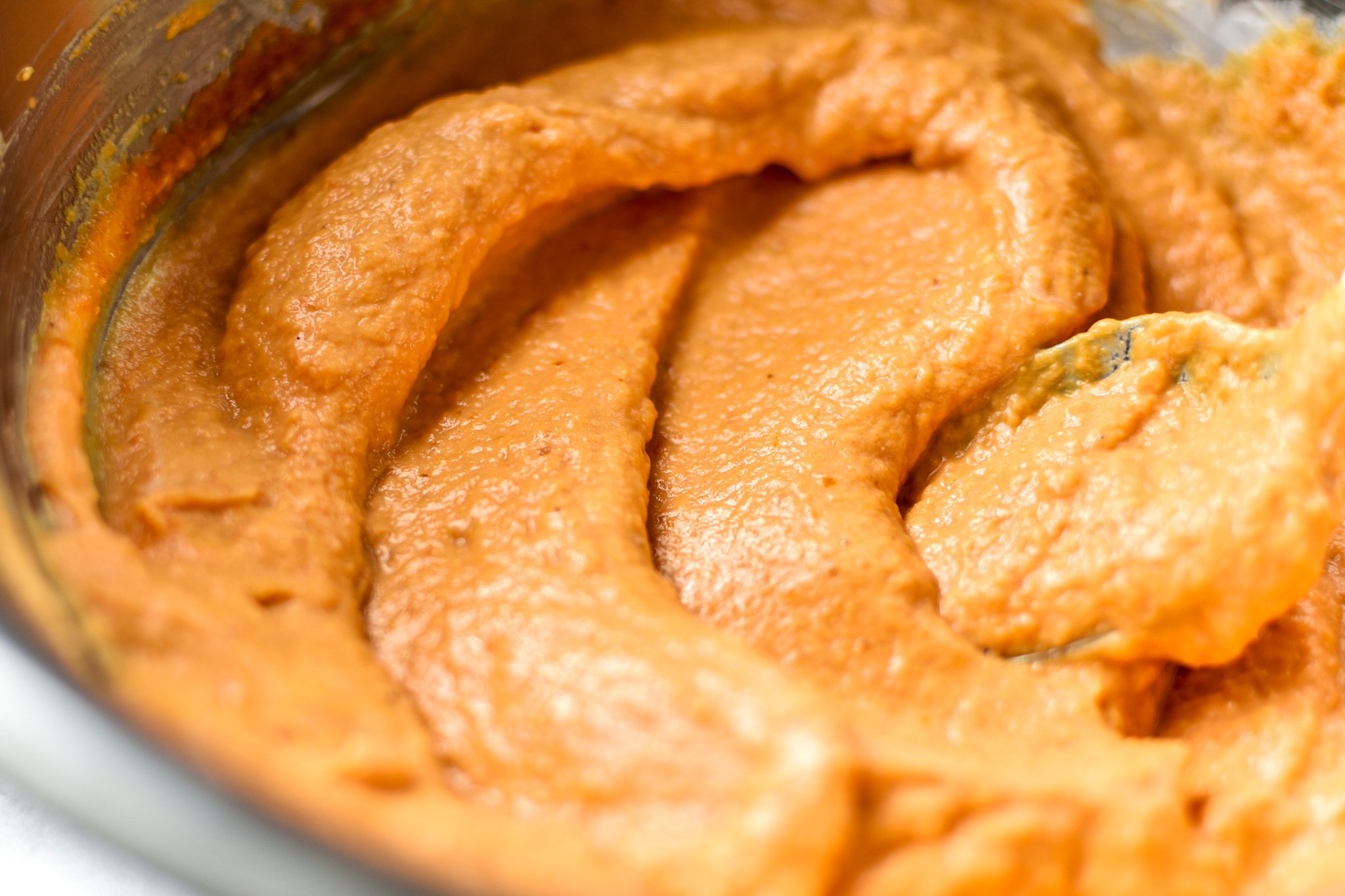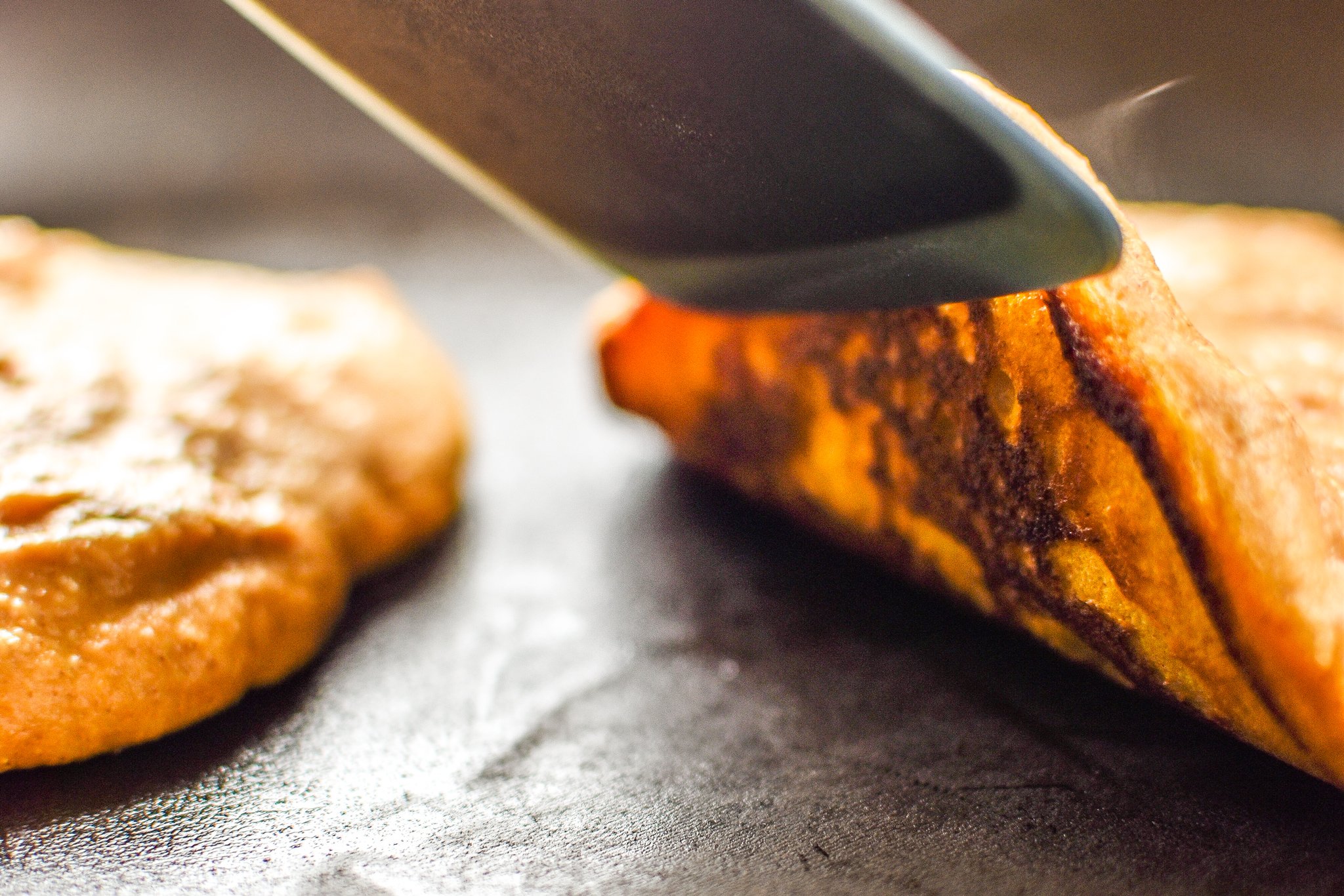 Confession – these are actually more delicious cold. AKA perfect for on-the-go. You will NOT look silly with this amazing pumpkin colored perfectly round pancake in your hand. People will be jealous.
This recipe makes 7-8 small-ish size pancakes and would be super easy to double. Pancake snacks, anyone? One of these orange babies brags 8.4 grams of protein. I love it. All thanks to greek yogurt and Kodiak Cakes. If you spot the mix at Costco you should certainly put it in your cart!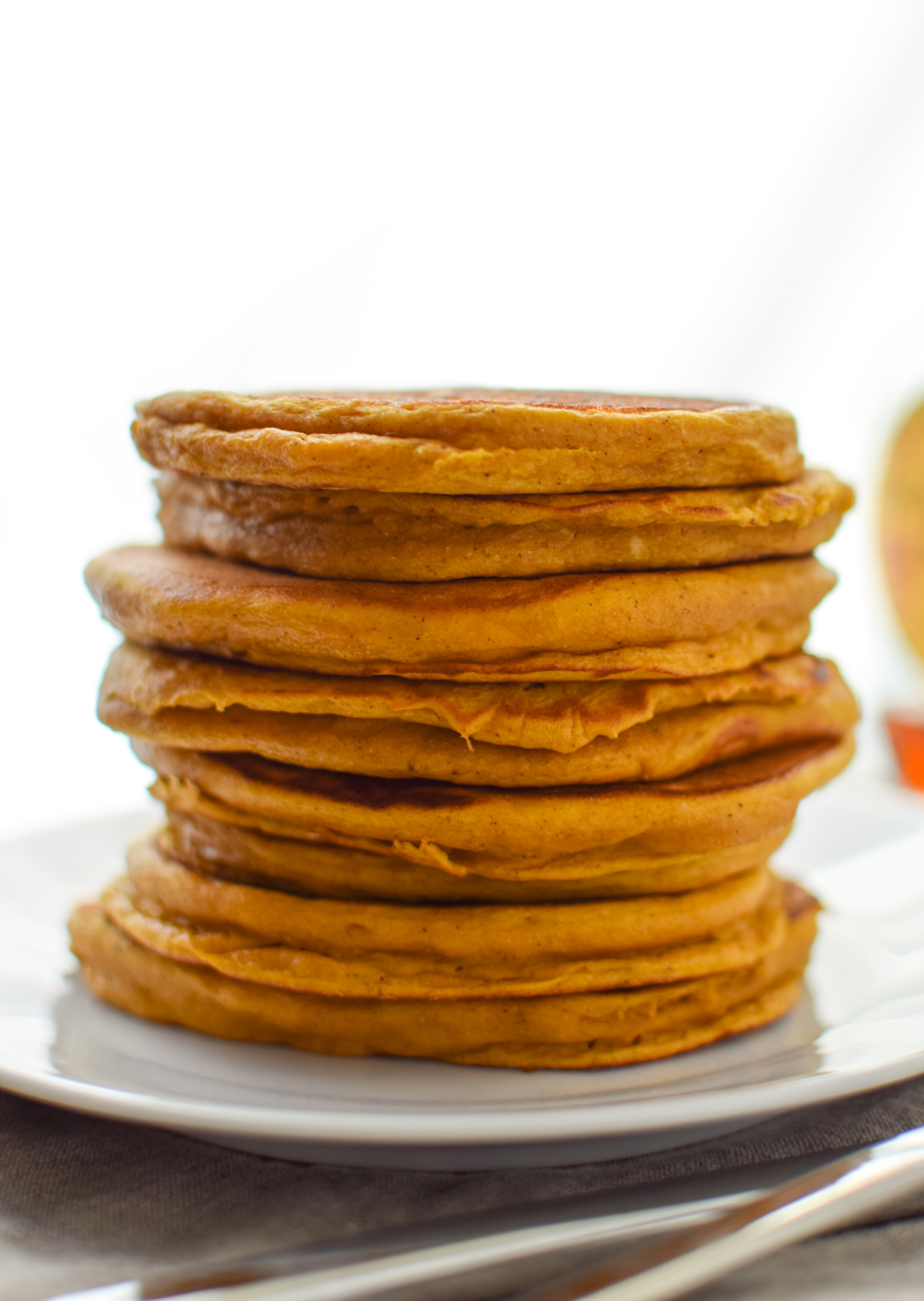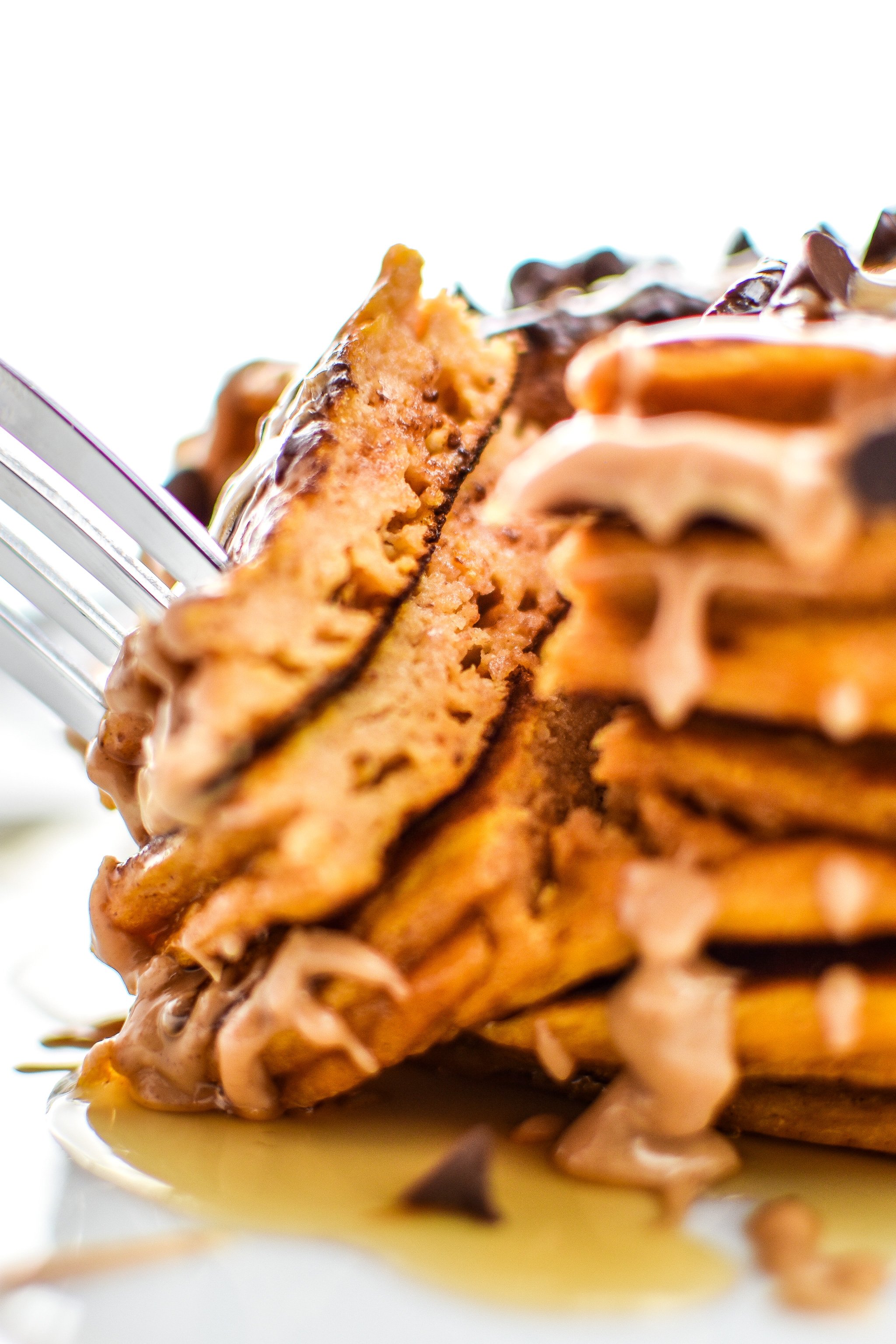 More Breakfast recipes from Project Meal Plan:
Recipe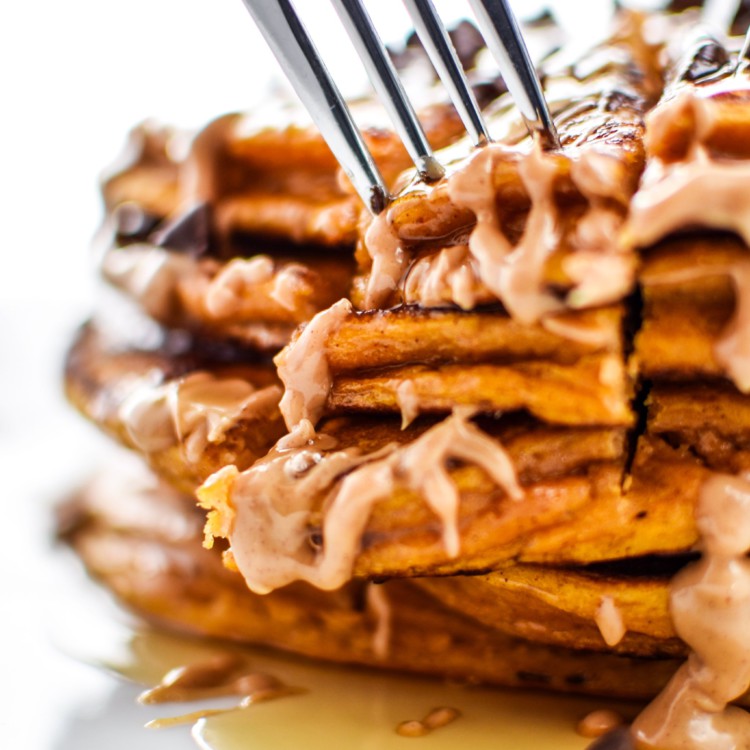 Pumpkin Pie Greek Yogurt Pancakes
Prep:
5 minutes
Cook:
25 minutes
Total:
30 minutes
Moist and delicious fall breakfast treat! Make-ahead and fridge friendly!
Ingredients
1 cup

canned pumpkin puree (not pie filling)

1/2 cup

plain greek yogurt

2

eggs

1/2 teaspoon

vanilla extract

1 1/2 cups

Kodiak Cakes Power Cakes Flapjack & Waffle Mix

1/2 teaspoon

pumpkin pie spice

1/4 teaspoon

cinnamon
pinch of salt

1/2

to

3/4

cup milk (depending on your desired consistency)
Instructions
In a large bowl, mix pumpkin and greek yogurt until just combined.
Whisk eggs. Add eggs and vanilla to pumpkin mixture. Stir until just combined.
Add Kodiak Cakes mix, pumpkin pie spice, cinnamon and salt to mixture. Add 1/3 cup milk to batter and mix. Depending on how thick you like your pancakes, add small amounts of additional milk until pancake batter is your preferred thickness. I used 1/2 cup milk for slightly thicker pancakes. Stir until completely mixed.
Heat a large skillet (or griddle) over medium heat. Coat with non-stick cooking spray and wait 2-3 minutes for the pan to heat up.
Spoon approximately 1/3 cup of batter on to skillet. I cooked the pancakes two at a time so they would not touch in the pan.
Let the pancakes cook for approximately 3-4 minutes. Flip pancakes when bubbles form on the surface and do not fill with batter. Cook for another 2-3 minutes, checking the bottom for golden brown color.
Repeat until your batter is gone, spraying the pan between each set of pancakes.
Notes
For evenly portioned pancakes, I used a 2/3 measuring cup to scoop my pancake batter. Fill it half-ish full and cook evenly for pancakes similar to the ones pictured.
If you're meal prepping these for later in the week, store in a freezer Ziploc bag. When you're ready to eat them, either pull them out of the freezer the night before to eat them cold on the go. Or re-heat in the toaster or microwave when you need them!
Update: New photos added 10/10/17.
Nutrition Information
Serving Size:

2 pancakes

Calories:

266

Fat:

7.8g

Carbohydrates:

31.8g

Protein:

16.8g
Recipe Card powered by
Thank you so much for reading! Tag @projectmealplan on social media if you make this yummy recipe! I'd love to see what others meal prep for themselves. Follow me on Pinterest for meal inspiration every single day!
P.S.: What's your favorite non-dessert pumpkin recipe? I'm on the hunt for new ones!
– Danielle