Have you ever had a pancake that basically tastes like summer with a drizzle of maple syrup on top? THIS IS IT. A perfect blend of pineapple helps keep these delicious protein pancakes moist and perfect for fresh and hot OR on-the-go in summer! It's my Tropical Pineapple Protein Pancakes Recipe!
Jump to Recipe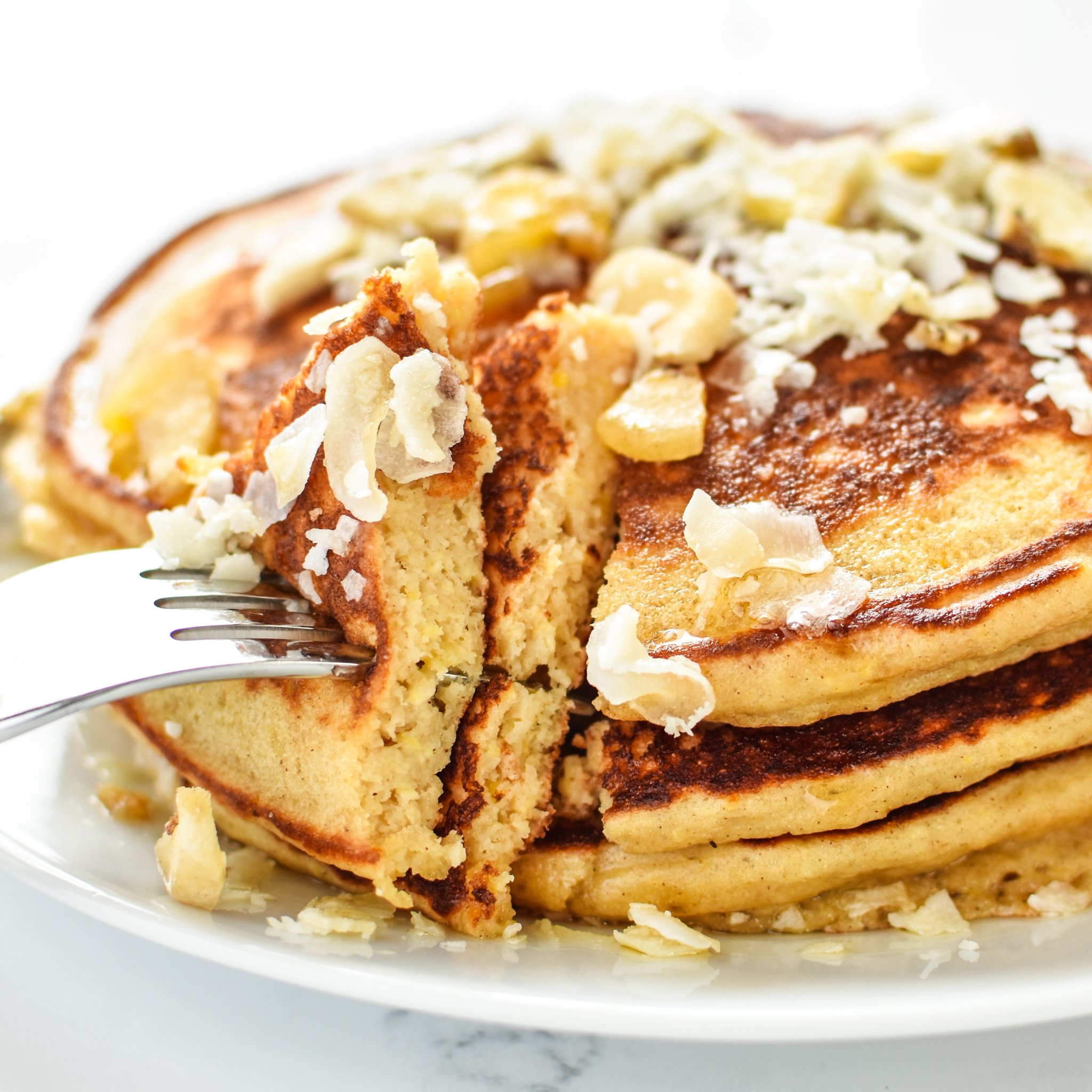 Ever since I used my Nutribullet to blend blueberries into the Lemon Poppy Seed Blueberry Protein Pancakes, blending other fruit (veggies?? okay, none that I can think of right now…) into pancakes has been hanging out in the back of my mind. (What about carrot cake pancakes?!?)
So, here it is. I recently picked up some frozen organic mango at Costco (which I've been using for smoothies!). Mango led to pineapple.. so the pancakes became tropical. When I realized I had some unsweetened coconut flakes in the cupboard, it was happening.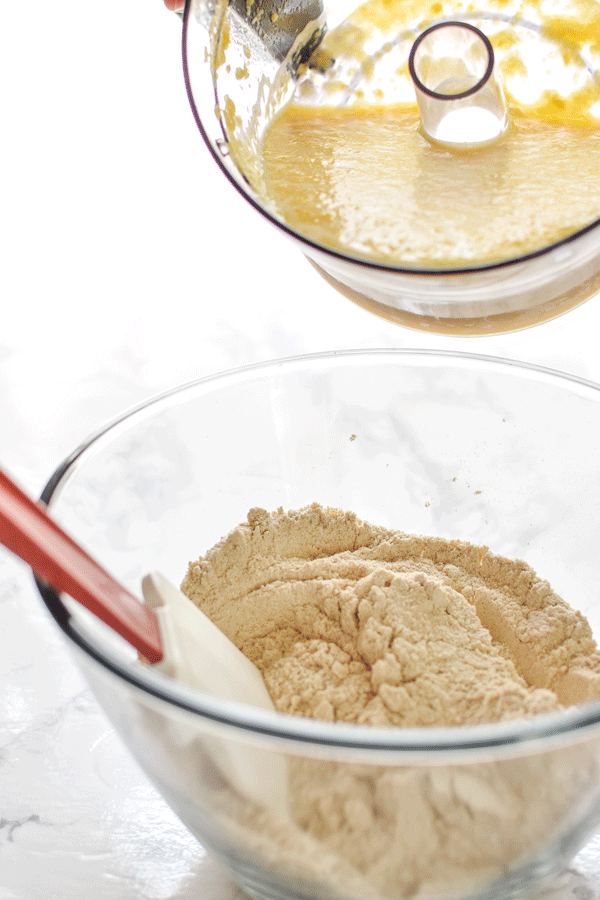 Blending the mango, pineapple, and fruit juices in a food processor or blender is definitely the way to go. I absolutely love the texture of these pancakes – no huge chunks of fruit, but you can totally tell there's tons of pineapple in there. It's blended right into the pancake batter with some unsweetened vanilla almond milk. Total perfection in a pancake.
OF COURSE I use my all-time favorite pancake mix as the batter base here – Kodiak Cakes Power Cakes Flapjack and Waffle Mix. I love the little extra protein boost from the Kodiak Cakes, and you can seriously make them into anything. This recipe makes about 12-14 pancakes depending on the size you like. And they're perfect for meal prepping – one batch of pancakes can give you breakfast for the week!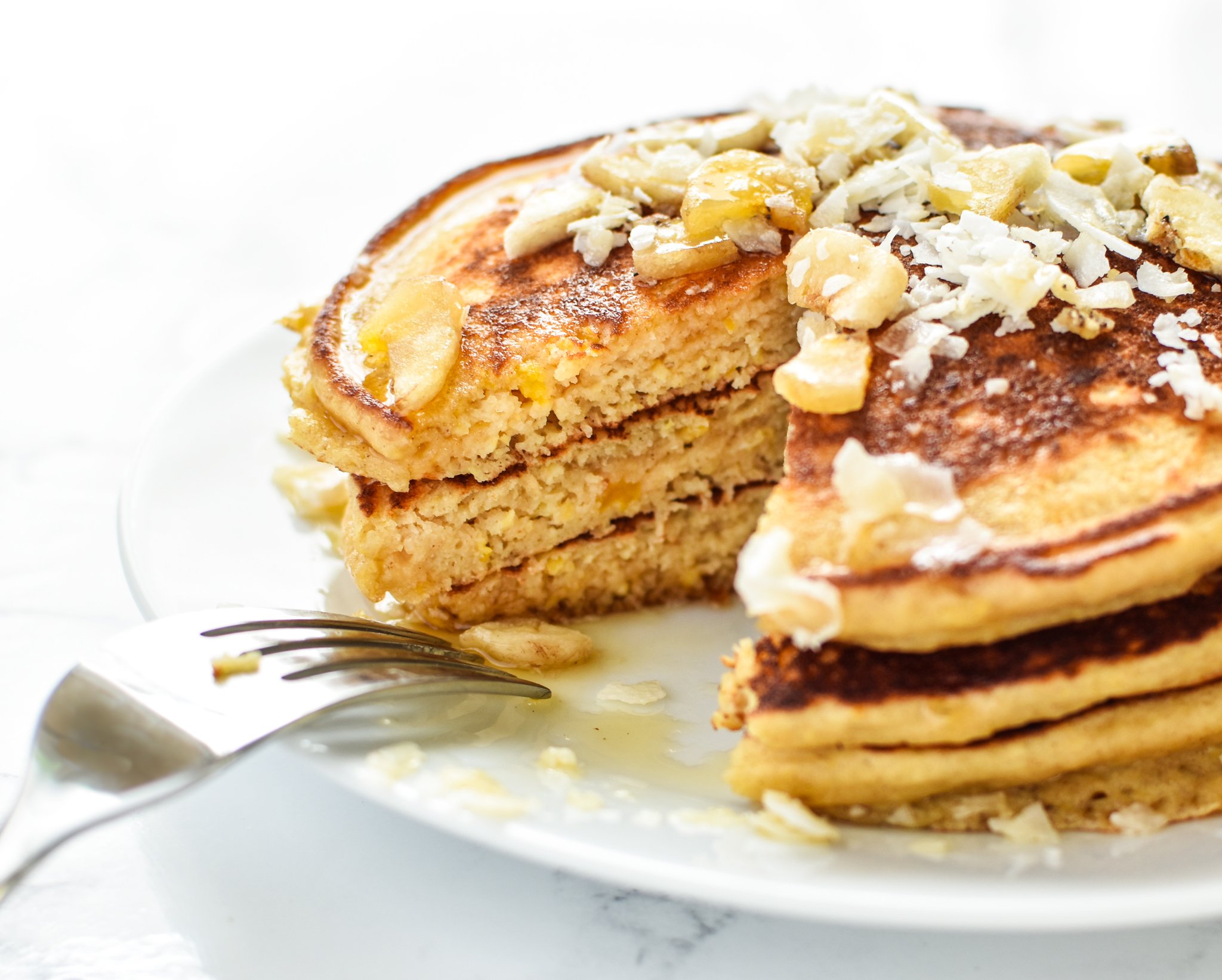 Other yummy pancake recipes from Project Meal Plan:
Recipe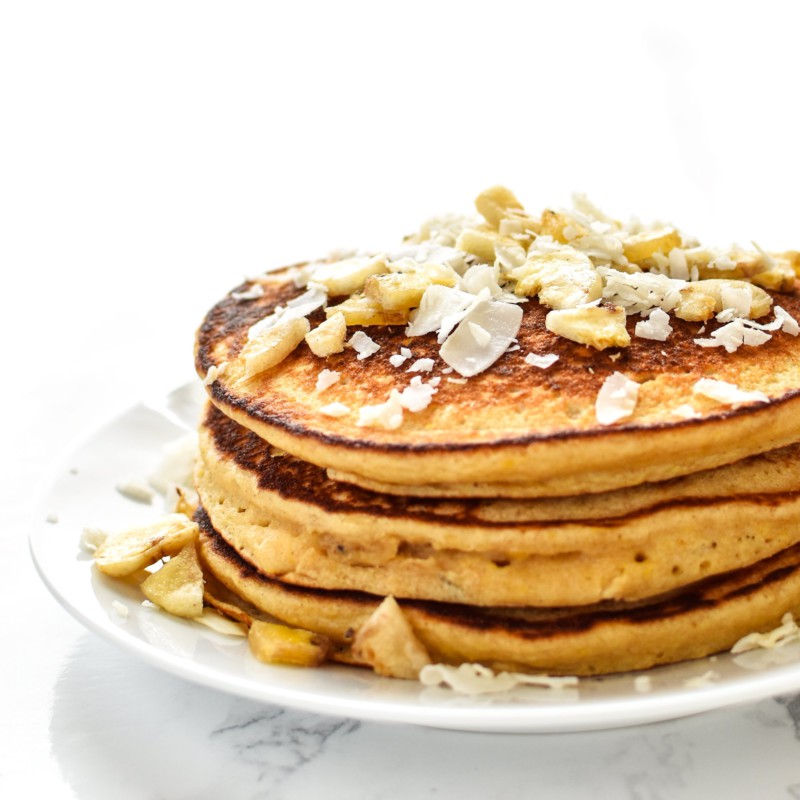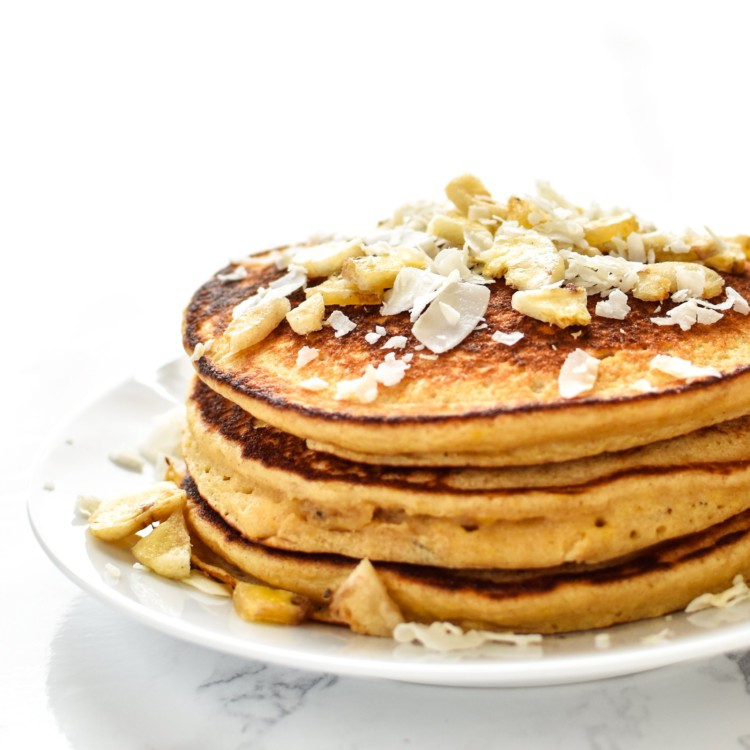 Tropical Pineapple Protein Pancakes Recipe
Yield:
12

-

14

small pancakes

1

x
Prep:
10 minutes
Cook:
30 minutes
Total:
40 minutes
Tropical Pineapple Protein Pancakes Recipe – A perfect blend of pineapple helps keep these delicious protein pancakes moist and perfect for on-the-go!
Ingredients
1 cup

canned pineapple chunks, drained (save juice)

2/3 cup

mango chunks (can be frozen)

1/2 cup

pineapple juice (from the can)
juice of

1

lemon (about 2 or

3 tablespoons

)

2

eggs

1

scoop vanilla protein powder

1/2 teaspoon

cinnamon

1/4 teaspoon

salt

1 cup

unsweetened vanilla almond milk
optional toppings: unsweetened dried coconut flakes, crushed banana chips, pineapple, maple syrup
Instructions
To a food processor or Nutribullet, add pineapple, mango, pineapple juice, and lemon juice. Pulse a few times until there are no more chunks, but not quite a puree.
Add eggs to the blended pineapple mix. Pulse a few times to mix the eggs.
In a large mixing bowl, add Kodiak Cakes, protein powder, cinnamon, and salt. Briefly mix with a spatula or whisk.
Add fruit egg mix to dry ingredients. Mix a few times, then add almond milk to the mixture. Mix thoroughly until there are no dry spots or clumps. If the batter is too dry, add small amounts of almond milk or water until the mix is your preferred pancake batter consistency.
Heat a large skillet (or griddle) over low-medium heat. wait 2-3 minutes for the pan to heat up and then coat with non-stick cooking spray.
Spoon approximately 1/3 cup of batter on to skillet or griddle for each pancake. I cook my pancakes two at a time since I don't have a griddle.
Let the pancakes cook for approximately 3-4 minutes. Flip pancakes when bubbles form on the surface and do not fill with batter, and the edges are no longer shiny. Cook for another 2-3 minutes, checking the bottom for golden brown color.
Repeat until your batter is gone, spraying the pan between each set of pancakes.
Top with your favorite pancake toppings (except peanut butter, they aren't good with peanut butter!). I like coconut flakes and maple syrup.
Store in a sealed container in the fridge for up to 4 days.
Notes
If you don't have any mango chunks, you can substitute an additional 2/3 cup pineapple.
Prep: You can meal prep and freeze the pancakes, then pull them out of the freezer as you need them.
Note: All nutrition information is estimated with My Fitness Pal.
Nutrition Information
Serving Size:

2 pancakes

Calories:

282

Sugar:

11.9g

Fat:

4.2g

Saturated Fat:

.6g

Carbohydrates:

41.5g

Fiber:

5.7g

Protein:

20.5g
Recipe Card powered by
To make this recipe, I used:
Thank you for checking out the Tropical Pineapple Protein Pancakes Recipe! Be sure to use #projectmealplan on social media if you make this recipe! And follow me on Pinterest for meal inspiration every single day. And gardening. And maybe some crafts if I feel like it. But mostly food and meal prep!