Spiced Berry Bliss Balls are the perfect bite sized snack that both kids and adults will love! Full of nuts, sweetened with dates, and blended with freeze-dried strawberries for a unique pink treat!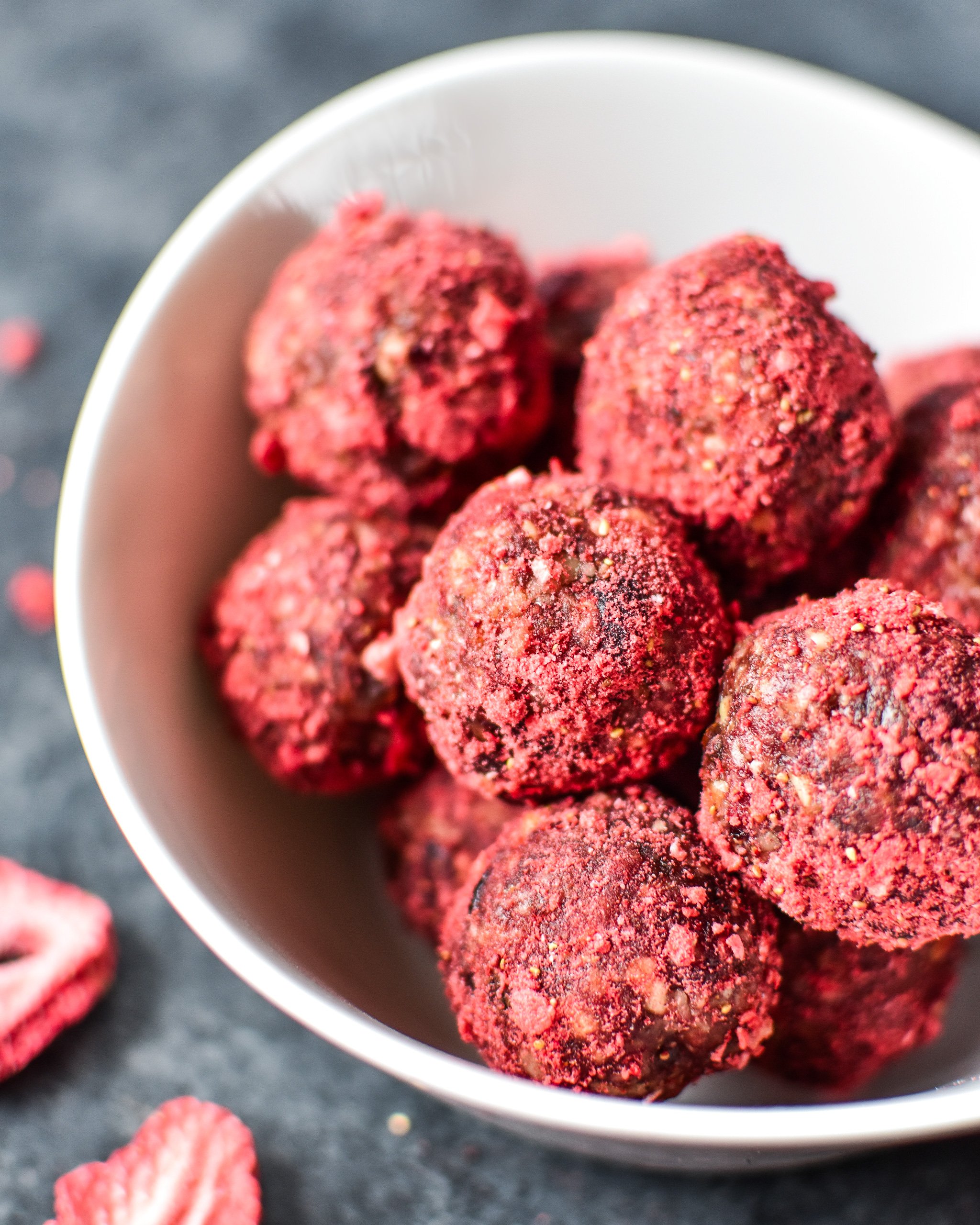 Originally published February 8th, 2018. Content and recipe updated for clarity and republished on February 10th, 2021!
Aren't these bliss balls so pretty? Thought I'd hop on the pink/red for v-day food train! And here it is.
I was inspired by freeze-dried strawberries from Trader Joe's, and my older date/nut bar recipes. This time I tried to go for a more festive look – which finally occurred when I decided to roll the ball in some of the freeze-dried strawberry dust. BEST IDEA.
Recipe Overview
Total Time: 15 minutes
Difficulty: Easy
Method: No Heat
Prep: Make-Ahead Friendly
Watch how to make the Spiced Berry Bliss Balls (1 min):
Ingredients in these Spiced Berry Bliss Balls:
deglet noor or medjool dates – All the love to Costco when they stock pitted dates. Any juicy dates with the pits removed will work.
those freeze dried strawberries – They have no sugar added, the entire bag is one serving, and they are crunchy like chips. THIS IS NOT A DRILL. When you blend them up, it turns into a pink powder and it's really cool.
dried cranberries – Whatever you have on hand will work! Reduced or no sugar added will still be sweet enough. Another option is dried cherries.
nuts – I used walnuts and cashews, but you can use your favorite nuts 👍
spices – Just putting the 'spiced' into Spiced Berry Bliss Balls with some cinnamon and nutmeg.
a little water – to hold it together. you can also use a small amount of coconut oil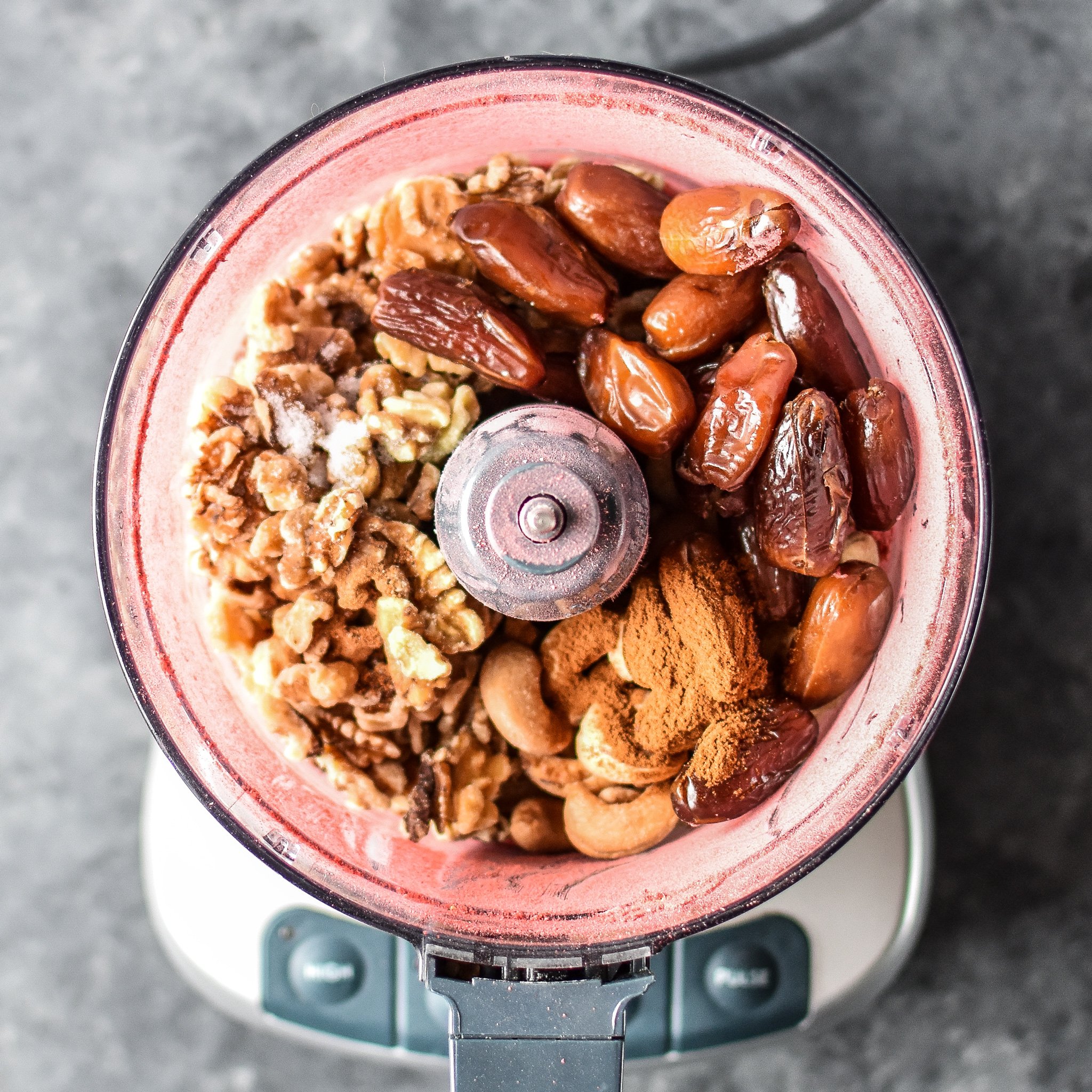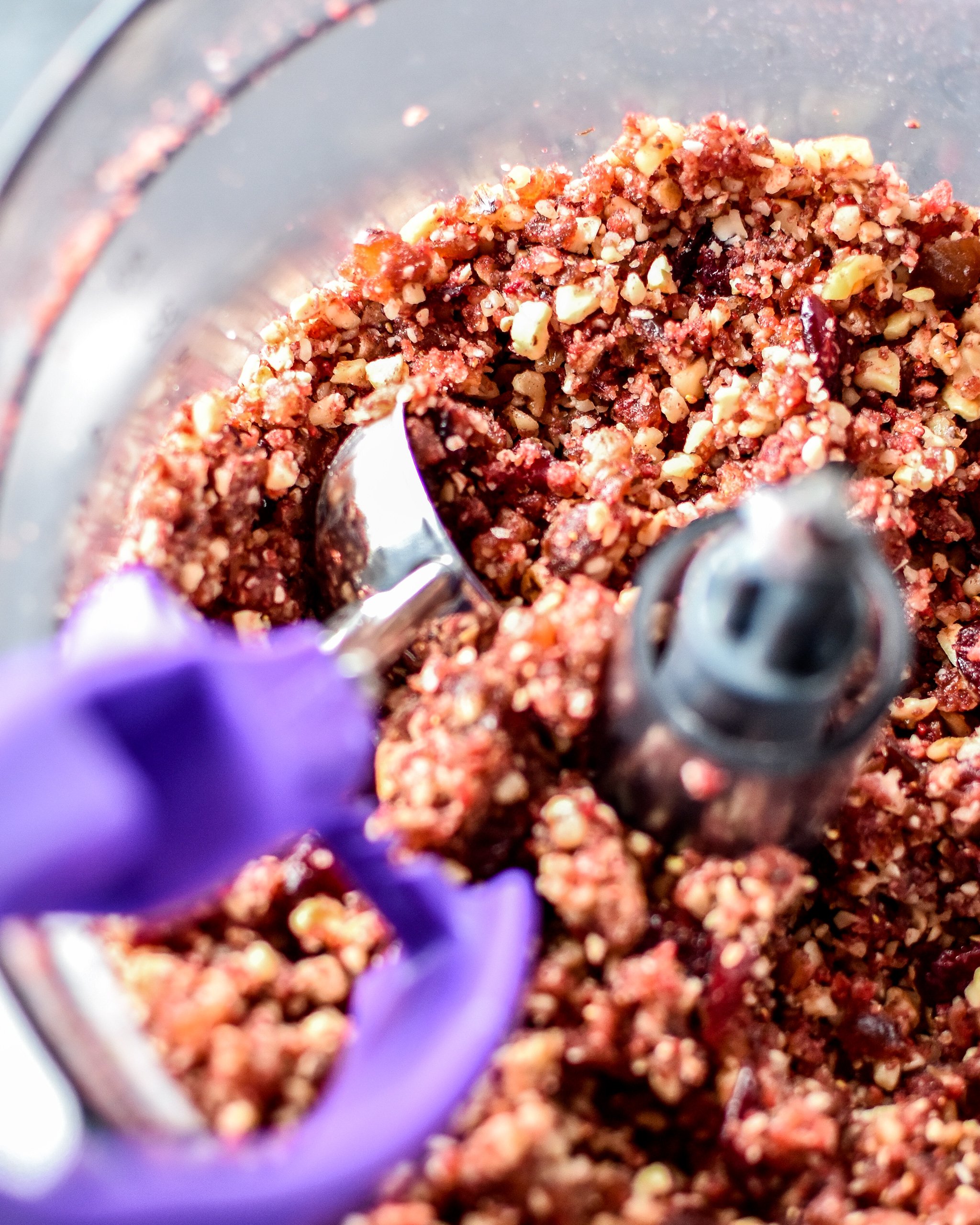 Like I said, this creation is pretty similar to my other date nut recipes. However, this one has the best color, and I'm thinking I like ball form instead of bar form.
Here's why I'm liking the ball shapes a little more than the bars:
they're easier to consume in one bite
smaller portions
easier to store
you can roll them in things (like freeze-dried strawberry dust)
PS: Good for all times of year, not just February ❤
What kind of dates should I use?
Deglet noor or medjool dates will both work for this recipe. Go for ones that look juicy, even if you have to remove the pits yourself.
I have personally found that dates with the pits still inside are a little more juicy. However, if your dates are on the dry side, give them a bath in some steamy water for 10-15 minutes and then drain. They'll be way softer!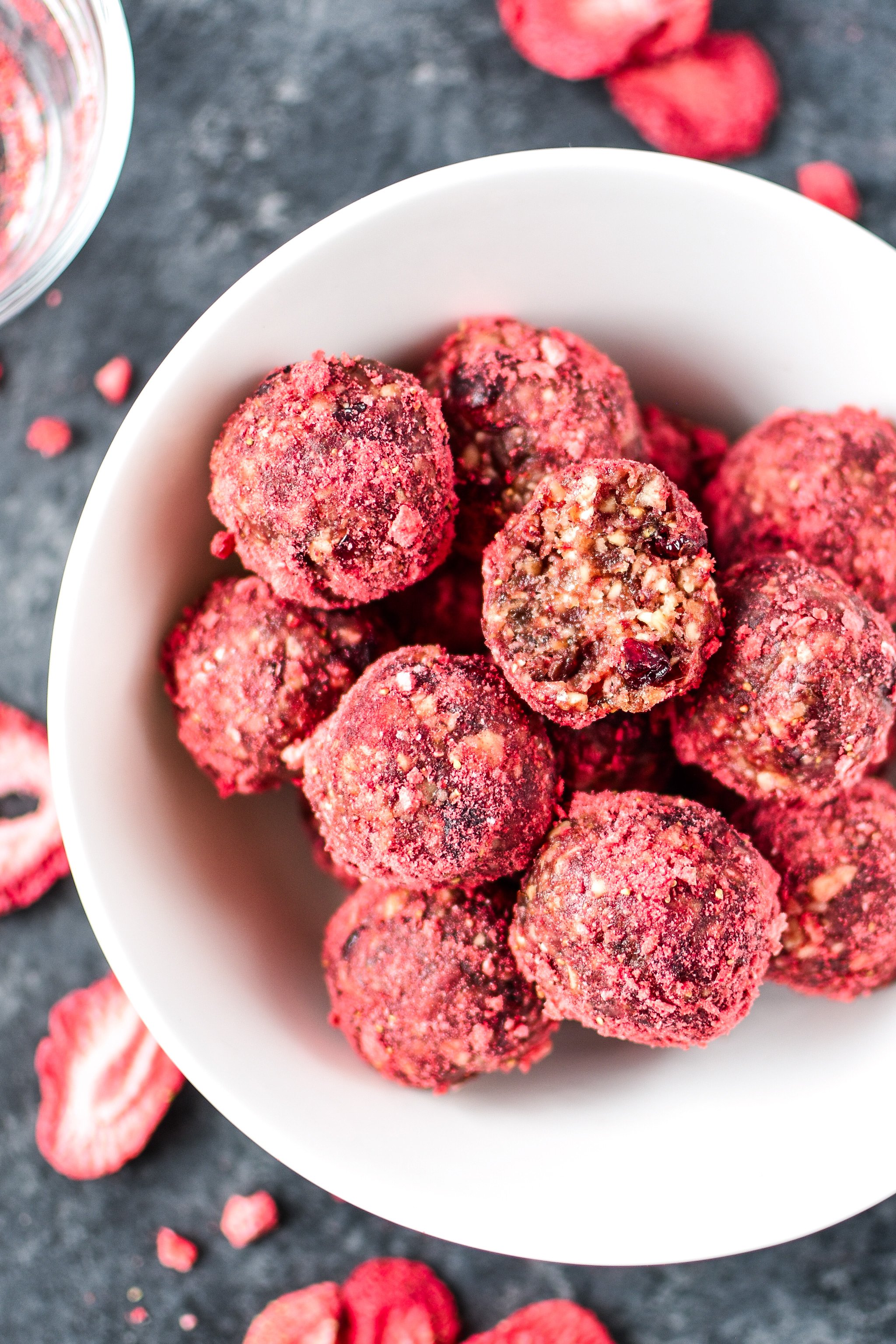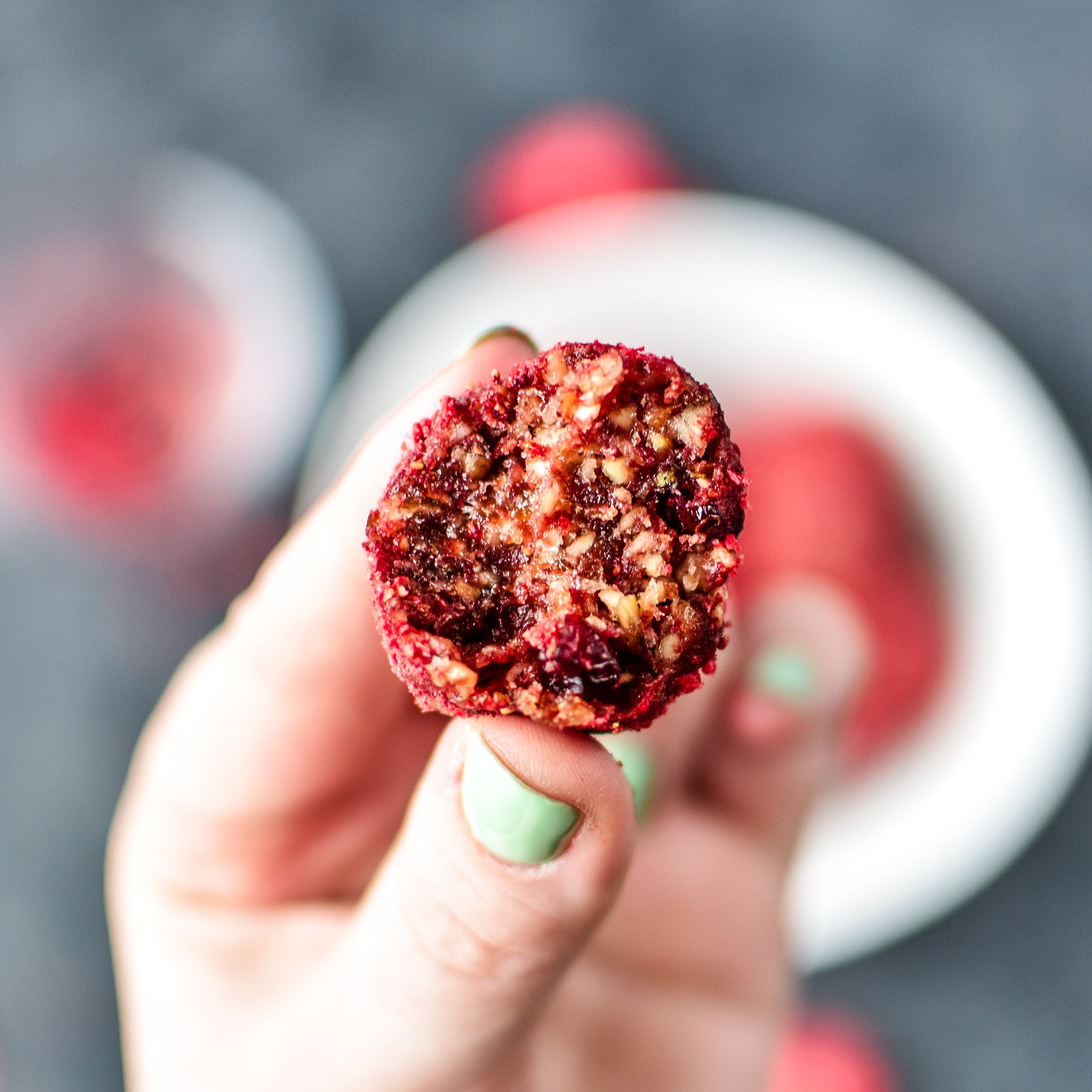 More recipes with dates:
It is seriously mind blowing that dates are fruit because they taste like caramel.
If you're into this Spiced Berry Bliss Balls recipe, here are some others like it on Project Meal Plan you might enjoy:
How to Store & Freeze these Spiced Berry Bliss Balls:
Store: Store in an airtight container in the refrigerator for 5-7 days.
Freeze: Store in an airtight container in the freezer for 3-6 months. Thaw on the counter for an hour or two.
Recipe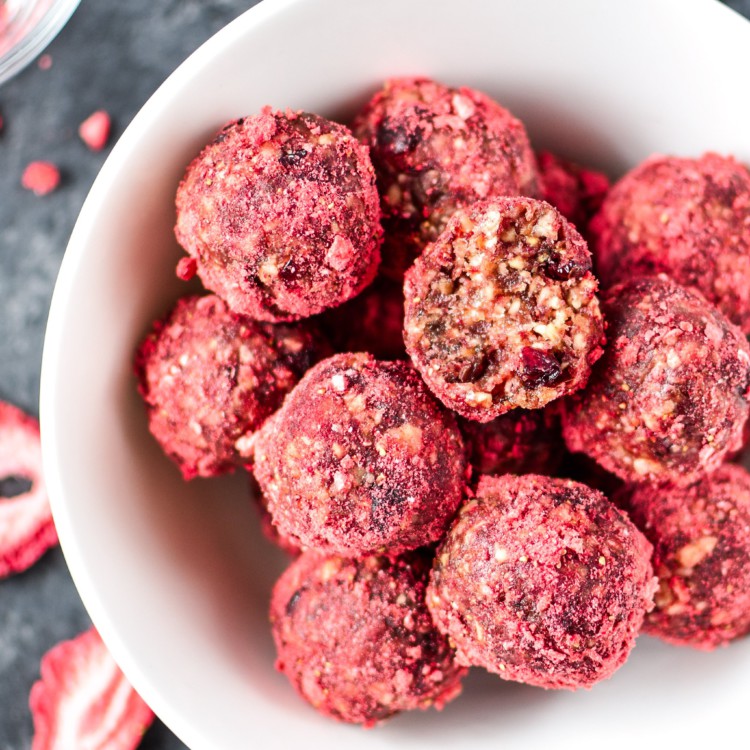 Spiced Berry Bliss Balls
Prep:
15 minutes
Total:
15 minutes
Spiced Berry Bliss Balls are the perfect bite sized snack that both kids and adults will love! Full of nuts, sweetened with fruit, and blended with freeze-dried strawberries for a unique pink treat!
Ingredients
2 cups

unsweetened freeze-dried strawberries (equals about

1

bag of TJ's Freeze Dried Strawberries)

1 cup

raw walnuts

1/3 cup

unsalted cashews

1 cup

pitted medjool dates (

18

–

19

dates)

1/2 teaspoon

ground cinnamon

1/4 teaspoon

ground nutmeg

1/8 teaspoon

salt

1/4 cup

unsweetened dried cranberries

2

–

4

tablespoons cold water
Instructions
Blend the strawberries: To an 8-cup food processor, add the freeze-dried strawberries. Pulse for 20-30 seconds until no large pieces remain. The strawberries will start to form a dusty powder. Let your food processor sit for a couple seconds so the dust inside settles before opening.
Set aside some dust: Using a small spoon, scoop about 2 tablespoons of the finest strawberry dust from the food processor into a small bowl and set aside for rolling your balls. Larger pieces won't stick to the bliss balls very well, so be sure to only scoop out the fine dust powder that gathers along the outside rim of the food processor.
Blend the ball ingredients: Add all remaining ingredients except the dried cranberries. Pulse and blend ingredients together for at least 1 minute. The longer you process the ingredients, the smaller they'll become and the better they'll stick together. Add 1 tablespoon of water at a time and pulse between additions. The water will help the mixture begin to stick together. Pulse again until the mixture becomes sticky and holds together in your hand. Add another tablespoon of water if the mixture isn't sticky enough. Finally, add dried cranberries to the food processor and pulse a few times to mix.
Form the balls: Use gloves or clean hands to form the mixture into 16-18 balls, approximately 1 inch in diameter. When forming the bliss balls, it works best to first squeeze the mixture tightly together in your hand a couple times and then work on forming the ball.
Roll in strawberry powder: Roll each ball in the freeze-dried strawberry powder for a pink color and extra strawberry coating!
Store: Store in an airtight container in the refrigerator and enjoy with 5-7 days.
Notes
If your dates are not sticky or if they particularly dry, soak them in hot water for 10-20 minutes and then drain before use. They'll soften up nicely! Nutrition information estimated with My Fitness Pal.
Nutrition Information
Serving Size:

1 ball

Calories:

80

Sugar:

3g

Fat:

6g

Carbohydrates:

5g

Protein:

2g
Recipe Card powered by