This is my new go-to, take-everywhere, also-great-as-leftovers, party salad. It's packed with cucumbers, red peppers, red onion, and a simple lemon-y dressing. PLUS, quinoa. It's the Make-Ahead Quinoa Party Salad!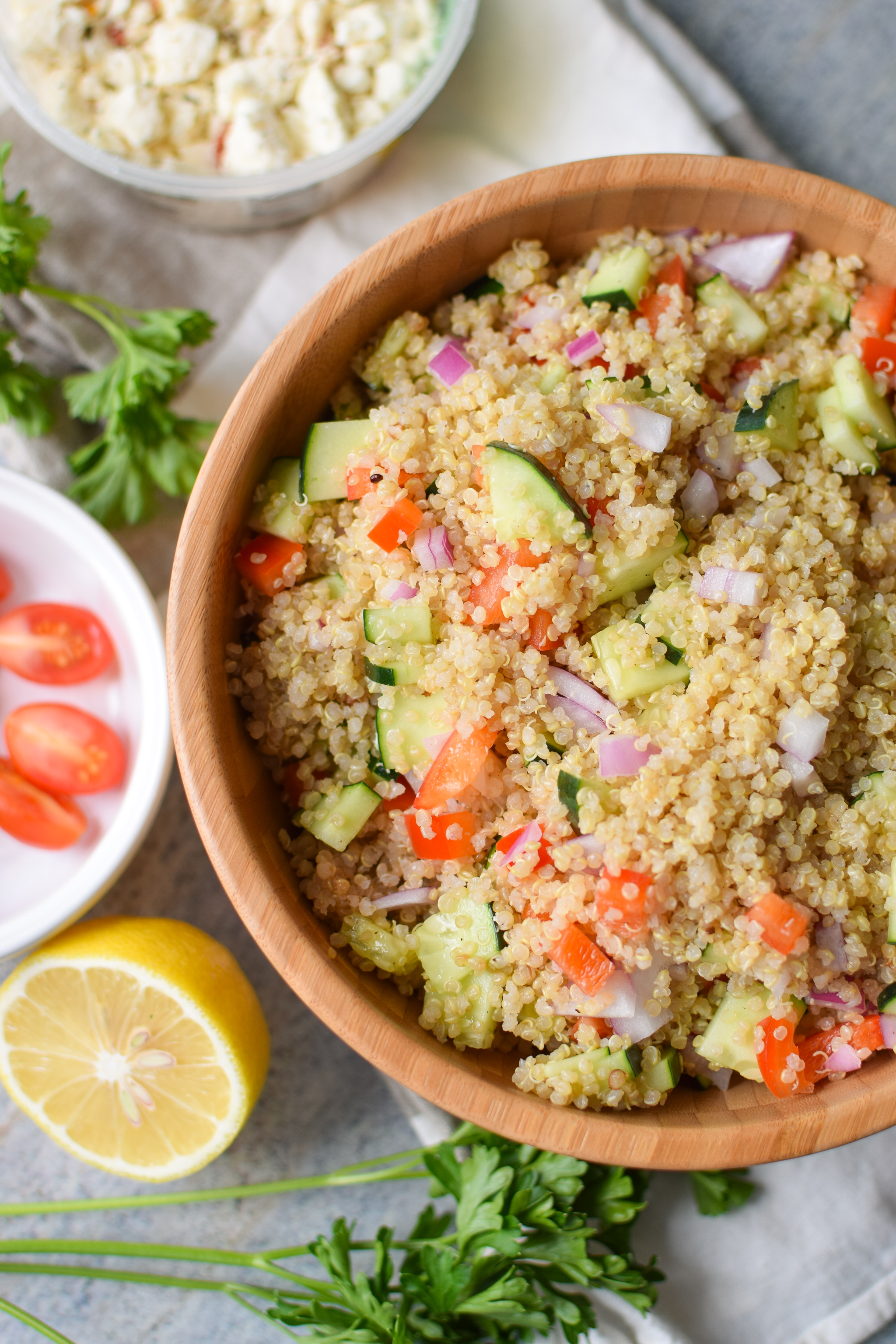 Let's discuss the easiest way to make quinoa. If you've seen me talk about this before and you haven't tried it, then this goes out to you in particular.
If you have a rice cooker, you probably already know how revolutionary it is for rice cooking. But it's the same with quinoa. I 100% promise. See photographic evidence below.
Oil the bowl with coconut oil to prevent sticking. Add 1 cup dry quinoa with 1 can of broth. Set on brown rice setting. If it sounds super easy, that's because it is.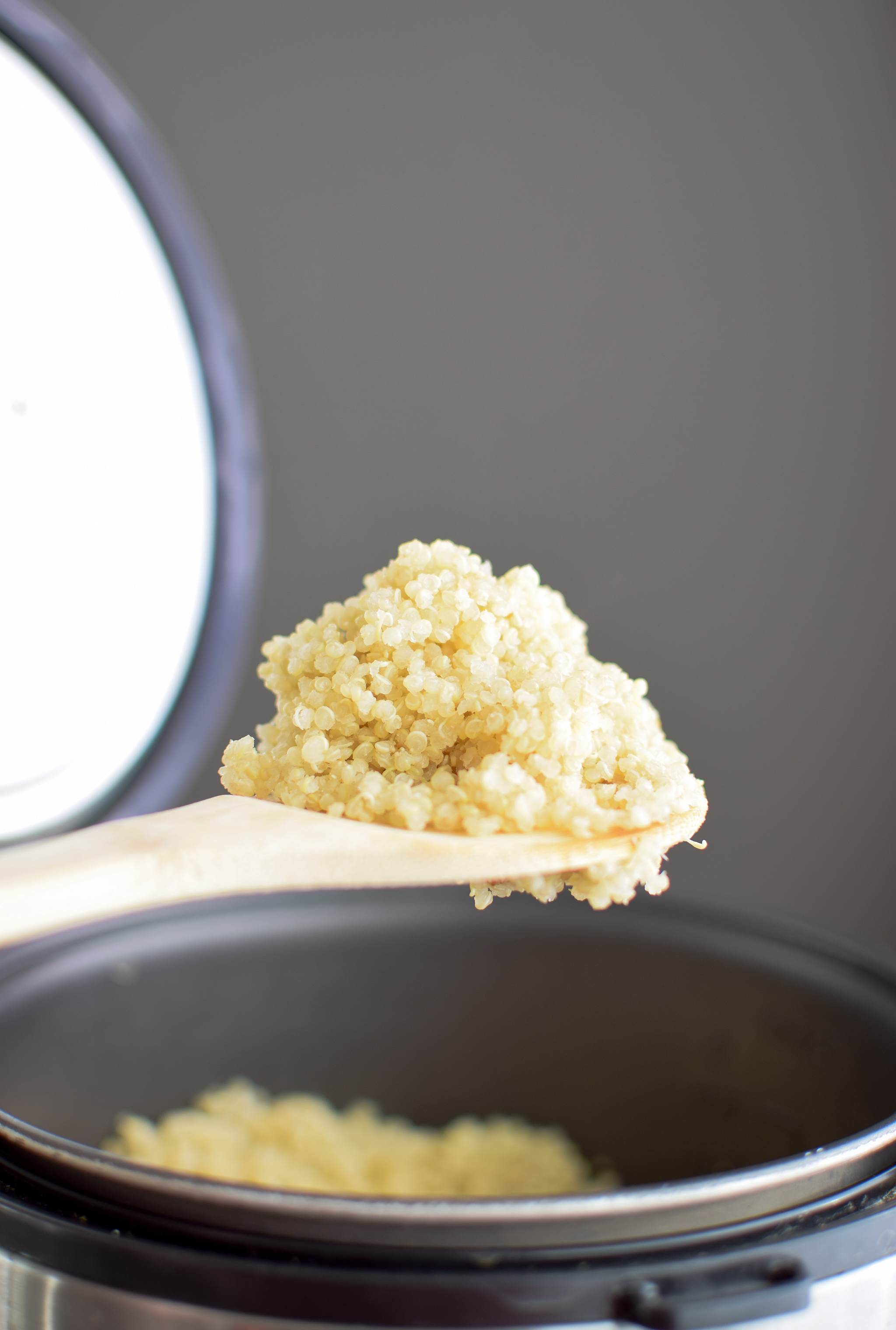 Full disclosure: This salad is pretty alright when you first make it. But consensus is, at least a solid 12 hours in the fridge makes it WAY better.
Something about flavors marinating together. And I've decided quinoa tends to absorb any and all flavors around it, while the quinoa flavor mostly just fades away. I don't know anyone who eats quinoa for the flavor… but if it's you, feel free to eat this quinoa-riffic salad right away. The rest of us will enjoy it in the next few days.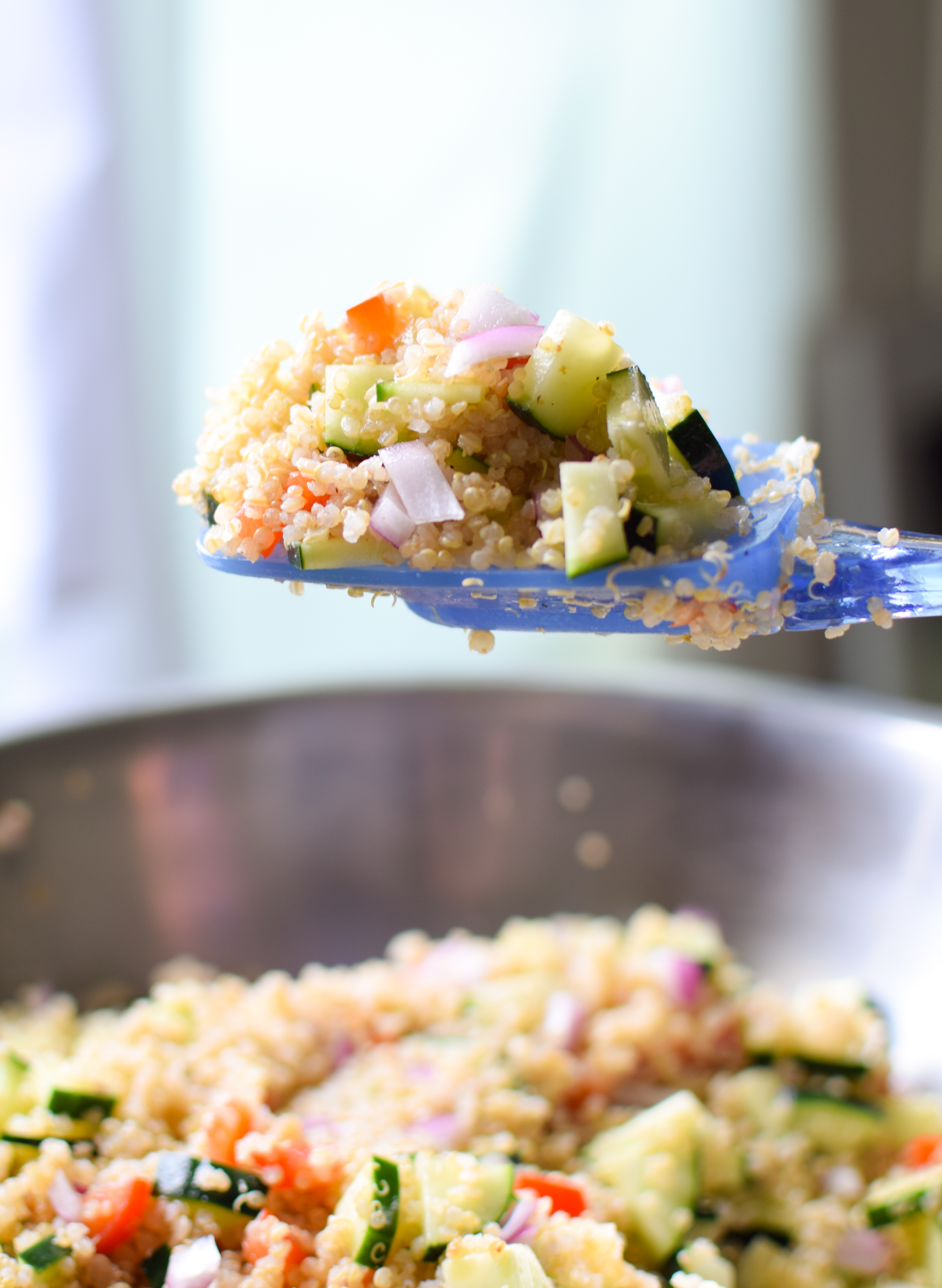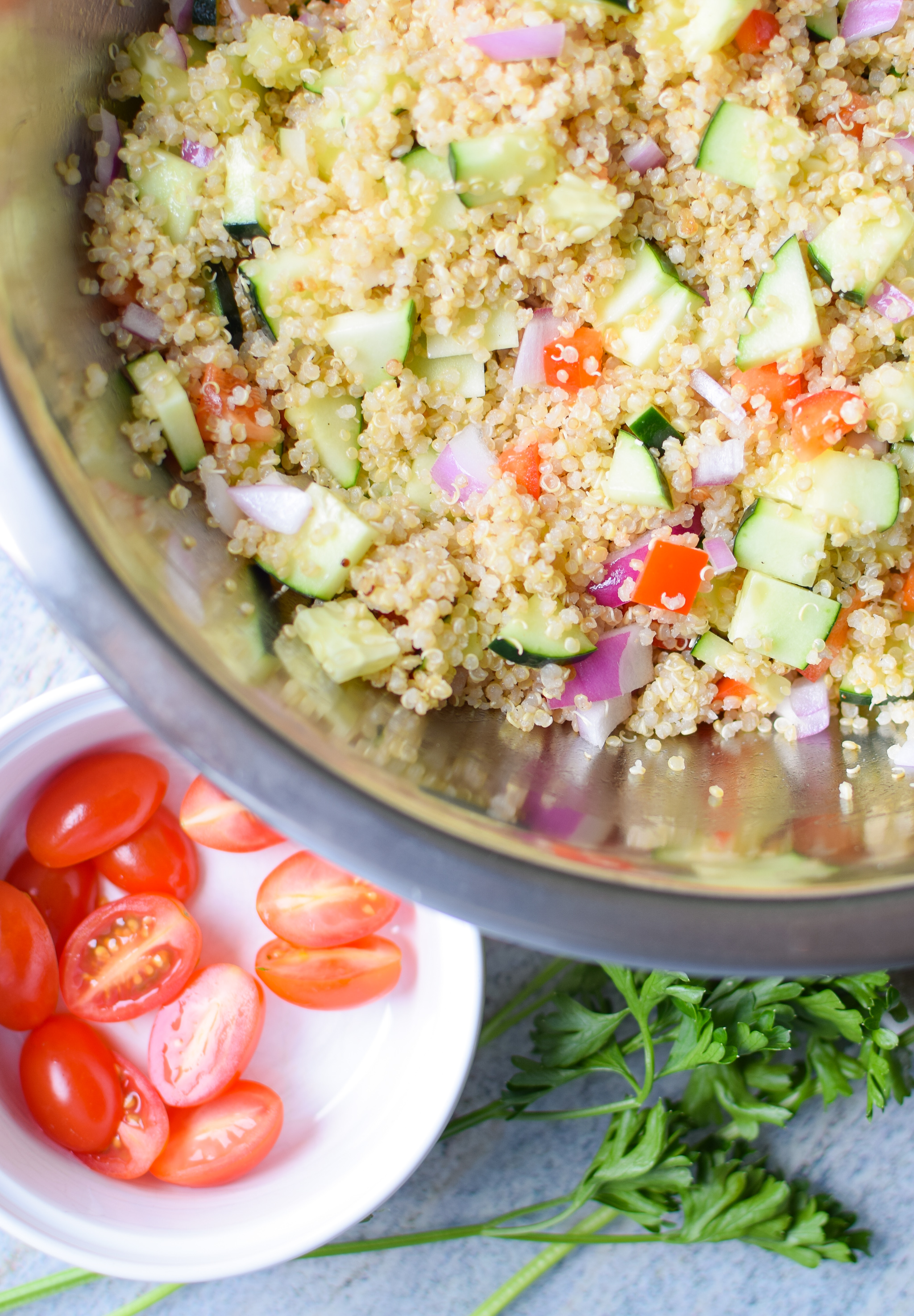 If this salad is serving a party of 1 or 2, I'd keep with the recipe sized below which gives you leftovers for a few days. If you're actually taking this salad to a party, I'd recommend doubling it or using a few more veggies.
For meal prepping large quantities, this pairs well with a juicy chicken breast for lunch or maybe some garlic shrimp for dinner.
How to Make Make-Ahead Quinoa Party Salad (55 sec):
Other delicious recipes from Project Meal Plan:
Recipe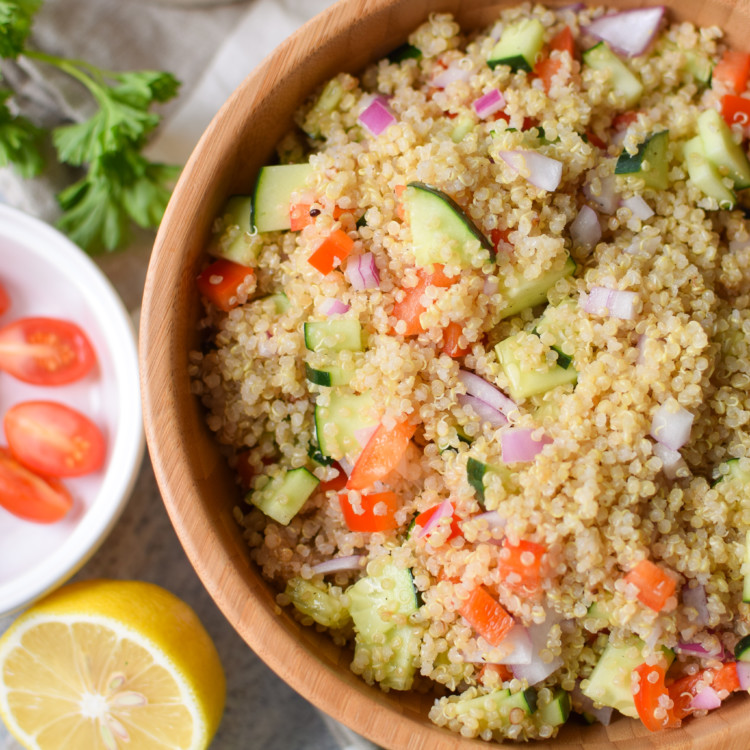 Make-Ahead Quinoa Party Salad
Prep:
10 minutes
Cook:
30 minutes
Total:
40 minutes
Easy recipe for a light salad with cucumbers, peppers, onions, and a simple lemon-y dressing. YUM.
Ingredients
1 cup

dry quinoa

1

(14.5 ounce) can chicken or veggie broth

1

–

2

cucumbers, diced

1

red bell pepper, diced

1/2

red onion, diced

1/4 cup

avocado oil (olive oil works too)

1 tablespoon

apple cider vinegar

2 tablespoons

lemon juice (or

half of a

lemon's worth)
salt/pepper to taste
Instructions
Cook quinoa per box directions, or using your rice cooker. To cook quinoa in the rice cooker, wipe the inside of the rice cooker bowl with coconut oil to reduce sticking. Add 1 cup dry quinoa with 1 can of chicken broth. Close and cook on white rice setting.
While the quinoa is cooking, dice cucumbers, red onion, and bell pepper.
Let the quinoa cool for a few minutes when it is done, then place it in a large bowl. Add diced vegetables, avocado oil, apple cider vinegar, lemon juice, salt and pepper. Mix well.
Store in air tight container in the refrigerator. Salad is best when eaten at least 12 hours after it is made.
Notes
Add other things like olives or feta cheese to make it your own 🙂
UPDATE 3/23/17: I recently made this with rice vinegar instead of apple cider vinegar, and it received good reviews from the whole group.
Recipe adapted from Greek Quinoa Bowls by Jenn at Peas and Crayons. Nutrition information estimated with My Fitness Pal.
Nutrition Information
Serving Size:

~1 cup

Calories:

207

Fat:

11.1g

Carbohydrates:

22.8g

Protein:

4.9g
Recipe Card powered by