Zucchini bread bars blessed with the ultimate dessert delicacies: pumpkin and chocolate chips. Pumpkin Spice Zucchini Bread Squares are a delicious cross between zucchini bread and chocolate chip pumpkin bars!
Jump to Recipe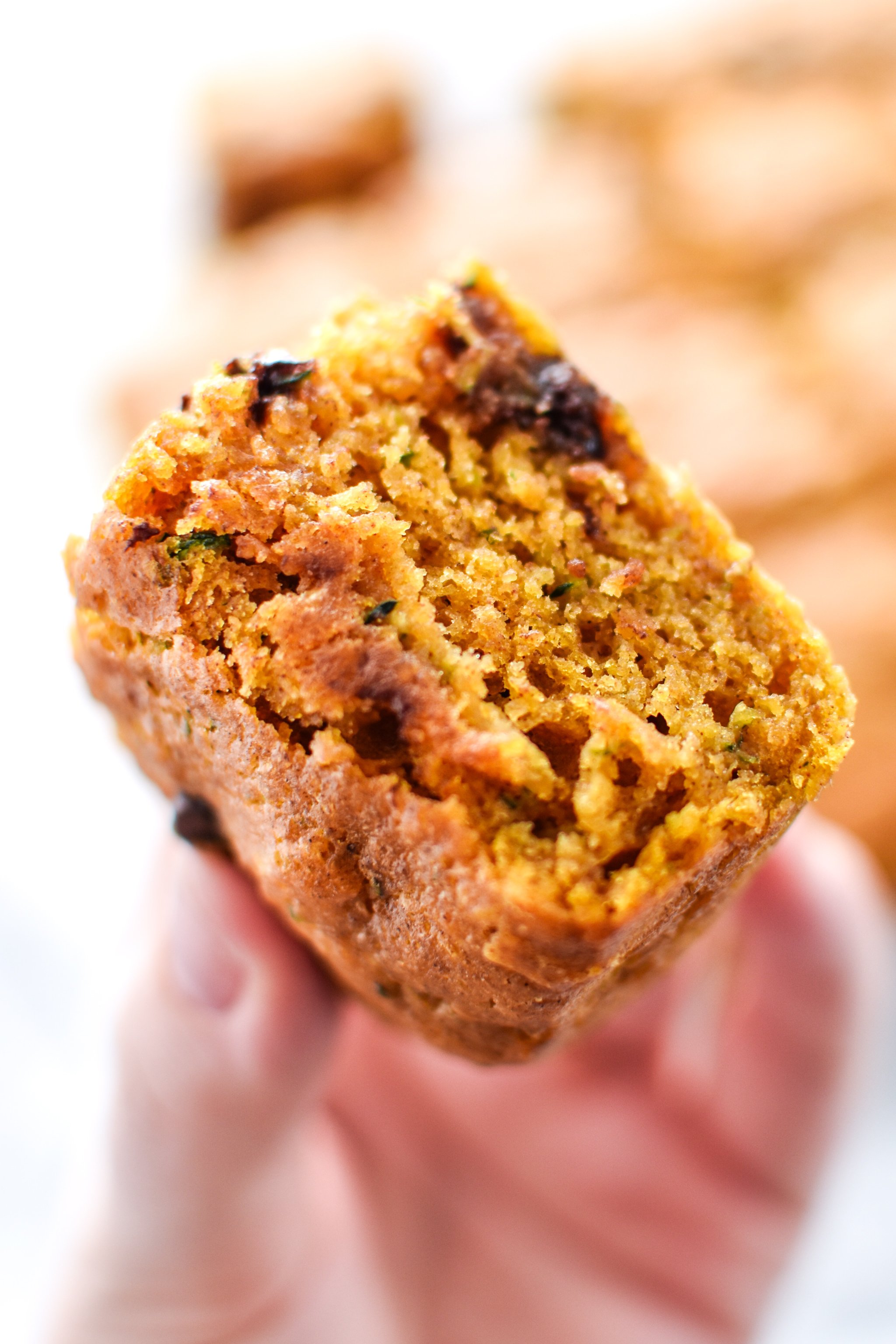 Pumpkin bread alone? Incredibly satisfying. Reminds me of fall leaves and candles. Chocolate chips are also a great addition.
Zucchini bread alone? A classic. Reminds me of having too many zucchini in my fridge. And my brain for sure this: Zucchini = MOIST bread (sorry, I had to say it).
But, THE TWO TOGETHER?? A new masterpiece. And yeah, chocolate chips, obviously.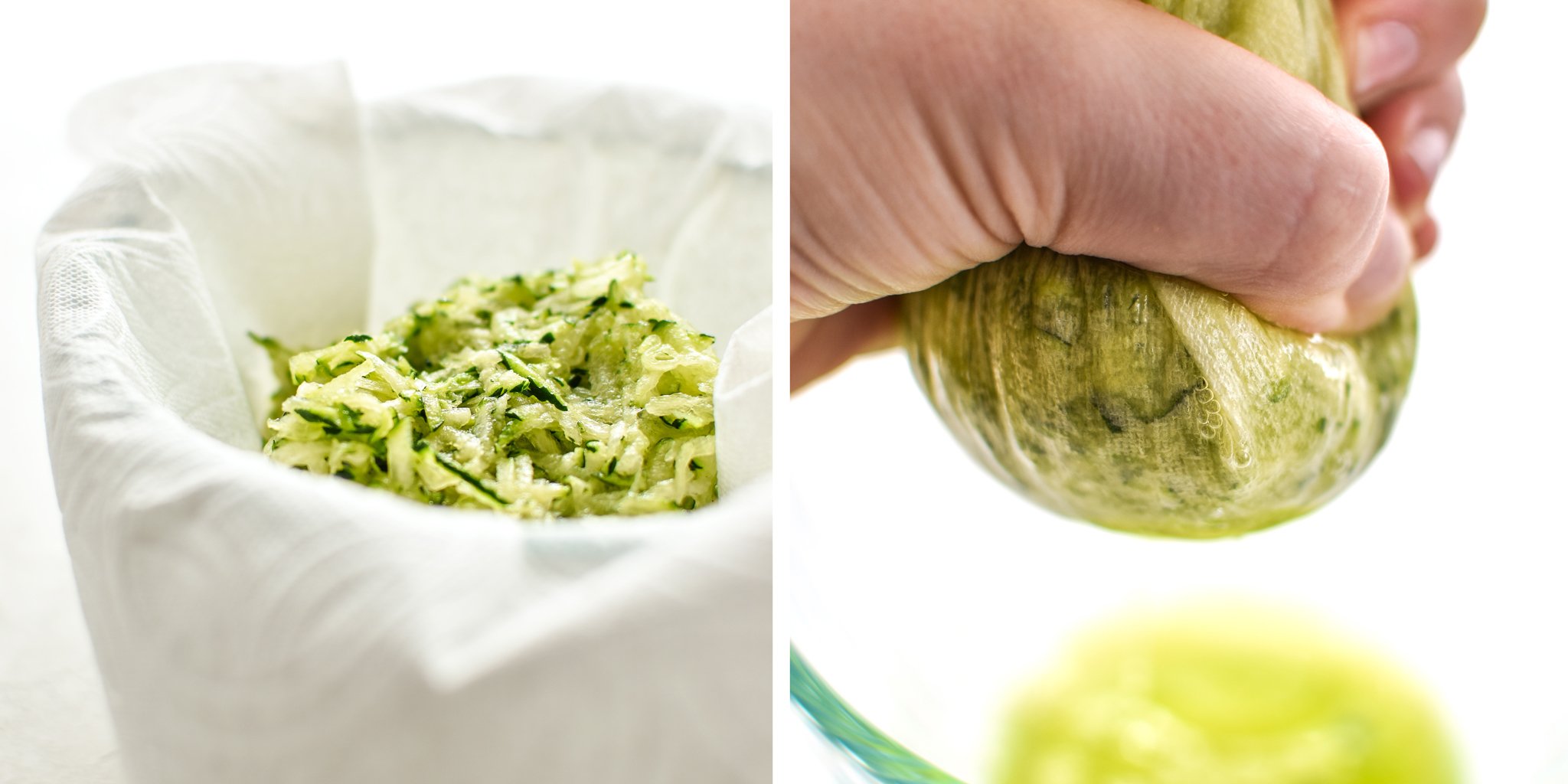 How the Pumpkin Spice Zucchini Bread Squares were born:
If you're wondering why this recipe is for bread squares, instead of just bread, here's your answer: I had a really, really, old loaf pan that I decided had finished its time with me. So, I put it in the Goodwill bag with a plan to buy a new one in the very near future. Months later, that very near future ended up not actually happening, and I found myself half way into making bread totally forgetting about the whole loaf pan situation.
So bread turned into bread squares via an 8×8 baking pan. And they were absolutely amazing!
During the process of testing and adjusting a bread recipe to fit into a flat dish deliciously, I spent a little time learning about the difference between baking soda vs. baking powder. I mean, I knew there was a difference. I just didn't know what it was, and more importantly, how that difference would come through in baked goods. Huge shout out to Sally's Baking Addiction Baking Basics series – I love baking, and there's SO MUCH TO LEARN.
That might be one of my favorite things about cooking and baking in general – there is always a new technique, recipe, ingredient, cuisine, pretty much anything, that I haven't tried. And always something to learn from every item created.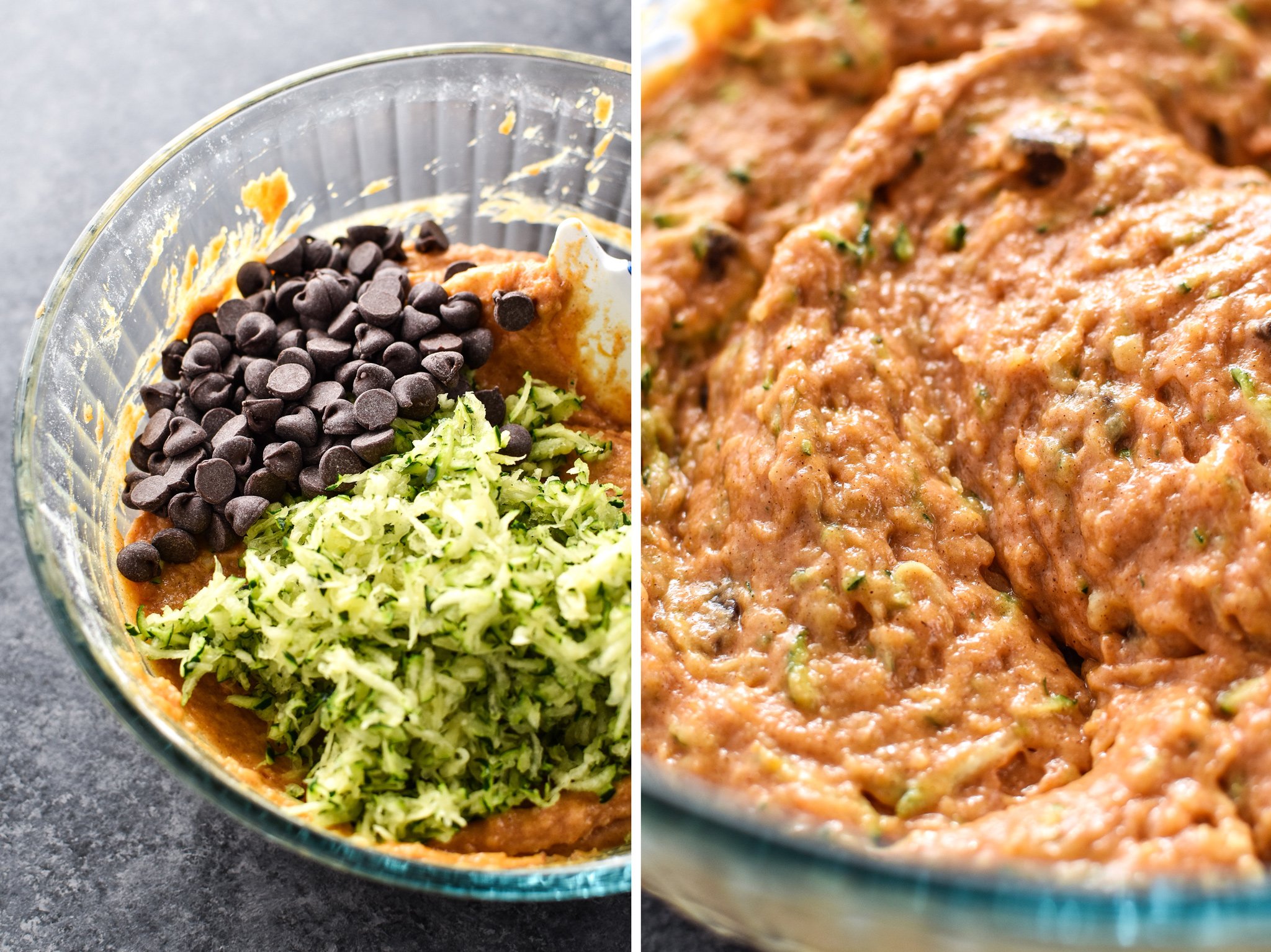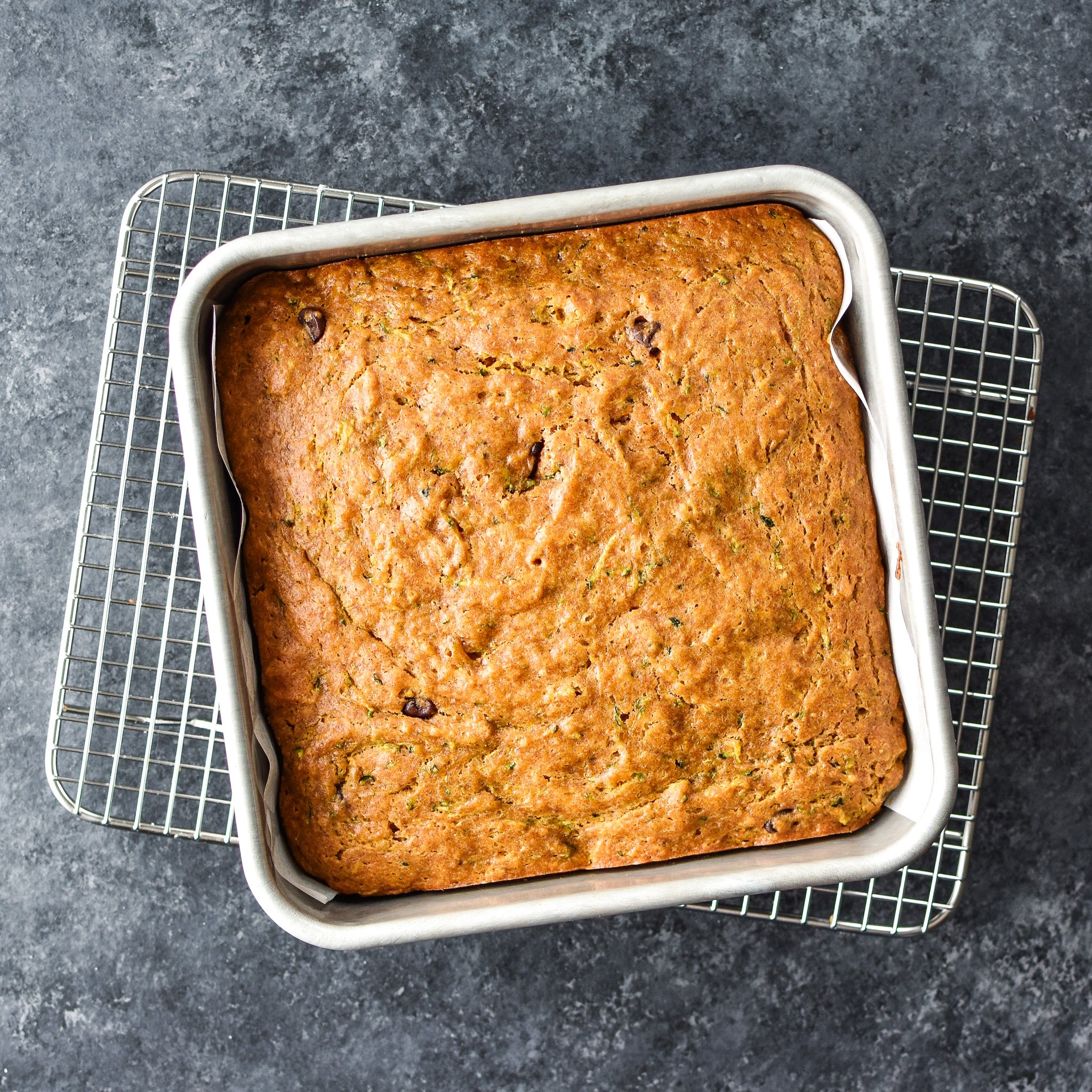 More pumpkin magic:
I've noticed the following about myself: I cannot create a pumpkin recipe without casually throwing in all the pumpkin spice possible. You can see this in the following recipes:
I think that's just going to have to be okay. NOTE: I have also made these Pumpkin Spice Zucchini Bread Squares with Pumpkin Spiced Pumpkin Seeds sprinkled on top. Also very delicious but not that easy to say 3 times fast.
P.S.: I would also love to give a huge shout out to Erickson Woodworks where I purchased that new photography board up there. It is amazing and I'm so pleased! Particularly with the fact that I was able to choose a custom surface for BOTH sides. So it's actually two different surfaces which is the coolest thing ever.
Finally done using a foam board with wallpaper stuck to it (but I know I had you all fooled into thinking we had white marbled counter tops!).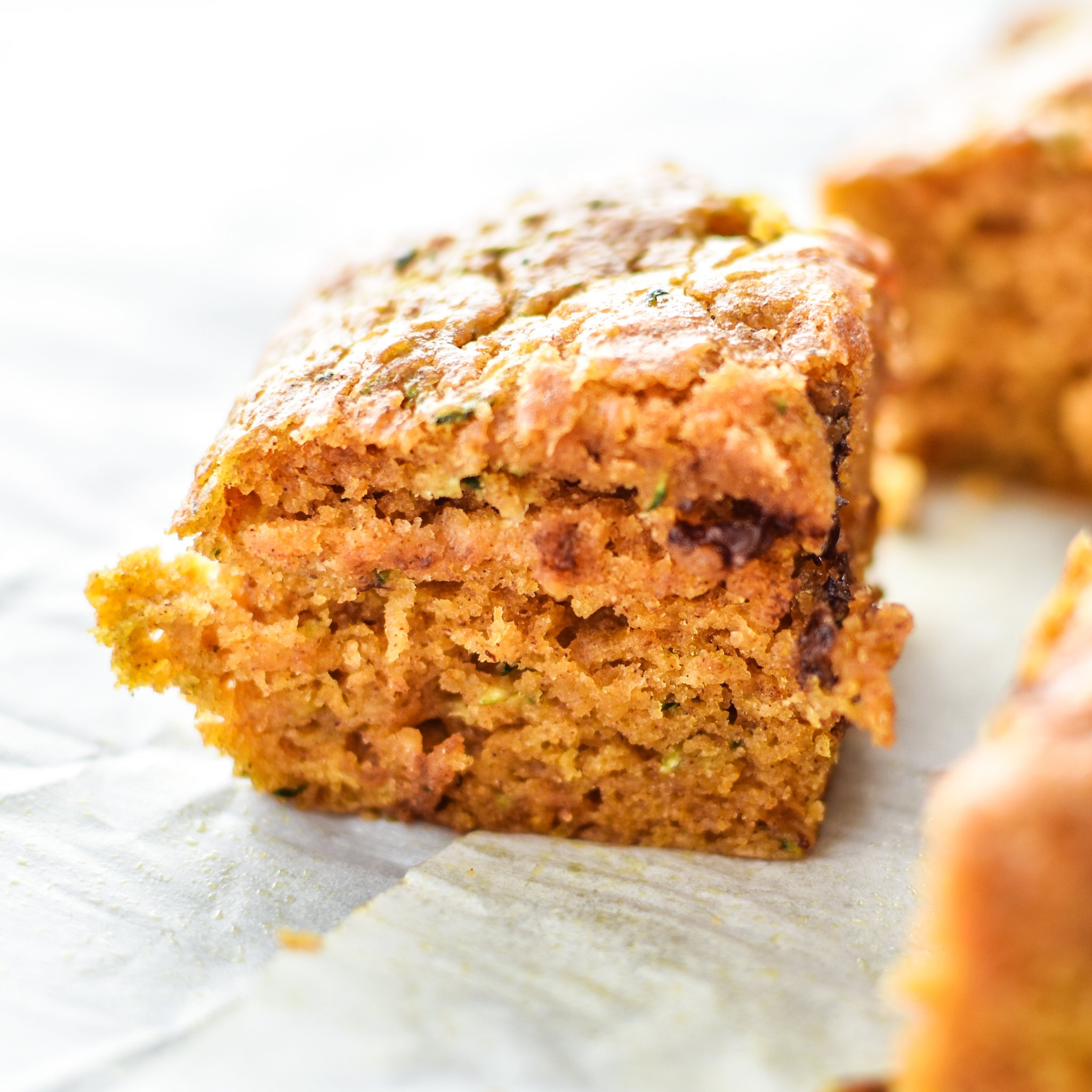 More sweet recipes from Project Meal Plan:
Recipe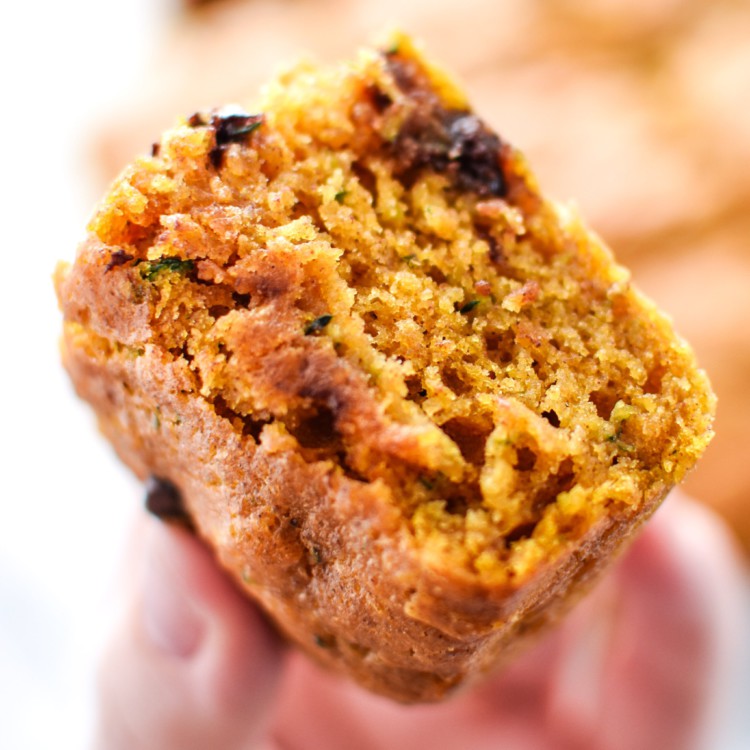 Pumpkin Spice Zucchini Bread Squares
Prep:
10 minutes
Cook:
50 minutes
Total:
1 hour
Pumpkin Spice Zucchini Bread Squares are the ultimate fall treat – zucchini bread crossed with pumpkin bars!
Ingredients
2

large eggs, whisked

1 cup

granulated sugar

1/2 cup

butter, melted

1/2 tablespoon

vanilla

1 cup

pumpkin puree

1 1/2 cups

all-purpose flour

1 1/2 teaspoons

baking powder

1 1/2 teaspoons

ground cinnamon

1 teaspoon

pumpkin pie spice

1/2 teaspoon

salt

1

medium zucchini, grated (about

3/4 cup

before removing liquid)

1/3 cup

semi-sweet chocolate chips
Instructions
Preheat oven to 350 degree F.
Wrap the grated zucchini in a paper towel and squeeze to remove as much liquid as possible.
In a large mixing bowl, combine eggs and sugar, then add butter, vanilla, and pumpkin puree and mix until combined.
In a separate bowl, combine dry ingredients (flour, baking powder, cinnamon, pumpkin pie spice, and salt). Add dry ingredients to the wet ingredients and mix until combined. Add zucchini and chocolate chips, and mix well.
Line an 8×8 baking dish with parchment paper and spray with non-stick cooking spray. Pour batter into the pan and bake for 45-50 minutes, or until a toothpick comes out clean from the center.
Let cool for at least two hours before cutting into 16 squares. Store in the refrigerator and consume within 5 days.
Nutrition Information
Serving Size:

1 square

Calories:

175

Sugar:

14g

Fat:

8g

Carbohydrates:

25g

Protein:

2g
Recipe Card powered by
To make this recipe, I used:
Thanks for checking out Pumpkin Spice Zucchini Bread Squares! Be sure to use #projectmealplan on social media if you make this recipe!