Pumpkin spice life!! My favorite homemade no-bake bar now in a fall version. Naturally sweetened with dates and full of pumpkin seeds! You absolutely must try these No-Bake Pumpkin Spice Date Nut Bars!
Jump to Recipe · Jump to Video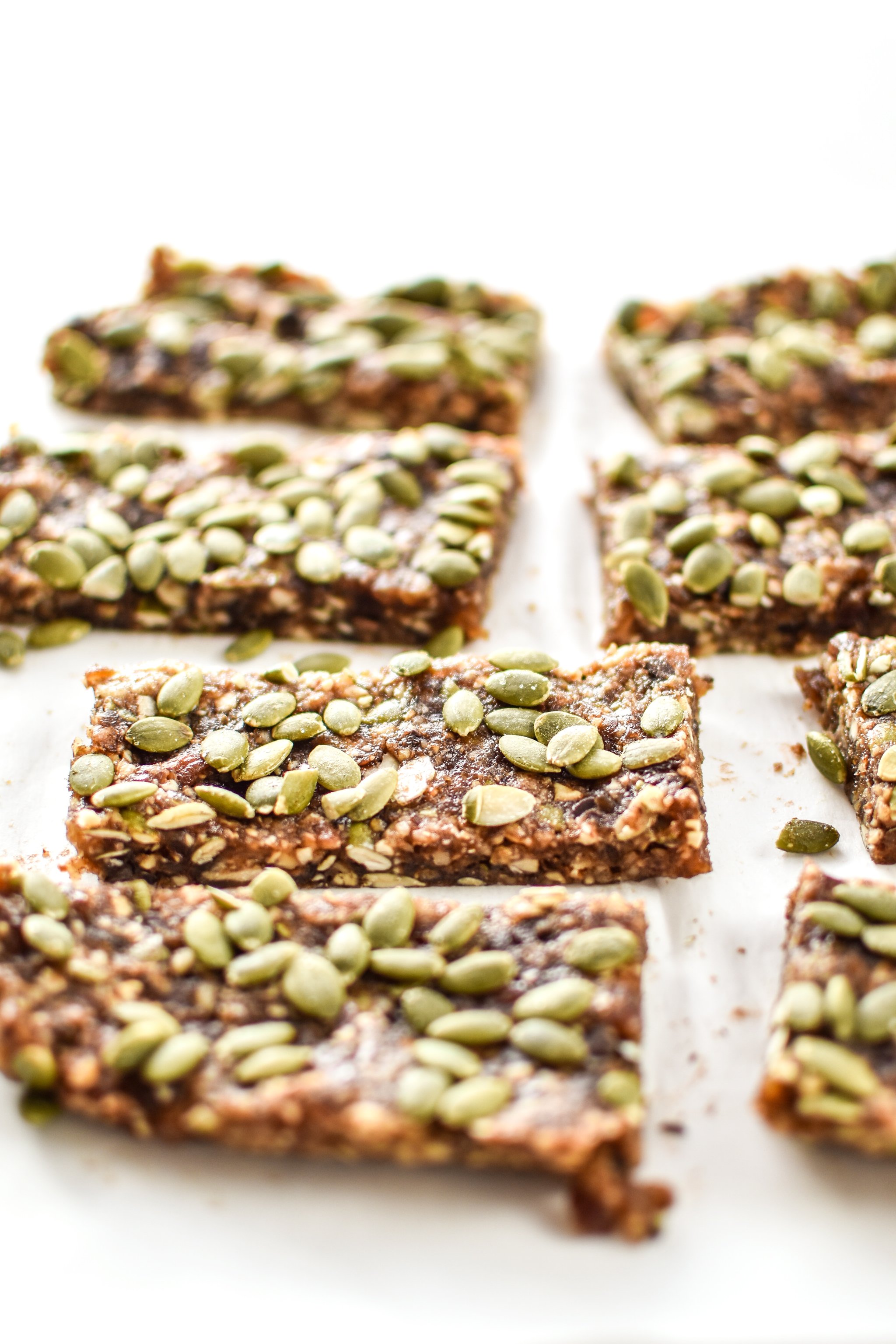 Since this is the second date bar recipe in a very short time (WE LOVE THESE), I decided to do a detailed breakdown of how I actually make them in this post. And some helpful photos of course.
The other date bars, No-Bake Cinnamon Apple Date Bars, were a huge hit around here. So I decided to create a pumpkin version. Because how is that not a great idea?
I knew I couldn't really put full-on pumpkin puree in the bars because it would make them way too soggy (avoiding the M word here). But spices that would normally flavor pumpkin? Oh yes. And seeds!! I wanted some pumpkin seeds to finish off the creation. Sea salt ones were perfect.
Oh, and some mini chocolate chips on my husband's request. Another idea that could never be bad (we love chocolate, but, who doesn't?).
These are seriously marvelous bars (I used the word marvelous sparingly). The sea salt on the pumpkin seeds is a perfect contrast to the sweetness of the pumpkin spice flavored nut and date mixture. You have to try it for yourself!
Okay, here's how you do it. Ingredients: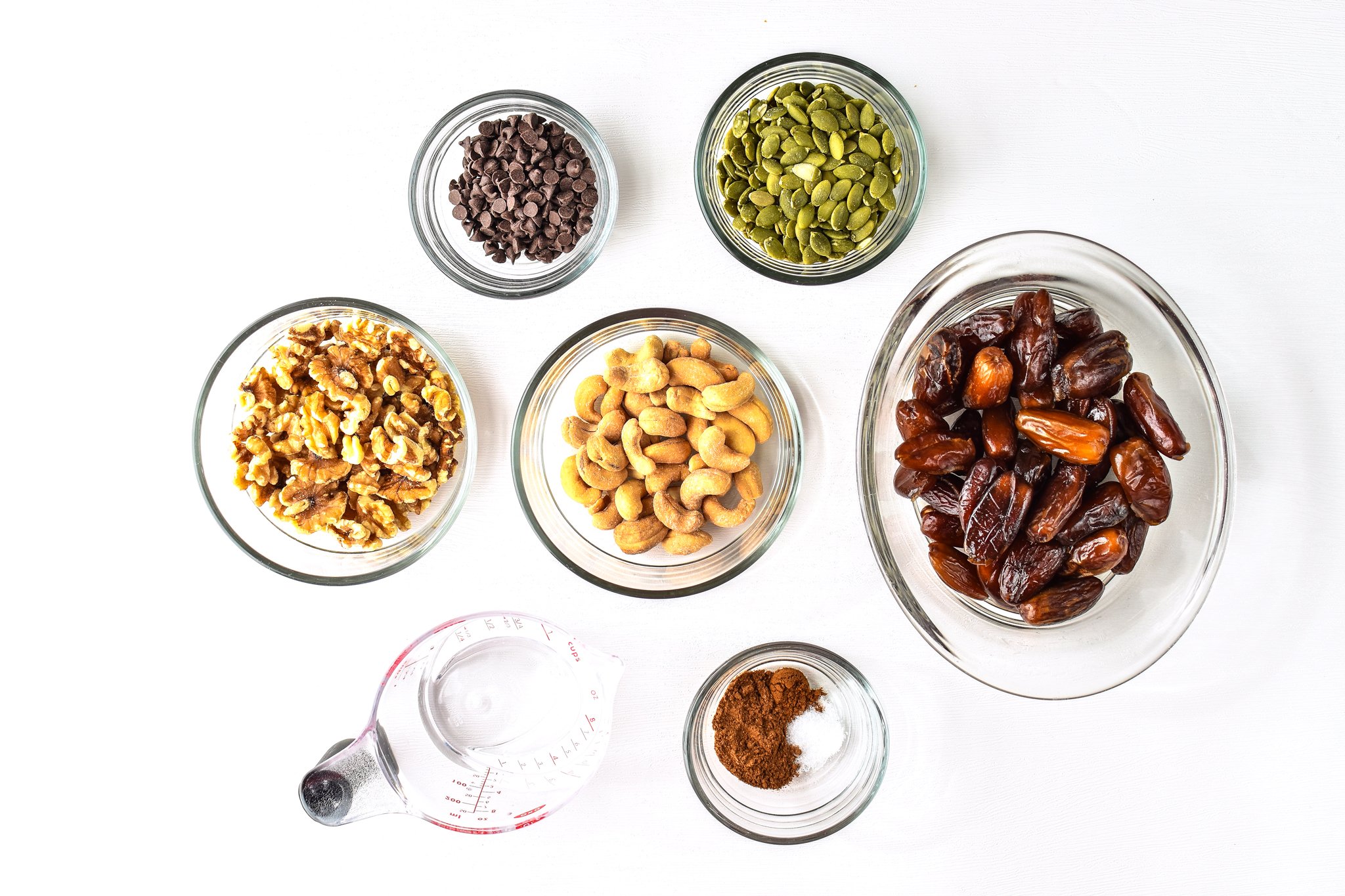 Start off by processing the nuts, and then adding the dates and processing those as well.
Don't over pulse the nuts – make sure there are still a small pieces left.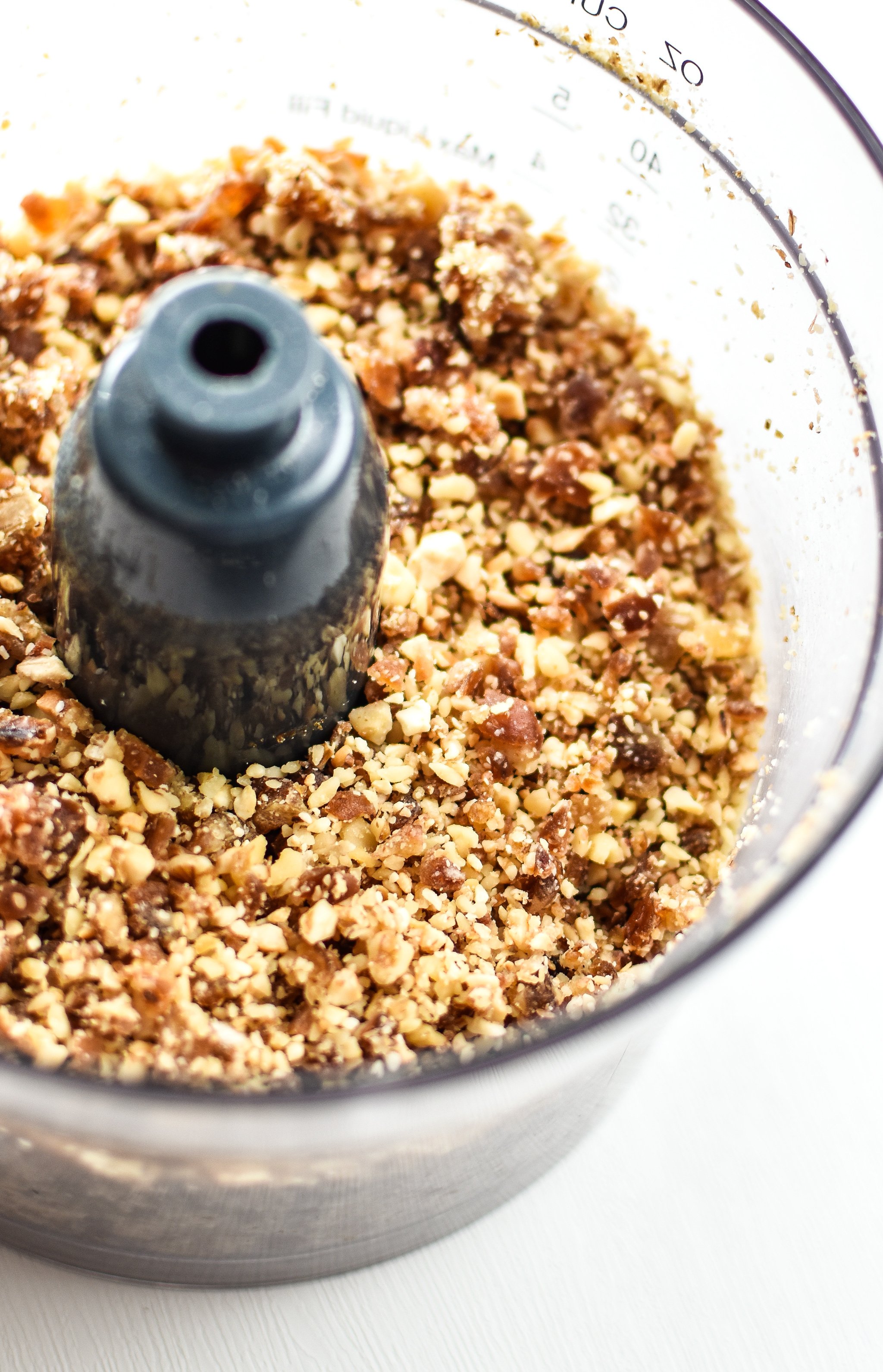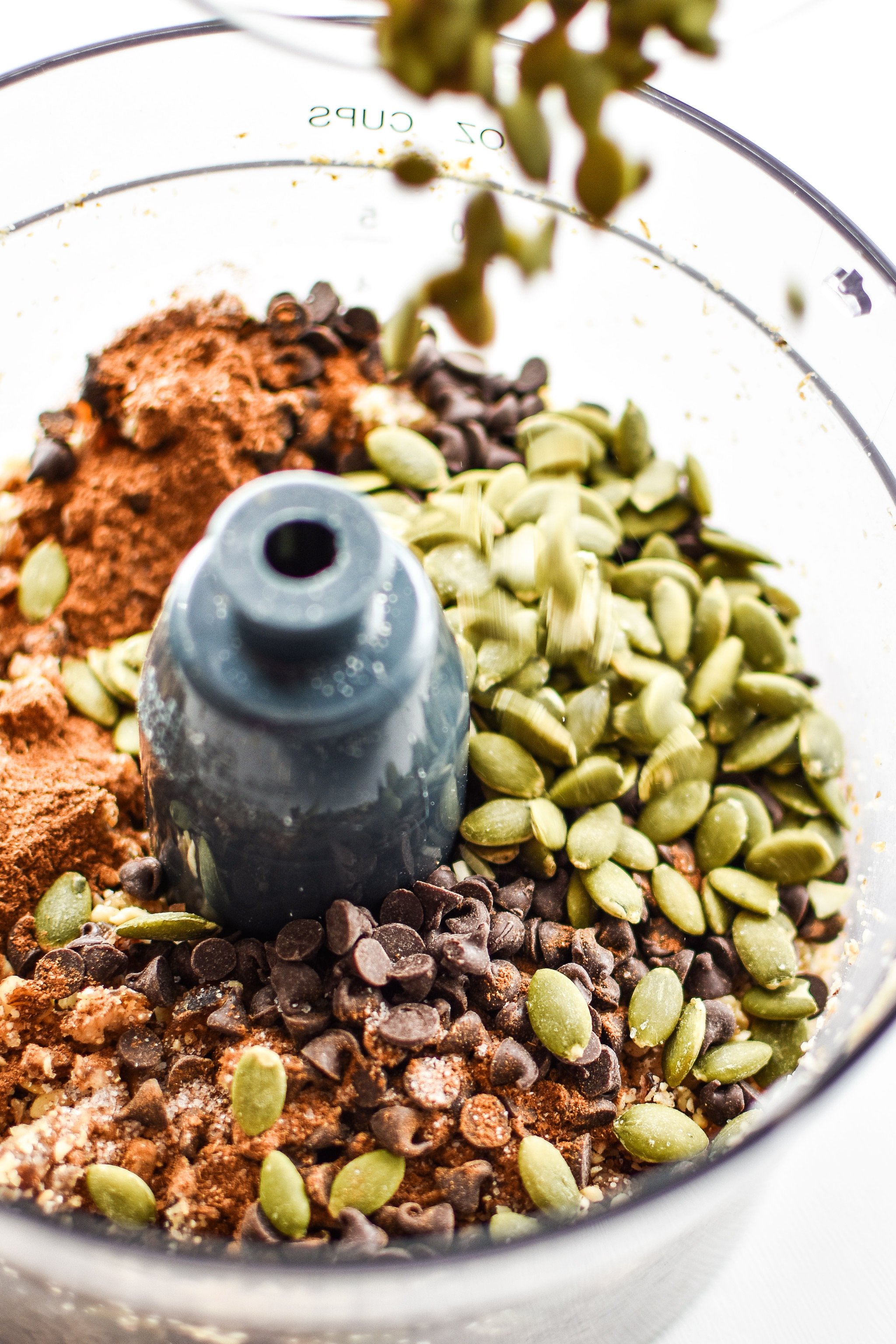 Add all your mix-ins (spices, chocolate chips, pumpkin seeds) and give it a few quick pulses to mix everything together. We want to break up these pumpkin seeds a little, but not too much. Once you add two tablespoons of water and pulse a few more times, the mixture should hold together when you squish it in your hands.
Next, transfer to parchment paper lined 8×8 dish. Top off with more pumpkin seeds. Refrigerate for at least 30 minutes, and you're good to go!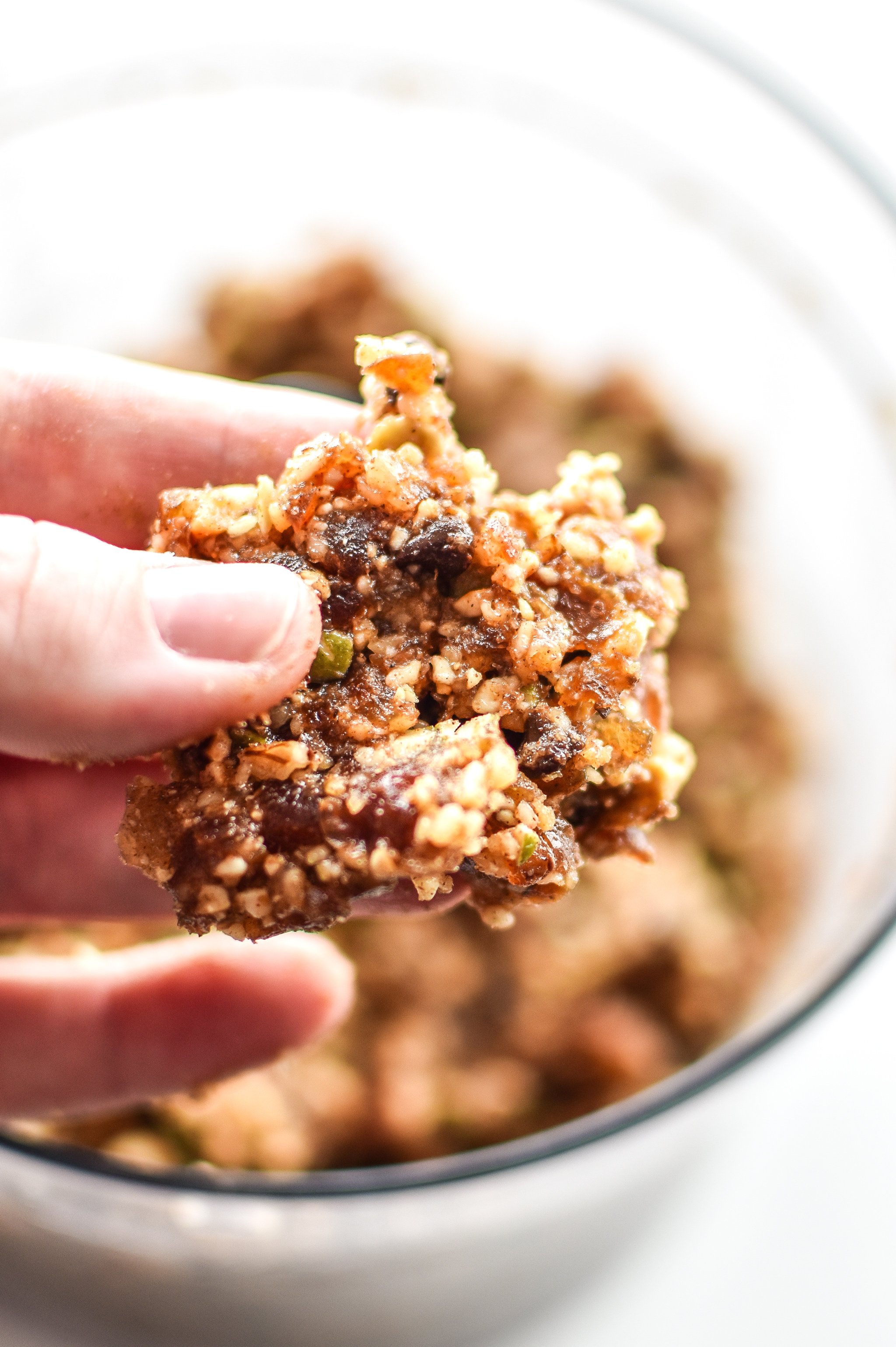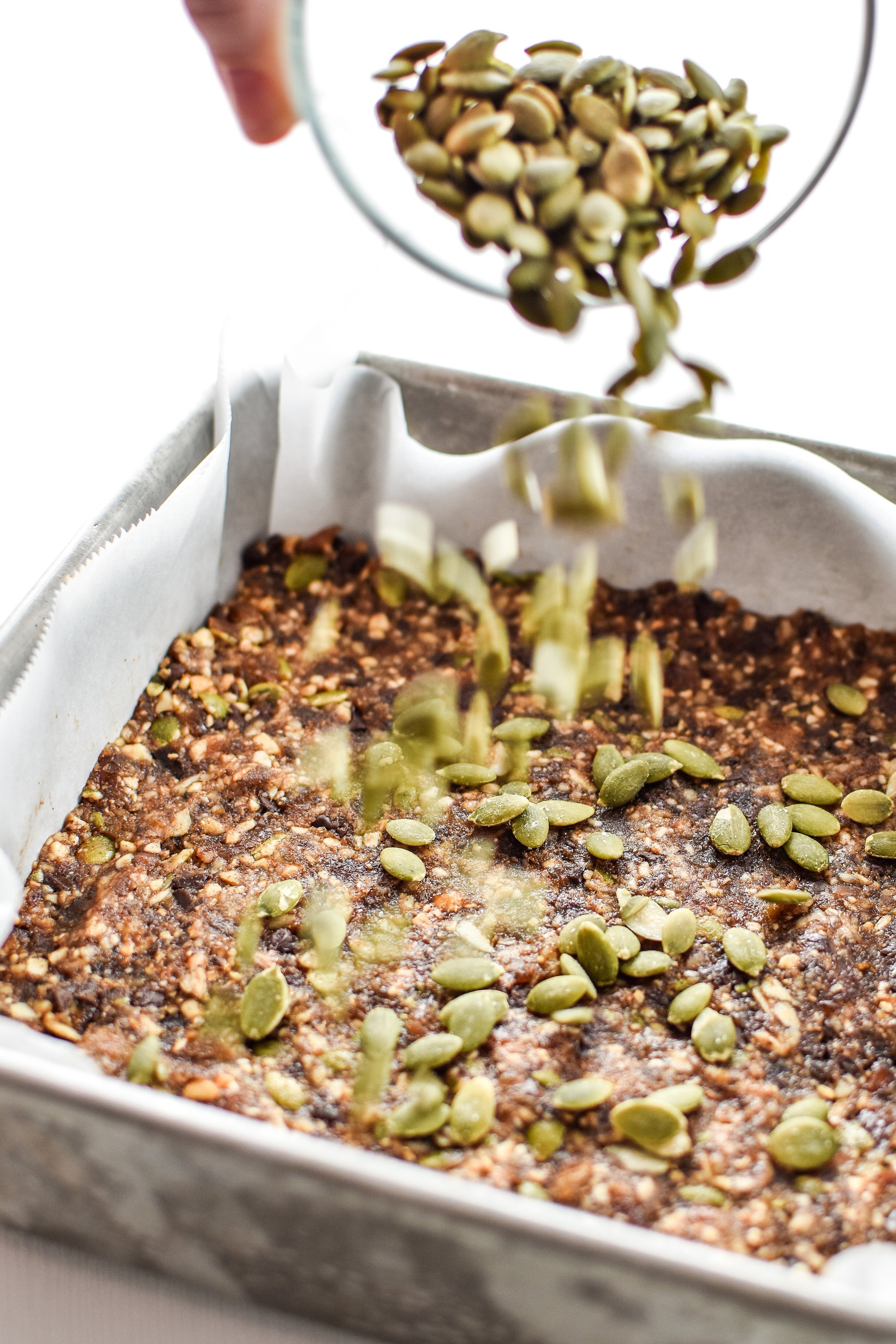 I seriously love things that seem like they should be baked, but aren't. Thanks goodness this recipe will forever be recorded on this blog, because I want to keep it forever!
Guess who's having one of these for a snack today? 🙋
Here's How to Make the No-Bake Pumpkin Spice Date Nut Bars (1 min 25 secs):
More Fall Recipes from Project Meal Plan:
Recipe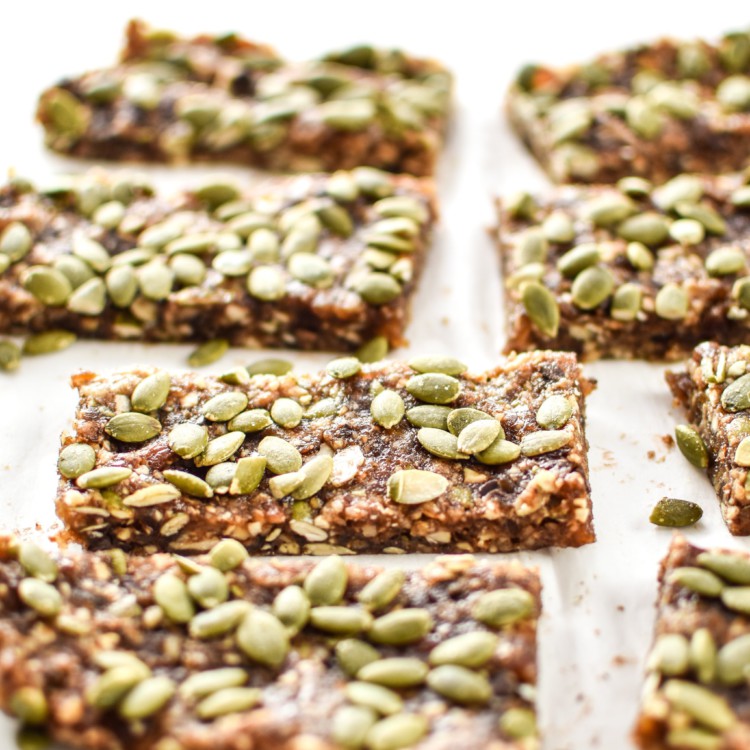 No-Bake Pumpkin Spice Date Nut Bars
Prep:
10 minutes
Total:
10 minutes
No-Bake Pumpkin Spice Date Nut Bars – Naturally sweetened with dates and full of pumpkin seeds! Homemade bars with that pumpkin spice life!
Ingredients
1 cup

raw walnuts

1/2 cup

unsalted cashews

2 cups

pitted medjool dates (see notes)

1/3 cup

sea salt flavored pumpkin seeds, no shells

1/4 cup

mini chocolate chips

1 1/2 teaspoons

pumpkin pie spice

1/4 teaspoon

cinnamon

1/4 teaspoon

salt

2 tablespoons

water
Instructions
Add walnuts and cashews to a food processor and pulse several times until the nuts are chopped into very small pieces.
Add dates to the food processor, and pulse again until the dates and nuts are processed and well-mixed.
Add most of the pumpkin seeds (save some for topping), chocolate chips, pumpkin pie spice, cinnamon and salt. Pulse a couple times to mix, then drizzle with water. Pulse again until the mixture becomes sticky and holds together in your hand.
Line an 8×8 baking dish with parchment paper, and dump the mixture into the dish. Use additional parchment paper or a large bottom glass to flatten the mixture out to all sides of the baking dish. Sprinkle pumpkin seeds on top and use parchment paper or your fingers to push the seeds into the mixture so they stick.
Refrigerate for 30 minutes, then cut into 8 bars and enjoy. Store in the refrigerator for up to 5 days, wrapped individually or in a sealed container.
Equipment
Notes
Dates: I've purchased organic pitted dates at Costco and Trader Joe's! They seem to be available more and more regularly.
Original date bars inspired by Nutty Espresso Bars from Paleo Scaleo. Nutrition information estimated with My Fitness Pal. Update: Video added 9/30/17.
Nutrition Information
Serving Size:

1 bar

Calories:

273

Fat:

17g

Carbohydrates:

24g

Fiber:

5g

Protein:

6g
Recipe Card powered by
Thank you so much for checking out the No-Bake Pumpkin Spice Date Nut Bars! Do you use dates in any recipes? Let me know!! I'm looking for new ideas. Be sure to use #projectmealplan on social media if you make this recipe! And follow me on Pinterest for meal inspiration every single day.