A perfect little sweet treat to meal prep! They're rich, chocolatey, full of sweet potato, and taste like fudge! I'm so excited to share this Freezer Friendly Sweet Potato Brownie Bites recipe, plus how to make sweet potato purée!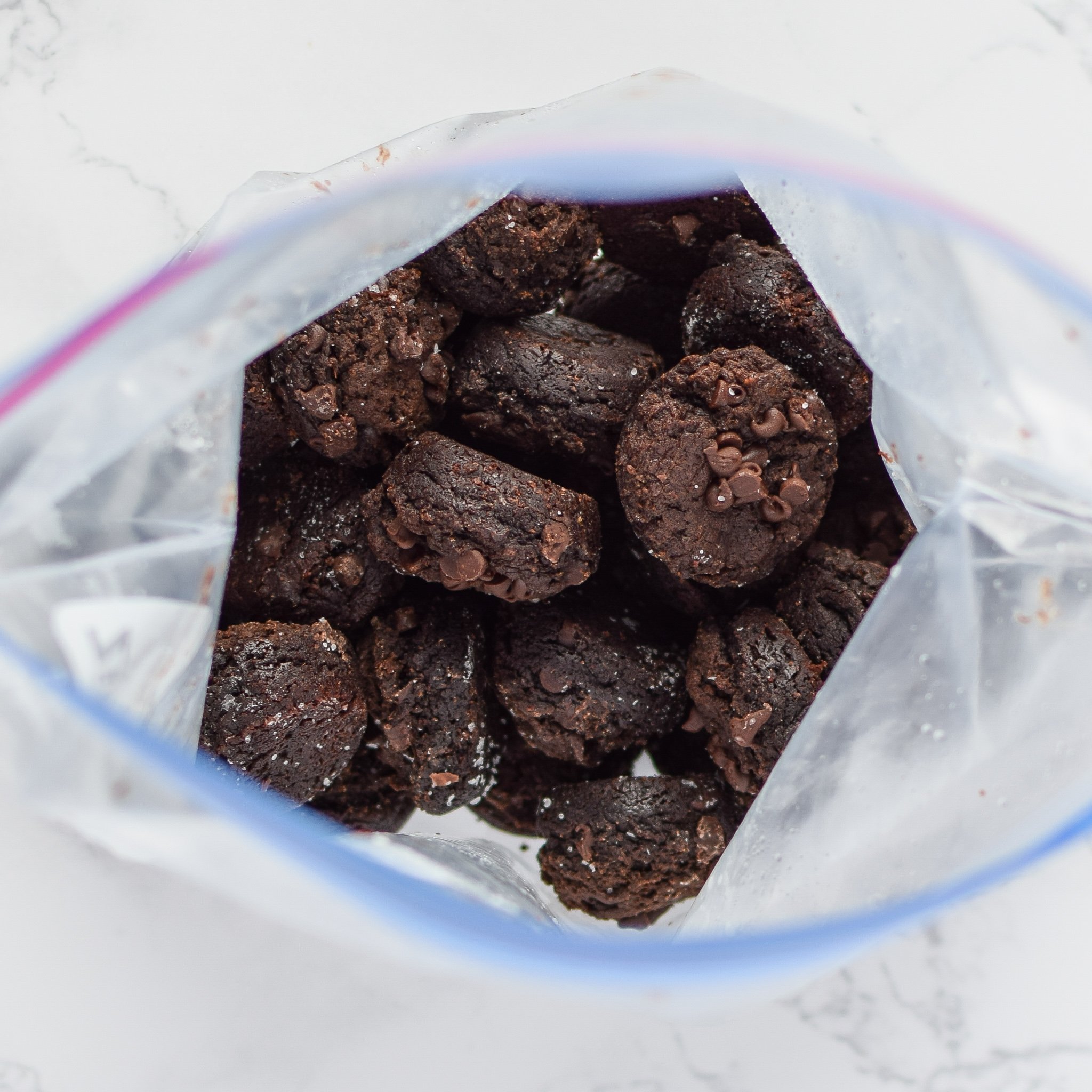 Recipe Overview
Total Time: 1 hour 20 minutes
Difficulty: Easy
Method: Baked
Prep: Freezer Friendly
How to make the Freezer Friendly Sweet Potato Brownie Bites (1 min 39 secs):
Here's why I like to keep dessert in the freezer:
Out of sight, out of mind. Sometimes, I forget it's even there.
No more feeling compelled to eat something because it'll get stale.
I like frozen desserts 😍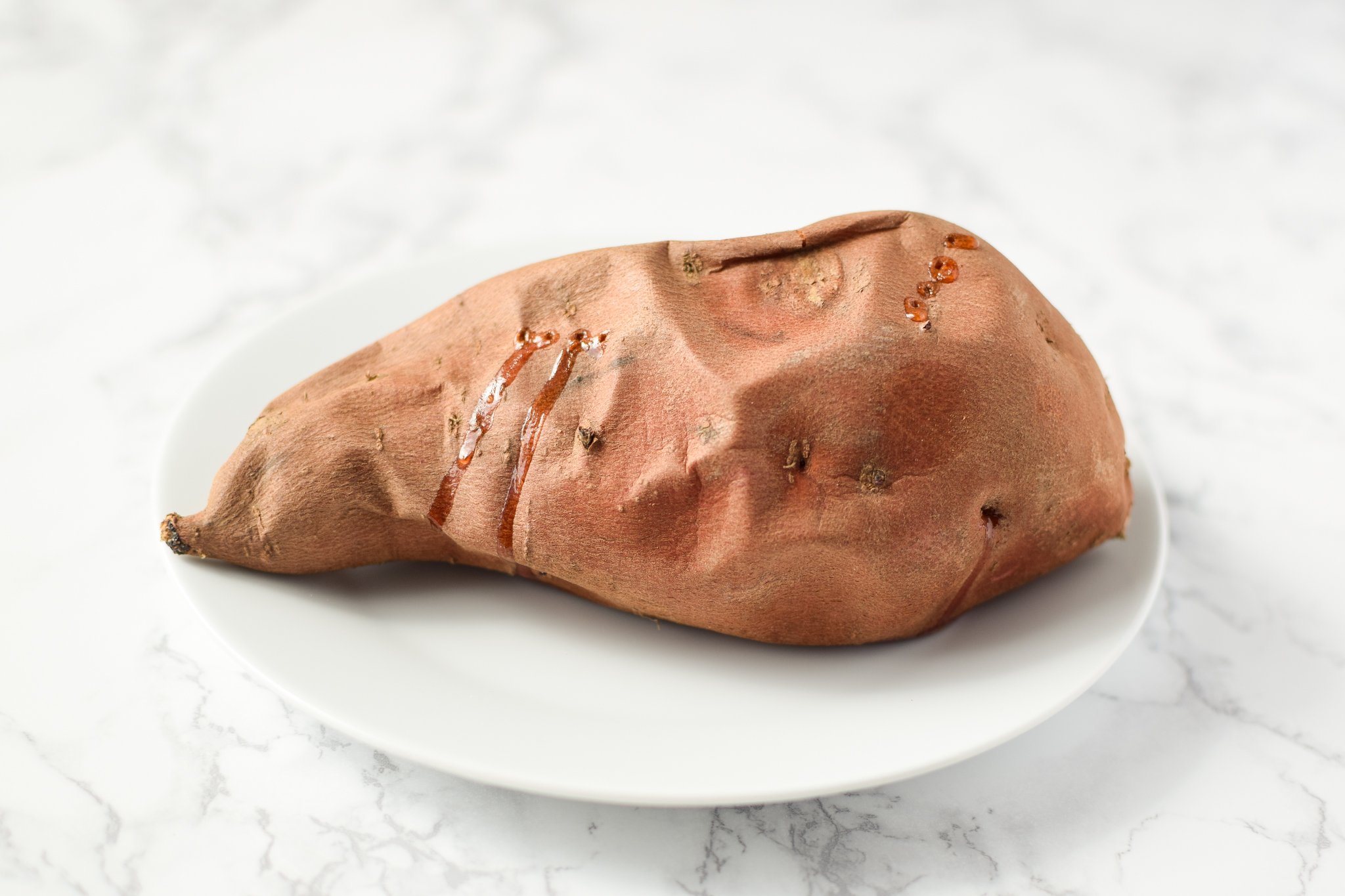 Sweet Potato Puree
Using one baked sweet potato (pictured above), along with 1 tablespoon of maple syrup, it happened pretty quickly in my Nutribullet.
So, in the middle of wrapping individual brownies one night, I realized it would save all the wrapping to just make the brownies as individuals from the start… My brain wheels were churning, and then, DING DING DING – mini muffin tin (uh, I mean silicone, hello 21st century) already in the cabinet. Basically brilliant.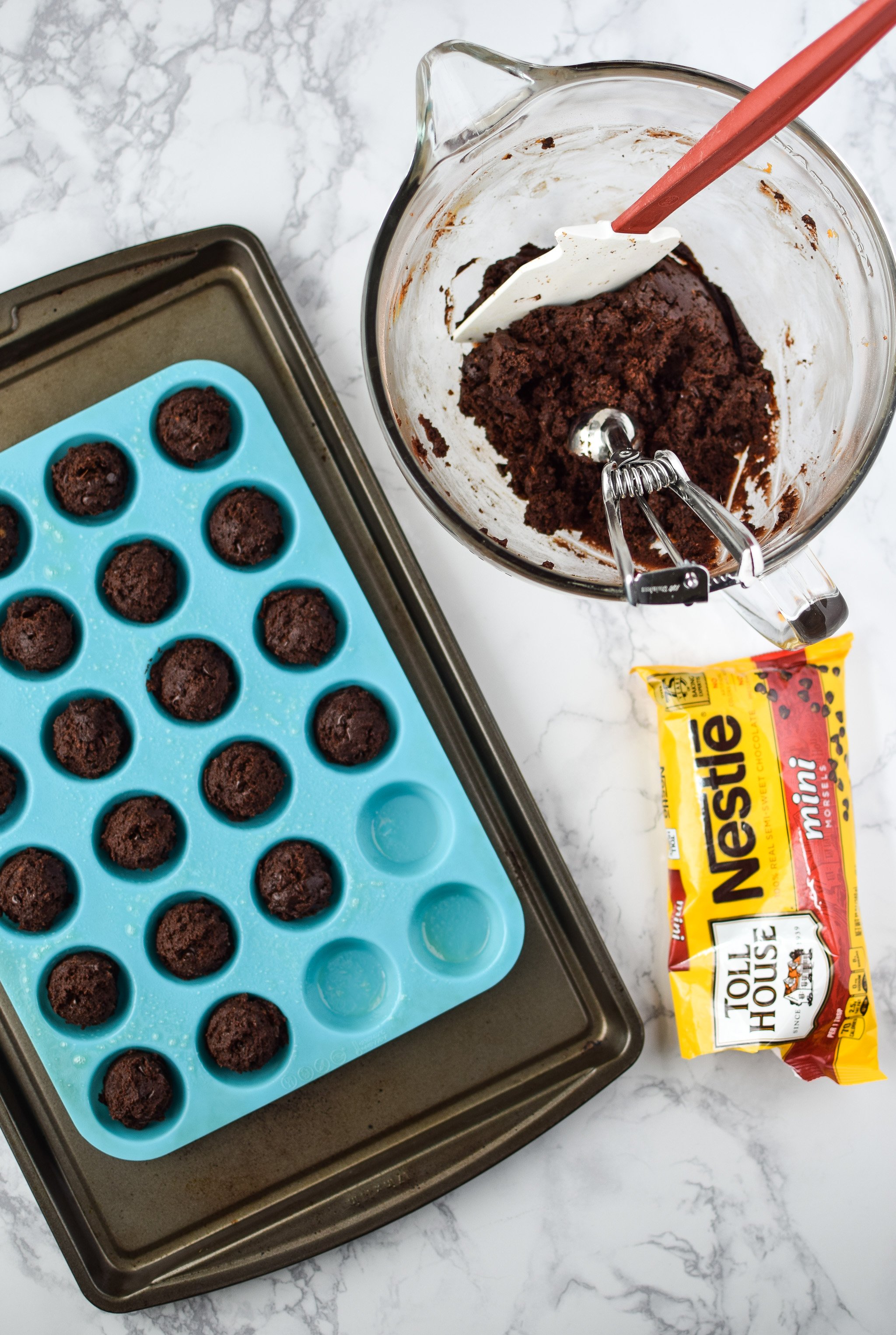 Pre-portioned, bite-sized, freezer-necessary, sweet potato brownie bites. Okay, the freezer isn't completely necessary, but I definitely recommend it.
There's just something about the below freezing temperatures that give the brownie bites a perfect fudgy gooeyness. And it doesn't get all over your fingers or break apart because it's frozen. Just try it.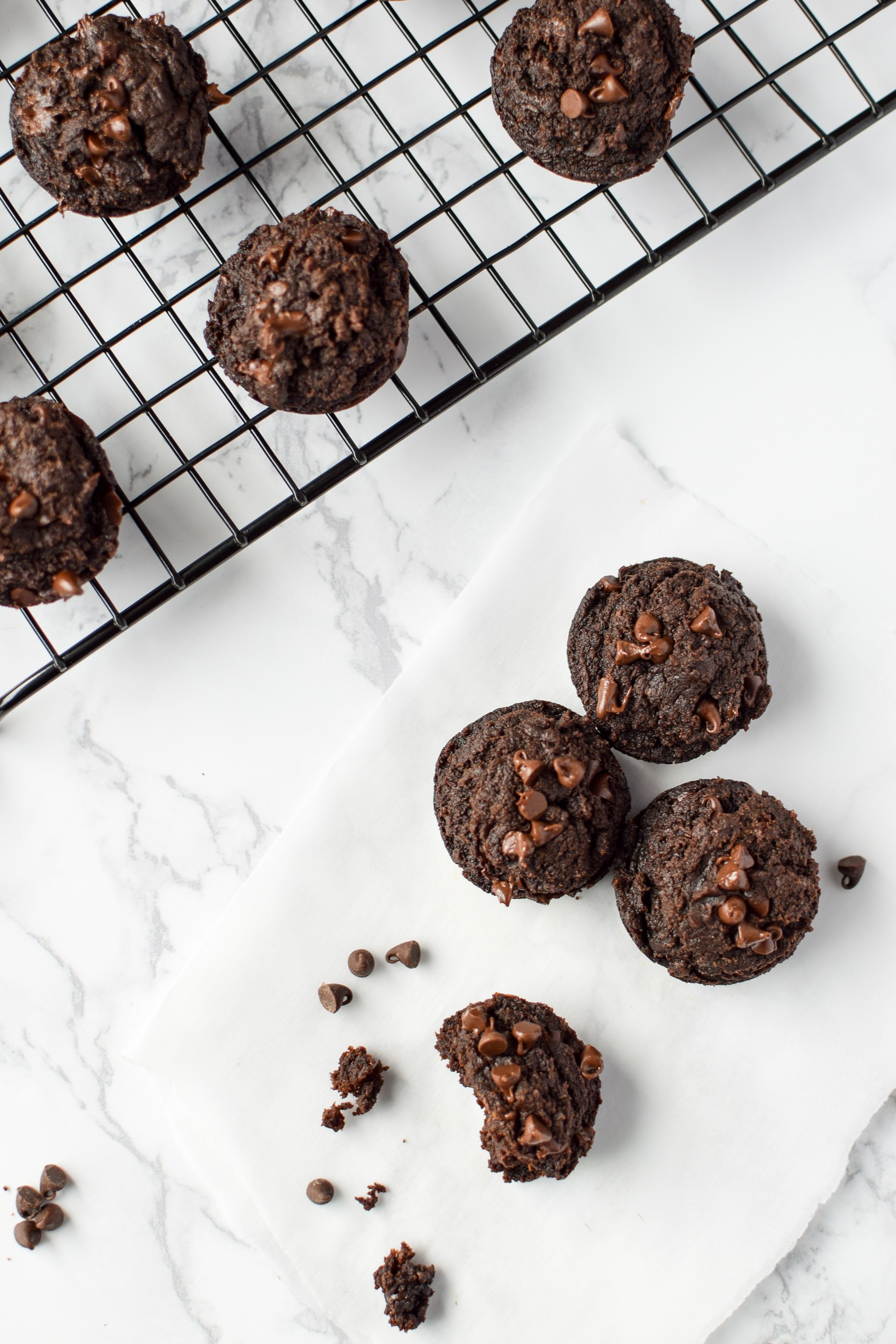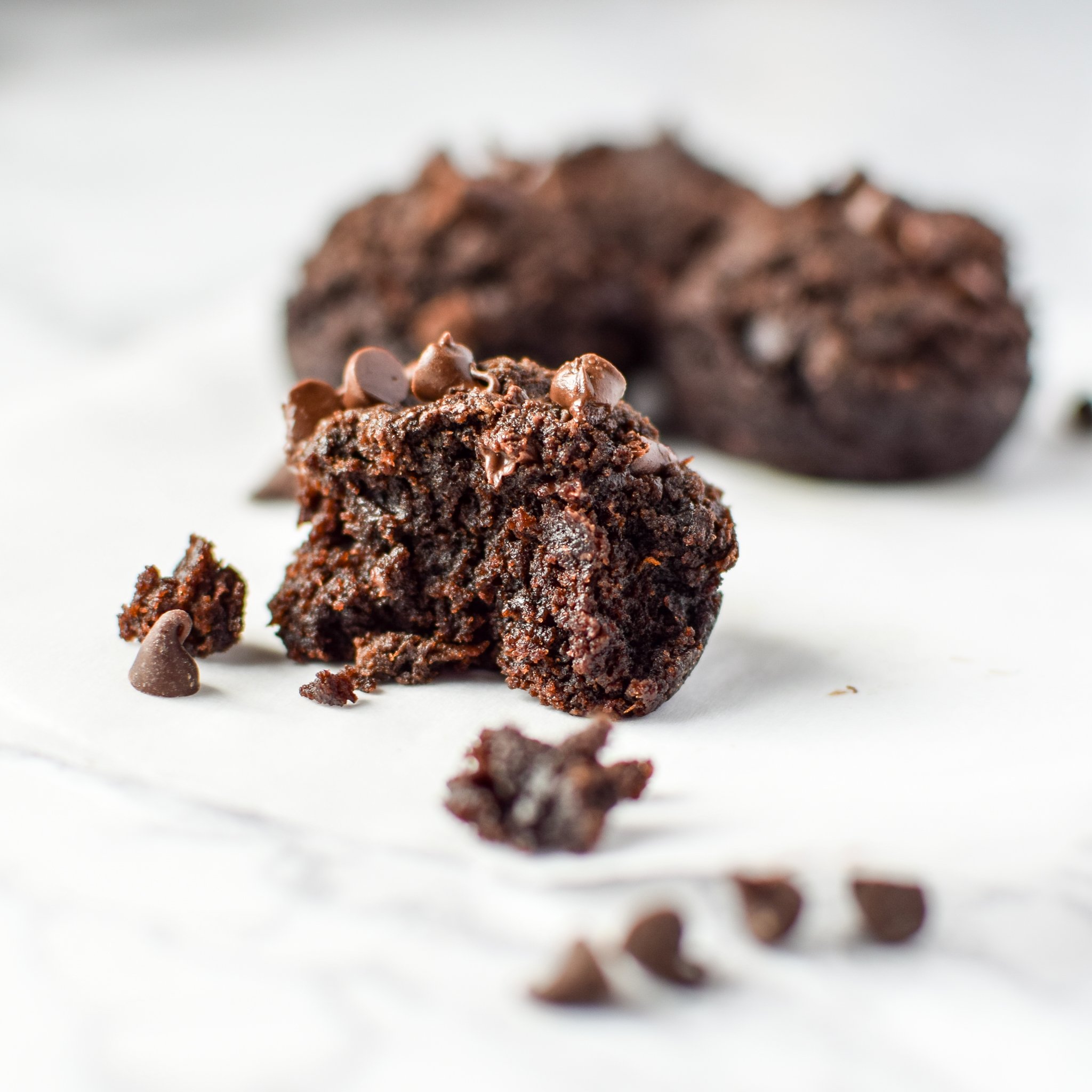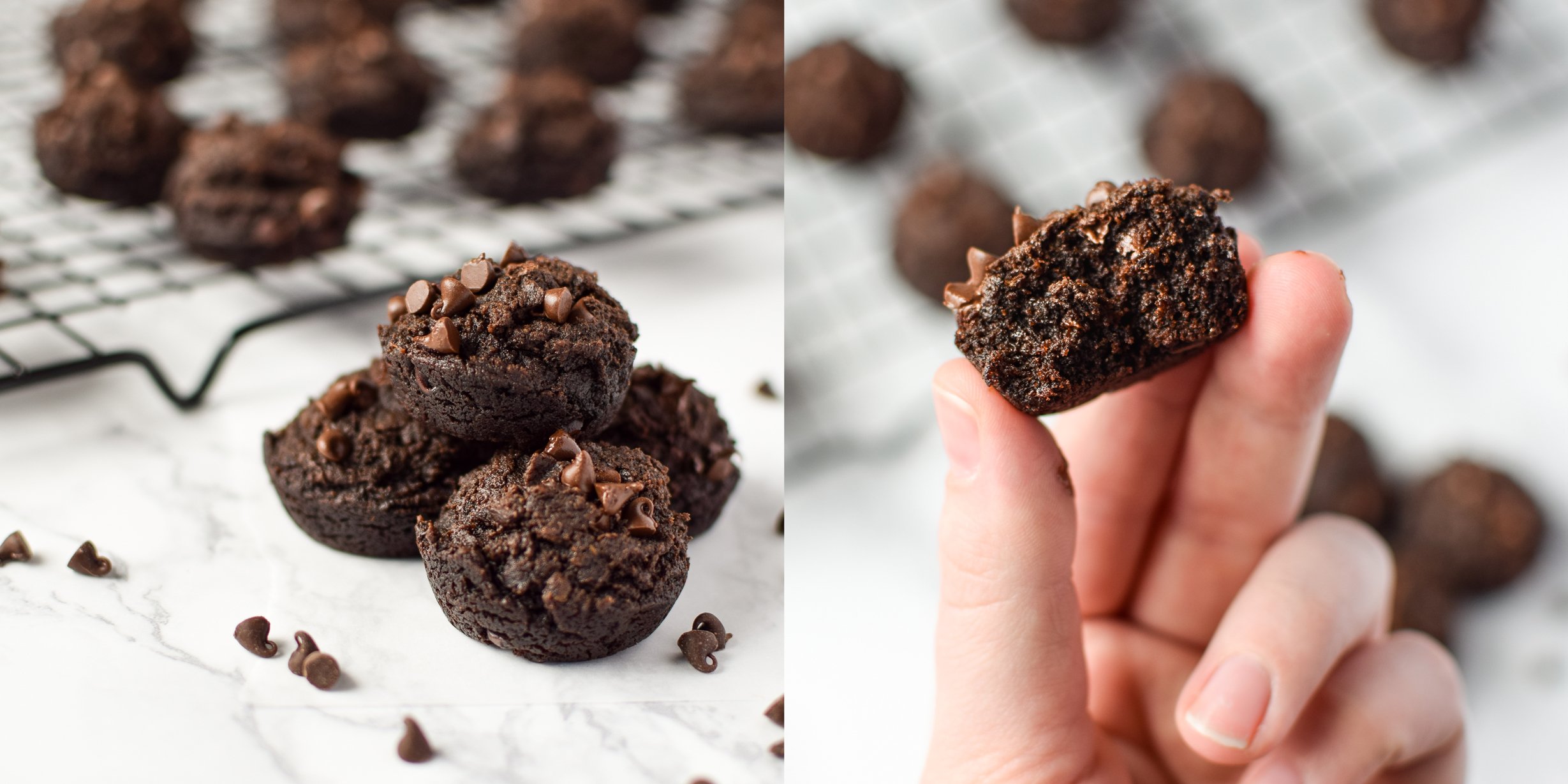 How to freeze these Sweet Potato Brownie Bites:
To freeze these brownie bites, let them cool completely to room temperature and then place in a freezer safe airtight container or freezer safe bag. Freeze for up to 3 months.
I've found these don't need to be individually frozen first and will seperate just fine after being frozen.
Recipe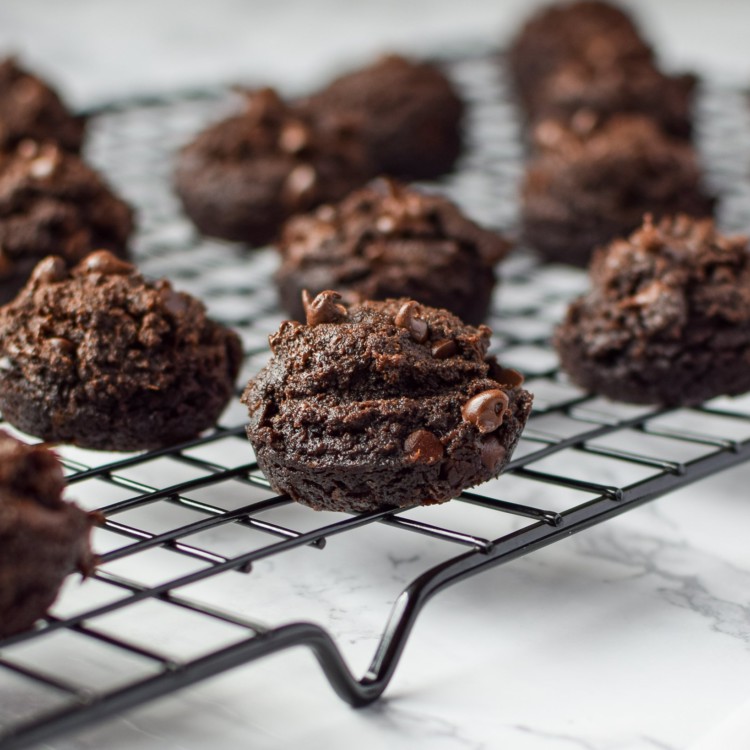 Freezer Friendly Sweet Potato Brownie Bites Recipe
Yield:
36

–

44

brownie bites

1

x
Prep:
10 minutes
Cook:
1 hour 10 minutes
Total:
1 hour 20 minutes
Sweet potato brownie bites are perfect to store in the freezer for your dessert cravings! Eggless + oil free + vegan options too!
Ingredients
Sweet Potato Purée
1

medium to large sweet potato (

10

–

12

ounces)

1 tablespoon

maple syrup

1 tablespoon

almond milk (if needed; see instructions)
Wet Ingredients
1 cup

peanut butter (or any nut butter)

1 teaspoon

pure vanilla extract
Dry Ingredients
1/4 cup

+ 2 tablespoons flour (I used all purpose, but any will work)

1/4 cup

+

2 tablespoons

natural cocoa powder

2/3 cup

coconut sugar (or any granulated sugar)

1 1/2 teaspoon

baking soda

1/8 teaspoon

salt

2/3 cup

mini chocolate chips, separated (for vegan option, try Enjoy Life)
Equipment
Instructions
Preheat oven to 400 degrees F.
Line a small baking sheet with aluminum foil. Use a fork to poke holes in the sweet potato in 4 or 5 spots. Once preheated, bake the sweet potato on the baking sheet for 45-55 minutes, or until you see the juices start to emerge from the poked holes. Let the sweet potato cool until easy to handle. Lower the oven temperature to 325 degrees F.
Peel the sweet potato and discard skin. Add sweet potato chunks and maple syrup to blender or Nutribullet. If the sweet potato is chunky after blending, add 1 tablespoon unsweetened vanilla almond milk. Blend until completely smooth. Using a medium sweet potato, I got about 1 1/4 cups purée.
In a large bowl (or stand-mixer), combine sweet potato purée (just made), and wet ingredients. Mix until smooth and combined.
In a small bowl, whisk all dry ingredients together (leave 1/3 mini chocolate chips for topping).
Add about half the dry ingredients to the wet ingredients, and mix until blended. Add the remaining dry ingredients and mix until thoroughly combined. The mix will be thick and can be formed into a large ball.
Spray a 24 count mini muffin baking sheet with non-stick cooking spray. Using a cookie dough scoop, fill the sheet with brownie batter, one scoop in each space. Add 5-7 mini chips to the top of each brownie bite if desired (using gloves makes this way easier).
Place in the oven for 14-16 minutes. The brownie bites are done when a toothpick inserted comes out *mostly* clean. They become more firm as they cool. Wait approximately 5 minutes before removing the brownie bites from the baking container, and then let them cool completely on a cooling rack. Makes approximately 36-44 brownie bites (depending on the size of your sweet potato).
When completely cool, place in large freezer safe bag and store in the freezer. I have found they do not need to be individually frozen. They don't stick together in the freezer if they are completely cooled when they go in.
NOTE: I highly 100% recommend freezing these. They taste like mini fudgsicles and it's so perfect. Enjoy!!
Nutrition Information
Serving Size:

1 brownie bite

Calories:

68 (per 1)

Sugar:

3g (per 1)

Fat:

4g (per 1)

Carbohydrates:

7g (per 1)

Protein:

2g (per 1)
Recipe Card powered by