Some of you might know this. I absolutely love pesto. It began with making Pesto Pasta Salad in college. Probably the easiest "salad" you could possibly make and SO DELICIOUS because pesto is the best condiment in existence. After college, I transitioned to Pesto Chicken & Rice for lunches. Still a classic go-to, though I've tried to expand my food prep database (see: entire blog). Once I tried pesto from Costco, you could count on it always being in our fridge. It's just a fact. Then the final piece to this story puzzle arrived – the food processor! I could make my own pesto. So I wondered – Store-Bought Vs. Homemade Pesto: Which is Cheaper?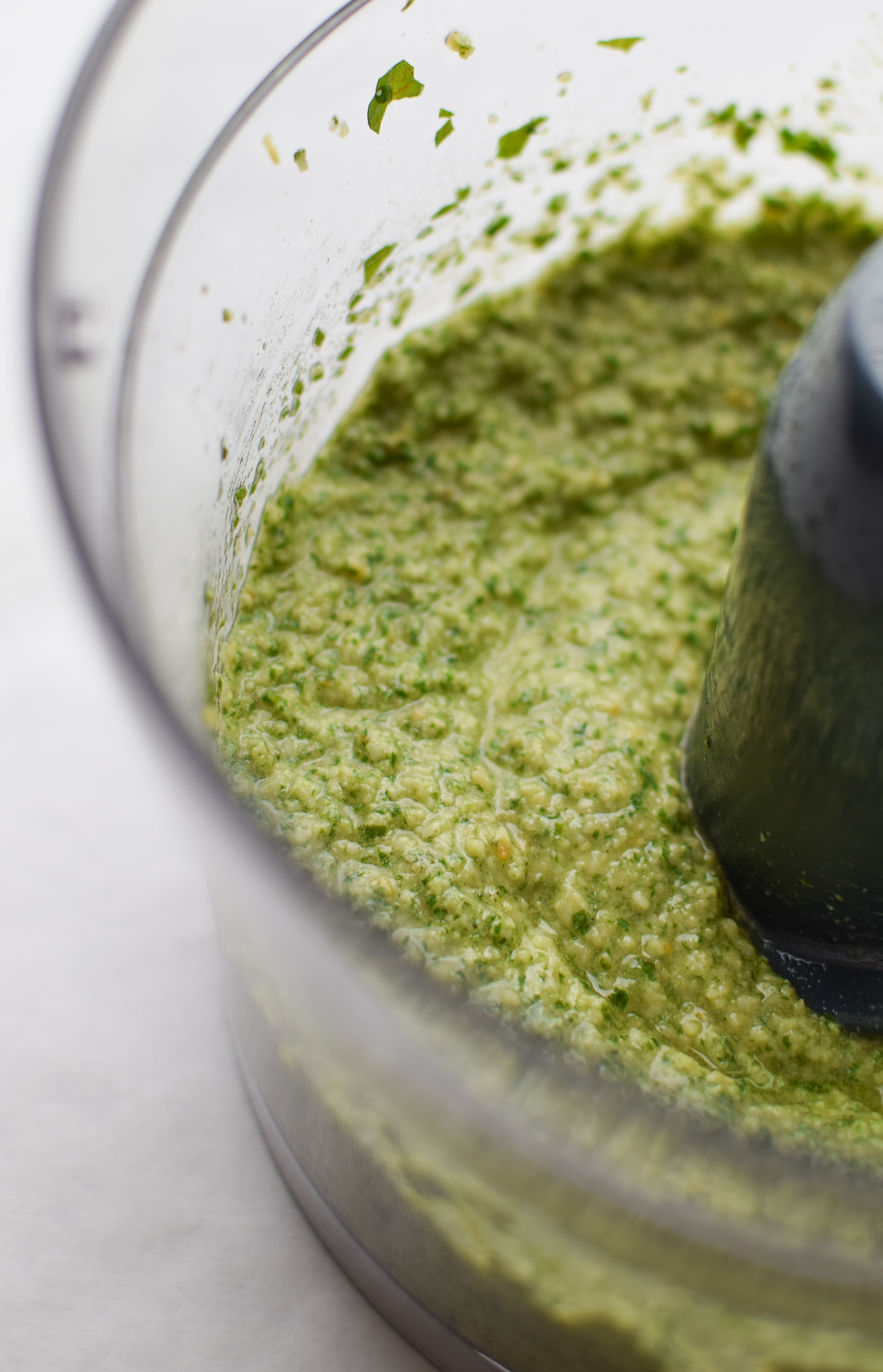 Store-Bought Vs. Homemade Pesto:
The Results By Price
Winner: Store Bought (Bulk)
$0.36 / ounce
Thank you, Costco. I can confidently continue to purchase your Kirkland Signature Pesto without guilt. This 22-ounce package is surely the cheapest way to purchase pesto ($7.99 plus tax). It's also incredibly delicious. I haven't experimented much, but I would also guess it lasts a couple days longer than fresh pesto once it's opened.
Second Place: Store Bought (Grocery Store)
$0.50 / ounce
If you're in a pinch, I think it's safe to say it's alright to grab some pesto at the local grocery store. I found 6-ounces of pesto at Trader Joe's for $2.99. But – classic homemade pesto doesn't cost THAT much more than this to make. And I'd say the best part about homemade pesto: it's completely customizable. Pinterest has a zillion pesto recipes all up for grabs. I NEED to try homemade sun-dried tomato pesto immediately. Moving on to…
Third Place: Homemade Pesto
$0.60 / ounce
Keep in mind – Prices vary wherever you are, I'm sure of it. The price above was simply how much much my 12-ounces of homemade traditional pesto cost to make per ounce. It cost $7.24 for all the ingredients at Trader Joe's (excluding salt/pepper) but it made just a little over half what I got at Costco for almost the same price. Overall, I would say it's definitely worth a try if you have a food processor. The taste was much more different from packaged pesto than I thought it would be – fresher, earthier, and nuttier. Plus, I've never tried plain pine nuts until now. They are oddly tasty. A tad sweet, but I might be crazy.
Traditional Homemade Pesto: The Recipe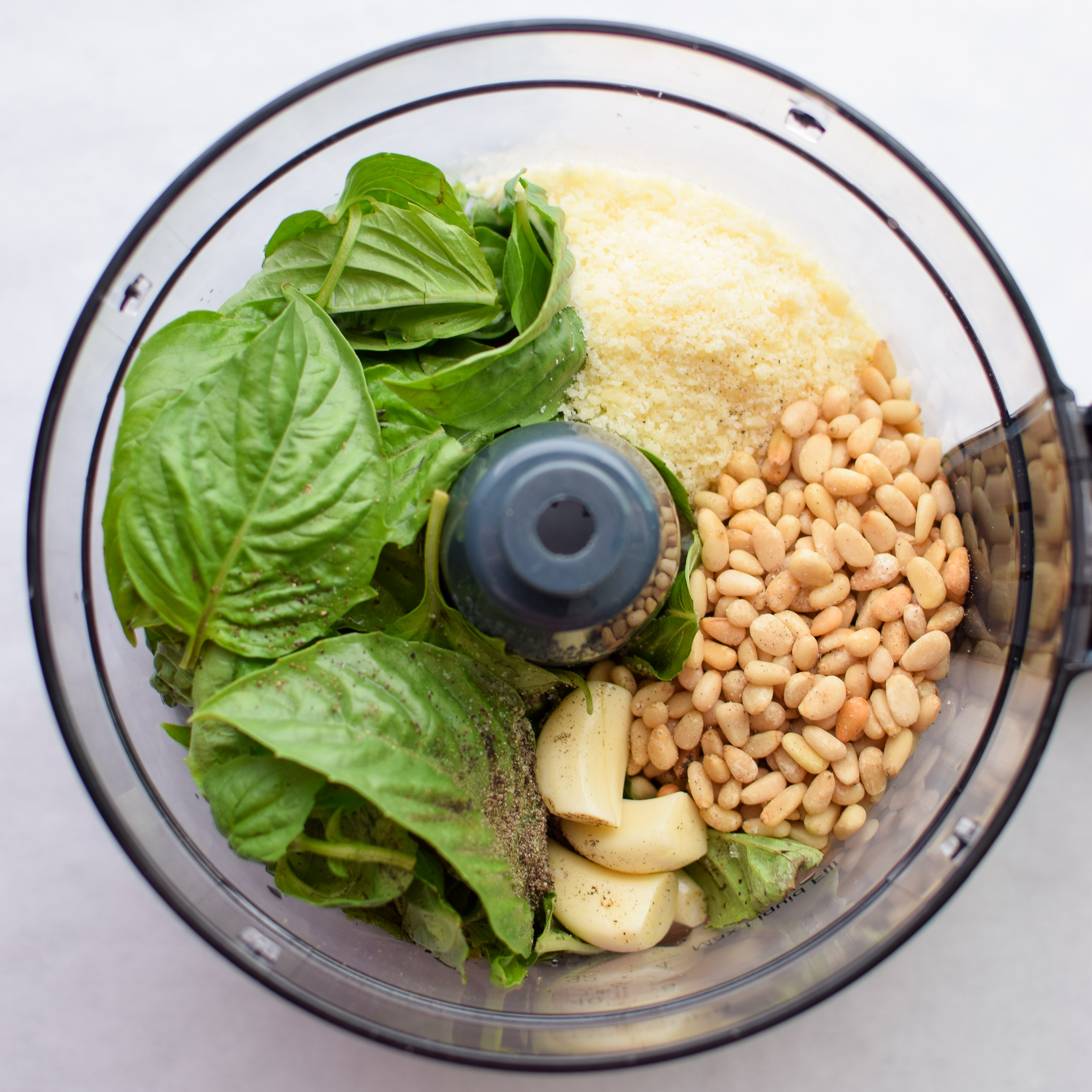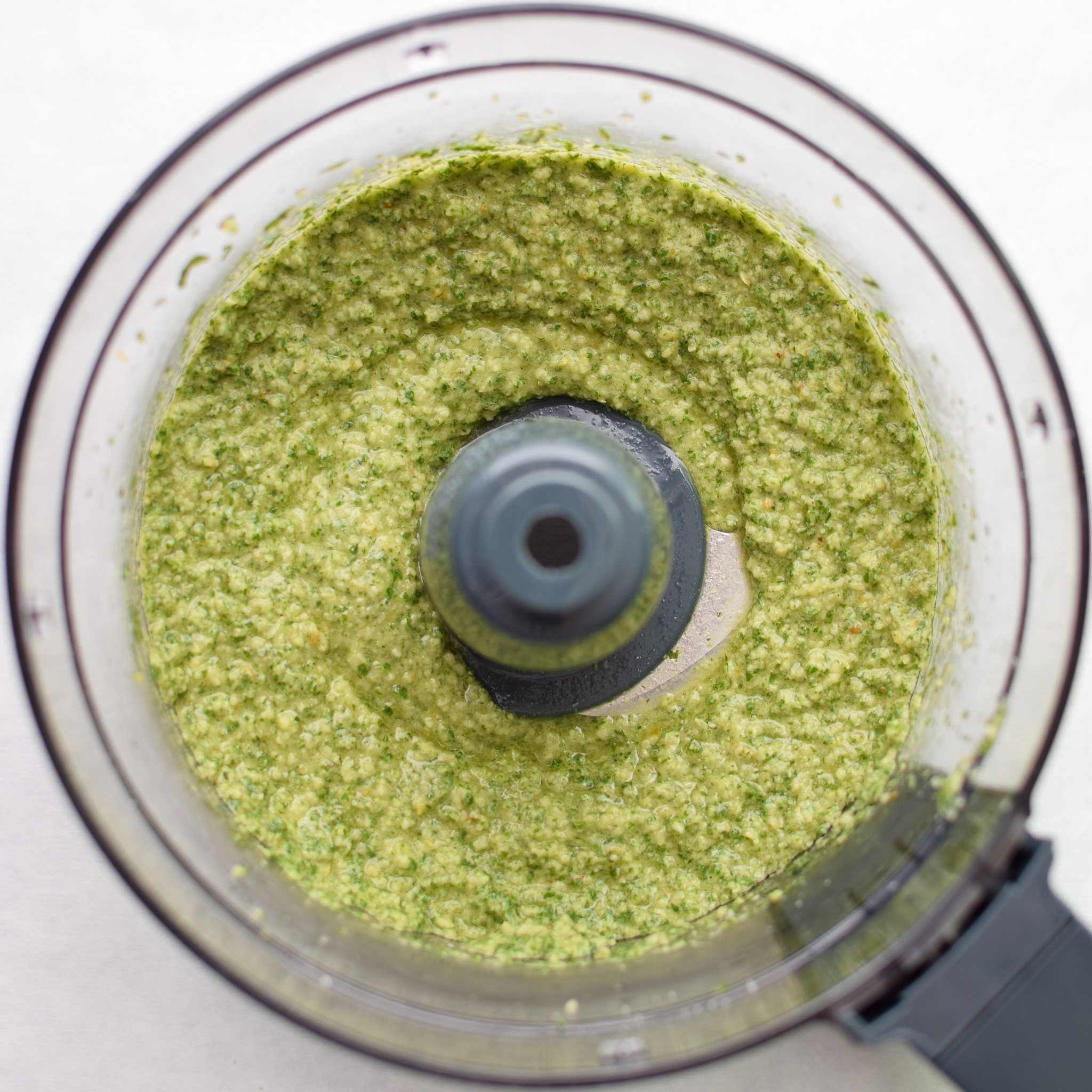 Thank you specifically to a few wonderful bloggers for their traditional pesto recipes. I made my own version which was a combination of several recipes, including How To Make Pesto – Gimme Some Oven, and Homemade Basil Pesto – Little Spice Jar.
This recipe was INCREDIBLY easy – you pretty much just throw everything in the food processor and pulse away! So even if the Store-Bought Vs. Homemade Pesto debate math says go with store-bought, I'm sure I will be trying it at home again in the future – with some customizations!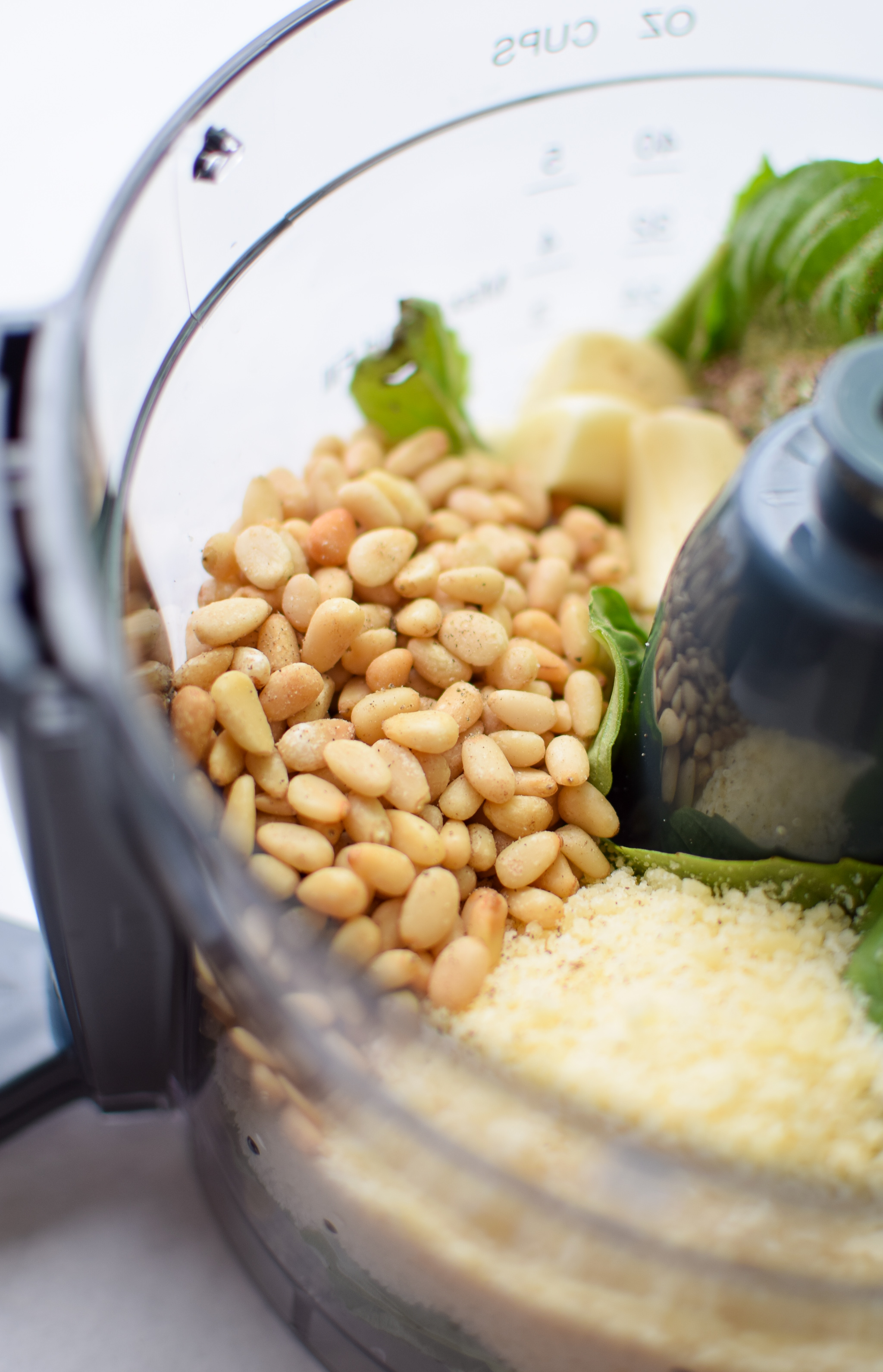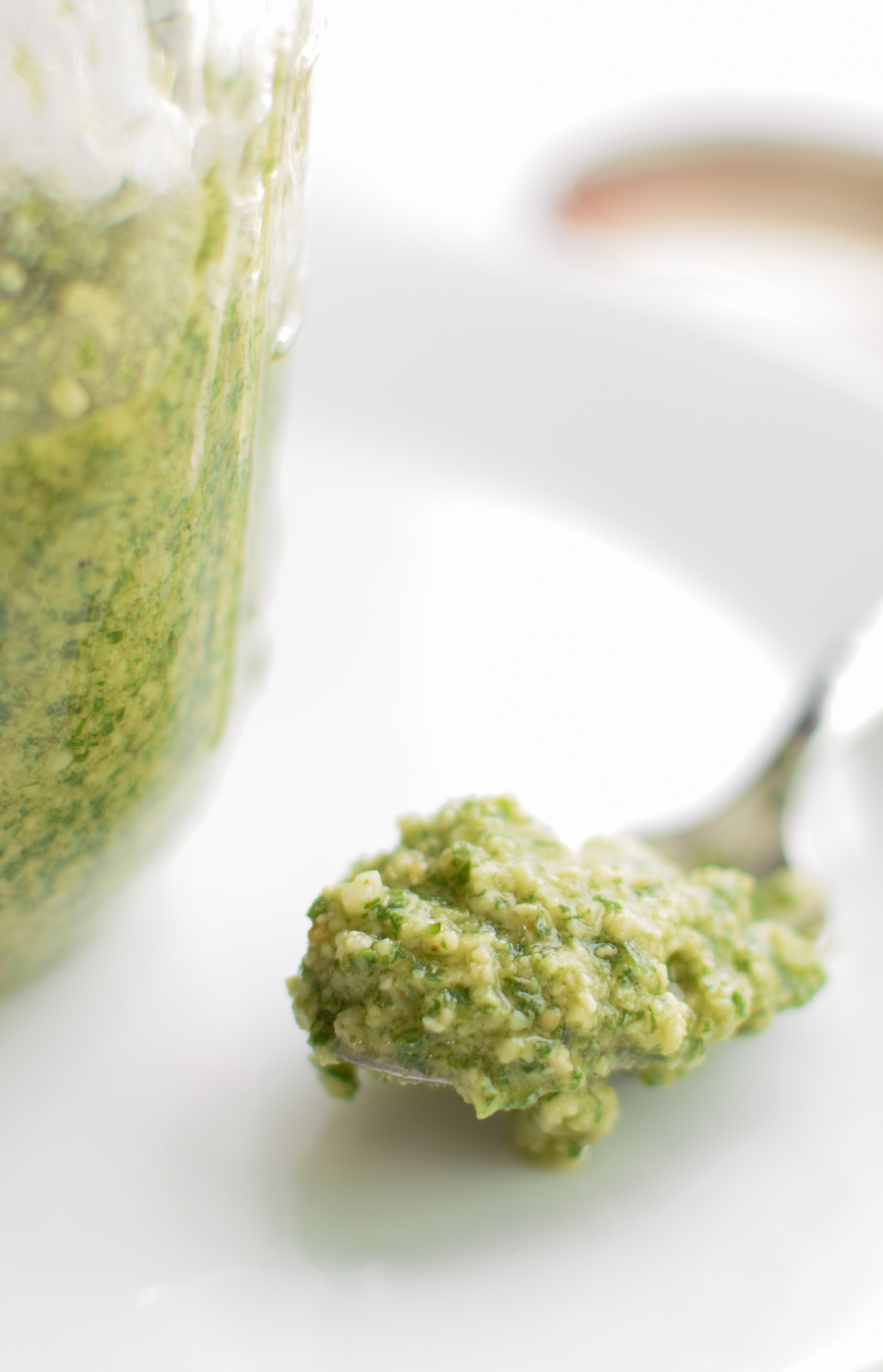 Recipe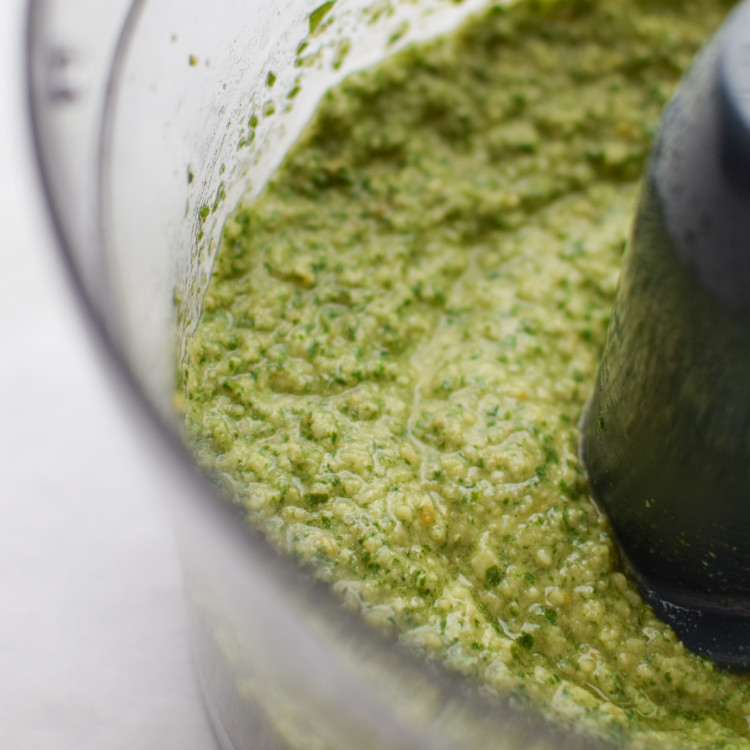 Homemade Basil Pesto
Yield:
about

12 ounces

1

x
Prep:
5 minutes
Cook:
0 minutes
Total:
5 minutes
Store-Bought Vs. Homemade Pesto: Which is Cheaper? Here's a delicious homemade pesto recipe!
Ingredients
3 cups

fresh basil

3

–

4

cloves fresh garlic

1 tablespoon

lemon juice

1/2 cup

pine nuts

1/2 cup

grated parmesan cheese
salt/pepper

1/3 cup

extra-virgin olive oil
Instructions
Add all ingredients except olive oil to the food processor.
Pulse until nearly blended. Add about half of the olive oil. Pulse again, then add remaining olive oil and pulse until completely mixed.
Store in an air tight container and use within 5-6 days. Cover the top of the pesto with extra olive oil for a little extra freshness.
Nutrition Information
Serving Size:

2 tablespoons

Calories:

115

Fat:

15g

Carbohydrates:

15g

Protein:

6g
Recipe Card powered by
Thank you so much for reading! Tag @projectmealplan on social media if you make this yummy recipe or have any other delicious pesto recipes for me to try. And, follow me on Pinterest for meal inspiration every single day!
– Danielle
Use Homemade Basil Pesto in this recipe: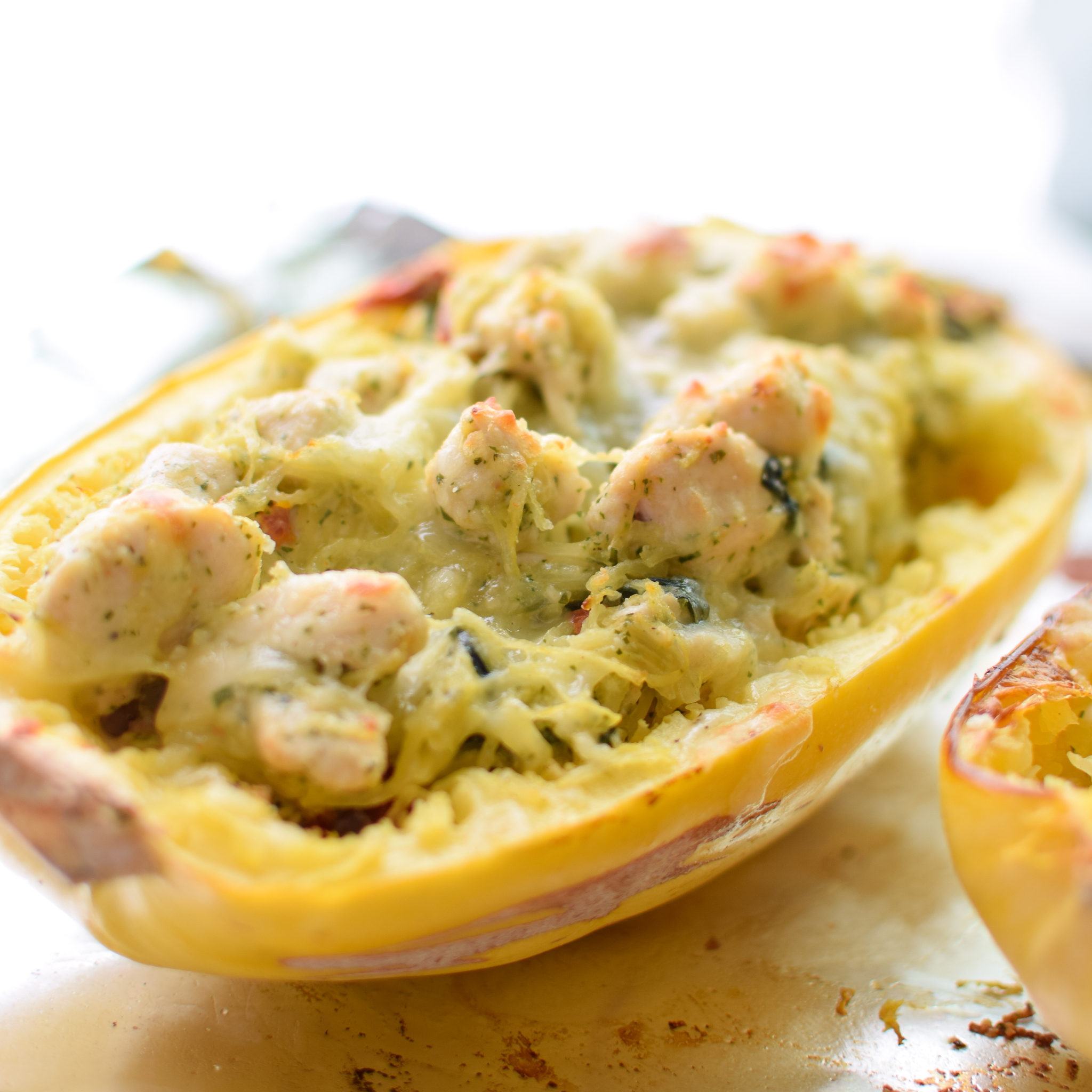 Disclaimer: Some of the links on this page are for affiliated products on Amazon. If you are planning to make any purchases, please start your Amazon shopping here on Project Meal Plan! We'll get a small commission at no extra cost to you. I truly appreciate your support! For more information, please see our Full Disclosure & Privacy Policy.