Do not leave yourself unattended with these SUPER addicting Peppermint Cocoa Roasted Nuts because they will be gone. Best for parties, cocoa lovers, and fridays at the office! Easy to make and seriously delicious!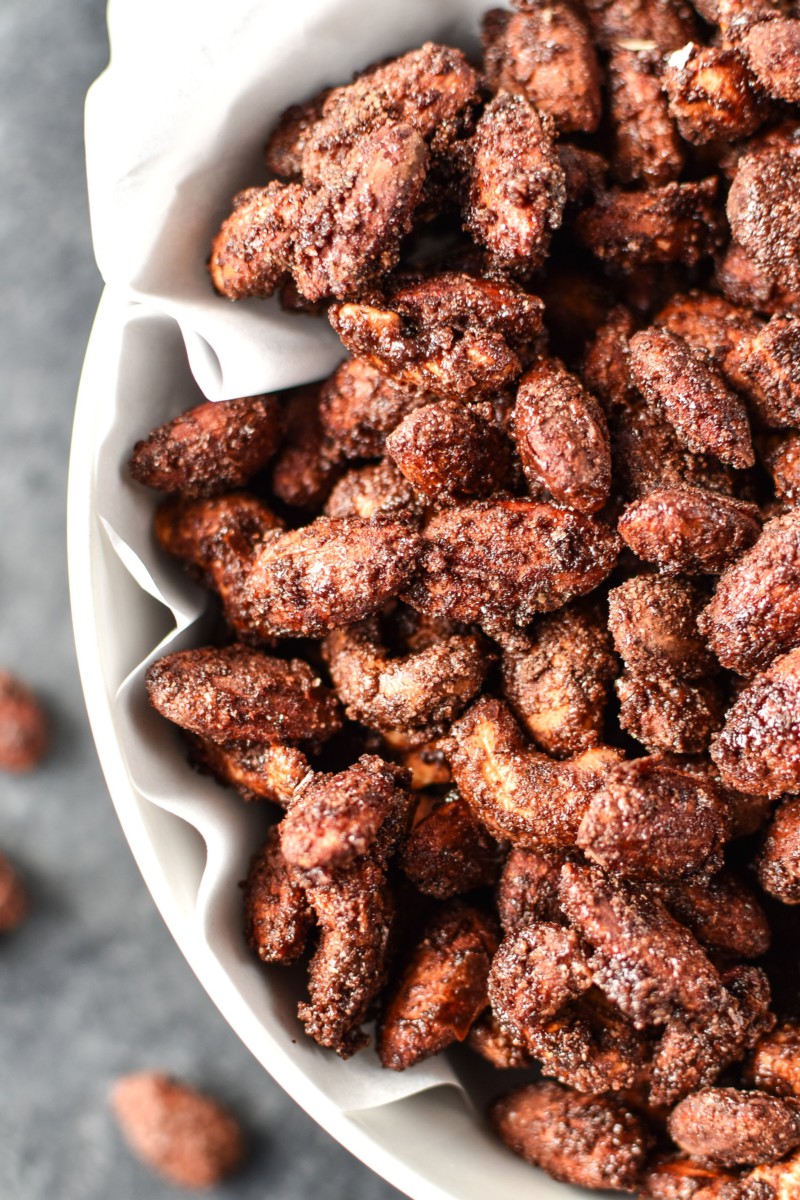 Disclaimer: I am not to be blamed for any magic disappearing nuts. Don't leave them out where people will find them, especially if you're "saving" them. You've been warned.
It's been requested by a very close friend that I make some spiced/roasted nuts. Because everyone likes them! So I sat down and brainstormed flavor combos. Here's what I came up with before circling back around to the ultimate answer to all food related questions: ALWAYS CHOCOLATE.
cinnamon spice (maple?)
mint? cocoa powder
savory, lime chili pepper?
Then I was like, CHOCOLATE, ALWAYS CHOCOLATE. Glad I didn't go with a savory version because apparently people don't like that: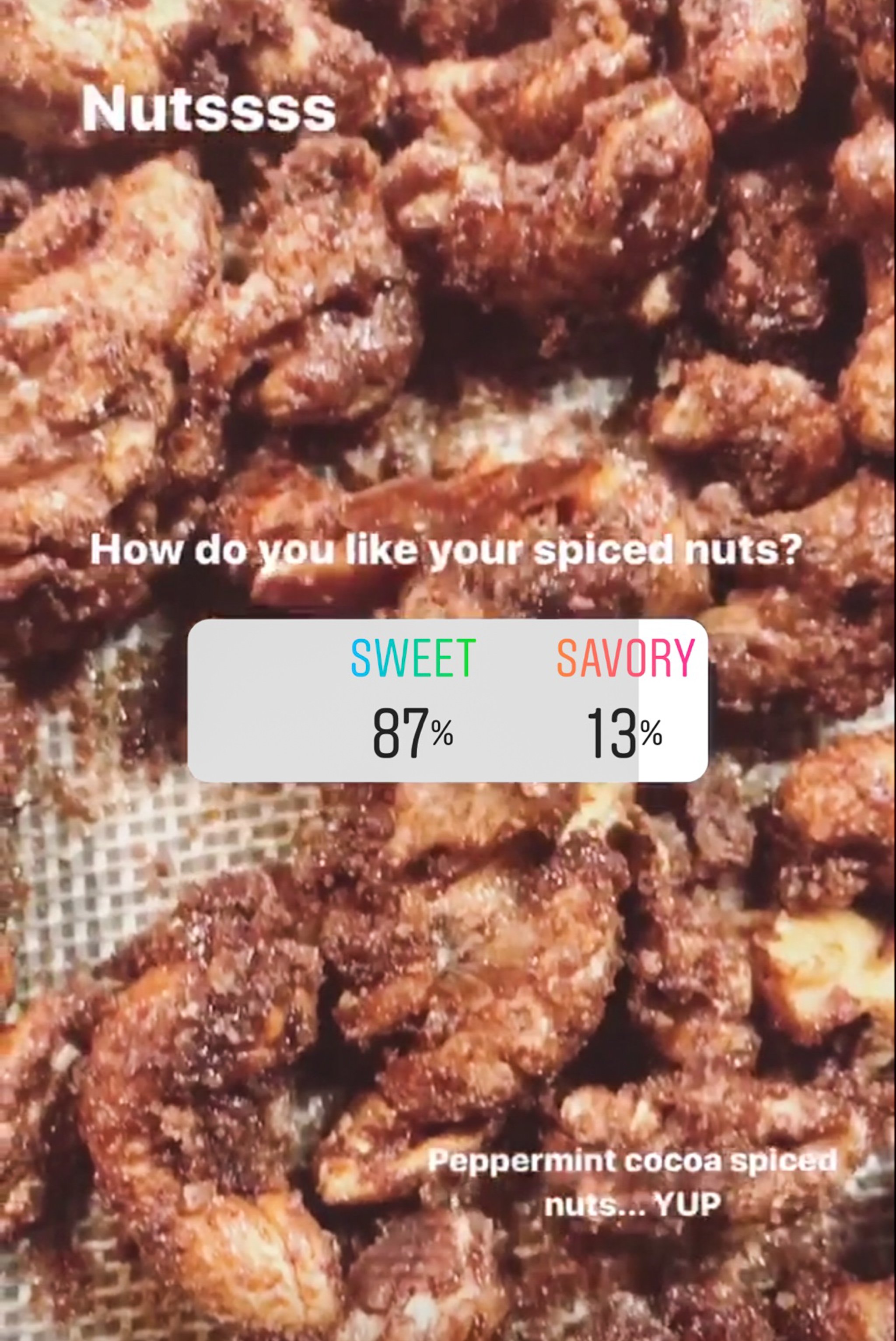 Recipe Overview
Total Time: 50 minutes
Difficulty: Easy
Method: Baked
Prep: Make-Ahead Friendly
What are the ingredients in these Peppermint Cocoa Roasted Nuts:
If you're a baker or you have a well-stocked pantry, you might already have most of the items needed for this recipe. Pick up some raw nuts at the grocery store and you're ready to roll.
Here's what I used this recipe plus a little info for each:
egg white – The egg white acts as a glue to help get the sugar and spices all sticky on the nuts. Don't skip!
vanilla extract – The vanilla works as a nice background and provides a bit more depth of flavors along with the other spices and sweetness.
peppermint extract – Just a tiny touch of peppermint extract brings these nuts from basic to holiday delightfulness!
raw almonds & cashews – For my version, I used raw almonds and cashews, but you can use a mix or both, or a different kind of raw nut if you have a favorite.
granulated sugar – This is what makes the nuts sweet and delicious 🙂
cocoa powder – Feel free to use either Dutch process or regular, it doesn't matter for this recipe.
cinnamon – It might seem weird to add cinnamon, but they bring a nice seasonal spice to the sweet party of these nuts!
salt – A little bit of salt is necessary to balance out all the sweetness going on here. It brings everything together!
How to make these Peppermint Cocoa Roasted Nuts:
You'll find the full recipe with instructions and ingredients below. Here's a quick explanation of how to make these nuts:
First, get started by dumping the nuts into a mixing bowl and coating them with the whisked egg white, peppermint extract and vanilla (left photo). Pour the sugar and spice right on top (right photo), and mix (bottom photo)!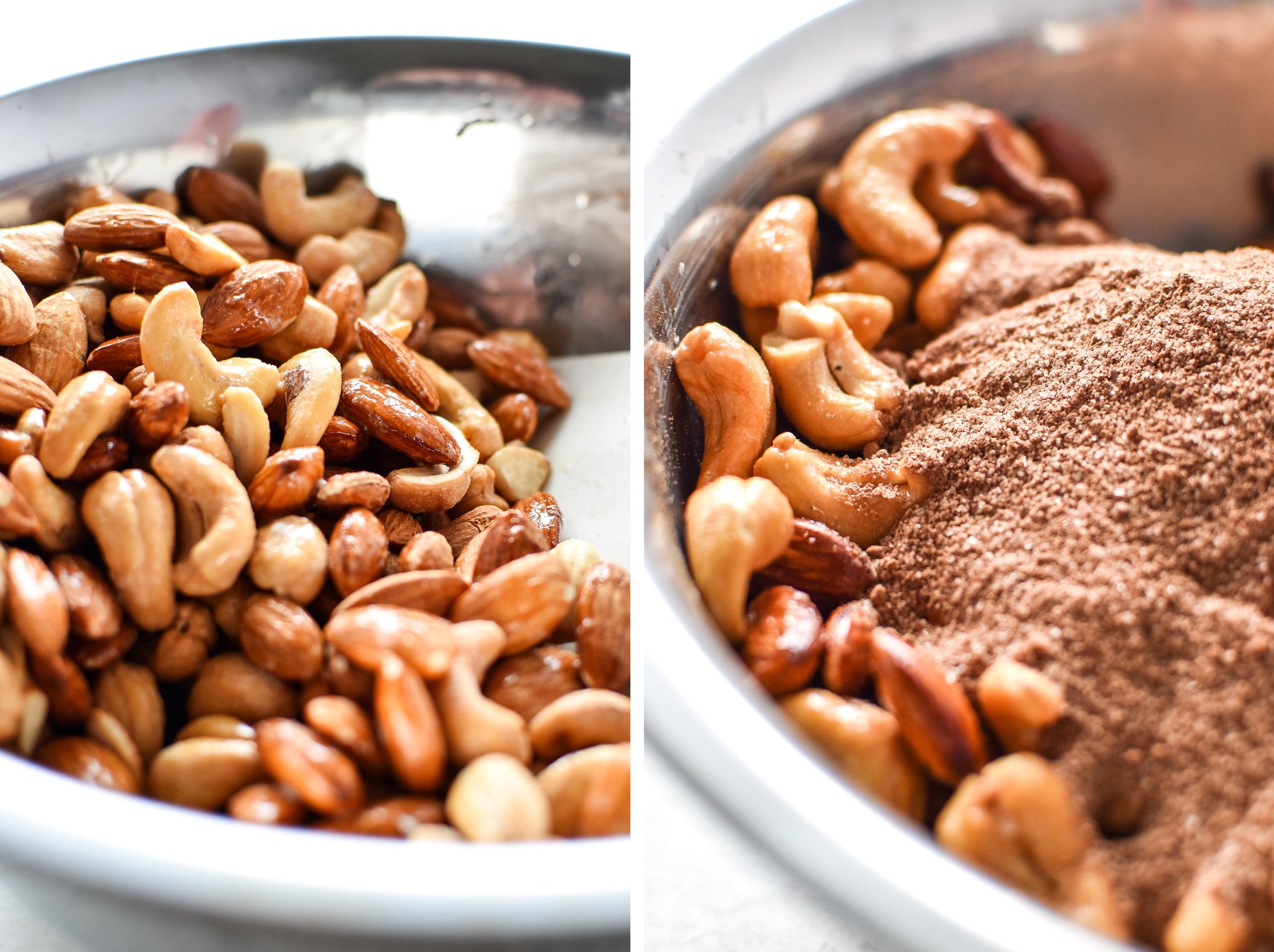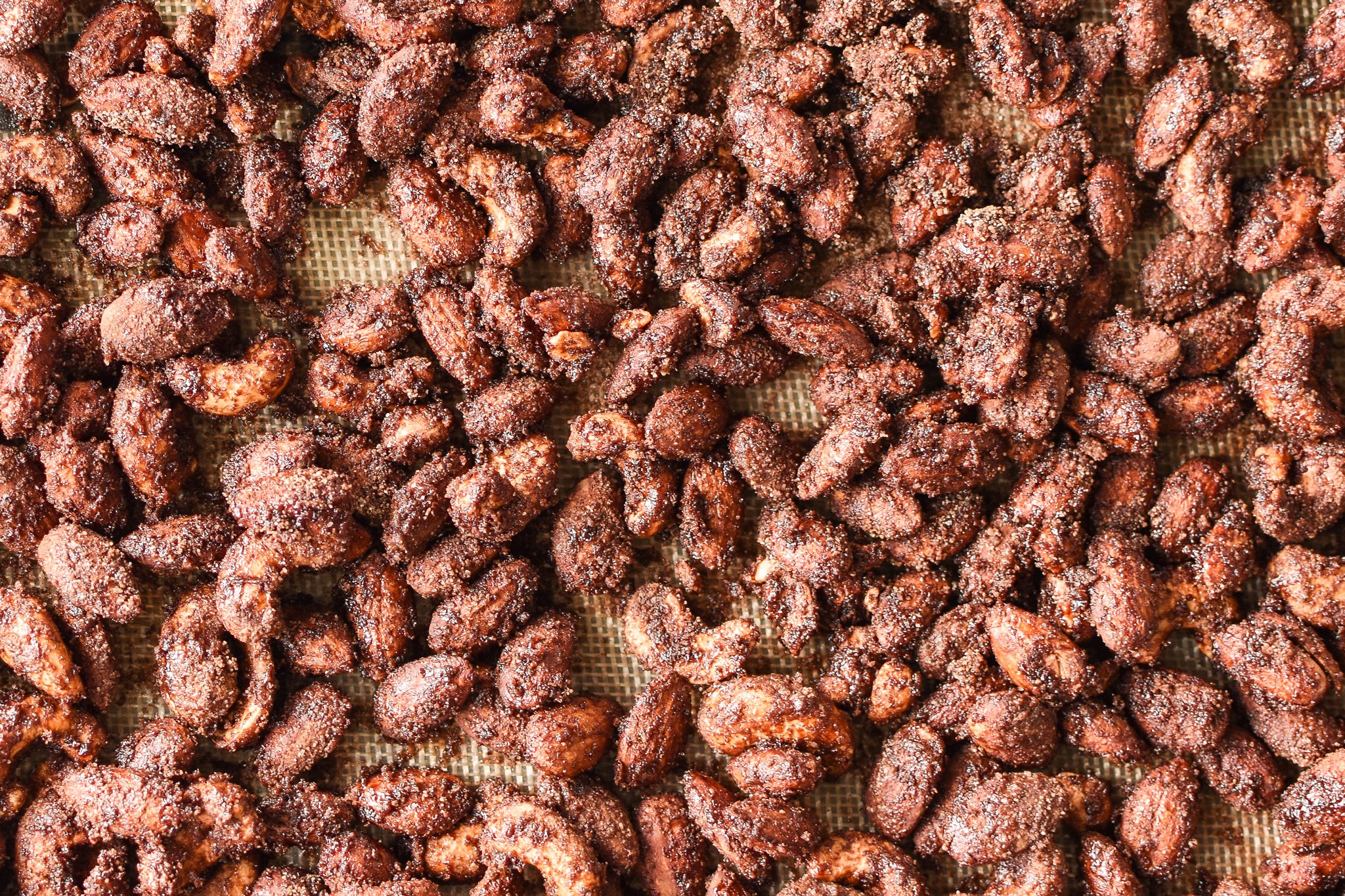 After every nut is sufficiently coated with the egg white/sugar mixture, spread them all out on a baking sheet lined with a silicone baking sheet or parchment paper. Bake for around 40 minutes, stirring halfway through.
LAST STEP: Let the roasted nuts cool for at least 15 minutes on the baking sheet. They're soft and a little weird for the first solid 10 minutes out of the oven… So much so that I thought I had seriously failed the first time I made them.
NUH UH. They harden as they cool. That's like, a baking rule, right? YOU GOT THIS.
Reasons you should make these nuts for your next gathering:
They are probably the most addicting 'snack' on this entire website which is both bad and good. #dangeroussnacking
These nuts are easy peasy to make – whisk an egg white, coat the nuts, add the sugar, spread on a baking sheet, and roast. DONE.
They can be made way ahead and don't have to be reheated or plugged in. The hostess will appreciate this.
Let me repeat myself: CHOCOLATE, ALWAYS CHOCOLATE (or cocoa)
I use peppermint extract to get a lingering hint of peppermint that doesn't overpower your nostrils, but instead meshes perfectly with the cocoa sugar coating.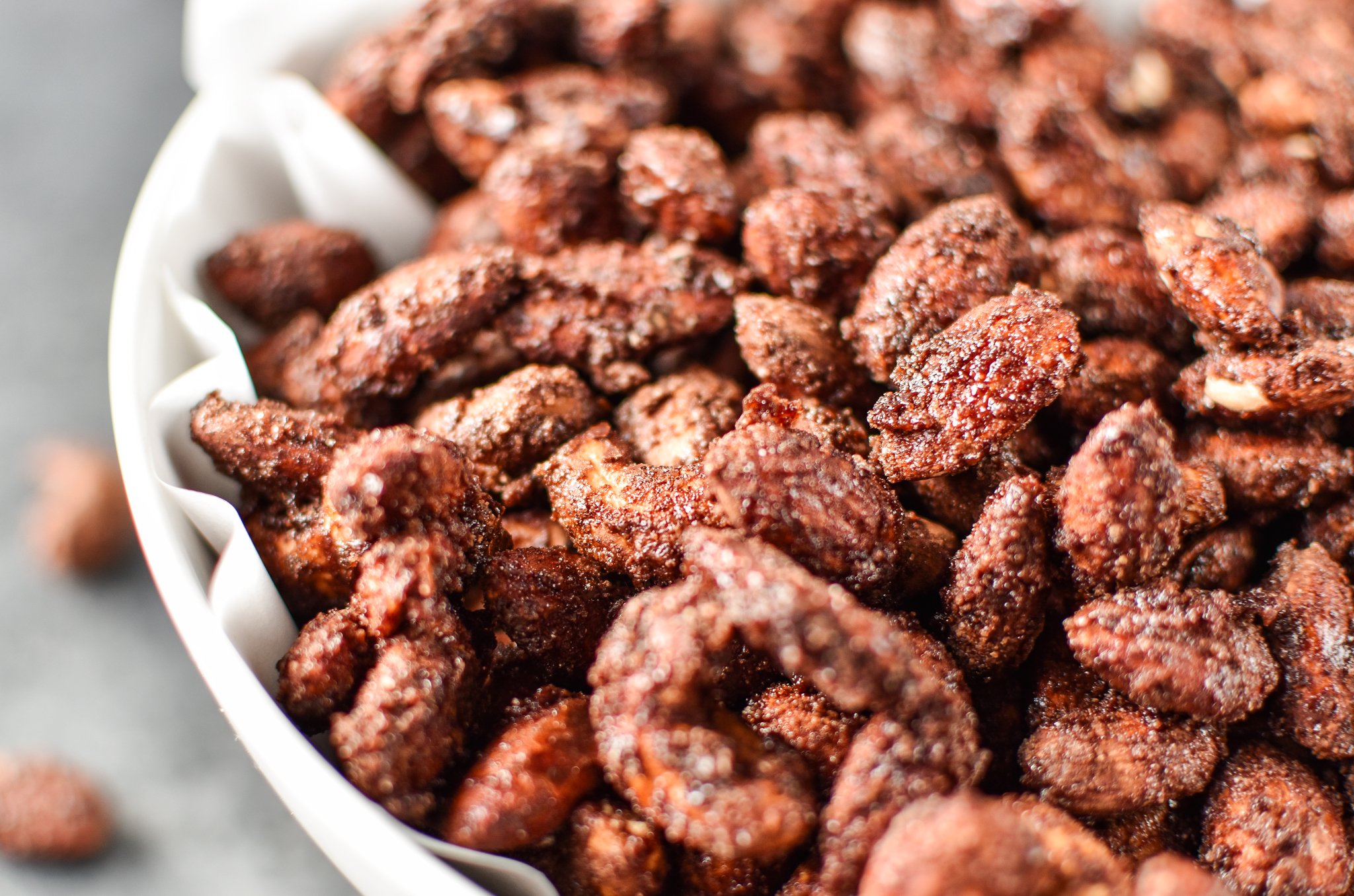 Alternative customization ideas:
I think in the future I may experiment with some slightly healthier versions of roasted or spiced nuts, but for this recipe, I was just getting the hang of roasting nuts in general.
Next time, I'd like to try honey, or even maple syrup! If you happen to be in the mood for some healthier spiced nut options, I'd like to point you in these directions:
I'm sure there's at least one version of spiced nuts that you will love. CHOCOLATE, ALWAYS CHOCOLATE. I mean, what else??
How to store these Peppermint Cocoa Roasted Nuts:
Store leftover Peppermint Cocoa Roasted Nuts in an airtight container on the counter and consume within 3 days for best quality!
Recipe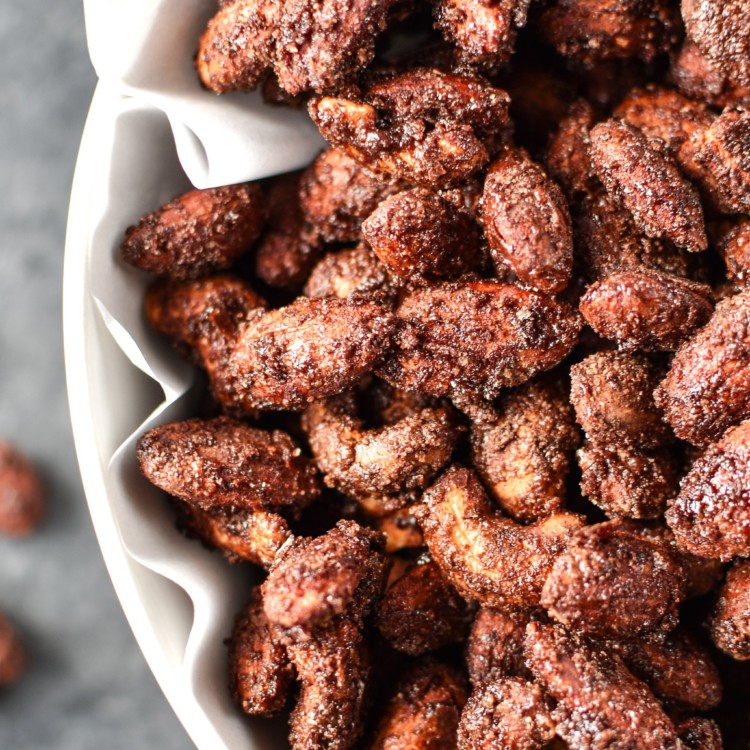 Peppermint Cocoa Roasted Nuts
Prep:
10 minutes
Cook:
40 minutes
Total:
50 minutes
Peppermint Cocoa Roasted Nuts: Cashews and almonds coated with a sweet cocoa shell and a hint of peppermint, roasted to perfection!
Ingredients
1

egg white

1/4 teaspoon

vanilla extract

1/4 teaspoon

peppermint extract

2

cups

raw almonds

2

cups

raw cashews

2/3

cup

granulated sugar

2 1/2 tablespoons

cocoa powder

1/2 teaspoon

ground cinnamon

1 teaspoon

salt
Instructions
Whisk liquids: Preheat oven to 300 F. In a large mixing bowl, whisk egg white until white and foamy, but before any peaks begin to form. Add vanilla and peppermint extracts and stir briefly until mixed. Add the raw nuts to the egg mixture, and stir until all nuts are coated.
Combine sugar & spices: In a small bowl, combine sugar, cocoa powder, cinnamon, and salt. Pour sugar & spices over the nut mixture and stir until all nuts are coated and there's little to no loose sugar mixture in the bottom of the bowl.
Bake the nuts: Spread nuts on a large baking sheet lined with a Silpat or parchment paper. Bake for 40-45 minutes, stirring halfway through. The nuts may appear a little puffed up from the egg sugar mixture, but this is normal.
Cool then serve: Let the nuts cool for at least 20 minutes before serving. They will seem soft when they first come out of the oven, but will harden as they cool. Stir the nuts a couple times while cooling so large clumps do not harden together. Store in an airtight container on the counter and consume within 3 days for best quality!
Equipment
Notes
Adapted from Sugar-and-Spice Nuts from Food and Wine. Nutrition information estimated with My Fitness Pal.
Nutrition Information
Serving Size:

about 1/4 cup

Calories:

197

Fat:

14g

Carbohydrates:

16g

Fiber:

3g

Protein:

6g
Recipe Card powered by